9 Essentials For Fall Hiking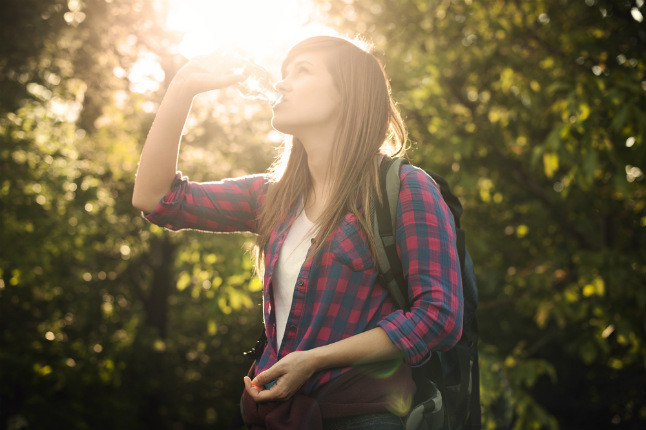 Shutterstock
Changing leaves, cooler temperatures and hot apple cider—these are just a few of the things we have to look forward to in the coming months, on top of fall hikes. Following the blistering temperatures of summer, the slight chill actually feels great and fall is the perfect time to sneak in some time outdoors before winter hits. Staying safe and comfortable means bringing the right gear, so we compiled a list. Before you head out on your next hike, make sure you have the right stuff.
Hiking Boots
When it comes to hiking there is nothing more important than a quality pair of boots that fit right. Everyone has different preferences and will need boots for different types of treks, but if you're looking to buy a new pair, check out our list of the best boots.
Backpack
There's no need for a massive pack on a day hike, but you'll need something to hold your gear. A pack with a built-in water bladder is convenient and this pack from Outdoor Products is a great choice—or you could always go with one of the small and popular Osprey packs.
Rain Jacket
A quality breathable rain jacket will make all the difference in the world when an unexpected shower rolls in. Most rain coats can be folded into a backpack and don't take up much space, but you'll be glad you have it handy should the weather take a turn. You might also want to consider adding a fleece, gloves and a hat to the bag for the same reason.
Map or GPS
Even short treks can leave you lost and far from where you planned, having a detailed map of the surrounding area or a reliable GPS device is crucial.
Flashlight or Lamp
Even on day hikes; you should carry something to light the way. Should you get lost or be out later than planned, you'll be happy you have something to light the way on the steep and treacherous mountainside.
Sunscreen
Fall sunshine might not always feel powerful, but the rays can still do damage to your skin—even on cloudy days. It's important to apply in the morning and then bring the bottle to reapply sunscreen throughout the day.
Water Container
Whether you fill a water bladder or choose to bring a bottle, water is one thing you most definitely don't want to be without. Check out our suggestions for some great water bottles and remember to stay hydrated.
Energy Bars
Hiking is a great workout that can burn major calories—don't forget to refuel on the trail. Energy bars are a great portable choice, but for all-day hikes you should try to pack something a little more substantial.
Emergency Kit
As we've mentioned, even on a standard day hike, things can go wrong and the last thing you want is to be without an emergency kit. Check out our guide for packing your first aid kit and being prepared for anything.
More Reading:
8 Things You Should Have Whenever You Hit the Trail
Incredible American Hikes You Need to Take this Summer
Hike with a Guide: Treks Totally Worth Paying For