Study Shows Worst Things About Flying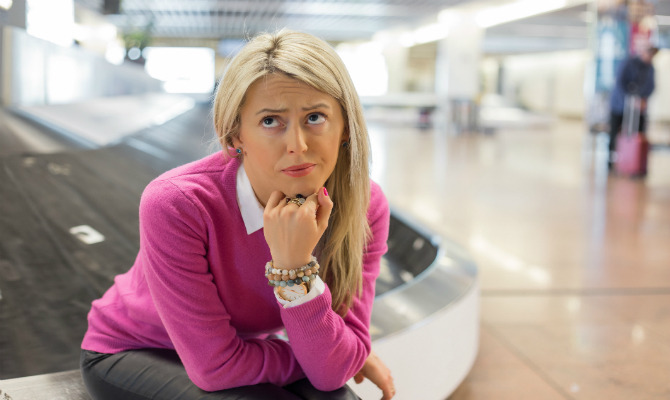 Thinkstock
In its inaugural Airline Pain Index, insights company Qualtrics surveyed travelers to rank the annoyances they might encounter while flying, ranging from mild to "deal-breaker." As a result, it found that about one in five passengers have actually switched airline carriers because of bad experiences.
More than one in three passengers said lost luggage (88 percent), hidden fees (80 percent) and unfriendly flight crews would make them not want to fly with that airline again. Canceled flights (78 percent) bothered them "a lot" as well.
We all travel and have opinions. What was surprising, according to the Mike Maughan, Qualtrics' Head of Global Insights, is the complaints about oversized passengers and reclining seats did not come up in the findings. "It's interesting to note that passengers say they're generally not annoyed when asked to change seats with someone else," he adds. "In fact, the study revealed that nearly half of fliers are not inconvenienced by changing seats."
The study, however, doesn't show if these nuisances and deal-breakers are becoming a trend. "Our study is focused on understanding passenger sentiment regarding these issues rather than the existing airline data so we didn't look at those trends specifically, but over the years we plan to continue looking at how those issues impact customer sentiment," Maughan said.
Researchers looked at the opinions of both premium and coach fliers. "We found that, in general, premium travelers are more sensitive to physical comfort, customer service and entertainment services," Maughan says. One in five premium fliers said uncomfortable seats would be a "deal-breaker" whereas only one in 10 coach travelers felt the same.
Poor in-flight entertainment bothered 29 percent of premium fliers "a lot" and they were also more unforgiving about unfriendly flight crews than their coach counterparts – 41 percent would never fly with the airline again compared to 29 percent in coach.
Interestingly, only 45 percent of participant put delayed flights in the category of what annoys them a lot.
Bad hygiene was far and away the top complaint, with 45 percent of respondents saying it is one of their top complaints, followed by someone kicking their seat (35 percent) and sitting next to someone who's had too much to drink (35 percent).
However, about one in three passengers (30 percent) don't mind sitting next to someone who wants to talk, and surprisingly, nearly half of respondents (49 percent) don't mind switching seats if someone asks.
Women are twice as likely as men to report being unhappy when traveling and put a higher emphasis on clean facilities and transparent pricing.
The bottom line seems to be that people are increasingly unhappy flying and that anything that can worsen their experience happens quite often. "The intent of the study was to find the line between inconveniences and deal breakers for air travelers," Maughan says. Many airlines, he adds, provide options to make flights more enjoyable and that allows people to prioritize what they most value. "There is room for improvement, but I would assume flying is still more preferred for long-distance travel when compared to the speed and convenience of other transportation options so people just have to better select what they most value and line up expectations accordingly."
More readings: 
12 People Who Should Be Banned From Flying