Do You Know What State The Grand Canyon Is In? Most People Don't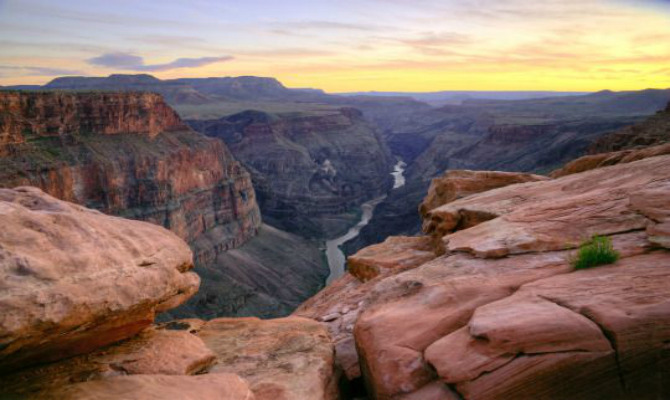 (Photo: Thinkstock)
The correct answer is Arizona.
Greg Keraghosian - The Griswold family could find the Grand Canyon, but a new survey says most of their fellow Americans can't.
The adventure tour company Intrepid Travel gave 2,000 Americans a pop quiz on their national landmarks, and as it turns out, there's a lot they needed to brush up on. Forty-five percent said they have little or no knowledge of U.S. landmarks, and a whopping 57 percent said they don't know that the Grand Canyon is found in Arizona.
Infographic: Intrepid Travel
Here are some other findings from the survey:
1. Only 40 percent of Americans polled knew the Hoover Dam lies between the borders of Nevada and Arizona.
2. While 63 percent could locate the Space Needle in Seattle, 17 percent thought it was in Cape Canaveral, Fla.
3. Just 68 percent knew that Alcatraz, the most famous prison in American history, is in San Francisco. Thirteen percent thought it was in New York, and another 11 percent didn't know where it is.
4. Just 31 percent knew that Yellowstone, the original U.S. national park, is spread out among Wyoming, Montana, and Idaho.
 What were the respondents good at locating on a map? Ninety-seven percent knew Times Square is in New York, 97 percent guessed right on the White House, and another 94 percent got the Empire State Building.
Only 61 percent of people could recognize a picture of Grand Central Terminal. (Photo: Thinkstock)
People were also asked to look at a picture of a landmark and identify what it is. The biggest trouble spots were Grand Central Terminal in New York – just 61 percent recognized it – and the Jefferson Memorial, which just 69 percent got right. 
At least people could recognize the Grand Canyon when shown a picture of it: 92 percent gave correct answers. 
Related: Skinny-Dipping & Drugs? Survey Reveals Naughty Traveler Behavior
The company hopes the survey will help inspire more Americans to get out there and see more of their country's famous attractions. Intrepid found that 23 percent of those polled have visited four to six landmarks, 37 percent have visited one to three, and another 15 percent hadn't visited any.
"Exploration and discovery fuel curiosity and make us smarter, more aware," said Leigh Barnes, vice president of North America at Intrepid. "America has so many treasures and unique sites to explore, hopefully people get out there and see all this country and the world have to offer."
Let Yahoo Travel inspire you every day. Hang out with us onFacebook, Twitter, Instagram, and Pinterest. Check out our original adventure travel series A Broad Abroad.