Best US Cities For History Buffs To Add To Their Bucket List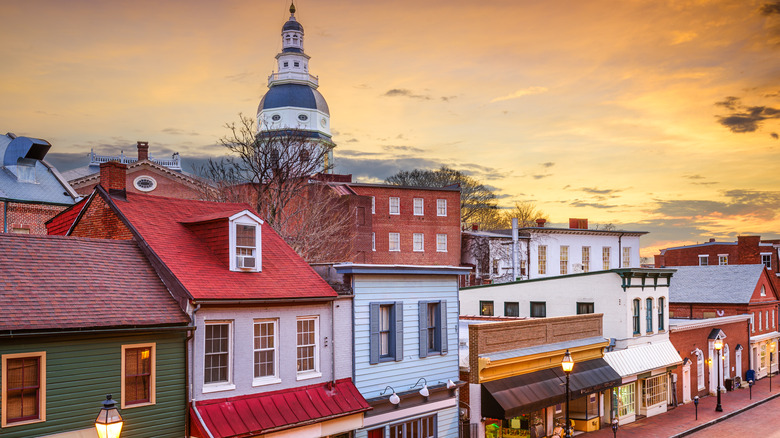 Seanpavonephoto/Getty Images
In the U.S., history lovers have a wealth of options when it comes to places to visit. Nearly every destination has a story to tell and crucial moments that change, well, the course of history. And even though there are countless books, documentaries, and retellings of the events from long ago, there is just something so profound about being able to fully immerse one's self in the exact spots and locations where history was made.
From districts, quarters, and heritage sites to museums, ruins, full-scale replicas, and reenactments, there are more than a few ways to connect with yesteryear and delve deeper into America's fascinating past. So, if you happen to have a completely separate travel agenda for historical attractions, landmarks, and locales, you are definitely not alone. That said, to ensure you are experiencing American history to the fullest during your domestic wanderings, here are the best U.S. cities for history buffs to add to their bucket list as soon as possible.
Boston, Massachusetts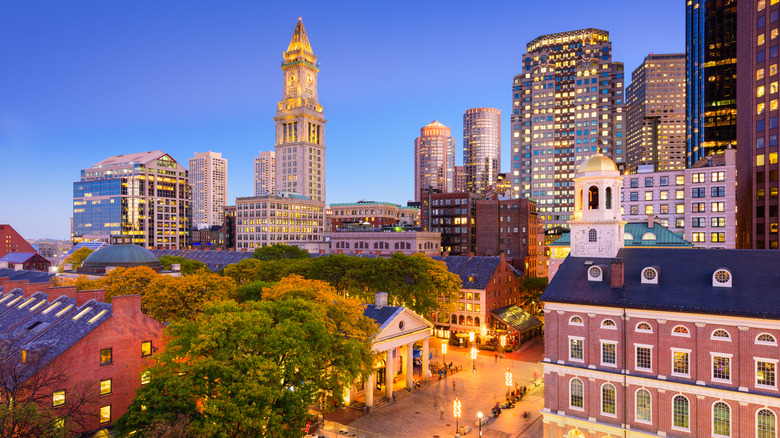 Seanpavonephoto/Getty Images
First and foremost, Boston, Massachusetts, is truly historical in itself. Founded in 1630, Boston is known as the birthplace of the American Revolution and The Athens of America, and it is not hard to see why. With the Freedom Trail, the Boston Tea Party Ships and Museum, the Paul Revere House, Boston Common, the USS Constitution, Faneuil Hall Marketplace, and more, Beantown is easily among the top five destinations for history enthusiasts.
In addition to these iconic historical sites, Old North Church, Bunker Hill Monument, and the John F. Kennedy National Historic Site in Boston are just a few more must-sees. Boston is also home to countless museums, vast libraries, 17th-century cemeteries, and several pubs dating back to as early as 1795. And even though Harvard University is located in Cambridge, visitors can easily access the oldest university in America, founded in the early 1630s, and check out all that this prestigious institution has to offer. So, if you have not already added Beantown to your list, do so and come marvel at the city that played a pivotal role in America's early years.
Washington, D.C.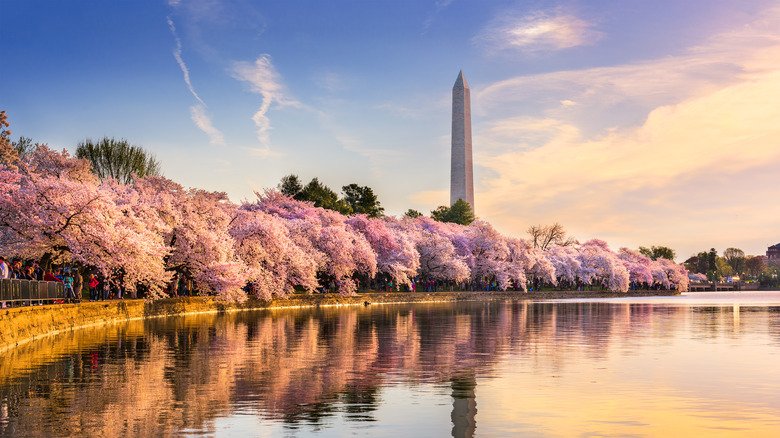 Sean Pavone/Shutterstock
Not too far from Boston, travelers will find the nation's capital, Washington, D.C. Originally founded in 1790, this is another historical treasure trove on the East Coast that definitely deserves a tour — whether you are an avid historian or a newbie buff. With no shortage of historical sites, monuments, and significant moments in history here in Washington, D.C., history lovers will have ample things to see and do.
Home to the Smithsonian Institution, the National Museum of American History, the National Mall, the Lincoln Memorial, the White House, Capital Hill, Washington National Cathedral, Arlington National Cemetery, the Library of Congress, and so much more, history enthusiasts will need several days just to cover the top sites. In addition to the Smithsonian and the National Museum of American History, Washington, D.C. also has over 70 museums, with more than half focusing on history alone. So if this sounds like your cup of tea, then add this one to the list too.
Philadelphia, Pennsylvania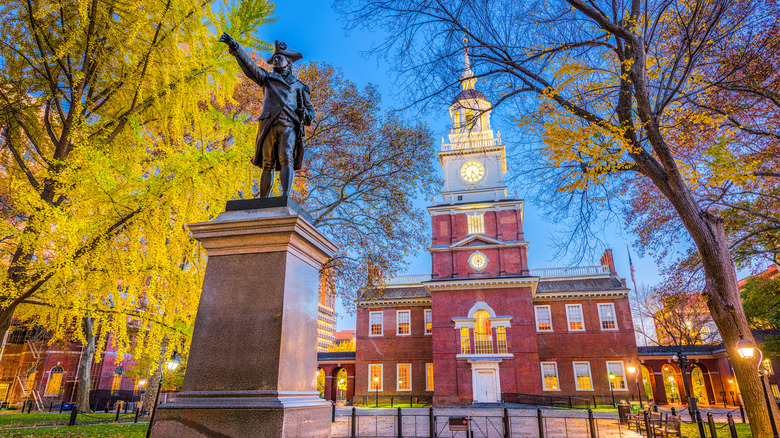 Sean Pavone/Shutterstock
Philadelphia, Pennsylvania, is not only the first World Heritage City in the U.S., but it is also full of archives, historical sites, and relics that are all about this country's interesting past. Of course, many visitors come for the Liberty Bell, Independence Hall, the Christ Church Burial Ground, the Eastern State Penitentiary, and to enjoy an incredible night at the Walnut Street Theatre (America's oldest theater) — all are musts when in town, especially if you have not yet had the pleasure. But there is so much more to Philadelphia than this.
The official birthplace of the United States, Philadelphia was founded in 1682 and has renowned exhibitions, important artifacts, and rave-worthy collections at the Museum of The American Revolution, the Philadelphia History Museum, and the American Philosophical Society Museum. Plus, with the Old City Hall, the First and Second Banks of the United States, the Betsy Ross House, and Elfreth's Alley — just to name a few points of interest — The City of Brotherly Love is truly a historical adventure just waiting to happen. Other popular spots brimming with history here include Fairmount Water Works, Congress Hall, Fort Mifflin, Hill-Physick House, and the Dorrance Hamilton Hall, University of the Arts.
San Francisco, California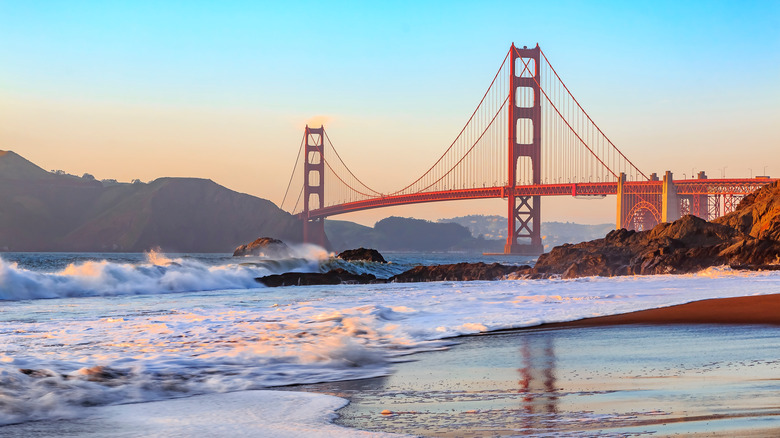 SvetlanaSF/Shutterstock
Yet another iconic U.S. city for history buffs is none other than San Francisco, California. Established in 1776, this travel destination is currently known for its tech, theater, and nightlife scenes, but San Francisco does not disappoint when it comes to history, either. So whether you want to learn more about the Gold Rush of 1848 and the Beat Generation or simply see the important sights like the Golden Gate Bridge, Alcatraz Island, Mission Dolores (the oldest fully intact building in the city from 1776), or The Presidio — one cannot deny the fact that The Golden City is a historical haven that definitely delivers.
Besides the must-see attractions, San Francisco has more than a few historical gems hidden in plain sight, like the Lotta's Fountain, the Sutro Baths, the Fairmount Hotel, and the Buena Vista Park headstones. There is also a wealth of military history around these parts. So make sure you check out the Fort Miley Military Reservation, Fort Point, the SS Jeremiah O'Brien, Angel Island, the World War II West Coast Memorial, and more. And if you have some extra time, stop by the Cable Car Museum for an in-depth overview of the famous San Francisco cable car system.
Salem, Massachusetts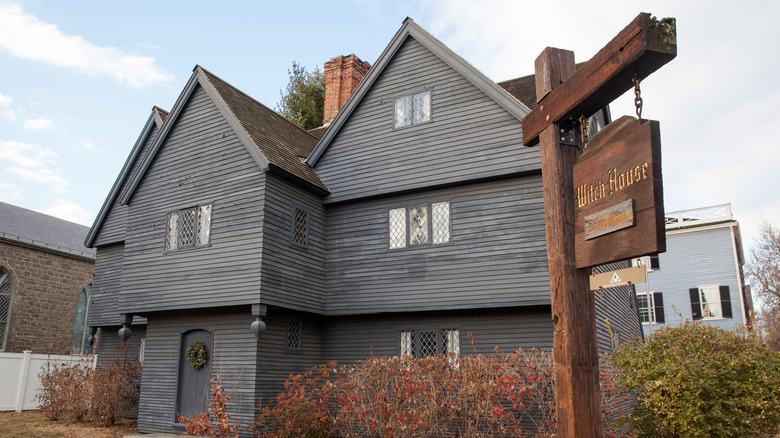 Ale Volpi/Shutterstock
Salem, Massachusetts, is a hotbed for history and typically needs no introduction. With various points of interest, a diverse selection of museums, heritage trails and sites, plus Witch Trial reenactments, and more, Salem is a bewitchingly good time for every type of history buff. As the story goes, the town of Salem was settled by Roger Conant in 1626. Yet, over the years, Salem has had many names and was originally home to the Naumkeag tribe for thousands of years, well before the year 1626.
Of course, The Salem Witch Trials of 1692 put this U.S. city on the map for most people. So, here, diehard history fans can delve into Witch City, learn more about the Naumkeag tribe, and get a sense of the first settlers from Cape Ann. But that's not all — this magical place also has an abundance of colonial and maritime history, limitless lore, literary, film, and television history, haunted history, as well as pop culture. Therefore, even if you came for the witches, you will soon see that Salem's story is so much bigger than its witchy past.
St. Augustine, Florida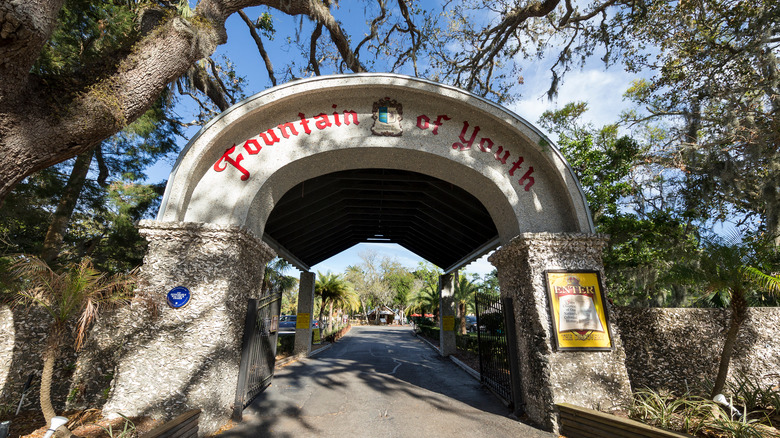 Ovidiu Hrubaru/Shutterstock
St. Augustine, Florida, is reportedly the oldest continuously occupied European and African American settlement in the U.S., so there is definitely history here. In fact, with over 450 years' worth, St. Augustine has quite the story to tell. In 1565, it was the Spanish, however, that founded this city, which was well before the establishment of the historic Jamestown or Plymouth Rock colonies.
Today, lovers of history can explore the Colonial Quarter, visit the Spanish Military Hospital Museum, check out the Oldest Wooden School House Historic Museum and Gardens, appreciate the Lightner Museum, and marvel at the architectural wonder that is Villa Zorayda Museum. Besides all of this, St. Augustine is home to the one and only Ponce de Leon's Fountain of Youth — which no history buff can pass up. So do not forget to stop by this 15-acre archeological park and explore its many exhibits when immersing yourself in this history lover's paradise.
Williamsburg, Virginia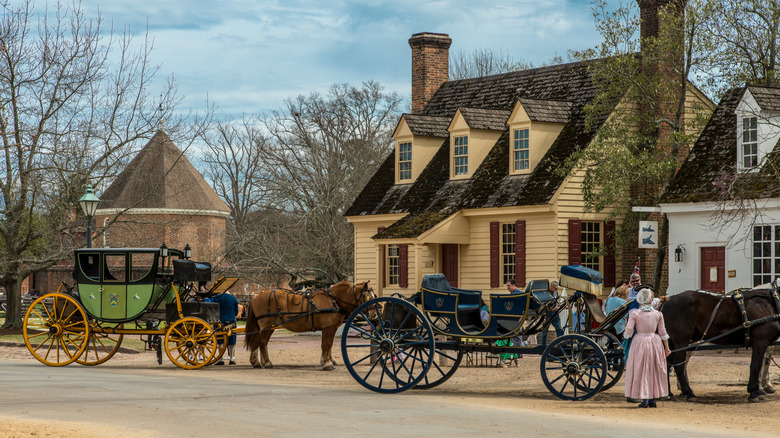 Daniel Reiner/Shutterstock
Colonial history enthusiasts should absolutely have Williamsburg, Virginia (founded in 1699) on their lists. It is here that buffs will find Colonial Williamsburg. Touted as the nation's largest living history museum, Colonial Williamsburg transports visitors back in time to the 18th century. With over 300 acres of history brought to life, history buffs have the rare opportunity to explore full-scale replicas of shops, the Capitol, the Governor's Palace, the George Wythe House, the Courthouse, and three historic taverns — and that's just the beginning.
While exploring the past, Colonial Williamsburg visitors can gain a better understanding of 18th-century trades — blacksmithing, cabinetry, carpentry, farming, shoemaking, wig-making, gunsmithing, and more. Time travelers also have the opportunity to get a real sense of the climate during the Revolutionary War here. Plus, you can marvel at historical artwork, furnishing, firearms, antiques, and textiles at the DeWitt Wallace Decorative Arts Museum, the Abby Aldrich Rockefeller Folk Art Museum, and Bassett Hall. And after touring all the sights and spending a day in the life, you can opt to book the full experience and stay at the various 18th-century-style lodgings available in Colonial Williamsburg.
Charleston, South Carolina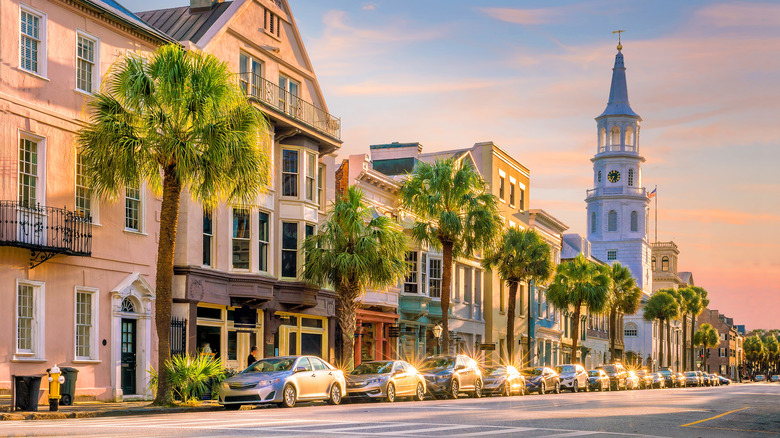 f11photo/Shutterstock
History lovers who have not been to Charleston, South Carolina, are missing out on one of the most historic destinations in the country. Charleston was founded in 1670 and named after King Charles II. With its many museums, historical sites, landmarks, and more, the Holy City is definitely heaven for anyone who appreciates American history.
Here, buffs can check out Charleston Museum and bask in all the surrounding beauty of the oldest landscaped gardens in America (at Middleton Place) and explore the Charles Towne Landing State Historical Site, where some say it all began. After spending time in these incredible places, you can make your way on over to other popular sites in this city like the Old Exchange and Provost Dungeon, Fort Sumter and Fort Moultrie National Historic Park, Aiken-Rhett House, The H.L. Hunley Museum called Friends of the Hunley, and enjoy a leisure stroll along the Battery (a fortified sea wall and promenade). Charleston also has quite the historic district in the heart of downtown, steeped in even more compelling history, so do not forget to add a tour of this area to your itinerary while in town.
Chicago, Illinois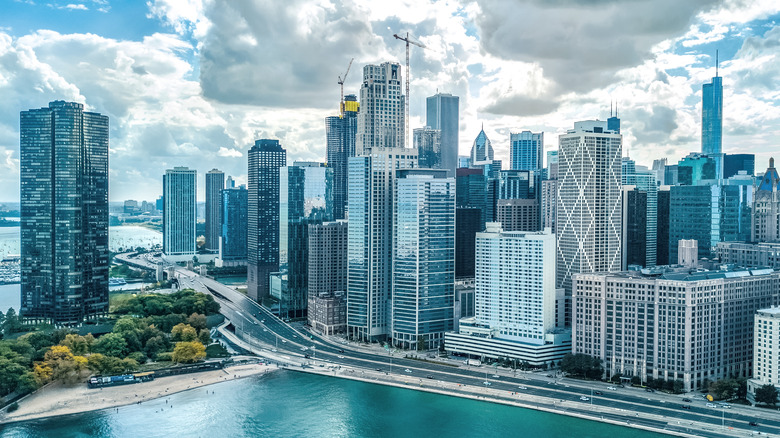 JaySi/Shutterstock
Lovers of long ago know that Chicago ranks high on the list of must-sees. In fact, incorporated in 1837, Chicago has a robust and diverse history. From railroads and telegraphs to grain elevators, wheat grading standards, meatpacking, and Prohibition, the Windy City dabbles in it all. History buffs who are especially fond of gangsters, the Industrial Revolution, speakeasies, the theater, and even the macabre will have no trouble exploring Chicago's unique past.
With the Pullman historic district, the Chicago Cultural Center, and Biograph Theater with its historic mob ties, Chi-town visitors will definitely have their work cut out for them in this history-rich destination. What's more, fans of dark tourism who happen to love all things history-related can check out the site of the 1929 St. Valentines Day Massacre, go on a guided excursion of Graceland Cemetery and Bohemian National Cemetery, and enjoy quite a few crime, gangster, and ghosts tours. That said, Chicago's past is not all gloom and fascinating doom — this city is overflowing with historic architecture, landmarks, museums, and more, so there is absolutely something for everyone.
New Orleans, Louisiana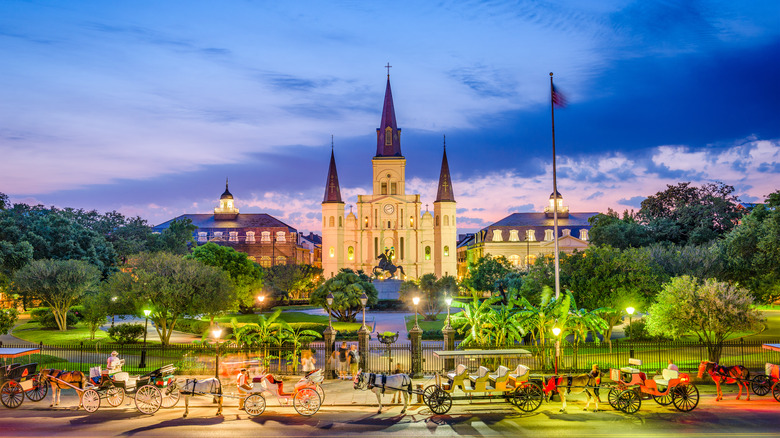 Sean Pavone/Shutterstock
Founded by the French in 1718, New Orleans, Louisiana, has a culturally rich past fit for any history buff. With stunning historical architecture, the famous French Quarter, Magnolia Mansion, Congo Square, St. Louis Cathedral (the oldest continuously active Roman Catholic Cathedral in the U.S.), and more, history lovers will be quite happy with this adventure. In addition to these well-known attractions, New Orleans has numerous historic buildings and guided tours (history, ghost, and otherwise).
The Big Easy is also home to many museums like the New Orleans African American Museum, the New Orleans Jazz Museum, the Backstreet Cultural Museum, the National WWII Museum, and the New Orleans Historic Voodoo Museum. Visitors who want to delve deeper into all things New Orelans related can head on over to the Historic New Orelans Collection as well. While visiting, do yourself a favor and remember to expand your exploration beyond the city center and the French Quarter for even more intriguing history and sites.
New York City, New York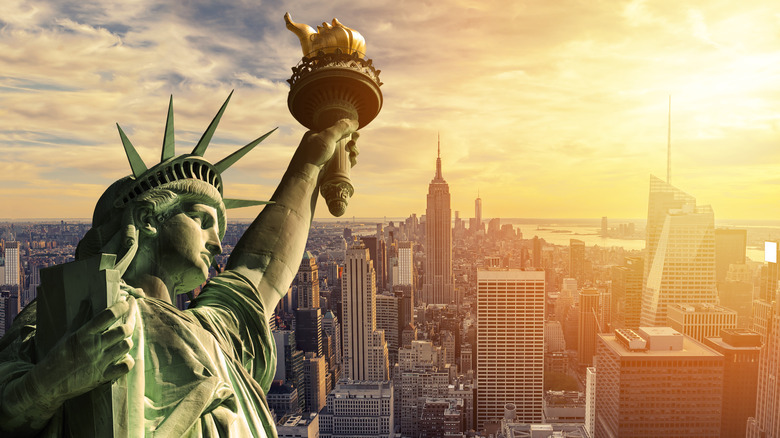 cla78/Shutterstock
The very first capital of the U.S. is undoubtedly steeped in yesteryear. With heritage sites everywhere you turn and then some, New York City is just one more great option for history buffs. From the legendary Trinity Church, Wall Street, the Statue of Liberty, Ellis Island, and St. Paul's Cathedral to the Grand Central Terminal, Radio City Music Hall, Central Park, and the Empire State Building, one thing is for sure, New York City is a historical jackpot.
Established in 1624, New York City has a museum for practically every era and interest. So whether it is natural history, art, finance, transportation, Jewish Heritage, science, immigration, innovative fashion, or simply the past that intrigues you, there is undoubtedly a museum for it in this grand city. Other must-see spots in the Big Apple include the Alexander Hamilton U.S. Custom House, Louis Armstrong House Museum, the Brooklyn Bridge, Frances Tavern, and the Stone Stree Historical District, which is located in lower Manhattan.
Portland, Oregon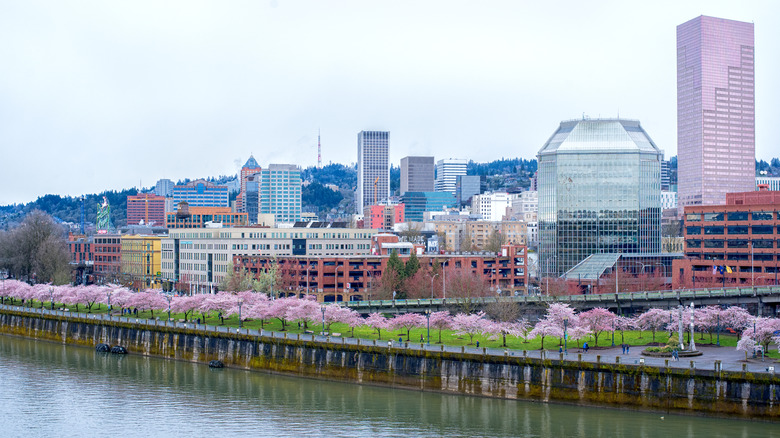 Ahorica/Getty Images
In 1843, Portland, Oregon, officially became a metropolis. Due to the ample work opportunities after its founding, many people flocked to this now outdoorsy and artsy town. And by the 19th century, Portland was a thriving port city and railroad hub. Since then, this popular West Coast destination has lived many lives in its attempt to "Keep Portland Weird."
With more than a few historical sites, museums galore, Native American heritage collections, abundant memorials, Old Town Chinatown, 19th-century mansions, the Oaks Amusement Park and Roller Skating Rink (one ofthe oldest continually operating amusement parks), and Portland's infamous Shanghai Tunnels, this is another U.S. haven for history. Here, lovers of history can go on countless tours (pub, ghost, food, and neighborhood) and learn about this city's sorted past. The Rose City also has ample historical outdoor spaces like the Ladd Circle Park and Rose Garden, Washington Park, St. John's Bridge, and the Lone Fir Pioneer Cemetery. So history buffs should also make it a point to add Portland to their bucket list.
Savannah, Georgia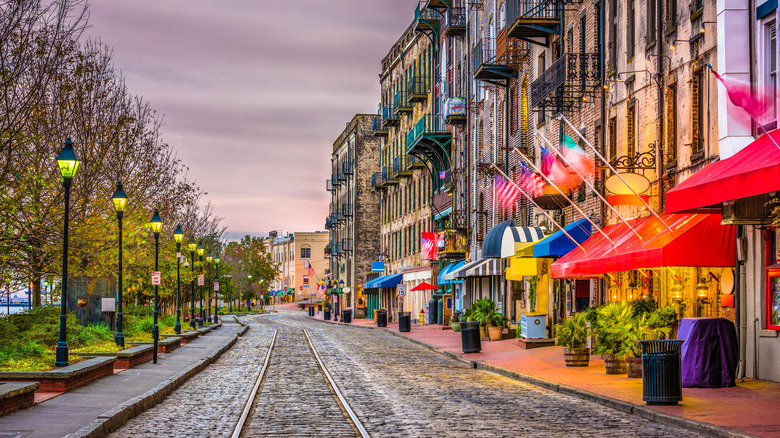 Sean Pavone/Getty Images
Incorporated in 1773, Savannah, Georgia, is where travelers should head if they want to tour the country's largest National Historic Landmark District with a hearty side of some good old-fashioned Southern hospitality. In Savannah's historic district, visitors can marvel at 18th and 19th-century buildings and houses, do some light shopping on River Street, plus bask in beautiful parks and picturesque outdoor spaces. Whether on a guided tour or on your own, exploring the Hostess City of the South, especially for history buffs, is essential.
Beyond this amazing district, Savannah visitors should also stop by some of the top sights here, such as the Bonaventure Cemetery, Factors Row and Factors Walk, the Telfair Academy, the Ralph Mark Gilbert Civil Rights Museum, the First African Baptist Church, and the Congregation of Mickve Israel. Next up, a trip to the Juliette Gordon Low Birthplace should be on the itinerary as well, especially for former Girl Scouts. Saved from demolition, thanks to the efforts of the Girls Scouts, this historic home is now a living memorial to girl power. And if you happen to work up an appetite while traipsing through the past in Savannah, then make sure you grab a bite to eat at The Pirates House).
Seneca Falls, New York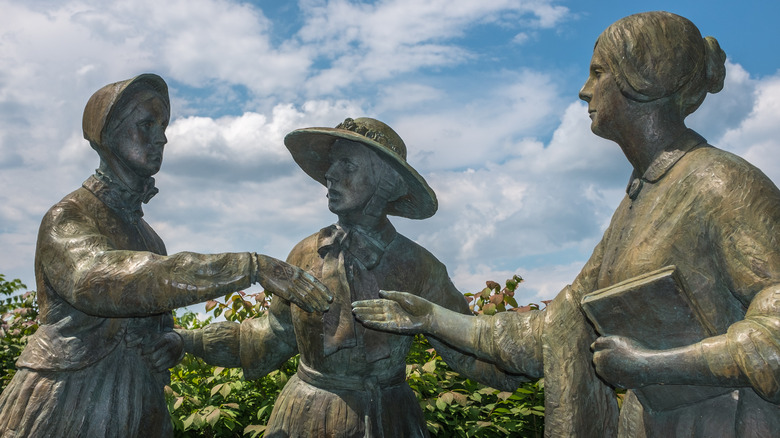 Epics/Getty Images
Speaking of women's empowerment, history fans should also add Seneca Falls, New York, to their list of travel destinations. Organized in 1829, Seneca Falls is known as the birthplace of the women's rights movement and is considered a hub for women's history. Situated in New York's Finger Lakes region, this town was where the very first Women's Rights Convention took place.
Therefore, while in town, history enthusiasts and Seneca Falls visitors should make it a point to tour the National Women's Rights Park, spend some time in the National Women's Rights Park Visitor Center, check out the National Women's Hall of Fame, and immerse themselves in a fight that is still being fought. Afterward, film history buffs should head to the It's A Wonderful Life Museum. This museum is an ode to Frank Kapra's film, "It's A Wonderful Life," since the fictional town of Bedford Falls in the movie was rumored to be based on Seneca Falls. And to top off your time in the birthplace of women's rights, make sure you embark on the nearby wine trail for even more history and, well, some wine.
San Antonio, Texas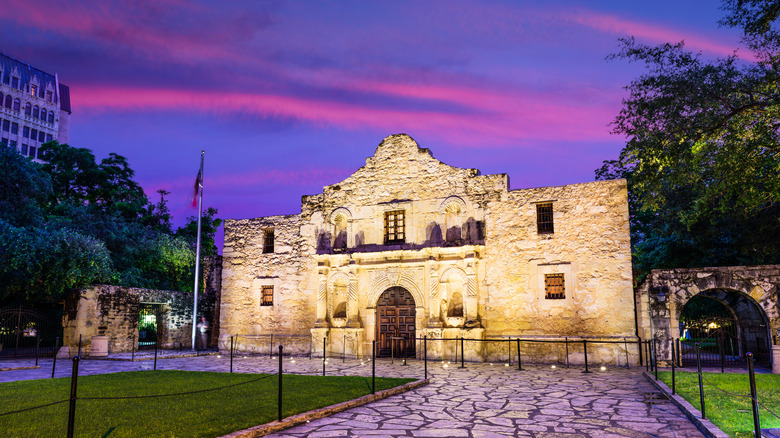 Sean Pavone/Shutterstock
Not only does San Antonio, Texas, make the list of oldest cities in America, but it is also brimming with history — making it another mecca for lovers of the past. Touted as the place that predates the U.S. Constitution, this historic Texas town was founded in 1718. Home to the famous Alamo, San Antonio has no shortage of landmarks, heritage sites, or museums.
Notable spots in the Alamo City to check out then include the San Antonio Missions National Historic Park, the San Fernando Cathedral, the Pearl District, the Japanese Tea Garden, the Witte Museum, the Majestic Theater, and of course, the Alamo. After touring the town, history buffs should also make it a point to enjoy all that the San Antonio River Walk has to offer. Ultimately, San Antonio and the other above-mentioned travel destinations are fantastic U.S. cities that will fill any history buff's heart with joy — so start updating that bucket list.