The Best Museums To Visit On Your Trip To Philadelphia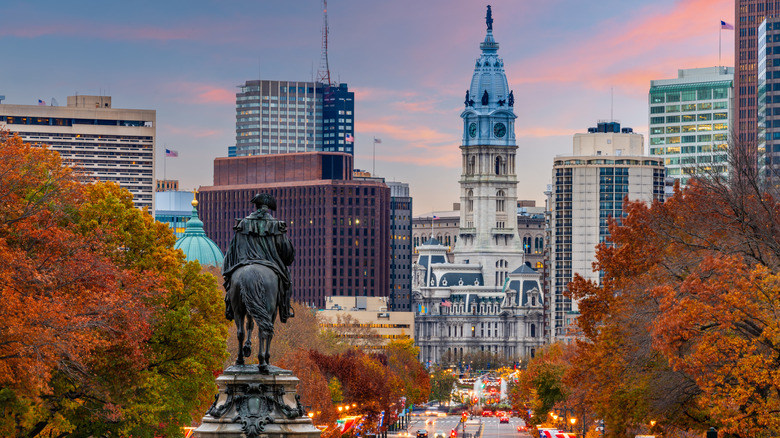 Sean Pavone/Getty Images
Philadelphia, Pennsylvania is steeped in history. Home to the Liberty Bell, Independence Hall, Benjamin Franklin's home, and so much more, the City of Brotherly Love should certainly be on your list of U.S. cities to visit. In addition to its rich heritage, it's also one of the best U.S. vacation spots if you're on a budget, is easily walkable, totally family-friendly, and offers attractions for all ages and interests. And while there are plenty of museums that will leave you with a newfound connection to America, there are also loads of kid-friendly institutions and surprising locales, like the Eastern State Penitentiary Historic Site.
Whether you're a history buff, art lover, natural history aficionado – you name it – the city's wide-ranging museums are sure to impress and satisfy. In fact, there are almost too many to choose from. That's why we've put together this comprehensive list of the top-rated museums to visit on your next trip to Philadelphia in such a way as to cater to a variety of interests and ages, proving that there really is something here for everyone.
Philadelphia Museum of Art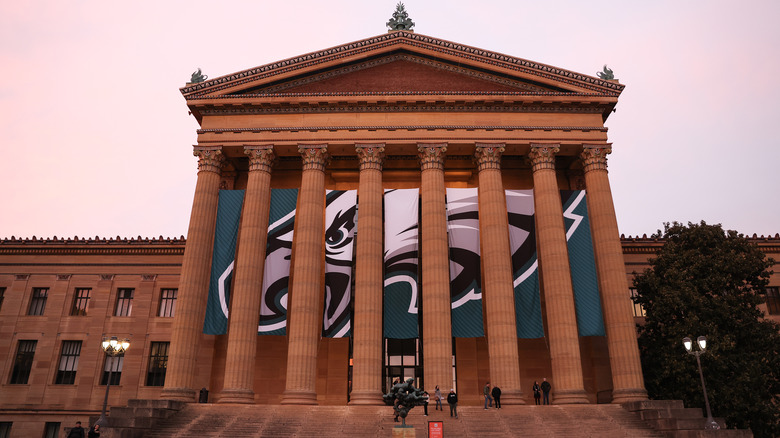 Tim Nwachukwu/Getty Images
Art lovers should put the Philadelphia Museum of Art at the top of their must-visit list. Born out of the Centennial Exhibition of 1876, it's one of the oldest art museums in the country and is home to an incredible collection of 200,000 objects and counting. In addition to paintings from some of the world's biggest names – think Peter Paul Rubens, Pierre-Auguste Renoir, Marcel Duchamp, and Vincent Van Gogh – the museum's collection of visual arts is impressively varied. The wide-ranging oeuvre includes everything from textiles to decorative arts and sculptures. Some of the highlights include Philadelphia native Grace Kelly's wedding dress, which she wore to her 1956 nuptials to Prince Rainier III of Monaco. There's also the 1,200-piece arms and armor Kienbusch Collection, the "All About the Benjamins: Art Depicting Ben Franklin" collection, and the complete reception hall from the Palace of Duke Zhao in Beijing, China.
The museum also hosts fabulous temporary exhibitions, like "Ink and Brush: The Beauty and Spirit of Japanese Calligraphy," and you can make the most of your visit with a self-guided audio tour which you can listen to right from your phone.
Benjamin Franklin Museum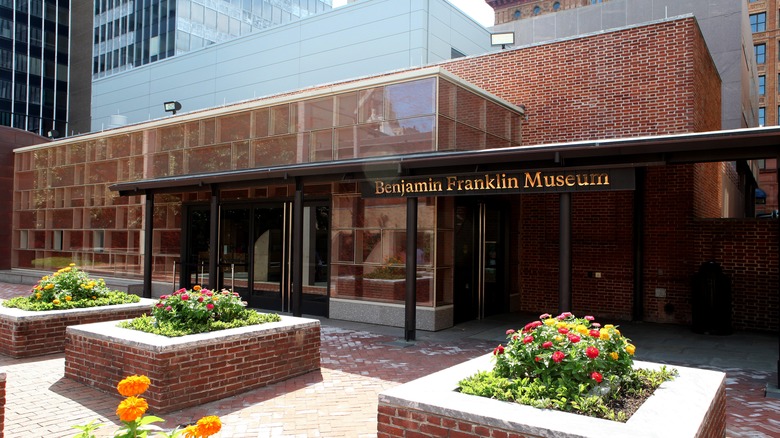 Raymond Boyd/Getty Images
No trip to Philadelphia would be complete without spending some time getting to know Benjamin Franklin. The Benjamin Franklin Museum inside Independence National Historical Park is the perfect place to do just that. First up is the museum, which teaches visitors about his life and legacy through five rooms devoted to different characteristics embodied by Franklin: ardent and dutiful, ambitious and rebellious, motivated to improve, curious and full of wonder, and strategic and persuasive. Artifacts, videos, and hands-on components make for an immersive and educational experience for all ages.
After the museum, step out into the front courtyard to see the original remains of the foundation of Franklin's home. Steel ghost structures will help you imagine the full size of the house, as well as the (since demolished) printing business owned by his grandson, which stood next door. Pop into the Franklin Court Printing Office to see the type of historical printing equipment they would have used at the time, then finish your visit at the Fragments of Franklin Court exhibit. Here you'll see artifacts excavated in Franklin Court displayed inside a home Franklin himself built in 1786 as a rental property.
Museum of the American Revolution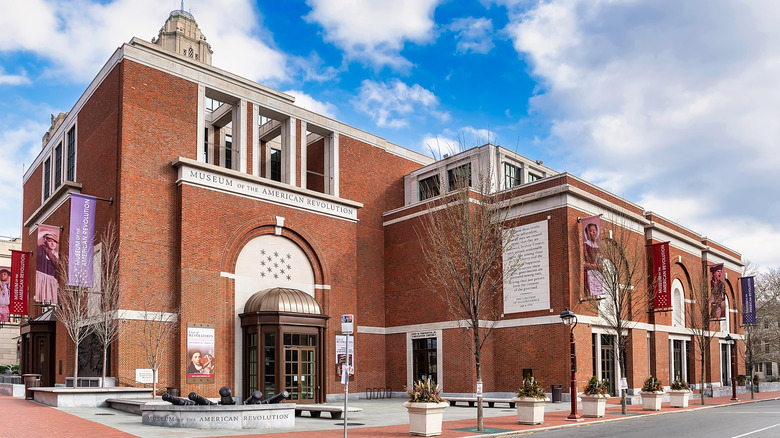 Gilbert Carrasquillo/Getty Images
Calling all history buffs! Located right next to Independence Hall you'll find the Museum of the American Revolution, which aims to tell the entire story of America, as seen from all sides. From the War of Independence to the creation of the American Republic, visitors are taken through the country's history through a vast collection of artifacts and interactive exhibits. Opened in 2017, it's one of the city's newest museums but it's already solidified itself as one of the best. Once inside, you'll take a chronological journey from meeting the first Colonists to learning what it actually took to secure independence. Highlights include paintings, weapons, books, clothing, posters, and invaluable historical objects, like George Washington's original tent from the Revolutionary War and the first newspaper printing of the Declaration of Independence from 1776.
The permanent collection is rounded out with great temporary exhibits, like "Black Founders: The Forten Family of Philadelphia," and you can learn even more through a 60-minute guided Gallery Highlights Tour.
Rodin Museum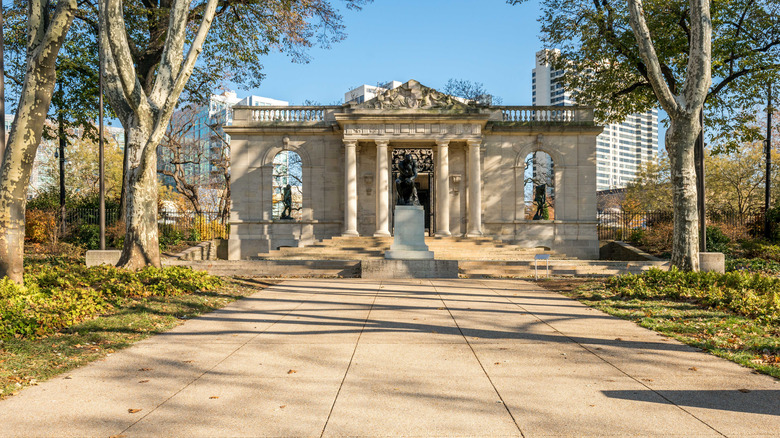 LI SEN/Shutterstock
You may be surprised to learn that Philadelphia has an entire museum devoted to French sculptor Auguste Rodin but his connection to the city is actually a far-reaching one, as it's where he had his first-ever U.S. exhibit in 1876. However, it was local business tycoon Jules E. Mastbaum who brought Rodin to the city in a huge way when he founded the Rodin Museum to exhibit over 150 objects he had collected. Mastbaum, who made a fortune running over 250 movie theaters around the country, bought his first Rodin sculpture in Paris in 1924 and became so enamored that by 1926, he owned over 200. His collection grew to include even more sculptures, as well as drawings and sketches, and rather than keeping them to himself, he decided to share them with the public.
After immersing yourself in Rodin's art inside the museum, you can take a stroll through the garden to see eight more works, including The Thinker, then pop into the Rodin Garden Bar. During the summer, the space serves up food and drink, as well as live music. And remember, admission to the museum is pay what you want while entry to the garden is free year-round.
Eastern State Penitentiary Historic Site
The Eastern State Penitentiary Historic Site is easily one of the most unique (and fascinating) museums in the country. It was in use from 1829 until 1971, during which time it held a whopping 85,000 prisoners, including some famous names like "Scarface" Al Capone. These days, the penitentiary welcomes visitors to walk its hallways and discover its crumbling cell blocks during an eerie, unforgettable experience. Inside, you'll see a number of permanent exhibits, including Al Capone's cell and a look at Jewish life in the Eastern State Penitentiary, as well as numerous site-specific art installations. These are switched up pretty regularly and focus on commissioned works looking at the prison's past, as well as the current criminal justice system. Equally noteworthy is the fact that you can take an audio tour narrated by actor Steve Buscemi!
Want to make your visit even more spooky? Visit the historic site as the sun goes down during the Night Tours: Summer Twilight experience, then kick back with a drink at The Fair Chance Beer Garden. Insider tip: Your ticket also gives you access to the Hands-On History Tour, which lasts from five to 20 minutes and changes daily. If you're lucky, it'll take you to one of the fascinating places normally closed to visitors, like Soup Alley or the penitentiary hospital. You can ask the staff for timing and details when you arrive.
The Franklin Institute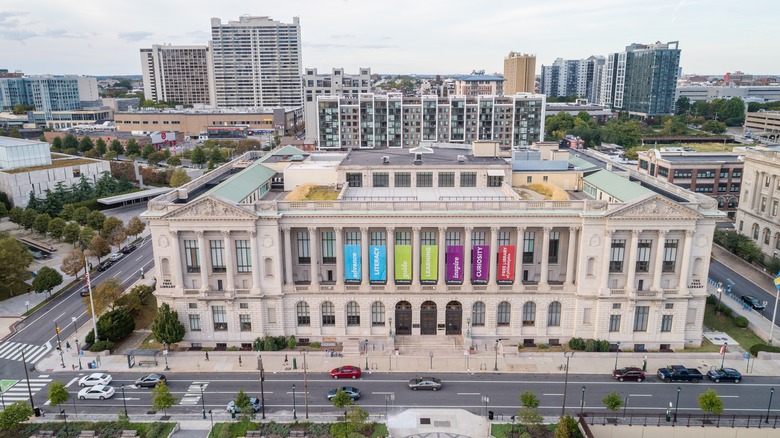 photosounds/Shutterstock
The Franklin Institute pays tribute to Benjamin Franklin's love of science by encouraging visitors to learn about everyday phenomena through three floors of hands-on exhibits. Kids in particular will have a blast learning about the brain, electricity, space, and so much more. They can run their own experiments in the Tech Studio, test out Isaac Newton's laws first-hand in Sir Isaac's Loft, and learn all about how trains work at The Train Factory. What's more, the museum also hosts daily science demonstrations, as well as daily dissections. Note: The latter are not for the faint of heart as they use real cow eyes and sheep hearts.
Another highlight that's sure to wow visitors of all ages is the Fels Planetarium, where you can sit back and see what the night sky would look like without the city lights and pollution we've all become so accustomed to. Add to that wide-ranging temporary exhibits, like "Disney100: The Exhibition," and it's no wonder The Franklin Institute has become the most visited museum in the Commonwealth of Pennsylvania since its inauguration in 1934.
Barnes Foundation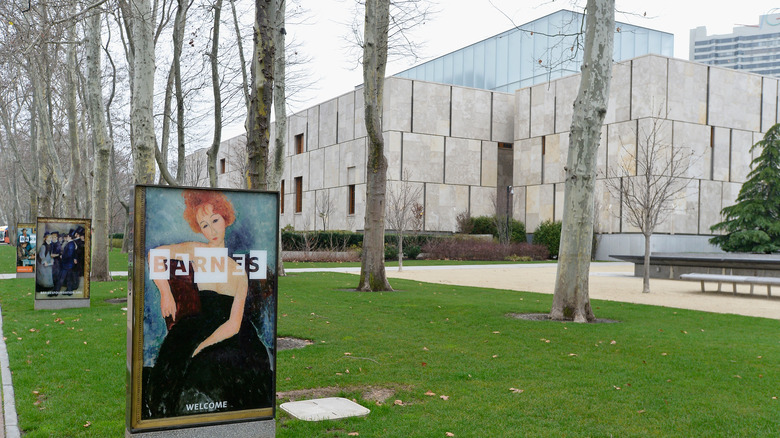 Paul Marotta/Getty Images
Philadelphia art collector Dr. Albert C. Barnes amassed an unrivaled private collection featuring paintings from countless greats like Paul Cézanne, Henri Matisse, Georges Seurat, and Pablo Picasso. However, his interests went far beyond the traditional and he also purchased everything from African masks to Native American jewelry and Pennsylvania German furniture. Dr. Barnes grew his wide-ranging collection between 1912 and 1951 and – luckily, for fellow art lovers – decided to put it all on display. In 1922, he founded the Barnes Foundation to inspire and teach the people of his city about art. Drop in for a visit and you'll see the entire collection displayed the way he arranged it back in 1951.
What's more, in keeping with Dr. Barnes' mission of education, the foundation holds regular classes (both in-person and online) during which experts from around the world help folks approach, understand, discuss, and view art in a new light. Just some of the recent fascinating classes include "Old Masters at the Barnes," "Art and Restorative Justice," and "Gustav Klimt: Modernism in the Making."
Independence Seaport Museum
Philadelphia's Independence Seaport Museum is truly a piece of living history. With the largest maritime art and artifact collection in North America, the museum traces the city's past from a unique perspective — the water. A visit here will allow you to take a closer look at the people who historically lived and worked on the Delaware River, explore Philadelphia's role in the founding of the United States Navy, learn about the African experience in a powerful exhibit titled "Tides of Freedom," and much more.
However, the most impressive part is, without a doubt, the two historic ships you can actually board and explore. The first is the Cruiser Olympia which, in addition to being the oldest floating warship in the world, was tasked with bringing the American Unknown Soldier to the United States after WWI. Then there's the Becuna, a World War II-era submarine that completed five wartime patrols and earned four combat stars for her distinguished service. A visit aboard these incredible vessels is one you won't soon forget.
National Liberty Museum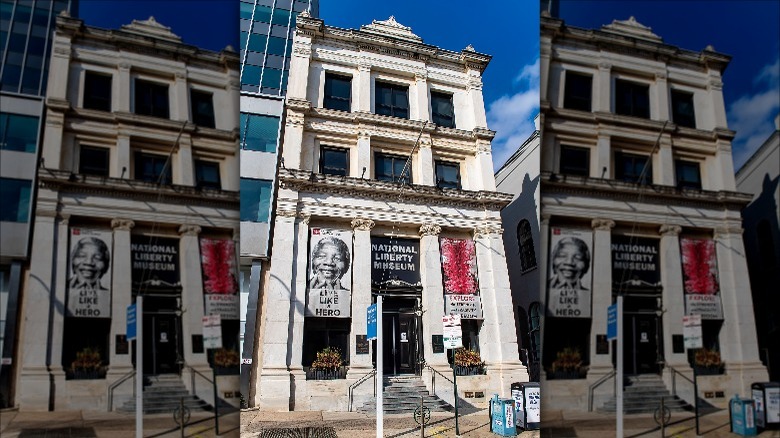 Gilbert Carrasquillo/Getty Images
Located in Philadelphia's Historic District, the National Liberty Museum features four floors of permanent and temporary exhibits wholly dedicated to the theme of liberty. Founded by local publisher and art collector Irvin J. Borowsky, the museum opened its doors in 2000 with a simple mission: explore the past, present, and future of liberty. As Borowsky himself explained on opening day, "We who are fortunate enough to live in the land of liberty must protect it, preserve it, and guard it for future generations."
Step inside and you'll be immersed in the stories of folks from around the world whose very lives have been dedicated to that mission. Think Jackie Robinson, Nelson Mandela, and Malala Yousafzai. All in all, there are stories of over 2,000 heroes, paired with more than 179 works of contemporary art, including incredible glass works by Dale Chihuly. His 21-foot glass sculpture titled "Flame of Liberty" is sure to leave you in awe. As a bonus, you can also get up close and personal with a replica of the Liberty Bell located inside the Welcome Hall, which is free for all to visit.
Institute of Contemporary Art at the University of Pennsylvania
The Institute of Contemporary Art at the University of Pennsylvania (or ICA) isn't your average contemporary art museum. Founded in 1963 by Holmes Perkins, the dean of the university's school of architecture, the ICA is actually a kunsthalle, which means it solely mounts temporary exhibits and doesn't actually have a permanent collection of its own. Perkins started the museum because he wanted to make contemporary art accessible to all, which is why it's always free to visit. What's more, he wanted to shine a spotlight on underrepresented talent and that's exactly what this institution has become known for. Back in 1965, it even staged Andy Warhol's very first solo museum show!
More recent exhibits have included expos from multimedia artist Carolyn Lazard and artist and filmmaker Terence Nance's first solo museum exhibition. One of the most groundbreaking exhibits, though, has been the largest US show of Norwegian artist and smell researcher Sissel Tolaas' art, which allowed visitors to smell their way through a one-of-a-kind exhibition.
The Mütter Museum at The College of Physicians of Philadelphia
It may not appeal to everyone, but the Mütter Museum at The College of Physicians of Philadelphia is inarguably one of the most unique museums in the city, if not the country. Dedicated to medical history, it aims to teach visitors about the human body, as well as about how diagnoses were made and how treatment was administered in a historical context. Pieces in the permanent collection include anatomical wax models, medical instruments, skeletal specimens (including of the 7'6" Mütter American Giant), medical photographs, and more. There are pieces from as early as the 7th century BCE running all the way up to today, although the focus is mostly on items from the mid-19th century to the early 20th century.
Adding to the ambiance is the fact that much of the collection is arranged in a 19th-century cabinet of curiosities style and just some of the most note-worthy highlights include 139 human skulls that once belonged to Viennese anatomist Josef Hyrtl, the livers of famed conjoined twins Chang and Eng Bunker, and slides from Einstein's brain. Yes, really.
Please Touch Museum
If you're visiting Philadelphia with kids, a stop at the Please Touch Museum is an absolute must. Housed in the Memorial Hall — which was built in 1876 for the Centennial Exhibition — this museum opened its doors in 1976 and has since solidified itself as one of the best children's museums in the U.S..
In addition to displaying a whopping 25,000 historic toys and games, the museum is packed with interactive areas that encourage even the youngest visitors to play and, in doing so, learn. Kiddos are invited to get hands-on with various exhibits, like the 3,650-square-foot "Food & Family" space which features a supermarket, home kitchen, and industrial kitchen. Little ones can shop for dinner while discovering different ingredients from around the world, ring up customers at the cash register, cook up a meal, and more. Other memorable areas include "Cents and Sensibility: Fun with Money" and "Happy Camper" where kids can roast marshmallows and learn about nature. And no visit would be complete without a ride (or two) on the restored Woodside Park Dentzel Carousel dating back to 1908.
Weitzman National Museum of American Jewish History
If you're interested in learning more about Jewish life in America, add the Weitzman National Museum of American Jewish History, a Smithsonian affiliate, to your list. Always free to visit, it's conveniently located on Independence Mall and boasts the largest collection of Jewish Americana in the world. The three-floor museum is home to more than 30,000 objects and takes a chronological look at the Jewish experience, starting with 1654. First, you'll make your way through the Revolutionary and Civil Wars until 1880 before heading to the next floor which explores the Great Depression, as well as both World Wars, leading up to 1945. The final floor goes all the way up to today, exploring topics like immigration and the formation of Israel.
Other highlights include special interactive exhibits for kids and the Ed Snider Only in America Gallery where visitors can learn about the impressive lives of real people, like Albert Einstein, Steven Spielberg, and Leonard Bernstein. Notably, it's also continuously growing its collection and most recently acquired artifacts from the January 15, 2022 hostage crisis at Congregation Beth Israel in Colleyville, Texas.
Penn Museum
The Penn Museum blends archaeology with anthropology and brings together over 1 million pieces from around the globe. As you walk in, you'll be greeted by the 3,000-year-old Egyptian sphinx of Ramses II (the largest sphinx in the Western Hemisphere!) and you'll only continue to be wowed from there. Make your way through galleries dedicated to various regions (think Egypt, Greece, Asia, Africa) and discover everything from ancient Roman marble to Maya stone monuments, Chinese ceramic sculptures, Babylonian clay tablets, and more.
To make your time here even more memorable, you can touch replica artifacts, smell scents from the past, and pop by The Artifact Lab, a glass-enclosed conservation lab that lets you watch conservators at work. However, what makes the Penn Museum truly unique is the fact that they've carried out over 300 field excavations and anthropological research projects of their own. In fact, many of the artifacts on display here may never have been found if it weren't for their efforts. In the Eastern Mediterranean Gallery, for example, you'll see a whopping 400 objects from the museum's own excavations, dating all the way back to the Bronze Age.
Wagner Free Institute of Science
The Wagner Free Institute of Science was founded by local philanthropist William Wagner in 1855 in an effort to bring science and natural history to the public – for free. The institute maintains that mission to this day and its wide-ranging collection is sure to intrigue and impress visitors of all ages. Arranged in wooden display cases reminiscent of a Victorian cabinet of curiosity, the pieces you'll see here range from rocks to minerals, fossils, taxidermy animals, mounted skeletons, and much more.
If you want to make the most of your visit and your schedule allows for it, we suggest dropping by during the institute's First Saturday Open House. Each month's event centers around a different theme and the day is packed with activities and informational talks that are especially catered toward families. Meanwhile, adult visitors may want to time their visit to coincide with one of the regular (and seriously fun) Sip & Sketch in the Museum events during which guest artists guide participants in sketching specimens.