A Tour Of Alcatraz Offers An Eerie Look Into San Francisco's Past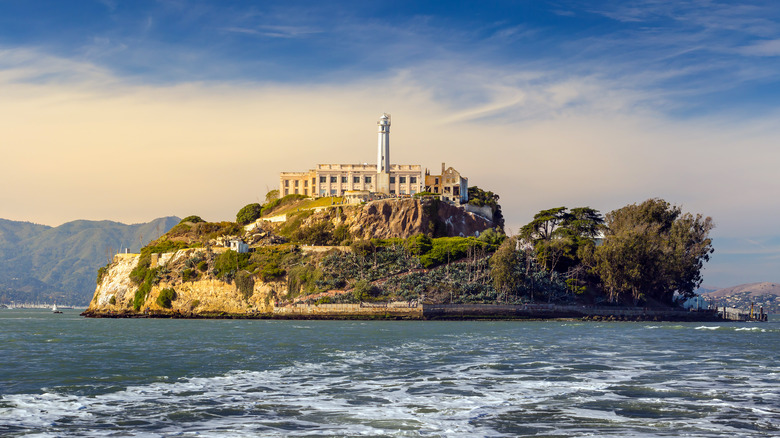 f11photo/Shutterstock
With a long and interesting history, the notorious Alcatraz Island — sometimes called The Rock — is an absolute must-visit in San Francisco. Most famous for its years as a federal prison from 1934 to 1963, its history goes back much further. According to History, Spanish explorer Juan Manuel de Ayala charted Alcatraz Island in 1775, dubbing it La Isla de los Alcatraces, or "Island of the Pelicans."
The 1850s saw a fortress being built on the island in order to guard San Francisco Bay. Around this time, the island also became home to the first working lighthouse on the West Coast. The decade also saw U.S. armed forces begin to detain prisoners on the island as well. Due to its location, surrounded by at least a mile and a half of cold water and strong currents on every side, it was believed that prisoners could never escape. But that doesn't mean they didn't try.
A notorious federal prison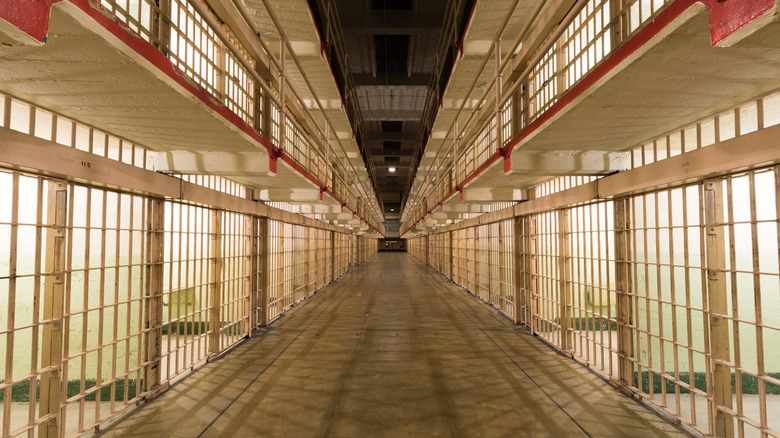 Yhelfman/Getty Images
According to the Federal Bureau of Prisons, the federal government chose Alcatraz as its site for "the most incorrigible inmates." It was a maximum-security prison that housed the likes of gangster Al Capone and George "Machine Gun" Kelly, among other notorious criminals. Arguably the most famous prisoner specific to the island itself, however, was Robert Stroud, portrayed by Burt Lancaster in the 1962 film "The Birdman of Alcatraz." Stroud spent 54 years of his life in prison, including 17 years on The Rock.
Perhaps most notable were the 36 men who were involved in 14 separate escape attempts. Most were either caught, killed, or drowned. However, as the Federal Bureau of Prisons points out, there remain five prisoners listed as "missing and presumed drowned." Following its time as a federal prison, in 1969, the Indians of All Tribes occupied Alcatraz for 19 months in the name of freedom and Native American civil rights.
Exploring Alcatraz today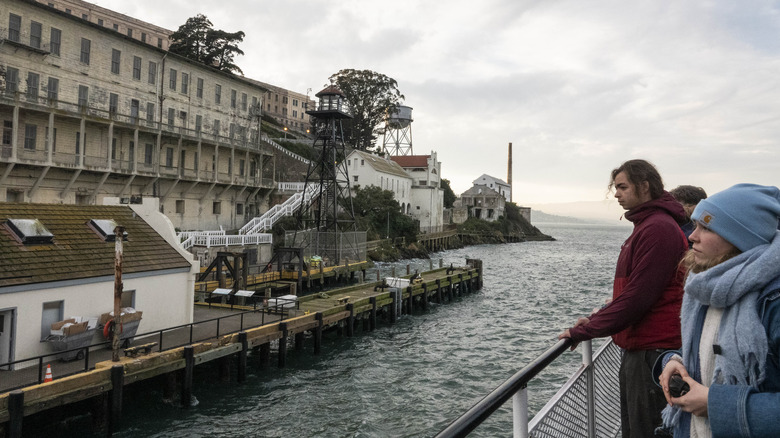 Paul Rovere/Getty Images
Today, Alcatraz is a popular tourist destination in San Francisco. There's so much history there that it takes at least a whole day on The Rock to begin to explore it all. According to the National Park Service, which oversees the site as part of the Golden Gate National Recreation Area today, the Alcatraz City Cruises ferry is the only way to get to the island. You can get aboard at Pier 33, just southeast of Fisherman's Wharf.
Different types of tours are available, including self-guided audio tours of the cell houses, night tours, and behind-the-scenes tours, which go through areas previously not available to the public. For tickets and pricing, visit Alcatraz City Cruises. In the meantime, a good start to the trip may be by taking a virtual visit through the National Park Service website, where you can learn even more about the notorious Alcatraz Island.