Combine Art With Spectacular Views At New York City's Newest Skyrise Observation Deck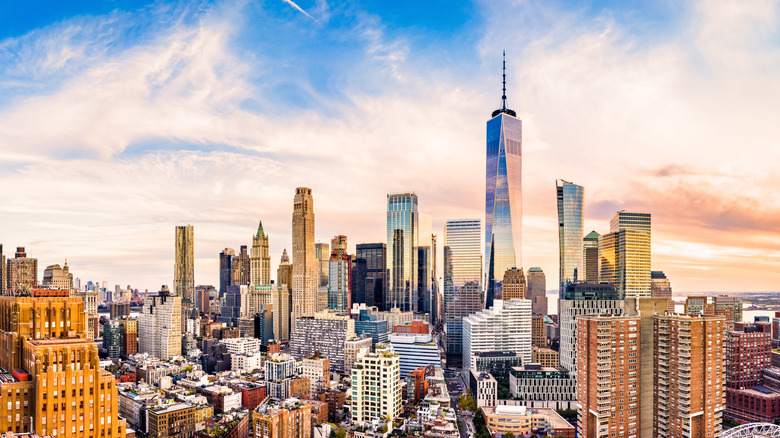 Ultima_gaina/Getty Images
Mention New York City, and it's often an awe-inspiring skyline that comes to mind. This world-renowned destination is one that has a reputation for impressive views thanks to a legacy of innovative design. From the Chrysler Building and Empire State Building to stops like sprawling Central Park, inspiring and iconic vistas are always within reach when you're here.
As a result, travelers come to explore New York City in droves. According to a report by the Office of the New York State Comptroller, 66.6 million visitors made their way to the city in 2019. This was a thrilling record high for the city.
While visitors typically arrive with a packed itinerary of fan favorite stops in hand, it's important to remember that this vibrant city is ever changing. That means it's worth your while to keep up-to-date on exciting landmarks being added to the skyline. Those who are looking for a new place to soak up the city sights are sure to find SUMMIT One Vanderbilt breathtaking. It's a new must-visit destination for one-of-a-kind perspectives on the cityscape. If unique and unforgettable New York City views are what you're searching for, this is the place to be.
An attraction designed to thrill the senses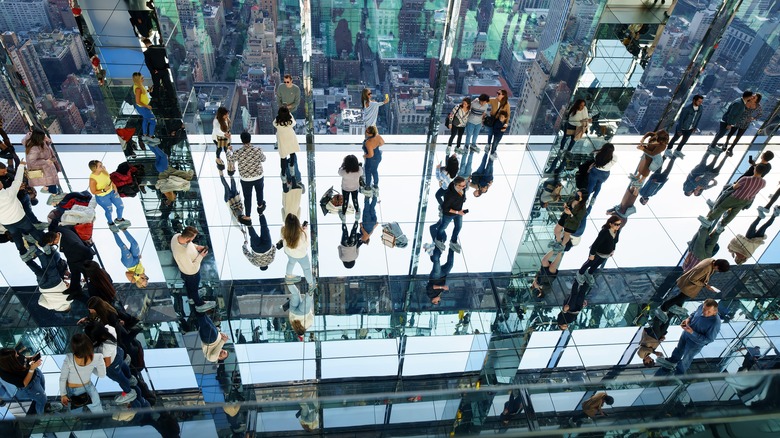 emin kuliyev/Shutterstock
A visit to SUMMIT One Vanderbilt is an opportunity to observe New York City from a space designed for a brand-new perspective on a beloved skyline. According to Architectural Digest, this attraction is situated 93 stories up at an impressive height of 1,401 feet tall. Visitors who enjoy time here will find themselves immersed in a luxe, modern observatory setting where glass and mirrors work together to create a stunning array of views and experiences.
A full SUMMIT One Vanderbilt visit consists of stops at different areas and levels of observation. According to the design team at Kenzo Digital Immersive, the section referred to as Air gives visitors a chance to contemplate their personal relationship to the cityscape. This is achieved through the use of translucent materials and spatial design elements that encourage sky, weather, architecture, and perspective to play a part in the observation experience.
The relationship between reflection and light plays a big role in making SUMMIT One Vanderbilt a completely unique stop. When it comes to enhancing city views, these elements are vital according to Arup, another design company on the project. This team, in tandem with professionals at Snohetta, utilized specialized lighting, sound systems, and visual effects to create a space where visitors would feel as if they were floating through the city while observing it.
Customize your Summit One Vanderbilt visit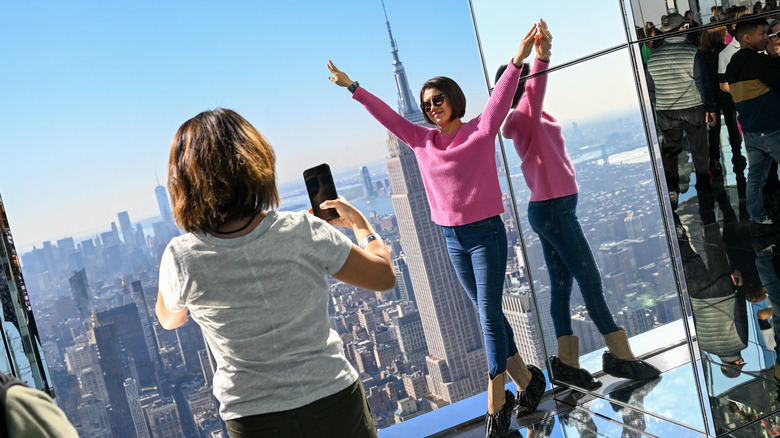 Alexi Rosenfeld/Getty Images
Travelers who decide to visit SUMMIT One Vanderbilt for themselves during their time in New York City will have not one, but three experience options to choose from. The SUMMIT Experience includes entrance to the immersive art exhibit known as Air, as well as access to the transparent sky boxes called Levitation. This experience concludes with a visit to the on-site eatery Après designed by Union Square Events. According to Union Square Events, the menu is a tasty mix of international fare and sweets.
The SUMMIT Ascent option is another choice for visitors. This includes all of the same stops as the SUMMIT Experience with the inclusion of the Ascent elevator. This glass-bottom elevator offers up a unique take on a ride up 12 stories. Passengers will take in sights that are breathtaking from above, and certainly not for the faint of heart.
The most inclusive package at SUMMIT One Vanderbilt is the Ultimate SUMMIT. This experience option includes everything the Summit Ascent option does as well as a signature cocktail experience. This savory beverage is also crafted by Union Square Events.
No matter what experience guests select, they're in for a breathtaking moment. SUMMIT One Vanderbilt is a destination that's bound to become as iconic as the city landmarks that surround it. From the reflective observation deck to the glass elevator, and floating sky boxes, it's a sensory experience quite unlike any other with views to match.