The Best US Cities To Visit For Wine Tastings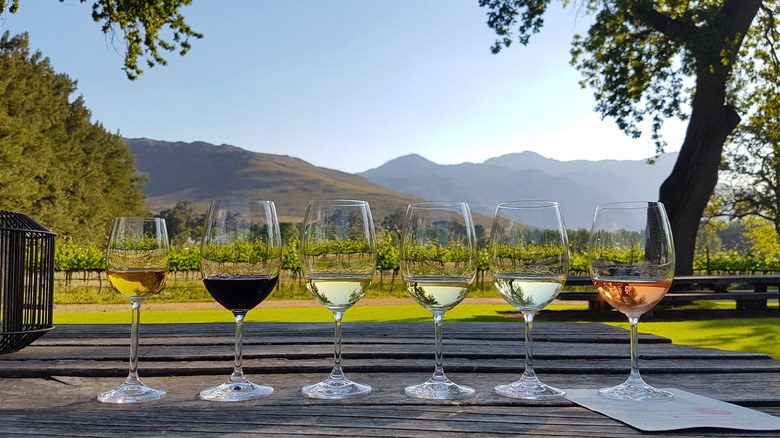 Luiz Antonio Nasser Jr/Shutterstock
Vacationing and wine tasting often go hand in hand for most travelers. Not only is wine tasting a fun activity for any trip, but it is also a great way to enjoy all the surrounding beauty, explore a destination's food scene, and expand your wine palette. With at least one fantastic winery in every state, almost 3,000 vineyards nationwide, and over 200 designated wine regions in the U.S., domestic wanderers definitely have some options if they want to pair a quick getaway with a nice glass of vino.
Of course, die-hard wine enthusiasts can absolutely make it their mission to explore the various wine regions throughout the U.S., sampling all the varietals along the way. However, this is a rather lofty goal that would require countless trips, more than a few frequent flyer miles, comprehensive planning, and then some. So why not opt for a more manageable objective and head to the country's top wine destinations instead? And to ensure you have a robust, full-bodied, and balanced vino experience, here are the best U.S. cities to visit for incredible wine tastings and first-rate wine tourism.
Napa Valley, California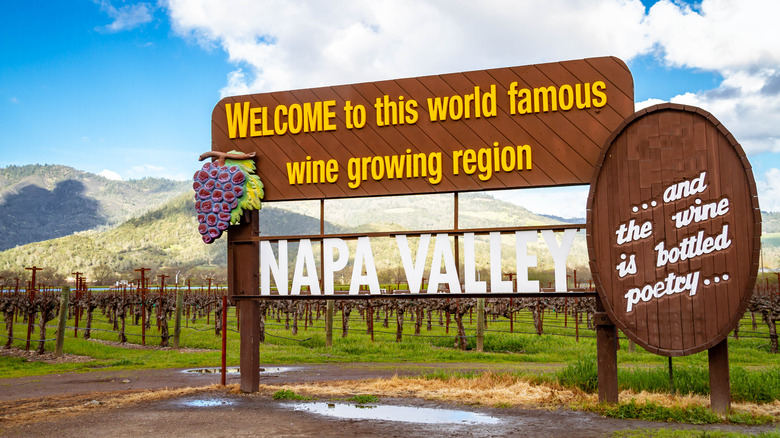 Jason Yoder/Shutterstock
California is home to many of the larger wine regions in the country. That said, the wine capital of California is none other than Napa Valley. Attracting millions of wine enthusiasts annually, Napa Valley should be on any wine lover's to-do list. With its abundance of wineries, the Napa Valley Wine Train, tastings galore, vineyard tours, and renowned wines that you can enjoy all year round, this U.S. city is an excellent choice.
Napa Valley also has a plethora of world-class restaurants, mid-range to lavish accommodations, and a wealth of fun activities. From wine-making workshops, winery crawls, amazing spa packages, and bike rentals to magical balloon rides, annual marathons, and so much more, this quaint little West Coast wine town is the perfect escape — especially if you are celebrating a special occasion. Plus, with wonderful weather no matter the season, Napa Valley is always the ideal wine getaway for couples, families, friends, or even solo travelers who appreciate a good glass of vino. 
Finger Lakes, New York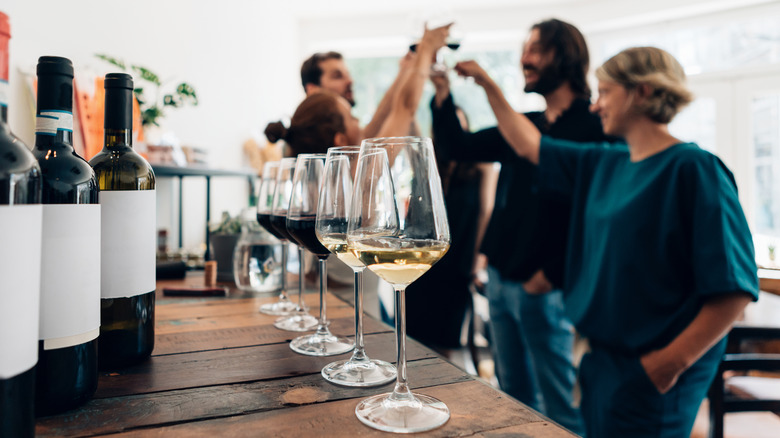 Carlo Prearo/Shutterstock
Finger Lakes is another wonderful option for wine lovers contemplating an impromptu getaway on the East Coast. Not only does this wine region have over 100 vineyards, but it is also an award-winning U.S. wine, beer, and agritourism destination. With the Seneca Lake Wine Trail and the Keuka Wine Trail, an abundance of wineries, and stunning upstate views, Finger Lakes is a great choice for travelers who want to experience the many wonders of upstate New York while getting in some serious wine time and enjoying several tastings.
In addition to being an east coast haven for vino, Finger Lakes is brimming with attractions and outdoorsy activities. In fact, breathtaking spots like Seneca Lake, Belhurst Castle, Finger Lakes National Park, and the spectacular Watkins Glen State Park are just a few more reasons why travelers will have a fantastic time in this part of New York State. And while visiting, you can also partake in the Finger Lakes Beer Trail, explore the village of Skaneateles, stop by the college town of Ithaca, do some light horseback riding, or go adventuring via glider plane.
Sonoma, California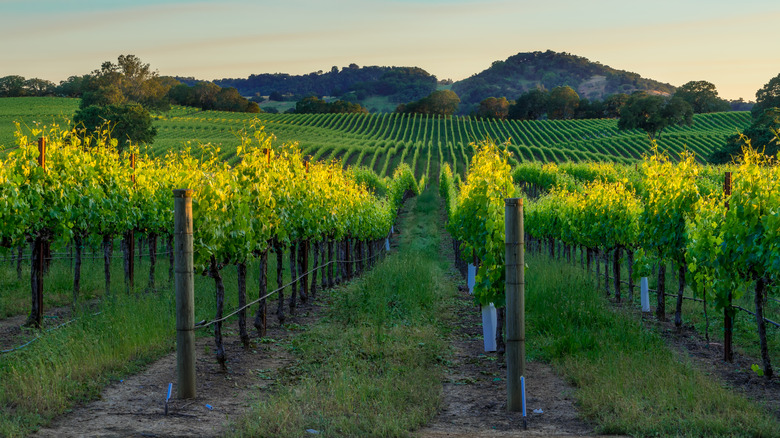 Latypova/Getty Images
Not too far away from Napa Valley, wine connoisseurs will find Sonoma. This U.S. city is known for its excellent wines, over 60,000 acres of lush vineyards, and more wineries than one could ever imagine. Sonoma is also a great destination for anyone who loves a truly diverse selection of wine. With more than 18 distinct wines produced here — including Bordeaux, Rhode, and Zinfandel — plus an impressive farm-to-table food scene, booking a getaway in Sonoma is beyond delightful.
Besides being a popular California tourism spot for wine, Sonoma has one-of-a-kind attractions like the Jack London State Historic Park, Sonoma Coast State Park, an African-inspired safari and nature preserve called Safari West, and an incredible Sears Point Racing Experience on the Sonoma Raceway. Sonoma also has some first-rate spa hotels, posh resorts, boutique stays, and other unique lodging options that are pet-friendly, perfect for families, great for weddings, and so much more.
Santa Barbara, California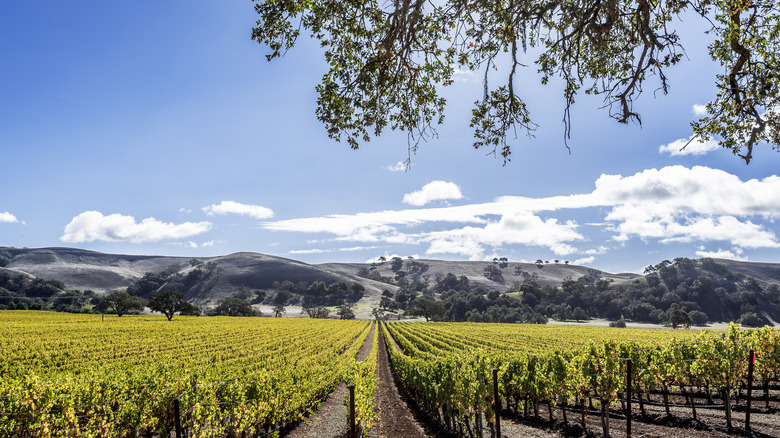 randy andy/Shutterstock
Yet another renowned destination for wine aficionados is Santa Barbara. Affectionally called the American Riviera, Santa Barbara is full of phenomenal wineries, Spanish-inspired architecture, and every kind of tasting room — from modern and eclectic to traditional and prestigious. So if you have been dreaming of a European-style adventure with a rather large selection of robust wines, personalized wine tours, a gourmet food scene, and more, then a trip to this vino paradise in California is a must.
Here, Pinot Noir and Chardonnay fans can delight in rich tasting experiences, then head on over to various art galleries, enjoy some fine dining, and soak up all the beautiful scenery and seaside views. Santa Barbara also has a lively nightlife scene, relaxing spa resort stays, the Danish village of Solvang, a hillside amphitheater with star-studded performances, and easy access to Santa Ynez Valley — which has its own legendary wine trail, horseback riding, lush outdoor spaces, parks, and an abundance of touristy activities.
Walla Walla, Washington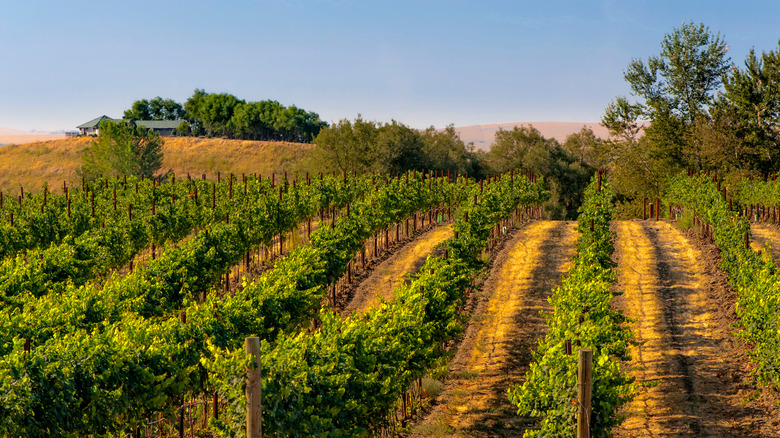 Danita Delimont/Shutterstock
For the highest quality wine tastings accompanied by some of the most gorgeous Pacific Northwest scenery, vino fans should head to Walla Walla, located in Washington State. Thanks to this region's longer than normal growing season, Walla Walla produces some of the nation's best-balanced wines and is the second-largest producer of wine in the country. So, adding Washington State to your domestic wine excursion just makes sense.
A truly riveting wine region, Walla Walla is brimming with vineyards, tasting rooms, and outdoorsy fun. And if you happen to be a serious lover of Bordeaux and Cabernet Sauvignon, then this U.S. wine destination will definitely become one of your top favs. In addition to full-bodied vino samples around every corner, Walla Walla is a great spot for hiking, golfing, biking, and enjoying any of the four nearby riverways — Walla Walla River, Snake River, Columbia River, and Yakima River. There is also a wealth of historical sites, museums, and local theaters — so get ready for an all-around amazing time in Walla Walla.
Willamette Valley, Oregon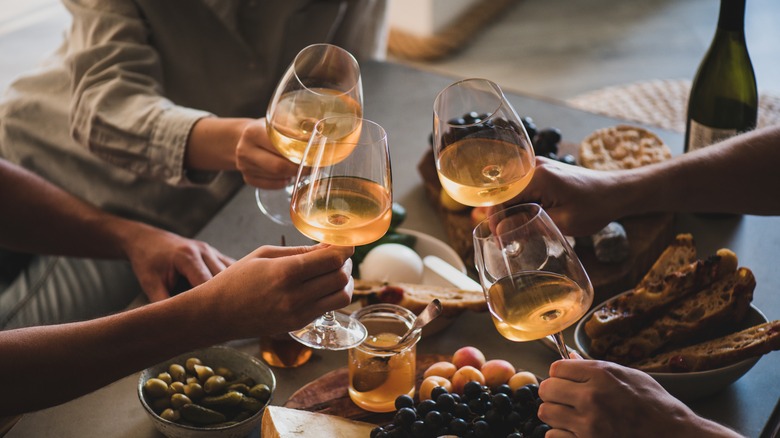 Foxys Forest Manufacture/Shutterstock
Willamette Valley, in Oregon, is also no slouch when it comes to producing wines. With over 800 vineyards here, wine tourists will have their pick of magnificent tasting experiences. Known for its Pinot Noir, Chardonnay, and Pinot Gris varietals, Willamette Valley is a superb spot on the map for all things wine related. But that's not all — in addition to the countless wineries that make up this vast wine country for tastings and tours, this destination has an incredible culinary scene worth savoring.
Historical towns in the Willamette Valley wine region and Portland specifically are ideal for wine connoisseurs who are also foodies. And after some world-class wining and dining, outdoorsy types can enjoy a ton of activities, including perusing the several state parks, hiking, mountain biking, fishing, birdwatching, boating, or even spending some much-needed time at the beach (the Oregon Coast is less than 30 miles away). Plus, with exceptional accommodations, a wealth of live entertainment, and a lovely shopping district, Willamette Valley is just one more great wine getaway and adventure waiting to happen.
Loudoun County, Virginia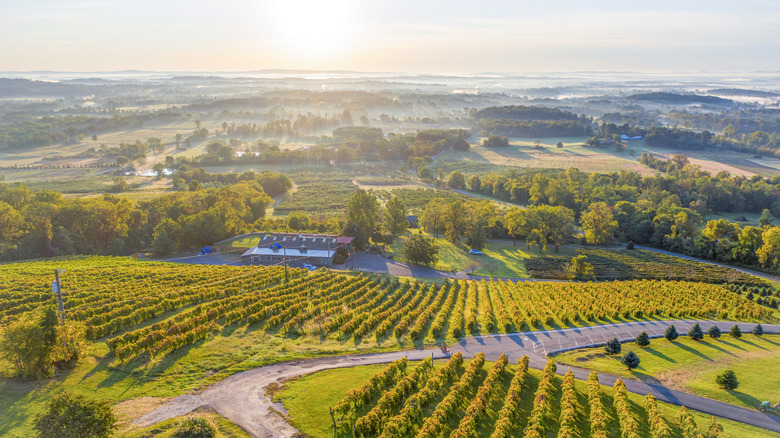 Brian Balik/Shutterstock
Often referred to as the Napa of the East, Loudoun County in Virginia is home to over 40 of this state's 300 wineries. Loudon County visitors can enjoy unique wine-tasting experiences with more grape varietals than practically anywhere else. With a rich history of winemaking, ample wine events, celebrated vineyards, breathtaking scenery, and more, this destination definitely makes the list of great East Coast haunts for roaming wine enthusiasts. Plus, visitors can pair their top-notch wine experience here with quaint boutique stays or opt for 5-star luxury accommodations.
Besides charming lodgings, this wine wonderland has excellent spas, several breweries, wineries with onsite restaurants, nearby museums, inviting farms, grand resorts, lush parks, and outdoor adventure centers. There is also some serious indoor fun available around these parts, including an indoor rope course, a flying experience, golf, ziplining, and even an indoor speedway. So, if this sounds like the perfect vino retreat for you, then get ready to enjoy one-of-a-kind tastings and other thrilling activities while in this corner of Virginia wine country.
Fredericksburg, Texas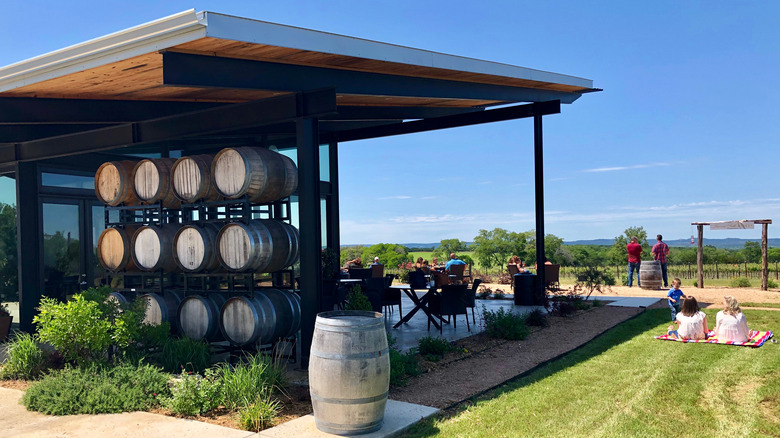 Carolyne Parent/Shutterstock
A trip to Fredericksburg is definitely in order for travelers looking to check out the wine scene in the Lone Star State. This pleasant spot on the map is located right in the heart of Texas wine country and has more than a dozen wineries and tasting rooms in its bustling downtown area. With lovely little B&Bs, cozy cabin rentals, and romantic boutique hotels available here, Fredericksburg is the ideal destination for couples in particular.
Here, wine lovers can delight in local tasting experiences, explore the 290 Wine Trail, and even check out the various wine-related festivals, events, and auctions. Other nearby attractions that will only add to your Southern vino extravaganza include a day trip to Enchanted Rock State Natural Area, Wildseed Farms, LBJ National Historical Park, Old Tunnel State Park, and an abundance of museums. There are also over 150 incredible shops, like Farmhaus Antiques and Lock, Stock & Barrel, that are filled with all kinds of local creations and fanfare. And, of course, the gourmet food scene with a distinct German flare in Fredericksburg is simply divine.
Brandywine Valley, Pennsylvania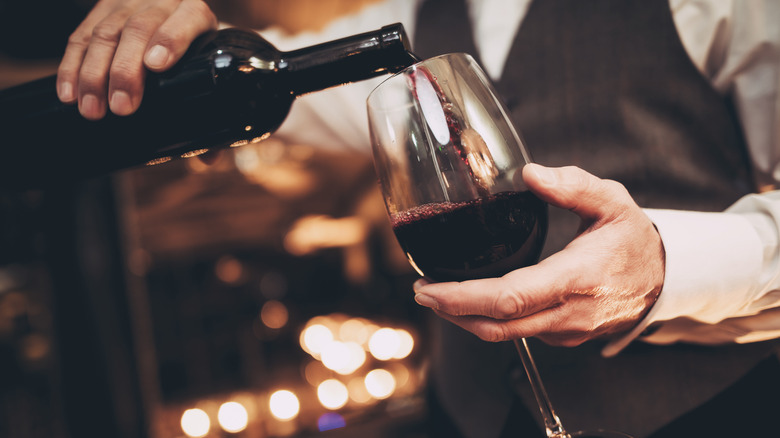 Veres Production/Shutterstock
Brandywine Valley in Pennsylvania is another excellent option for wine fans. In fact, many believe all Pennsylvania vacations should include a stop-off here. With picturesque rolling hills, lush valleys, and all the perfect weather conditions for growing bold wines, Brandywine Valley is the ideal weekend getaway. Here, visitors can set out on the Brandywine Valley Wine Trail (BVWT) and enjoy several tasting experiences at their leisure.
Of course, the fun does not stop there — while indulging in all this wine region has to offer, travelers should also pencil in more than a few points of interest here, like the Wharton Esherick Museum, the American Helicopter Museum, Baldwin's Book Barn, Brandywine River Museum of Art, and the Colonial Theatre. What's more, if you happen to be a history and wine buff, then stopping by St. Peter's Village is a fun way to step back in time, explore this region's history, and pair all that wine tasting with delicious delicacies from "The Best Little Bakeshop in America."
Palisade, Colorado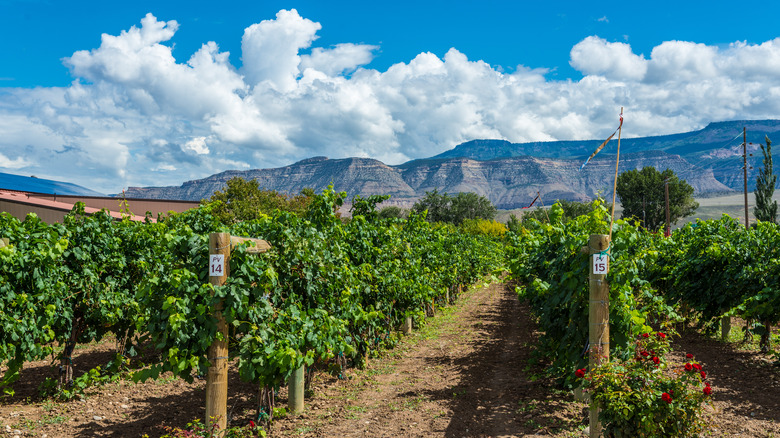 Phillip Rubino/Shutterstock
With its very own Fruit and Wine Byway, also known as the "Fruit Loop," Palisade, Colorado is pretty much a dream come true for wine connoisseurs. Not only is this little pathway bike-friendly and comprised of three possible routes — the East Cruiser Loop, West Cruiser Loop, and East Orchard Mesa Loop, but it also offers a fun and different way to enjoy several tasting experiences. Palisade is home to over 20 wineries and lush vineyards, and the Byway makes it easy to delight in them all.
So, visitors can ride along the Colorado River, marvel at stunning valley vistas, add adventuring to the itinerary, partake in tastings upon tastings, and snack at the various fruit stands along the way. A truly relaxing getaway for nature lovers, cyclists, and wine enthusiasts, this vino paradise has more than a few orchards and distilleries as well. So after sampling flavorful regional wines, you can opt to sip hard ciders and go peach-picking or simply kick back and relax in rustic lodgings. This U.S. city also has quite the art and cultural scene, plus a wealth of ongoing fun, foodie, music, and wine-related events.
Augusta, Missouri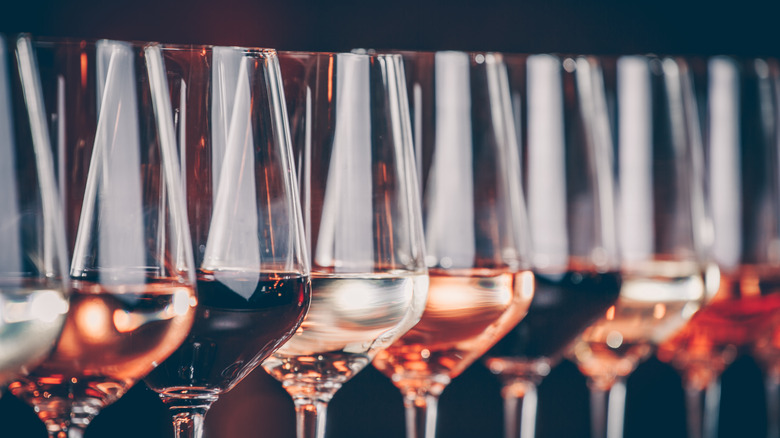 Ekaterina Molchanova/Getty Images
Augusta, Missouri, is a Midwest wine region that is very much off the beaten path. So travelers may want to consider a St. Louis getaway with a nice day trip to Augusta if they want more options in the way of activities. That said, if you do not mind a leisure wine escape, then Augusta is for you. With just over a dozen wineries here, visitors can easily get in several fantastic vino tastings while enjoying the great outdoors.
The state is known to many as "The Napa of the Midwest," and die-hard wine fans can rest assured that this charming little town delivers when it comes to unique blends, varietals, and renowned wines. In fact, Augusta reportedly has some of the finest wines in the Midwest and has been in the winemaking business for 150 years. Plus, with an abundance of outdoor recreation, picture-perfect scenery, quaint B&B stays, and more, visiting this part of Missouri wine country feels like a relaxing wine retreat more so than anything else — and who could say no to that?
Anchorage, Alaska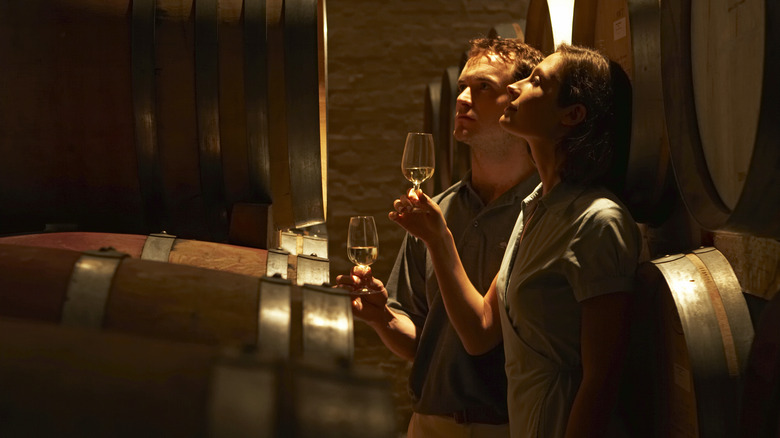 Tay Jnr/Getty Images
Seeing Anchorage, Alaska, on the list of best wine destinations may be surprising to some. But this is the perfect place for berry or "Wilderness Wine" tastings. Here, fruit mixtures such as strawberry, rhubarb, and raspberry or raspberry, black currant, and blueberry are combined to create some of the most delightfully sweet wines around. Of course, you want to visit in the warmer months to truly appreciate such rich vino.
Spring and summer visitors, then, can book a multitude of wine tours or explore the four main wineries on their own. Better still, multi-day vacation packages are available for you to experience all the splendor of this city, which include wine, the wilderness, fishing, hiking, and a lovely lodge stay. Besides being an unexpected U.S. wine destination, Anchorage's distillery and dining scenes are just two more tasting experiences you should have while in town. Anchorage visitors should also make it a point to go for a ride on the Coastal Classic Train and catch a glimpse of the Northern Lights for a complete and truly robust getaway.
Asheville, North Carolina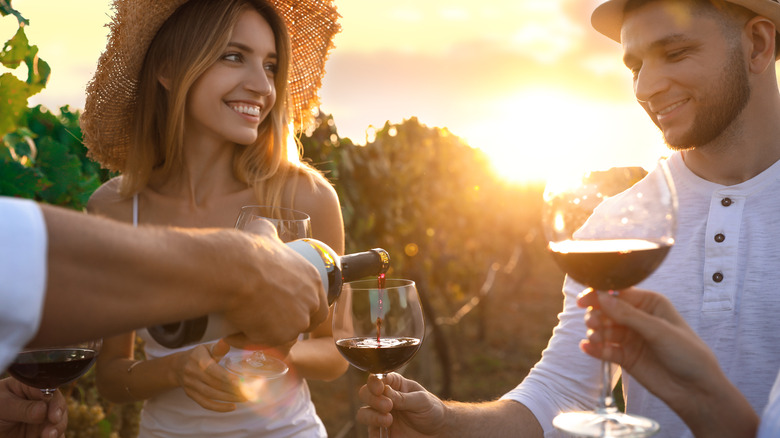 New Africa/Shutterstock
Asheville, North Carolina, is another wonderful domestic destination for wine, beer, and cider. This agriculturally rich spot on the map definitely rises to the occasion when it comes to vino. With a large variety of wines (French-style, impressive blends, reds, whites, and sparkling), charming wine bars, and award-winning vineyards and wineries, Asheville is undoubtedly for wine lovers.
Here, wine enthusiasts can enjoy roughly 15 wineries and ample tasting experiences. Thanks to this region's prime location near the Blue Ridge Mountains, visitors can expect some first-rate wining and dining. What's more, Asheville is a nice little stop-off for travelers who are looking to pair diverse tastings with an amazing cultural scene, live entertainment, winemaking workshops, relaxation, and epic scenery. Plus, located just outside the city, wine fans will find countless more vineyards and exquisite tasting rooms to check out.
Snake River Valley, Idaho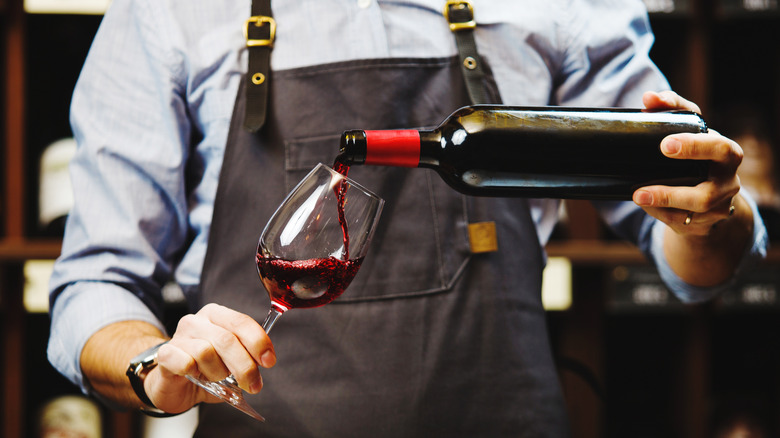 Il21/Getty Images
Last but not least, if you are all about the Spanish vino varieties, then schedule a trip to Snake River Valley in Idaho. This particular region is known for having similar growing conditions to Spain, and thus their main focus is on Spanish white and red varietals. That said, Syrah, Merlot, Riesling, Chardonnay, and Viognier are also very popular in this region.
Located only a short drive from Boise and touted as the next big up-and-coming wine locale, Snake River Valley has over 30 of the state's 60 or so wineries. So, wine tourists can either opt to stay in Boise or book a cozy cottage rental in the heart of Idaho's wine country. Regardless of where you decide to stay, if it is an abundance of tasting rooms, cellars, and experiences you are looking for, then Snake Valley is worth a tour. And after some phenomenal tastings, visitors can marvel at all the beautiful scenery, go adventuring in the surrounding area, or head on over to the other two wine regions in the state — Eagle Foothills and Lewis Clark Valley.