Experience American History With Spanish Flair In St. Augustine, Florida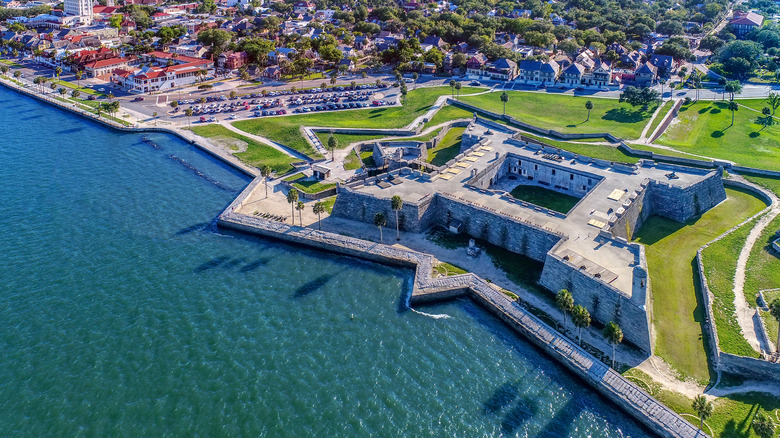 Barbara Smyers/Shutterstock
What better place than the "Nation's Oldest City" to experience Florida history? That's right — the Sunshine State is not just home to alligators, but to the historic city of St. Augustine. It was founded in the 16th century, making it officially the longest inhabited European- and African-American-founded city in the country. Spain called the shots until a peace treaty handed over control of the territory to the U.S. in the early 1800s. But all that history means one thing — plenty of must-see historic attractions, starting with the forts.
Castillo de San Marcos, nestled on Matanzas Bay, was built over the course of two decades, starting in 1672, according to Florida's Historic Coast. Then there's Fort Matanzas on Rattlesnake Island, which visitors get to by ferry. This was built by Spanish soldiers as the city's "back door" protection against the British. Fort Mose, now a historic state park, was most significant as the first free-African settlement in the U.S.
Touring the historic district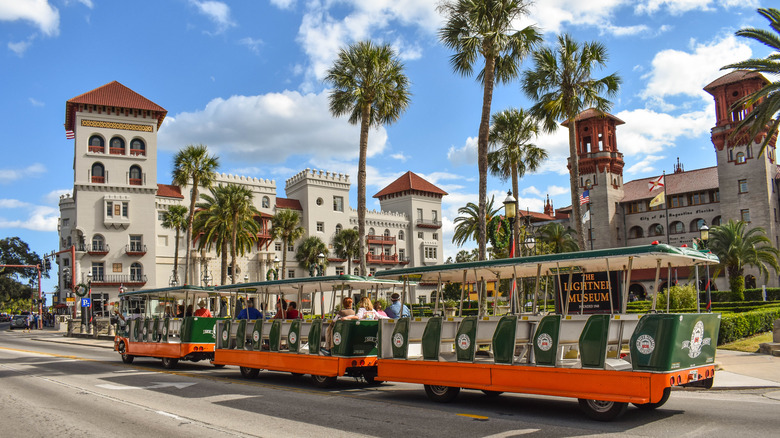 VIAVAL TOURS/Shutterstock
Want to experience Florida history with a lot of humidity-soaked exertion? Old Town Trolley Tours are an excellent way to see historic attractions in the city. The company offers hop-on, hop-off daylong tours that feature 22 stops in Old Town, the official name of St. Augustine's historic district. Among the stops are the obligatory St. Augustine History Museum, the old jail, the city gates, and the oldest wooden schoolhouse (there sure are a lot of places with "old" in their names in St. Augustine).
Just south of the Oldest Wooden Schoolhouse is the Colonial Quarter, which offers tours of its own. Here you can dig for 400-year-old artifacts and climb a watchtower that's been standing since the 17th century. Guided tours of the area are only available on weekends, so you'll be on a self-guided exploration on weekdays. While you're at it, the St. Augustine Historical Society also offers guided tours of the Oldest House Museum Complex, which has (you guessed it) Florida's oldest house.