The Best Museums To Visit On A Trip To Boston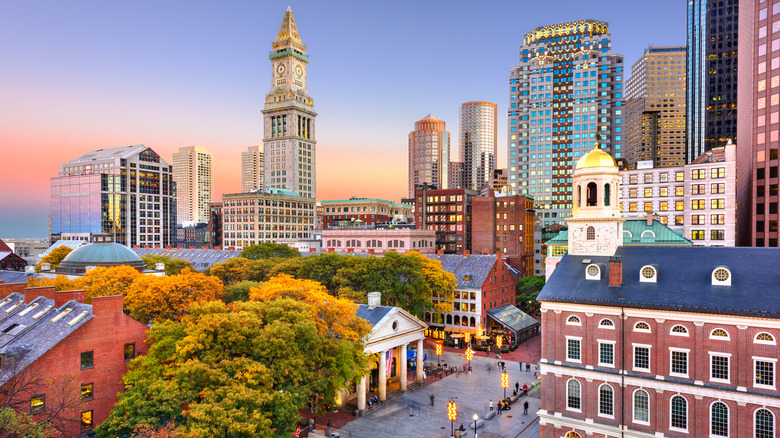 Sean Pavone/Shutterstock
Boston is brimming with museums. So many, in fact, that choosing just one may make you feel like you are missing out on all that the city has to offer. From the fine arts, American history, and cutting-edge science to tech innovations, educational activities, and sports memorabilia, the museums in Beantown are simply fascinating — and that's not even half of it.
With something for just about everyone, there is no reason not to explore as many art institutions, historical reenactments, renowned collections, and visually-appealing galleries as possible. In a city known as the Athens of America, the Cradle of Liberty, and the Hub of the Universe, museumgoers will be anything but disappointed here. And even though you may not be able to check out all of these spectacular places of exhibition on a quick Beantown getaway, you can still make it a point to see the best of the best. So, to ensure you can cross the top spots off your to-do list, here are 13 incredible museums in Boston that every visitor should check out on their next trip.
Institute of Contemporary Art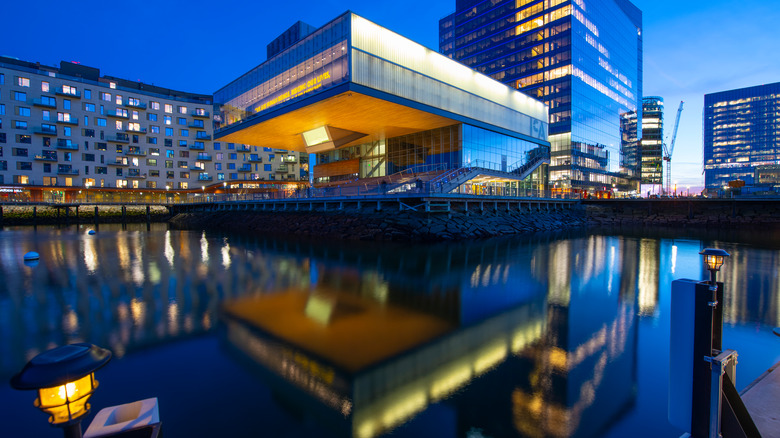 Wangkun Jia/Shutterstock
Art lovers looking for contemporary masterpieces should definitely check out ICA Boston. Located on the waterfront, ICA is an attention-grabbing art house that is spectacular inside and out. Originally named the Boston Museum of Modern Art, ICA has been a creative staple in this city since the late 1930s. Known for its grand display of radical art, thought-provoking cultural exhibitions, and lively events, ICA is part of the reason why Boston has such a revered art scene.
In general, ICA aims to foster artistic learning opportunities and connect people of all ages and walks of life with artwork highlighting the here and now. So, while visiting this great art institution, make sure to marvel at the latest and greatest works of art, peruse the many ongoing exhibits, see a film or two, and possibly check out an artist's talk. Stopping by this city gem is also a great afternoon activity that starts with a 10-minute ferry ride to the museum, accentuating Beantown's gorgeous waterfront, and allowing museumgoers the chance to truly examine modern or contemporary art.
Paul Revere House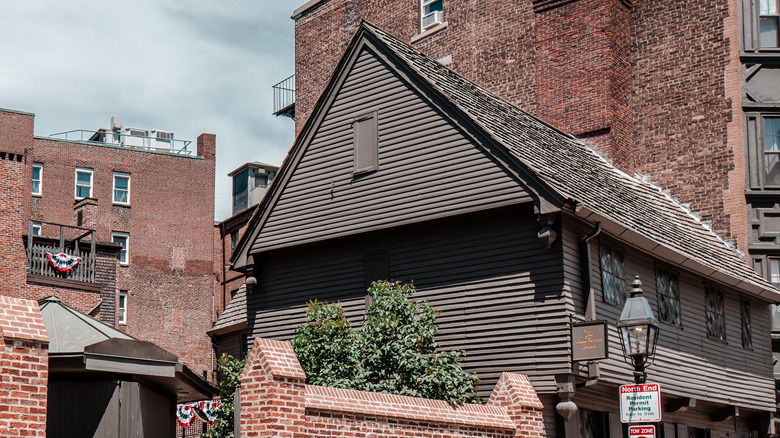 2p2play/Shutterstock
Of course, visitors cannot come to Boston without seeing the national historic landmark that is the Paul Revere House. The Tudor-style abode of the infamous Paul Revere, located in the North End neighborhood and constructed around 1680, is the oldest house in the city. Many know the story of Paul Revere — the brave silversmith who embarked on a midnight ride to warn the patriot leaders against an attack by British forces, which ultimately aided in fortifying the city during the Revolutionary War.
Now, Paul Revere's house is a non-profit museum and the only museum city explorers will find along the Freedom Trail. Revere's house attracts over 250,000 visitors each year and is a fascinating walk-through that every visitor should take at least once in Beantown. In addition to taking a tour of this historical home, visitors can learn all about that infamous ride that changed American history, enjoy colonial craft demonstrations, listen to early American music, and engage with colonial reenactors.
Boston Tea Party Ships & Museum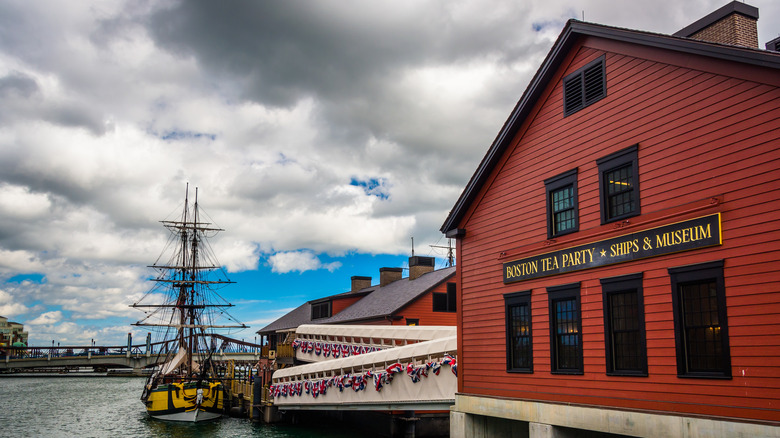 ESB Professional/Shutterstock
Speaking of reenactors, Beantown visitors should also make it a point to stop by the Boston Tea Party Ships & Museum. Here, you can delight in guided tours, interactive exhibitions, and stunning full-scale ship replicas from the 18th century. But that's not all — museumgoers can also grab a front-row seat to watch the reenactment of yet another pivotal moment in American history. When America was nothing more than a mere 13 colonies, the Tea Party movement took a stand in direct opposition to Great Britain's taxation and tyranny.
Things came to a head in a sheer act of defiance, and 342 imported chests of tea were thrown into Griffin's Wharf in Boston on December 16, 1773. Today, Boston visitors can witness this very act and see with their own eyes just how frustrated the colonies were. Not only is this reenactment fun for all ages, but it is also an exciting way to bring history to life. And regardless of whether you are a maritime lover or a history buff, you definitely don't want to miss this rebellious display, so do yourself a favor and head on over to the Boston Tea Party Ships & Museum when you are in town.
Museum of Fine Arts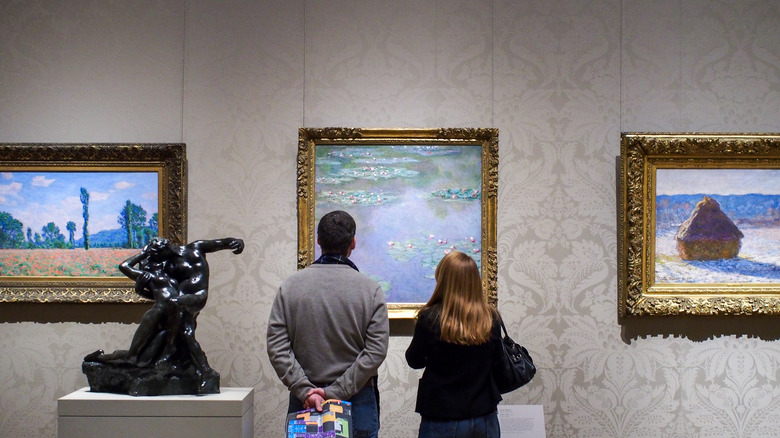 Luke W. Choi/Shutterstock
Yet another must-see in Boston is the Museum of Fine Arts (MFA). Located in Copley Square, MFA is known for its incredible and extensive fine art collection. Originally founded in 1870, this particular collection of artwork is touted as the largest in the world and attracts over a million art enthusiasts annually. So, for any Beantown visitors who happen to be short on time and therefore can only choose one art house to peruse, then MFA might just be that one, as this wonderous space allows visitors to marvel at a minimum of 500,000 works of fine art.
Here, museum-goers can relish in all the surrounding creative beauty and then some — this impressive art hub showcases ancient Egyptian art, highlights renowned artists from all over the world, and even has more than a few contemporary art exhibits that are worth a look-see. This museum also offers studio art workshops, exciting educational talks, special events, and more, including a handful of onsite restaurants. So do not be surprised if you end up spending all day in this Boston treasure trove.
Isabella Stewart Gardner Museum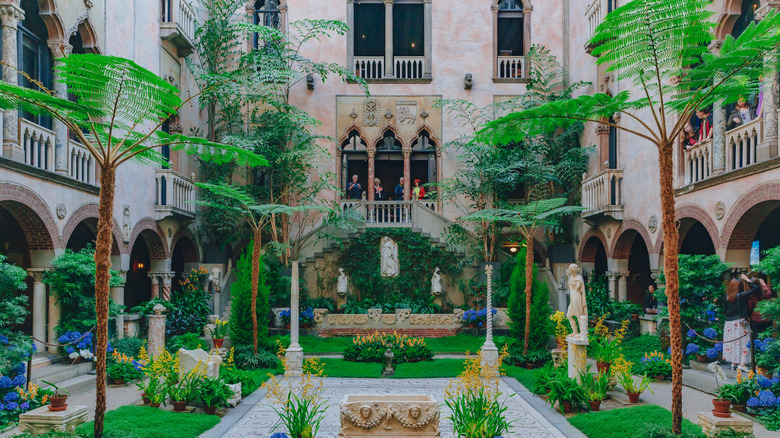 Mark Zhu/Shutterstock
The Isabella Stewart Gardner Museum is definitely a favorite for most visitors in Boston. This stunning Venetian palace is located in the center of it all and is a great addition to any visitor's itinerary. This house of art makes the list of the best museums in Boston thanks to its exquisite collection of American, European, and Asian works of art, including paintings, tapestries, sculptures, and so much more. Upon entering the main skylight courtyard here, visitors can take a lovely stroll through this lush garden-like space and enjoy all the foliage.
Inside the actual museum, which is actually a gorgeous 15th-century Venetian palazzo, visitors should take their time examining all of the unique works of art, especially "The Concert" by the Dutch painter Vermeer. "The Concert" is one of the most pricey pieces in this entire private collection, and it is definitely a sight to behold. Besides this world-renowned painting, the Isabella Stewart Gardner Museum has more than a few must-see eclectic masterpieces you should check out, including two iconic Rembrandt works — "The Storm on the Sea of Galilee" and "A Lady and Gentleman in Black."
deCordova Sculpture Park & Museum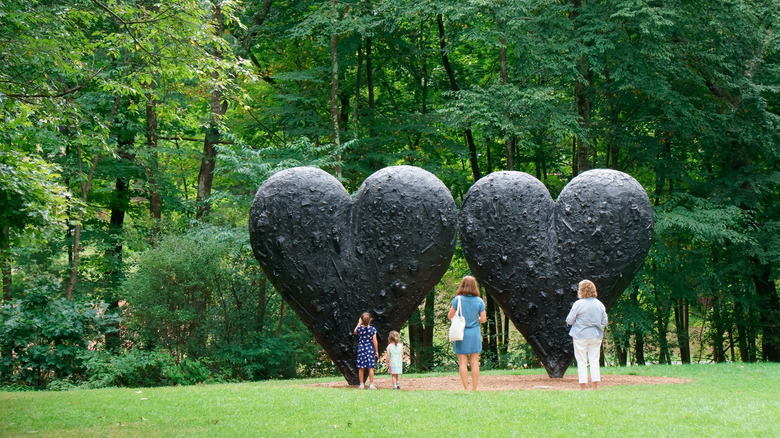 Yingna Cai/Shutterstock
For nature and art lovers who prefer to appreciate fine art outdoors, the deCordova Sculpture Park & Museum is an excellent choice. Located only a few minutes outside the city, this artsy outdoor space is full of large-scale works of art, sculptures, and countless installations that are simply breathtaking. Spanning more than 30 acres, this particular museum is especially nice in the spring or summer.
Of course, that does not mean that cold-weather city explorers cannot still enjoy the deCordova Sculpture Park & Museum. In addition to being a fantastic artistic and outdoorsy spot in Beantown, there is also a rather comprehensive indoor gallery space here that features several works from contemporary and modern artists. The deCoedova indoor galleries often showcase temporary exhibits and other forms of artwork besides sculptures or installations. That said, this particular museum is truly one of the best outdoor museums visitors will come across near the city of Boston. So during your visit, regardless of the season, make sure you take a nice walkabout in this phenomenal park and museum.
The Harvard Museum of Natural History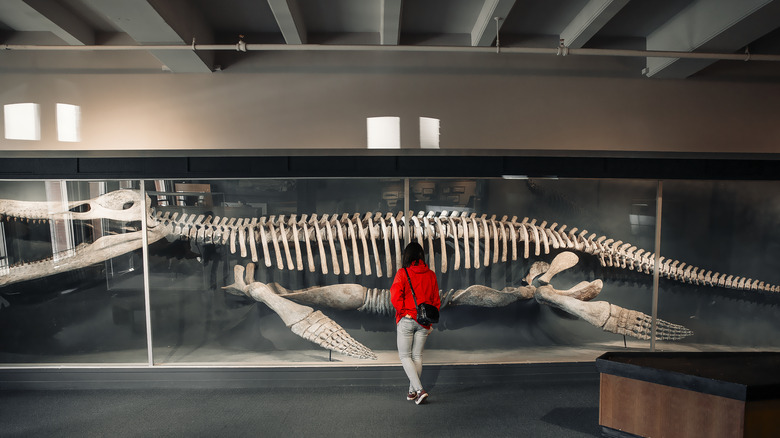 EvgeniiAnd/Shutterstock
Science fans should have the Harvard Museum of Natural History at the top of their must-see list when it comes to Boston museums. Attracting over five million inquisitive travelers a year, this incredible museum and world-leading scientific research center, has hundreds of galleries featuring rare gemstones, meteorites, and other unbelievable finds that span billions of years. In fact, just one look at the 42-foot-long Kronosaurus skeleton and you will be more than interested in further exploring this grand museum.
Located in Cambridge, only a hop, skip, and a jump away from Boston, Harvard visitors can easily make the less than 10-minute walk over to this spectacular attraction. Once there, you will likely need to dedicate at least a few hours to exploring this place fully to truly appreciate all that this great spot offers. After spending several hours in awe, you can head over to the Peabody Museum of Archaeology and Ethnography. Admission to the Harvard Museum of Natural History also covers the entrance fee for the Peabody Museum, so visitors will be able to enjoy two wonderful museums for the price of one.
Harvard Art Museums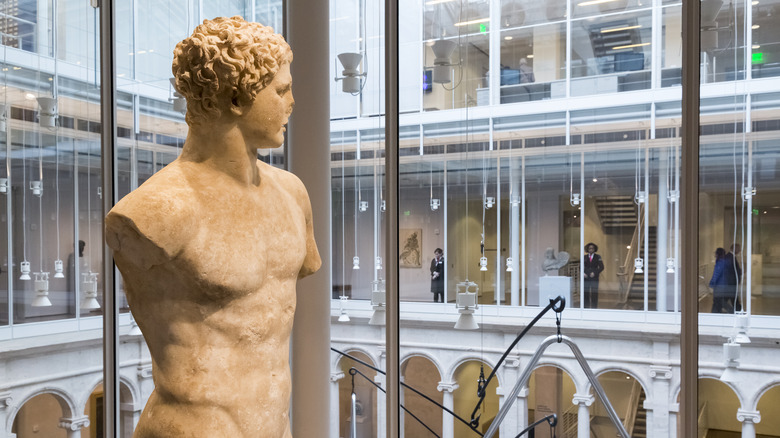 Marcio Jose Bastos Silva/Shutterstock
Boston visitors can actually make a day out of touring the various museums on Harvard's campus in Cambridge. So after thoroughly enjoying the Harvard Museum of National History and the Peabody of Archaeology and Ethnography, stop by Harvard Arts Museums. Here, art lovers will happen upon a total of three art houses — each showcasing something different.
All located in the same complex in Cambridge — the Fogg Art Museum (diverse Western art), the Sackler Museum (mainly Middle Eastern art), and the Busch-Reisigner Musem (predominantly European art) offer visitors a chance to revel at British, French, Italian, Turkish, Islamic, East Asian, and Germanic art. This artistic haven also provides a variety of temporary exhibitions for new skills and creative talents. Of course, if you prefer one particular style over the other, then you do not have to peruse all three if you are not up for it. But, if you are, then why miss out on all the stunning artwork and overall impressive collections housed here? That's especially true if you happen to be in the neighborhood on Sunday, which is when all visitors can get in for free.
Museum of African American History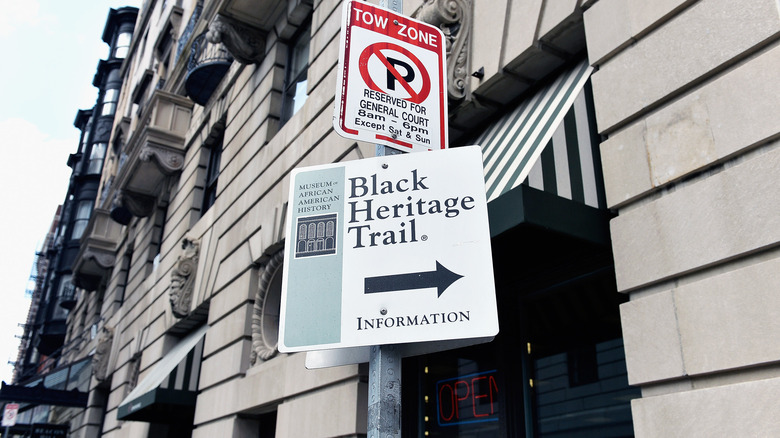 Paul Marotta/Getty Images
The Museum of African American History (MAAH) in Boston is just one more cultural institution that deserves a visit while in town. This great space is full of Black history (writings, arts, and artifacts), 19th-century exhibitions, educational events, and empowering programs that are important to Boston's past and American culture as a whole. MAAH also plays a key role in the continued efforts to preserve and highlight the contributions of African Americans in this country.
But that's not all — MAAH is so much more than just a building (or former schoolhouse) that houses the history of Black Bostonians from long ago. With several historical sites around the city, such as the African Meeting House and the Black Heritage Trail, MAAH offers everyone the chance to embark on a thought-provoking journey. By making it a point to check out the museum, walk along the trail, and tour many of the other significant sites, visitors can delve deeper into the "missing pages of history." So, Beantown explorers looking for the full picture of what it means to be a part of this nation should absolutely add this one to the itinerary.
MIT Museum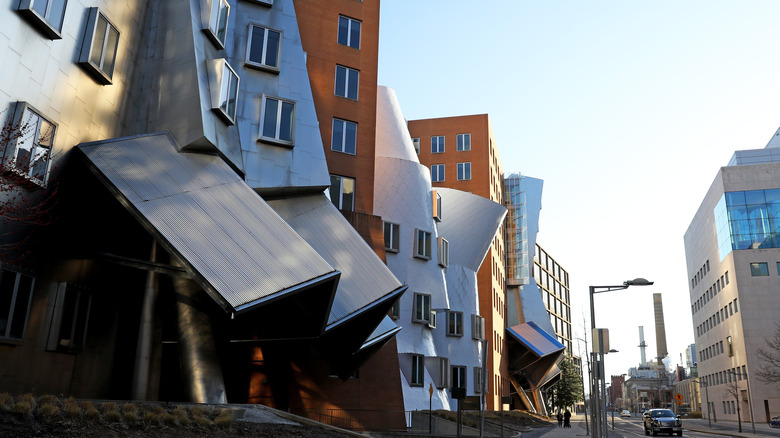 Maddie Meyer/Getty Images
Also located in Cambridge, the renowned MIT Museum is definitely a must for anyone who loves technology, innovation, design, and engineering. Highlighting incredible feats from MIT's past, present, and future, the MIT Museum is downright fascinating. With its many captivating STEM (Science, Technology, Engineering, and Mathematics) focused exhibits, museum-goers can delight in the creative minds at MIT and their latest projects.
So, if tech-based artwork, holography, robotics, lasers, and more sounds like something that is right up your alley, then the MIT Museum is somewhere you'll have a good time. Besides being a hub for all things tech, this museum also covers oceanography, maritime history, photography, architecture, and science. MIT also has numerous named collections like the Martin Klein, Charles H. Woodbury, Haffenreffer-Herreshoff, Imre Halasz, and David A. Huffman collections. Since there's something for everyone here, a trip to this museum is a great choice for families, friends, couples, and solo wanderers alike. There are also other exciting late-night happenings for the 21 and up crowd at the MIT Museum, including the monthly After Dark Series, which is a thrilling event with live entertainment, tinkering, and so much more.
Old State House Museum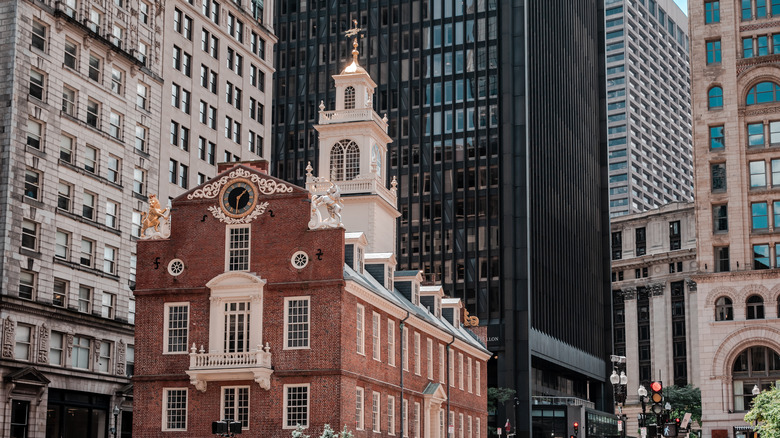 2p2play/Shutterstock
Back in the heart of Boston, museum-goers can appreciate the same building where the Declaration of Independence was first read to the masses on July 18, 1776 — also known as the Old State House Museum. But, this is not this abode's only claim to fame, as the Old State House is the oldest surviving public building in the city. Suffice it to say that American history buffs are in for a real treat when visiting this Boston museum.
At the very center of civic life, before the American Revolution, the Old State House Museum was a simple regal-looking townhouse located on what would later be known as the Freedom Trail. Nevertheless, during the time of the American Revolution, several key historical moments also occurred just outside the Old State House Museum's door, like the Boston Massacre of 1770. Today, Beantown visitors can get a glimpse into Boston's turbulent past, view artifacts from this period, enjoy multi-sensory displays, and peer into rooms from long ago. That said, the best way to experience this museum is definitely via tour, so book early and get ready to be enthralled with all the stories of old.
Boston Children's Museum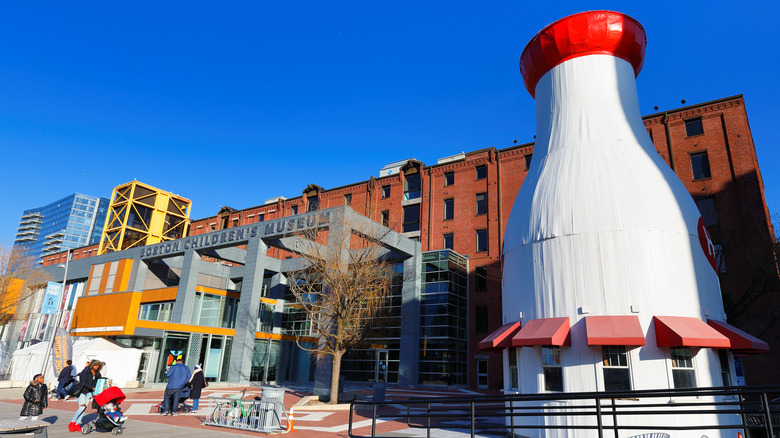 Jay Yuan/Shutterstock
Travelers heading to Boston with their young and future MIT students in tow should add the Boston Children's Museum to their itinerary. Located right on Congress Street, this colorful place is a fun option for families, especially on a rainy day. One glance at this place, and you can tell the Boston Children's Museum is all about kids playing, exploring, and learning. This fun center makes the best of the best list because it offers a wonderful and interactive way for children to engage in various educational opportunities and hone their science, math, and social skills.
With a host of hands-on activities, exhibits, events, and in-museum adventures, your kids will have a blast (the Boston Children's Museum is recommended for ages three and up). And the best part is the benefits are two-fold — your kids become that much more interested in learning, and you can enjoy watching your children become excited about all things science, technology and mathematics. Plus, if you are still in the planning stages for your fun-filled family trip to Beantown, then do yourself a favor and utilize the family-friendly hotel packages available on the museum's website.
John F. Kennedy Presidential Library and Museum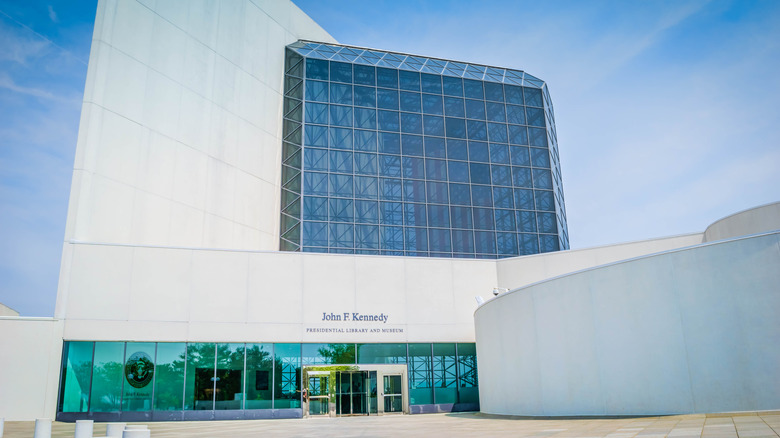 Brett Welcher/Shutterstock
Last but not least, the John F. Kennedy Presidential Library and Museum is a great addition to anyone's list of best museums to visit while in Boston. This spectacular library and museum is situated on Columbia Point (in the city's Dorchester neighborhood) and it is here museum-goers will find a truly expansive building that covers a 10-acre park and offers stunning one-of-a-kind views of Boston, Dorchester Bay, and some of the bluest ocean waters on the east coast.
Inside this famous building, there are several permanent exhibits dedicated to the late president that provide visitors with a real sense of who this great man was from a young age, during the 1960 Presidential election and inauguration, as well as throughout his life. With over 20,000 artifacts, photos, film footage, a gift shop, an onsite restaurant, an extensive library, and more, this museum is definitely worth a thorough visit when you are out and about appreciating the cultural, historical, and artistic side of the city.