The Best US Destinations For European Tourists Visiting America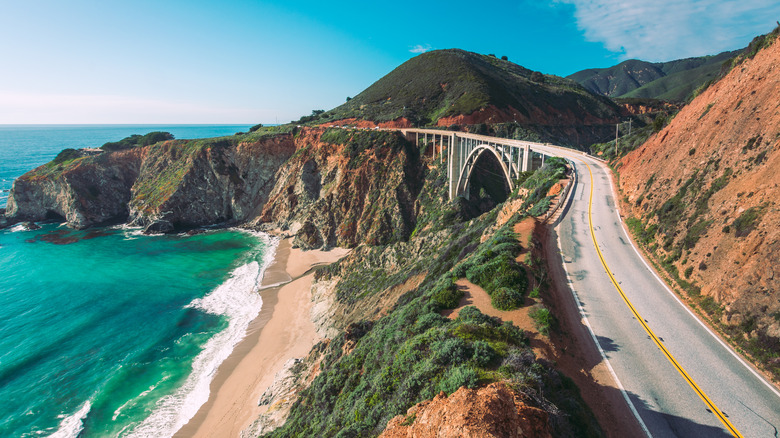 Markue/Getty Images
Coming from the other side of the Atlantic, the U.S. is a massive country (France and the state of Texas are roughly the same size), and it can be overwhelming for European tourists to choose where to visit. Though there are a few ways to narrow down options. First, we've taken into account flights, as some cities, usually large ones, are easier to reach via a direct (or minimal changes) route from European hubs than others. Additionally, many of the cities on the list have, by American standards, decent enough public transportation, although if you're planning to take day trips, a car will be necessary in most cases.
And finally, we've tried to include a mix of obvious (and maybe a bit cliché) cities, as well as lesser-considered destinations for those who have been to the States before and want something a bit different. All recommendations are full of quintessential American landscapes and experiences. Here are 15 of the best places in America for visiting Europeans.
New York, New York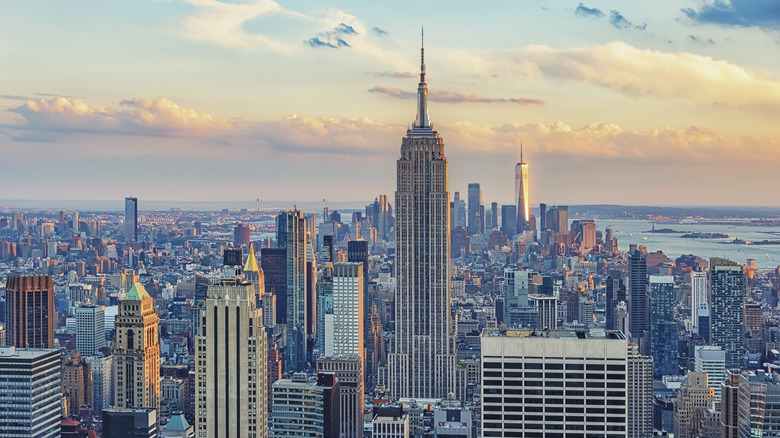 Stockbym/Getty Images
The most-visited city in the U.S. holds that title for a reason. New York City's place as a bucket list destination for most international tourists put this at the top of most U.S. trip itineraries. The City of Dreams and the one that never sleeps, there is always something to do and see in the Big Apple. Towering skyscrapers, lights that truly stay on 24/7, and a population that slows down for no one, the energy in NYC is unlike elsewhere in the country. You can shop for weeks on end, try virtually any type of cuisine you're craving (at any time of the day or night) and enjoy some of the best people-watching in the world. And if you're hoping to catch a concert, show, or sports event on a trip to the U.S., your best bet to do so will be here.
Home to three airports – JFK, La Guardia, and Newark — so numerous transatlantic flights arrive daily from European hubs. Even less-common origin airports like Lyon and Lisbon have direct flights to New York. It is also well-connected via domestic flights, as well as by train and bus to the rest of the country, making it a good start or end point for a multi-city tour.
San Francisco, California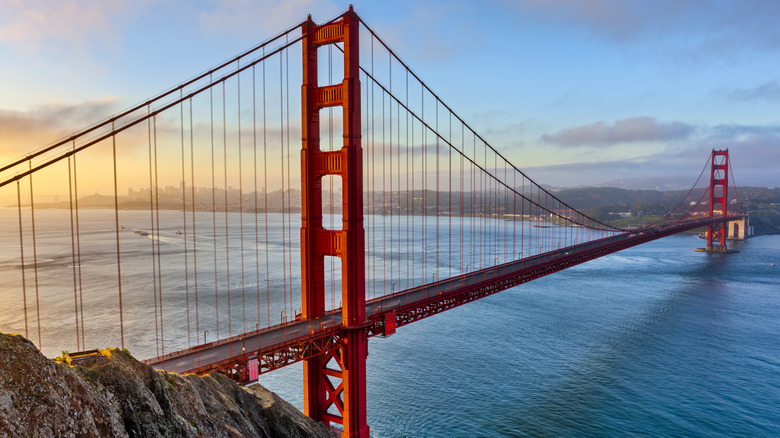 Don White/Getty Images
One of the West Coast's main hubs for international flights, San Francisco is a great entry point to explore the rest of the coast. It's about as stereotypically West Coast as you can get with the Pacific Ocean crashing at its doorstep and mountains just a short drive away, and the Bay Area's main city makes for a fantastic trip on its own. San Francisco houses countless Michelin-star restaurants, as well as noteworthy dives and cafes that are equally worth a visit. It also has an amazing bar scene with world-class cocktails served across the city. Ride the streetcar or wander the winding, zigzagging, and often steep roads that feel straight off a movie set.
You're also never far from nature while you're here, with many neighborhoods a short drive or a walk from the ocean or parks that feel a world away from downtown. If you're open to leaving the city and renting a car, even better hikes and beaches await you. And of course, SF isn't far from nearby Napa and Sonoma wine country, Yosemite National Park, Santa Cruz, Lake Tahoe, and the Redwoods National Forest, all easy trips from the Bay. European travelers will enjoy a city with proper public transport as they're used to but also have access to amazing parks and nature for which the U.S. is known.
Albuquerque, New Mexico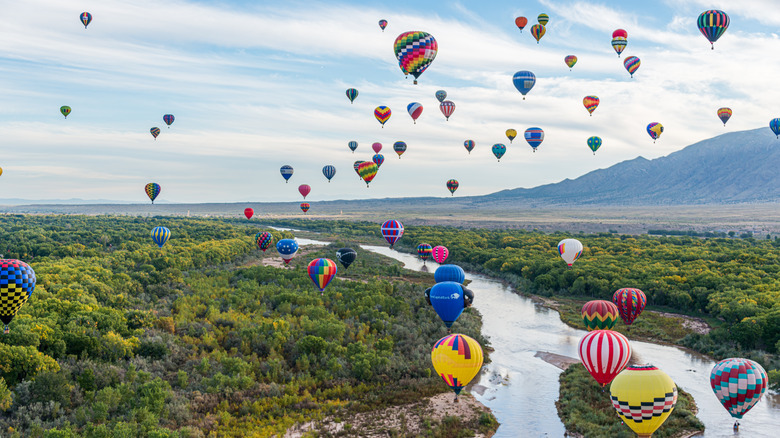 gmeland/Shutterstock
The coasts often receive the most amount of visitors, particularly from Europe, but if you want to avoid crowds and see a different side of the country, the Southwest makes for a spectacular location. Albuquerque is not on most international travelers' lists unless perhaps you know someone that has visited. However, it is a fantastic destination and you'll enjoy a city that is quite different from other places in the U.S. The Sandia Mountains make a breathtaking backdrop to the town and provide many opportunities for outdoor recreation. You can hike or mountain bike the trails or take the gondola up and simply enjoy the view. And if you're keen on an even more amazing perspective, take a hot air balloon ride over the New Mexican desert.
Back in the city, you're spoiled for museum options from the nationally acclaimed National Hispanic Cultural and Indian Pueblo Cultural Centers, as well as odder collections like the Rattlesnake Museum and International Balloon Museum. It's also quite easy to do day trips to places such as Santa Fe, where the Georgia O'Keefe Museum is located, and Taos, an even more scenic mountain town and home to the Taos Pueblo, a living Native American and UNESCO Heritage site. It may take a bit more effort to get out here, as you'll be hard-pressed to find any direct flights from Europe, but the multiple legs will be worth it.
Austin, Texas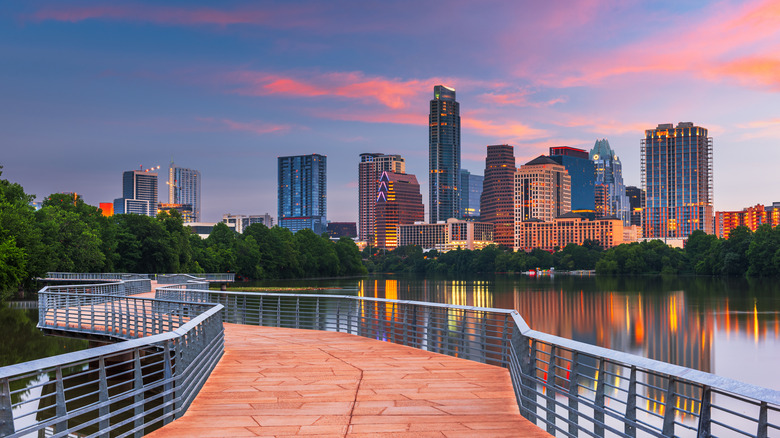 Sean Pavone/Shutterstock
While the capital of Texas is not often considered by travelers from outside the U.S., it is a fantastic and quirky city. Austin's catchphrase is "Keep Austin Weird" and it perfectly sums up the paradox that is the state capital. Europeans will get a taste of the anomaly that is the state of Texas — bars where you can line dance, a music scene that rivals Nashville, and proud Texans who will be more than happy to have a chat. At the same time, Austin has high-end restaurants, an amazing craft beer scene, trendy cafes, and plenty of museums and galleries that rival most other major U.S. cities.
While in Austin, you have to try at least a few of the delicious taco trucks and hit up a BBQ joint or two. Additionally, thanks to the year-round hot weather, you can enjoy a float down the nearby rivers and lakes on a weekly basis. Top destinations include Lake Travis, the San Marcos River, and the Colorado River. Texas Hill Wine Country is also a short drive away. You likely won't find direct routes from Europe, but the international hub of Dallas-Fort Worth is just under 200 miles, or 320 kilometers, away.
Seattle, Washington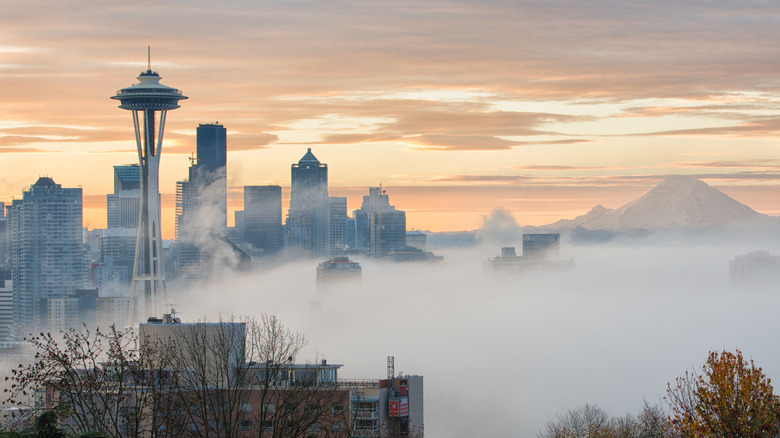 July7th/Getty Images
The Emerald City can thank Hollywood for its' spot on the international stage. Favorites like "Grey's Anatomy,"  "Sleepless in Seattle," "Twilight," and "Frasier" have all been set in Seattle. And the city doesn't disappoint! From Pike Place Market to the sandy shores of Alki Beach and quaint neighborhoods like Queen Anne, Fremont, and Capitol Hill — full of cafes with the best coffee in the nation and bars serving similarly topnotch craft brews. It's also the perfect city for outdoor-loving visitors who want the option of nature experiences on their U.S. trip. Seattle has numerous parks like Golden Gardens, Discovery Park, and Gas Works that provide waterfront views and a respite from the concrete maze of downtown.
However, you'll also have the option of scenic road trips and amazing hikes (or ski runs in winter), in the nearby Olympic and Cascade Mountains. Not to mention coastal beaches like Rialto and Ruby Beaches, which are much less built up than counterparts down the coast in California. Seattle-Tacoma International Airport has decent connections to European hubs like London, Dublin, Paris, Amsterdam, and Frankfurt. You can also take the train (or easily drive) to Vancouver, British Columbia, or Portland, Oregon, or take the ferry to Victoria, British Columbia to extend your Pacific Northwest adventure.
Atlanta, Georgia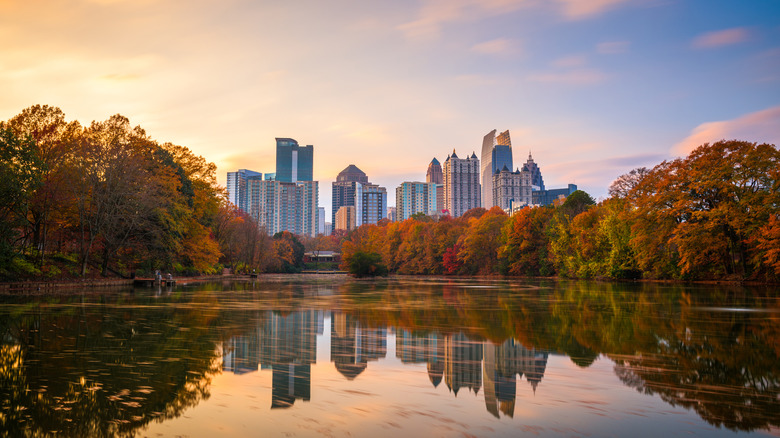 Sean Pavone/Shutterstock
European travelers will delight in this southern metropolis, so different from "typical" U.S. city breaks that often favor the coasts. Sure, Atlanta has all the usual ingredients of an American city with skyscrapers, amazing bars and restaurants, cute residential neighborhoods, subpar (especially for European standards) transportation, and traffic. However, this city also has some unique aspects that make it a fun and different destination. First, the unique history is worth a visit on its' own and would be very interesting to non-Americans who don't learn as much about U.S. history or the Civil War. Atlanta started as a Confederate stronghold, but then after the Union took over, the city was actually burned down in what ended up being just the start of wreckage that went all the way to Savannah and the coast. A little over a century later, the city became a hub for the Civil Rights movement, and many monuments, as well as the Atlanta History Center, tell the story of the area.
Like New York and San Fransisco, Atlanta is a major hub — in fact the busiest airport in the world. International and domestic giant, Delta Airlines is headquartered here, where there are multiple other nearby destinations like St. Simon's Island, Savannah, the Blue Ridge Mountains, and the Chattahoochee River National Recreation Area. If you have more time, rent a car and do an entire southern road trip!
Boston, Massachusetts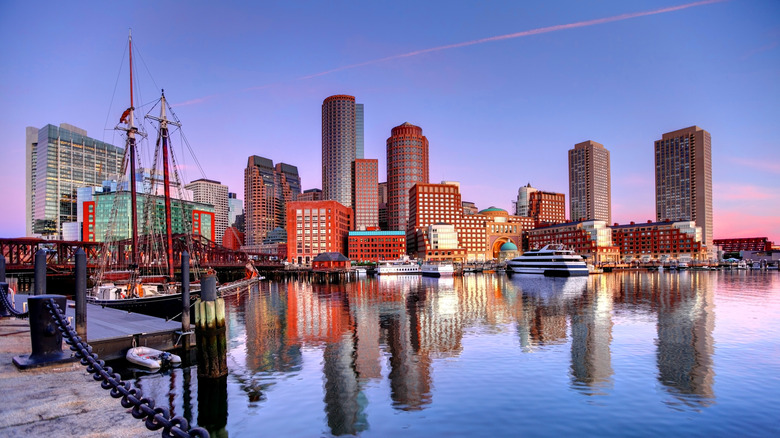 Denistangneyjr/Getty Images
For most Europeans visiting the U.S., Boston will likely feel more familiar than other cities. The old brick and cobblestoned buildings and streets certainly feel more "East-of-the-Atlantic" than the concrete that makes up Houston. Quaint buildings and verdant trees line streets along the Charles River, making even the biggest skeptic consider if perhaps they teleported to another continent. Another feature that adds to this "at-home" feeling for Europeans is the relatively decent (compared to most American cities) public transportation. In fact,  Boston's subway is the oldest in the country, and while it might take a bit longer to get places than you're used to on London's Tube or the Paris Metro, it's still much more efficient than other U.S. destinations.
Beyond being reminiscent of home, Boston has immense historical importance. You can visit the harbor where the famous Boston Tea Party took place, the Paul Revere House (of "the British are coming, the British are coming!" fame), and the site of the Boston Massacre. There are also wonderful museums like the Boston Tea Party Museum, the Museum of African American History, and the John F. Kennedy Presidential Library and Museum. Additionally, it's a great start and end point for a trip, as plenty of flights from Europe depart and arrive each day and it is well connected via train.
New Orleans, Louisiana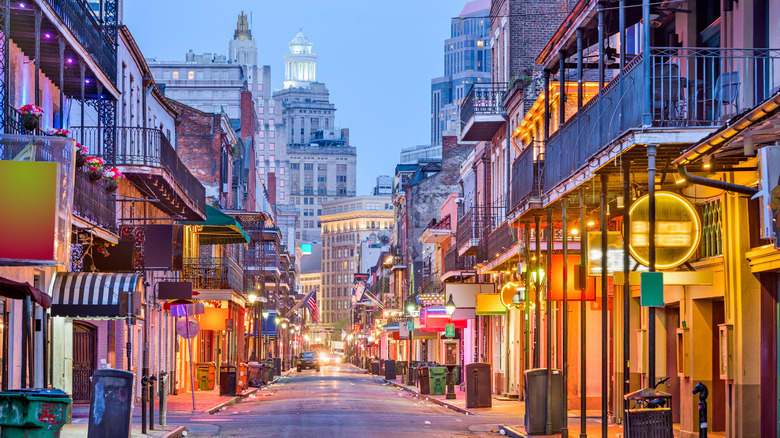 Sean Pavone/Shutterstock
New Orleans is considered the heart of Francophone culture in the U.S., but the rich history tells a much more nuanced story. Yes, the city was initially colonized by the French, but it also passed through Spanish hands, then back to France before becoming a part of the U.S. This is evident in the architecture, the brightly colored buildings with twisting iron fences definitely feel more Western European than New World skyscraper.
However, where the rich mix of cultures really appears is in the cuisine and language. Beignets and Muffaletta transport you to French bakeries or Italian cafes while Jambalaya, Crawfish, and Gumbo are distinctly Southern. Additionally, even more so than in other American cities, you'll hear numerous languages spoken throughout the city. Most unique is the particular version of French and Creole spoken by many inhabitants. The number of French speakers might dwindle each year, but this party city in the Bayou state still feels distinctly European.
Boulder, Colorado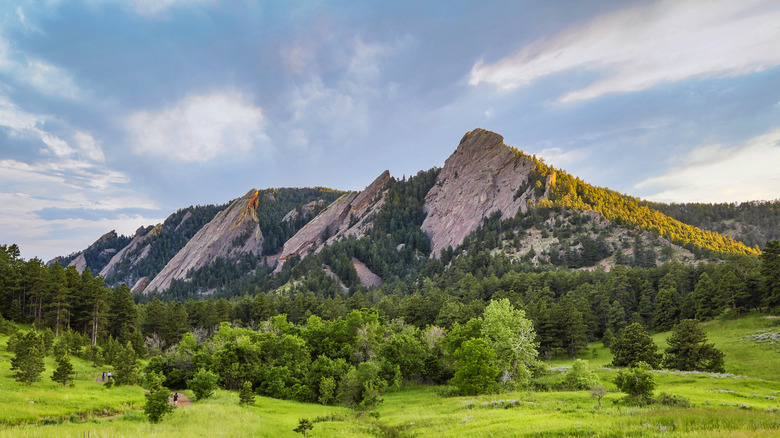 Brett Beyer/Shutterstock
The Rocky Mountain State is the perfect place for winter-sport-loving Europeans to see an American take on ski resorts. Boulder is the gateway to the Rockies and while the peaks will pull most of their attention, visitors should plan to spend at least a few days in town. The city is full of amazing cafes, restaurants, performance venues, and bike lanes. Sure, it doesn't have the Old World architecture of New Orleans or San Fransisco, but it does embrace bike culture with similar enthusiasm to Amsterdam. Although, this is the West, so of course this is done so with an enthusiasm for the outdoors. The nearby mountains are never far from view, you can hike right up from not far from downtown or swap your road bike for one better used off-trail.
Additionally, as mentioned before, Boulder is a fantastic base for a Colorado ski trip and the Rockies are certainly a good substitute for the European Alps. What will likely bring a smile to European faces is the Bavarian lookalike village, Vail (not dissimilar to Leavenworth in Washington State) near a popular ski resort. Denver International Airport is the best point of arrival by plane and is located a little under an hour from Boulder.
Portsmouth, New Hampshire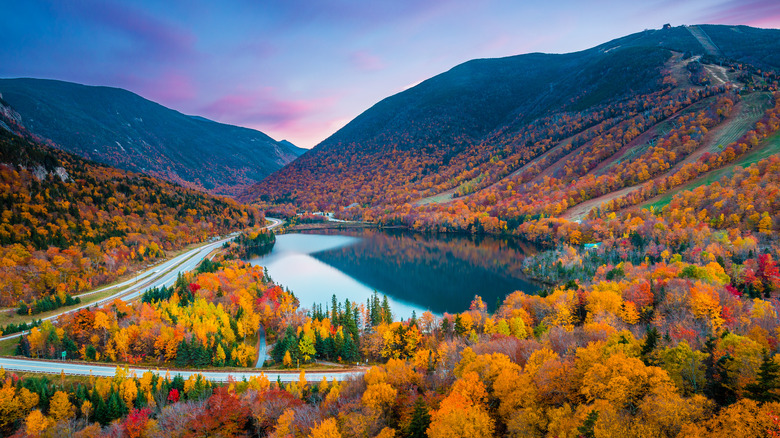 Winston Tan/Shutterstock
Fall foliage and the leaf peeping that accompanies the season is a frenzy in the U.S. unlike anywhere else in the world. And New England is known as a fantastic region for some of the most vibrant colors. However, it can be difficult to decide where in the region to visit. Portsmouth, New Hampshire makes a fantastic base for a few reasons. First, it's in the heart of New England, providing easy access to the rest of New Hampshire, as well as Vermont, Maine, Massachusetts, and Rhode Island on any autumn-themed road trip. Additionally, the leaves in this area make for a great trip themselves, without needing to go much further afield if you don't have the desire. The town is also home to plenty of delicious bakeries and cafes, as well as craft breweries, and has easy access to the state's tiny sliver of coastline. The closest international airport is in Boston, located about an hour and a half from Portsmouth.
Southern Florida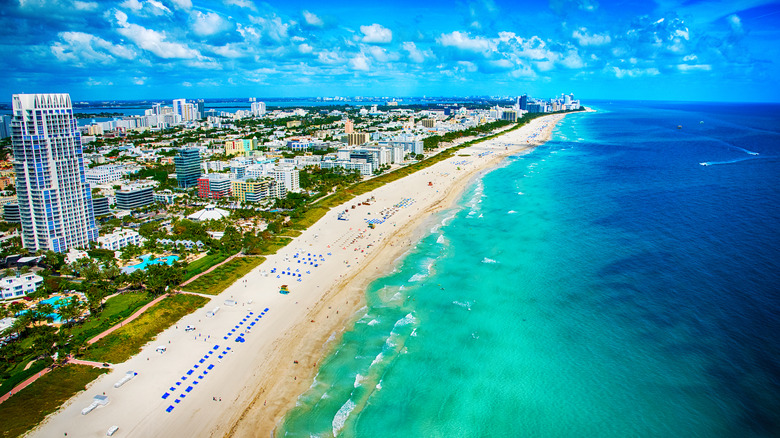 Art Wager/Getty Images
Art Deco architecture unlike any other city in the country, sandy white beaches, turquoise water, and an amazing food scene ... no, it's not the Caribbean (although that's close by), it's South Florida. This edge of the country is home to numerous cities that can make the perfect U.S. trip. Miami is the largest and also home to the main airports and has fantastic galleries, museums, and restaurants. It's also close to Everglades National Park — a must for any visitor to Florida. Nearby West Palm Beach makes for a more laid-back destination if the glitz and glam of Miami are a bit much for you. And don't miss the Florida Keys, of course, home to the Hemingway House, great water sports, a fun bar scene, and some amazing snorkeling! And no matter where in the area you visit, make sure to try the won't-find-anywhere-else food and drink. From Cuban coffee to coconut shrimp and fried alligator, every meal is an adventure in the Sunshine State.
Anchorage, Alaska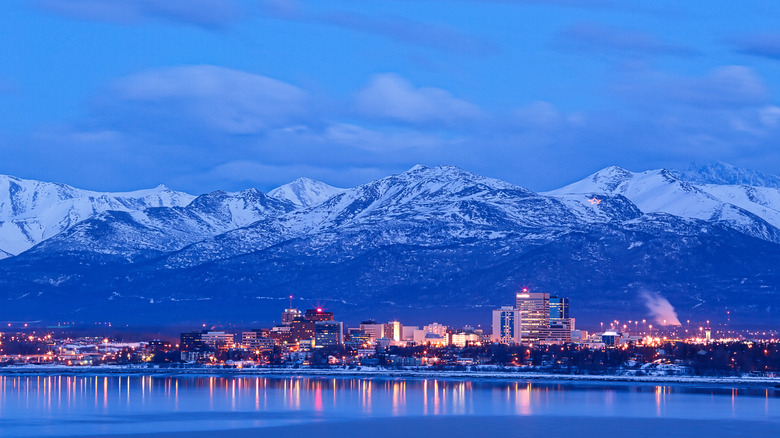 Rex Lisman/Shutterstock
Aptly called "The Last Frontier," Alaska is truly a unique place to visit for European travelers. Even if you're from a snowier country, visitors will marvel at the untamed wilderness that is Alaska. No matter where you go in the state, there is a bounty of natural beauty to marvel at. Anchorage makes a logical starting point. While you won't find direct flights from Europe, most domestic connects (likely through Seattle) will stop in the state's largest city.
There is no shortage of outdoor sites and scenery here. Take a bike ride out from town along the water and have your very own cycle safari of Alaskan wildlife — just remember to keep your distance. You can also hike the nearby Chugach Mountains, go skiing at the Alyeska Resort (a bit of a drive but absolutely breathtaking), or visit the Alaska Wildlife Conservation Center. If you want to stay in town for the day, the Alaska Native Heritage Center or Anchorage Museum makes for fantastic educational stops. The only downside is it can be a bit of a hassle to get to from Europe, but can easily be combined with a trip to the Pacific Northwest or Canada.
Chicago, Illinois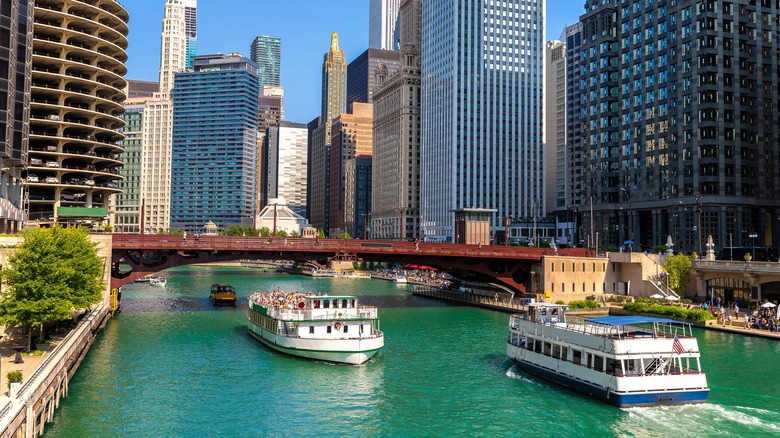 Sergii Figurnyi/Shutterstock
A world-class city, with great international flight connections and top restaurants, Chicago is a great alternative if you've already seen the likes of New York and LA and want a bit of a different U.S. itinerary. It's also not as overwhelming as some of the other metropolises and has a well-connected subway system. The gem of the city, however, is the water access, which is much easier than in the sprawling cities on the coasts. Cool off on a summer's day by kayaking the Chicago River right through town. Alternatively, head to one of the many beaches along Lake Michigan where you can rent boats, jet skis, and paddle boards.
If you want to keep your feet on land, check out the Bloomingdale Trail, or the 606, a great urban walk similar to the High Line with enough room to accommodate walkers, runners, and dogs. There is also the Chicago Lakefront Walk or the Midway, both great locations in the heart of the city for a stroll. Chicago is also a great place to use as a base or jumping-off place to explore the rest of the Midwest.
Upper Peninsula, Michigan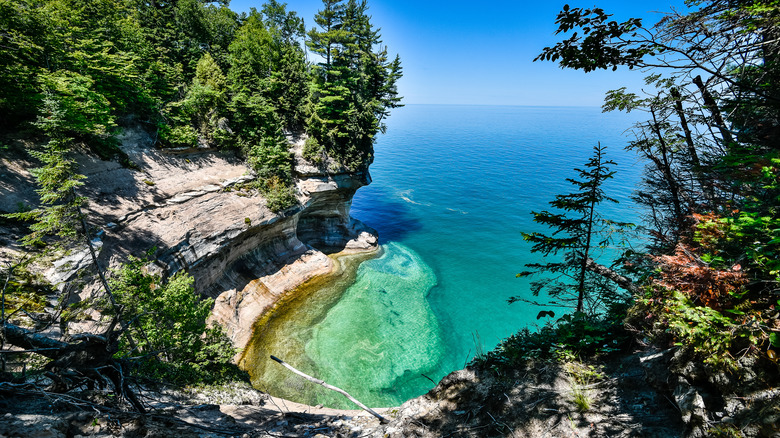 Travis J. Camp/Shutterstock
Electric blue waters, idyllic waterfront cabins, quaint small towns, beautiful summer weather, and epic snowy winters, no, it's not New England being described, but rather, upstate Michigan. A different type of trip and likely not an oft-thought-of destination for Europeans. The two peninsulas are full of lakeside lodges, marinas, wineries, and walking paths that make for the perfect destination for a relaxing trip. If you're looking for something a bit more active, you can check out one of the numerous golf courses, or hiking trails, or rent a boat for some water-based activities.
And many towns like Charlevoix and Gaylord even have walkable town centers, an anomaly in America. You can fly directly into Traverse City or Marquette, although it will require at least one or two domestic changes for international arrivals. Alternatively, you can drive as part of a larger road trip across the Midwest or the U.S.
Bozeman, Montana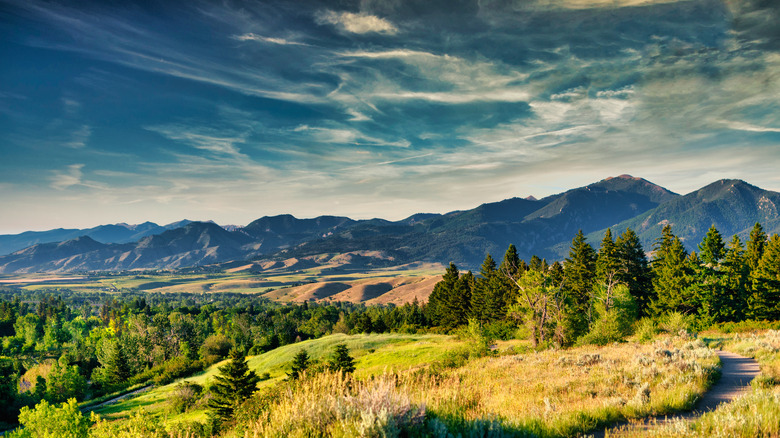 Lisa5201/Getty Images
Now that the show "Yellowstone" has brought international attention to Big Sky country, it's understandable many people will want to visit this unique part of America. Home to cowboys and towns that many international visitors likely believe only exist on TV. However, wander into any bar or restaurant in Bozeman and you'll quickly realize while Hollywood might exaggerate, the town's residents are really an eclectic mix of Montanans who have ranched for generations, hipster university students, and newer arrivals that bring with them change that isn't always welcome.
Not only that, but the surrounding area houses major national parks like Glacier, Yellowstone, and Waterton Lakes. And of course, from bears to wolves and mountain lions, wildlife Europeans can only dream of spotting in the Alps in this century is par for course out West. Montana isn't the easiest state to reach for international arrivals, it'll require at least one change at a hub, but Bozeman is the largest airport.