Road Trip: 5 Days In New England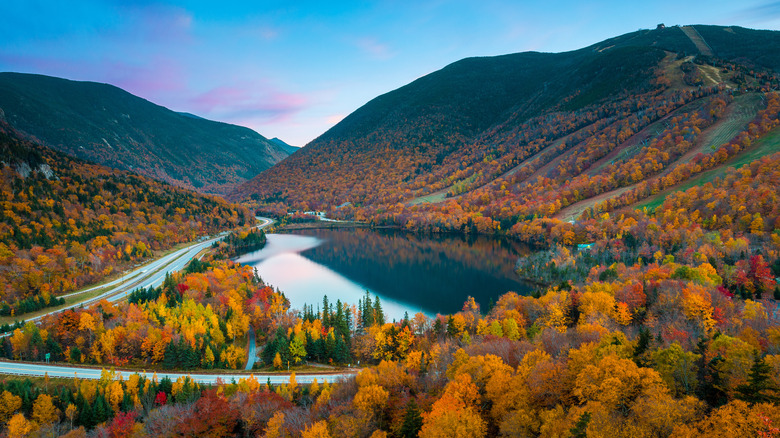 Winston Tan/Shutterstock
If you've got five days of freedom and the traveling itch, you might as well scratch it in New England, one of the most beautiful places in the States. Five days can make for a decent staycation, but when you're talking about seeing a chunk of the country that is made up of six states, it's really not much time at all. Sure, New England is made up of some of the smallest states, but size really doesn't matter – especially when it comes to how much beauty is packed into a state like Vermont.
However brief the time you have, you absolutely can and should see some pretty awesome things in New England in five days' time, and road-tripping is actually one of the best ways to see the historic and gorgeous area. We've developed a route that not only allows you to see all six of New England's gorgeous states but also takes you into some of the biggest and most popular cities in the region, where you can get a great idea of what the area has to offer.
Getting Started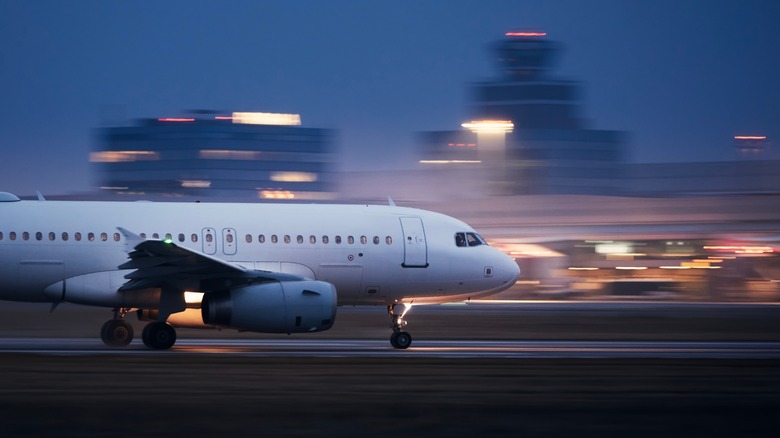 Jaromir Chalabala/Shutterstock
Depending on where you reside, you'll want to consider where you'll be coming into New England and getting started on your adventure. With how massive the United States is, you're likely located a decent distance from the New England area. If this is the case, you'll want to fly into Portland, Maine and you can take the road trip exactly how we've designed it here. You may be wondering why we're telling you to fly into a road trip, but just bear with us here. Once you're at your starting point in New England carless and confused, you can rent a car for a one-way road trip. That's right, pick up your car in northern New England and drop it off states away — the perks of capitalism and corporate America!
Before heading out, you'll want to do your own research on the destinations mentioned in this guide, as we can't cover everything New England has to offer. As you'll come to see, it's quite a beautiful place, no matter what you value most while on vacation. While we may suggest a place to crash or a fun attraction, the great thing about road trips is they are fully customizable. Everything isn't for everyone, and adjusting the itinerary to fit what you'd like to get out of a trip is not only possible but encouraged for the ultimate fulfilling road trip. Cities in New England aren't too far from one another, so even larger deviations may not make a huge difference.
What to bring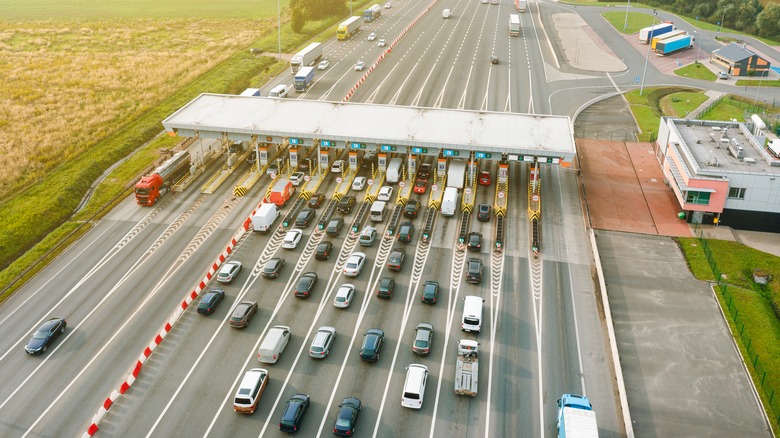 Vladyslav Horoshevych/Shutterstock
Your packing situation here will differ somewhat from most road trips, as you likely won't be packing for a car as much as a flight. Flying will limit what you take with you, but remember that you can always hit the store after renting a car to pick up all the necessities the TSA would have tackled you over – like a bottle of water. Depending on what time of year you set off for this journey, you will absolutely want to pack appropriate clothing and even some necessities for driving in the snow. Autumn is the perfect time to explore New England, and it's best to have light layers for adjustable temperatures.
Plan ahead and consider what kind of car you will be renting once you get off the plane, and make sure you're not over-packing the vehicle. For five days, you can likely get away with just bringing a carry-on, though this totally depends on your capabilities in packing light.
Bring plenty of money for tolls, and consider signing up for an EZ Pass for a quick and automatic way to pay tolls in the northeast. Some tolls can't be paid in cash and it's a lot easier just to roll right through the toll booths anyway — this will help you avoid getting a bill in the mail for all the tolls in New England, especially around Massachusetts.
Day 1: Portland, Maine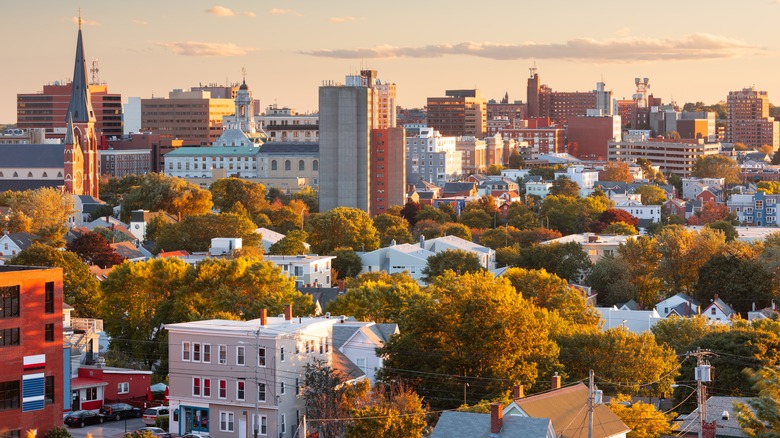 Sean Pavone/Shutterstock
Maine is the largest of New England's states, and all of it is utterly beautiful. Since we are short on time and Portland is not only the largest city in the state and the one with the most extensive airport, but also pretty convenient for visiting the other areas of New England, we'll be kicking off the road trip there. Once you arrive in Portland via jet plane and rent a one-way car, you'll be free to explore the city a little bit. Booking a flight that has you arriving in the city in the morning will give you a little more time here.
Although there's a city on the opposite side of the country that is more famous for beer, Portland, Maine is an established beer city, too. While here, you should check out its local breweries – though make sure you are perfect to drive before setting out again. No matter where you're coming from, chances are you've at least heard of Allagash Brewing Company. The brewery is local to Portland and less than 15 minutes from the airport – the perfect post-plane ride reward.
Staying the night in downtown Portland or the nearby Old Port neighborhood will give you a good view of the city and its nightlife. On your way out of the city in the morning, stop off at Holy Donut for a freshly made potato donut that, by all rights, should be on Maine's state flag.
Day 2: Portsmouth, New Hampshire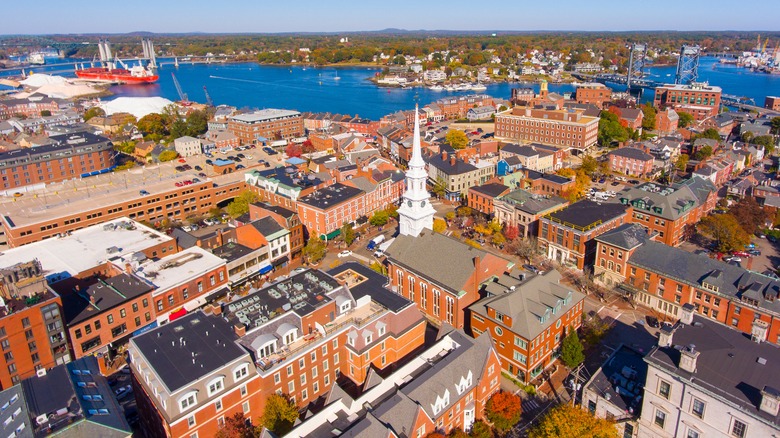 Wangkun Jia/Shutterstock
Portsmouth is less than an hour south of Portland and, if you hit the road early, you will have the majority of the day to explore the port city, which is great considering there is plenty to see. Staying at the Water Street Inn, even though it's technically in Maine, is just a 3-minute drive or 30-minute walk from the historic downtown Portsmouth, a destination you will want to explore while in the city.
You'll be cooped up in your car well enough during your five-day adventure, so taking the city by foot may be the way to go when considering just how to explore Portsmouth. Walking around downtown will not only help you immerse yourself in the city and really take your time to see the details in its culture and vibe, but walking around will also allow you to take in the historic buildings that make up the almost 400-year-old city.
The Envio is a great choice for a place to eat if you want to make the most out of your time in Portsmouth. Its rooftop bar and restaurant will give you an immaculate view of the city and not waste any of the precious, limited time you have in Portsmouth to take in not only the city itself but its surrounding waterway. Consider hitting up Prescott Park on your way back for an enchanting way to end the day.
Day 3: Scenic drive through Vermont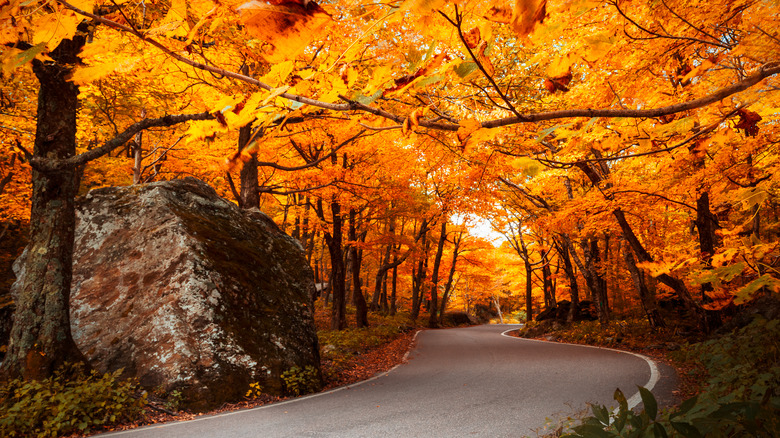 Don Donelson/Shutterstock
Practically any drive through Vermont is a scenic one, and you could spend a full road trip just discovering all the curvaceous, natural beauty of the state. Unfortunately, we're a little strapped for time, so a day trip through central New England will have to do. Over half of the completed drive time will take place on Day 3 – don't worry, though, it's all gorgeous and just over four hours on the road isn't all that much driving considering the overall road trip.
Taking Route 202 is the fastest way to get from Portsmouth to southern Vermont, and luckily, it's also a stunner of a highway. The view will change depending on what time of year you choose to embark, but whether your path is lined with blooming wildflowers or vibrant and fiery treetops, your time spent traversing the crisp Vermont landscape won't seem nearly long enough.
Day 3: Stop in Brattleboro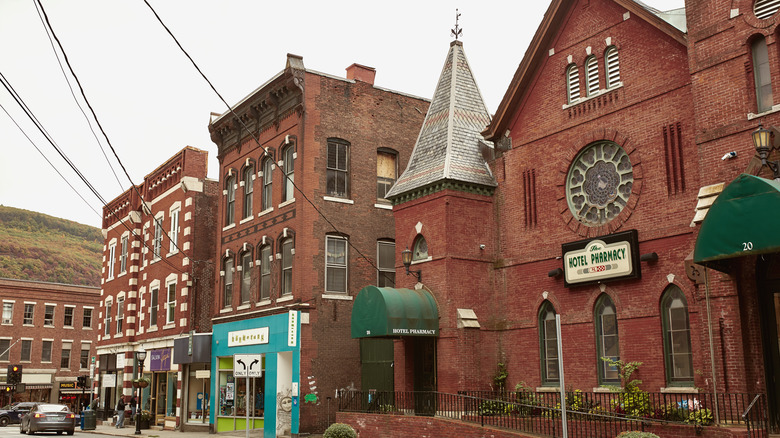 jenlo8/Shutterstock
While there won't be enough time to stay the night in Brattleboro, the town is about halfway into the day's drive and offers a great pitstop to get out of the car and explore one of Vermont's cherished communities. The small city is more than just a convenient halfway point that allows for further exploration of Vermont — it's actually a perfect low-key New England getaway destination in and of itself.
Brattleboro is a great place to engage with the locals and experience what it would be like to be a full-time New Englander. Grabbing lunch at a local favorite like Echo Restaurant and Lounge will give you the opportunity to do just that, while also placing you in a good area by the water and the nearby Main Street. The city is also big on art, and the Gallery Walk is a great way to see Brattleboro's artistic side.
If you plan your trip so your stop in Brattleboro lands on a Saturday, you'll be able to attend the Brattleboro Area Farmers' Market, which is one of the best in Vermont. No worries if not, though, because this leg of the trip still has plenty in store for you.
Day 3: Arrive in New Haven, Connecticut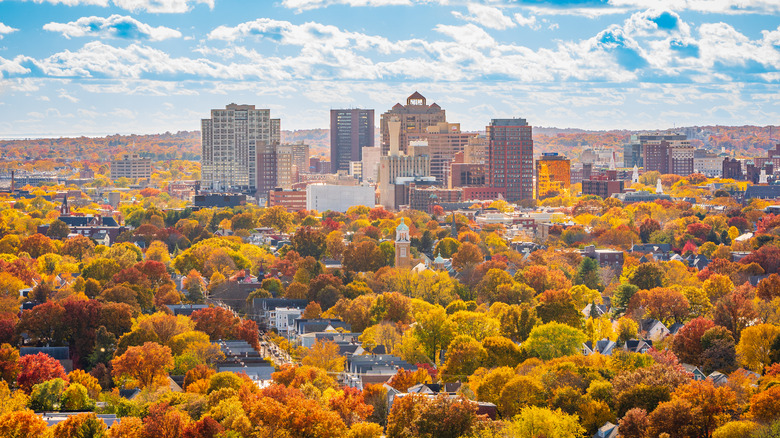 Winston Tan/Shutterstock
After lunch and a little exploration in Brattleboro, it's time to get back on the road. The second half of today's scenic route will take you down Interstate 91 through the middle of Massachusetts and into Connecticut. You'll pass through the cities of Springfield, Massachusetts, and Hartford, Connecticut, both of which you can make a pitstop in.
Springfield, being the birthplace of Dr. Seuss, is home to a memorial garden with wacky sculptures honoring the children's book author and would be a perfect place to stop if you're road-tripping with the whole family. Hartford, which all the "Gilmore Girls" fans should recognize, is so full of history it'd take a good chunk of time to explore it all, so stopping at the Bushnell Park Carousel offers a fun yet brief break from the road.
The real goal, though, is making it to New Haven, where you'll have dinner and stay the night. You can accomplish both of these tasks at The Blake Hotel in addition to having a couple of drinks at their popular rooftop bar. Don't let the wining and dining of the stellar spot keep you up too late, as you should get an early start the next morning if you want to have some exploration time in New Haven.
Day 4: Spend the morning in New Haven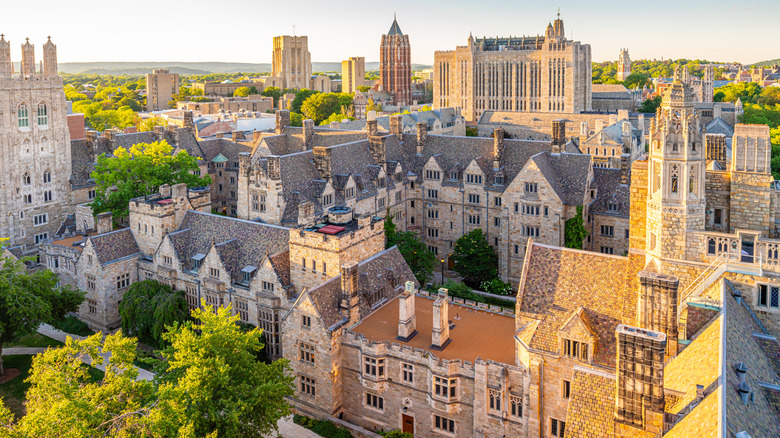 Winston Tan/Shutterstock
Depending on what you value when visiting a new place, there are a couple of great options when it comes to having a fantastic morning in New Haven. If you've only got eyes for New England's natural beauty, grabbing a coffee and heading to one of the stunning parks is probably ideal. Being on the larger side of a city in the United States' northwest, New Haven has quite a lot of greenery and nature spots. One such spot is East Rock Park, which is an expansive protected park that not only includes a summit you can hike to but also a river and many recreational accommodations for park-goers.
On the other hand, if you are more into history, culture, and art, taking a look at Yale and one of its affiliated attractions could be just the thing to make your scholarly eyes shine. Yale itself is, of course, a sight to behold, but other comparable options are the university's Peabody Museum of Natural History as well as Yale's Art Museum, which is home to thousands of pieces and is the oldest university art museum in the country.
New Haven is a Mecca for scholars, whether it be those who learn from nature or institutions. No matter which you are, your morning in the city will be ripe with learning.
Day 4: Head to Providence, Rhode Island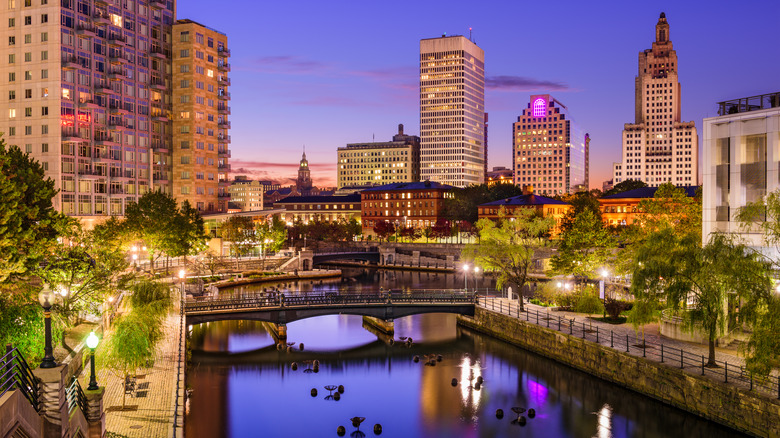 Sean Pavone/Shutterstock
After you've spent the morning having your fill of Connecticut, it's time to head over to Rhode Island. It's just under a two-hour drive from New Haven to Providence and you will have the rest of the afternoon and evening to see what the capital city is all about.
Staying in the downtown area will give you a good feel of the city, which is both urban and refreshing as it's on the water and has ample vegetation throughout the city. Hotel Providence offers prime accommodations at a reasonable price.
Walking throughout the downtown area around the hotel is a great way to get to know Providence. Here, you'll find ample shops to explore and art galleries to see. Craft Land doubles as both, and you can find a keepsake from your trip here, as well as something unique to bring back to your loved ones. The gift shop carries products from various local artists, allowing you to take a piece of New England home with you.
Day 5: Arrive in Boston, Massachusetts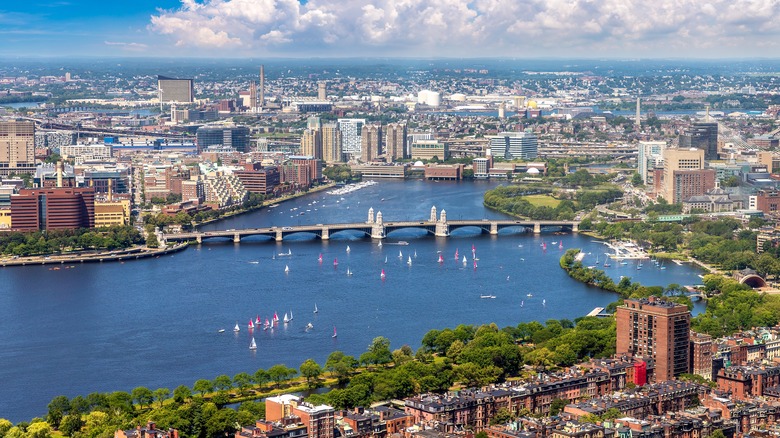 Sergii Figurnyi/Shutterstock
Your road trip ends in Boston, home to the largest airport in New England, ideally, a place that allows you to make it back home with very little trouble. Boston is only about an hour's drive north of Providence so if you have scheduled your flight later in the day, you should have some time to explore a bit. We'd recommend keeping it somewhere that is easily accessible to the airport, as traffic in Boston can be unpredictable and you'll need to return your car at some point — though the airport shuttle and the local subway can be a useful resource for getting around.
You may opt to stay in Boston for the night and head out in the morning to give yourself more time, as Boston is by far the largest city in New England. Even if you do buy yourself more time in the city, you likely will be unable to see some of the nearby attractions like Salem. Within the city are spots like Fenway Park and the Freedom Trail, both important and historical landmarks that hold value in different ways. No matter what you decide to do with your time in Boston, you'll likely only get a small taste of what the large city has to offer. That's okay, though, as you'll have plenty of reasons to come back another time.
Tips for staying safe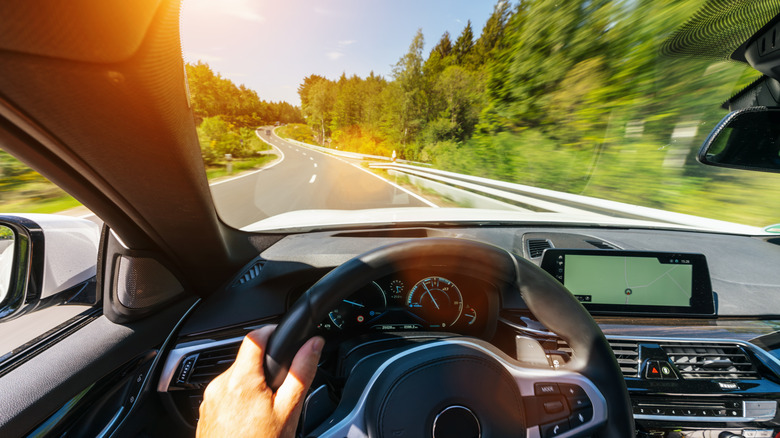 Audio und werbung/Shutterstock
As is life, you can never truly plan for everything that could be thrown your way while traveling. You can, however, prepare, take precautions, and hope for the best. One of the best and most simple ways to increase your safety exponentially is to not travel alone. While you can certainly enjoy yourself by solo-tripping a drive through one of the most peaceful areas in the United States, taking someone whose company you enjoy can add so much to a trip, both in terms of making memories and keeping yourself safe.
Whether you decide to travel alone or bring some friends along with you, it's important to stay in contact with people back home. There are so many ways a trip can get off track; staying in contact with your loved ones and communicating your plans throughout the trip could be lifesaving. Taking that a step further, sharing your real-time location with people back home using an app on your phone is a great way to put minds at ease and ensure the people who care about you will be able to tell if your movements aren't matching up with your itinerary.
Variations of a New England road trip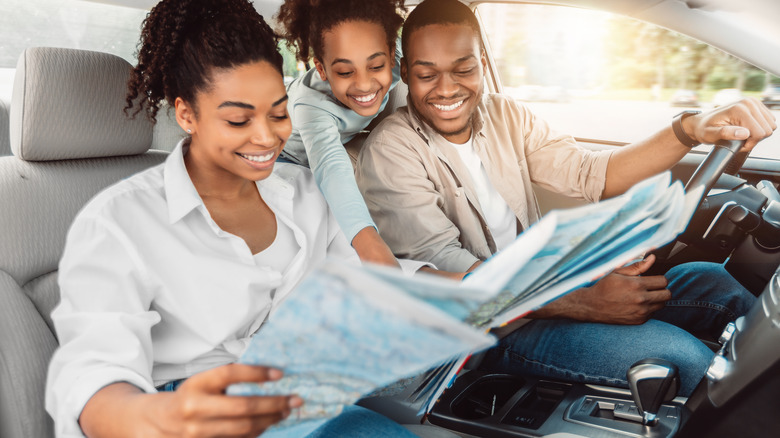 Prostock-studio/Shutterstock
Our New England road trip itinerary may be the perfect one for you and the time you have available to explore the area, but our feelings aren't going to be hurt if you want to change it up a bit – promise! The destinations mentioned here are really only a scratch on the surface of the northeast's luscious landscapes and coasts, and there are so many potential routes and modifications you could make here to craft the perfect New England getaway.
For example, cutting out Vermont will shorten the road trip exponentially to allow longer stays and deeper explorations of the trip. Alternatively, if you are driving up from the south, you can rearrange the same destinations to New Haven, Providence, and Boston, then hit Brattleboro before heading to Portsmouth and Portland for a more straight shot. Of course, turning a one-way road trip into a there-and-back adventure will extend the drive time and shorten the time spent at various destinations.
Travelers who opt to cut out Maine may wish to fly into Boston and do a loop back to the city. If that's the case, Dorchester is a great neighborhood to stay in and will put you just south of Boston so you don't need to worry about getting out of downtown in the morning. Waking up early and grabbing some breakfast and a coffee at McKenna's Cafe is a great way to start out the first stretch of the road on your journey.