The Boston Visitors' Guide To The T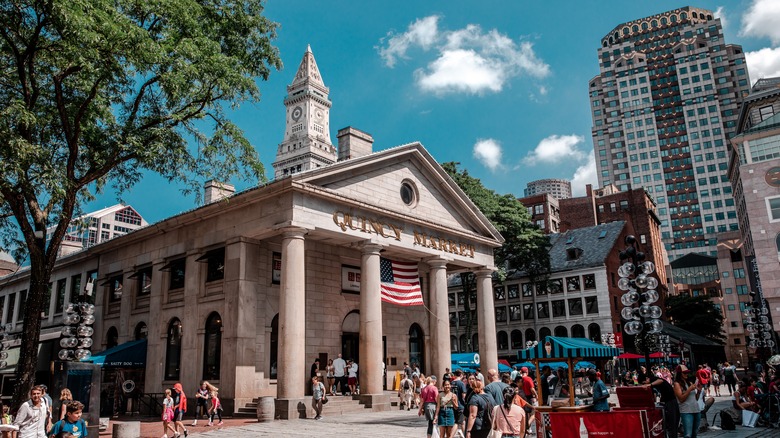 2p2play/Shutterstock
Boston is easily one of the most fun US cities for solo travelers, but it's also a fantastic destination for anyone wanting to visit with family or friends. Steeped in history and full of iconic landmarks, Boston is also heaven for sports fans and paradise for foodies who flock to Faneuil Hall Marketplace (one of the 75 most popular tourist destinations in the US!) to tuck into endless seafood.
If you're planning to visit Beantown and are wondering how best to get around the city, the answer is simple: the subway. Boston's subway system, locally known as the T, is run by the Massachusetts Bay Transportation Authority (MBTA) and makes up part of the fourth-busiest public transit network in the country. It's also the oldest in the United States, dating all the way back to 1897. The expansive network covers most of the biggest tourist attractions, making this one American city where you can definitely go car-free. Uniquely, the T uses both subway cars and trolleys, but the latter aren't merely meant for tourists, like New Orleans' trams. No, they're an integral part of the T and are sure to add charm to your visit. Here's everything you need to know about the T to ride the system like a true Bostonian.
Note: Most of the network is universally accessible, although some subway stations only offer limited access. You can check station accessibility online.
Understanding the different lines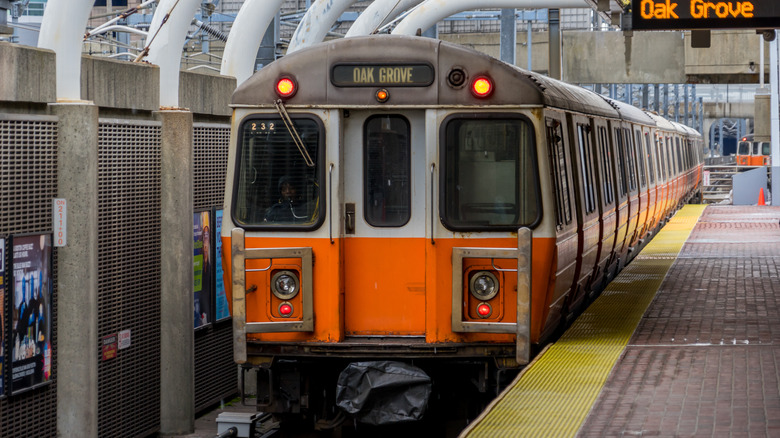 THONGCHAI.S/Shutterstock
The T is made up of five routes, namely the Red, Orange, Blue, and Green Lines, as well as the Mattapan Trolley. It's important to note that the Red Line splits off into two branches (Mattapan and Braintree) while the Green Line splits off into four (B, C, D, E), so you'll always want to check the direction posted at the front of the train to ensure you're getting on the right one. Interestingly, the colors are meant to give you a hint of where you can actually go while traveling each of these lines. Green cruises through the Emerald Necklace parks; Red goes to Harvard, as it matches the school's color; Blue's route is traced along the ocean; and Orange will connect you to Washington Street, which used to be called Orange Street. As for the Mattapan Trolley, it dates back to the 1940s and uses streetcars to take passengers across eight stops, starting at Ashmont on the Red Line and crossing over into neighboring Milton, Massachusetts.
You can view a full system map online and expect trains to start running shortly after 5 a.m. If you're planning on using the T for a night out, however, keep in mind that the last train departs between 12:30 p.m. and 1 a.m., depending on the station and line, so you may not be able to get home by subway. As for frequency, trains should roll by every six to 15 minutes, but you can keep track of service disruptions online.
Fares and passes 101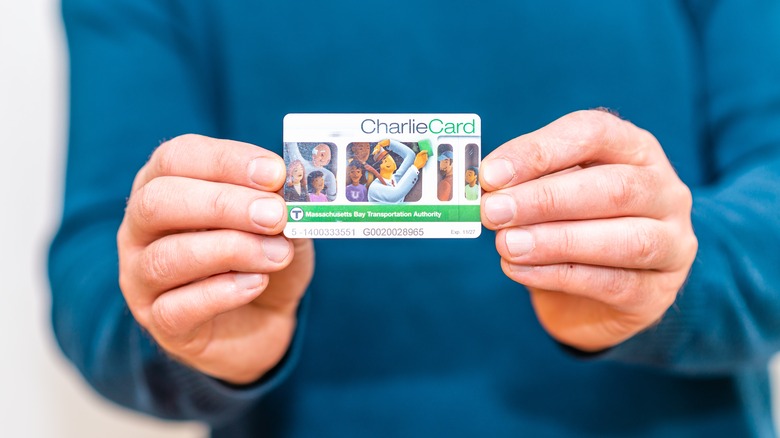 ARVD73/Shutterstock
The ticket or pass you choose will largely depend on your travel needs, but all one-way rides on the T cost $2.40. While you can pay with cash at street-level trolley stops, underground subway stations will require you to use a CharlieCard or CharlieTicket. These can be purchased from vending machines inside all stations using cash or a debit or credit card.
The difference between a CharlieTicket and CharlieCard used to be more pronounced, as using the latter would save you money. However, as of 2020, everyone pays the same fare and the MBTA recommends tourists opt for the CharlieTicket. You can load it with the cash value of your choice or opt for an unlimited 1-day pass for $11, a 7-day pass for $22.50, or a monthly pass for $90. These passes will let you travel on the subway, as well as on local buses and the Silver Line, which includes the SL1 bus running to Logan International Airport. They're valid from the moment of purchase and each time you ride the subway, the CharlieTicket gives you one free transfer to a local bus within 2 hours.
Meanwhile, a CharlieCard is valid from the first tap into a subway station, but its biggest differentiator is that it can be shared, allowing you to pay up to four one-way fares at the same station. Finally, it's good to note that military personnel, children under 11, and visitors who are blind or have low vision ride for free.
Getting in and out of the airport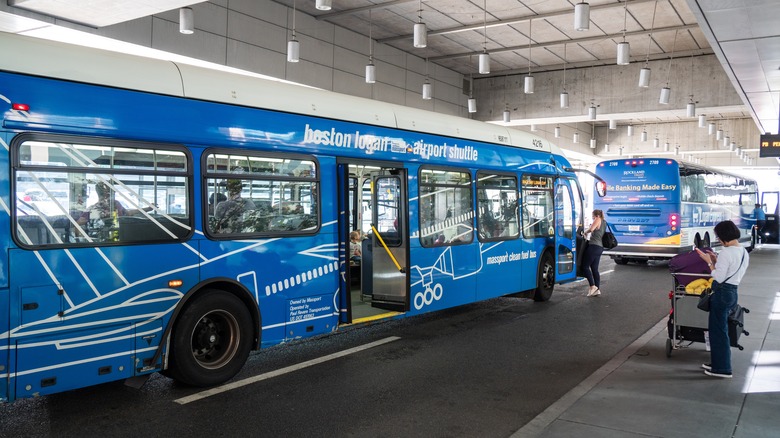 2p2play/Shutterstock
Whether you arrive in Boston by bus, train, or plane, you can bank on the T to get you where you need to go. If you're getting into the city by bus or train, you'll first want to note which of the two Amtrak terminals you'll be alighting in. Luckily, both are well connected to the subway. The South Station is on both the Red and Silver Lines while the North Station gives you access to both the Green and Orange Lines.
Meanwhile, if you fly into Logan International Airport, you'll be able to hop only the Silver Line bus — free of charge — which makes stops at each terminal before dropping you off at South Station where you can connect to the Red Line — again for free! You can also opt to use the Blue Line. Once you land, simply hop onto the free Massport shuttle bus, which runs every five to six minutes, and take it to Airport Station. There, you can buy your subway ticket of choice and ride the Blue Line to your destination, or connect to the Green Line at Government Center or the Orange Line at State Street.
How to reach the most popular attractions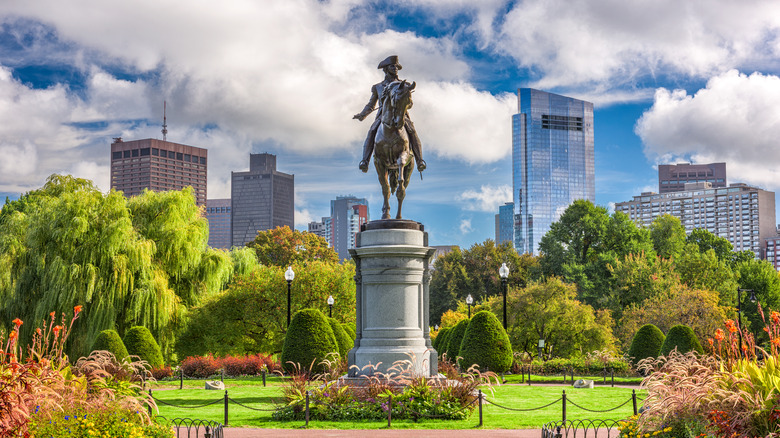 Sean Pavone/Shutterstock
Boston is packed with attractions for all types of travelers, from the history buff to the sports junkie. The T can help you get to the city's best spots quickly and affordably, without having to worry about traffic or parking. If you're heading out to the North End to pay a visit to Paul Revere's House and indulge in a famed cannoli at Mike's Pastry, you can get off at Haymarket or North Station on the Orange and Green Lines, then take a short walk. If you're visiting Fenway Park, hop on the Green Line (except the E branch) and get off at Kenmore.
If you want to explore The Boston Common and Public Garden, or start the Freedom Trail right at the beginning, you can do so by alighting at Park Street (on both the Red and Green Lines) or Boylston (on the Green Line). From there, you can walk the entire trail or use the T to visit its various stops. Note: The Freedom Trail meets the subway at four stations, namely State Street, Government Center, Haymarket, and North Station.
Other attractions you may want to visit are the Museum of Science, Museum of Fine Arts, and Symphony Hall on the Green Line; Faneuil Hall and TD Garden (home of the Boston Celtics and Boston Bruins) on the Orange Line; Harvard, MIT, and the JFK library on the Red Line; and the Old State House and beaches along the Blue Line.
Common etiquette on the T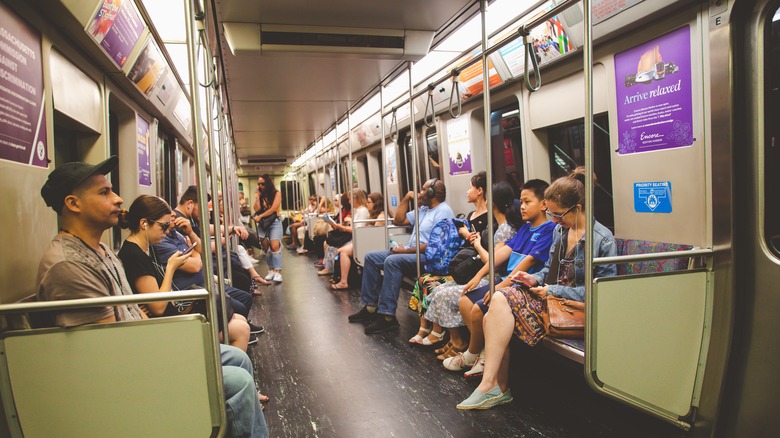 2p2play/Shutterstock
As with all major public transit systems, there are some common courtesies to keep in mind while riding the T. These shouldn't differ much from what you're used to seeing on subway lines at home or abroad, but a refresher never hurts. First up, when a train pulls up at the station, allow passengers to get off before you board. Once inside, be mindful that seats next to the door are reserved for passengers with disabilities and seniors. Also, if you'd like to take your bike with you for the ride, you certainly can (except on the Green Line), but only during off-peak hours. That means before 7 a.m., between 10:00 a.m. and 4 p.m., then again after 7:00 p.m. Other rules to keep in mind are avoid eating and drinking; don't talk loudly on your phone; use headphones to listen to music; take your backpack off to make room for others; and never smoke or vape. Service animals are allowed on-board at all times while non-service animals can ride on a leash or in a carrier during off-peak hours.
What's more, as we previously mentioned, a CharlieCard will let you pay for up to four one-way fares at once, so if you're planning to share with your travel group, that's great! Just be honest about it. Don't try to sneak anyone on the T. Rather, make sure you tap your card on the reader as many times as there are riders in your group.
Take note of the slow zones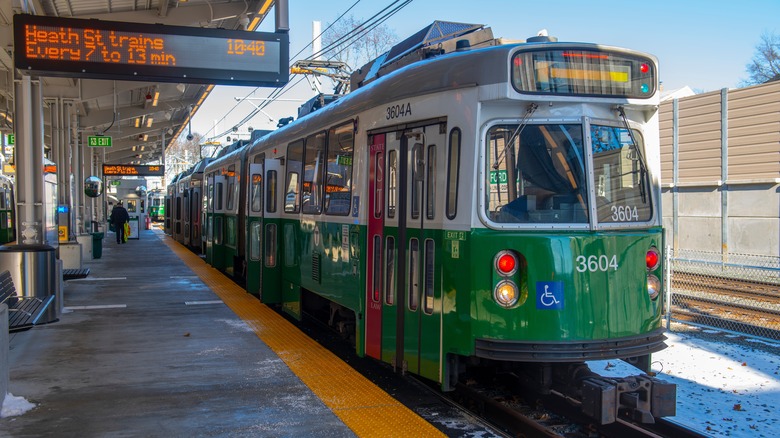 Wangkun Jia/Shutterstock
While the T may be the easiest and cheapest way to get around Boston, it's not without its challenges. All public transit systems deal with their share of disruptions, but Beantown's Green Line (which uses trolleys instead of subway cars) can be notoriously slow. In fact, data obtained by The Boston Globe in February 2023 showed that there are a number of slow zones along the line where the train runs between 3 mph and 6 mph, meaning you could easily run faster. The investigation also found that the Orange and Red Lines, as well as the Mattapan Trolley, aren't immune to speed issues with trains being forced to roll along at just 10 to 25 mph in some areas. However, the T assures these issues are temporary, even if some have lasted for years. Spokesman Joe Pesaturo told the outlet, "[MBTA] is working to develop a long-term, permanent engineering solution that will allow trains to increase their speeds."
Meanwhile, if you're visiting Boston in the winter, you should also keep in mind that a major snowfall will most likely slow down the T. While staff is usually quick to try to dig out above-ground sections of track, a severe storm may shut down public transit for a while.