This Is Why You Need To Visit Everglades National Park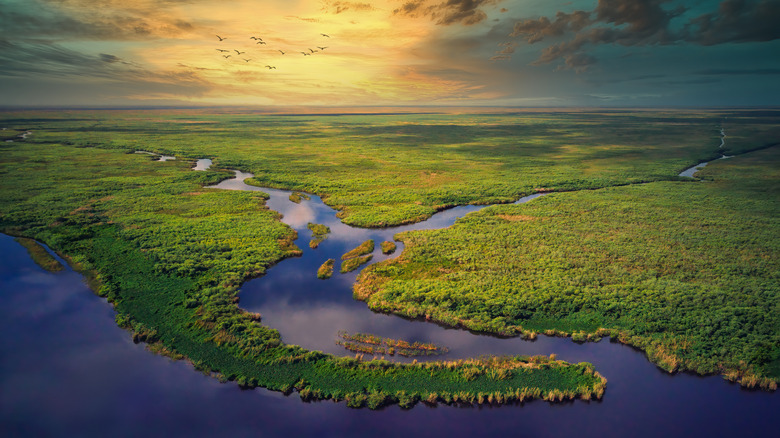 ocudrone/Shutterstock
The Everglades made the Top 4 in the best national parks ranking this year. And there is a good reason for it— the wildlife is incredible, you can't just take a boat tour to view crocodiles and dolphins anywhere or go hiking with the chance to see turtles and alligators along the way.
But there is a lot more to do in the largest subtropical wilderness in the country, according to the National Park Service.  The park, and American treasure that is also a World Heritage Site and an International Biosphere Reserve, protects an unparalleled landscape that provides important habitat for numerous rare and endangered species.
You can see certain places only by kayak
The narrow, occasionally overgrown mangrove tunnels in the Everglades are nearly impossible to access without a kayak and the open waters of south west Florida are best traversed with a paddle. They also move so a GPS won't do a very good job at navigating you. The experience is quite exhilarating. This is one of the most authentic ways to explore pure wilderness and to immerse yourself in magnificent setting.
The photos are out-of-this-world gorgeous
The Everglades are the only subtropical preserve in North America. The park is astoundingly diverse which is amazing considering there is pretty much no change in altitude. There are a lot of different plants you won't find other places. Bird photographers enjoy the many eye-catching species. The more courageous ones even get shots of alligators.
The wildlife is like nowhere else
Wildlife watching (from a safe distance) is a thrilling way to find your park. Considered a keystone species of Everglades National Park, you have a very good chance of seeing alligators during your visit to this park, but be careful. Alligators are biting people, or at least trying, as seen in this viral video. In another instance, a woman had to climb to safety after a gator 8-10 feet long attacked her.
Kids love it
Bring your child to the Everglades and he or she will never be bored. Manatees, crocodiles, panthers ... Kids love to see and learn about them. Riding a bike around the park, taking an airboat ride or renting a canoe or kayak with mom and dad are other favorite activities.
Perfect for paddling
Just make sure you visit in the spring as the summer months are too hot. Many companies offer tours that vary in length. But the watery wilderness of mangrove tunnels and cypress domes, reedy rivers and the 10,000 Islands are totally worth it.
Camping
There are two drive-in campgrounds accessible from the Homestead entrance of the park: Long Pine Key Campground and Flamingo Campground, according to NPS. Both accommodate tents and RVs. Hiking, biking, canoeing, and kayaking opportunities in the huge park of more than 2,400 square miles will keep you entertained. In fact, you may have to use one of these options to reach most backcountry camping sites.