Here's What You Can Skip On Your Trip To Chicago (And What To Do Instead)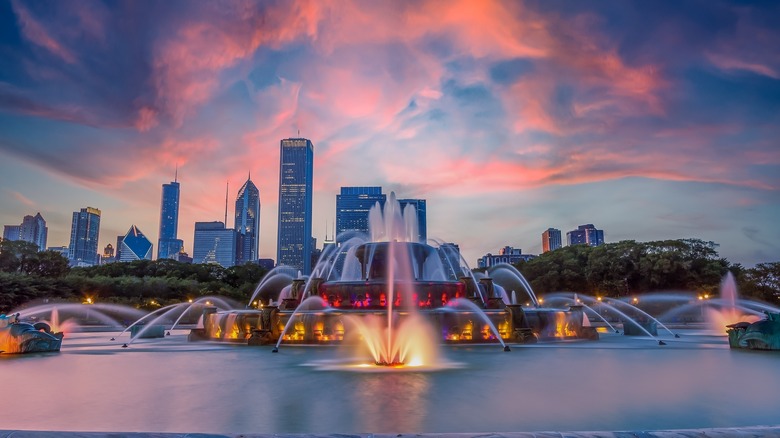 Avik/Shutterstock
Whether you like Chicago-style hot dogs, deep-dish pizza, wandering the river, seeing lots of theater, or just exploring the city, there is so much to do in the Windy City. Chicago is a remarkable place full of more things than you could possibly do in one trip. So it's important to decide what is and isn't worth your time. Luckily, a Chicagoan can help you decide where to go to make planning even easier.
From The Bean to Navy Pier and other largely overrated places around Chicago, there are places you might want to see just because of their notoriety, but it's important not to make your whole trip around these tourist traps. Trust us, Chicago is more than these spots that seem to dominate the social media buzz of the city.
Chicago may not have the kind of reputation that Los Angeles or New York City has, but it is the third largest city in the country between these two coastal metropolises. The Windy City is chock-full of activities of all kinds – some you probably have never even heard of. So get ready to learn about some of the hidden and not-so-hidden gems in this incredible place.
Skip The Bean, see Lincoln Park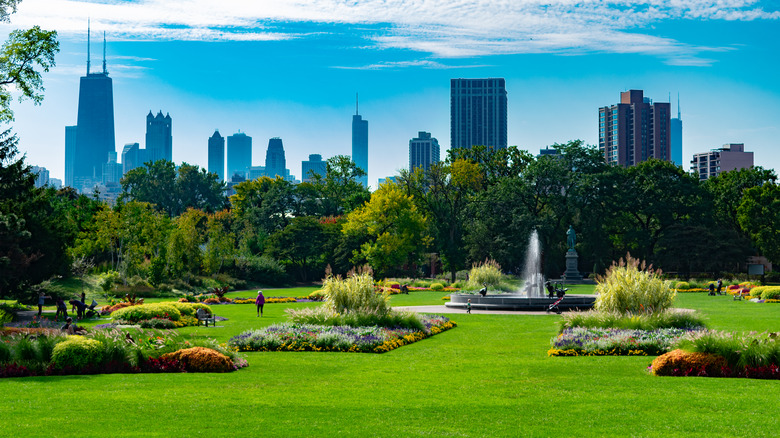 James Andrews/Getty Images
For Chicagoans, going to Millennium Park is like New Yorkers going to the Statue of Liberty with their out-of-town relatives every time they visit. It's crowded, generally unpleasant, and not really worth it. Everyone wants pictures with Cloud Gate (The Bean) or the really creepy Crown Fountain, but there are much better green spaces in the city you could see instead.
Lincoln Park, the 1200+ acre park, is both a natural space and a neighborhood in Chicago. The nature space contains many of the attractions the neighborhood has to offer, including the Lincoln Park Conservatory, the Lincoln Park Zoo, and the Alfred Caldwell Lily Pool. Depending on the time of year you visit these spaces can be pretty busy, though they're much more pleasant than Millennium Park.
Plus, Lincoln Park is home to the city's two most popular beachfronts: North Avenue Beach and Oak Street Beach. During the summer, these beaches will be full of locals and visitors alike. If you've never been to Chicago before, you may be surprised at how big Lake Michigan really is. Chicago area beaches are the closest you'll get to a vast sandy coast in the Midwest.
Skip the Al Capone tour, hang at the Green Mill instead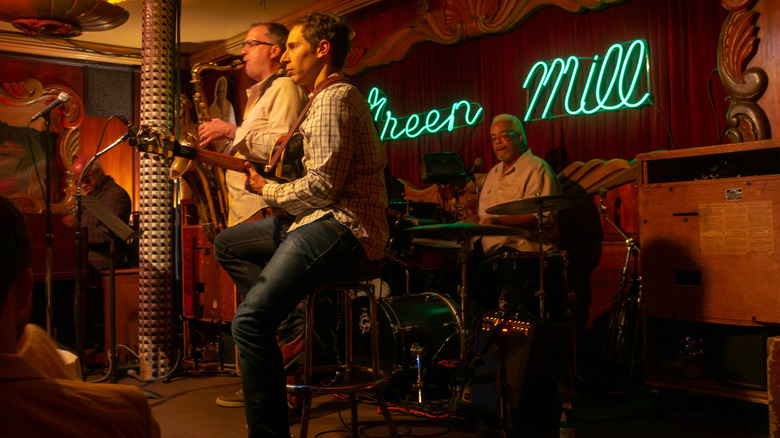 Anton Gvozdikov/Shutterstock
For tourists coming to Chicago, it might seem like everywhere you turn, you run right into a place where Al Capone and his mobster buddies hung out. Chances are most of the places that say Capone spent time there aren't lying — he lived in Chicago for several years so he was bound to get around. For instance, he definitely spent time at the downtown Exchequer Restaurant & Pub and the gorgeous Blackstone Hotel. But other than that, a lot of the hotspots from Chicago's mobster heyday are gone or wholly repurposed.
Even so, if you want an authentic Al Capone experience, you should head to the Green Mill Cocktail Lounge – a jazz club where he had his own booth. When Green Mill was a speakeasy during Prohibition, it's rumored that it was co-owned by one of Capone's goons, which could be part of the reason why he spent so much time here.
You'll still hear jazz pouring out of The Green Mill seven days a week and much of the interior hasn't changed since its earliest days in the 1900s. It's open every night until 1:11 am. And no, that's not a typo – they're really open until 1:11 exactly.
Skip the touring shows, see some real Chicago theater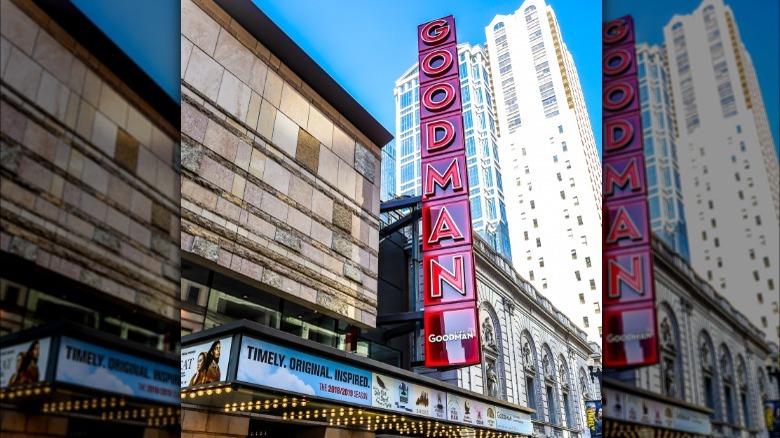 Leonard Zhukovsky/Shutterstock
Just because The Chicago Theatre, The Nederlander, and other spots in the theater district in The Loop have sparkling marquees doesn't mean they are the end-all-be-all of Chicago area theater. Believe it or not, Chicago is home to more than 250 theaters. Many shows even premiere in Chicago that go on to have incredible runs on Broadway or elsewhere. Not to mention that Chicago defines the storefront theater movement and has more storefront theater locations than anywhere else on Earth.
Goodman Theatre and Steppenwolf Theatre are two of the major institutions in the city that originate shows that frequently head to Broadway. Both produce shows throughout the year with works that will inspire any kind of theatergoer.
Elsewhere in the city, you'll discover some of the pinnacles of Chicago's storefront scene. From A Red Orchid Theatre in Old Town, Rivendell Theatre Ensemble or Black Ensemble Theater in Uptown, or the Tony-Award-winning Court Theatre in Hyde Park, you truly can't go wrong. Theater in the Windy City, especially the world premieres that frequent Chicago's stages, will make an impression on even the stingiest audience members.
Skip lake cruising, take an architecture river cruise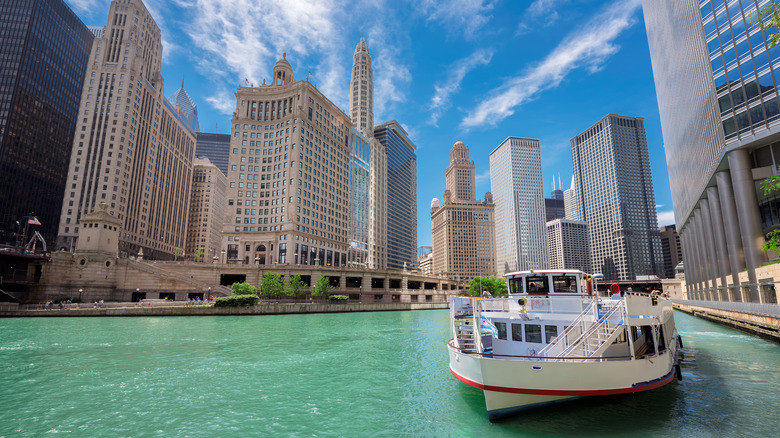 Lucky-photographer/Getty Images
There's no denying that cruises on Lake Michigan are lovely, but if you need to pick just one, you should absolutely take a Chicago River architecture cruise. Several tour companies offer tours down the river, but the ones with the Chicago Architecture Foundation are the best. You'll learn all about the magnificent buildings along the river, the history of the city, and why so many modern marvels exist on the Chicago River's banks.
Lake Michigan scenic cruises are incredible for sure, though you're far less likely to walk away with a deeper sense of appreciation for Chicago. From the perspective of the Chicago River, you will see the transitions from Chicago's oldest downtown structure to the newest towering skyscrapers. You'll learn why some of the buildings were built the way they were, how the river was formed to flow backward away from the lake instead of into it, and how pivotal the Chicago River was for life in early Chicago.
Skip touristy locations, get deep dish at a neighborhood spot instead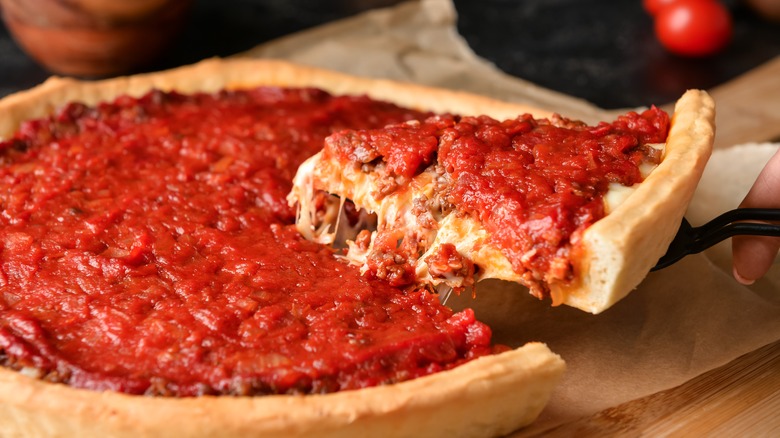 Pixel-Shot/Shutterstock
Look, not all Chicagoans love a deep-dish pizza moment. Even so, there's no denying that there's something special about Chicago's ooey-gooey, cheesy deep-dish pizza. You don't have to look far to find a pizza place in the city, though you may want to consider where you're eating. Downtown locations of any chain are undoubtedly not going to taste as good as a pie from one of Chicago's other neighborhoods outside of The Loop.
Take Giordano's, for example, which has a location at Navy Pier. From our experience, the pies from the Navy Pier location which mainly caters to tourists are never as good as ones from elsewhere. Perhaps it's because the touristy locations are always so busy, whereas the ones closer to the residential areas are much slower by comparison. These pies take upwards of an hour to cook, so there is no doubt the tourist location pizza parlors are constantly making a steady stream of hearty deep-dish pies.
To get a pie from Giordano's, Lou Malnati's, Pizzeria Uno (which originated the deep dish), or anywhere else, try getting away from downtown and Navy Pier for tastier selections. We have plenty of other suggestions to heighten your pizza experience, too. Rosati's has the best crust, Giordano's has the best combo of sauce/toppings/cheese, and Lou Malnati's has a flakier/crunchier crust. Also, Chicagoans will have a divide between which pizzas are better, so keep that in mind when asking for preferences. (Giordano's is king.)
Skip Navy Pier, check out Promontory Point for the views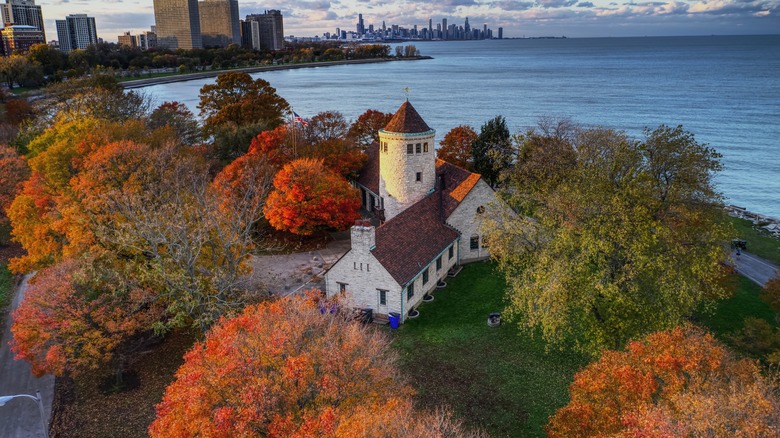 Moses P/Shutterstock
Navy Pier is Chicago's version of a boardwalk. There are some amusement park rides, lots of places to eat and even the Chicago Shakespeare Theatre lives out there. The big problem with tourists heading down that way is two-fold: getting there is a pain and it's crowded. Sure the views of the city skyline are amazing, but you can get those in a lot of places around the city.
South of Grant Park, Promontory Point is 600 acres along the lake. It was originally part of Chicago's planner and architect Daniel H. Burnham's design for a lakeside park. He originally wanted it to be one of a series of peninsulas, parks, beaches, and natural spaces. Although Promontory Point was the only part of Burnham's plan to reach fruition, it's still a beloved part of the city's landscape.
Sure, Promontory Park doesn't have the amenities that Navy Park does, though it is a much less crowded (and less expensive) way to enjoy the skyline. If those views are what you're looking for, definitely head to Promontory Park. You'll get many more unique pictures of the skyline since it's less frequented than Navy Pier.
Skip the Mag Mile, shop the neighborhoods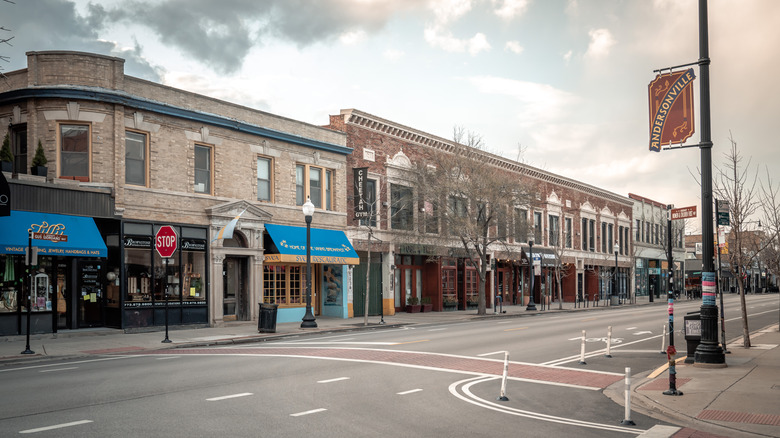 Big Joe/Shutterstock
For shopping in Chicago, the Magnificent Mile has long since been the place to find luxury retailers and well-known chains. With the advent of the internet, however, you don't need to seek out the shops on Michigan Avenue to get your fix. If you're going to be in Chicago, you should do your shopping in some of the neighborhoods instead. You're bound to find one-of-a-kind items, artisan products, and things that are uniquely Chicago.
Wicker Park, Chicago's hippest neighborhood, is your go-to for unique shops and thrifting. One of the coolest thrifts in this neighborhood is Kokorokoko. From Pogs to vintage scarves, movie posters and so much more, Kokorokoko is a must-see for pop culture fans in particular. Otherwise, you can go see The Wicker Park Secret Agent Supply Co. which is definitely just a bookstore and not at all a store for secret agent supplies – understand?
Andersonville and Rogers Park up on the North Side of the city are charming neighborhoods full of boutiques, antique shops, cafes and so much more. Some of the city's best independent shops can be found up there. That includes ChiTown Magpie, which features gifts, art, and home products made by Chicago locals and artists.
Skip the glorified Instagram stops, visit the city's major museums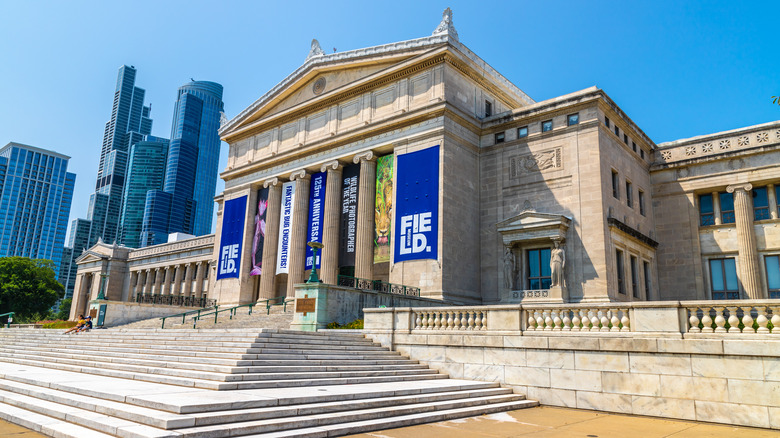 Sergii Figurnyi/Shutterstock
Chicago is home to some of the best museums in the world. From the world-class exhibits at the Art Institute of Chicago to incredible pieces at The Field Museum, you can't go wrong. However, there are a lot of "museums" in Chicago that are really just overpriced, glorified Instagram sites. If you're going to spend money on tickets for something, wouldn't you rather be able to spend half or a full day exploring that place instead of shelling out money for maybe an hour's worth of stuff to see?
For example, the WNDR Museum. While it's a lot of fun to visit, it has a hefty entrance fee for an experience that won't take any more than an hour or so of your time. The main reason people go to WNDR is to take photos, so you're really just paying for the Instagrammable environment rather than the actual content of the site.
The same goes for Cloud Gate – AKA The Bean – which is far from the only public art in Chicago. Not only is Millennium Park right next to the world-class Art Institute of Chicago — which holds some of the greatest artworks in the world — but it's also just a tourist trap. You'll be fighting dozens of other visitors crowded around The Bean for those mirrored images when you could be seeing "The Picasso" in Daley Plaza or the miles of street art murals all over the city instead.
Skip the bus tours and do a walking tour instead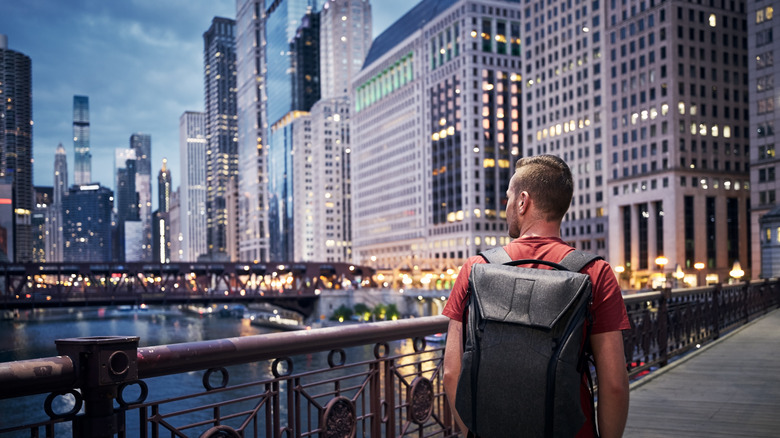 Chalabala/Getty Images
When you're downtown, you are going to be bombarded by pushy solicitors for one of the local bus tour companies like Big Bus. They're usually on the busiest streets like Michigan Avenue handing out fliers or pamphlets. There's nothing wrong with these tours, but if you want a more personalized, hyper-local, and budget-friendly option, you should opt for a walking tour instead.
Walking tours give you more time in each place to enjoy the experience. Hop-on hop-off bus tours make seeing the city more accessible, but it also means a quick drive by the various points of interest around the city instead of giving you time at each place.
What heightens the walking tour experience is knowing how many other Chicagoans past and present experience the city in the same way from the same perspective. Plus, these tour groups are often limited in size, which gives you ample space to get to know your tour guide and ask them any and all questions you have about the city. They're often more than happy to accommodate questions along the way and a company like Free Tours By Foot only asks that you tip your guides at the end to thank them for their hard work.
Skip the tower tours and go up to Signature Room instead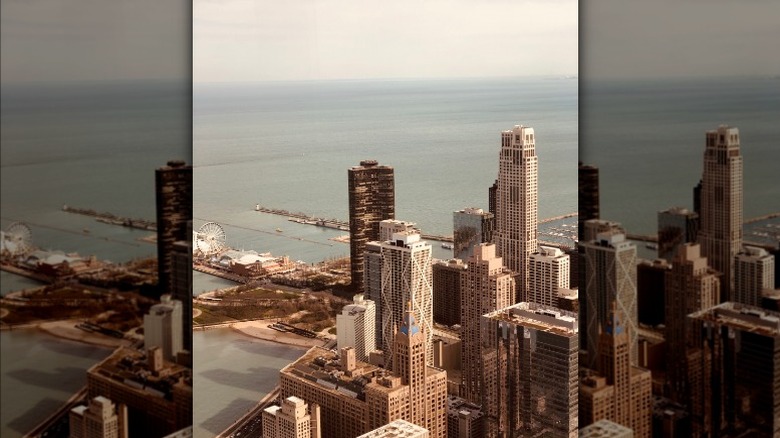 Cristina Meriacre/Shutterstock
Between Willis Tower (Chicagoans will forever call it the Sears Tower) and 875 North Michigan Avenue (formerly known as the John Hancock Tower), there are two spots to choose from for heightened city views. But whether you decide to do the Chicago SkyDeck (at Willis) or 360 Chicago (at 875), you're spending too much money for the views. Your better bet is to head up to The Signature Room at the 95th at 875 North Michigan Avenue.
As its name suggests, The Signature Room is on the 95th floor of the skyscraper on 875 North Michigan Avenue. While it isn't as high up as the viewing areas you pay to access, you're spending far less money ordering a drink or some food with very similar views. Not only that but the restaurant will be free of shoulder-to-shoulder crowds, even during the height of tourist season, so it will generally be a more fun experience. When you pay to access the viewing areas at either of the towers, you aren't getting anything for your money besides the privilege of looking at the city. Why not save that money for something tasty with the views from The Signature Room?