The Most Popular Ski Resorts In America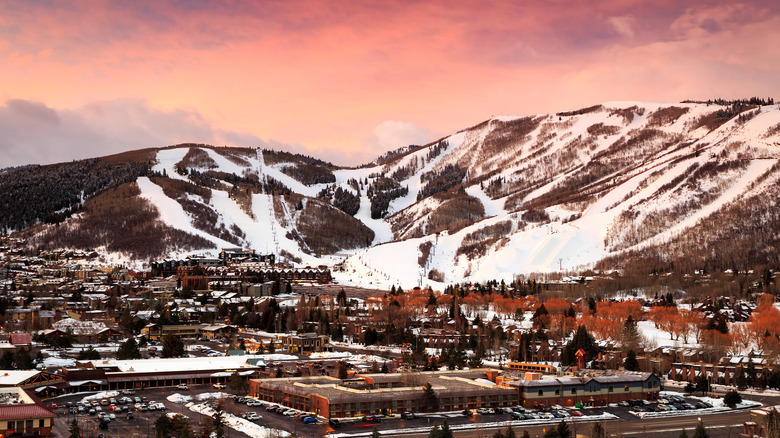 Johnny Adolphson/Shutterstock
The arrival of the cold-weather season can sometimes feel like the most stressful time of the year.  There are holiday parties to host, gifts to buy, chilly temperatures to avoid and flights to book if you're hoping to trade the cold for a warm destination. But if you're a fan of winter sports, there's a perk to the onslaught of snow and frost: ideal skiing conditions. 
If you're working on planning the perfect ski trip, you're not alone. According to the National Ski Areas Association, more than 59 million Americans went skiing or snowboarding during the 2018-2019 season. There are plenty of ski resorts across the nation where you can spend your time and money, but only a few rank among the most popular in the nation.  
Using data from ZRankings — a ski traveling website that compiles historical weather data and measurable details, like slope difficulty, from American resorts — and a dataset from Podium — a company that analyzed business reviews from Facebook, Google and other review sites — we found some of the most popular ski resorts in America. Consider adding one of these destinations to your travel bucket list.
Jackson Hole Mountain Resort (Teton Village, Wyoming)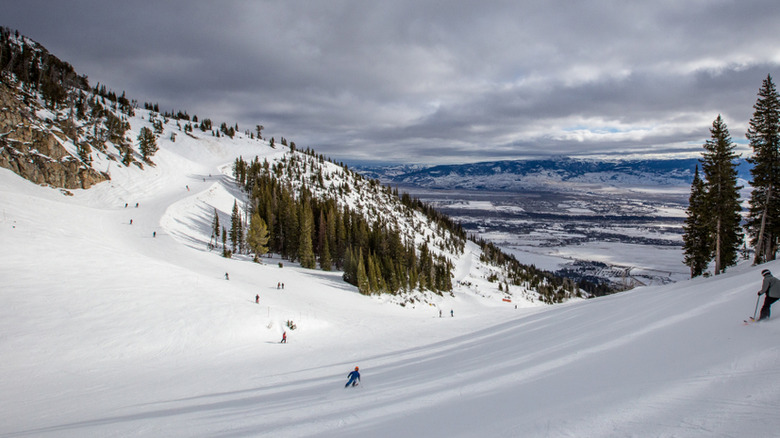 CSNafzger/Shutterstock
Although Jackson Hole is known for its expert terrain, the iconic resort is a popular stop for all. Jackson Hole's legendary Corbet's Couloir is considered to be one of the steepest runs in North America. And the newly renovated Aerial Tram can ascend 10,000 feet in under 10 minutes. In addition to skiing, Jackson offers a mix of different activities like day trips to tourist-favorite national parks Yellowstone and Grand Teton National Park.
Telluride Ski Resort (Telluride, Colorado)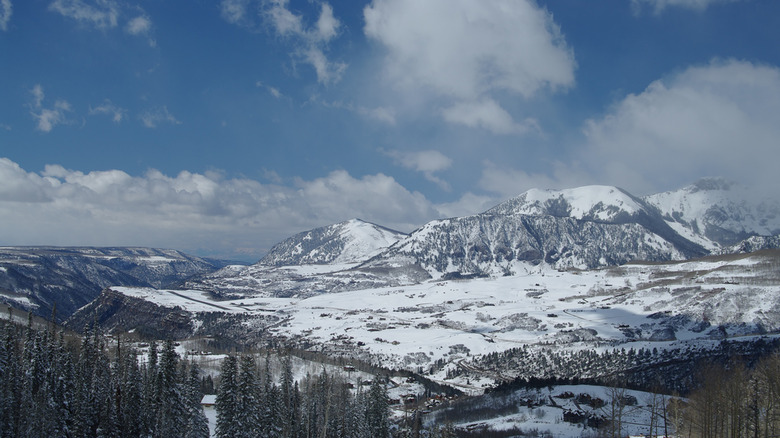 Earl D. Walker/Shutterstock
Telluride is one of the most beautiful ski towns in North America and the best for skiing, according to ZRankings. Located in southwest Colorado, the base of the resort is a village that was once an old mining town nicknamed "To-Hell-You-Ride." The resort offers breathtaking views of the 14,000-foot San Juan Mountains, has more than 2,000 acres of terrain, nine lifts and 148 runs. Novice to expert skiers can all find a place to have the time of their lives on the resort's slopes. And according to Telluride's fact sheet, the resort has one of the best benefits for antsy travelers: non-existent lines.
Steamboat Ski Resort (Steamboat Springs, Colorado)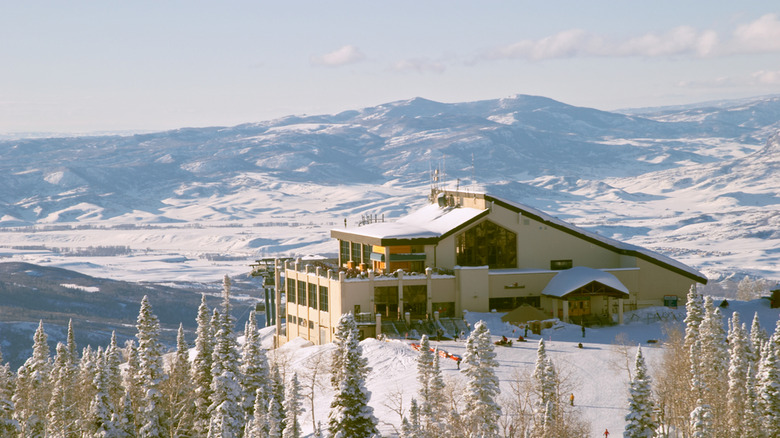 Marco Regalia/Shutterstock
According to ZRankings, Steamboat Ski Resort is a staple for the experienced destination skier. Located on the outskirts of Steamboat Springs, Colorado, Steamboat is one of the largest ski resorts in Colorado. It's known for its Champagne Powder, a nickname coined by a local rancher after he said the snow on the slopes "tickled his nose like champagne." In 2013, Steamboat trademarked the title "Ski Town, U.S.A."  because veteran Winter Olympians often call the resort home. Steamboat is a complete mountain range with more than 2,965 acres of terrain to explore.
Solitude Mountain Resort (Solitude, Utah)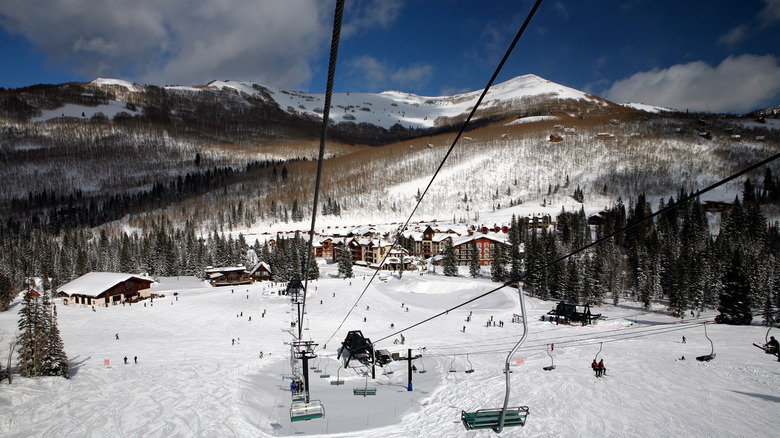 Alexander Gordeyev/Shutterstock
Only 30 minutes from Salt Lake International Airport is Solitude Mountain Resort. Located in the Big Cottonwood Canyon, Solitude offers one of the best snow profiles in North America. The Big Cottonwood Canyons have a different microclimate, meaning the weather in the area differs from surrounding conditions. The canyon's microclimate includes high levels of snowfall and dry powder, providing ideal conditions for winter activities. Solitude has more than 1,200 acres of skiable terrain, 77 named runs and eight chairlifts.
Deer Valley Resort (Park City, Utah)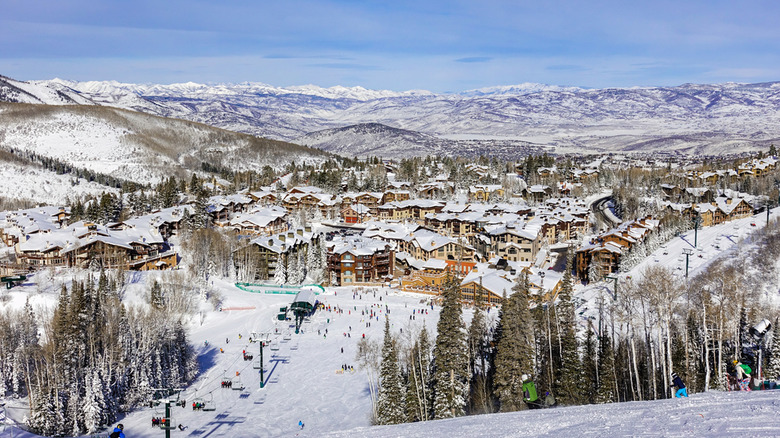 David A. Litman/Shutterstock
For travelers OK with splurging on their winter vacation, Deer Valley Resort is the perfect go-to spot. The resort is known as one of the most luxurious resorts in the nation with award-winning dining. Deer Valley has more than 2,000 acres of skiable terrain and an uphill capacity greater than 50,000 skiers per hour. The resort is perfect for all ages and abilities but has a special treat for skilled and adventurous skiers: a 3,000-foot vertical drop.
Crested Butte Mountain Resort (Crested Butte, Colorado)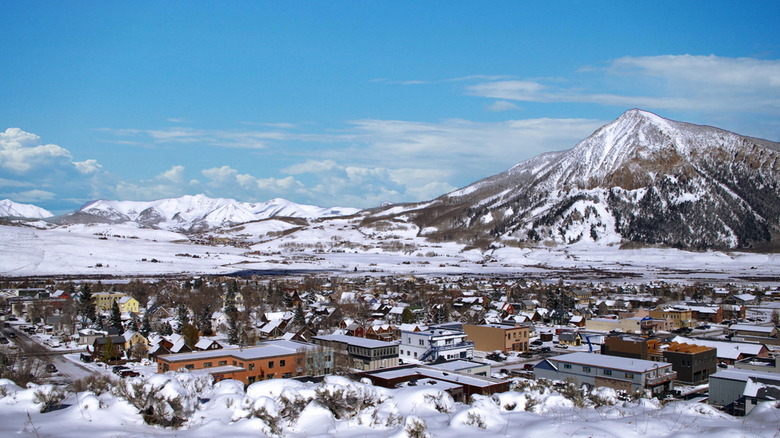 Anthony Dezenzio/Shutterstock
Crested Butte is a famous ski resort best-suited for experts because of its extreme terrain. It was even home to the very first Winter X Games. Crested Butte was once a mining town in the 1800s and to this day it still holds the magic of its past. The resort has more than 1,500 skiable acres, but if tackling the slopes sounds too daunting, there are plenty of other activities like exploring the National Forest, a 1.7-million-acre natural wonder.
Brighton Ski Resort (Brighton, Utah)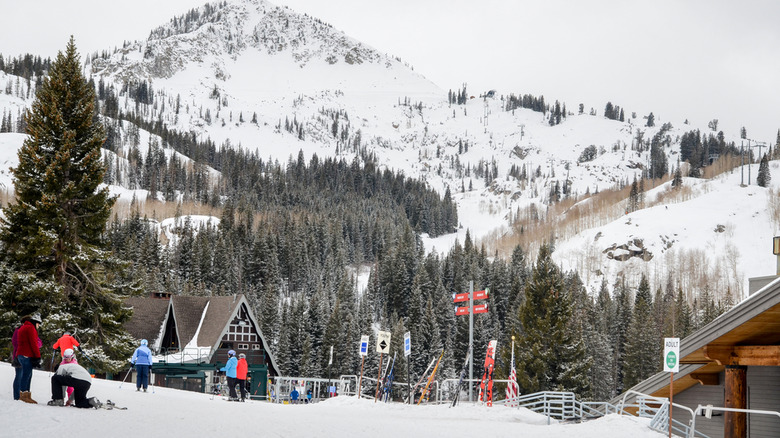 Lerner Vadim/Shutterstock
Not far from Solitude Mountain Resort is Brighton Ski Resort. Also located in Big Cottonwood Canyon, Brighton is the ideal escape when nearby resorts are overcrowded or lacking in snow — the mountain receives an average of 500 inches of snow each winter. Unlike most ski resorts, Brighton offers a fun way to spend the night. Six days a week from December to April, guests can go night-riding and traverse more than 200 acres well after the sun has set.
Aspen Snowmass Ski Resort (Snowmass Village, Colorado)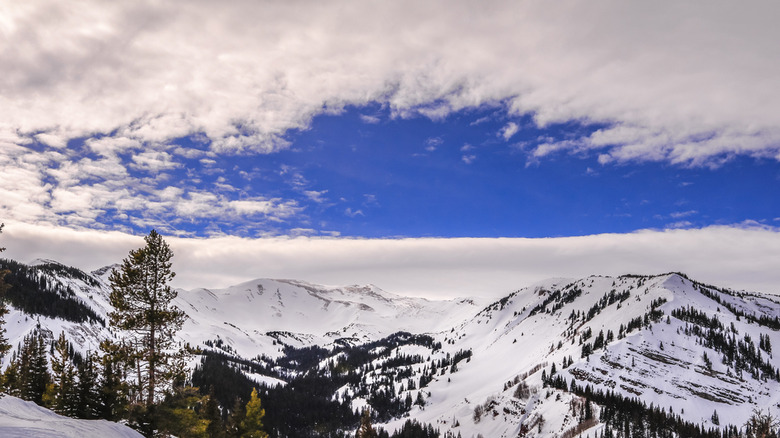 LanaG/Shutterstock
Aspen Snowmass Ski Resort is one of the most famous ski areas in the world. With more than 5,300 acres of terrain at their disposal, guests can spend an entire trip exploring without traversing the same ground twice. In 2017, Snowmass hosted the Audi FIS Alpine World Cup Finals, the top international skiing competition.
Arapahoe Basin Ski Area (Dillon, Colorado)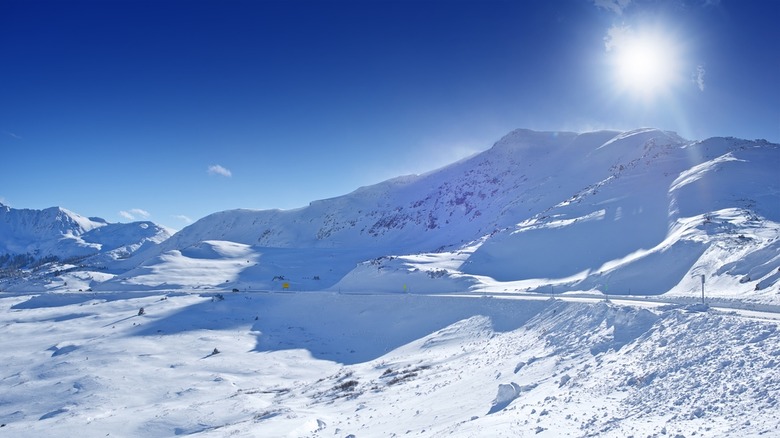 welcomia/Shutterstock
Nicknamed "The Legend" because of its extensive history dating back to its founding in 1946,  the Arapahoe Basin Ski Area has some of the highest skier-and rider-accessible terrains in North America.  Although "The Legend" is smaller than other resorts — it only has 960 accessible acres — its perfect weather conditions, even throughout the spring, are a skier's paradise.  Arapahoe features a summit elevation of 13,050 feet and has an average snowfall of 350 inches.
Beaver Mountain Ski Area (Garden City, Utah)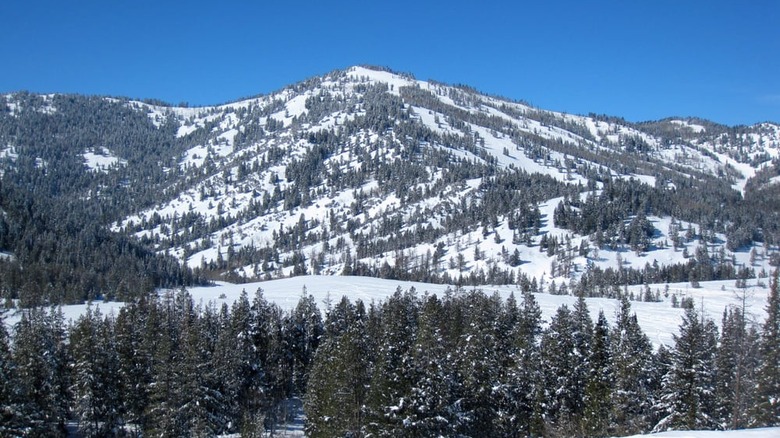 BeaverMountain A./Yelp
Unlike other popular resorts, Beaver Mountain Ski Area is the ideal stop for travelers searching for a quaint and quiet location to enjoy their winter activities. Beaver Mountain has been family-owned and -operated since 1939 when only a single towrope kept the business running. Over the past 80 years, the ski area has expanded to include four lifts, 48 runs and two terrain parks. Each year, the ski area hosts the Beaver Bash, a day of winter sports competition and fun. People from all over Utah travel to the mountain for the opportunity to "Ski the Beav."
Powder Mountain Ski Resort (Eden, Utah)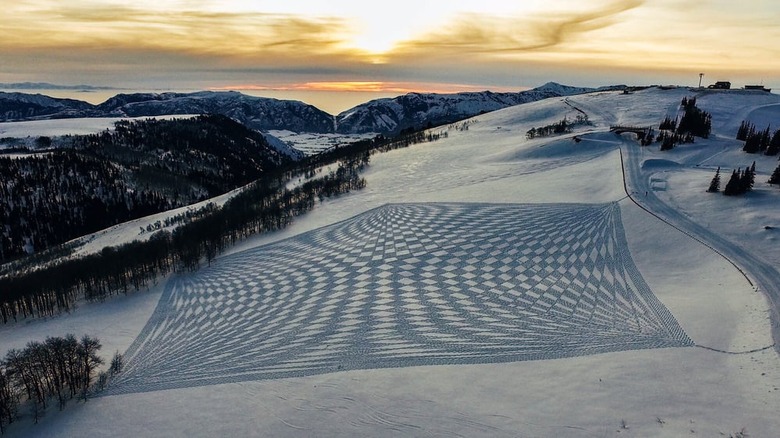 Marshall B./Yelp
Known as "Pow Mow" to locals, Powder Mountain Ski Resort has more than 8,400 skiable acres, the most of any resort in the United States. Annually, the resort receives more than 500 inches of snow. If you want to enjoy Powder Mountain, you'll have to start your day early. The resot caps day tickets at 1,500 to guarantee guests can enjoy the park to the fullest.
Mt. Baker Ski Area (Whatcom County, Washington)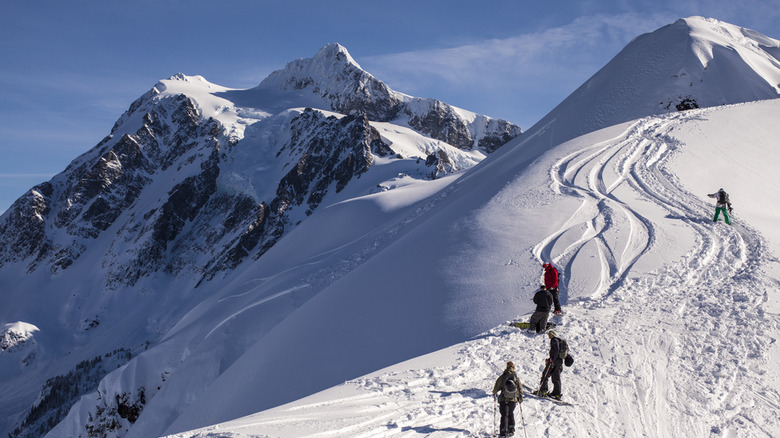 Cascade Creatives/Shutterstock
During the 1998-1999 winter season, Mt. Baker Ski Area set the record for the highest unofficial annual snowfall of any ski resort in the world. The ski area accumulated more than 1,100 inches of snow. Mt. Baker hasn't topped that total since, but conditions are always exemplary for those hoping to dominate the slopes. The ski area's 1,000 skiable acres has an average snowfall of 663 inches. Mt. Baker also has eight lifts and 31 runs for guests.
Stowe Mountain Resort (Stowe, Vermont)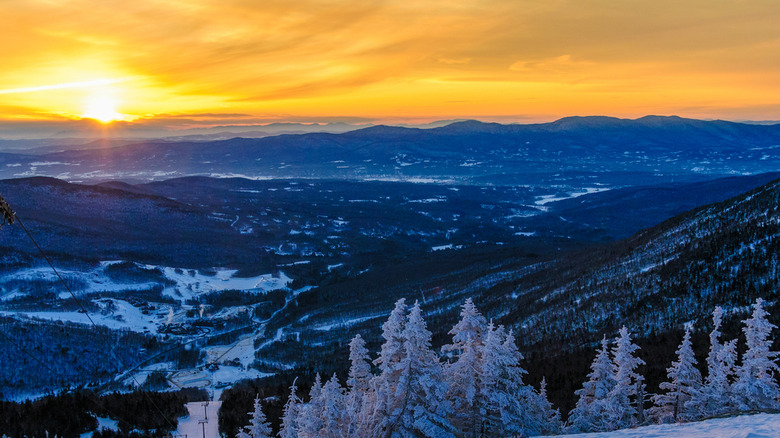 Don Landwehrle/Shutterstock
If you're an avid skier living on the East coast, chances are Stowe Mountain Resort is one of the gems you know about. Nestled in Vermont, Stowe Mountain Resort is one of the most luxurious ski destinations on the coast. The location of the resort has often been called "Vermont in its purest form." Stowe's 485 skiable acres has an annual average snowfall greater than 300 inches and a skiing elevation of more than 3,600 feet. When you're not hitting the slopes, check out the breathtaking view of the sunrise and sunset over the mountains.
Killington Mountain Resort & Ski Area (Killington, Vermont)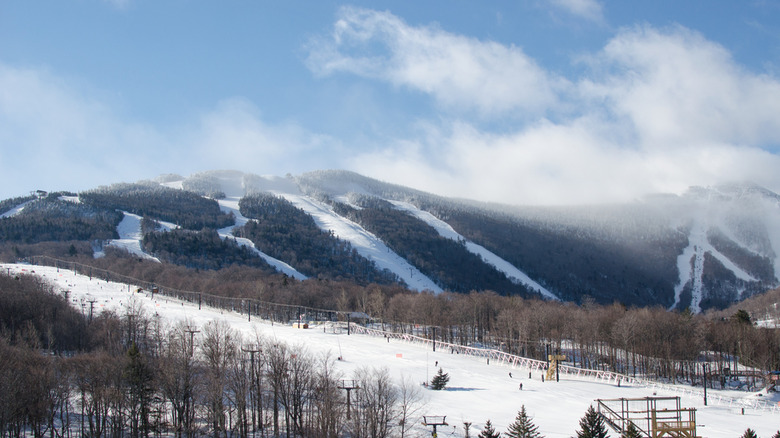 Ray Esteves/Shutterstock
Nicknamed the "Beast of the East," Killington Mountain Resort & Ski Area is the second-largest ski area in the eastern U.S. Killington is spread across seven mountain areas, including Killington Peak, the second-highest point in the state. The resort has more than 1,500 skiable acres, 212 trails and one of the largest vertical drops in New England at 3,050 feet.
Snowbird (Little Cottonwood Canyon, Salt Lake County, Utah)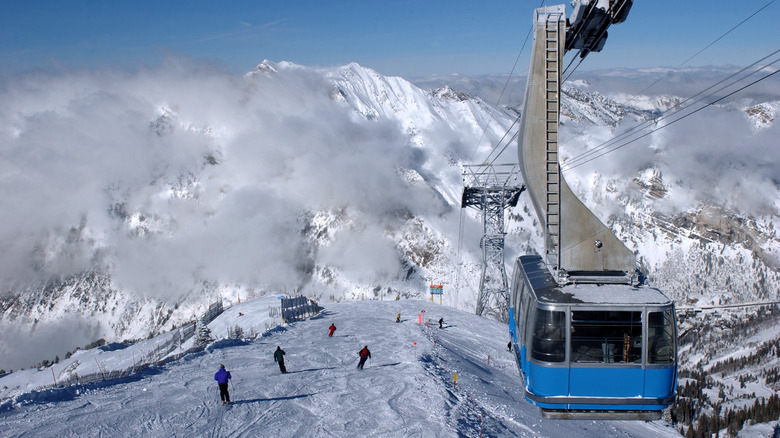 FashionStock.com/Shutterstock
Located in Utah's Little Cottonwood Canyon, Snowbird has one of the best terrains in Utah. All ages can participate in activities like snowmobile tours, backcountry tours and heli-skiing, or small-group helicopter ski trips. And if you're also searching for a fun summer adventure, consider Snowbird. The resort has a warm-weather vertical drop that involves climbing a 50-foot green tower before the "Big Drop," which includes a 9-foot freefall.
Alta Ski Area (Alta, Utah)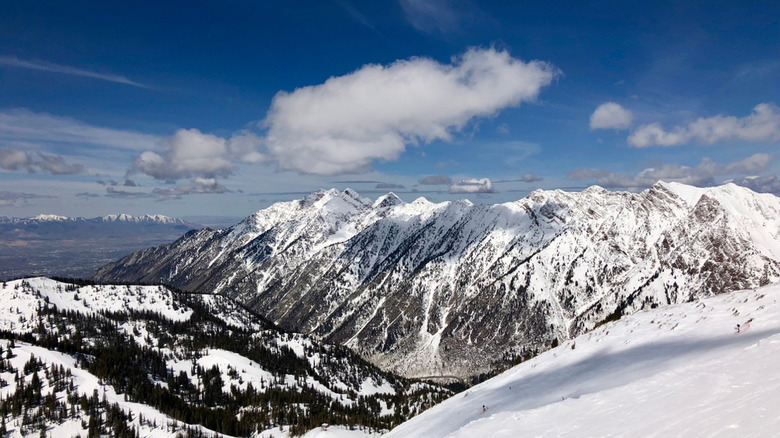 henryyjjames/Shutterstock
Since 1938, Alta Ski Area has been providing the perfect ski experience for all ages. A family-owned business, Alta has more than 2,600 acres of skiable terrain and has an annual average of 545 inches of snowfall. Alta is known world-wide for its powder skiing. And with more than 100 runs and a 2,500-foot vertical drop, it's the place to put your skills to the test.
Sundance Mountain Resort (Sundance, Utah)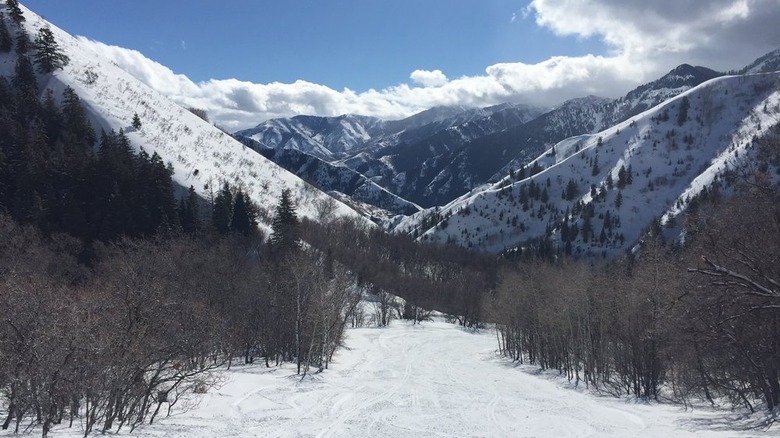 L L./Yelp
Sundance Resort is located in Sundance, Utah, behind the cliffs of Mount Timpanogos, the second-highest mountain in the Utah Wasatch Range. It's owned by famous actor Robert Redford. The resort has 450 acres of skiable terrain and 42 runs to explore. Experienced skiers enjoy the steeper, wide-open bowls in the higher section of the mountain, and novice skiers can stick to the base slopes. And if you want to take a break from typical winter activities, Sundance Mountain Resort has an art studio with crafty classes ranging from journal-making to collage painting.
Whitefish Mountain Resort (Whitefish, Montana)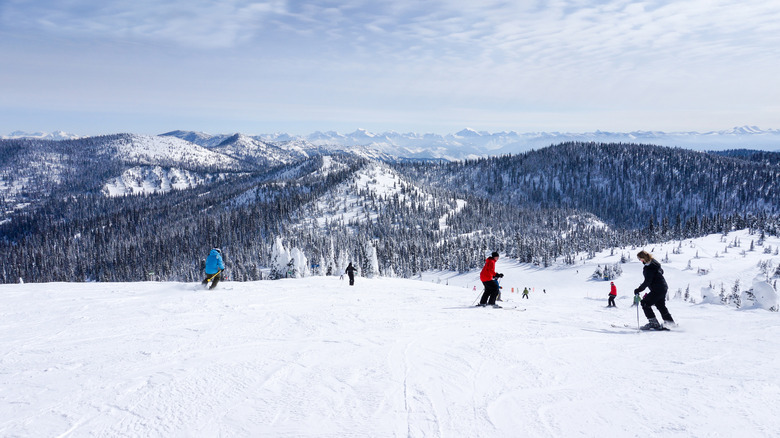 Ronnie Chua/Shutterstock
Fans of Whitefish Mountain Resort might know it by its nickname, "The Big." And with 3,000 acres of skiable terrain, 105 trails and a 3.3-mile run known as "Hellfire," the resort lives up to its name. After a day of skiing, guests can dine 7,000 feet above ground at Summit House.
Mammoth Mountain (Mammoth Lakes, California)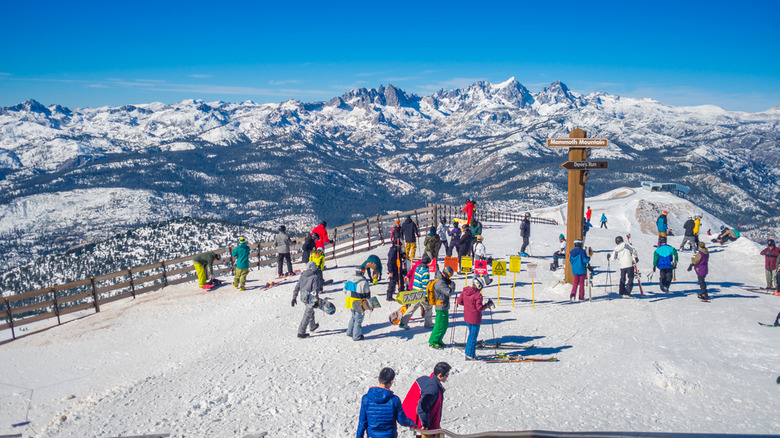 Michael Lauffenburger/Shutterstock
Mammoth Mountain is California's highest four-season resort. The resort is more than 11,000 feet above sea level, and with 300 annual days of sunshine, it may feel like one of the happiest places in America. Mammoth's high elevation means superior snow conditions and chilly weather perfect for navigating the more than 3,500 acres of skiable terrain.
Park City Mountain Resort (Park City, Utah)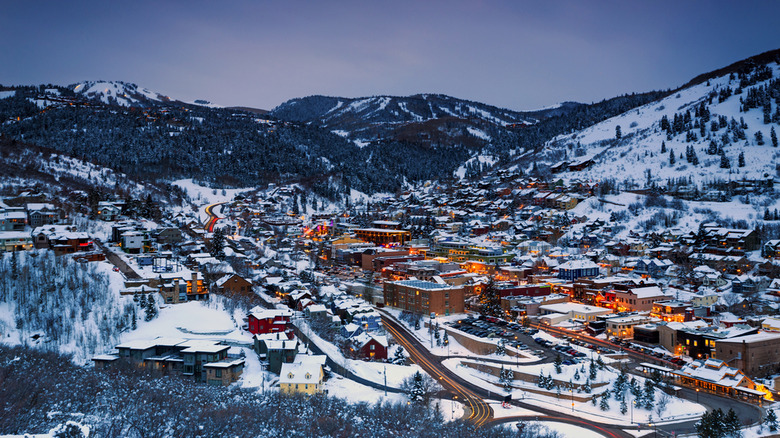 Johnny Adolphson/Shutterstock
If you've heard of Sundance, the famous film festival, chances are you're familiar with Park City Mountain Resort, the largest and one of the most elite ski resorts in the nation. Both are located in the city, making Park City one of the most popular tourist destinations during the winter season. Spread across 17 mountain peaks, Park City Mountain Resort has more than 7,300 skiable acres, a summit elevation greater than 10,000 feet, over 330 trails and a 3,226-foot vertical rise. This mountain experience is perfect for all ages and skill levels.
Wolf Creek Ski Area (Pagosa Springs, Colorado)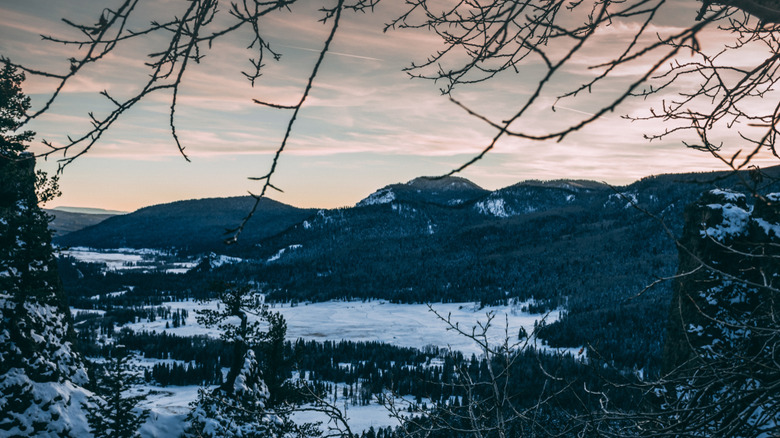 claprath/Shutterstock
Wolf Creek Ski Area is known to have "The Most Snow in Colorado." It receives an annual snowfall of 430 inches of natural powder. Wolf Creek has a diverse range of slopes — 20% are beginner, 35% intermediate, 25% advanced and 20% expert — making it one of the best resorts for ski and snowboarding beginners and pros alike.
Vail Ski Resort (Vail, Colorado)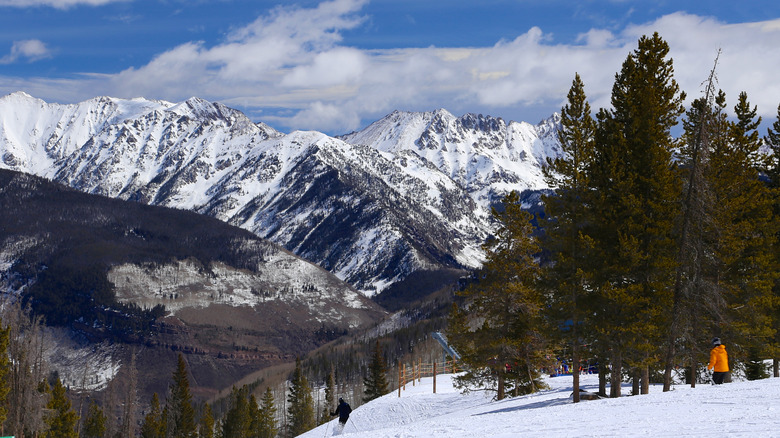 Steve Boice/Shutterstock
According to ZRankings, Vail Ski Resort is "the quintessential ski resort in the quintessential mountain state." Located in central Colorado, Vail combines more than 5,300 acres of skiable terrain, over 330 inches of snowfall and 300-plus days of sunshine for exemplary skiing conditions. It's the perfect resort for vacationers in search of luxury — Vail is home to a Ritz-Carlton — or families searching for a resort with a myriad of winter activities — like tubing and ski biking — fun for everyone.
Big Sky Resort (Big Sky, Montana)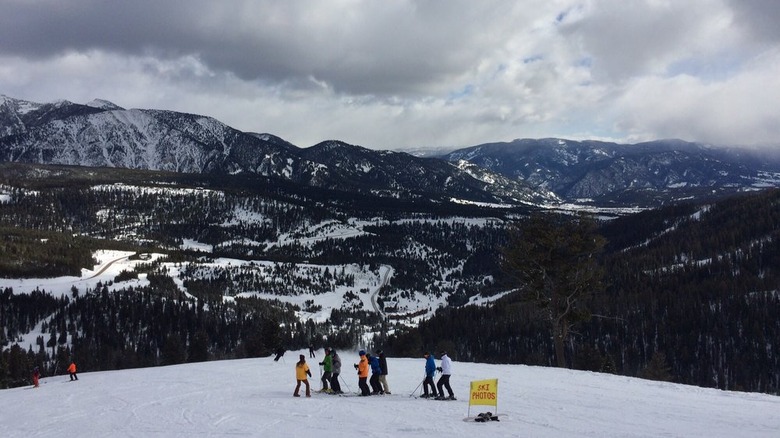 Laura H./Yelp
Big Sky Resort, commonly referred to as "The Biggest Skiing in America," is the third-largest ski area in North America. An average of 400 inches of snowfall annually on Big Sky's more than 5,800 skiable acres. Visitors can choose between four mountains, 36 lifts and over 300 runs. And Big Sky makes plenty of room for all ski levels. More than 2,300 acres are dedicated to beginner and intermediate skiers and over 3,525 acres are for the advanced and experts.
Sugarloaf (Carrabassett Valley, Maine)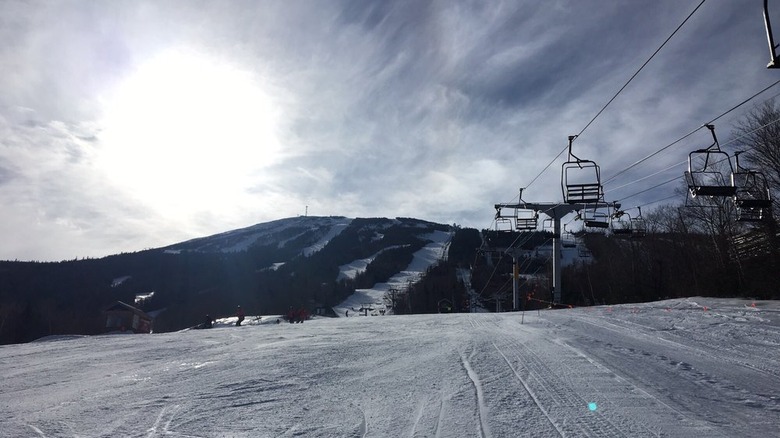 Pam Z/Yelp
Sugarloaf sets the bar for East Coasters searching for a winter adventure. It is Maine's tallest winter resort, the second-highest peak and the largest ski area east of the Rocky Mountains. The snowfields are the only lift-serviced, above-treeline skiing in the East. And the 1,240 skiable acres are the most in the East. Sugarloaf also has an interesting feature: its own school. Located at the base of the Sugarloaf Mountain, the Carrabassett Valley Academy blends college-preparatory academics with competitive ski and snowboard training. The school boasts 11 Olympians and 10 X-Games competitors as former students.
Taos Ski Valley Resort (Taos County, New Mexico)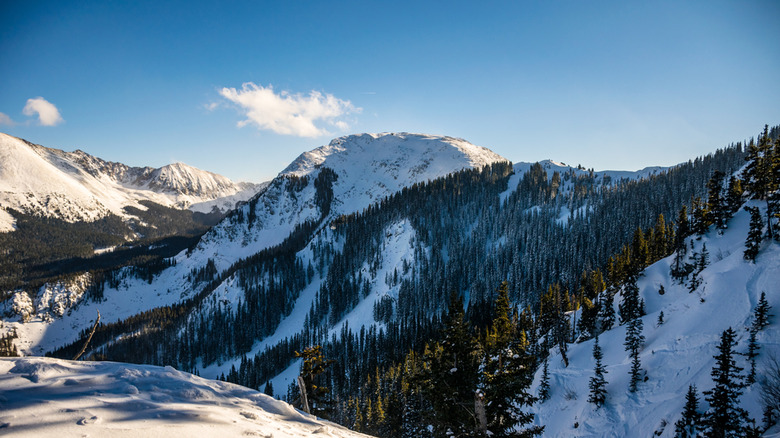 Roschetzky Photography/Shutterstock
Taos Ski Valley Resort is the only major destination ski resort in the state of New Mexico and a hidden gem. Surprising to most, the resort receives up to 300 inches of snow each year. Taos has more than 1,294 acres of terrain, 110 trails for all levels and 14 lifts.
Keystone Ski Resort (Keystone, Colorado)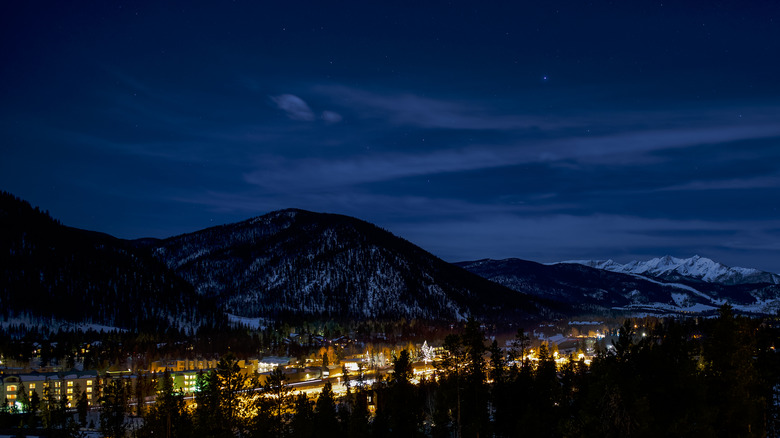 SlavaFlash/Shutterstock
Keystone Ski Resort is the largest ski area in Summit County, Colorado. Compared to other resorts, Keystone is described as being "less frenetic" and more relaxed. One nickname for the resort is the "mountain playground" because of its multitude of activities for families, especially those with younger children. The resort is spread across three peaks and has more than 3,000 acres of skiable terrain, a 3,128-foot vertical, 20 lifts and 128 trails. And to top it all off, at the end of each day, there's a parade with free cookies.
Grand Targhee (Alta, Wyoming)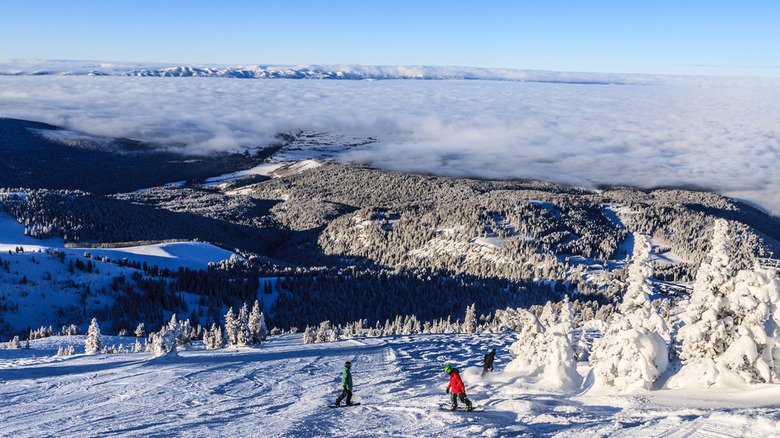 Kevin Cass/Shutterstock
Located in the Caribou-Targhee National Forest and 90 miles north of one of the most beautiful places in America's parks is Grand Targhee. According to ZRankings, Grand Targhee is one of the best locations for powder skiing in the world. And if you want to skip the slopes for a day, nearby is one of the most popular national parks in America: Yellowstone.
Northstar California (Martis Valley, California)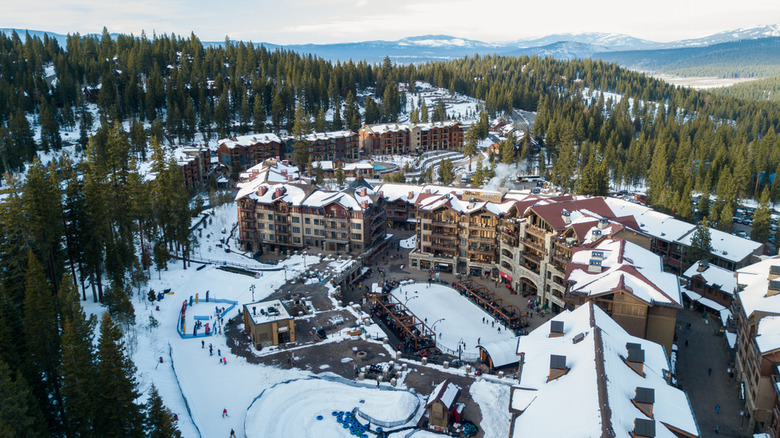 Lance Huntress/Shutterstock
This ski resort is hidden in the Martis Valley in North Lake Tahoe. Northstar is best for intermediate-level skiers hoping to gain experience before hitting the more difficult slopes, but novice skiers can still tackle the mountains — ski and snowboard lessons are available for individuals as young as 5 years old. Northstar is the perfect destination to spend the holidays. Every Christmas Eve, guests can enjoy brunch with Santa, and the resort celebrates New Year's Eve with a fireworks show.
Winter Park Resort (Winter Park, Colorado)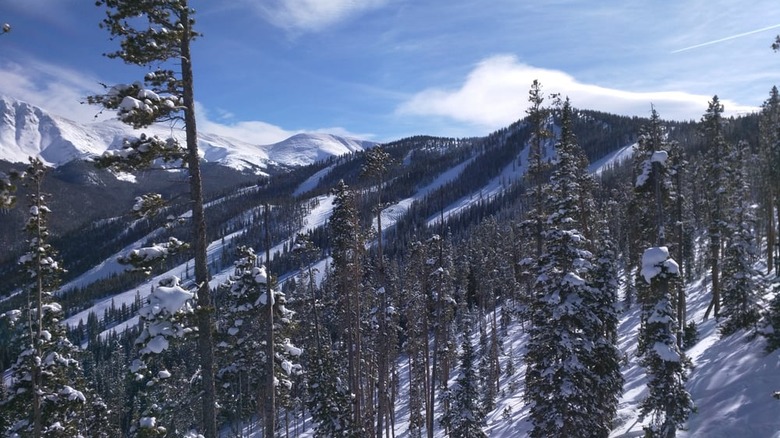 Eric J./Yelp
Winter Park Resort has one of the best mountains in the entire state of Colorado for winter sports enthusiasts. The mountain's two sides offer stashes and hideouts for skiers, and there are plenty of activities for all ages. When they're not skiing on the slopes, children ages 6-12 can enjoy movies, crafts and exploration at Camp Idlewood, and couples can take a romantic adventure and tour the winter woods at twilight.
Gore Mountain Ski Resort (North Creek, New York)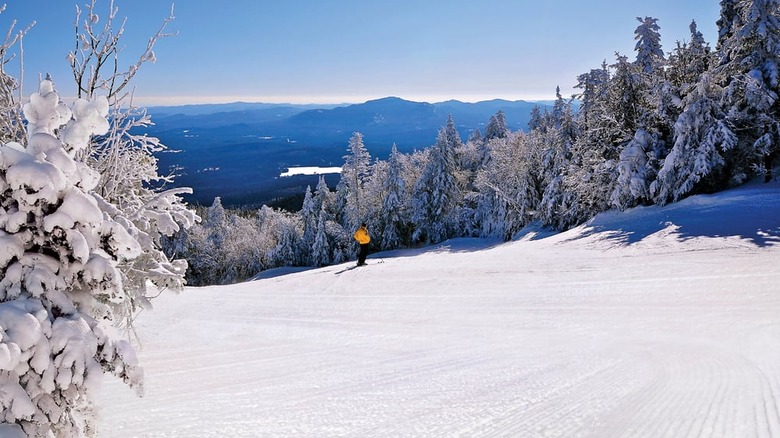 Emily S./Yelp
Gore Mountain has four peaks of terrain to dominate, 110 trails and, according to the resort, is home to the most skiable acreage in New York. During the summer and fall, the resort hosts special activities and events like hiking excursions, mountain biking and the annual Harvest Festival, making it the perfect place to visit year-round for a family vacation.