14 Bucket List Cities In Italy For Wine Tasting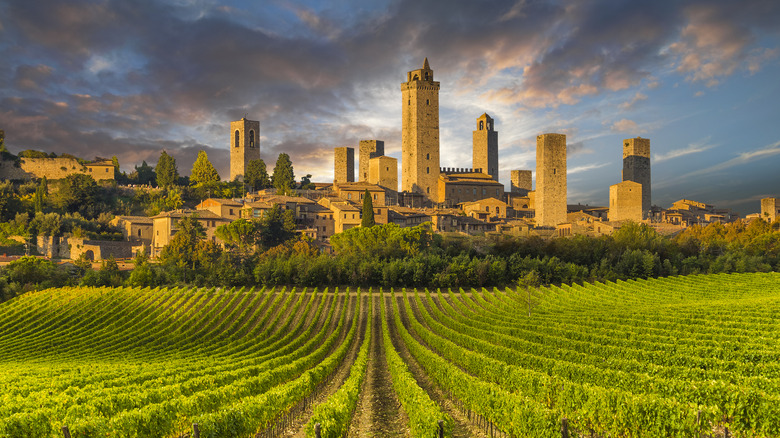 Maudib/Getty Images
Italy is definitely one of the top places to visit if you love wine. With its ample wineries, almost perfect grape growing conditions, and delightful Italian dishes to pair all your wine with, Italy does not disappoint when it comes to savoring and sampling vino. Many wine enthusiasts even agree that wine simply tastes better in Italy.
Due to Italy's overall climate and landscape, native grapes have a character, texture, and taste that is seldom found anywhere else, which makes for the most incredible and complex wines. What's more, when you wine and dine in Bel Paese (the "beautiful country"), you can expect a first-class, cultivated, and intimate experience. This is especially true if you indulge in wine tasting in the gorgeous Italian countryside. That said, there are so many great places to sample the latest wines in Italy. In fact, here are some of the best cities in Italy for wine tasting to add to your bucket list.
Rome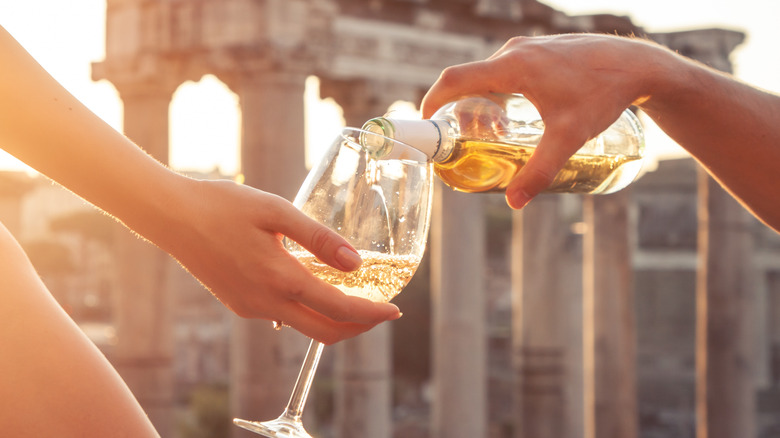 WineDonuts/Shutterstock
When in Rome, there is never a bad time for wine tasting. From morning sips and food market tours in the Prati district to evening and sunset wine tasting, the Eternal City has got you covered. With ancient cellars, wine bars, tasting rooms, and ample vino-infused experiences awaiting travelers in the capital city, it only makes sense to spend some time sampling wines here.
Popular spots for tastings and more include Vino Roma, Rimessa Roscioli, and Al Vino Al Vino. Rome is also home to wonderful vino and spirits shops where patrons can peruse aisle after aisle, sip, and shop. Wine stores like Enoteca Cosantini offer shoppers a vast selection of local, organic, and regional wines to sample before purchasing. Likewise, the Eternal City is littered with charming wine bars that offer delicious bites and wine-infused desserts. Cantina Belsiana, L'Angolo Divino Enoteca Vineria, VinAllegro, Quartino Enoteca, and Enoteca Cuvereie, for instance, are just a few places in this iconic city that visitors should check out on their Italian wine appreciation tour.
Tuscany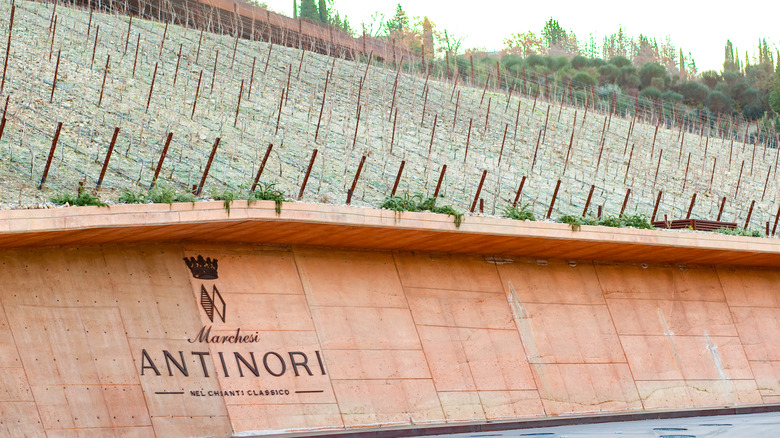 Antonio Gravante/Getty Images
Known as the heartland of Italian wine production, Tuscany is an absolute must on any traveler's to-do list for several reasons. Tuscany is the perfect spot for newbie tasters who want to learn more about this region's most celebrated drink. On the other hand, if you are a connoisseur of wine, Tuscany is still delightful and brimming with viticulture that is next to none. Though technically not a city, Tuscany is undoubtedly the place to be if you want to enjoy some world-class vino.
With over 400 wineries to peruse, including Antinori nel Chianti Classico and Camigliano Castle, wine lovers will be more than overjoyed in Toscana. In this truly picturesque region, visitors will find an abundance of fragrant red wines with bold and unique flavors. Of course, wine fans do not have to go it alone, as there are a variety of tours, day trips, and countless Tuscany tasting itineraries to follow on your own self-guided wine adventure. There are even several vineyards that offer accommodations, so the wine tasting does not have to stop when the sun sets.
Orvieto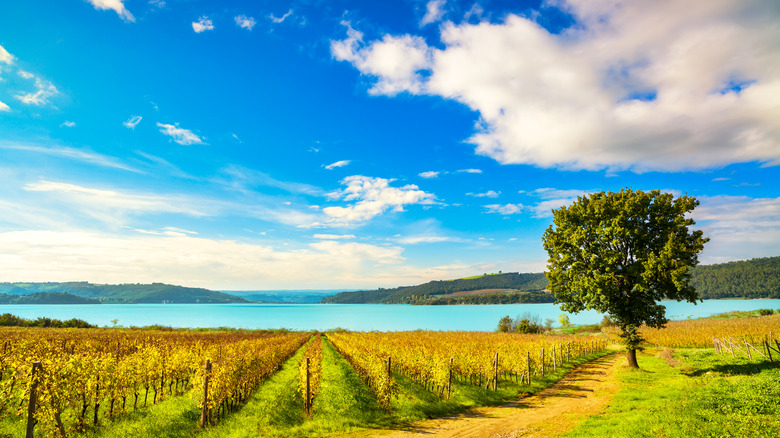 StevanZZ/Shutterstock
Located in the central region of Umbria, Orvieto is for wine lovers. With its majestic surrounding landscape, famous and multifaceted white wines, and overall phenomenal viticulture, Orvieto is another must-add to your bucket list. Here, visitors will find a charming city with numerous vineyards, wineries, organic farms, and inviting wine bars.
Of course, a tasting adventure in Orvieto is more than possible and is highly recommended, even if you are not a big fan of white wines. A few top-rated wineries to check out in this city of wine include Tenuta Vitalonga, Cantina Lapone, Castello di Corbara, and Cantina Murogrosso. Several of these fantastic wineries offer affordable and informative tasting experiences that will garner a deeper appreciation for white wines for just about anyone. After spending the day traipsing about this section of Italy's fantastic wine country, Orvieto visitors can also enjoy countless wine bars such as Enoteca Umbria Top and Antica Bottega al Duomo. Plus, places like Cantina Véra offer a slow gourmet tasting, complete with perfectly paired bistro-style dishes.
Verona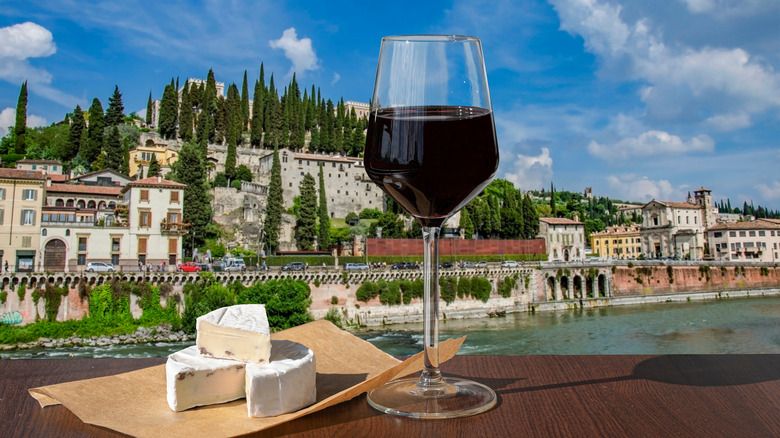 Maria Vonotna/Shutterstock
Next on your once-in-a-lifetime wine tour of Italy should definitely be the city of Verona. A popular destination for wine enthusiasts, Verona is filled with incredible sights and has a rich history, stunning architecture, and a rave-worthy culinary scene. But that's not all the town rumored to inspire Shakespeare's "Romeo and Juliet" has to offer — this UNESCO heritage site also has quite the selection of wines, vineyards, and tasting opportunities.
Wines like Amarone Della Valpolicella, Garuda, Lugana, and Valpolicella Ripasso hail from this city and should be added to your tasting itinerary when in Verona. Just a short drive from the city center, vino fans can indulge in classic wine tours, relish in full-bodied reds, and then some. And while marveling at the surrounding gorgeous landscape, wine connoisseurs can savor complex wines with various cheeses and meats — and finish it all off with a fine dining experience. Here, vino tourism spots like Le Morette and Boscaini Carlo are just two tasting options that offer fantastic wines, excellent food pairings, and breathtaking scenery.
Palermo
poludziber/Shutterstock
The capital city of Sicily, Palermo, is teeming with vineyards and is a great area for vino fans looking to delve deeper into Sicilian wine. Of course, the island of Sicily is rather large, and options for tastings and delighting in Sicilian fanfare are plenty, so wine enthusiasts will likely need to make several trips to cover this entire bucket-list destination. But that said, Palermo is still the perfect place to start for any wine lover.
With easy access to a host of wineries, plus guided and self-guided tours available, your vino adventure in Palermo is truly what you make it. A few necessary stops along your wine journey here should definitely include the Elios vineyards, Cantine Barbera, Marco de Batholdi, and Cantine Pellegrino. Elios is all about low-intervention winemaking and offers everything from Nerello Mascalese and Modus Bidendi Bianca wines to organic honey and extra virgin olive oil. Similarly, Cantine Barbera promises patrons no frill wines that are light, airy, and distinctive and undoubtedly delivers. Marco de Batholdi and Cantine Pellegrino, on the other hand, are both Marsala-based wineries with divine varieties and unbelievable views. So do not forget to add these rave-worthy viticulture havens to your Sicilian wine itinerary, too!
Barolo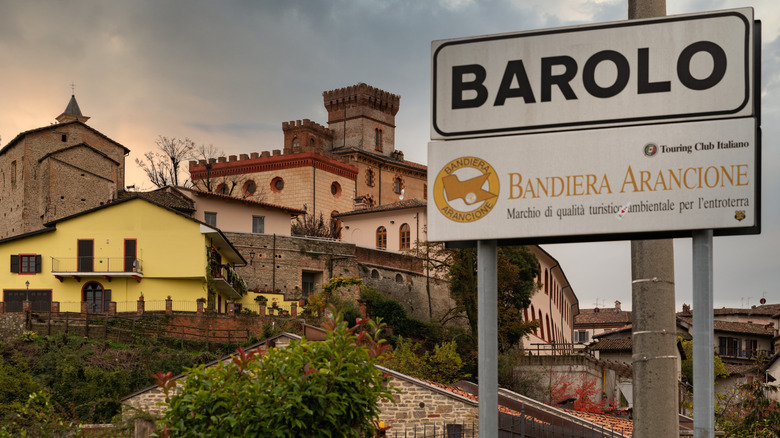 Ventdusud/Getty Images
For wine lovers looking to sample exclusive wines, a trip to Barolo is in order. Here wine fans can delight in full-bodied red wines and first-rate food pairings. The wines hailing from this famed Italian city are very similar to the rich Pinot Noirs of Burgundy, so if you enjoy light-to-medium-bodied vinos with complex fruity flavors, then wine tasting in Barolo is definitely for you.
Vineyards in Barolo span 11 villages and collectively make up the distinguished vinos that garner the name — the "Wine of Kings." Notable wineries for tastings in this flourishing wine town include Fratelli Serio & Battista Borgogno, Giovanni Rosso, Diego Morra, and Cascina Adelaide. Many of these phenomenal tasting spots have been in the wine-making business for generations — all of them are equally committed to producing high-quality, organic wines that are palatable and eco-friendly, plus demonstrate the beautiful balance of both traditional and modern wine-making methods. And if you happen to be limited on time when exploring this vast wine haven, make sure you stop by Cascina Adelaide — an underground cellar and winery that is truly a sight to behold, has quite the backstory, and offers an incredible selection of renowned varietals to savor.
Montalcino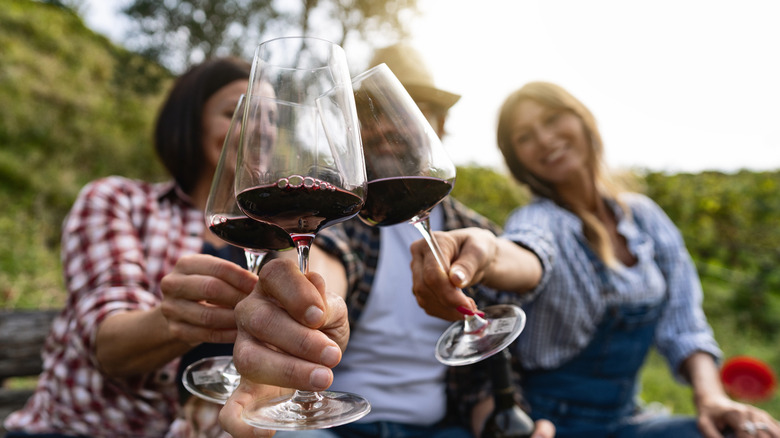 Piola666/Getty Images
Located just south of Siena, the city of Montalcino is known for its wines, particularly the Brunello di Montalcino and Rosso di Montalcino wines. So not only is Montalcino a must on your Italian wine bucket list, but it is also a definite add-on thanks to its world-famous wines. Similar to other picturesque locales in Italy, Montalcino is a Tuscan hilltop town that is simply stunning and rich with viticulture as well as history.
In addition to Brunello di Montalcino and Rosso di Montalcino, Moscadello, Vino Santo, and Sant'Antimo are also produced in this city. Wineries like Castello Tricerchi, Poggi Di Soto, Argiano, and Tenute Silvio Nardi (which is two grand estates in one — Casales Del Bosco and Manachiara) — all offer vino lovers a chance to sample some of these iconic vintages, marvel at 17th-century villas, plus explore expansive cellars and vineyards. Here, you can unwind in the relaxing Italian countryside near olive groves, ancient volcanos, and flowing rivers, all while sipping first-rate wines that embody the meaning of quality over quantity.
Piedmont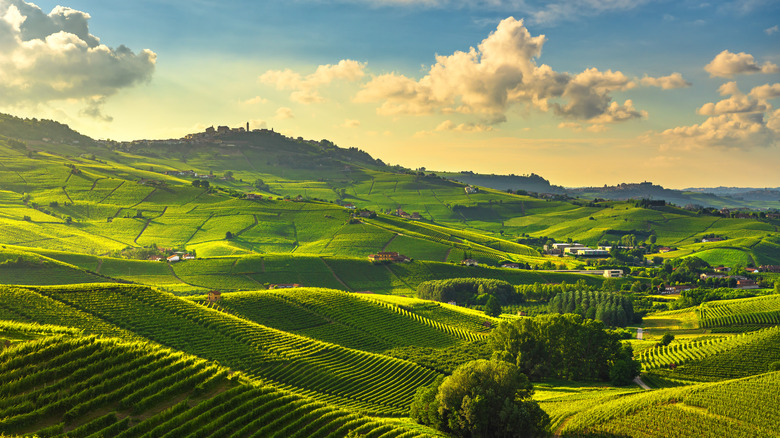 Stevanzz/Getty Images
For some serious noble reds, gorgeous scenery, and ample wineries to tour, Piedmont is a superb addition to your bucket list. Piedmont not only has an abundance of wine tasting, but this city also offers wine lovers first-class everything. With approximately five UNESCO-status wine-growing subregions here, travelers can expect nothing but the best when sampling reds, whites, and varietals in Piedmont.
A few must-visit wineries in this old-world-style destination include La Raia, Elvio Cogno, Michele Chiarlo, and Podere ai Valloni. La Raia is a highly-rated winery that is no stranger to blending local tradition and modern technology to produce delightfully crisp, floral, and aromatic Gavi wine (its flagship white wine). Alternatively, Elvis Cogno and Michele Chiarlo are two uniquely different wine houses and vineyards that are notably steeped in tradition and offer an extensive assortment of reds ranging from sweet to mildly acidic. Podere ai Valloni, on the other hand, is an award-winning certified organic winery that features several full-bodied reds and high-quality varietals.
Cinque Terre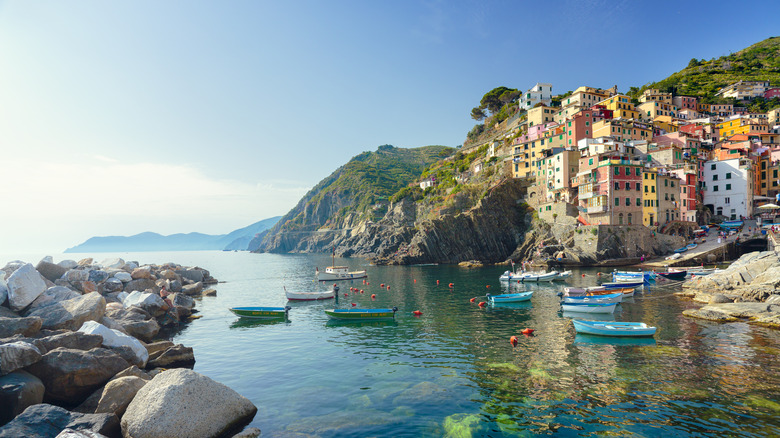 Spooh/Getty Images
This stunning coastal region is a must when in Italy for the views, food, blue waters, and culture. Here, heavenly wines are produced in the Italian Riviera by local farmers. With countless vineyards, cellars, restaurants, and great spots to sample vino, Cinque Terre is the perfect place to open a bottle and let it breathe before reveling in complex flavors, tannins, and more.
For wine fans looking to enjoy their vino with a Mediterranean view, A Pié de Ma in Riomaggiore is the place to be. This enchanting seaside restaurant and wine bar has a broad selection of local wines and delicious food pairings that make for an incredible experience from start to finish. That said, Cinque Terre has more than a few vineyards that overlook the sea and offer sunset tastings and informative tours, so you definitely have some options. There are also guided walk and drink tours that allow tasters to marvel at the Italian Riviera in all its glory and appreciate five-start wines along the way.
Florence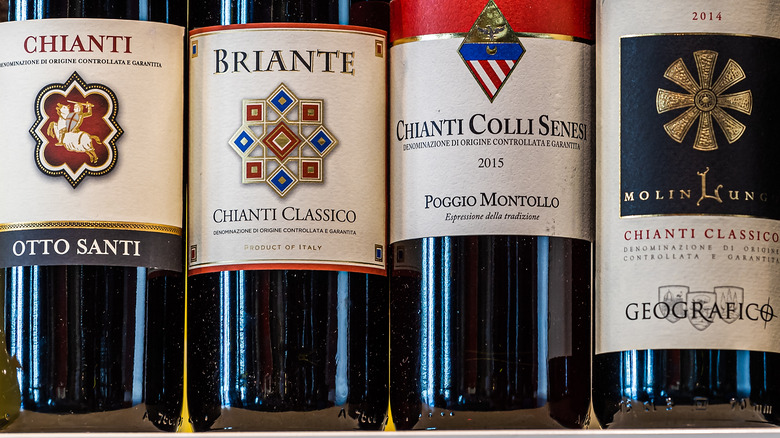 Krblokhin/Getty Images
Florence is yet another bucket list stop while sampling Italian vino in the Beautiful Country. Known as the Chianti region of Italy, Florence has countless vineyards and brand-name wine houses that have made a name for themselves worldwide. With ample tasting opportunities, tours, and customizable experiences here, wine enthusiasts are in for a real treat in Florence.
Of course, there is no denying the fact that Florence is the ideal spot for travelers looking to bask in all the beauty of Italy. From its alluring architecture, fascinating history, and rich cultural scene to its sensational scenery, flavorsome food, and wonderous wines, the City of Lilies should be on everyone's to-do list. The capital city of Tuscany also has a wealth of wine bars and stores that effortlessly showcase this city's wine selection. Favorites like Le Volpi e L'Uva, Casa del Vino, Procacci, and Il Santo Bevitore are excellent tasting options to check out after touring some of the great wineries, including Badia a Coltibuono and Castello di Ama.
Sorrento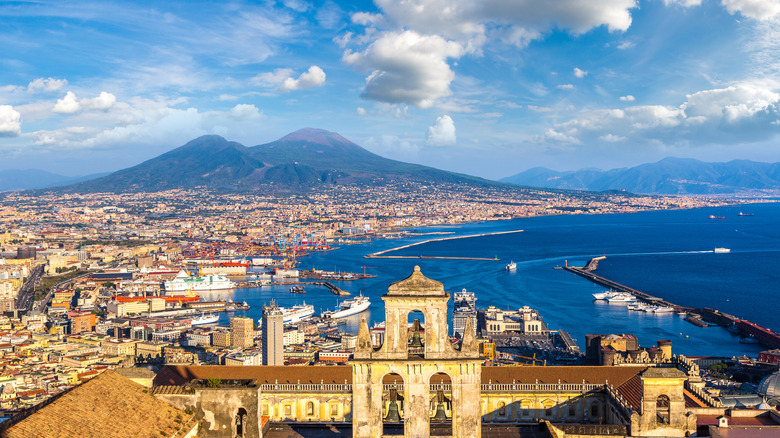 Sergii Figurnyi/Shutterstock
Located in southern Italy, Sorrento is also a renowned wine town in the Campania region. Sorrento, along with a handful of other nearby cities, makes up the Campania Region, which as a whole produces a large percentage of all Italian wine. Thus, wine connoisseurs vacationing in Italy will find that a visit to Sorrento is actually necessary in order to have a comprehensive wine bucket list.
Sorrento is known for its sparkling reds and offers unique tours and tasting experiences that are truly memorable. For instance, wine lovers can sip vino while enjoying views of Mount Vesuvius, touring Pompeii, or exploring the city via E-bike. However, if you prefer to go your own way, then you can opt for self-guided wine excursions. Plus, wineries like Sorrento Limoncello and Cantine De Angelis are amazing places for tastings, especially if you happen to be craving unique regional grape varieties like Agliancio, Piedrosso, and Greco.
Veneto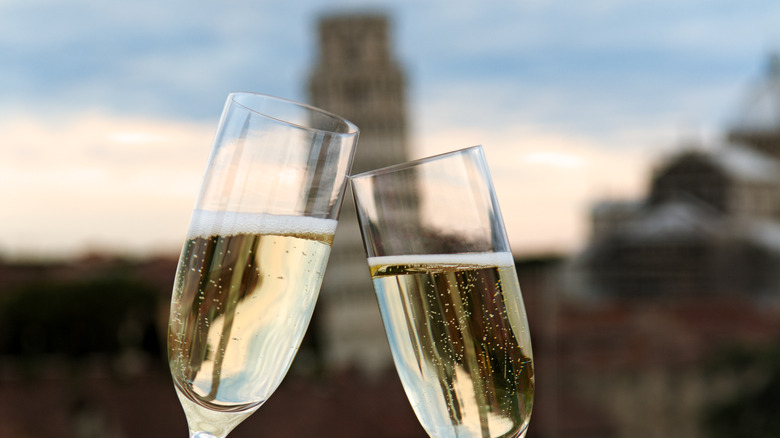 Riuma72/Getty Images
One cannot simply go on a wine adventure in Italy without a stop-off in Veneto. Even if you are not a big fan of bubbly or sparkling wines, a tasting experience or two of Prosecco is undoubtedly bucket-list worthy. Though there is a town called Prosecco in northern Italy where this famed refreshing drink originally came to be and where the Glera grapes used to make Prosecco are still grown, wine production no longer takes place here, and thus quality tastings, tours, and more for Prosecco can be found elsewhere, like in the region of Veneto (Conegliano-Valdobbiadene). That said, who does not love a good glass of chilled Prosecco while basking in the lush rolling hills of Italy?
The Veneto region is another area on the map brimming with UNESCO world heritage gems and is fairly large. Nevertheless, if you are lucky enough to be in this great region, vineyards such as La Tordera, Marchiori, and Sorella Bronca are musts. La Tordera offers 11 different types of bubbly to sample, covers the region's historical roots, and highlights the importance of sustainable viticulture. Speaking of history, Marchiori is said to date back all the way to the Bronze Age. Sorella Bronca, on the other hand, is more focused on the future and organic practices. But, all three wineries are where you will find some of the best light, fruity, refreshing, and bubble-infused wines — so cin cin or salute (cheers).
Assisi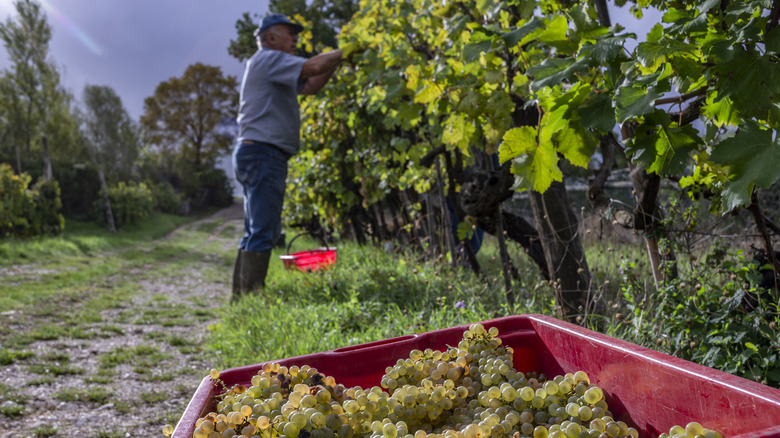 Alberto Gagliardi/Getty Images
Assisi is not necessarily a booming tourist destination in Italy, but it is idyllic all year round and filled with wineries, rich history, a unique culture, and more. A part of the Umbria wine region, Assisi is a nice little go-to for tastings and has a wealth of sights to see, making a stop off here the perfect day trip. So do not forget to add this almost hidden gem to the list, either.
Not only can you sample wines like Montefalco Sagrantino and Cabernet Sauvignon varietals here, but you can also check out incredible vineyards that offer intimate and leisure-approved tastings, such as Cantina Chiorri and Tili Vini. Cantina Chiorri has a wide range of vino-infused activities and covers critical parts of the wine-making process. Of course, if you prefer to sip vino and take it easy, then Tili Vini is definitely for you, as this winery promises a pampering and first-rate wine tourism experience.
Naples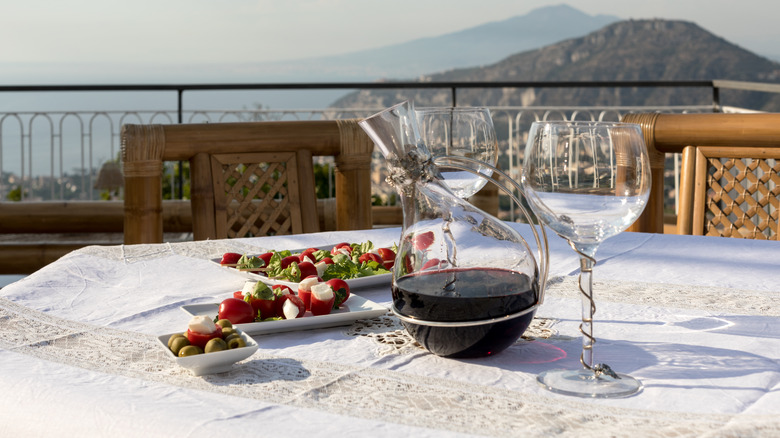 wjarek/Shutterstock
Finally, Naples is a wonderful destination for wine aficionados. Even though this lovely Italian city is known for its superb pizza, first and foremost, Naples is no slouch when it comes to wine, either. Also, a part of the Campania region, Naples is home to some of Italy's oldest and most historic vineyards. Despite this fact, winemaking in Naples is cutting-edge and all about la dolce vita (the sweet life).
In fact, Cantina del Vesuvio, Il Mantegno Vineria, and Cantina del Taburno are popular wineries revered for their expert tastings and activities. Naples also has countless wine tours and wine bars. Plus, the regional capital city participates in the Vino Novello Festival, which takes place every fall to celebrate the new wine releases throughout the country with live music, free-flowing wine, and delicious fanfare. So whether it is Naples, Florence, Rome, or the entire region of Tuscany that tickles your fancy, if you love wine, then all of Italy has got you covered.