Tuscany Is Home To An Ancient Hilltop Town Once Called The City Of 100 Towers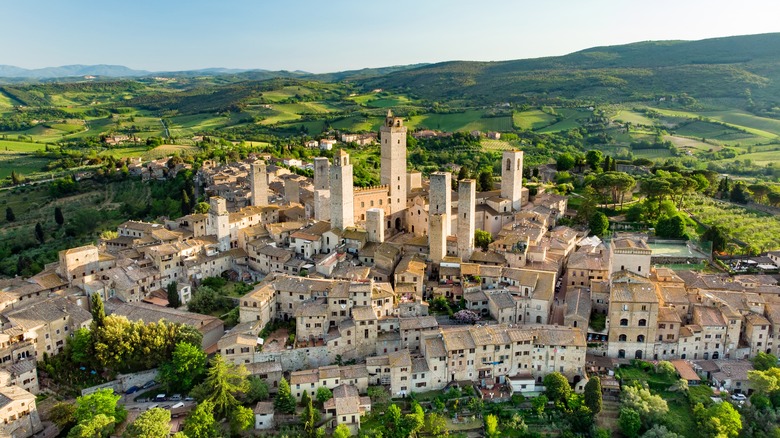 MNStudio/Shutterstock
Throughout Italy, there are many fascinating ancient villages tucked between valleys, hills, and mountains, and medieval hilltop towns that have been around for centuries. Their history, culture, and architecture withstand the test of time throughout all these years. Revered by locals and popular with tourists, they are treasured and admired, and for those that reside within them, a great sense of pride and appreciation is felt when speaking about the places they call home.
Within the region of Toscano (Tuscany), many notable hilltop towns, as referenced in Italy Perfect, define the Tuscan countryside. The juxtaposition of imposing, stone medieval architecture against natural, hilly landscapes captivates the senses as you approach these prominent vistas. Their quaint, historical village centers and vibrant communities are both charming and intriguing.
In particular, one popular ancient hilltop town called San Gimignano is a must-see destination when visiting the region of Tuscany. Its commanding presence can be seen for miles around the countryside.
The City of 100 Towers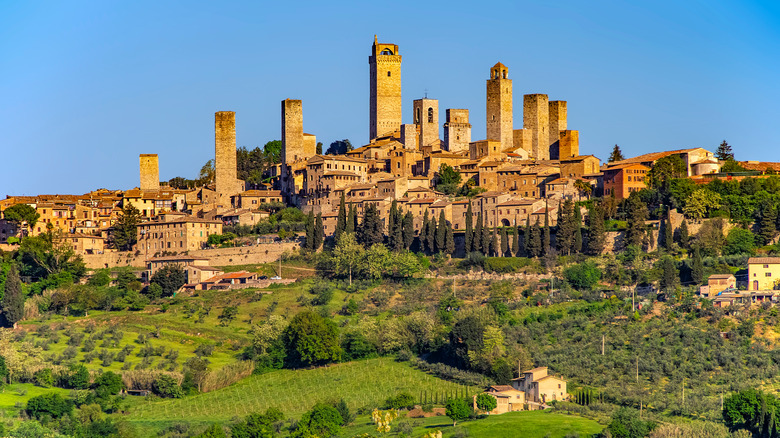 Lowell Monke/Shutterstock
Located between the beautiful city of Siena and the artful province of Florence, the striking hilltop town of San Gimignano rises up from the hilly, Tuscan countryside as powerfully as Poseidon rises from the sea. Founded by the Etruscans, its fascinating history dates back to 63 B.C., according to legend. And, since the medieval hill town of San Gimignano once had a total of 72 soaring towers amidst its territory, it quickly earned the nickname of the "City of 100 Towers."
Fast forward to the present day, and 14 of these stone fortresses are still visibly present and standing proud within its medieval landscape, with only one of them accessible for the public to climb: The Torre Grossa. And, while some compare the towers and architectural landscape to the skyline in Manhattan, New York, this fortified hill town in the heart of Tuscany is far more visually impressive and historically intriguing.
Its well-preserved, historic center is inscribed as a UNESCO World Heritage Site, and its two wondrous city squares — the Piazza Duomo and the Piazza della Cisterna — have themselves become major tourist attractions and fascinating points of interest for both historians and archaeologists. Within the fortified center of Piazza del Duomo stands the ancient Collegiata di Santa Maria Assunta (Collegiate Church of St. Mary of the Assumption), with all its stunning medieval artwork and breathtaking murals and frescoes filling every corner of the Basilica.
San Gimignano: The master of wine and spice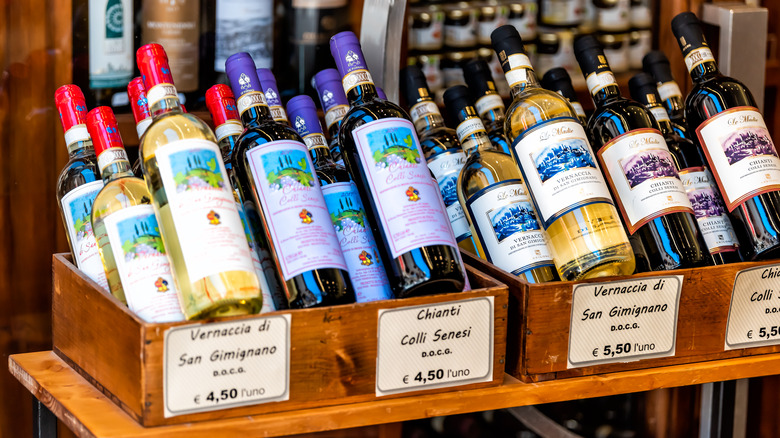 Kristi Blokhin/Shutterstock
When visiting Tuscany, it would be blasphemous not to partake in either wine tours, wine tastings, or sitting in a medieval piazza under the Tuscan sun sipping wine that has been cultivated and created locally.
Don't let the antiquated scenery of San Gimignano fool you. This ancient hilltop town is also quite famous for its beautiful, white Vernaccia wine, and bold, red Vinsanto wine. Their origins are as medieval as the hilltop town itself. Both wines are unique in taste and appealing to the palate.
In addition to its wine, Tuscany is also known for its agritourism and abundance of the expensive spice Saffron. And for spice lovers, the City of 100 Towers is a leader in its production, and has been growing, nurturing, and producing organic saffron for roughly as long as San Gimignano has been in existence. Its official DOP status makes the Saffron of San Gimignano a protected destination of origin, and one that is dutifully earned.
So, whether you're a lover of natural beauty, art, history, architecture, vino, or cooking, the small walled fortress of San Gimignano has much to offer to its visitors, making it one of the top tourist destinations in the Tuscany region, and one that should not be missed.