Navigating Your Way Through Italy's Cinque Terre Is Easier Than You Think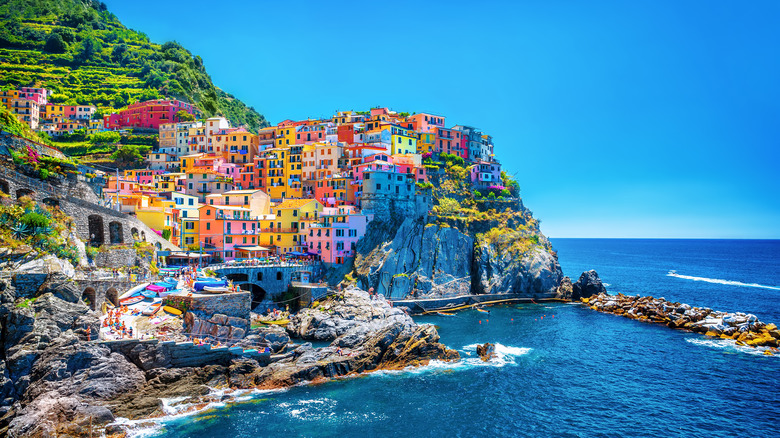 Anna_om/Getty Images
The famous, beautiful, and fragile territory of Cinque Terre located within the northwest region of Liguria, Italy — translated as "five lands" — is home to nine alluring beaches, 75 miles of hiking trails, and picture-perfect, astonishing views of the Italian Riviera. Certified as both a National Park and UNESCO World Heritage Site, this highly protected, 4,300-acre area containing five medieval, compact fishing villages may be small in stature, but it's home to approximately 4,000 adaptable residents and hosts an estimated 2.5 million tourists visiting each year, per Rick Steves.
When you think of the Cinque Terre in Italy, iconic photos of vibrant and pastel-colored buildings that seem to have been painted onto the backdrop of the Mediterranean sky and sea, all packed closely against one another, intertwining and terracing precariously on their jagged cliff foundations with the sparkling blue Mediterranean Sea as their backdrop, come vividly to mind. The five towns that form this stunning and natural seascape along the prestigious Ligurian Coast located within the province of La Spezia — Riomaggiore, Manarola, Corniglia, Vernazza, and Monterosso — may seem a monumental feat to traverse through and around, however, navigating your way through Italy's Cinque Terre is much easier than you think, and we have three great options for visiting each unique area.
How to make your way through the Cinque Terre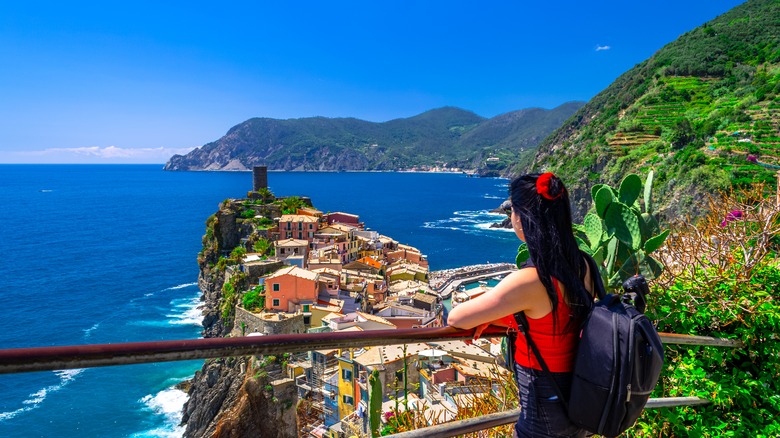 Nello_PH/Shutterstock
Whether you're an avid hiker or love traveling across the water to get to your destinations, both of these options, as well as hopping on one of the Cinque Terre Trains, will get you to and through each of the picturesque villages easily. Should you choose to navigate the five towns by hiking along its breathtaking trails with jaw-dropping views at every step and turn, you'll want to purchase the inexpensive Cinque Terre Card online. This gem of a transport card includes bus service throughout the Cinque Terre, access to the Blue Path for hiking between the villages, unlimited daily train travel, and a host of other perks as well.
If you prefer to travel by ferry or by boat via the many boat tours available online, plan ahead and book ahead. Both offer a stress-free way to see this incredible national park from the water, by either leisurely admiring the Cinque Terre from the magic of the Mediterranean as you sip on a cold Limoncello or opting for a boat service that stops at one or more of the villages along its route.
The don'ts of navigating through the Cinque Terre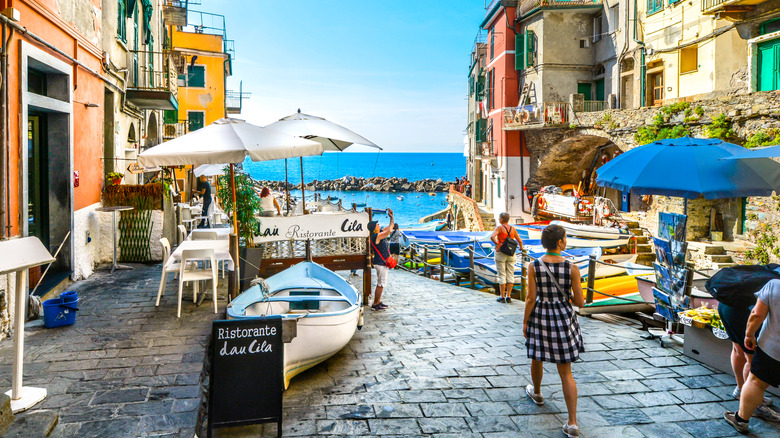 Kirk Fisher/Shutterstock
Firstly, it can't be stressed enough, while the village of Monterosso allows vehicles to drive through its central area, according to Discover Tuscany, the five towns within the Cinque Terre as a whole are mainly accessible by walking and hiking through their connecting trails, venturing by water vessel, or hopping on Italy's best mode of public transport: By train.
And, while it is a stunning drive around the centuries-old Cinque Terre, the key word there is "around." Car parking spaces are minimal and hard to come by, and are located away from the small towns, meaning you would still need to walk to gain access to each historical center. Attempting to visit any, or all of the five villages by car, will not only pose quite a challenge for you — especially if you plan on visiting Italy during the peak summer season when the area is packed with tourists — but you'll also find yourself sitting in your rental car waiting for a parking space for the better part of your trip.