The Best Time Of Year To Visit Rome If You Want To Avoid Large Tourist Crowds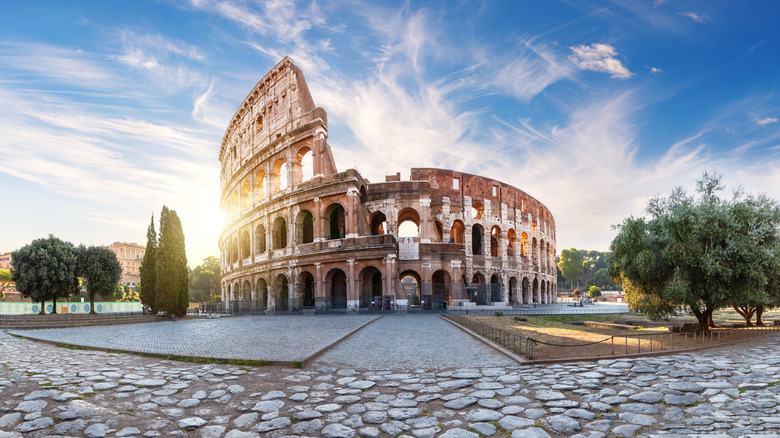 Anton Aleksenko/Getty Images
If you're planning a vacation to Italy, and have Rome in mind as one of your must-see destinations, you're not alone in wanting to travel to The Eternal City. According to Condé Nast Traveler, and a recent survey taken in 2022, the capital of Italy ranks No. 1 with tourists as being the top destination to visit in Bella Italia. Keeping that in mind, popular tourist sites like the Colosseum and Trevi Fountain can be challenging to visit during peak seasons in Italy due to the overwhelming amount of people and crowds queueing to get a glimpse of these ancient masterpieces of architecture.
So, when is the best time of year to visit Rome in order to avoid the large tourist crowds that assemble? With over 10.3 million tourists visiting Rome annually, as recorded by World Data, it might seem an impossible feat. But, fear not our loyal travelers, we've done our research for you so you can plan your trip without any worries.
An ode to Spring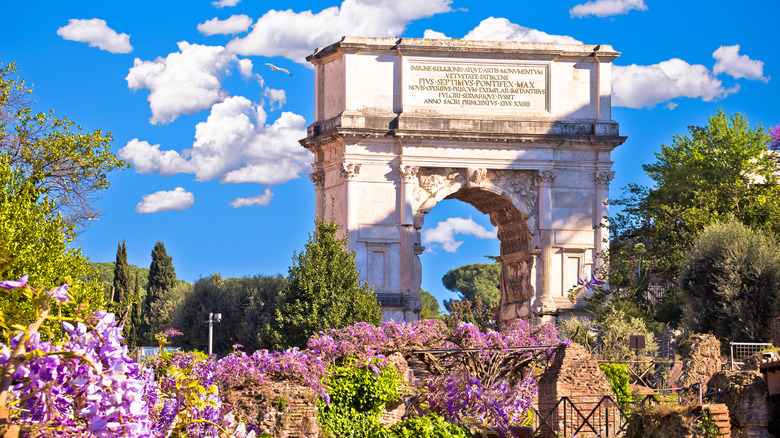 Xbrchx/Getty Images
While there is no bad time to visit Italy throughout the year, if you're wanting to enjoy your vacation there without spending half of your time standing in lengthy lines, it's best to avoid going during peak season, which notoriously is the summer season. And, that goes for visiting Rome as well. School is out of session, and crowds are monumental.
Springtime in Rome is magical. Between the months of April and May, the temperature is perfect. Not too hot, and not too cold. Days are filled with sunshine, and nights afford visitors clear and starry skies, with pleasant temperatures as well. Flowers are blooming throughout the city. And, if Easter Sunday falls on a date in April, there are a host of Easter celebrations around the city that take place, according to Rome Wise. Spring is also a great time to take in the many tourist attractions at a leisurely pace, away from the crowds that generate during the summer months.
A salute to Autumn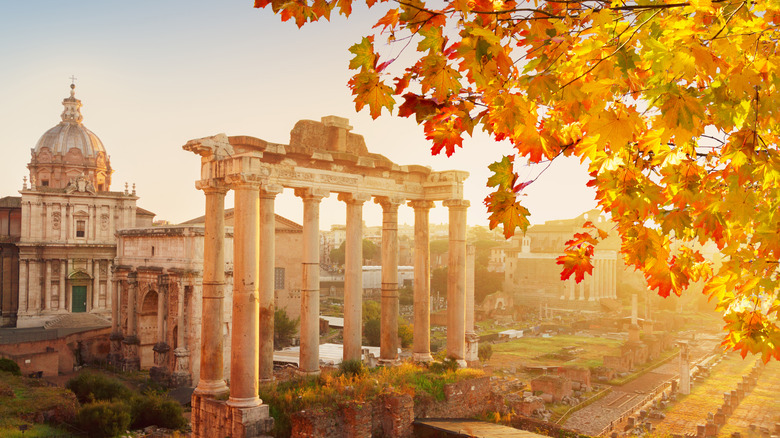 Neirfy/Getty Images
If you've never been to Italy during the autumn season, it comes highly recommended by many. And, visiting Rome in the fall offers visitors several reasons why it's a great time to go, as reported by Walks of Italy. Not only are you witnessing the Eternal City in a different light, and different colors — quite literally — but the large tourist crowds that summer's season witnessed, dwindle considerably. You'll also find airfare and accommodation prices are much more affordable. October tends to be the best month of the autumnal season to visit Rome, thanks to its warmer days, and cooler evenings. Best of all, fall brings a host of phenomenal food and wine festivals for you to savor.
So, pack your best spring clothes, or opt to bring your favorite autumn jacket to roam around Rome. Either of these seasons is perfect for visiting the city of Seven Hills when it's less crowded and much more enjoyable.