The Best Tour In Florence For Your Inner Foodie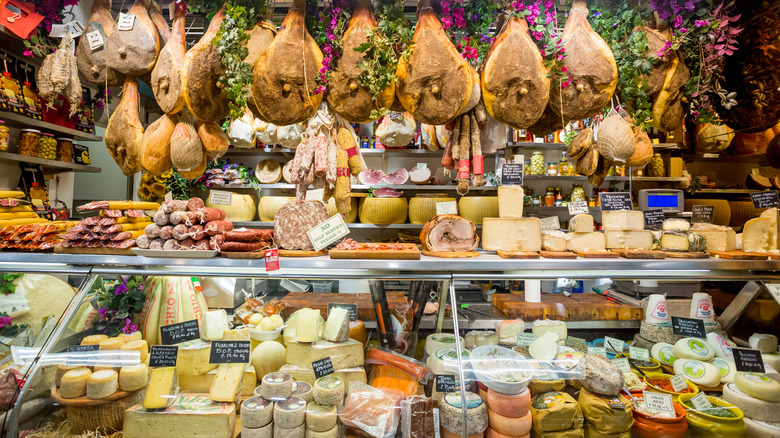 Florian Augustin/Shutterstock
Fresh, creamy burrata with roasted, vine-ripe tomatoes and garlic, traditional schiacciatta, freshly sliced prosciutto, Tagliatelle Funghi Porcini e Tartufo (pasta noodles with porcini mushrooms and black truffles), finely sliced Pecorino cheese, and warm, crusty, Tuscan bread: All served with bold, red wines. Are we making your mouth water yet? If this sounds like the menu for an Italian dinner, you're not far off your mark. Yes, all these foods are famous in Italy, particularly in the region of Tuscany. However, while these may be served in restaurants throughout the boot, they're also served in homes, streets, and alleyways across the country.
Tuscany is known for its exquisite, gastronomical, rustic cuisine and impeccable red wines. Its farm-to-table traditional foods, and four-course meals, as reported by Discover Tuscany, are made using the simplest ingredients, yet satisfy even the most critical eaters. And, its capital — the captivating city of Florence — is known as one of the greatest food cities in Italy. When visiting this region, it's quite literally blasphemous to not partake in its Tuscan cuisine. However, one does not need to sit down in a Florentine restaurant to enjoy all these delectable morsels. Now that we've made you hungry, in order to satisfy your inner foodie, we're taking you on the best food tour in Florence.
Dine in or dine out: Florence street food is how it's done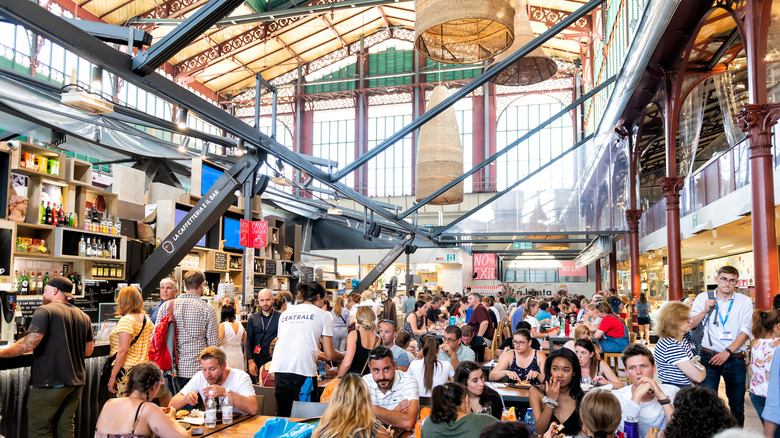 Andriy Blokhin/Shutterstock
Whether you're walking alongside the Ponte Vecchio or bustling through the many Piazzas in Florence's historic center, the enticing scent of Italian food wafts through the air, tantalizing everyone's taste buds. Restaurants, trattorias, pizzerias, and gelaterias line every street and corner throughout the city. And, while all of these locations are fantastic for being served a hearty Tuscan meal, it's the street food vendors and markets that will not only appease your cravings for authentic foods from Italy, you'll see how the locals find, prepare and eat their local dishes.
And, if you're intrigued to learn how to use these amazing ingredients when preparing Italian cuisine — all while experiencing Florence's history and culture at its best — the Florence Street Food Tour offered by Raphael Tours not only takes you on a gastronomical journey of all the senses, they take you on a historical and cultural experience through the city of Florence. From tasting fresh Italian foods, visiting Florence's famous San Lorenzo market, and learning how to prepare authentic Tuscan recipes to listening to your guide speak about the famous architecture and art Florence is known for, this street food, guided tour ticks all the boxes for experiencing what Italy is most proud of, and well known for: Their food.
Come one, come all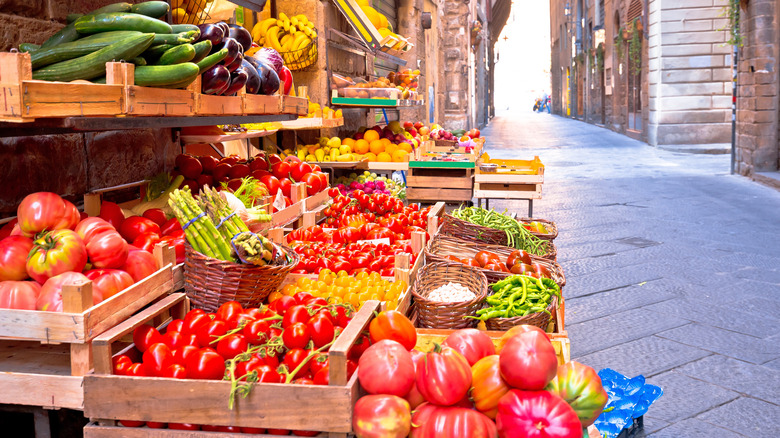 Xbrchx/Getty Images
Whether you're a meat-eater, pescatarian, vegetarian, or vegan, Italy has something for everyone to enjoy when it comes to food! And, the hearty ingredients found throughout the Tuscan countryside are some of the most exceptional spices and foods one can find. From juicy fruits, fresh legumes, aromatic olives, and hearty greens to pasta, grains, flour, and pure, Italian olive oil: Everything is grown fresh and processed right here in Italy. And, thanks to the international Slow Food Movement that originated in Italy back in 1986, Italians are proud to show the world they take their ingredients and how they prepare them, very seriously: Appreciating where their food comes from while relishing every delectable bite that has been prepared naturally and with love. That's the Italian tradition!
So, if you're planning a trip to the vibrant, historic, and artistic capital of Tuscany, and want to partake in the Florence Street Food Tour, make sure to book your spot in advance as the tour is quite popular and fills up fast. Not only do you get to experience the foods of Italy as the locals do, but you'll also learn what makes this amazing city so captivating and special to all who visit.