The Best US Cities To Celebrate Pride Month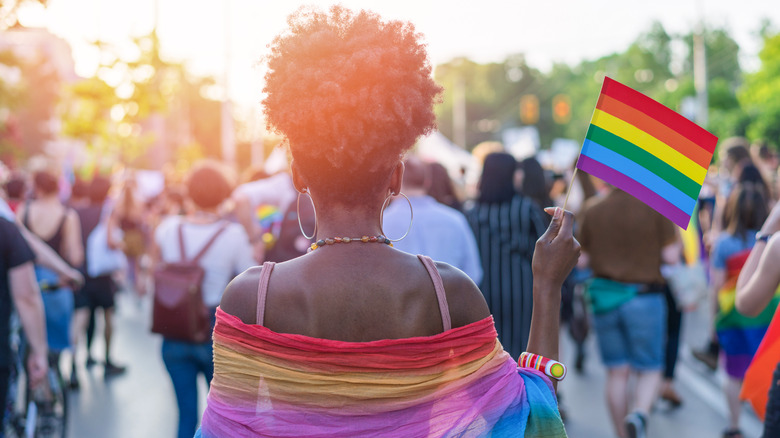 Mixmike/Getty Images
June has been celebrated as LGBTQ Pride Month in the United States for decades. The original Pride event began as a protest to stand up for gay rights after a police raid on an NYC gay club called the Stonewall Inn in 1969. It wasn't until 30 years later that Pride Month was officially recognized by the American government for the first time in 1999. Today, it remains one of the most empowering, fun times of the entire year and a true highlight of the summer. 
The thing is that not all Pride celebrations are created equal. You want to partake in Pride events that are festive, welcoming, and totally safe. It may seem like an easy enough find, but with over 100,000 cities across the United States, landing on a destination for Pride Month can be a tall order. This 2023 Pride season, do it the right way and map out a trip to one of the 12 best U.S. cities to celebrate Pride Month.
New York, New York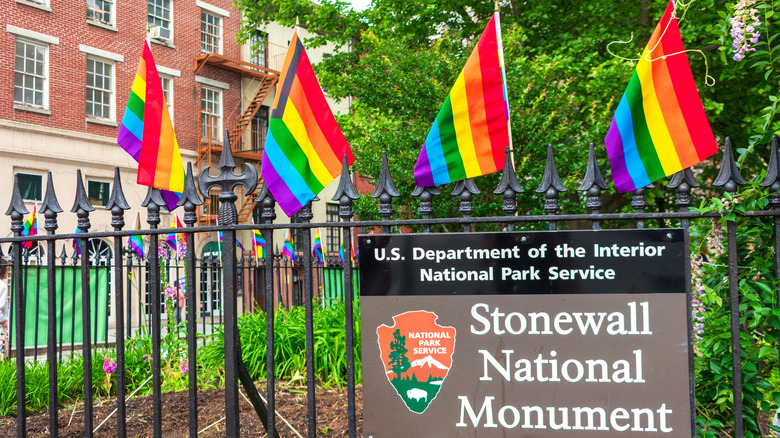 Michael Vi/Shutterstock
No matter what holiday rolls around, it's a safe bet that New York City is putting on a legendary celebration and Pride Month is no different. It's actually one of the most special places to commemorate the occasion because Pride originally began in Manhattan after the Stonewall Riots. The city's legendary Pride history and parties attract over 2 million visitors every year. NYC also has more adults in the LGBTQ+ community than any other major U.S. city, so you know you'll be in good company.
The lively festivities of Pride can be felt throughout the entire city the moment June hits. There are little happenings throughout the whole month, but things don't really get going until a few weeks in. Starting on June 17, the city will kick off the events with a bit of education and activism with The Rally. 
Just a few days later on the 24, Youth Pride will take the streets and the next day there will be an enormous morning street fair called PrideFest in Greenwich Village. At noon on June 25, the annual Pride March begins through the city streets, an NYC tradition since 1970. As the parade dies down, visitors over the age of 21 can head to Brooklyn Army Terminal for the Pride Island music festival with 2023 headliner Christina Aguilera.
Los Angeles, California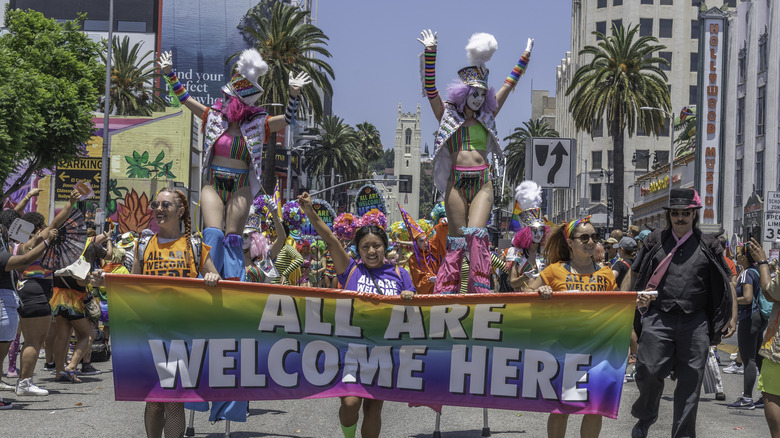 Gdmatt66/Getty Images
It's no secret that LA is a gay pride mecca throughout the entire year, but the party explodes in early June. With an insanely high 2022 Municipal Equality Score of 100, the inclusivity in Los Angeles is palpable. Events start going down on June 8 with Pride Is Universal, an after-hours Pride experience at Universal Studios that includes live DJs, drag performers, and more. 
The following day, the party continues bright and early with LA Pride in the Park Festival on June 9 and June 10. Located at the LA State Historic Park, the festival will be headlined by Megan Thee Stallion on Friday and Mariah Carey on Saturday. The performances will be accompanied by tons of luxurious VIP areas, delicious food, and plenty of bars. Don't party too hard, though, because the next day on June 11 is the famous 53rd Annual LA Pride Parade along Hollywood Boulevard. 
Hundreds of thousands of participants come out for this iconic pride event, so you'll be surrounded by plenty of activity and love. Alternatively, you can catch the parade in real-time on ABC7 if you can't make it out to the free event. Later in the month on June 16-17, LA will hold its Trans Pride at the Los Angeles LGBT Center. It'll include a bunch of speeches, workshops, and even a job fair. It's a packed schedule, but if you can work up the energy, it'll be one of the most memorable events of your life. 
Chicago, Illinois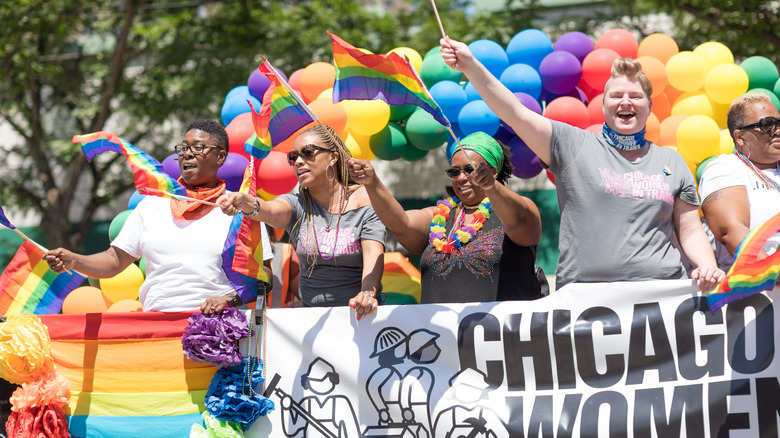 Roberto Galan/Shutterstock
Chicago is a hotbed for LGBTQ+ history and it's easily one of the best cities in the U.S. to celebrate pride. No matter what time of the month you arrive, there will be plenty of Pride happenings to choose from. On the first of June, Chicago starts the party with a unique event called Pride Night at Shedd, which takes place at the local aquarium. There will be several DJs putting on tunes and an ocean-themed drag show. 
Throughout the month, there will be family-friendly Drag Story Time events across the city. That's only the beginning, too. At the end of the month, Pride gets taken to the next level in Chicago. 
From June 17 to June 18, hit the annual Chicago Pride Fest with three different stages, games, over 150 vendors, and live performances from musicians, DJs, and drag queens. There will even be a pet parade to get your furry family involved in all the fun. The following weekend, get dressed up and hit the streets for the official Chicago Pride Parade on June 25 with 1 million other people. Chicago's entire Pride Month culminates in this main event, so you won't want to miss this grand finale. 
Charleston, South Carolina
Charleston, South Carolina is welcoming everyone from all walks of life to celebrate Pride beginning in early June. Unlike most cities that prefer to end off their Pride Month with the biggest events, Charleston flips it around and starts the month off with its massive annual Pride Parade on June 3. Attendees will make their way through Downtown Charleston bright and early to celebrate the LGBTQ+ community. 
You can apply as an individual or business to walk in the parade or even create an eye-catching float to celebrate the season. It's the perfect way to get involved and show your support. After the big parade, the Pride party keeps on going in Charleston. 
From June 6 through June 11, the third annual Park Circle Pride event is coming to town with a stuffed schedule that features events for all ages. For example, on June 7, there is a free all-inclusive trivia night, and on June 11, there will be a Queer Youth Fest.  There are also plenty of events for a more mature audience, like the Queer Adult Prom on Saturday, June 10. No matter who you are or what type of Pride experience you're searching for, Charleston has you covered. 
Philadelphia, Pennsylvania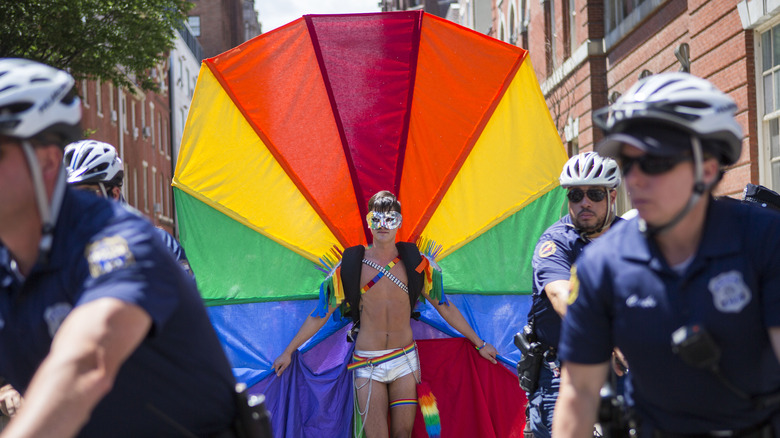 Jessica Kourkounis/Getty Images
The schedule for Philly's Pride festivities this June is packed! The city kicks it off right at the beginning of the month with the announcement of the 2023 Pride Power 100 on June 1, celebrating the most influential LGBTQ+ figures in the Philly community. You can dive into the event with an open bar and snacks at Cockatoo. 
Then on June 2, you have the traditional flag-raising event at the Office of LGBTQ Affairs to signify that this glorious month is upon us. Afterward, a Drag Tea will be held at the Sofitel Philadelphia. If you're hungry for a party to get in the celebratory mood, check out the Sway Pride Boat Party on June 2 from 10 p.m. to 2 a.m. for a fix. 
The very next day, there will be a Love is Love Block Party and a Pride ice skating event with DJs to keep the energy up. All of this build-up will culminate in the Love, Light, and Liberation Pride March and the giant outdoor Pride Fest on June 4. You don't want to miss this eventful pride weekend in Philadelphia. The Pride spirit will carry out throughout the whole month, with events like Pride Day at the Philadelphia Zoo on June 10 and Pride Drag Brunch at Cavanaugh's River Deck on June 25. 
Denver, Colorado
This year Denver will be honoring Pride Month with a bang and they're so excited to get started that celebrations actually begin in mid-May. On May 13, there will be a Denver Pride 5K to commence the celebrations on a healthy note. If you miss that one, there is another one on June 10 and an even bigger Pride 5K on June 24, too. All the funds raised will go toward services for Colorado's LGBTQ community. Don't worry, though, there are plenty of other types of activities besides running at Denver's Pride. 
On Friday, June 2, the Mile High City will kick off the official pride extravaganza with the Indie 102.3 Pride Party with live performances by artists like VINCINT at Meow Wolf. For all the sports lovers out there, June 9 is Pride Night at the Colorado Rockies, where you can catch a baseball game with the Colorado Rockies versus the San Diego Padres. 
From June 24 to June 25, join hundreds of thousands of people as they let loose at the Coors Light Denver Pride Parade and the Denver PrideFest. This is one of the biggest Pride celebrations in the country with over half a million guests. All in all, Denver easily secures a spot as one of the best places to celebrate Pride Month. 
Las Vegas, Nevada
You might want to break the age-old "what happens in Vegas, stays in Vegas" rule after experiencing the magic of Pride Month there. Instead, you'll be dying to tell everyone all about it. A Vegas trip is 10x more exciting when you visit Sin City during Pride Month. 
Las Vegas is an extremely LGBTQ-friendly city, with eclectic Pride events throughout the entire year, but it really gets wild in June. There will be ELEVATE pool parties throughout May and June where you can rent a cabana, kick back, and just get into the celebration mood. There will also be a huge pool party at Tuscany Suites & Casino from June 1 to June 5. 
If pool parties aren't your thing, there will also be a Pride hiking event and a roller skating night. For families with young kids, the Pride Family Bingo on June 7 or the Enchanted Forest 2023 Youth Prom are both solid options, depending on the kid's ages. The only thing to note is that Las Vegas doesn't put on its big Pride Parade and festival during June because it's way too hot outside. Instead, these types of Pride events happen in October in Las Vegas.
San Francisco, California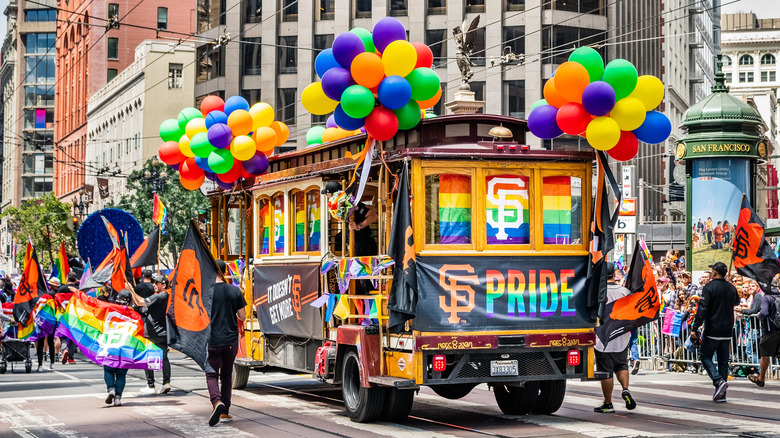 Sundry Photography/Shutterstock
If you're searching for one of the most iconic places to celebrate Pride on the planet, look no further than San Francisco, California. During Pride Month, San Francisco is ripe with exciting things to do. With over a million visitors to SF Pride every year, it's definitely a top destination for the holiday. 
One of the big reasons the city probably goes so hard is that San Francisco actually has the highest percentage of LGBTQ+ adults in the country. At least 6.7% of the SF population identifies themselves as part of the LGBTQ+ community. So, all visitors to the area can feel comfortable and welcome when they're celebrating Pride in San Francisco. 
At the beginning of the month, San Francisco will hold its annual Queer Prom for 2023, where you may even have the chance to be nominated prom king, queen, or monarch. As the month goes on, the Pride events will get even more intense. Every pride season, San Francisco stands out by appointing a specific theme. This year's concept is "Looking Back and Moving Forward" and it promises to be an impactful experience. There will be opportunities to volunteer, a colossal parade with 200+ floats, and a variety of different LGBTQ+ parties from June 17 all the way until June 25.
Boston, Massachusetts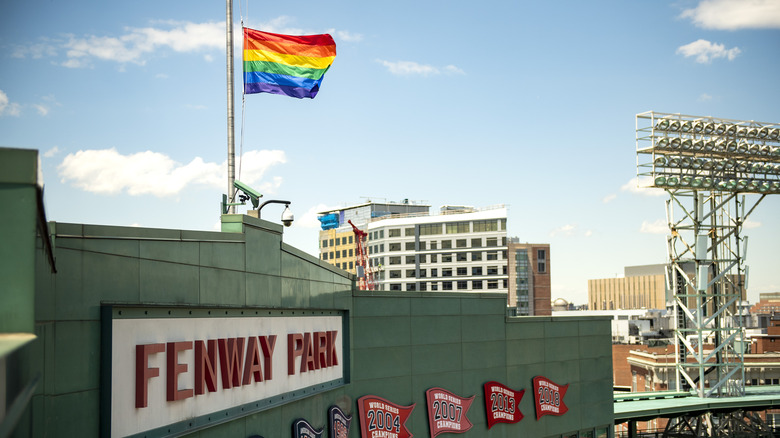 Billie Weiss/boston Red Sox/Getty Images
For the first time since 2021, Boston's Pride Parade is returning in full force for 2023. This year, Boston Pride For The People is ensuring that it's going to be an inclusive, safe environment that allows the community to reconnect after an unprecedented few years. It's going to be an event for the ages and you don't want to miss out on a second of it. 
Pride Month in Boston will start on the first of the month by lighting up the City Hall in rainbow lights. They'll keep these lights on throughout most of the month to honor the Pride season – it's the ideal spot for a photo-op with friends to remember your 2023 Pride experience. There will also be block parties around the city throughout the month, like the Chandler Street and Back Bay Block Parties. 
Bostonians will flock to City Hall Plaza on June 10 and take the streets for Boston Pride For The People. The organizers of the event have four main goals in mind: To empower, celebrate, commemorate, and educate. This event will include a full festival, a parade, and even more secret goodies to come. As it's the first year back since a brief hiatus, you know this is going to be a Boston Pride event for the books. 
Portland, Oregon
Portland boasts a perfect MEI score of 100, which means it's one of the most LGBTQ+ inclusive cities in the country. Pride festivities will be taking over Portland, Oregon from July 15 to 16 at the annual Portland Pride Waterfront Festival. This is a bit later than your typical pride celebration, but it's equally as exhilarating. Plus, it's the perfect solution for people that want to his other Pride events across the U.S. in June. 
The main Pride weekend here is the Portland Pride Waterfront Festival. During the festival, there will be live performances, tons of activities, and food provided by a bunch of local establishments. Alternatively, you can be the star of the show and apply to perform at Portland's Pride 2023. 
On Sunday, July 16, the party will go on the move during the Portland Pride Parade as thousands of people march through downtown. It's one of the biggest Pride events on the West Coast, which is pretty impressive when you think about how many big, LGBTQ-friendly cities there are in this region. There are also a few other fun Pride activities outside the main weekend, like the Portland Gay Men's Chorus: Disney Pride show on June 24 or 25.
Baltimore, Maryland
Baltimore commemorates Pride Month with a litany of events throughout June. On the first of the month, the Anne Arundel Public Library is putting on a family-friendly Prep for Pride party where attendees can decorate accessories to wear to the festivities later in the month. Towards the middle of the month, things will really get going with a gala under the stars called Twilight on the Terrace. The party will have an open bar, food, and tunes well into the night on June 16. 
A few days later on the evening of June 23, the official Baltimore Pride ceremonies begin at the B&O Railroad Museum. The ceremonies will last until 11:30 p.m., leaving plenty of time to get rest before the excitement of the next day. You'll need that in order to live up to the energy of Baltimore's big pride celebration.
Clear your schedule on June 24 because that's when the biggest Pride events of the month happen. Baltimore offers a packed pride parade and block party. Finish the weekend off at Druid Hill Park on Sunday where there will be live music, drag performers, and all types of vendors.
St. Louis, Missouri
On the Human Rights Campaign's Municipal Equality Index (MEI) 2021 report, St. Louis scored a whooping score of 100 on the Municipal Equality Index, which is the highest rating a city can possibly get.  This means that it's an extremely welcoming and LGBTQ+-friendly city all year round and you can feel at ease spending your Pride Month there. 
First, meet some new friends and party your way through the streets at the 6th annual St. Louis Pride Bar Crawl on June 17. Alternatively, if you're observing Pride with young kids, you might prefer the Let Your Pride Flag Fly craft workshop on June 10. Finally, toward the end of the month, the big pride celebration goes down. 
On June 24 and 25 in St. Louis, a massive two-day pride festival ensues in downtown St. Louis that will attract more than 300,000 celebrators. There is a long list of talent performing at this event, with four main headliners and a bunch of local acts. PrideSTL will have plenty of room to dance, a big food court, and even a children's area for families getting into the pride spirit. It's one of the biggest pride events in the Midwest, so you'll definitely want to hit St. Louis if you're lucky enough to be in the region.