The Perfect Time Of Year For Foodies To Visit Chicago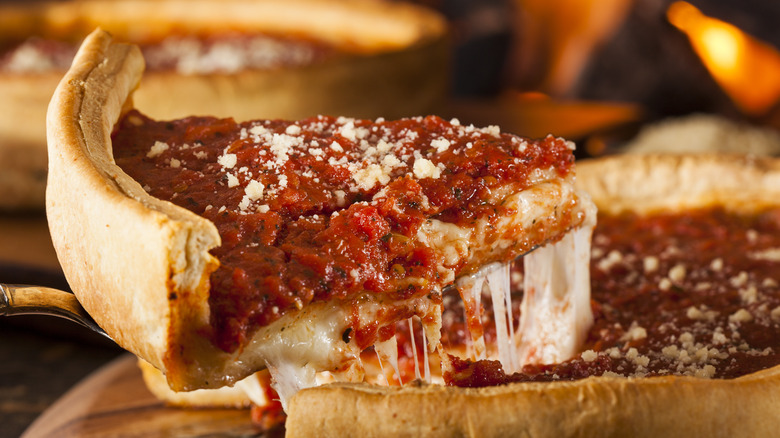 Bhofack2/Getty Images
Sizzling deep-dish pizza, belly-filling jibarito sandwiches, luscious Rainbow Cones, steaming Italian beef sandwiches, and of course plump hot dogs, but not just any hot dogs, Chicago-style hot dogs. What do all these things have in common (if you haven't guessed already)? They're all famous foods served up in the hopping, vibrant city of Chicago. Whether it's your first time seeing and experiencing the Windy City or you're a die-hard fan that partakes in all it affords, Chicagoans will tell you that it's their food that tops the charts, and should not be missed when visiting.
If you're a food lover (like so many of us are), every year this cultural mecca of a city hosts numerous food festivals that are sure to fill your belly with a variety of gastronomical delights, and your tastebuds popping from a diverse range of flavors. And, there's a perfect time of year for you to visit Chicago, and do as the locals do by celebrating their love for the dishes that they're famous for.
Summer in Chicago, a foodies' paradise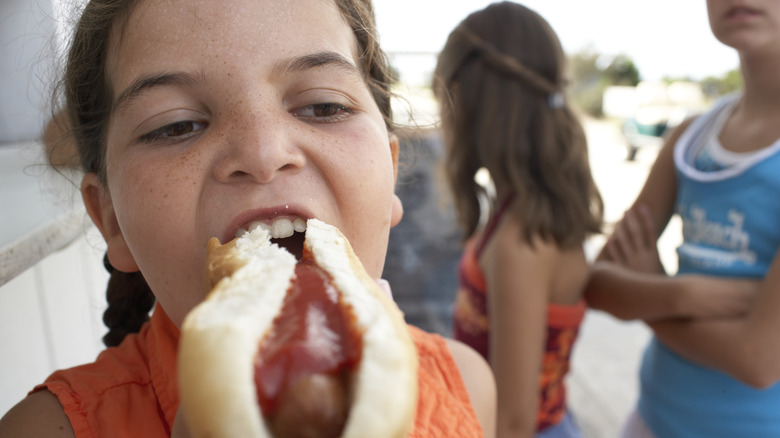 Christopher Robbins/Getty Images
While so many people flock to the beach during the summer months, foodie lovers will scour and traverse the country for food festivals that will further flame their passion for food. If you're a lover of street food and want to start your summer break early, the Chicago Food Truck Festival gears up for one full weekend towards the end of June, serving up the best-homecooked grub for vegetarians and meat lovers, and a host of additional neighborhood food festivals span across the city filling the air with a diverse scent of ingredients and cuisine.
If you really want to kick off the summer in style, head over to the Windy City for Chicago's top food festival held in the month of July. Foodie lovers, the Taste of Chicago food festival is waiting for you. This is the king of all food festivals in Chicago, and it's sure to satiate your appetite with its nearly week-long event of every Chicago food imaginable. Round off your summer (or your stomach!) by heading to the West Chicago Food Festival at the end of August.
From street food to gourmet and international cuisine, Chicago food festivals are diverse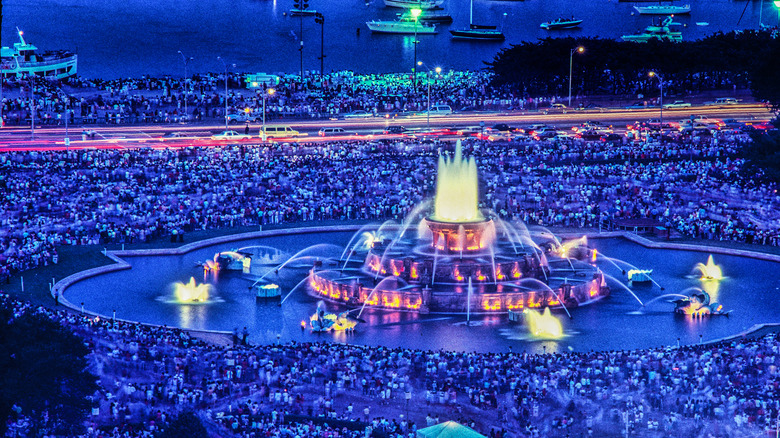 Vito Palmisano/Getty Images
Yes, summer in Chicago is the place to be for foodie lovers, but if you can't make it to the Windy City during your summer break, and prefer a festival geared towards gourmet cuisine, the month of September highlights the Chicago Gourmet food festival. Start off the autumn season tasting some of the finest creations from top chefs hand-selected by the organization. Combine it with impeccable wines, premium spirits, live music, and a stunning atmosphere, and you've got the makings of a fine dining, outdoor festival, done Chicago-style.
If you have your heart set on tasting Chicago's famous deep-dish pizza, hot dogs, and other well-known delicacies, do not fret. You'll be able to sample all of them at any number of the festivals the city organizes each year. And, if you crave international food, Chicago offers a host of international food festivals throughout the year ranging from Italian, Greek, Mexican, Polish, and everything in between!