The Best Hikes To Take On Your Next Trip To Los Angeles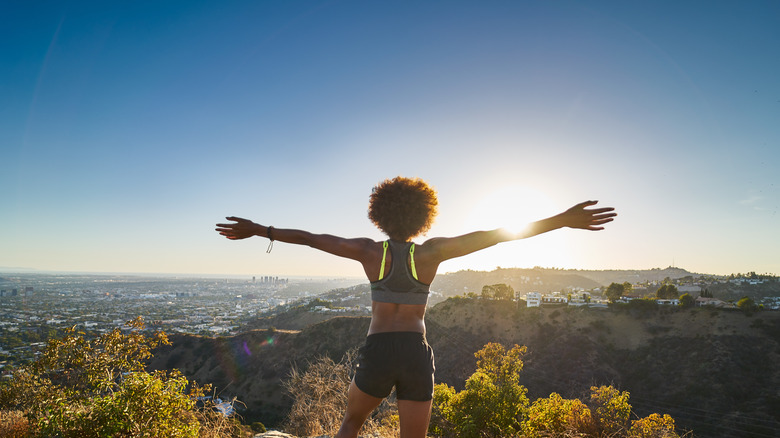 Joshua Resnick/Shutterstock
Los Angeles is one of several major cities in the United States with hundreds of different stunning hikes of varying difficulty levels nearby. No matter if you're looking for a grueling test of physical endurance or a leisurely afternoon hike that's fitting for families, you'll find a bunch of options in Los Angeles. It's one of the coolest parts of visiting the famed City of Angels. Thanks to the heavenly Cali weather, you can embark on these trails all year round, too. 
Whether you're a seasoned LA veteran or a first-time visitor, you're going to want to add a few Los Angeles trails to your to-do list for a real feel of the city. These hikes will take you high up above the streets to get a new perspective of Los Angeles. It's a double-win. You get a heart-pumping workout in and you'll have access to some of the best views in the city. 
The only problem is the very wide range of hikes to choose from around Los Angeles. Choosing the wrong one could leave you struggling or underwhelmed. Not to worry, though. You can find any type of hike from easy-peasy walks to full-blown excursions right here. Bonus points, they're all organized in order from easiest to most difficult for you. 
Need-to-know hiking tips for Los Angeles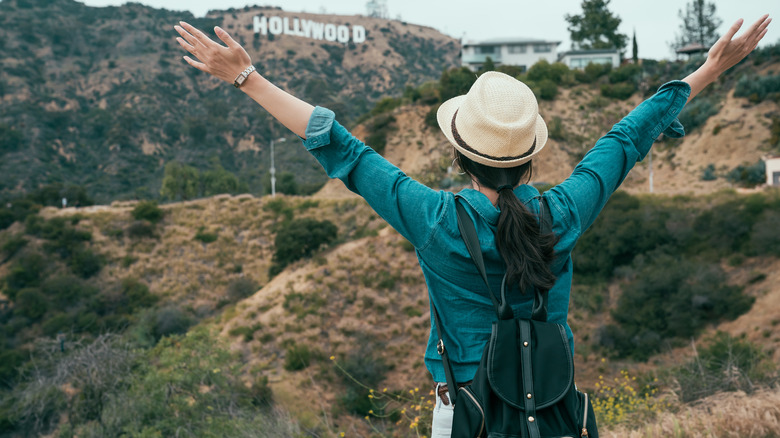 PR Image Factory/Shutterstock
California's climate provides hikers with near-constant pleasant weather. However, sometimes this warmth can bleed into the painfully hot territory, especially during the summer months from late June to September. If you want to actually enjoy Los Angeles' incredible hikes without melting the entire time, you need to arrive prepared and ready to go. 
There are a few things you should always bring along when you're hiking in Los Angeles, like a healthy supply of water, closed-toed shoes, sunscreen, and even a small first-aid kit. You should also carry a small trash bag to make sure you're not leaving anything behind as you walk through. If you're going on a Los Angeles hike that's really deep into the wilderness, you may even want to invest in a multi-tool and a GPS that works without service. You can never be too careful when you're just walking into the woods, even if it's a popular Cali hike. 
Know that not all LA hikes are created equal. Learning about the length and intensity of the trek you're taking is key or you could end up in the middle of nowhere without the right supplies. For some hikes in California, you just need sneakers and water, while others might require more professional gear. Luckily, you can figure out all these important details about Los Angeles' best hikes without going anywhere. 
West Observatory Trail in Griffith Park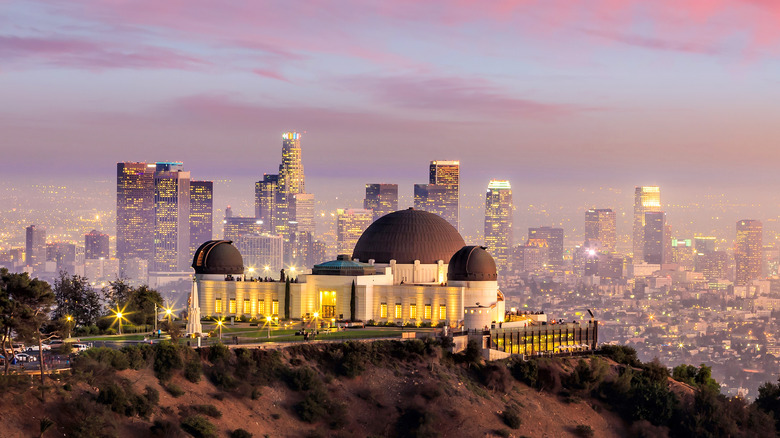 f11photo/Shutterstock
One of the easiest, most family-friendly hikes in Los Angeles also happens to lead you right to one of the top tourist attractions in the city — the Griffith Observatory. At a little over two miles long, the West Observatory Trail in Griffith Park is the ideal hike for newbies to the city and hikers with kids who want an outdoor activity that's not too demanding. While this hike is pretty easy, there are a few uphill sections, so that's something to keep in mind. After you finish the trek, you can head into the museum for an enlightening tour around the facilities. 
However, there is much more to see hiking on this trail than just the Griffith Observatory. Along the way, you'll cross paths with some of the best views over the LA skyline and even a glimpse of the iconic Hollywood sign. The only thing to keep in mind is that the West Observatory Trail is actually one of the most popular things to do in Griffith Park and it's definitely on the crowded side. If a private day of hiking in California's nature is what you're after, you won't find it on this trail! Nonetheless, if you're on the hunt for a starter hike in LA, West Observatory Trail is the move. 
Lake Hollywood Reservoir Hike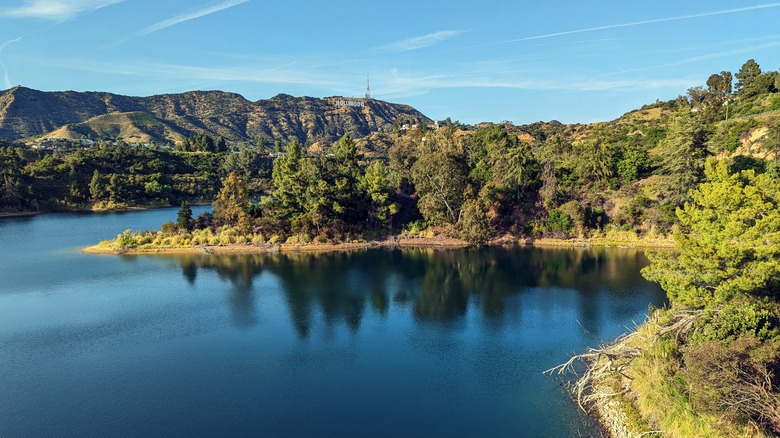 Noah Sauve/Shutterstock
Some people just feel a little more rejuvenated when they're exercising near a body of water, especially in a steamy climate like Los Angeles. If that sounds like your cup of tea, you'll probably dig the Lake Hollywood Reservoir hike only a few minutes away from the hectic city streets in the heart of Los Angeles. It's the perfect spot for those abrasive LA summers. This easygoing loop follows 3.5 miles of a paved path around the little LA oasis and it's totally surrounded by incredible mountainous views. 
The area is open to walkers, joggers, and even bikers. The trail's ease and flat surface make it the perfect walk for casual exercisers. The Lake Hollywood hike provides a few different perspectives of the Hollywood Sign, so you'll want to bring your camera along to get some good snaps if it's your first time visiting. You can start the hike from the north end of Lake Hollywood where you'll find tons of parking available.
Santa Ynez Falls Trail
There is nothing quite as rewarding as getting to the end of a nice little hike through the wilderness to reach a gushing waterfall. In Los Angeles, the hike that solves that yearning is Santa Ynez Falls. This short, low-stress hike is about 2.5 miles and only has an elevation increase of 250 feet. Plus it is mainly covered by lots of shade. At the end of the hike, you'll be rewarded with the trail's 18-foot waterfall. Making it an excellent choice for when you just want to break a slight sweat.
You can start off the hike and park at the entrance of Topanga State Park. The journey through the falls will whisk you away on a winding path through pockets of lush nature. The trail is free to visit and open to hikers all year round. However, the prettiest time of year to trek the Santa Ynez Falls trail is during the spring when the wildflowers start to bloom around the area.
Runyon Canyon Park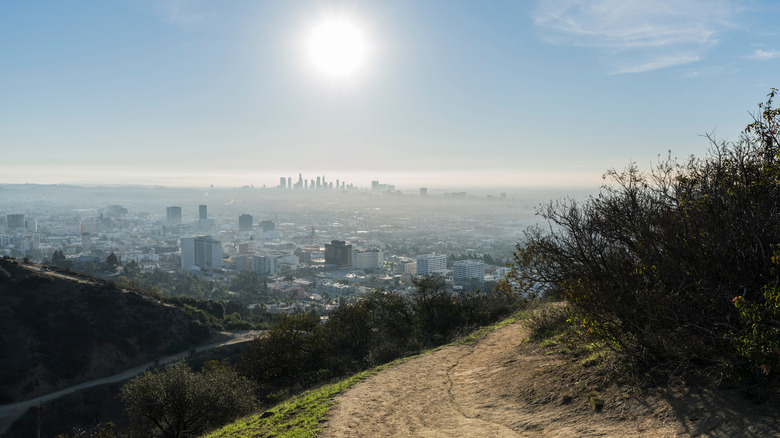 trekandshoot/Shutterstock
The enormous 160-acre Runyon Canyon Park in the Santa Monica Mountains is a favorite hiking destination for Los Angeles locals and tourists alike. It's easy to understand why it's so beloved when you get up to the sweeping views over the city. It offers one of the best panoramic perspectives over Los Angeles. Runyon has become a hot spot for dog owners to take their furry friends out, but it's also a common trail for celebrities to frequent. You never know, you could run into a movie star on an afternoon hike in LA. 
Whether you're a hiking novice or a seasoned pro ready to take on a challenge, you'll find a trail your speed at Runyon Canyon Park. There are a variety of different trails that vary in length. There is the shortest and easiest trail, which is less than a mile long and takes you right to the top without too much heavy breathing. Alternatively, you could try the slightly more difficult loop that spans less than 2 miles. If you're feeling up for a more intense hike, opt for the full-out 3.3-mile hike up to the top, which takes you up 800 feet in elevation to those insane views of LA. This one will take around an hour and a half to complete. Whichever path you choose, be prepared for your jaw to drop at just how gorgeous the views are at the top of park.
Murphy Ranch Trail
Are you a fan of the odd, out-of-the-box, maybe even spooky things out there in the world? If the answer yes is flashing in your brain, you'll have a hard time resisting Murphy Ranch Trail. After embarking on hikes that all have similar sites to offer, the finish line of Murphy Ranch is marked by something completely different — an abandoned complex of rainbow-paint-covered buildings. These structures are drenched in street art and have a very long, complicated history. 
At almost 4 miles long in total, Murphy Ranch Trail is a medium-difficulty hike that takes around two hours to complete. At the end of it, you'll find the ruins of Murphy Ranch. The compound was once inhabited by Nazi-sympathizers before it was seized in 1941. After its dark history, all that remains are these colorful shells of its terrifying past that serve as an interesting site and vivid photo location. One thing to note is that there is no designated parking for this trail, so you'll have to use street parking. Just make sure you pay attention to the street signs to avoid a ticket while you're hiking. 
Wilacre Park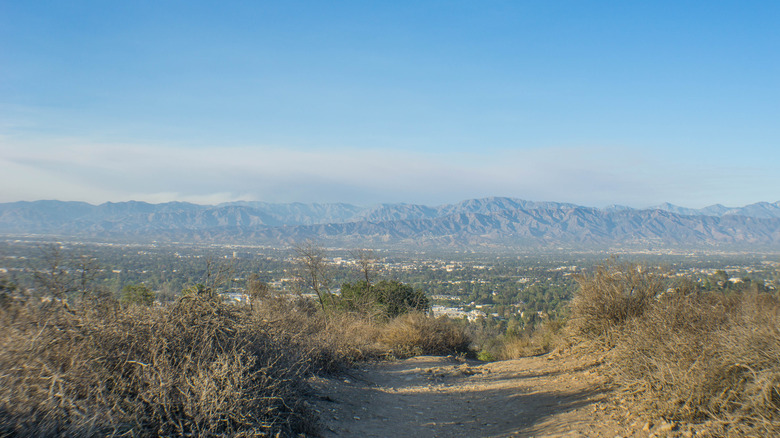 Jesse Frey/Shutterstock
Nestled in the eastern Santa Monica Mountains you'll find an enormous natural recreation area called Wilacre Park. This place is prime real estate for hiking in Los Angeles and there is a lot to explore as its comprised of 128 acres. The main hiking trail at Wilacre is the Fryman Canyon Trail that's approximately 2.5 miles long.  There is a parking lot right at the start of the hike just a few minutes south of Ventura Boulevard. It's a simple-to-tackle loop that should only take you a little over an hour to complete. 
Even though this hike is on the shorter side, it takes you through a myriad of terrains as you pass by Fryman Canyon, Coldwater Canyon, and Franklin Canyon Parks. There is an entire world of different lands to explore across this single hike. If you need a break after an afternoon of trekking through Wilacre Park, there are also a bunch of nice, tranquil spots for eating a snack or reading a book around the area. 
Eaton Canyon Falls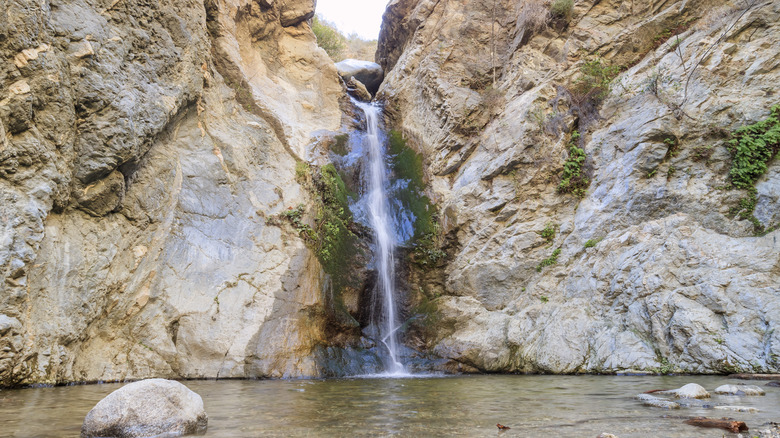 Kit Leong/Shutterstock
Not the most difficult hike or easiest, Eaton Canyon Falls lands somewhere in the middle at almost 4 miles long. While it earns a medium grade, the natural sites along this trek are nowhere near the realm of average — they're outrageously beautiful. Even better, it's a mere 30 minutes outside of Los Angeles' city center. Ideal for hikers who don't want to travel leaps and bounds for a quick stroll through the countryside.
The best time to visit the popular Eaton Canyon Falls hike is during the springtime when colorful flowers start to pop up around the area. It is pure magic. However, the trail is open year-round and whenever you visit, you're sure to get a full dose of California's refreshing nature. 
The Eaton Canyon Falls themselves are also quite the sight to behold during any season. The 40-foot high waterfall comes crashing down through mountain faces into a little collected pool. After hiking your way to the waterfall, it's definitely a cool spot (temperature and otherwise) to take a load off and appreciate your surroundings. However, Eaton Canyon Falls does get pretty overrun with people during the summer, so you may have to push your way through the crowds to get a good spot. It's worth the effort, though. 
Echo Mountain Trail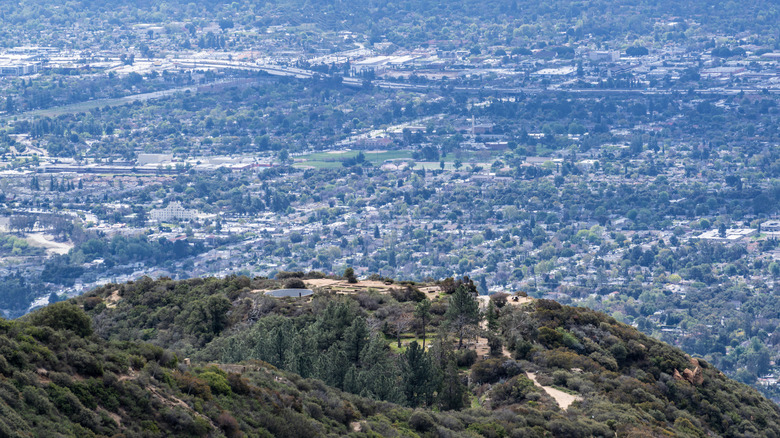 trekandshoot/Shutterstock
A slightly more difficult hike in Los Angeles is Echo Mountain. This intense trek is over 5 miles long round trip and takes a minimum of 3.5 hours to complete the entire journey. All that climbing is well worth it, though, as this trail through the lower San Gabriels brings trekkers to expansive views over Los Angeles. Namely at sunset when you can truly see every bit of the city slowly blanketed by nightfall. 
Due to the higher intensity of this particular trek, a little more preparation is required than your run-of-the-mill LA hike. It might not be the best fit for young children or people with mobility issues. Make sure you carry a backpack stocked with a bit of extra water, a snack, and some sunscreen depending on the weather that day. When it comes to gear for this trek, you should 100% wear a sturdy, ankle-supportive shoes, and if you really want to be prepared, you can bring along some walking sticks to help with the unforgiving inclines. 
Los Liones Trail
Don't let this deceivingly short 1.3-mile-long hike fool you. Even though Los Liones Trail is dressed up as a brief little walk, it's secretly one of the most challenging hikes in the Los Angeles area. That low-key difficulty is thanks to its surprising steepness. Despite the pain, your muscles will be in afterward, the Les Liones hike is absolutely worth putting in the work. 
The trail brings hikers through an abundance of unique trees and plant life providing you with a lovely blanket of shade throughout the journey. With each strenuous step of the way, you'll reach better and better views over California and the Pacific Ocean. After what feels like forever of huffing and puffing, you'll finally come to a glade that cuts through the vegetation and opens up into a final viewpoint giving you a wide-open perspective over Santa Monica. If you manage to get extra lucky, you may even be able to see all the way out to Catalina Island in the middle of the ocean. 
Smith Mountain Trail in Angeles National Forest
The 700,000-acre Angeles National Forest is lovingly referred to as "LA's backyard playground" by the USDA Forest Service. With a title and area that large, you can imagine what a staple this natural wonderland is to Los Angeles. There are a ton of hikes in this protected natural gem of the city, but one of the best trails of them all is the Smith Mountain Trail. 
The Smith Mountain Trail is one of the most difficult hikes in Los Angeles and it's not for the faint of heart. It's an out-and-back hike that's around 7 miles in total, slowly taking you up 1,843 feet above the LA streets. It'll take you 3.5 hours or more to complete, so you should plan for it to be an all-day endeavor if you want to mosey along. The journey will include calmer strides and grueling uphill climbs. By the end of the hike, you'll literally end up with your head in the clouds at the tip-top of the mountain. 
Along the way, you'll catch some exquisite mountain range views and you'll often have long stretches of private hiking time. With a big place like this, it's more possible to have an intimate hiking experience, even in a busy city like Los Angeles. You also have the option to extend the experience by pitching a tent in one of the area's designated camping spots and staying the night.
Backbone Trail in the Santa Monica Mountains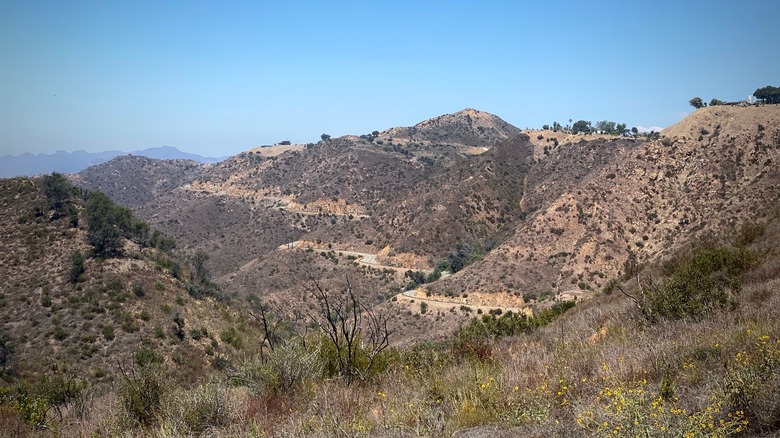 vesperstock/Shutterstock
The #1 spot for the most difficult hikes in Los Angeles, but also potentially one of the most rewarding, is the Backbone Trail. Tucked away in the Santa Monica Mountains is this mammoth of a hiking trail is an impressive 67 miles long. Yes, you read that correctly — it's almost 10X longer than the other long trails on this list. 
The trek takes hikers along its unique coastal Mediterranean environment that includes ocean views, thick woods, and rocky mountain faces. This trail isn't just a dream come true for hikers. Mountain bikers, equestrians, rock climbers, bird watchers, and photographers all adore this lengthy trail.
This is one of the most fierce outdoor adventures around the Los Angeles area and hikers can access every inch of it. If you're planning on taking down the entire Backbone Trail, it won't be a single-day hike or even a two-day excursion. Most people take three days minimum to complete the hike and lots of hikers opt to spend up to a week traversing the whole Backbone Trail. If you're one of those committed hikers, you'll need to bring a bunch of gear, but the trail will be waiting to host you with comfortable camping spots.