Secrets Every Universal Orlando Visitor Should Know Before Their Trip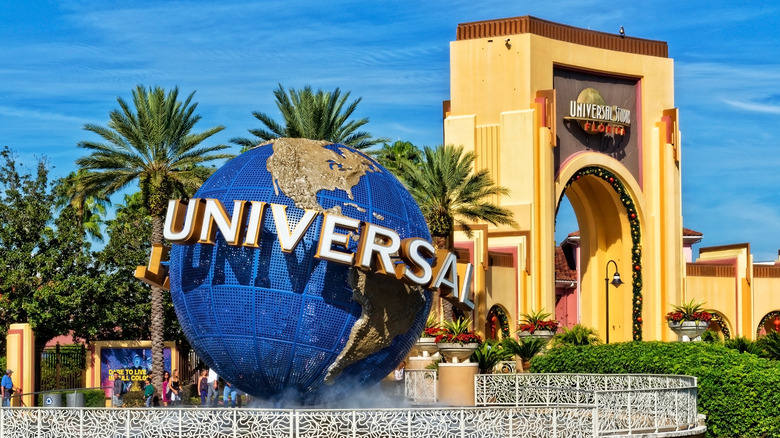 Jim Vallee/Shutterstock
There are dozens of stand-out theme parks around the globe, but few are as widely loved as Universal Orlando. Located in the theme park capital of the world, Universal Orlando gives visitors an opportunity to have innumerable thrilling experiences, allowing you to feel like you've truly stepped foot into a Hollywood blockbuster.
Split into two respective theme parks and an adjoining water park, Universal's three main properties (Universal Studios Florida, Islands of Adventure, and Volcano Bay) are each worth visiting for a variety of reasons. Most obviously, it's a movie lover's dream destination, giving you the opportunity to soar through the sky with Harry Potter, dodge the gaping jaws of a velociraptor, and battle some of Marvel's most sinister villains side by side with Spider-Man. More than maintaining an appealing film-focused facade alone, though, Universal Orlando is also a great place to visit for anyone looking for a premiere theme park vacation, whether you're a fan of "Harry Potter," "The Simpsons," or "Jurassic Park."
As you might expect, each trip to Universal Orlando comes with plenty of surprises and one-of-a-kind moments that'll leave you and your family with treasured memories for years to come. With how many unique features and attractions Universal Orlando has to offer, there are also plenty of little-known facts you might want to know before your next visit. From free guided tours through backstage areas to easter eggs referencing attractions from Universal's past, here are a handful of fascinating secrets for your next Universal vacation.
Watch out for the Stan Lee cameo on The Amazing Adventures of Spider-Man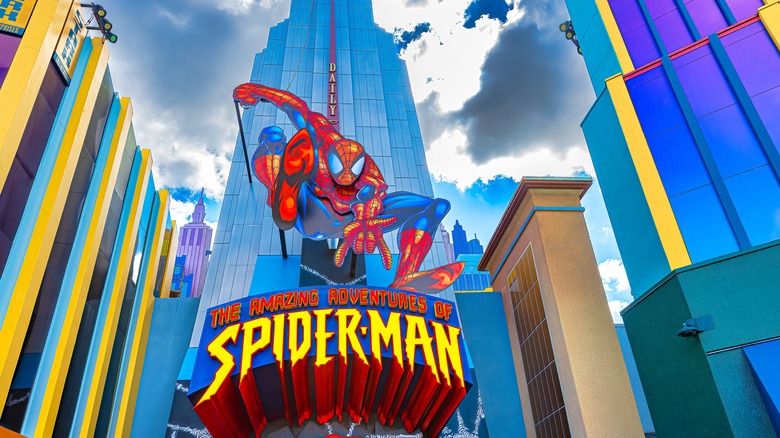 Terry Kelly/Shutterstock
As one of the leading publishing companies in the comic book industry, Marvel has released dozens upon dozens of TV shows, video games, films, and animated series over the past several decades. As radically different as each of these projects are, many of them contain a small cameo appearance from Marvel's creative figurehead Stan Lee — the man who had a hand in developing iconic characters like Spider-Man, the X-Men, and the Hulk, among others.
Prior to his passing in 2018, Lee was well-known for his various Hitchcockian cameos in practically every major Marvel movie in recent memory, appearing in nearly every film within the Marvel Cinematic Universe. However, the many Marvel movies that have come over the years aren't the only project to contain a cameo. Lee is also depicted in The Amazing Adventures of Spider-Man dark ride on Marvel Super Hero Island.
Moments after your first encounter Spider-Man near the beginning of the attraction, a garbage truck will nearly crash into you. If you look closely, you'll be able to see that the driver of the truck is actually an animated version of Stan Lee. Lee can also be seen in several additional cameos in background scenes throughout the ride, such as when Spider-Man saves guests from falling to their death, and in the crowd after the villains are defeated. He also provides the attraction's voiceover narration, bidding guests farewell as they exit the ride.
Interact with any phones you see along the way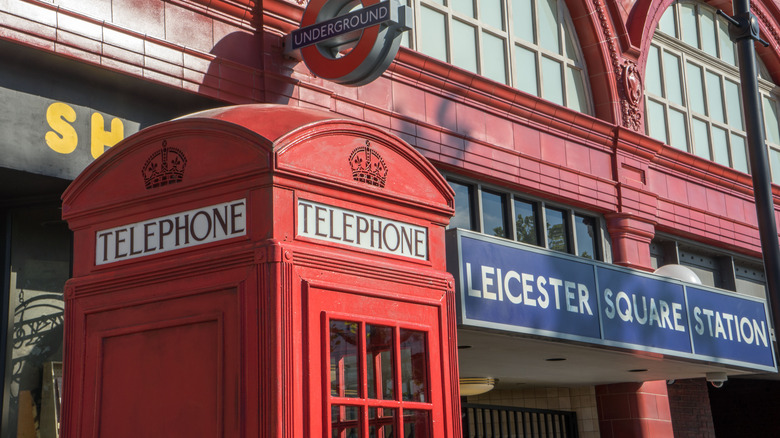 RichartPhotos/Shutterstock
As with Walt Disney World, Universal Studios Florida is famous for its meticulous attention to detail, weaving in all kinds of references that add a greater sense of immersion to visitors who enter the park. A prime example of this atmospheric immersion can be found in the form of several payphones around Universal Studios Florida, each of which contain a fun and surprising easter egg for visitors adventurous enough to pick them up.
There are three payphones within Universal that offer guests unique experiences if they choose to interact with them. The first of these phones can be found inside an old-fashioned British phone booth near the entrance of Diagon Alley and Kings Cross Station. If you pick up the phone and dial 62442 (or M-A-G-I-C), a worker from the Ministry of Magic will pick up, informing you that the Ministry is officially closed for the day via a chaotic-sounding pre-recorded message.
The second interactive phone can be found in an alley near Cletus's Chicken Shack in Springfield, with a cardboard cutout of Nelson Muntz from "The Simpsons" marking its location. If you happen to be by the phone when it rings, pick it up for a pre-recorded prank call from Bart Simpson. The third phone is located on Marvel Super Hero Island, right in front of The Amazing Adventures of Spider-Man. If you pick it up, you'll hear a message from grouchy Daily Bugle editor and dedicated anti-Spider-Man advocate, J. Jonah Jameson.
Activate secret traps in Revenge of the Mummy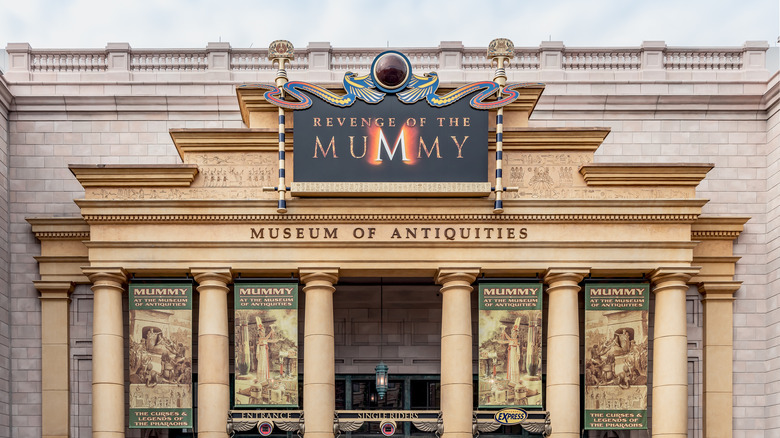 Paula Montenegro Stock/Shutterstock
A wholly underrated attraction found within Universal Studios Florida is the Revenge of the Mummy indoor roller coaster, based on the 1999 "Mummy" film series starring Brendan Fraser. Venturing past the 1930s-era Museum of Antiquities exterior, guests wind through a queue made to appear as the excavation site of an Ancient Egyptian tomb, filled with secret booby traps guests can activate as they wait in line.
As you're venturing through this queue area, you'll notice a large pyramid-shaped device decorated with hieroglyphics in the center of the first room. If you place your hand below the Medjai symbol near the top of this device, the lights in the room will flicker as a chattering sound effect plays overhead. Continuing on to the next hallway, you'll notice a large hole in the hall with a holographic Egyptian artifact spinning in the hole's exact center. If you reach your hand in and try to grab the artifact, you'll be met with a blast of air as the lights around you flash on and off.
The third and final trap you can find inside Revenge of the Mummy is not very far from the pyramid-shaped device. As you pass a nearby wall, you'll notice a screen showing a live camera feed of people entering the queue. If you press the scarab-shaped button below the screen, the entering riders will be hit with a blast of air, scaring them before they've even set foot inside the excavation site.
Ask for a tour of the Men in Black Headquarters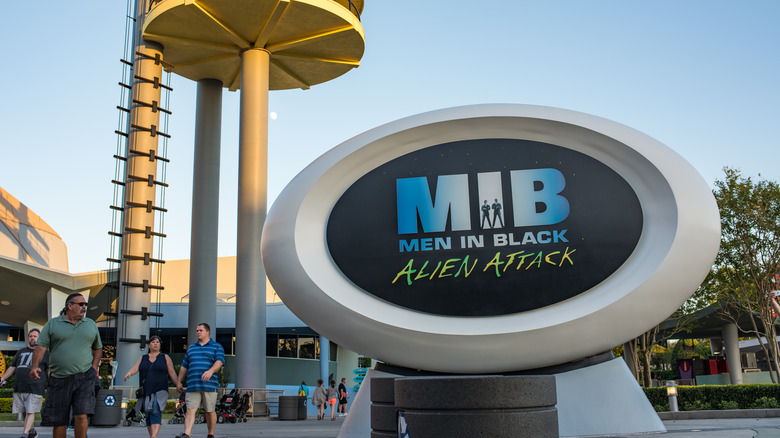 Michael Gordon/Shutterstock
As with Revenge of the Mummy, another criminally overlooked attraction you'll find in Universal Studios Florida is the interactive ride, Men in Black: Alien Attack. Based on the 1997 sci-fi series of the same name, Men in Black: Alien Attack takes riders on a journey through Men in Black Headquarters, the base of operations for the fictional organization that contends with any extraterrestrial threats that arrive on Earth.
Before boarding, guests walk through numerous hallways and rooms taken liberally from the "Men in Black" movies, seeing various objects, locations, and more than a few benevolent aliens employed at MiB along the way. What you might not realize is that, far from seeing these aliens from a distance, you can actually get a free guided tour of the Men in Black facilities upon request.
To receive this secret tour, ask a Universal employee near the end of the ride if they can arrange an Immigration Tour. If a staff member is available, you'll be taken to the center of the Immigration Room in the middle of MiB Headquarters. There, you'll be able to get a closer look at the animatronic Bweryang and Bob alien twins, snap some pictures, and add your name to a sign-in sheet. It's worth noting that while this tour is free, availability is dependent on whether a staff member is free to lead the tour, meaning that if the ride is busy, the chances of getting a tour are fairly low.
Unlock alternative music options for Hollywood Rip Ride Rockit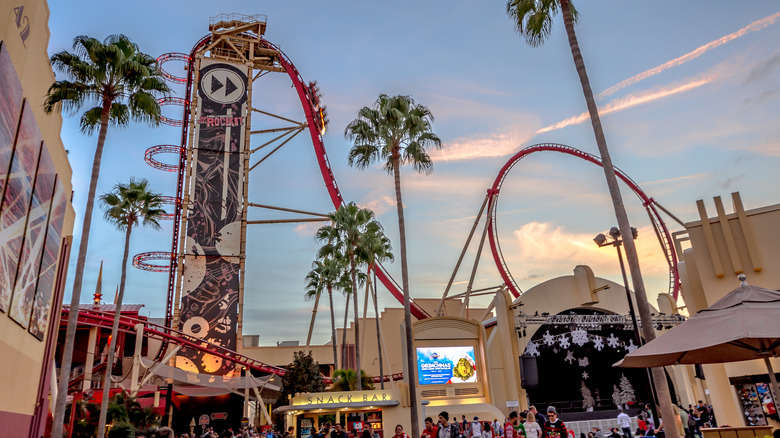 Chansak Joe/Shutterstock
Yet another ride that tends to be overshadowed by the far more popular attractions found in The Wizarding World of Harry Potter or on Marvel Super Hero Island, the Hollywood Rip Ride Rockit is a fantastic steel roller coaster found in Universal Studios Florida. Taking riders on a high-speed journey 167 feet in the air through several winding twists and turns, the Hollywood Rip Ride Rockit has been thrilling Universal visitors since its debut in 2009.
A key feature that continues to set the Hollywood Rip Ride Rockit apart from other coasters is the fact that it comes equipped with a musical selection. Upon boarding the vehicle, guests can choose from a wide selection of songs that will play throughout the duration of the ride, ranging from MC Hammer's "U Can't Touch This" to Hinder's cover of "Born to be Wild." All of the songs listed are great choices in their own right, but what riders may not know is that they can access a hidden selection of alternative song choices.
Before boarding the ride, look online ahead of time to learn the three-digit numbered code you'll need for your designated song choice. Once you've boarded the attraction, press and hold the Hollywood Rip Ride Rockit logo. After five to ten seconds, a keypad will pop up on the screen, allowing you to punch in the numbered code, which will begin playing your chosen song once the ride takes off.
Book a R.I.P. Tour to guide you through Halloween Horror Nights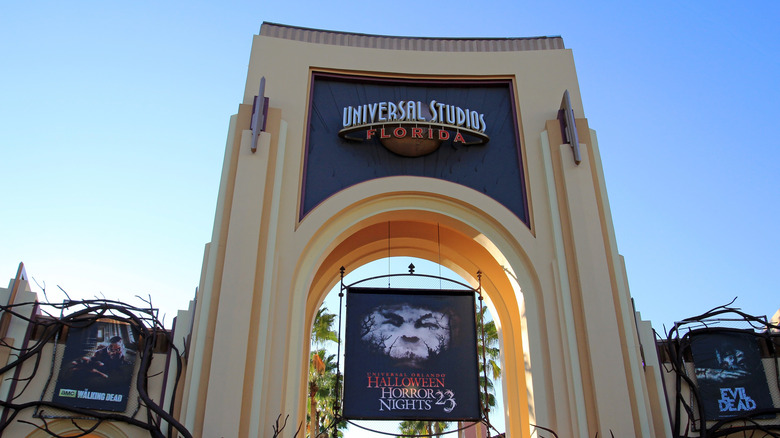 Astrid Gast/Shutterstock
As with many theme parks across the U.S., Universal Studios Florida is a great place to travel to when autumn rolls around. Taking advantage of the rich variety of horror film properties at its disposal, Universal has become famous for its terrifying two-month long Halloween celebration, an annual event known as Halloween Horror Nights that dates back to 1991.
Beginning in early September, both Universal Studios Florida and Islands of Adventure undergo a horror-centric thematic overhaul, redecorating the park with several haunted houses and attractions that maintain a specific facade. In most cases, these attractions utilize either a popular horror film belonging to Universal or a movie the studio released within the previous year (for example, a 2022 Halloween Horror Nights haunted house was based on "The Black Phone").
Like an average day in Universal Studios, it can be difficult to navigate your way through Universal's Halloween Horror Nights, with the park offering so many different rides, live shows, and specialty dining options. To use your time inside Universal during Halloween Horror Nights more effectively, you might want to think about booking an R.I.P. Tour in advance. Put simply, R.I.P. Tours are the most efficient way to see and do almost everything that's a part of Halloween Horror Nights, granting you priority access to each haunted house, premiere seating for live shows, and an unlimited Express Pass to hop to the front of each attraction's line.
Take advantage of guitar rentals at Universal's Hard Rock Hotel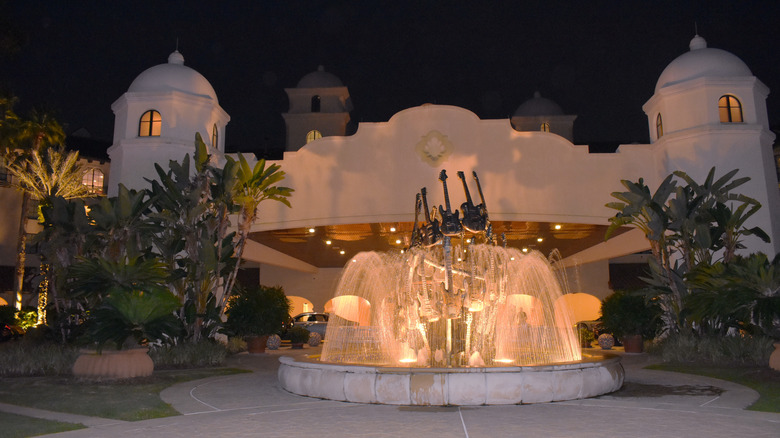 VIAVAL TOURS/Shutterstock
Universal Studios Florida may not have the same lengthy list of resort hotels to stay at as Walt Disney World does, but there are still some first-rate places to spend the night at once you've completed your Universal visit for the day. In addition to budget-friendly value hotels like Universal's Endless Summer Resort and the scenic opulence of Loews Sapphire Falls Resort, there's the nearby Universal Hard Rock Hotel.
Conveniently located right next to the Universal Studios theme parks, the Hard Rock Hotel boasts all kinds of standout amenities, from a gorgeous outdoor pool to some delicious dining options. If the idyllic hotel rooms don't win you over, the Hard Rock has several unique offers you won't find at any other hotels in the area.
Playing off its rock star-based theming, guests who stay at the Hard Rock have the option to rent a guitar through the hotel. Upon request, you'll be able to choose from several Fender guitars, which will be delivered to your room with an amplifier and headphone set. For inexperienced players, you'll be able to enroll in lessons to improve your playing skills. Alternatively, you can rent a vinyl record player instead, giving you access to specially-curated albums hand-picked by the staff. Regardless of your choice, either option gives you a chance to live out your dreams of becoming a rockstar, jamming out to quality music without even having to leave your hotel room.
Look ahead of time to see if you can get into the park early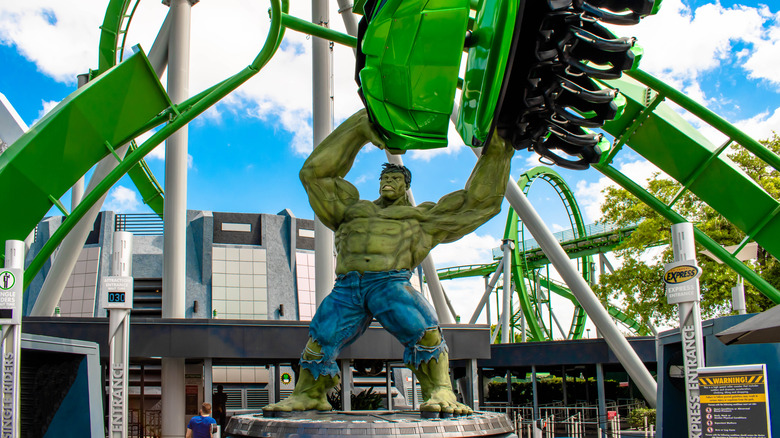 VIAVAL TOURS/Shutterstock
As is the case with Walt Disney World's theme parks, both Universal Studios Florida and Islands of Adventure have soft openings ahead of time, ushering in a limited number of visitors earlier than its official opening time. In most cases, guests who have a reservation at a Universal Orlando Hotel gain Early Admission to Universal's Volcano Bay, Universal Studios Florida, or Islands of Adventure up to one hour before the park's scheduled opening on select days of the week.
Aside from hotel guests, Universal's Annual Passholders also qualify for Early Park Admission. Universal's Premier Passholders are able to venture into parks whenever they like, while Preferred, Power, and Seasonal Passholders are limited to select dates.
To see if you can take advantage of Early Park Admission, check out Universal Orlando's website ahead of time to see if the day you're visiting a park is designated as an early entry day. It's also worth pointing out that, just because you can enter the park ahead of schedule, it doesn't necessarily mean you'll be able to board every attraction. Guests who venture into the park early only have access to a handful of Universal rides, with attraction availability changing depending on the date you arrive. That being said, it's advisable that you research which attractions are open to the public with Early Park Admission before you step foot inside the park.
Be sure to dine with your AAA credit card for a discounted price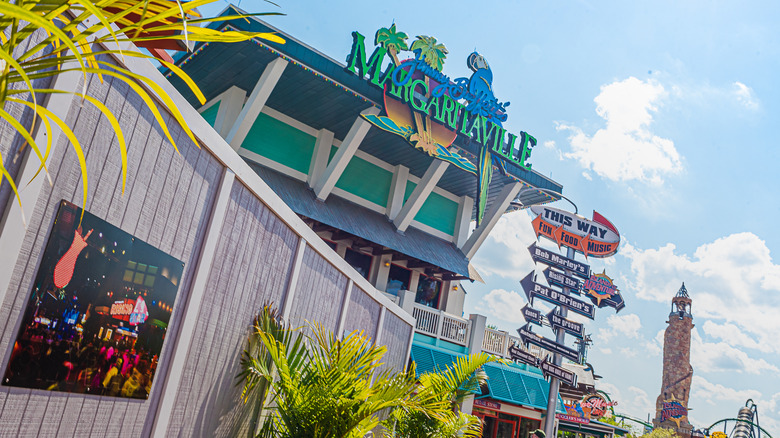 Liz Tracy Photography/Shutterstock
If you're planning to use any credit card at any point during your Universal Studios Florida visit, make sure it's an AAA credit card, the most convenient card to have with you inside the park. In fact, it's highly recommended that you actually book your reservation at Universal Studios using an AAA card, as Universal offers discounted ticket prices for most AAA card users, allowing you to save as much as 50% off the price of admission.
Similarly, if you're interested in eating at any one of Universal Studios' restaurants or buying any souvenirs to remember your day inside Universal Studios, it's suggested that you make your purchases with an AAA card. Certain participating restaurants and shops within Universal Studios Florida, Islands of Adventure, and Universal Citywalk offer a 10% discount on any purchases made with an AAA card. It may not seem like a lot, but 10% off every novelty T-shirt, hat, or snack in-between roller coasters could eventually save you a small bundle if you use your card often enough.
Arrange your Wizarding World experience ahead of time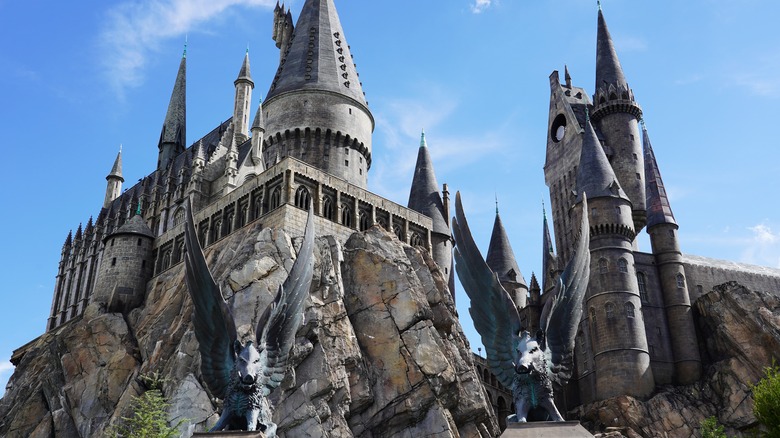 Yobab/Shutterstock
It's no exaggeration to say that the Wizarding World of Harry Potter remains quite possibly the biggest reason for Universal Studios Florida's continuing popularity and success. After all, unlike most other Universal attractions, Universal's Florida location is the only place in the world where visitors are afforded an up close and personal look at the magical universe of the "Harry Potter" series.
If you're a "Harry Potter" fan and plan on visiting the Wizarding World soon, it's important to realize that the Wizarding World is actually divided into two separate locations. The first area of the Wizarding World — Hogsmeade and Hogwarts — can be found within the Islands of Adventure, while the second location of Diagon Alley is found at Universal Studios Florida. That means you'll need two separate tickets to gain access to both areas of the Wizarding World (one for Universal Studios Florida, the other for Islands of Adventure).
Should you plan on purchasing a ticket for each Universal park, it's advisable to use the Hogwarts Express to travel back and forth between Diagon Alley and Hogsmeade. Not only is it a quick and easy way to journey in-between parks (avoiding all the foot traffic that clogs up each park's main entrance), each train ride comes with a unique cinematic experience straight from the "Potter" films, depending on if you're journeying to or from Diagon Alley or Hogsmeade.
Change your currency at Gringotts Money Exchange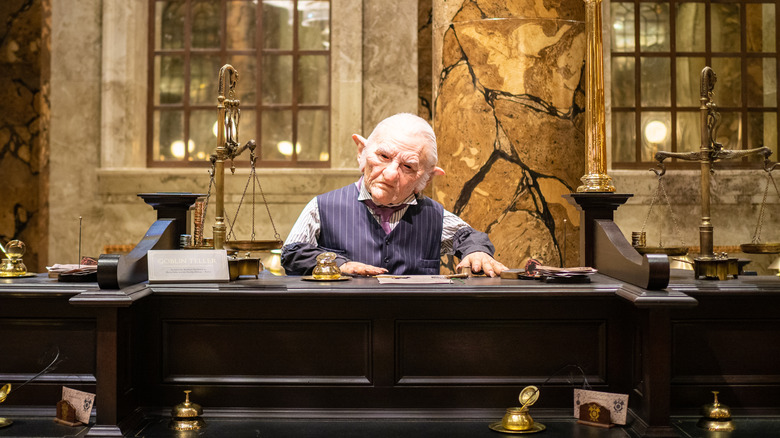 paikong/Shutterstock
Even when compared to other high-quality theme parks, Universal goes above and beyond when it comes to building a sense of atmosphere within the bounds of the Wizarding World of Harry Potter. Along with the dozens of shops and food places borrowed from the "Harry Potter" franchise, visitors are afforded ample opportunities to better immerse themselves in the imaginative world of "Harry Potter." One of the many ways you might be able to do this upon your visit to the Wizarding World is by exchanging your regular currency for the bank notes used in the "Harry Potter" universe, which can actually be spent at the various shops, stores, and restaurants inside the Wizarding World.
To exchange your less-than-magical Muggle dollars for "Harry Potter"-approved currency, you'll need to stop by Gringotts Money Exchange in Diagon Alley (located in Universal Studios). There, you'll have the chance to interact with an animatronic goblin banker and formally exchange your money for special Gringotts bank notes. These notes are equivalent to $10 or $20 of regular money and can be used when making a purchase at any location in Hogsmeade or Diagon Alley, putting you one step closer to feeling like a true wizard during your time inside the park.
At the end of the day, any leftover Gringotts bank notes you have can be exchanged back into normal currency. To do so, simply stop by Guest Services prior to leaving the park to redeem any remaining bank notes.
Send a postcard to friends from the Owl Post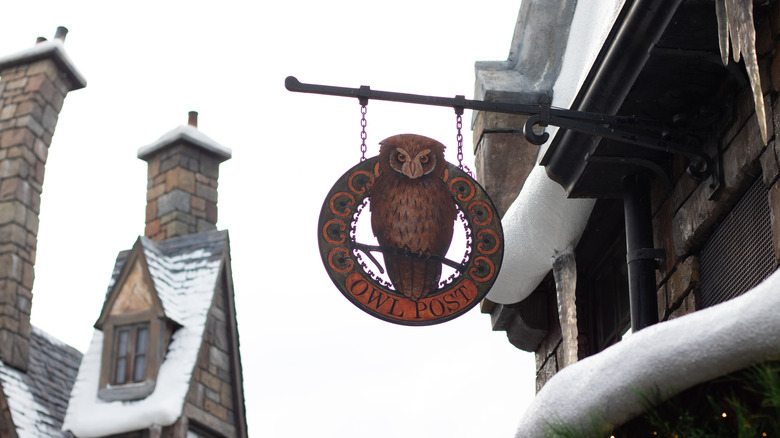 Skyler Sargent/Shutterstock
Since opening in 2010, the Wizarding World of Harry Potter has become a hallmark feature of Universal Studios Florida, with visitors traveling from around the world to wander around iconic "Harry Potter" locations like Hogwarts, Hogsmeade, and Diagon Alley. To tie into the cinematic world presented in the "Harry Potter" film series, Universal advertises numerous shops, restaurants, and locations straight out of the "Potter" franchise that guests can freely enter and explore. These include everything from Ollivander's wand shop (where Harry Potter first chooses his wand in "The Sorcerer's Stone") to the Three Broomsticks Inn (a favorite hangout for Hogwarts students when they're free from classes).
Another notable location you'll find within Islands of Adventure's Hogsmeade area is the Owl Post, a mailing service commonly used by wizards within the "Harry Potter" universe. While there's little chance of sending your friends a package by way of an owl as they do in the movies, you can still send mail to friends from this Owl Post. In addition to offering various stationary devices regularly seen in "Harry Potter" (ink, quills, and special seals), you can mail out special postcards adorned with a unique postmark exclusively found at the Owl Post. Once you've written a message on your postcard, drop it into the mailbox outside of the Owl Post, and it will promptly be delivered to the address you listed on the card.
Listen for Moaning Myrtle in Hogsmeade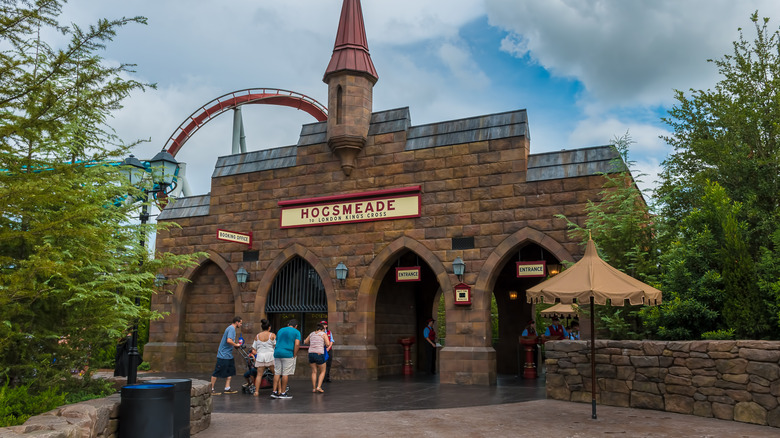 Craig Russell/Shutterstock
Universal's commitment to detail when it comes to their Wizarding World of Harry Potter can be found nearly everywhere, whether it's in the form of interactive games or tiny easter eggs only the most astute "Harry Potter" fans can identify. Such is the case regarding an unseen character who makes their presence known in the most unlikely of places — the men's and women's bathrooms in Hogsmeade.
If you wander into either of the restrooms underneath the "Public Conveniences" sign in Hogsmeade, you'll hear the sound of someone crying as you use the facilities. This crying is meant to signify the presence of Moaning Myrtle, a supporting character in "Harry Potter" who was originally introduced in "The Chamber of Secrets" (and played in the film series by Shirley Henderson).
According to the "Harry Potter" lore, Myrtle was a Ravenclaw student who attended Hogwarts in the early 1940s. While hiding from a bully in the second-floor women's bathroom, she was killed when Tom Riddle opened the Chamber of Secrets, releasing the Basilisk, which went on to kill Myrtle. Following her demise, she continues to haunt the women's bathroom at Hogwarts, crying quietly to herself over her tragic fate.
Watch out for some Jaws easter eggs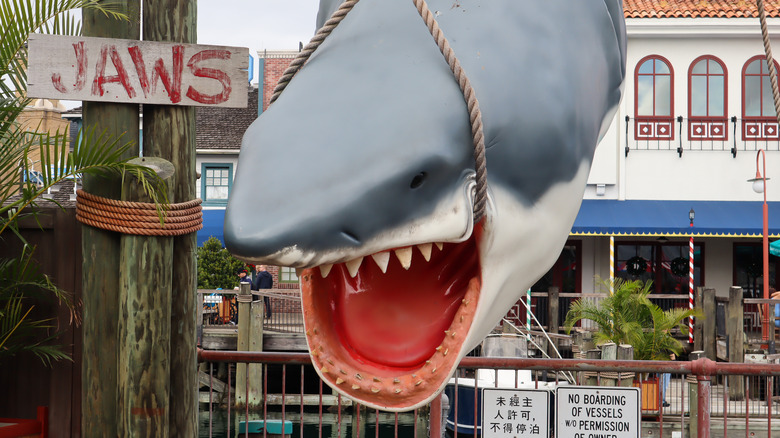 Hannah Rudd/Shutterstock
Years before the Wizarding World of Harry Potter was stupefying guests with its magical atmosphere and immersive environment, the coastal town of Amity Island was among the foremost reasons to visit Universal Studios Florida. Making its debut in 1990, Amity Island's crown jewel was its signature Jaws attraction, a tour boat-style ride that put riders face to face with the infamous man-eating shark from the 1975 Universal film of the same name.
For over two decades, Jaws delighted and terrified Universal visitors, eventually closing in 2012 to make room for the Wizarding World of Harry Potter. While the community of Amity Island in the park is history, there are a few references to the popular past attraction sprinkled throughout the park. For example, the statue of the shark that used to hang in front of the Jaws attraction can be found at the San Francisco section of Universal, along with signs advertising the fictional Amity Island Lobster Co. and the Amity Shipfitters and Riggers.
In the London area of Universal, you can spot a vinyl album ("Here's to Swimmin' with Bow-Legged Women") by the Quint Trio in the record shop window, a reference to Robert Shaw's cantankerous, shanty-spewing shark hunter from the film. Guests can also make a band of shrunken heads in Knockturn Alley sing songs, including "Show Me the Way to Go Home," another reference to Shaw's musically-inclined seafaring captain.
Grab a certificate for kids who fail to meet attractions' height requirements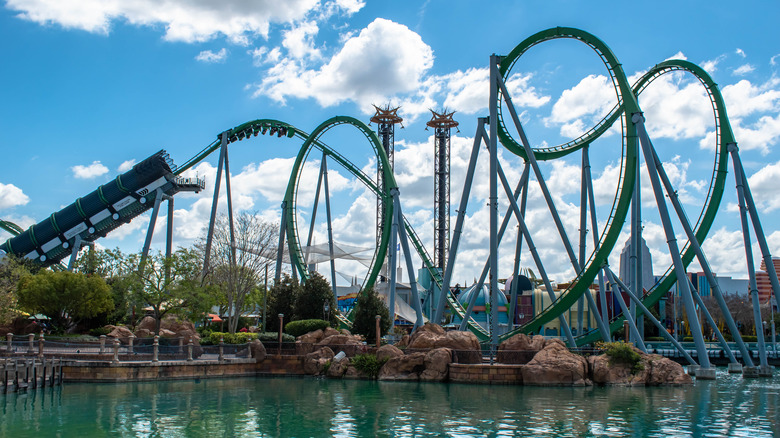 VIAVAL TOURS/Shutterstock
Like any amusement park, a common hurdle for families visiting Universal Studios Florida will likely be having every member of your party meet the basic requirements for boarding certain attractions. In particular, younger children may find it hard to measure up to the height requirements necessary to go on rides like Despicable Me Minion Mayhem or more intense attractions like The Incredible Hulk Coaster.
If you spend all that time waiting in line only to find your child misses the attraction's height requirements by mere inches, fret not! Rather than simply exiting the line, ask a Universal Studios employee for a specially-made certificate. This certificate acts as a voucher of sorts for your future Universal vacation.
To redeem it, simply measure your child's height at the attraction's entrance upon your next park visit, ensuring that they now fulfill the measurements to board the attraction. If they now meet the height requirement to ride, you can use the certificate to jump to the front of the line instead of having to wait again. Most Universal attractions offer this certificate to guests, so always be sure to ask an employee if any member of your party comes under an attraction's height requirements.