13 Things To Do In Las Vegas That Aren't Gambling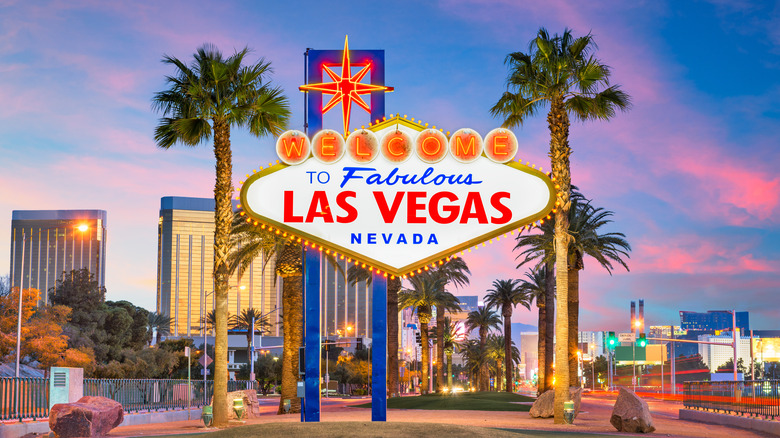 Sean Pavone/Shutterstock
Las Vegas is famous for a lot of things, whether it be blowout bachelor parties, shotgun weddings, or secrets that are best left staying within the city's borders. The most common thing to do in Las Vegas and what brings most visitors to the neon-clad city, though, is gambling. There are over 50 major casinos in Sin City that hold an array of different forms of gambling games, but Las Vegas has so much more to offer travelers than a chance of making it big with a jackpot win.
The casinos in Las Vegas may be grand and the central focus of the city's famous neon strip, but travelers can find plenty to do without even stepping foot in one — and they'll be having so much fun doing so that they'll forget Vegas is a top destination for gamblers. Between the numerous natural wonders surprisingly found near Sin City and the luxurious experiences to be had there, Las Vegas just may be one of the most interesting places to visit. Here are some of the best things to do in Vegas that don't include betting on black.
Get your adrenaline pumping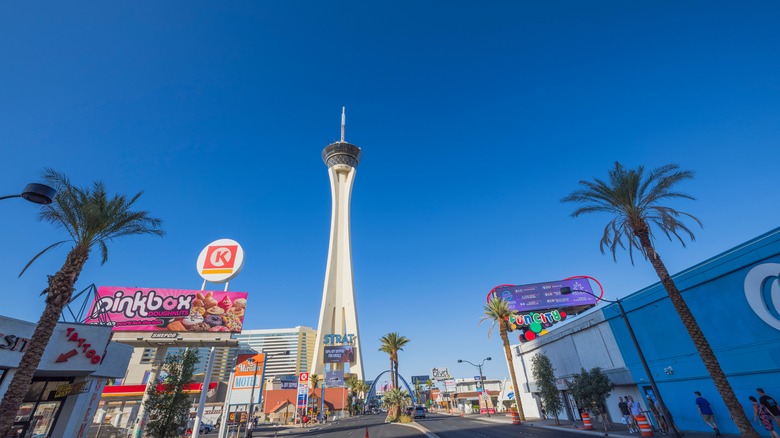 Mulevich/Shutterstock
Just like gambling, chasing an adrenaline high can be as addictive as a physical drug. This similarity between the two activities could be the reason Las Vegas has so many high-adrenaline activities, like jumping off a very real, very high downtown building. For a great, fast-moving view of the strip, zip line rides are available at both Fly Linq and the Rio Hotel.
If open-air jumping from over 800 feet above the neon-clad Las Vegas strip sounds like your cup of tea, heading up to the STAT Hotel's SkyJump launch pad is a must. While you're at the Stratosphere, you might as well take a ride on one — or both — of the tall building's thrill rides. The hotel has a roller coaster called X-Scream that hangs riders over the edge of the building above the strip as well as a vertical catapult that sends riders flying to a height of over 1000 feet in the air. It's safe to say that if heights aren't your thing, the Stratosphere should be steered clear of. If, however, you like to live on the edge, however high that may be, it should definitely be on your Vegas bucket list.
Check out the museums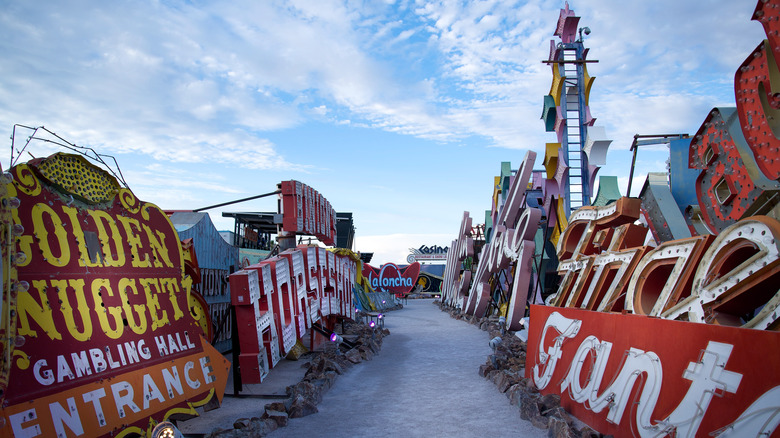 Smeerjewegproducties/Shutterstock
When you think of Vegas, museums and education are probably the furthest thing from your mind. While that may be the case, there are actually some pretty unique and interesting museums in the city. The Mob Museum is one, and it is exactly what it sounds like. Here you'll dive into the history of organized crime and law enforcement as it relates to some of the biggest crime families in America and how society today has been affected by their crimes.
Another quirky museum is the Neon Museum Las Vegas, which consists of a visitors center that houses restored neon signs from Vegas' history and two outdoor "boneyards" full of broken and unrestored neon signs of varying sizes and ages. Not only is the Neon Museum an amazing and awe-inspiring sight, but it's an interestingly educational experience as visitors learn how the style and science behind neon signs have changed over the decades. The boneyards also make for a pretty epic photo-shoot opportunity.
Vegas is well known for having racy live performances on stages throughout the city, so it only makes sense that there would be a museum dedicated to the history of burlesque amongst the many venues that currently put on shows. Travelers should make a stop at the Burlesque Hall of Fame if they have an appreciation for the art form, because there is no other museum in the world like it.
Get hitched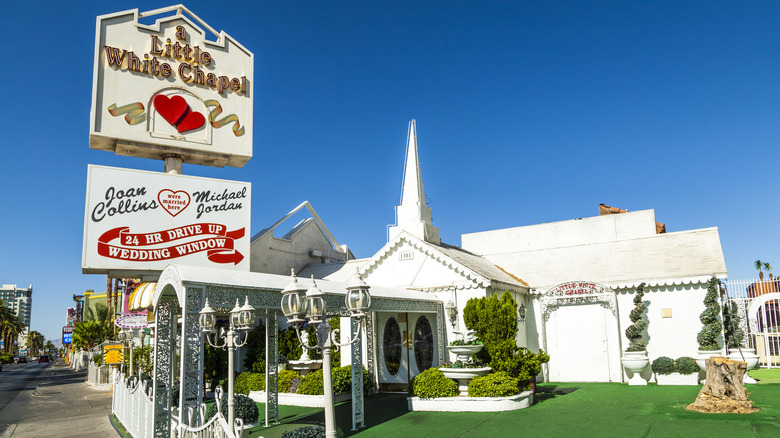 travelview/Shutterstock
Las Vegas is a wild place to get married and, for the spontaneous couple, there really is no better place to tie the knot. Sure, you may have to forego the elaborate and traditional weddings you may have had in your mind's eye since you were just a kid if you want an iconic Vegas wedding, but an Elvis impersonator and themed chapel may just be worth it. If chapel's aren't your thing, Las Vegas has a lot of different and exciting ways to say your vows, including on top of a massive Ferris wheel in the center of the strip and even a few drive thru chapels where you don't even need to get out of your car. As long as you obtain a marriage license, though, the ceremony — no matter how short or spontaneous — results in a legally binding union.
A Little White Chapel, Graceland Wedding Chapel, and Viva Las Vegas Wedding Chapel are three popular and classic chapels in the city that have their own special touches they are famous for couples who want to make quick work of their nuptials. A Little White Chapel championed the drive-thru wedding and is famous for a number of celebrity weddings, including that of Ross and Rachel on "Friends." Graceland Wedding Chapel claims to be the first to use an Elvis impersonator for an officiant and Viva Las Vegas Wedding Chapel has a number of intense themes to choose from for weddings, like intergalactic and vampire.
Get out in nature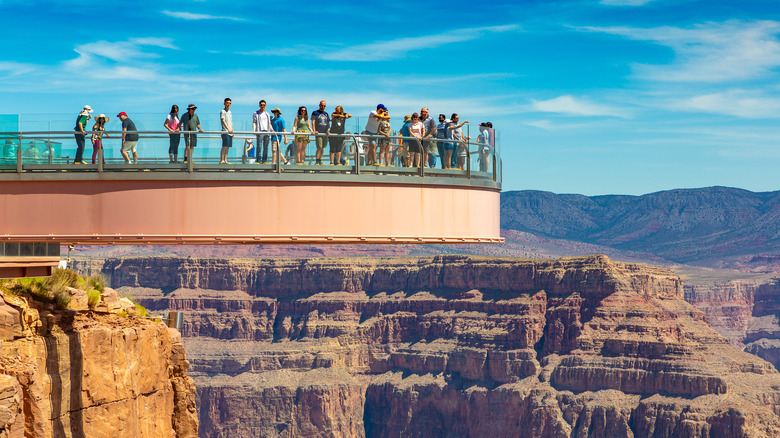 Sergii Figurnyi/Shutterstock
Las Vegas is surrounded by some pretty gorgeous nature sites, including some of the most beautiful state and national parks. The west rim of the Grand Canyon isn't too far of a drive for a day trip, and the famous skywalk just happens to be located here as well. Red Rock Canyon is northwest of the city and you would be remiss to pass over such a gloriously beautiful sight when already so close. If you're willing to venture out a little farther, Death Valley is about a two-hour drive from Vegas, which could still make a decent day trip. Though it's a bit of a drive, Death Valley is absolutely worth it, with unforgettable landscapes that will make you feel as though you've left Earth entirely.
The natural attractions in Las Vegas are often outshined by the neon-clad strip, but the city is a fantastic destination for the traveler who loves the outdoors and beautiful scenery. No matter what direction you start driving in from Vegas, you'll be greeted with nature that alone is worth a trip to Nevada.
Have a shopping day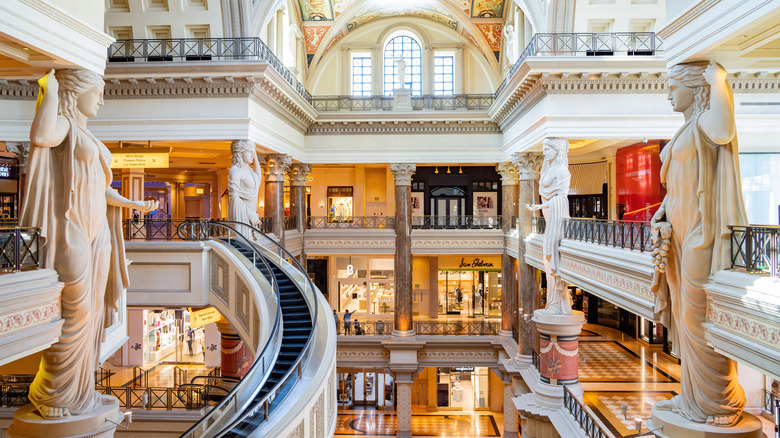 Kit Leong/Shutterstock
It only makes sense that a place known for winning jackpots and large amounts of money — when you aren't losing, that is — also has a lot of places to spend said money. Even if you aren't gambling, you may want to turn to a little retail therapy while you're in such a shopping-positive city. The elaborate buildings that house the popular casinos themselves typically have a large area for luxury shopping, and Caesar's Palace has two sets of shops that offer an experience all themselves with large fountains, towering columns, and Roman-themed statues giving a very classic vibe.
Leaving the casinos behind, there are numerous massive shopping centers in Vegas, like Miracle Mile on the strip and the premium outlet mall, where you can get popular brands at discounted prices. If you are into designer brands and the finer things in life, you may want to check out some of the luxury malls like the Shops at Crystals and the Fashion Show Mall, though if you want to do more than just window shop, you'll have to drop some serious cash.
Go to the circus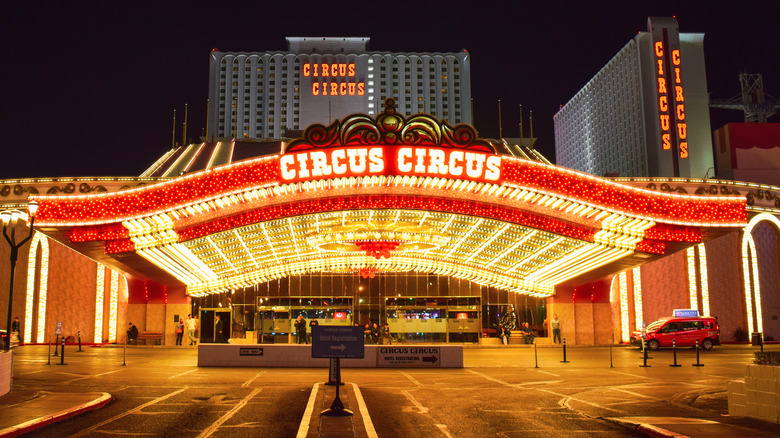 Mathieu LE MAUFF/Shutterstock
While all you have seen or heard of Vegas is likely geared toward adults and parties, there are also plenty of family friendly attractions in the city that would make for a great family vacation — especially when you take gambling out of the equation. Like a lot of hotels in Vegas, Circus Circus does also act as a casino. However, the circus-tent shaped hotel also has a very real mini theme park and circus within it called the Adventuredome, and it is perfect for kids and families.
Like a true circus, the Las Vegas one-stop shop puts on very real feats of talent with their various circus acts. Don't worry, there are no caged animals forced to perform; the acts are performed by gymnasts, clowns, and juggling masters from countries around the world. If that sounds awesome, it gets even better, because the performances are absolutely free to view. If you do come with some cash, heading over to Midway will result in hours worth of fun playing arcade games and carnival games. If you are bringing kids young or old to Vegas, Circus Circus should be at the top of your list of must-see attractions.
Get a bird's-eye view
Benny Marty/Shutterstock
Las Vegas is certainly spectacular from the ground, but it becomes a real thing of beauty from above and there are plenty of ways to get this view of the city. From helicopters to zip lines and even a hot air balloon, you can choose however you'd like to get high above the strip and surrounding area to match your individual comfort level.
If you want to see Las Vegas and the various famous landmarks and parks that surround the city in one go, then you may want to consider skydiving. Sure, you may be more busy controlling your pulse and remembering to pull your parachute, but hurtling toward the ground with such an amazing view of a diverse place like Vegas really does take the skydiving experience to a whole new level. If that it too high stress for you, taking a hot air balloon ride with a bottle of wine and breakfast or a short night flight in a helicopter may be more your speed. Either way, though, seeing Las Vegas' strip from the sky is an experience you should take advantage of when in the city.
Visit a real ghost town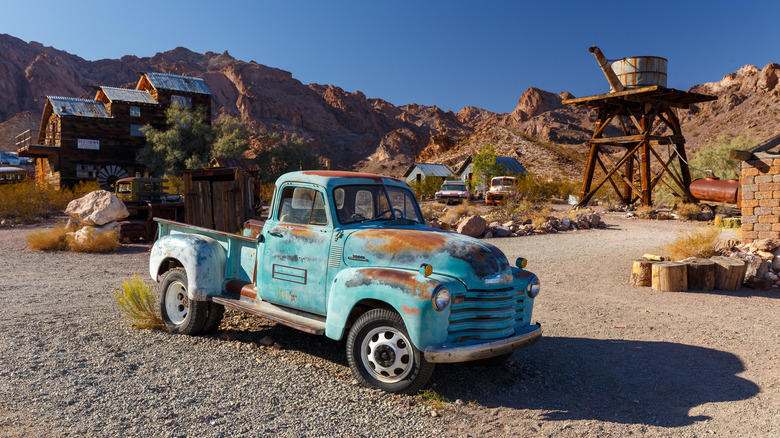 Atmosphere1/Shutterstock
As large and popular as Las Vegas is, there are surprisingly quite a lot of ghost towns in its vicinity. In fact, Nevada as a whole has more ghost towns than towns that people actually live in, so it's the perfect place to explore some of the abandoned places of the past. You may wonder why going to a ghost town when you have the lively, bustling Sin City at your fingertips, but the contrasts between the two constructs a perfect mirror image that gives quite a lot of depth to a vacation to the area, especially when you consider that Las Vegas is like an oasis of life in the middle of the desert.
If you're willing to dedicate a whole day and a couple hours of travel time one way, Rhyolite Ghost Town is a fantastic place to go for art lovers who want to experience the eerie vibes that ghost town gives off. It is close to Death Valley, so travelers visiting the national park are able to combine the two destinations in just one day trip from Vegas. Rhyolite is home to Tom Kelly's Bottle House, which is made from thousands of bottles collected from the numerous saloons around the town that were once in operation. There are two other bottle houses in the town, and they're quite impressive works of art. A much closer option is Nelson Ghost Town, which is famous for being an old gold-mining town.
Discover new flavors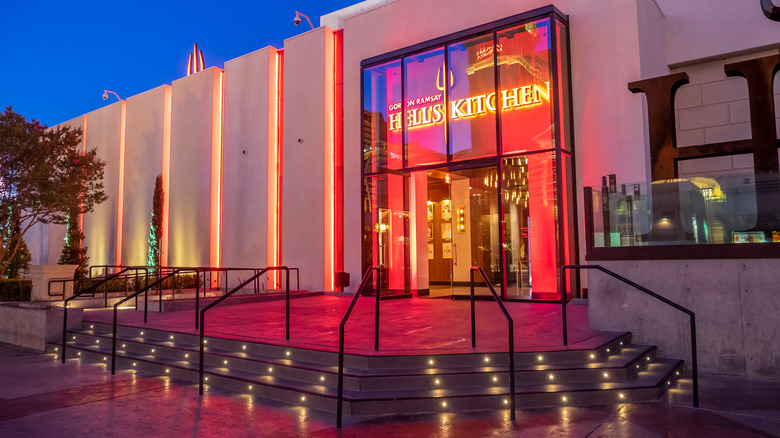 Jeff Whyte/Shutterstock
Las Vegas has plenty of food and drink options, but like everything else in Vegas, it can be its own experiential event. For fans of Gordon Ramsey, there are various restaurants of his name in the city, including a Hell's Kitchen location. While you won't be on TV if you eat there, the set-up is inspired by the cooking show that shares its name and patrons will have a beautiful view of the Las Vegas strip as they enjoy their carefully crafted meal.
For travelers who like to enjoy a drink with a show, Lost Spirits Distillery is a must. Not only do they make their own rum, but they also have a "maze of stages" that patrons can wander through while enjoying their boldly flavored cocktail. Even without acrobatic displays and magical performances, Lost Spirits would be worth a visit to wind down the night with a spirit in the beautifully decorated Victorian lounge. If you are looking for a unique and tasteful experience while you're in Vegas, this distillery is likely to blow your expectations out of the water.
See a wonder of the world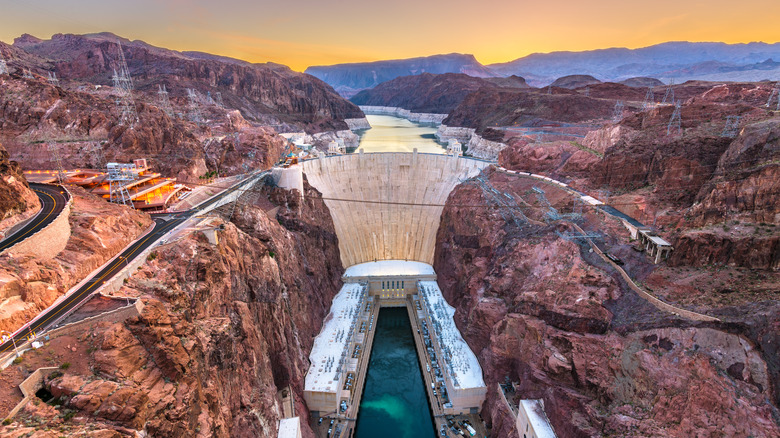 Sean Pavone/Shutterstock
While not in the city itself, the Hoover Dam is located well under an hour from Las Vegas and is one of the seven engineering wonders of the world, which is evidence to just how impressive and influential it is. Around 1 million people take an official tour of the Hoover Dam a year, with even more visiting the site unofficially.
Visiting the Hoover Dam doesn't just consist of seeing a huge dam and all the architectural appreciation that comes with it, but also a view of a wildly beautiful desert landscape. If that isn't enough, the Hoover Dam forms Lake Mead, which is a huge national recreation area. Visitors can swim in the lake as well as relax on its shores,though don't be expecting a sandy beach, as it's quite rocky. Some visitors choose to camp at Lake Mead, and you can also go boating and fishing. With everything there is to do and see at the Hoover Dam, it just may be well worth taking a day out of your Las Vegas trip to visit.
Find unique art installations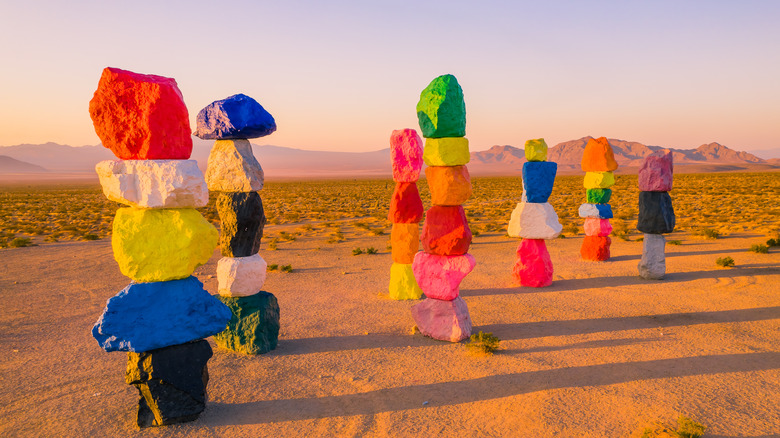 SkyBlodgett/Shutterstock
Las Vegas may not be on the list of cities that come to mind when you think of artistic expression, but maybe it should be. Vegas is full of free thinkers and art can be found all over — and we're not just talking about the impressive display of neon lights, though the Neon Museum is a must-see. The art scene in Vegas is gritty, and you won't find a lot of art museums that showcase the classics. Instead, street art and immersive art are popular, with murals spread out over the city that are ranging in style. Visiting the city's different murals is a great way to explore Vegas, get to know the culture, and find some locations to take some awesome vacation selfies.
If street art isn't your thing and you don't mind heading about 10 miles outside of Las Vegas, there is a massive art installation in the desert that is worth a visit. Seven Magic Mountains is a colorful sculpture that resembles colored blocks in seven stacks. The contrast of the vibrant installation against the natural desert rocks and mountains is striking and worth the short drive.
See a live performance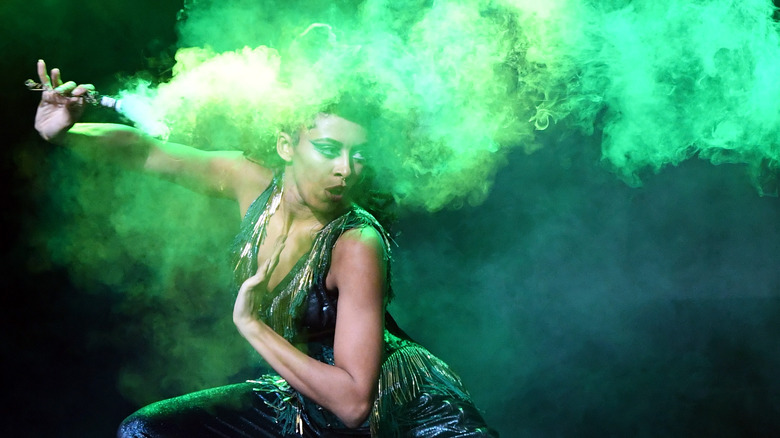 Ethan Miller/Getty Images
Las Vegas is all about live entertainment, and there is a wide range of shows happening every night. Whether you are traveling with family or are looking for adult-only performances, Vegas offers it all. Cirque du Soleil has a number of family shows as well as some more adult-centric performances, and the acrobatic circus performers can pretty much always be found in Vegas.
For travelers who want to see a little (or a lot) of skin, there is no lack of options when it comes to burlesque performances (and even racier shows) happening in the city. There are countless themes when it comes to burlesque dances and shows, some of the more permanent fixtures being a zombie burlesque show that is as funny as it is sexy and a country-themed show at X Country. Las Vegas is constantly changing and bringing in new fun experiences, so doing a little research into what shows are available during the time you will be in the area is wise.
Channel your inner car-enthusiast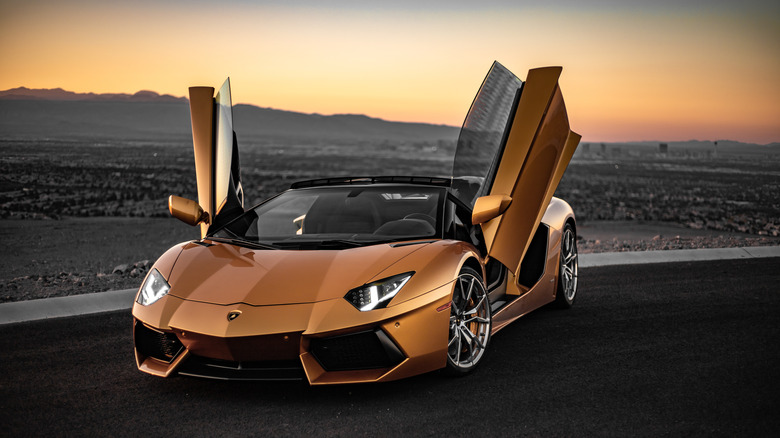 Lawrence Carmichael/Shutterstock
For most of us, luxury cars and speed racers are out of budget and out of reach, but Las Vegas is in the business of making dreams come true and there are plenty of places where you can have a driving experience with fast and expensive cars. Speed Vegas offers exotic cars you can race around a track, including Lamborghinis and Ferraris. You can also book an entire day with a car, which comes with a professional to instruct you on how to handle the vehicle.
If sports cars aren't your thing, Las Vegas is home to an adult-sized sand box with very real construction vehicles that you can operate. Dig This Vegas allows teens and adults to operate bulldozers and excavators on their large "playground" and all the nostalgia of childhood will make for a joyful and memorable experience.
No matter what type of vehicle you may have your eye on to test drive, though, it is a relatively pricey experience. For some people, though, it is a one-in-a-lifetime opportunity to drive and play with some of the most luxurious and large toys for the grown car enthusiast.