The Best Museums To Visit In Scotland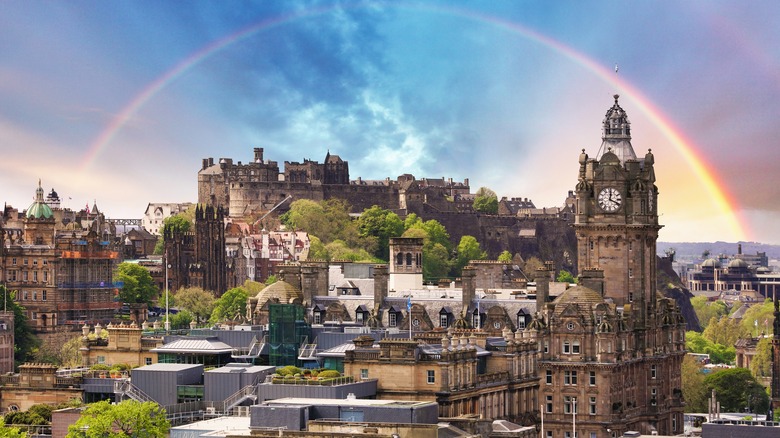 TTstudio/Shutterstock
A trip to Scotland should be on every traveler's list. Not only is this great destination breathtakingly beautiful and lush but it is also steeped in history and littered with natural wonders. But that's not all — from stunning works of art, legendary libraries, and cultural institutions to ancient ruins, captivating mythology, and an abundance of breathtaking castles, there is no denying the fact that Scotland definitely deserves a closer look. One of the easiest ways to learn more about this rich place and delve deeper into all things Scotland, then, is by dropping by the many museums here.
This may seem like a simple task, but with over 260 national, regional, and local museums and a plethora of things to see and do, making room for all of these incredible points of interest in a single visit is next to impossible. Moreover, all these museums and significant sites cover almost every category, including local tradition, art, science, industry, maritime, and war — so where does one even begin to start? Here are the best museums to visit in Scotland while on holiday to ensure, at the very least, that you pencil in the must-sees.
National Museum of Scotland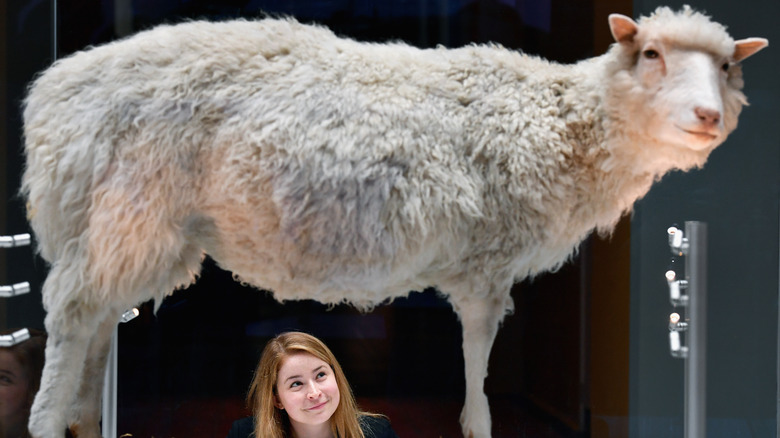 Jeff J Mitchell/Getty Images
Known as one of the top attractions in the UK, the National Museum of Scotland is a visitor's must, especially if you are staying in Scotland's capital city, Edinburgh. This larger-than-life museum is actually comprised of artifacts, exhibits, art, fashion, national history, and more from the once-separate Museum of Scotland and the Royal Scottish Museum. So if you are looking for a diverse selection of fascinating finds and royal antiquities, then add this wonder to the itinerary.
In addition to must-see artifacts like the Newstead Helmet, which dates all the way back to around 100 AD, and the legendary Arthur's Seat Coffins, the National Museum has modern displays of science and technological advances like Dolly the Sheep (the first successfully cloned mammal). Other gripping acquisitions displayed here include the 80,000-year-old Musonionalusta Meteorite, the Schmidt Telescope, and the life-size skeleton cast of the infamous Tyrannosaurus rex. And while there, make sure you check out the various galleries (World Culture, Art, Design, Fashion, Science and Technology, and Imagine, which is a hands-on option for younger visitors, to name a few).
Shetland Museum & Archives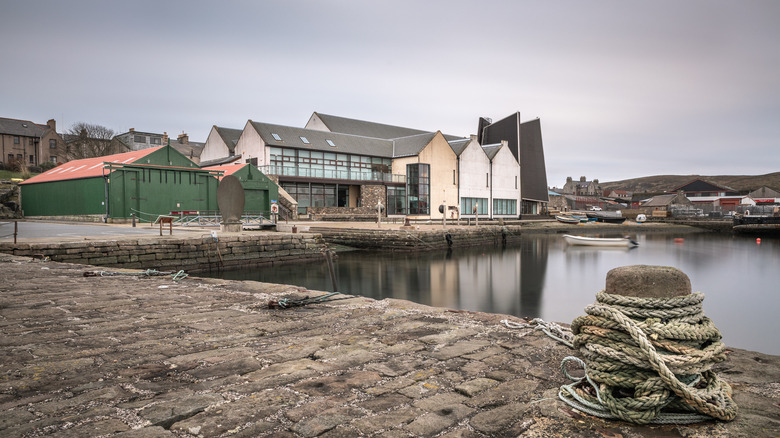 Andrew J Shearer/Shutterstock
In the lovely town of Lerwick, visitors will find more than a few amazing attractions, including the Shetland Museum & Archives. The Shetland Islands lie about 100 miles northeast of the coast of Scotland, but they are very much a part of this glorious place's history and culture. Lerwick is the main town and port for these iconic isles; thus, it only makes sense that Shetland Museum & Archives would be located here.
Inside this must-see historical building of sorts, visitors can learn all about this part of Scotland's culture and heritage. Like the National Museum of Scotland, admission here is free of charge. With several galleries, ongoing exhibitions, and various events happening at the Shetland Museum & Archives, this is another excellent stop that will allow guests to explore Shetland's geological origins to the present day, marvel at creative masterpieces from local artists, and gain a better understanding of what life is like here. And the best part is museumgoers can make an afternoon of it all by touring the town of Lerwick and enjoying the city's local treasures.
Kelvingrove Art Gallery and Museum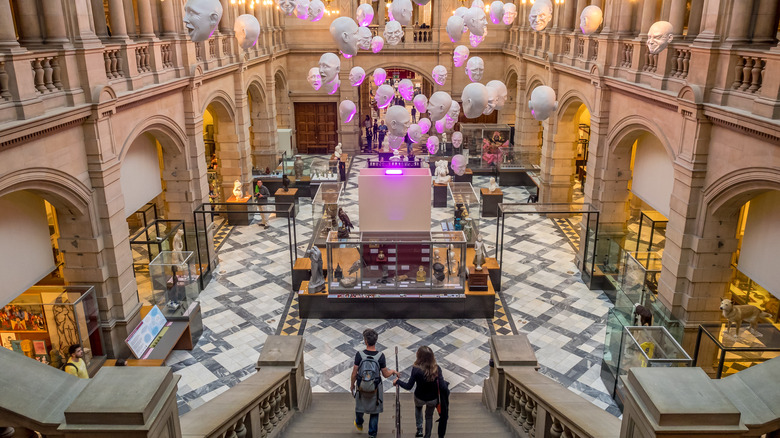 Jeff Whyte/Shutterstock
The Kelvingrove Art Gallery and Museum in Glasgow is, of course, toward the top of the list of the best museums in Scottland. With over 22 galleries and exhibitions, a wealth of tours, and engaging activities, it is not too surprising that the Kelvingrove Art Gallery and Museum attract countless visitors annually from across the globe. A genuinely remarkable space to explore, Kelvingrove is another free museum open to the public that is organized into unique and distinct sections titled Life and Expression.
The renowned Life collection focuses on a multitude of relics and items from prehistoric times as well as artifacts that shine a light on natural and human history. In contrast, the Expression galleries feature famed paintings, sculptures, and other forms of fine art. Popular Expression pieces to check out when appreciating this museum include works by Monet, Dalí, Botticelli, the Glasgow Boys, and the four Scottish Colourists. While there, visitors should also make it a point to marvel at as many exhibitions as possible, take note of the stunning architecture, and stop by the delightful onsite café after working up an appetite touring this expansive place.
Culloden Battlefield and Visitor Centre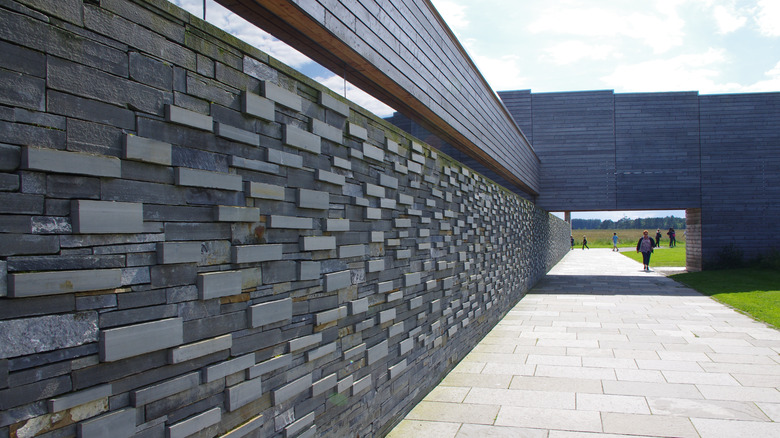 QUINNY76/Shutterstock
History buffs, Outlander fans, and anyone else interested in pivotal moments in Scotland's history should know that the Battle of Culloden, which took place on April 16, 1746, was a real turning point and essentially the end of the Jacobite Rising of 1745. The Culloden Battlefield and Visitor Centre are located at the original site of the battle, just a few miles outside of Inverness. So, visitors can literally peruse history, gain a deeper understanding of this short-lived rebellion, see the moor, and pay tribute to the thousands of men that lost their lives during this less than 60-minute battle.
What's more, the Culloden Battlefield and nearby Visitor Centre offer museumgoers additional insight into the fight against the British army, as well as how the Highlands and Scotland were forever changed after this battle. This museum has various exhibits, a 360-degree battle immersion theatre, and must-see historical remnants. So, do yourself a favor and add this one to your trip activities list.
Riverside Museum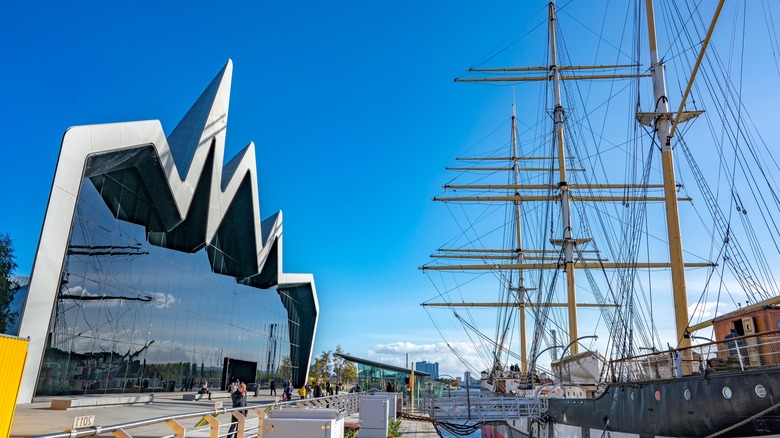 Ungvari Attila/Shutterstock
The Riverside Museum in Glasgow is definitely not hard to miss. Thanks to this archive building's unique architecture alone, an afternoon here is hard to pass up. But that's not all — with over 3,000 thought-provoking items on display at the iconic Riverside Museum, the main focuses are on transportation, engineering, and technology, which makes its contents just as gripping as its exterior. Here, visitors can appreciate and marvel at everything from rare ships, once-horse-drawn carriages, historic trains, vintage cars, modern skateboards, and much more.
Situated on the gorgeous banks of the River Clyde, this museum is downright fascinating and offers Glasgow visitors a great, no-cost outing that is both fun and informative. Touted as the first purpose-built museum, as it was designed by the world-famous architect Dame Zaha Hadid and has quite the artistic flare to it, there is truly something for everyone at Riverside. So, if you are interested in taking an in-depth look into Glasgow's enthralling history of transportation and manufacturing, then drop in and enjoy.
Scottish National Gallery, Modern One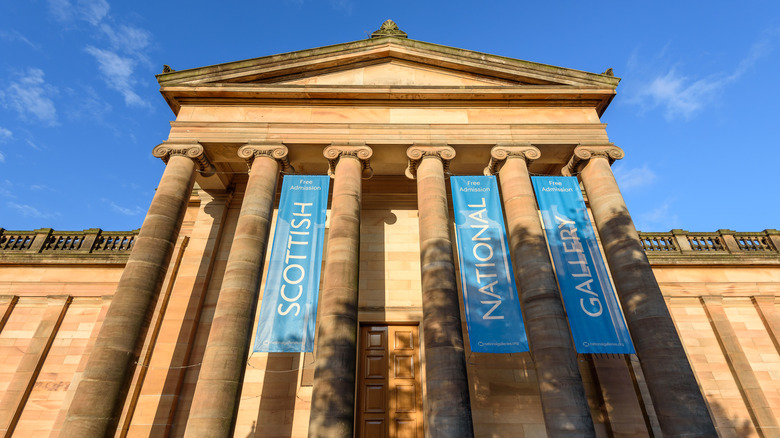 Anton_Ivanov/Shutterstock
Art lovers on a Scottish holiday can and should delight in the Scottish National Gallery, Modern One, in Edinburgh. Not to be confused with the second gallery across the way, Modern One is full of contemporary art and diverse exhibition spaces (both inside and out) that are simply awe-inspiring. Here, visitors can look to the present and the future of all things art-related. 
Known for its "all-encompassing experiences," losing track of time at Modern One is more than possible. Interested visitors should try to make a half-day of exploring this legendary museum, especially since this is not the only museum located in this area. Once you feel you have fully appreciated all that Modern One has to offer, it is highly recommended that you take a leisure stroll on the grounds to marvel at even more contemporary art installations and sculptures. After which, museum-goers can grab a quick bite to eat at the rave-worthy Café Modern One and get ready for all the wonders that await in the Scottish National Gallery Modern Two.
Scottish National Gallery, Modern Two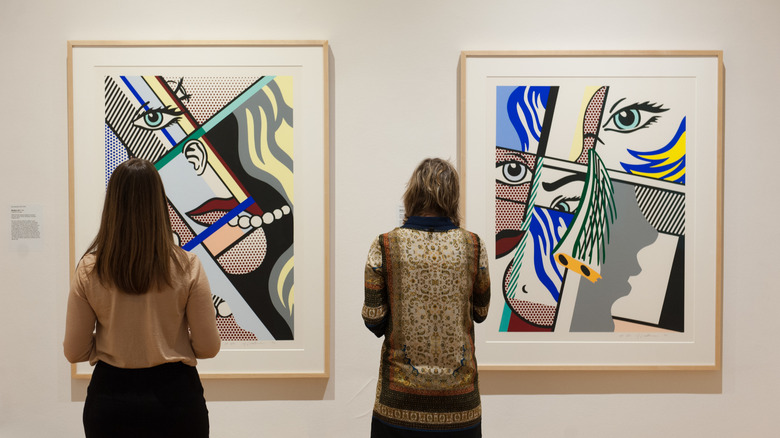 Roberto Ricciuti/Getty Images
Situated directly across from Modern One, Scotland museum-goers can make their way on over to Modern Two of the Scottish National Gallery for a day of observing unique art. Here, fans of abstract, pop, and surrealist art are in for a real treat with countless exhibitions that showcase the whimsical side of modern creativity. Since this is such a stark contrast from the contemporary art in Modern One, which mainly focuses on traditional styles and forms of expression, it all starts to make sense why these museums (both magnificent in their own right) were divided into two separate spaces.
That said, Modern Two is truly a feast for the eyes and definitely ranks high on many visitors' best museums lists. With vibrant and unusual works of art, masterpieces by celebrated local artists, a lush outdoor space surrounding this art house, and free admission (to both museums), Modern Two is definitely worth a visit. Plus,  once your thrilling journey through all the modern art forms is complete, you can enjoy a lovely dinner at Paolozzi's Kitchen — a delicious Italian restaurant with a Scottish flare — conveniently located in Modern Two.
The Hunterian Museum and Art Gallery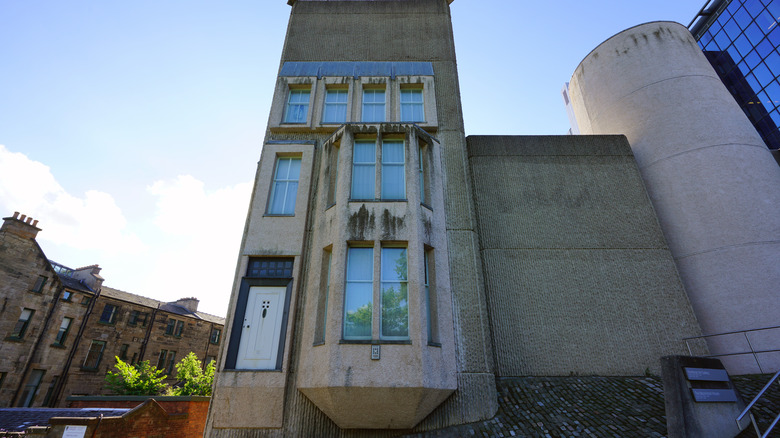 EQRoy/Shutterstock
Scotland visitors will find the Hunterian Museum and Art Gallery at the University of Glasgow (U of G). This national gem is home to a plethora of incredible finds, ancient artifacts, Roman gold coins, real chunks of meteorites, Egyptian mummies, diverse animal life, all kinds of art, and so much more. With ongoing, temporary, and even virtual exhibitions, the Hunterian Museum is another wonderful attraction you should spend some time in.
Touted as Scotland's oldest public museum and a significant asset to Scottish culture, the Hunterian Museum is world-renowned. Opening its main doors officially in 1807, museum-goers may be surprised to learn that this historical place of wonderment is actually housed in various venues on the U of G campus. And speaking of other sites that are a part of this grand museum, the restoration of artist Margaret Macdonald Mackintosh and architect Charles Rennie Mackintosh's former home can't be missed when touring this multi-setting museum. Filled with the couple's esteemed works and a truly distinct style, you'll definitely want to cross seeing the Mackintosh House and the rest of The Hunterian Museum off your bucket list.
Summerlee Museum of Scottish Industrial Life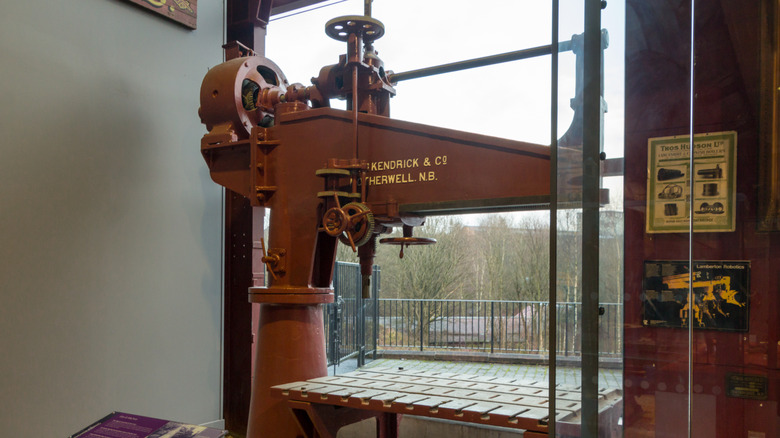 lennystan/Shutterstock
For travelers enjoying a family getaway, the Summerlee Museum of Scottish Industrial Life is a great addition to your itinerary. Located near Glasgow in Coatbridge, visitors can ride the only heritage electric tramway in operation, tour Miners Row, and check out several separate exhibition galleries focusing on industry, science, technology, fine arts, land transport, and more. This museum also has more than a few must-sees, like the Summerlee Branch of the Monklands Canals, a steam-driven sawmill, and the site for the former Summerlee Ironworks.
A truly fascinating and educational experience, families can enjoy a free activity that offers insights into various aspects of 19th-century Scottish Industrial life. Afterward, museum-goers here can spend some time at the children's play area, grab a bite to eat in the museum café and tearoom, and purchase souvenirs in the museum gift shop. So if you happen to be in Glasgow and are looking for a family-friendly activity, then check out Summerlee for an educational afternoon.
The Black Watch Castle & Museum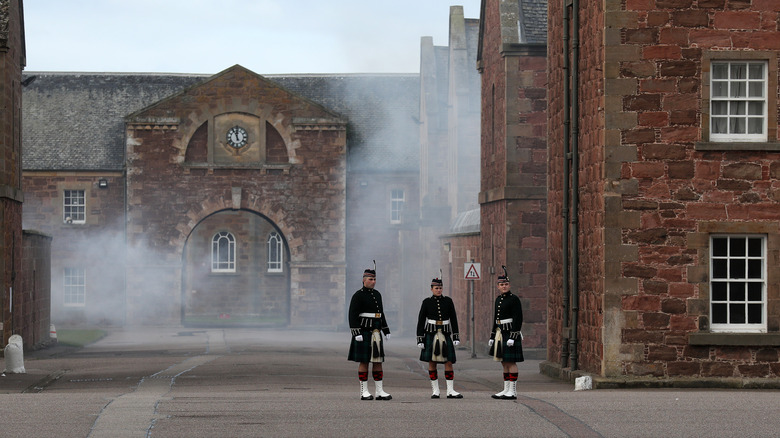 Wpa Pool/Getty Images
A trip to this majestic museum in Perth is certainly in order if you want to learn more about the history of the oldest highland regiments — The Black Watch — and their stories. Interested visitors will find The Black Watch Museum housed in the well-preserved 12th-century Balhousie Castle. Within this picturesque and historic fortress, museum-goers can marvel at various paintings, unique artifacts, vintage weaponry, personal stories, rare photos, and compelling displays.
However, unlike many other museums on this best-of-the-best list, admission is only free to children under five. However, we'll argue that a tour of this place is absolutely worth the low-cost entry fee. That said, The Black Watch Museum offers visitors a truly engaging and hands-on experience that is fun for all. While visiting, you can also partake in informative castle tours, do some light shopping at the museum gift shop, and have an enjoyable fine dining experience at the museum restaurant, the Bistro at The Castle.
The Highlanders' Museum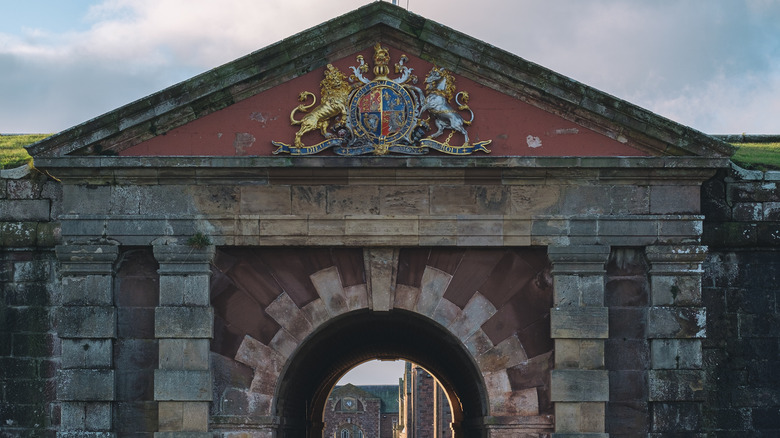 Ulmus Media/Shutterstock
Scotland visitors who want to learn even more about the Highlands, especially when it comes to military regiments and weaponry, should make it a point to check out the Highlander's Museum. Located at Fort George in Ardersier, The Highlanders' Museum actually has one of the most comprehensive collections of military artifacts in the country. Of course, this museum also has other interesting items on display, like the Queen's Own Highlanders Collection, fine art, costumes, textiles, décor, coinage, flags, medals, and more.
So even if you are not captivated by edged weapons and firearms, you can still appreciate this museum. Covering Highlander history from the period after the Battle of Culloden to the present day, museum-goers have their work cut out for them here, especially with over 50,000 historical items, artifacts, and materials to peruse. But one cannot deny that spending a full day or even a few hours touring this Northern Scotland gem is indeed time well spent.
Stirling Castle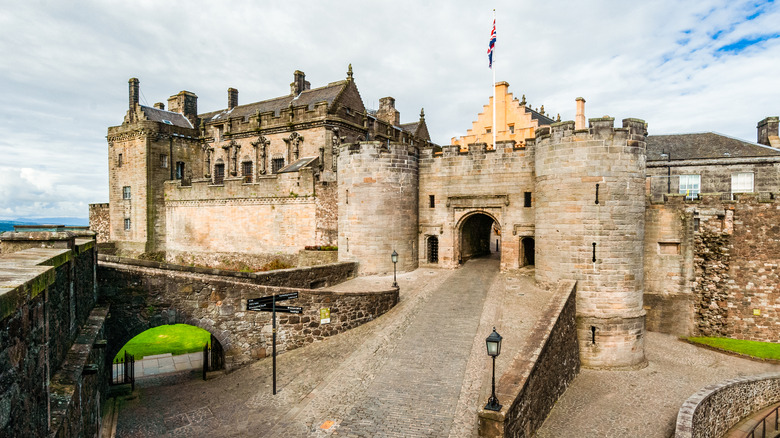 Portadown/Shutterstock
Though Stirling Castle is not an official museum in Scotland in the traditional sense, there are just some places that defy convention, and this castle happens to be one of them. Located in the town of Stirling, this fortress is a Scottish symbol of independence and pride and has a rich history every visitor should learn more about. Constructed around the late 15th century and early 16th century, Stirling Castle has been home to a few royals, kings, and queens, including Mary Queen of Scots.
This imposing palace and its grounds are literally something out of the pages of history. With its renowned Great Hall, Great Kitchens, Chapel Royal, rich décor, the painted Stirling Heads, and of course, the breathtakingly beautiful unicorn tapestries, museum-goers will feel right at home in this grand estate. Once you have concluded your tour of Stirling Castle, you can stop by the gift shop and then make your way down to all the other surrounding great points of interest, shopping, dining, and more.
Urquhart Castle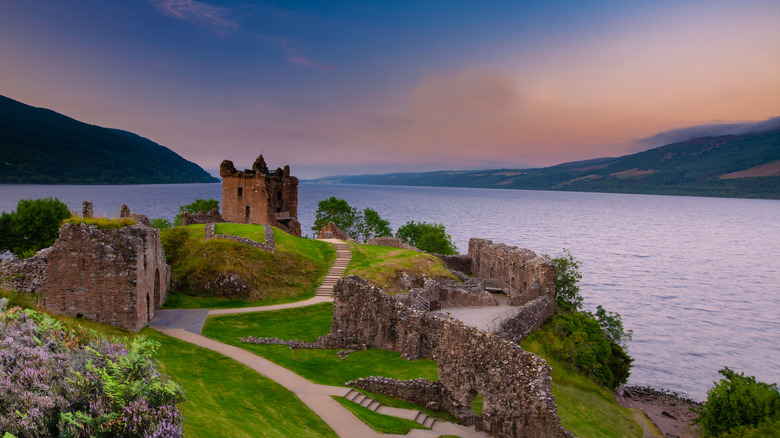 Scotland's scenery/Shutterstock
Yet another castle that is worthy of museum status in Scotland is none other than Urquhart Castle. Though lying partially in ruin, this famous fortress that dates all the way back to the 13th century often needs no introduction, thanks to good old Loch Ness. Located in Inverness and perched right above this legendary loch, Urquhart Castle is home to over 1,000 years of history.
So, instead of looking for the Loch Ness Monster on a lovely boat charter, why not take an impromptu tour of Urquhart Castle? With its stunning background, spellbinding past, and incredible loch views, a stop-off at Urquhart Castle definitely will not disappoint. And for history buffs looking to learn even more about this marvelous place and its surroundings, there are numerous castle and loch tours that offer up a variety of fascinating tidbits about this fortress' unique construction style and the pivotal role this castle has had throughout various key moments in Scotland's history.
Edinburgh Castle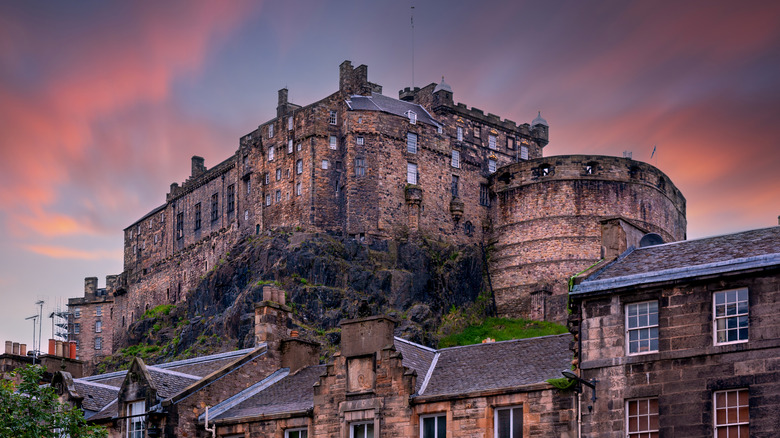 Nataliya Hora/Shutterstock
If there is an unofficial crown jewel of Scotland's glorious museum scene, then it should certainly be awarded to Edinburgh Castle. Known as one of the oldest fortresses in Europe, Edinburgh Castle very much embodies Scotland's past, present, and future. It really is no wonder that visitors come from all over the globe to experience this top U.K. Heritage Attraction, marvel at its military collection, honor this national war memorial, learn all about the War of Scottish Independence, and take in its overall sheer splendor.
It is also not uncommon to see festivals or other exciting events being held here, like the world-renowned Military Tattoo. Built atop an extinct volcano in 1130, this impressively preserved palace is simply delightful with its abundance of history, art, exhibits, and happenings. Thus, if you can only make it out to a few of these incredible museums, attractions, or points of interest, Edinburgh Castle should absolutely make your shortlist.