Climb Calton Hill For The Best Views Of Edinburgh's Skyline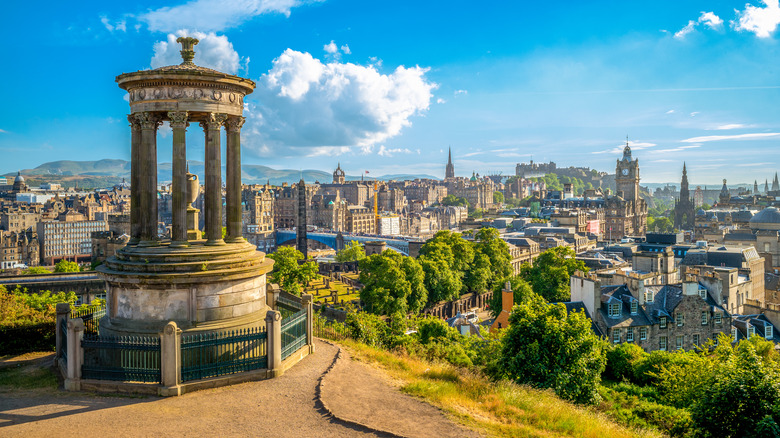 Richie Chan/Shutterstock
Scotland's capital city of Edinburgh has been around for thousands of years. Its combined medieval structures, historical buildings, and Georgian-style architecture give way to both an Old Town and New Town within its bustling region. Both sections deemed UNESCO World Heritage Sites, visitors and residents are afforded insight into both Edinburgh's horrifying past and vibrant present by merely viewing the differing architectural styles of the historical sites, homes, buildings, streets, and small alleyways laden throughout the city known as the "Athens of the North" (its nickname confirmed by Edinburgh World Heritage).
Edinburgh's cityscape of fantastic old buildings and Scottish brownstones is akin to the architectural landscape of Manhattan in New York City. And one spot located off East Princes Street within central Edinburgh, just east of New Town, gives visitors and residents alike the best views of Edinburgh's dramatic skyline: Its panoramic setting is so famous it appears regularly in tourism advertisements for the city, professional landscape photographs, paintings, documentaries, and films.
The Acropolis of Edinburgh: The historical landmark of Calton Hill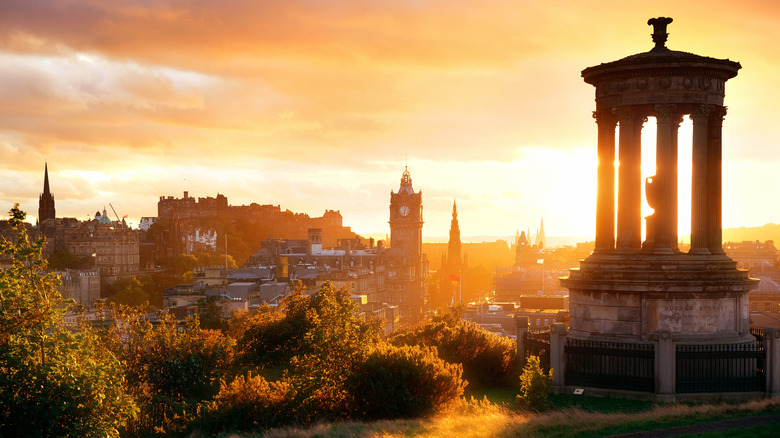 Songquan Deng/Shutterstock
Calton Hill's history is as intriguing as the city of Edinburgh's. While its hill formation dates back to over 356 million years ago – as reported by the Gazetteer for Scotland – the iconic, historical buildings and monuments atop its ancient, extinct, volcanic mound were erected in stages beginning in 1776 and can be seen from varying areas within the city.
A host of unusual structures await visitors at the top: The Dugald Stewart Monument; a partially completed version of the Parthenon in Greece, named the National Monument; the City's Astronomical Observatory; and the giant telescope-shaped Nelson Monument: All fascinating points of interest to visit while there. If you're an early riser, climb to the top of Calton Hill before sunrise and be prepared to be amazed as the sun peaks over the horizon and dazzles Edinburgh's skyline with its morning glow. Or, if you prefer an even more romantic and inspiring setting, make your way to the top of the hill just before sunset and watch as Edinburgh is bathed in fiery orange hues on clear evenings.
A 360-degree panoramic view of Edinburgh, and beyond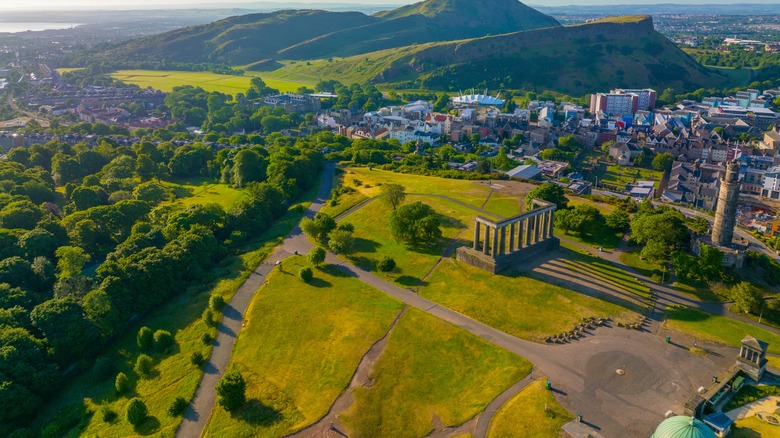 Wangkun Jia/Shutterstock
Rated as one of the "best things to do in Edinburgh" by U.S. News & World Report, the stunning view of the city from Calton Hill has inspired some of the world's most influential writers and poets to take pen to paper, dedicating their written works to the vision it reveals to onlookers from atop its viewpoint.
Calton Hill cannot be accessed by car, so walking is the only option to reach its peak. Once visitors make their way east down Princes Street, it's a leisurely walk up its slope. Traverse 143 steps up to its summit, and relax with a picnic basket while soaking in views of the city's stunning skyline. From its viewpoint, onlookers will also be able to see Edinburgh's other extinct volcano known as Arthur's Seat, the Palace of Holyrood, the Salisbury Crags, Edinburgh Castle, and much more. And, for the keen observers, head up to its summit on a clear day, and gaze towards the Firth of Forth to the north, where you'll set your eyes upon the majestic Scottish Highlands mountain range peaking in the far distance.