Why Wildlife Lovers Should Add The Shetland Islands To Their Scotland Itinerary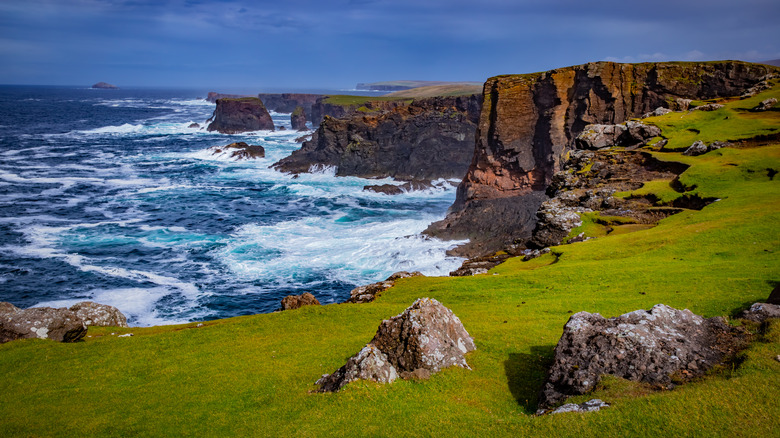 Marcin Kadziolka/Shutterstock
Scotland is a destination that has a way of fascinating travelers from across the map. Rich in culture, history, and natural beauty, it's a country known and loved just as much for its mysterious lochs and fine whiskey as it is for bagpipes, kilts, majestic highlands, and a stunning array of medieval castles to call its own. While destinations like Edinburgh and Glasgow typically top traveler itineraries, adventurers with a heart for wildlife won't want to miss out on experiencing the Shetland Islands while they're visiting.
Explorers will have to travel about 100 miles off the northeastern coast of the country to reach the Shetland Islands. Getting here takes some time, but the trip is certainly worth the effort. Many travelers opt for the overnight route using NorthLink Ferries from either Kirkwall or Aberdeen.
Upon arrival, visitors will find themselves in a place that's home to around 23,000 residents according to the National Records of Scotland. While seafood and fish farming keep the local economy vibrant here for locals, it's the awe-inspiring landscapes and access to incredible wildlife that tend to keep the visitors coming back for more. The dramatic terrain that defines the Shetland Islands today is the result of potentially billions of years of sea and sand shifts. What's been left behind in its wake is a one-of-a-kind collection of clifftops, lochs, hills, surf, and coastline that easily capture the imagination and provide a thriving habitat for wildlife of all kinds too.
What you might encounter in the sea and sky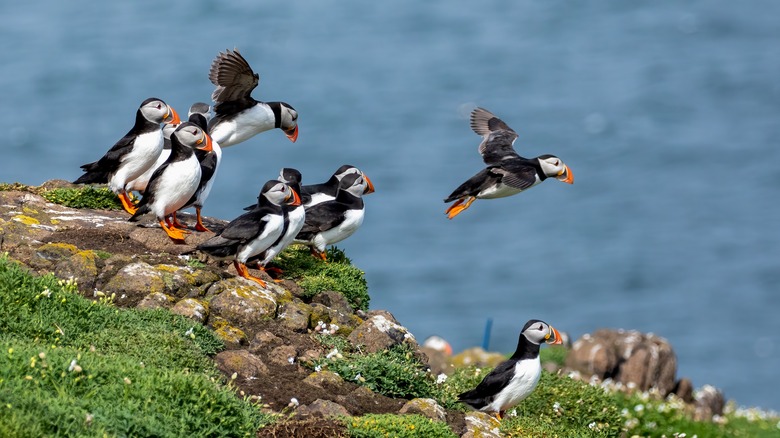 SarahLou Photography/Shutterstock
Wildlife lovers with an affinity for species that roam the seas and skies will find the Shetland Islands to be endlessly inspiring. The waters here are home to dolphins and orcas as well as a variety of common and grey seals year-round. It's estimated that the islands also host around 1,000 thriving otters thanks to the robust fish populations in the lochs and low-lying streams.
Between May and August visitors have an opportunity to spot minke whales and basking sharks in the local water as well as sperm whales and pilot whales. A great way to get out and safely get a closer look is to book a tour through a company like Shetland Wildlife. Known as a premier area provider of eco-tourism experiences, Shetland Wildlife has served the Shetland Islands since 1993. The company specializes in nature tours with a focus on photography and exploration.
Turning your eyes to the shoreline or skies is just as exciting when visiting the Shetland Islands. That's because the area is home to a variety of migrating bird species and impressive seabird colonies too. Bringing a pair of binoculars along for a Shetland Islands journey is always a good idea as the archipelago hosts everything from ringed plover and snipe to red-throated divers, lapwing, and curlew. Making your way to Sumburgh Head is a good choice when you're looking to spot puffins while Noss Nature Reserve is a top spot for viewing guillemots.
Inspiring wildlife on land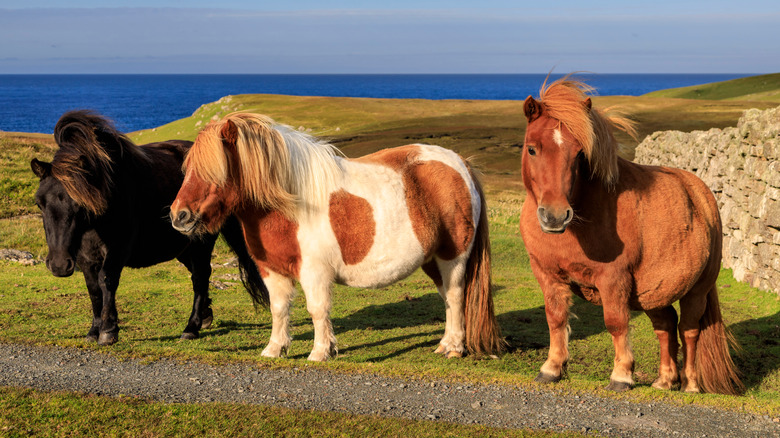 Eleanor Scriven/Shutterstock
Beyond the sea and sky, there's plenty of wildlife inspiration on land here too. The Shetland Islands are home to Shetland ponies which have been roaming this scenic terrain for the last 4,000 years. Originally, wild Shetland ponies were domesticated and put to work in 19th-century coal mines. These days, they play an important role in crofting, which is a type of landholding system specific to the Highlands and islands of Scotland.
Shetland ponies across the islands move peat from the hills as they graze and roam. For crofting communities, this type of land cultivation is essential for success, and for visitors, it's a chance to see the ponies for themselves. As the ponies graze, they're easily visible on beaches, hills, and along roadways too.
The appeal of the Shetland pony often stems from its charming dimensions. While they're notoriously strong creatures, Shetland ponies are only between 28 and 42 inches tall. They're often defined by long manes and tails and typically have a mild temperament. Shetland Island visitors hoping to make the most of seeing the ponies will find areas like Tingwall, Unst, and West Mainland host some of the larger herds.
Incredible nature, views, and wildlife are waiting for those who take the time to explore the Shetland Islands. Make sure your next trip to Scotland includes some quality time discovering all this archipelago has to offer. From land and sea to the sky above, there's no shortage of amazing wildlife moments to experience.