Beautiful Budget-Friendly Destinations For The Perfect New England Vacation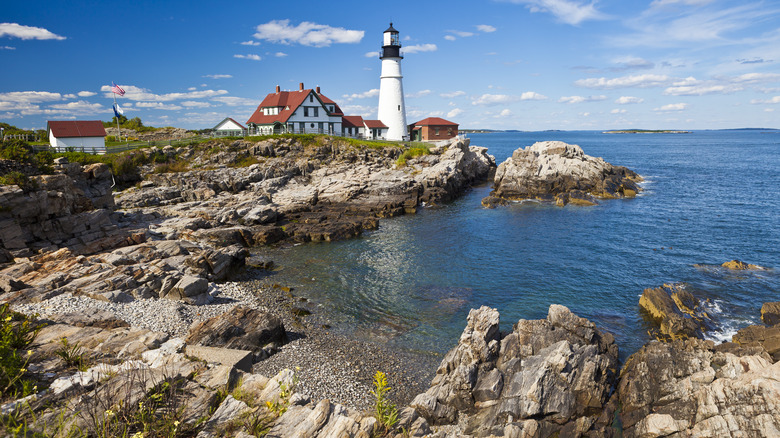 Traveler1116/Getty Images
Whether you're planning a romantic long weekend getaway or a days-long family road trip, New England bursts with budget-friendly places to visit. From charming small towns like Mystic, Connecticut, to pretty Portsmouth, Maine, there's no shortage of stunning destinations that are easy on the pocketbook. Even Boston can be deemed an affordable locale with the help of a few tips and tricks.
Choosing the cheapest time to visit New England is key to scoring the best deals. It's no secret that Nantucket and Martha's Vineyard top the list of most expensive places to travel in the U.S. in the summer. However, booking a trip in the shoulder season can turn these into more affordable vacation spots for those of us without deep pockets. Plus, the fall offers spectacular foliage to enjoy in endearing towns like Burlington, Vermont, and Newport, Rhode Island. Stretching from Maine's rocky headlands to Cape Cod's pristine beaches, these beautiful budget-friendly destinations can serve up the perfect New England vacation.
Portland, Maine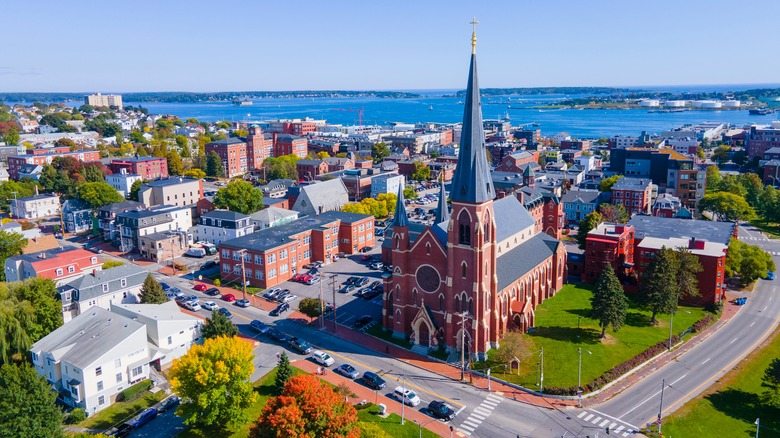 Wangkun Jia/Shutterstock
Step back in time in Maine's largest city, Portland. A bucket-list destination for history buffs, this seaside spot buzzes with activities and fun things to do year-round. The best part? This maritime hub's exciting attractions won't break the bank. Parking in Portland can be a pain, so we suggest ditching the car and heading out on foot for the most authentic (and cheapest) tour.
The Old Port is where you'll find Portland's heart — eclectic shops and charming restaurants line the quintessential cobblestone streets. Prepare to elbow your way through crowds of weekend warriors during the summer, but those looking for a quieter, more local experience can head to the West End. This is where you'll find elegant brownstones — architectural masterpieces dating to the Victorian era. Don't worry, there are plenty of great restaurants and shops here, too.
The Arts District is a must-see, and you can get there in a short, uphill walk from Old Port. There are a ton of galleries to visit, not to mention performances to attend. Tip: Admission to the Portland Museum of Art is free every Friday between 4 p.m. and 8 p.m., which means you can spend the cash you save to buy dinner and a margarita at nearby Taco Escobarr. With so many fun and cheap things to do, it's easy to see why Portland was voted one of America's happiest cities by Men's Health.
Burlington, Vermont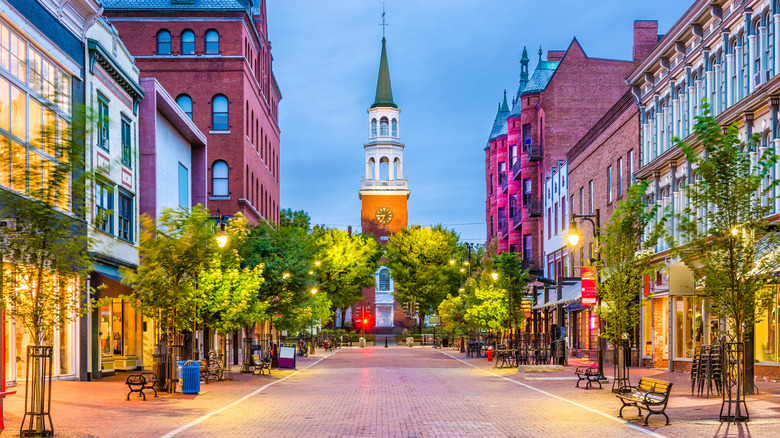 Sean Pavone/Shutterstock
Burlington is as affordable as it is adorable. One of America's most underrated small towns, this walkable wonderland is a haven for outdoorsy folks with a soft spot for red-brick streets and ice cream. Ben & Jerry's first opened in a nearby renovated gas station in 1978. Today, you'll find a large store in the pedestrian-only Church Street Marketplace offering massive scoops for decent prices. They even sell frozen treats for your four-legged friends. 
Speaking of appetite, you'll have more than enough delectable food and drinks to choose from when craving something other than dessert. Burlington plays host to phenomenal restaurants, breweries, and bars. There's no shortage of good eats, from food carts to distilleries to a hard-to-find speakeasy called Lincolns. Hint: Lincolns is somewhere off Church Street. We promise it's there. Look for a building with covered windows. One more hint: It doesn't open until 5 p.m.
Summer and fall are the most popular times to visit this budget-friendly destination, but that doesn't mean you won't enjoy a vacation to Burlington in winter. No matter when you arrive, the views will be inspiring, and there are enough fun things to do — from biking the Burlington Greenway or cruising along Lake Champlain to skiing at nearby Cohran Ski Area or Bolton Valley — to keep every visitor busy.
Mystic, Connecticut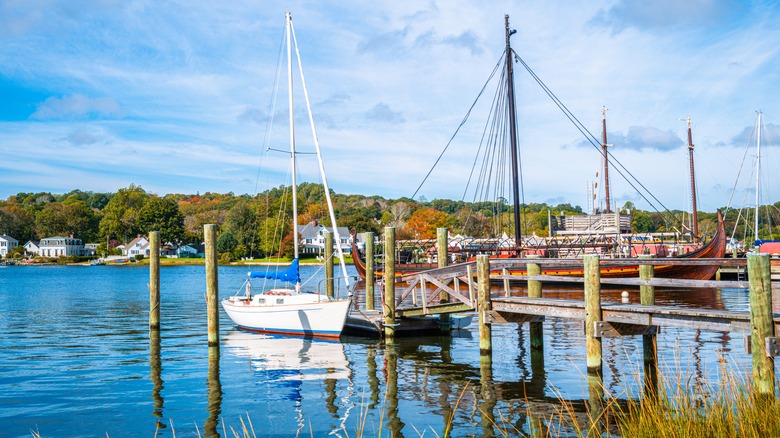 NayaDadara/Shutterstock
Dubbed one of the best coastal towns in America, Mystic is so beautiful and inviting that you'll hate to leave. Downtown boasts a slew of restaurants as well as boutique shops. Head out early to score a pastry from Sift Bake Shop. The line often extends up the street, especially on summer weekend mornings. Grab a pecan sticky bun and head to the area's top attractions.
Mystic Seaport Museum is one of the most visited tourist attractions in Connecticut. Home to a recreated 19th-century fishing village, the world's last wooden whaleship, and a children's museum, schedule at least a few hours here. That said, there are restaurants on-site and cruises that leave from the dock, so it's easy to spend a whole day exploring this vast attraction. Get up close and personal with penguins, sharks, and Beluga Whales at the Mystic Aquarium. Spending extra for a paid encounter program is a must.
Olde Mistick Village is a refashioned 18th-century New England Village peppered with shops housed in colorful cottages. Save coin by sampling the free food on offer at many of the local venues. Ask for fudge at Franklin's General Store, flavored honey at Sticky Situations, and popcorn at Pop on the Block. Then, curb your appetite with a meal at Pink Basil and finish with a tasty treat from Mango's Home Made Ice Cream.
Newport, Rhode Island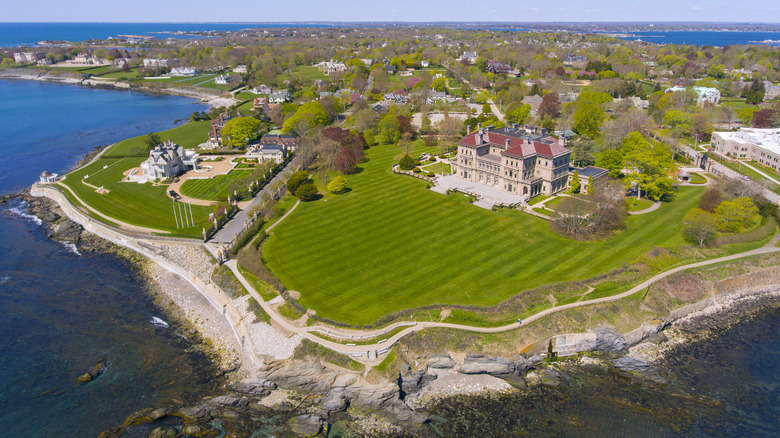 Wangkun Jia/Shutterstock
Dotted with some of America's biggest mansions, this picturesque maritime town is a sea lover's dream vacation destination. Here, guests can nosh on freshly caught seafood, book a whale- or seal-watching cruise, or embark on a fishing adventure. Don't have sea legs? No worries. Newport's most unmissable attraction is the Cliff Walk, a free, self-guided trail sandwiched between the dazzling Atlantic Ocean and luxurious estates. Get a glimpse into how the other side lives with a formal tour of a few of these estates, like Rosecliff, The Elms, Marble House, and The Breakers. Tourists can even eat on the property. The Breaker's Café is a pretty place to enjoy a healthy snack or lunch, and afternoon tea at the Marble House's Chinese Tea House Café is a real treat.
Another popular summer destination, Newport is easy and cheap to visit in the off-season. Plus, you won't have to book months in advance to secure a room. Parking can be a pain year-round, though, so it's best to leave the car at your hotel and head downtown on foot, if possible. There are many fab restaurants and cute shops, but we suggest booking dinner at The Roof Deck. One of Newport's best-kept secrets, this pretty spot is found atop The Vanderbilt Hotel and boasts spectacular sunset views of the harbor.
Bar Harbor, Maine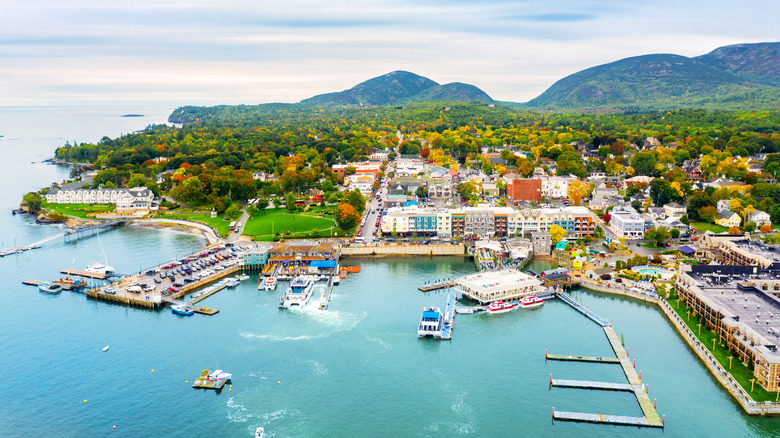 Mihai_Andritoiu/Shutterstock
The sweet, small town of Bar Harbor lies on Mount Desert Island, and it's packed with affordable things to do, like window shopping downtown, cruising along Frenchman's Bay, hiking up Cadillac Mountain, or walking the land bridge to Bar Island. A popular summer vacation spot, this resort town is often used as a base for those visiting the nearby Acadia National Park. It's best visited in early autumn for those who like to avoid crowds and stifling temperatures. Then again, many restaurants, hotels, and attractions shutter for the winter and early spring, so plan your trip accordingly.
Despite its popularity, Bar Harbor is deemed one of the most budget-friendly beach towns on the East Coast — great news for those of us trying to score a deal. If you're hoping to enjoy a spectacular sunset with a side of some of the best lobster you'll ever taste, book a trip between early April and early November. That's when the Reading Room, a waterfront haven at the Bar Harbor Inn, is primed for guests. Looking for an authentic lobster-eating experience? Head to The Travelin Lobster, where you'll enjoy the day's catch at an outdoor table. Arrive a couple of hours before closing as they sometimes run out. This summer-based, family-run restaurant doesn't look like much (it's found at the side of a highway), but the food is mouth-wateringly delicious. 
Boston, Massachusetts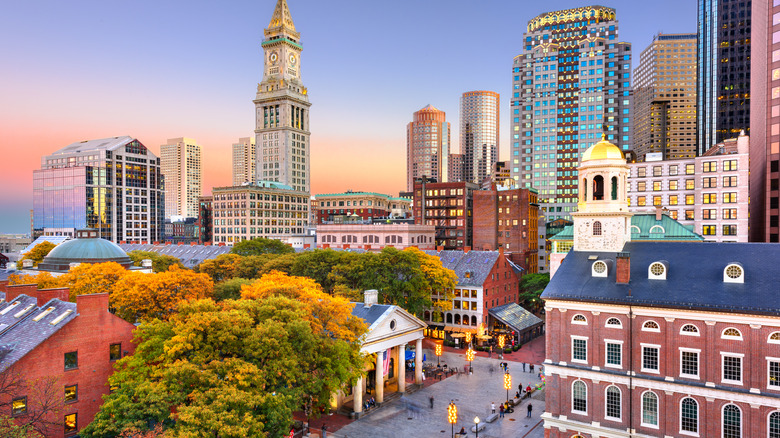 Sean Pavone/Shutterstock
Let's face it. Boston isn't the cheapest place to visit in New England. That said, there are plenty of ways to make a trip to Beantown affordable. With so much on offer in this top East Coast city (fabulous museums, excellent food, and eclectic entertainment), you won't want to miss a visit to this historic haven. The cheapest way to get around the city is to take Boston's T, which is comprised of a subway and trolleys. This network links to the city's best attractions, eliminating the need for a car.  Speaking of attractions, much of Boston's most stellar sightseeing can be enjoyed for free. Walk the Freedom Trail, enjoy a picnic in Boston Common, or visit the Institute of Contemporary Art. Admission is free between 5 p.m. and 9 p.m. on Thursdays and holidays.
There's also no fee to explore Faneuil Hall Marketplace. Inside, you'll find plenty of cute shops and restaurants. More good news: the tasty fare on offer is always reasonably priced. Save your appetite for a lobster roll from Wicked Lobsta. Then, check out the galleries at SoWa Market. On the first Fridays of the month, the galleries open to the public from 5 – 9 p.m., and you can meet artists in their showrooms. Craving seafood chowda? You've come to the right place. There are plenty of Boston restaurants serving clam chowder in every neighborhood. 
Portsmouth, New Hampshire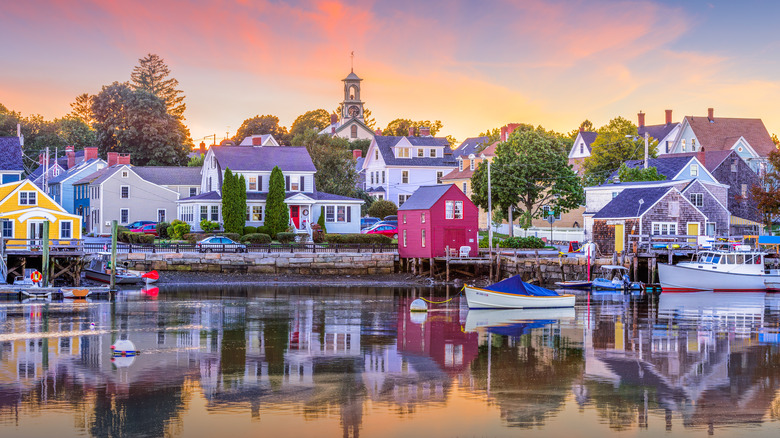 Sean Pavone/Shutterstock
A tiny, seaside town resting on the shore of the Piscataqua River, Portsmouth is delightful and one of the best beach towns in America. A steepled church, brick pathways, and homes dating to the 18th century make this New Hampshire gem one of the most picturesque towns to visit on the East Coast. Portsmouth is also pedestrian-friendly, so pack comfy shoes as you'll spend much of your day walking from one point of interest to the next.
Strawberry Banke is the most popular tourist attraction in town. This 10-acre interactive, outdoor history museum is packed with interesting things to do, like listening to stories told by actors in costume, exploring heritage gardens, and touring historic buildings. Be sure to grab a map before heading into a house, though. Some aren't open for touring, so you'll risk entering someone's front hall. Also, schedule your visit during the Historic House season, between May 1 and October 31.
The next best place to visit is Market Square, which sits proudly in the center of downtown. Here, you'll find Jimmy's Jazz & Blues Club, the Portsmouth Brewery, and Annabelle's Ice Cream, which serves scoops tasty enough for repeat visits. (Mint Summer Night's Dream is divine). There are plenty of cute shops and delicious restaurants to try in Market Square, too. While exploring, don't miss the Black Heritage Trail, which passes monuments and other significant locales important in African American history.
Providence, Rhode Island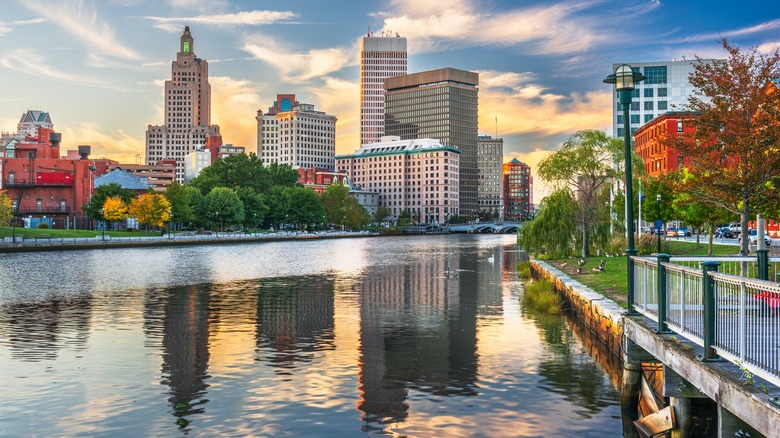 Sean Pavone/Shutterstock
The capital of Rhode Island, Providence is a must-visit for those who favor big city life on a smaller, more walkable scale. Located an hour southwest of Boston, this attractive seaside spot is flanked by the Providence River and boasts a burgeoning arts and entertainment scene, not to mention incredible restaurants. In fact, Providence is one of the best U.S. cities for food lovers to add to their bucket list, so save room for dessert.
Hotels are cheaper here than the ones you'll find in Boston and the attractions, like the Roger Williams Park Zoo and Rhode Island School of Design Museum (RISD), are worthy of a visit. Save money by visiting the RISD during free admission hours — every Sunday between 10 a.m. and 5 p.m. and Thursday nights from 5 p.m. to 8 p.m. Other attractions are quite affordable, including the Roger Williams Park Botanical Center, which currently costs $5 for adults and $2 for kids between ages 6 and 12.
Since Providence is one of the most popular summer vacation destinations, expect to find loads of visitors roaming the streets between Memorial Day and Labor Day. Prices will be higher at this time as well, so think about a spring or fall visit to save a few bucks. Have time to spare? Book a tour with Rail Explorers, which follows the Old Colony Railroad. The water views are beautiful, and it's a relatively cheap thing to do for an hour and a half. It starts in nearby Portsmouth.
Northampton, Massachusetts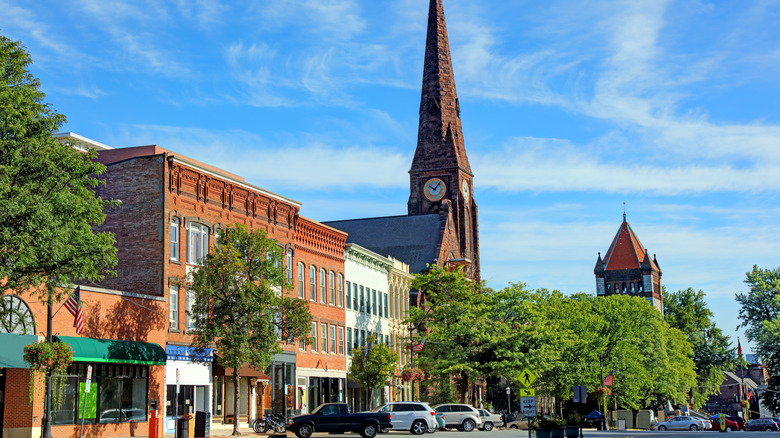 Denistangneyjr/Getty Images
There's a lot to love about Northampton, a quaint college town located in western Massachusetts. Despite its picturesque Main Street, eclectic shops, tasty eateries, and pastoral scenery, this is a place that only East Coasters know about, which is part of its charm. Smith College's Botanic Garden is a popular attraction in all seasons, and it's easy on the pocketbook — a suggested donation of $2 is all they request for a tour around the Lyman Plant House and Conservatory. Walking or biking the 11-mile-long Norwottuck Rail Trail is a fun thing to do for free. Even parking is complimentary at the Elwell Recreation Area.
When it comes time to eat, head to Jakes, one of the most highly reviewed restaurants on TripAdvisor. Breakfast is their specialty, and you can't go wrong with a hash or quinoa bowl. Those traveling with kids will want to spend a few hours at the Eric Carle Museum, while outdoorsy folks will enjoy a hike up Mount Tom. Don't be surprised if you fall in love enough to consider relocating here, just be sure to move to this city before it gets too popular. It won't be long before many others become enticed by its allure.
Rockport, Massachusetts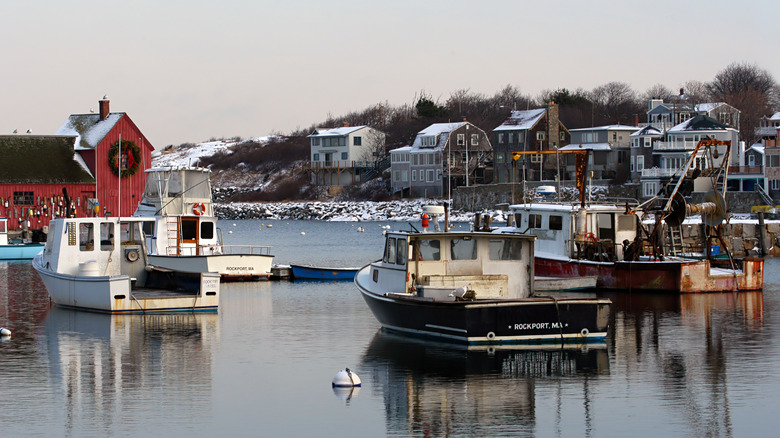 Natalia Bratslavsky/Shutterstock
The best time to visit Rockport, Massachusetts, is between June and September. This is when you can make the most of the small town's best feature — the ocean. Spend the day digging your toes in the sand on Back Beach. Take a dip in the water to cool off, rent a kayak, or book a cruise. Located on the tip of the Cape Ann peninsula, you'll relish the views.
Be prepared to take tons of photos. This quiet town has a lovely harbor and is home to the most celebrated (and painted) fishing shack in the world. Named Motif No. 1, this oddly-monikered building dates to the Civil War and has served as artistic inspiration ever since. Speaking of creativity, the town is peppered with art galleries.
Looking for a quiet vacay? This Massachusetts town is perfect for a crowd-free weekend getaway. Romantic couples can hold hands while walking downtown, searching for eclectic finds in the unique shops, or grabbing a bite at one of the town's best restaurants. According to North Shore Magazine, Roy Moore Lobster Co. is tops for fresh lobster.
A visit to the Paper House is an absolute must. One of the most bizarre roadside attractions in America, this unique destination and its furniture are made of paper. A bonus? It currently costs only $2 for adults and $1 for kids aged 6 to 14. 
Kennebunkport, Maine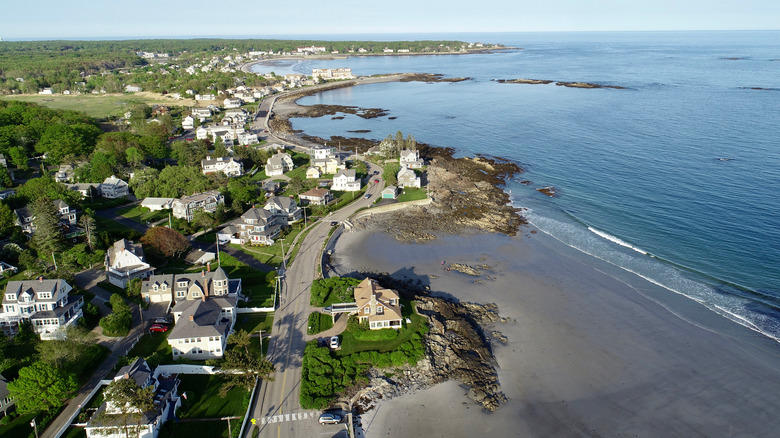 Lewis Directed Films/Shutterstock
There are a ton of budget-friendly things to do in Kennebunkport, Maine, and most of them involve spending time outside. A haven for hikers, this natural wonderland is so pretty that you'll wish you could stay longer. Multiple beaches line the town, offering visitors an ideal place to enjoy a safe day by the water. Goose Rocks Beach is arguably the most scenic of the area strands, but Colony Beach (located outside the Colony Hotel) is more central.
If you're in search of romance, this quaint East Coast beach town is the perfect place for your next couples' trip. Embark on a lobster boat tour, book a cruise to Goat Island Lighthouse, or hike part of the over 27 miles of trails running from the dense forests to the rocky beaches. Arrive in early October and you'll discover why Kennebunkport is one of the most charming places to stay in New England this fall. The foliage is spectacular, and the lower hotel prices are an added plus.
While in town, spend an evening at the Starfield Observatory. It's one of the best places to stargaze in Maine. Public events are held sporadically, so check before you arrive. When you aren't scanning the skies, head to Dock Square, the town's beating heart. Best visited in summer, when the shops and restaurants are all open, this is where you'll find the most action. Alisson's has been serving creative cocktails and fab clam chowder since 1973. Give it a try.
Nantucket, Massachusetts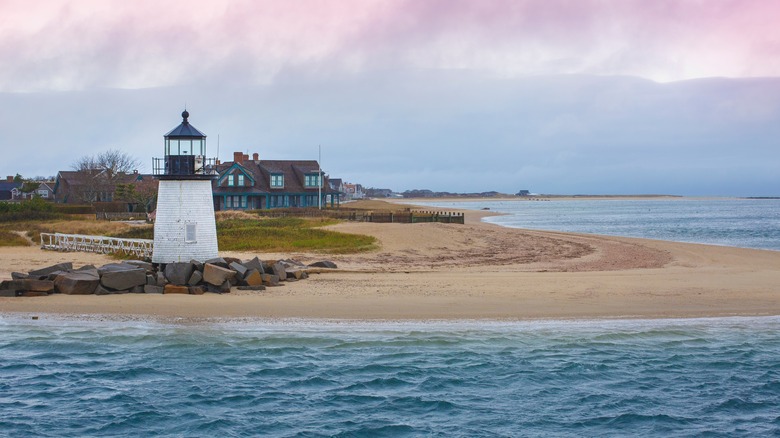 NayaDadara/Shutterstock
Despite what you may have heard, you can enjoy an affordable visit to Nantucket. As always, low season is your cheapest bet for accommodations. A room at Cliff Lodge, for instance, will cost around $1,500 less for a three-night stay for two adults in January than it will in July. October is also slightly cheaper, offering guests over $300 of savings versus a summer visit.
A round-trip fare on a high-speed ferry between Hyannis and Nantucket currently runs about $90, which means you could choose cheaper lodging on Cape Cod and ferry in and back every day to explore Nantucket. The ride takes about an hour, but depending on where you stay, you could save over $1,200 for a three-night hotel in July by staying in Hyannis. Or, grab a few friends and book a rental. Just be sure to do so about a year in advance to ensure you find a great spot.
Once on the island, there are many fun things to do, including visiting the Whaling Museum, taste-testing the products at Cisco Brewers, and exploring the Sankaty Head Lighthouse. Hitting the beach is a must, and bringing a picnic will ensure you don't go over budget on food at the island's phenomenal restaurants. Steps Beach offers spectacular sunset views and less crowds than other area beaches. Tip: Pack (or rent) a bike. This is the best, and cheapest way to get around.