24 Best East Coast Cities For History Buffs To Add To Their Bucket Lists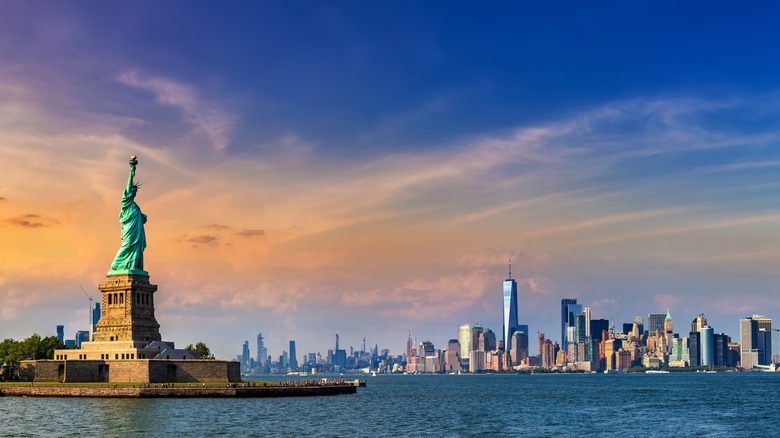 Sergii Figurnyi/Shutterstock
Every city has its own history and a story worth telling — they're kind of like people in that way. Some towns are more significant than others, though, and we've scoured the East Coast for some of the most history-rich destinations whose unique stories are worth a stop-in. As the birthplace of America, from pirate hangouts and a witch city to colonial recreations and civil war staples, the past presented by these towns is as fantastic as it is accurate, and you won't want to miss out on any of it.
Organized from north to southern-most state, our compilation of bucket list East Coast cities all offer something different and interesting to make a journey down the coast packed with information, gorgeous sites, and desirable attractions. Whether you're setting off on an exciting road trip through New England or heading further south, history buffs will be eager to unravel the decades and centuries of tales hidden in these cities' pasts.
Portland, Maine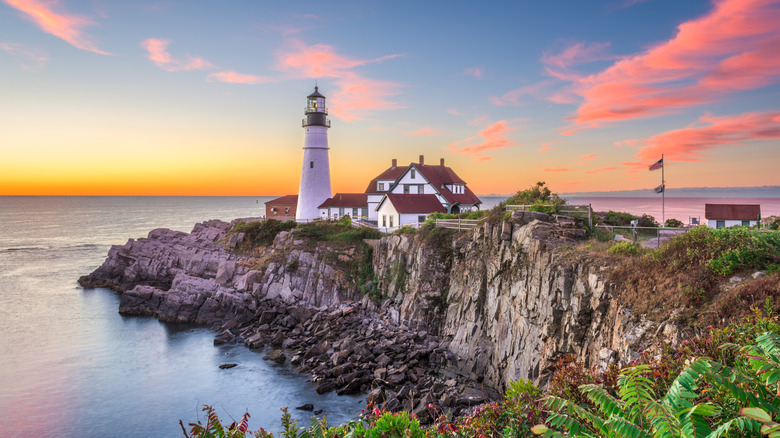 Sean Pavone/Shutterstock
We're kicking things off way up north in New England with Maine's largest city Portland — not to be confused with her sister city on the opposite coast. Portland, Maine, overall, has a youthful vibe in terms of its residents and caters to the younger adult generations by being a pretty popping beer city. It is also a source of many outdoor adventures and has a long, transformative history.
Through various conflicts in American history, the town was destroyed three times before it gained its current name. After the town was once again ruined and burnt to the ground in the late 1800s, it was rebuilt in gorgeous Victorian-style buildings, giving the city its present, timeless appearance. The best place to admire this classic rehab of the city is also a unique point of interest to historians, as the Portland Observatory is the only known remaining building of its kind in the entire country. It is not one of the region's many iconic lighthouses, but a tower fit with a telescope constructed to alert the town when ships were approaching the harbor.
One of the best opportunities for appreciating the history of Portland comes in the form of the Old Souls, an association of history lovers who have a passion for preservation. Aligning your trip with one of their various events will allow you to connect to knowledgeable locals while experiencing landmarks like the Osher Map Library.
Old Orchard Beach, Maine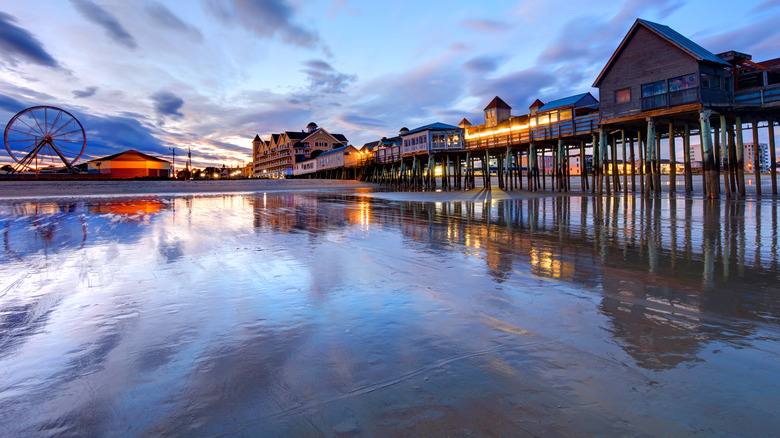 Denistangneyjr/Getty Images
For the history buff traveling with less-than-enthused family members or partners who don't quite share their love of times gone by, a trip to Old Orchard Beach may be what keeps everyone excited about a visit to a historical town. The resort town on the coast of Maine boasts an amusement park right on the beach that was first built over 100 years ago and is Maine's oldest amusement park and the only one in New England oceanside. With the beach and ocean in plain sight and rides for all ages, Palace Playland is a great attraction for families.
Old Orchard Beach's main attraction, though, is its late 19th-century pier, which is located right alongside Palace Playland. Despite its age, the pier is still a popular destination for locals and visitors. Seafood restaurants, bars, and a carousel line the pier, making it a great place to indulge in a lobster roll and great views. At night, the pier and surrounding beach come alive with live music and entertainment, stars, and even occasional fireworks — some major bonuses to the coastal structure's historical architecture.
Montpelier, Vermont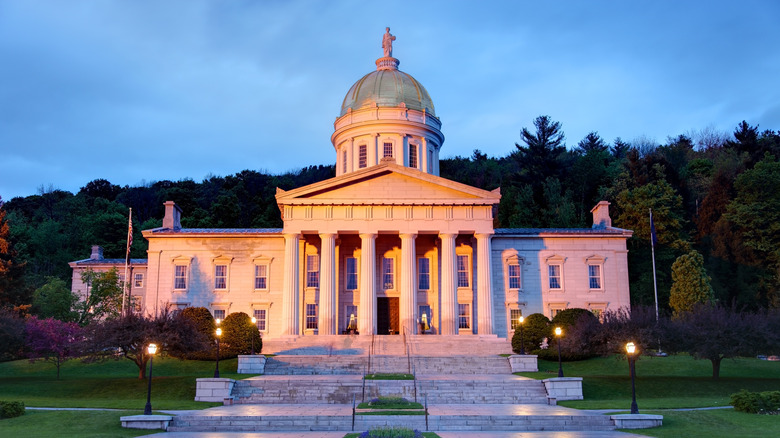 Denistangneyjr/Getty Images
The entire state of Vermont is like one huge scenic wonder, split up by winding roads that create some of the country's most gorgeous driving routes, especially if you have a penchant for covered bridges and small-town charm. The state's natural beauty may be what draws in a lot of visitors, but historians will find their fill in the state's capital city of Montpelier as well.
Montpelier's Vermont State House is hard to miss, as the Greek-inspired, gold-domed building is an instant attention grabber. The outside of the gorgeous, yet-not out-of-place structure is just the start of an interesting attraction, though. The building is one of the oldest and most well-maintained capital buildings in the country and is filled with historical, art, and interior-preserved architecture. Those with a love of art history will find the Vermont State House to be a must-see if driving through the awe-inspiring state.
While in Montpelier, a stop by the Vermont Historical Society Museum would be in order. The museum covers every stage and major happening in the state's history, along with displaying artifacts from its past. If you have a thirst for knowledge and traveling within the state, it's the perfect place to learn all about the journey it has taken since being settled by colonizers.
Portsmouth, New Hampshire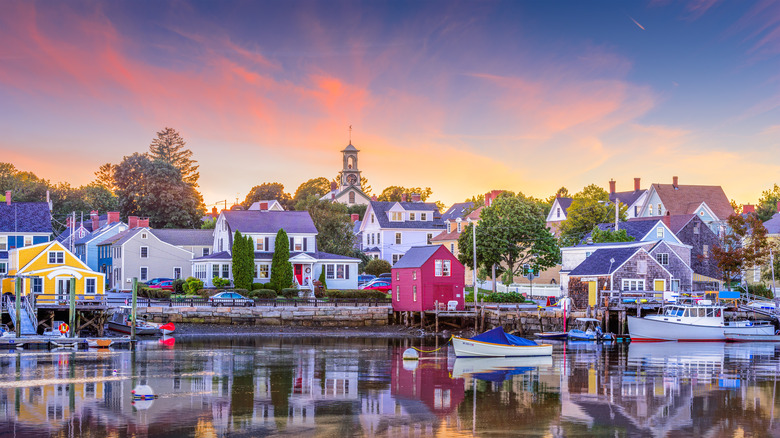 Sean Pavone/Shutterstock
Portsmouth, New Hampshire, is a city well-balanced in culture, history, and beauty. The city's rich history can be found on both land and sea, as it is home to important architecture and sea vessels, such as historic mansions, churches, and a submarine-turned-maritime museum.
The Moffatt-Ladd House is an 18th-century Georgian mansion that stands tall as just one of the city's fine examples of centuries-old craftsmanship. The Wentworth-Gardner House is similar in this description. One of Portsmouth's most historical buildings, St. John's Episcopal Church, houses the country's oldest playable pipe organ. It is a staggering beauty that adds much value to the already beautiful city.
Portsmouth is the oldest settlement of New Hampshire, and walking the brick streets today will give you a sense of both old and new as the classic architecture and modern shops mingle to complement one another perfectly. Whether you want to stop in for a quick stroll down historic streets or spend time exploring museums and landmarks, the sense of history in Portsmouth is undeniable.
New Haven, Connecticut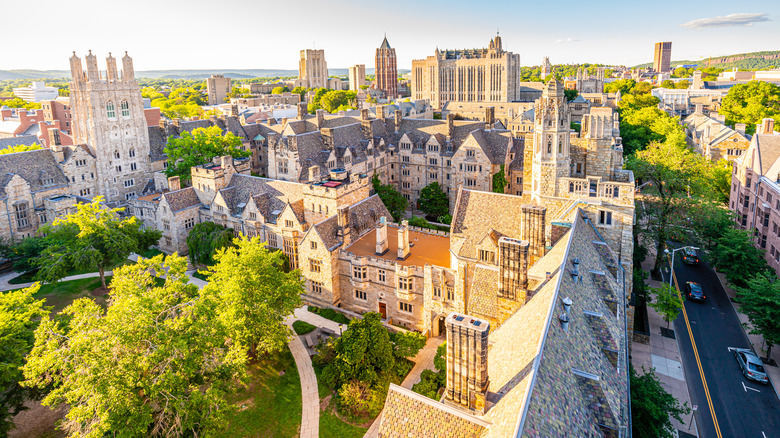 Winston Tan/Shutterstock
Thanks to Yale University, New Haven is one of New England's most prestigious and historically significant cities. While fans of the cult classic, culture bomb of a series, "Gilmore Girls," may flock here to feel close to the series' smartest main characters, lovers of history could spend a lifetime in the city and still learn something new every day.
The entirety of New England is historical, but Yale University sticks out as something special, as the very foundation of the campus is steeped with culture and stories. Visitors will find a number of museums and landmarks available for them to explore, and you can take your pick which best aligns with your interests — though you may indeed find your next new passion at one of the many sites.
Whether you enjoy art, music, or even more niche topics, there's a good chance New Haven will satisfy both your curiosity and need for new information. The Yale Peabody Museum is a popular place to get an overall run-down of our world's history. Still, the Yale Art Gallery and the Morris Steinert Collection of Musical Instruments both are focused on their perspective art forms throughout time. 
Visiting any of the Yale libraries throughout campus will result in a unique learning experience consisting of rotating exhibits and niche topics. Check out the Divinity Library, Cushing/Whitney Medical Library, or the Beinecke Library for an intriguing knowledge overload.
Salem, Massachusetts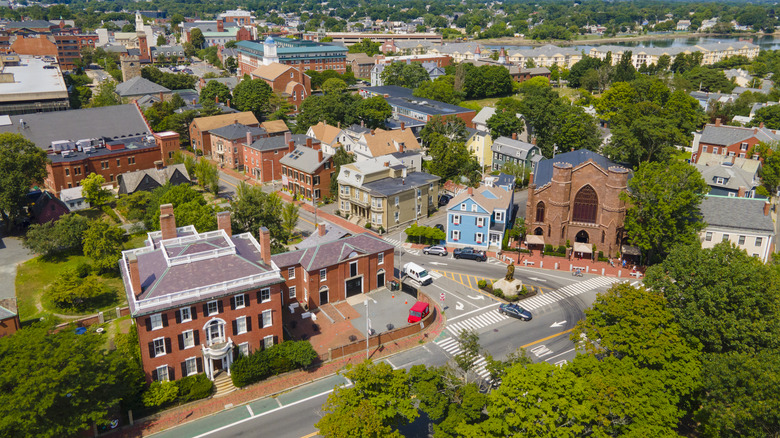 Wangkun Jia/Shutterstock
History and horror are often closely interwoven, and one place where the two live together infamously is Salem, Massachusetts. What was once a small Puritan colony is now a not-so-small tourist city that brings in nearly a million visitors every Halloween season, and it's all thanks to the infamous witch trials that happened there in the late 1600s.
For history lovers with Salem on their radar, visiting the Witch City during its peak season of October is unnecessary, as the destination is even better during the off-season. You won't have to make reservations for some of the most desired historical attractions like the Peabody Essex Museum and the Salem Witch Museum. The streets and sites will also be much easier to navigate without the crowds.
Visitors may want to pay their respects to the Salem Witch Trial victims by bringing flowers or trinkets to lay on their memorial, located within walking distance between the Witch House and the House of Seven Gables. Similar to Boston's Freedom Trail, Salem has a Heritage Trail painted yellow that takes visitors to various witchy and historical sites. Those wanting an authentic Salem experience can head down to the living history museum of the Salem Pioneer Village, where the original Puritan colony has been recreated. As tragic as the witch trials were, Salem's historical value is undeniable and makes for an interesting and spiritual experience.
Concord, Massachusetts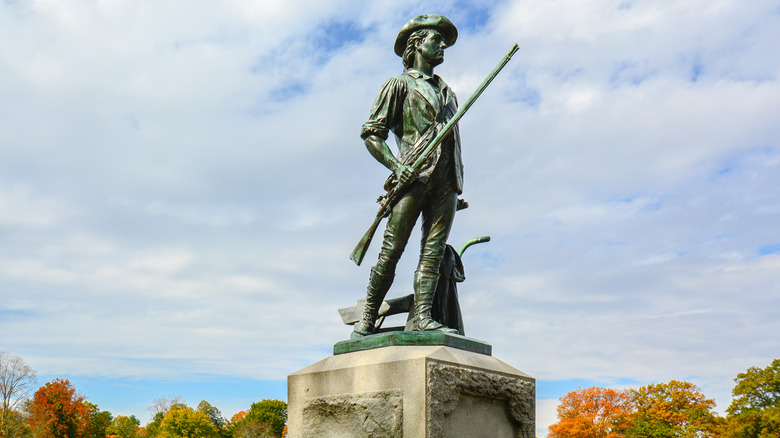 Jejim/Getty Images
Concord has various historical significance, as it was the site of the very first battle that started the Revolutionary War. However, it has also been home to some of the biggest names in American literature. The city was also an important stop on the Underground Railroad in the mid-19th century and a large resource in the anti-slavery movement before the American Civil War.
War buffs will enjoy the Revolutionary War and Minute Men reenactments that are regularly spread throughout the year, so aligning your trip to overlap with one of the events is ideal. Even if you visit the city at a time when there are no regiments dressed in full authentic uniforms, you'll still be able to visit battle sites and the Minuteman National Park.
The Wayside, though it does have some Revolutionary War significance, offers a completely different historical experience, as the huge Concord residence provided a safe harbor to enslaved people on their route to freedom as a stop on the Underground Railroad. Interestingly, the residence has also been home to literary figures such as "Little Women" author Louisa May Alcott and Nathaniel Hawthorn. Concord has also been home to transcendentalist authors Ralph Waldo Emerson and Henry David Thoreau, the city even being the inspiration for Walden – a visit here may be as inspiring to you as it was to these famous literary figures.
Boston, Massachusetts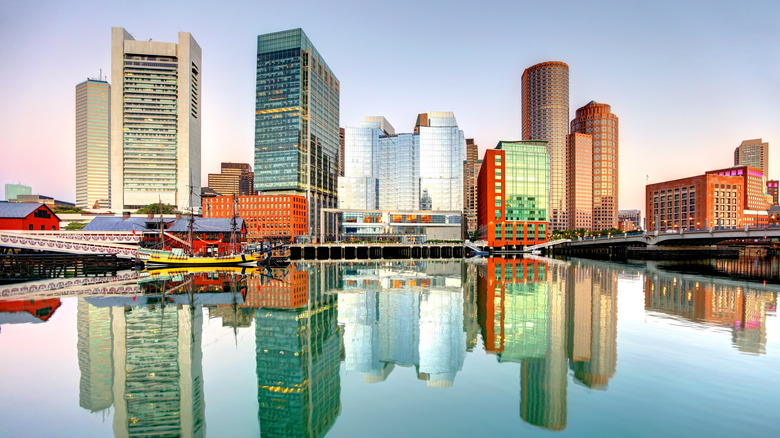 Denistangneyjr/Getty Images
There are few places with as much history as Boston, especially when it comes to the American Revolution. The Massachusetts city is known as the birthplace of the Revolutionary War because it was the site of many conflicts before and during the historical event, like the Boston Tea Party and the Boston Massacre.
Although the city has been built over time and is by far the largest city in New England, a lot of history remains intact, with communities growing around historical landmarks and important sites. Following the Freedom Trail is almost a requirement for those visiting Boston, especially if you will observe the city purely through the lens of history. The 2½-mile-long built-in path takes those on foot through the city to various significant sites with information along the way. It's an easy and effective way to see the city and learn a chunk of history; the red brick trail and bronze medallions are recognizable and simple to follow.
The Freedom Trail is only one singular attraction Boston dedicates to the Revolutionary War, an era that is just one — albeit large — piece of the city's history. Taking a trip to Boston means surrounding yourself with the past; it is a historical experience in every sense. No matter how much time you spend here, you'll see and learn something new about times gone by.
Plymouth, Massachusetts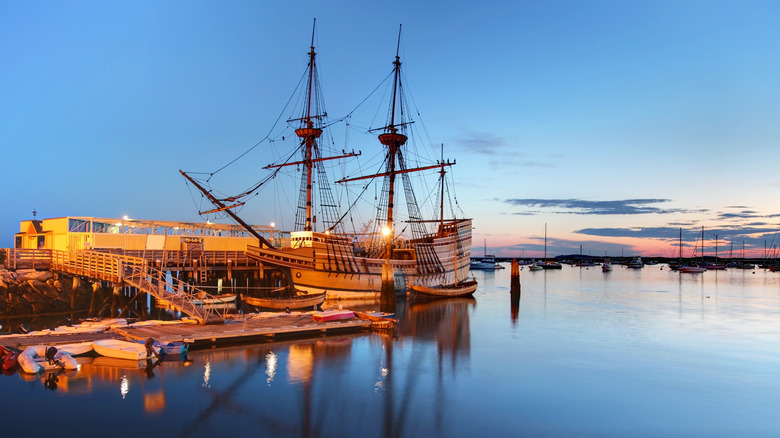 Denistangneyjr/Getty Images
For many Americans, Plymouth is one of the first things they learn about this country's history. Schools nationwide have pilgrim-themed Thanksgiving Day events and wear hats with buckles while learning about the Mayflower bringing colonists over to the "New World" to enjoy a life of religious freedom. If you're heading on an all-American road trip up or down the East Coast, Plymouth is the perfect place to stop and appreciate the very beginning of what is now a huge, established country. Plymouth was the very first settlement to last to current times in New England, and while it is certainly a familiar city name for many, it has changed quite a lot in the 400 years since the pilgrims landed ashore.
Plymouth still does have nods to its claim to fame in the form of museums and historical houses. The town had even kept the story of Plymouth Rock, allegedly the rock the pilgrims stepped on when they first came ashore, alive and well. Even though the existence of a physical rock is unknown, there is a rock the town uses as a kind of placeholder that you can visit. Much more than just a rock, it symbolizes the American spirit and the hardship the original colonists went through to establish a community in an unknown world.
Wickford, Rhode Island
Wickford is the perfect pick for history lovers looking for a quaint New England town to enjoy a slow, relaxing vacation that is rich with historical elements. Exploring the small coastal town will reveal centuries-old homes that have been preserved, as well as churches, a lighthouse, and a not-so-castley castle. The town is incredibly walkable, and no matter where your stroll takes you, you'll be surrounded by natural beauty and evidence of the past. Taking the town's walking tour is a great way to cover all the bases and see the town in all its historic glory.
Wickford's charm and collection of various preserved buildings put it at the very top of USA Today's 2022 10Best list for historic small towns in the entire United States. The town is easy to explore as it only takes up a few hundred acres, but it fits a lot of history within the space it has to work with. Check out Smith's Castle, a large preserved 17th-century plantation house that looks nothing like an actual castle, or go out on the water for a cruise to see the village at the same angle colonists would have when setting eyes on her for the very first time — Wickford is gorgeous from every viewpoint.
New York City, New York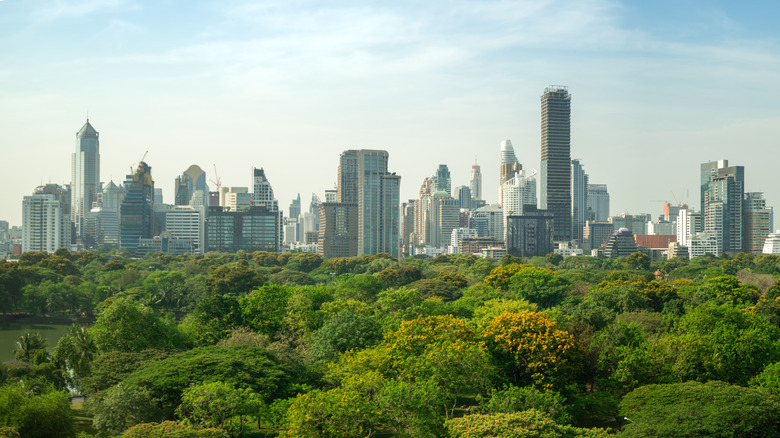 Blue Planet Studio/Shutterstock
Every major city has its own special culture and history. That said, New York City is a collection of practically every culture in the world, soaking in a little something from every person who has ever called the city home. For many Americans, Ellis Island acted as their first point of entry, being greeted by the biggest symbol of American freedom, the Statue of Liberty. The monument is still a major point of interest and admiration for a lot of travelers, and one that is open to the public for visiting.
Other than New York City's melting pot status thanks to immigration via Ellis Island, there are endless possibilities of historical activities to keep any history lover entertained and brimming with newfound knowledge. Every art form known to man has some kind of presence here, and various genres of music are said to have been born in the city, the most notable of which was hip-hop.
The museums in NYC are seriously some of the best in the world and would take quite a while to get through, though New York's attraction pass will help you see more museums and attractions for less. The city also has a different set of history books regarding the crime families that have called it home. No matter where your special interests lie, NYC can serve up some serious history on even the most obscure subjects.
Sleepy Hollow, New York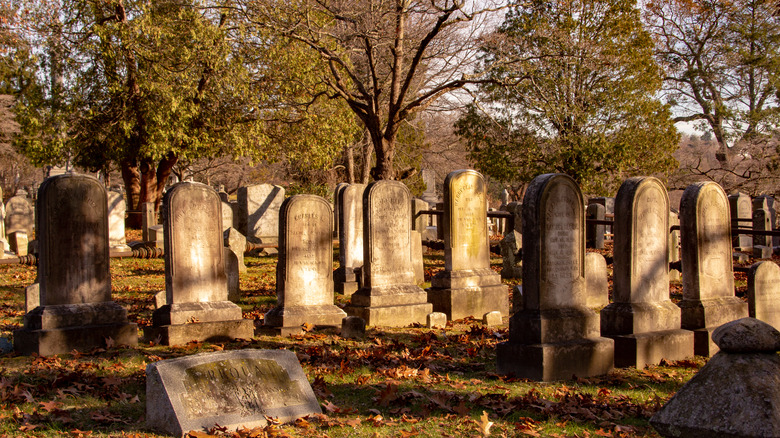 Brian Logan Photography/Shutterstock
It's rare to find a historical city famous for a fictional past, but Sleepy Hollow, New York, is a great example of this phenomenon. If you are disappointed to hear that there was not, in fact, a headless rider afraid of covered bridges roaming the town of Sleepy Hollow looking for his head, we're sorry for bursting your bubble. However, the town of Sleepy Hollow plays up the legend by incorporating it in pretty much everything, and their pride in being the titular town in Washington Irving's famous short story is palpable.
Aligning your visit to Sleepy Hollow with Halloween would make for a more authentic trip, as the town goes all out with decorating and festivals. The Great Jack O' Lantern Blaze alone is worth the trip, as hundreds of artists carve thousands of pumpkins into sculptures and works of art. Of course, with at least one headless horseman and the covered bridge thrown into the mix, all made completely out of pumpkins.
Even if you don't visit during the spooky season, there are plenty of events going on in Sleepy Hollow year round, and taking a Sleepy Hollow Cemetery tour will infuse your off-season trip with some scary elements while also honoring the history, both real and fictional, of the magical town.
Woodstock, New York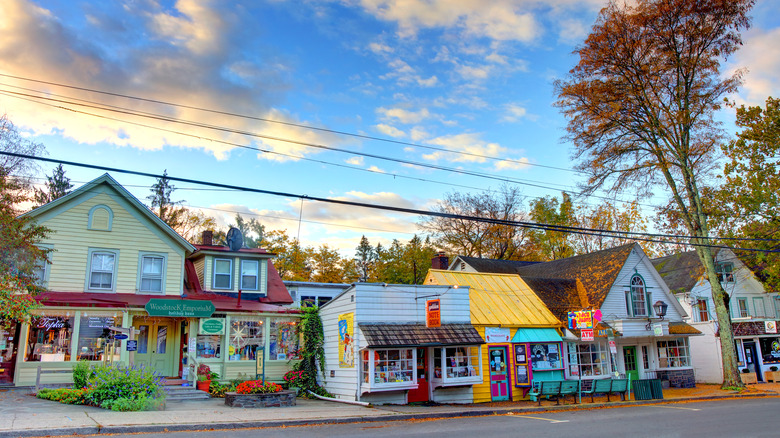 Denistangneyjr/Getty Images
Hippies, music lovers, and '60s enthusiasts are likely very familiar with Woodstock. While the town wasn't the actual location of the 1969 music festival that was named for it, it's not too far off, and the New York town is a great destination for those who appreciate the time and would like to experience the area over 50 years later. You can still visit the site not far from Woodstock. While the excitement of seeing bands like Jimi Hendrix and Grateful Dead perform in the area won't be your experience today, the energy of the town is still very much free-spirited, and creativity can still be felt in the air.
The town speaks to the hippie soul, spends a lot of energy and effort on the arts, and contains the country's oldest artist colony, Byrdcliffe Colony. The evidence of creativity in the area is evident everywhere, from sculpture to building paint and design. Stroll down Tinker Street for inspiration and to soak in the good vibes.
History can always be found in a cemetery, but the Woodstock Artist's Cemetery is something special. You won't find any traditional headstones here — instead, creatively carved stones are laid on the ground as grave markers, creating a space as beautiful as the minds buried here.
Philadelphia, Pennsylvania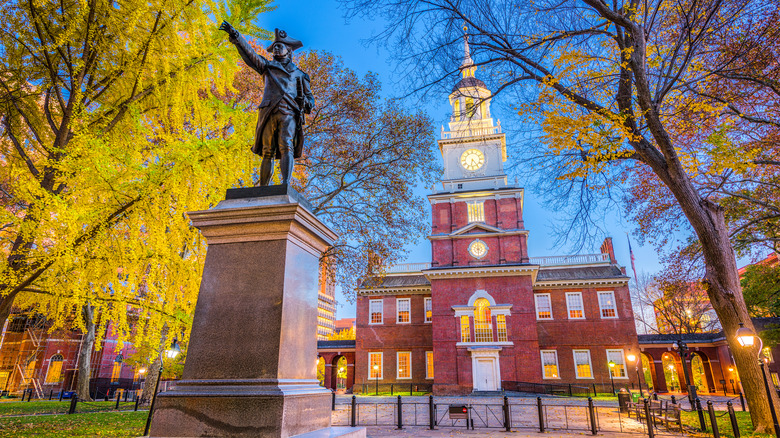 Sean Pavone/Shutterstock
As the birthplace of America, Philadelphia is impossible to leave off this list. There's arguably nowhere better to learn about the founding fathers, as they met here to discuss the formation of the United States. Knowing that this was a time that would go down in history as significant and practically world-changing, historical sites all over the city have been well preserved for our enjoyment and appreciation today, hundreds of years later.
The Liberty Bell next to Independence Hall is a must-see for American History buffs, as the cracked bell is iconic, and the Declaration of Independence was signed within the walls of the hall. Spending the day walking around the surrounding part of the city is time well spent. Of course, there are countless historical sites throughout Philly, whether related to the Constitution or not, and you'll likely not be able to cram all of them into your trip. Franklin Square is a great place to take a stroll, as it is as peaceful and beautiful as it is historic, being one of the city's originally planned public squares.
Pittsburg, Pennsylvania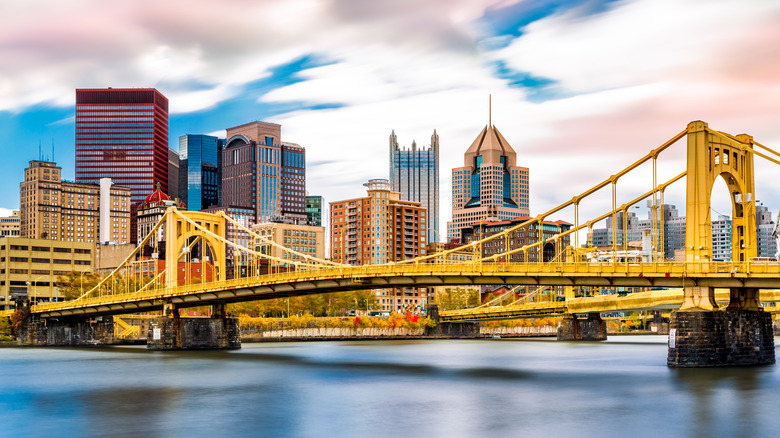 Mihai_Andritoiu/Shutterstock
If Pennsylvania wasn't hoarding enough of American history in its history-rich city of Philadelphia, the city of Pittsburg offers even more for history buffs taking a trip into the relatively small state. The city has played a big role throughout American history, from the Revolutionary War to the American Civil War and all in between. Pittsburg, of course, was an industrial giant due to its ties to the steel industry, and the city contributed to the building up of America.
Producing steel may be what the city is most known for in history books, but its contributions go much further. There was a large community of abolitionists in Pittsburg, and the city marked a major stop on the Underground Railroad. The city was also home to a number of famous individuals who made their mark on the world and history, like artist Andy Warhol and author August Wilson. You can visit Warhol's gravestone, which is frequently adorned with Campbell's Soup cans, and Wilson's former home.
Baltimore, Maryland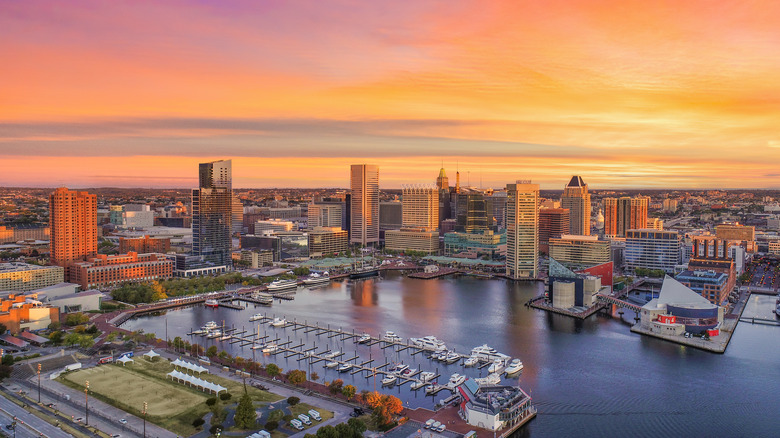 Kevin Ruck/Shutterstock
Baltimore is somewhat of a hidden gem municipality, as it isn't quite a major city. Still, it has played a big role in creating the country we know the United States to be today and, in a lot of ways, has historically been way ahead of its time. Baltimore was once home to the largest number of free Black people before the Emancipation Proclamation made slavery illegal, and the city also has the largest percentage of Black residents outside of the South, making it an important city for Blank American heritage.
This city celebrates its heritage in various ways, and visitors should not leave without experiencing a few. The jazz scene is strong here, and Keystone Korner Jazz Club is a great place to get a good picture of the old and new jazz genres. Frederick Douglas was one of the most famous abolitionists of the movement and escaped slavery in Baltimore – you're able to take a driving tour to a number of sites in the city that he had an impact on, like Douglas Row in Fells Point and his namesake park, the Frederick Douglass-Isaac Myers Maritime Park. No matter where you decide to go, the culture here is evident.
Washington, D.C.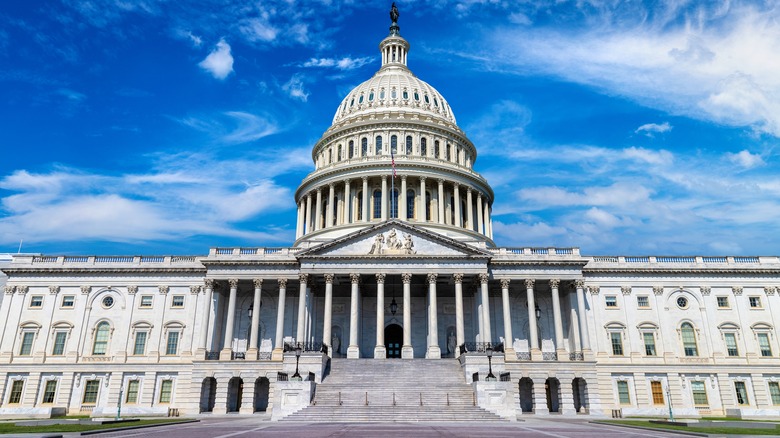 Sergii Figurnyi/Shutterstock
It's obvious why a city like Washington, D.C., would be on this list. Not only is it quite literally the most important city in the United States as the capital, but its history is overwhelming. D.C. has some of the best museums in the country and contains a serious amount of artifacts and knowledge that millions of people come from all over to access. Chances are, there is a museum here for you no matter what you are into or what culture you are interested in learning about, but for the history buff who likes to know a little bit of everything, the National Archives Museum and the National Museum of Natural History are both good calls.
In addition to the obvious connection to our government and the massive amount of museums found here, Washington, D.C., is also naturally home to many memorials and monuments. The Washington Monument and Lincoln Memorial are both iconic and givens, but the Martin Luther King, Jr. Memorial and the Tomb of the Unknown Soldier are both powerful as well.
Williamsburg, Virginia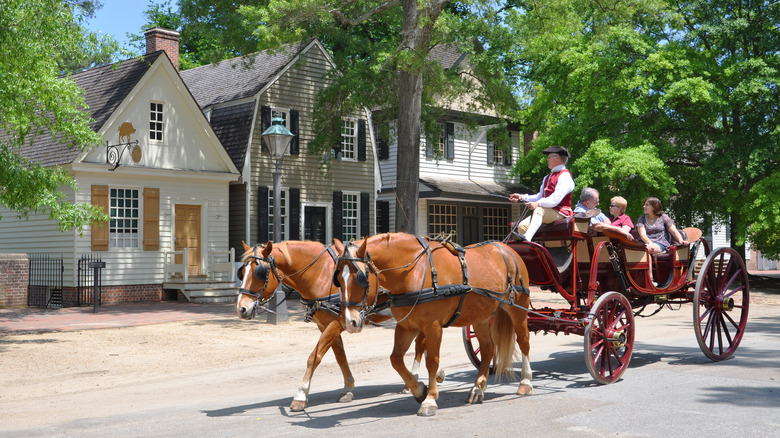 Wangkun Jia/Shutterstock
When it comes to colonial America, Virginia is a huge hotspot for historical sites. Colonial Williamsburg is the world's largest living history museum and attracts history buffs from all over the country. The recreation of the colonial town aims to preserve as much history and educate as many people as possible about how people lived during colonial times. Authentic blacksmiths, old farming techniques, and weavers employing antique looms are just a bit of what awaits visitors here.
Williamsburg is one of the three historical towns in very close proximity to each other that make up America's Historic Triangle. This town, along with Jamestown and Yorktown, are three destinations that have played a vital role in early American history. Each also has a living history museum history buffs may enjoy, though Williamsburg alone can take multiple days to experience thoroughly. If you're looking for more than just a history lesson, the historic triangle will practically transport you back in time and provide an early American experience not found elsewhere.
Richmond, Virginia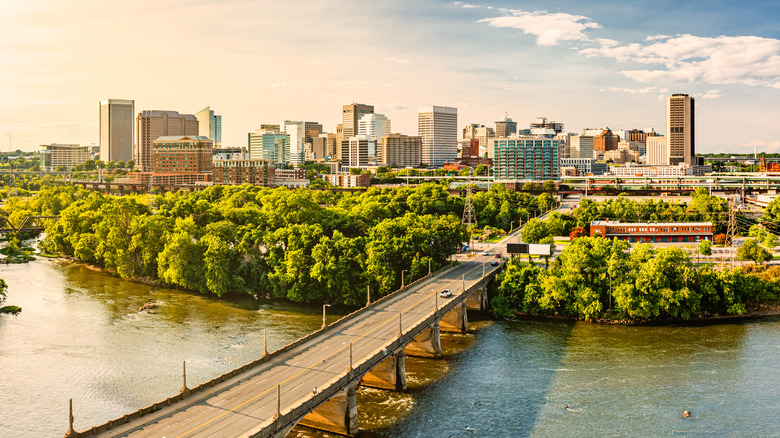 Mihai_Andritoiu/Shutterstock
Once the capital of the Confederacy, Richmond, Virginia, contains a large amount of history regarding the American Civil War. Despite being such a big player in the South's rebellion, Richmond is now a pretty progressive city. It has taken down its confederate monuments that used to line Monument Avenue, a historical feat in itself. Some evidence of the monuments remains, as traffic patterns still stretch around empty pedestals, some of which are adorned with Black Lives Matter graffiti, the movement largely responsible for their removal.
Richmond is so much more than the old Southern capital, as it is a hub for culture and art. Murals from artists worldwide litter the city's brick buildings, and a tattoo shop is practically around every corner. History and art create the perfect mix at the Virginia Museum of Fine Arts, which is only one of the many museums in which history lovers would find great joy.
New Bern, North Carolina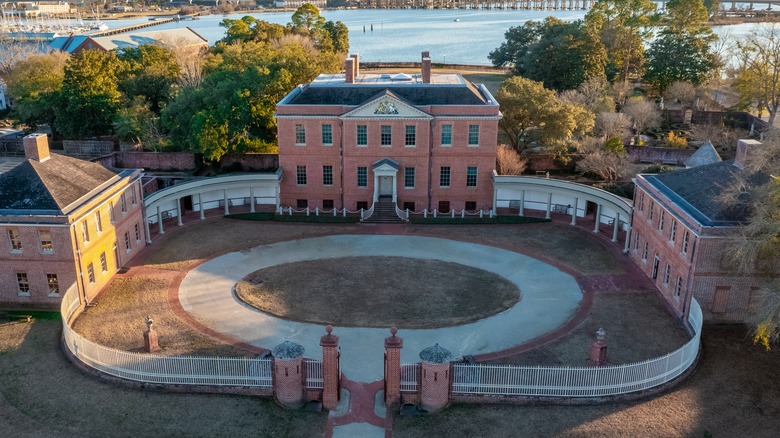 Kyle J Little/Shutterstock
While Philadelphia is considered to be the birthplace of America and was the location where the founding fathers officially formed the country's Constitution, New Bern, North Carolina, is where the very first Provincial Congress took place, which means the town was one of the first to effectively stick it to the British. The city was also once the state capital, and the Tryon Palace, or the Governor's Palace, is a popular historical attraction for anyone interested in this brief period between 1770 and 1792.
New Bern's historical relevance doesn't stop there, though, as it is interestingly the birthplace of Pepsi and had quite the civil war battle within its limits. Pepsi enthusiasts can visit the place where the recipe was concocted. There are also various civil war sites available for American Civil War buffs to discover, including more than one cemetery where fallen soldiers are sadly buried.
Charleston, South Carolina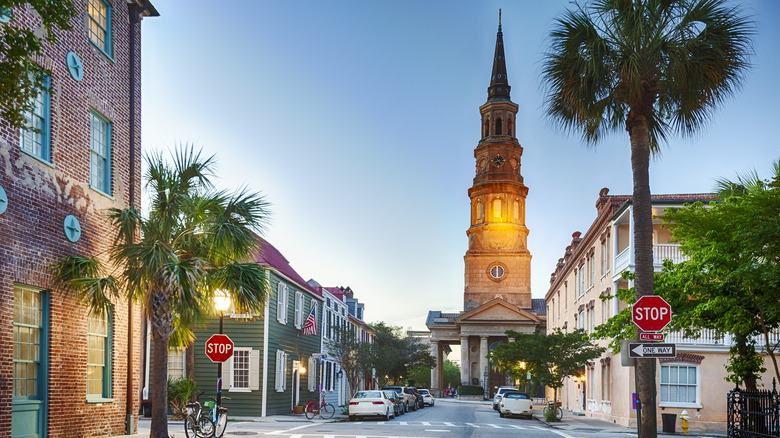 Traveler1116/Getty Images
As a city just as old as the majority on this list, Charleston, South Carolina, has plenty of historical relevance throughout its past — but none are quite as intriguing as its ties to piracy and some of the most famous pirates to step foot on American soil. With the world opening up and heading out to sea more frequently, individuals struggling against poverty turned to the sea to make a not-so-honest living. Blackbeard is arguably the most renowned pirate in history, and he famously blockaded the port city of Charleston – which also happened to be the residence of one Anne Bonny, an iconic female pirate, around the same time.
Charleston is also famous for its historical firsts, home to the very first theater and museum in the United States. Amazingly, both of these sites are still up and running, Dock Street Theater continuing to perform live theater, and The Charleston Museum is still open for visitors and locals to appreciate artifacts from the city's vast history.
Savannah, Georgia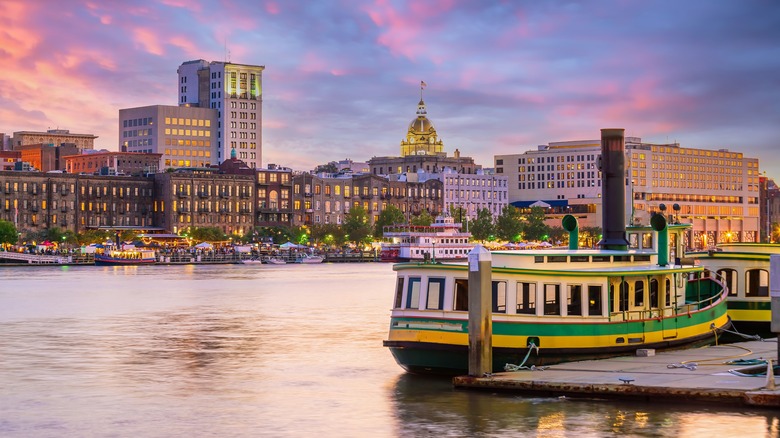 f11photo/Shutterstock
Savannah has an atmosphere, unlike any other city in the world. Its relaxed, chill vibes are complimented by its southern charm and unique city layout, allowing a lot of nature to intermingle with the buildings. History is as rich as the sweet tea here — the city has played a part in multiple wars and economic ups and downs.
With hundreds of years of history under its belt, Savannah became a historic landmark in the '90s for its Historic District, the largest in the country. The district includes a number of buildings that were saved and preserved, like the Pirates' House, which is the oldest building in the state of Georgia and is said to have been a location in "Treasure Island." With a huge historic district speckled with modern business and sights to see as well, Savannah makes the perfect destination to explore the past while indulging in the present.
Saint Augustine, Florida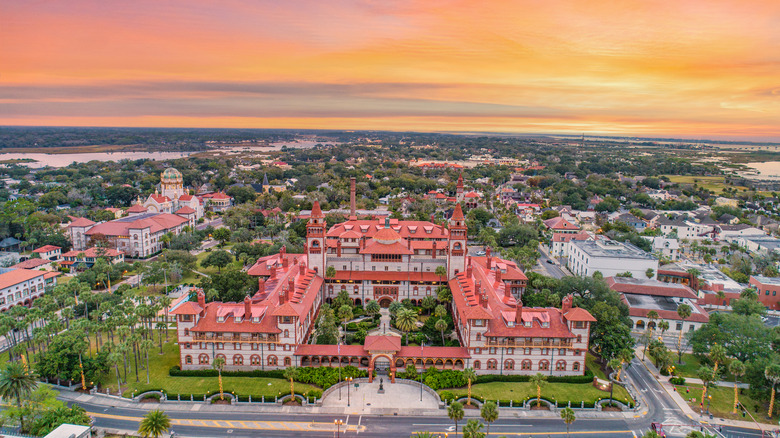 Kevin Ruck/Shutterstock
If you thought the original colonies had long histories in terms of America, Saint Augustine would quickly challenge that. The coastal Florida town is said to be the oldest settlement from Europe to be continuously resided in, having been settled by the Spanish many years before the English landing in the New World.
As the country's oldest town, Saint Augustine's history is naturally impressive. The architecture is also something to marvel at, as the Spanish Colonial style is truly awe-inspiring, especially since it has lasted a good 100 years for our viewing pleasure. The Cathedral Basilica is a fantastic example of this art and architectural style, and the various other examples of the impressive style give the city a sense of belonging and culture. The basilica is available to view by the public whenever services are not in session, and visitors should take advantage of that.
Miami, Florida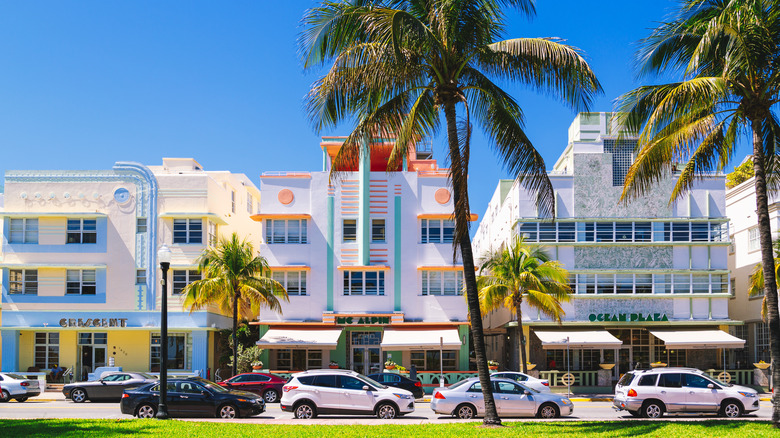 Pawel.gaul/Getty Images
Cities on the East Coast are steeped in colonial and early American history, but Miami – the only major U.S. city founded by a woman– is a different breed of historical. America is a country of immigrants, and the most beautiful thing about the United States is its conglomeration of cultures. Miami's pocket neighborhoods, like Little Haiti and Little Havana, are perfect examples of how having different cultures and experiences can make a place burst with life. Explore the diverse local restaurants in these neighborhoods and check out the large open markets.
Just as the Statue of Liberty symbolizes freedom and immigration for the country, Miami's Freedom Tower is of similar representation of Cuban refugees and those immigrating from the United States' southern border. It still stands tall, and though the inside is temporarily closed, you can admire it from the street as an iconic part of the historic city.
Architecture fanatics can head to Miami Beach for a collection of the best examples of the Art Deco style in the United States. This movement of modern architecture hit Miami in the 1930s, as well as a style called Miami Modern, both of which have made the coastal city look utterly unique. Between the meshing of cultures and art found in Miami that have happened over the course of over a hundred years, it is the perfect place to contemplate the vast histories that make up a community.