Best Spots For Clam Chowder In Boston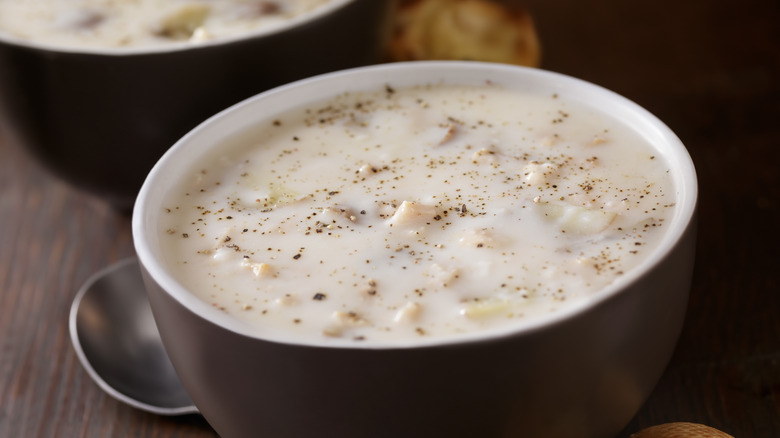 Lauripatterson/Getty Images
With its creamy, briny, and comforting goodness, New England clam chowder is a classic American dish. Unlike its thinner, tomato-based cousin in Manhattan or the clear variety with clam juice, New England clam chowder features a dairy-based broth using either heavy cream, light cream, or whole milk, giving the dish its thick, belly-coating consistency.
It's believed New England clam chowder was introduced to the New England region by early settlers, and the chowder's popularity spread throughout the 18th century. According to What's Cooking America, New England clam chowder has been continually served by Union Oyster House in Boston since at least 1836, reflecting the continued popularity of the dish.
While recipes differ, traditional New England clam chowder features clams, potatoes, onions, (usually) salt pork, as well as cream or milk, giving the chowder its signature white color and thicker consistency. Herman Melville dedicated a whole chapter in "Moby Dick" to New England clam chowder, and January 21 is National New England Clam Chowder Day. But you can celebrate the creamy classic throughout the year, and no one celebrates clam chowder better than Boston. If you're planning an upcoming trip to the city, these spots are serving the best bowls (or cups) of the iconic dish.
Neptune Oyster
Located in Boston's historic North End neighborhood, Neptune Oyster blends its classic oyster bar aesthetic with a refined menu of seafood dishes. Incredibly popular among tourists and locals alike, Neptune Oyster is famous for its lobster rolls and Italian-forward dishes, such as its monkfish "osso bucco" and cioppino, which reflect its North End address.
However, Neptune Oyster's Wellfleet Clam Chowder is one of the best bowls of chowder in the city. Featuring salt pork, aromatic thyme, and freshly harvested clams from the Wellfleet coast on the Outer Cape, their bowl of chowder is traditional yet elevated, much like the rest of the award-winning restaurant's menu.
The chairs and bar stools inside Neptune Oyster are some of the most coveted seats in Boston, and the restaurant doesn't accept reservations. While the lines to eat at the Boston seafood landmark are notoriously long, the restaurant's clam chowder alone is well worth the wait.
Union Oyster House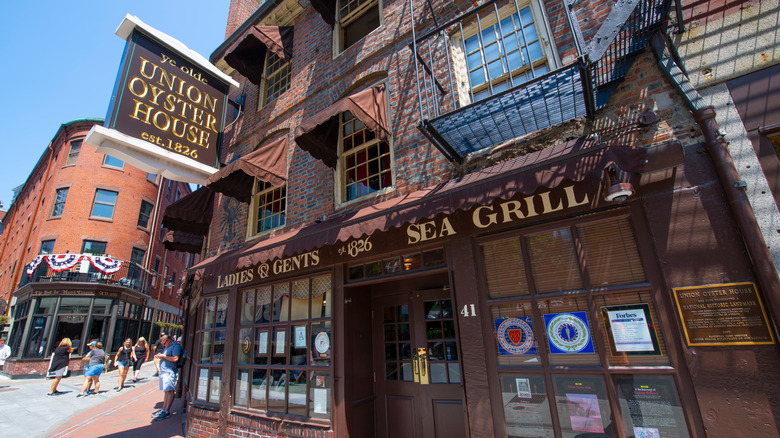 Wangkun Jia/Shutterstock
How could you pass on trying clam chowder at one of the oldest restaurants in Boston? As mentioned, clam chowder has been a menu mainstay at the Union Oyster House for nearly 200 years. While the recipe may have evolved a little over time, the creamy chowder is still rich, briny, clam-packed, and incredibly satisfying.
Located on the Freedom Trail, about a block from Faneuil Hall, Union Oyster House is a National Historic Landmark and a must-visit if you're taking an American history tour around Boston. Although Union Oyster House has the reputation of being a touristy establishment, the restaurant's menu of classic seafood dishes reflects the culinary history of Boston.
Touristy or not, the Union Oyster House continues to win awards and receive praise from various publications. In 2018, USA Today declared the Union Oyster House as having the "best clam chowder in Boston," and Condé Nast named the historic landmark as one of the "best restaurants in Boston."
Legal Sea Foods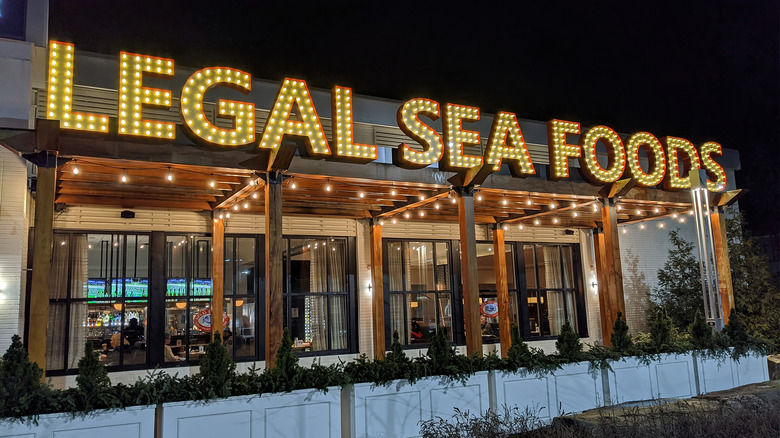 QualityHD/Shutterstock
Although founded in Massachusetts, Legal Sea Foods now operates multiple locations throughout the state, as well as Virginia, New Jersey, Rhode Island, and Pennsylvania. While the well-known restaurant can now be considered a "chain," which may be disconcerting to some, it's a bit impossible to mention Boston clam chowder without including Legal Sea Foods.
Thick, herbaceous, and flavored with salt pork and fresh clams, Legal Sea Foods' New England clam chowder has been served at every presidential inauguration dinner since Ronald Reagan was inaugurated in 1981. So when speaking of Boston's chowder scene, including Legal Sea Foods is a must. 
There are multiple locations to choose from in Boston, but we'd recommend Legal Harborside in the Seaport District, which is the flagship restaurant of Legal Sea Foods. You can enjoy waterfront views while savoring one of Boston's best bowls of chowder. Or, if you have a layover in Boston, you can grab a quick bowl at Boston Logan International Airport.
Boston Sail Loft
Boston Sail Loft is located on the waterfront in the historic North End neighborhood, and its signature overflowing mugs of ultra-thick clam chowder are a Boston favorite. Serving tourists and locals since 1984, the family-owned seafood restaurant is known for its scenic harborside location, casual atmosphere, and of course, New England clam chowder.
Of all the New England clam chowders on this list, Boston Sail Loft's chowder is probably the thickest, creamiest, and most indulgent. Along with freshly chopped clams and potatoes, their clam chowder also features a lot of dill, which is a unique ingredient to their specific recipe that helps to cut through the chowder's incredible richness. However, although the chowder is incredibly flavorful, the recipe doesn't include pork. Boston Sail Loft was included in Boston Magazine's "Best of Boston" in 2018 and 2019, but even if you can't make it to Boston soon, the award-winning restaurant ships its celebrated clam chowder across the U.S.
Warren Tavern
Located in Charlestown, the oldest neighborhood in Boston, the Warren Tavern is fittingly one of the oldest establishments in Boston. Built in 1780, the tavern was frequented by George Washington and was one of Paul Revere's favorite watering holes. Along with its historic significance, Warren Tavern also serves up a quality bowl of clam chowder.
A bit spicier than the other listed chowders, the tavern's recipe adds a dash of Tabasco sauce, Worcestershire sauce, and black pepper that creates a subtle punch to the salted pork, chopped clams, and cream. If you're taking a history tour around Bunker Hill, the Warren Tavern is an excellent itinerary addition. The tavern's atmosphere feels historically rustic, and their clam chowder is a great representation of the iconic dish.
Whether you're looking for a traditional New England clam chowder or something with a little chef-inspired nuance, Boston serves some of the best chowders in the world. On your next trip to Boston, visit one (or a few) of these spots, then grab a spoon and some oyster crackers to enjoy one of America's most classic and indulgent dishes.