The 12 Best Places To Stargaze In Maine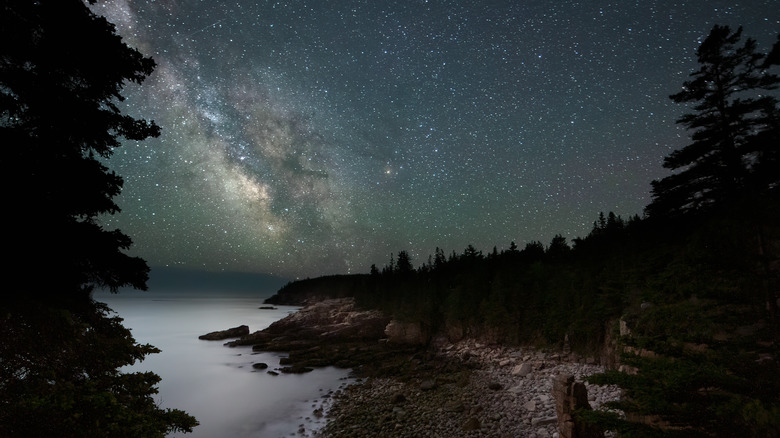 Harry Collins/Getty Images
Maine is one of the best places in the U.S. for both stargazing and moongazing. From observatories and planetariums to open skies surrounded by lush landscapes and International Dark Sky Parks, Maine is definitely full of stargazing opportunities that can offer you a new perspective on the night sky. In fact, the Pine Tree State is home to some of the best views of the starlit skies, particularly in mid to late summer, making this beautiful state a great destination for astronomers, nature lovers, photographers, or anyone else who appreciates a brilliant starry night.
Thanks to the low level of light pollution throughout the state, Maine was practically made for admiring the stars. With more than a few splendid outdoor spaces and an undoubtedly picturesque rural setting, stargazers are in for a real treat. So, if you always wanted to marvel at the Milky Way, catch a glimpse of the Northern Lights, or simply see the stars like you have never seen them before, then check out these 12 best places to stargaze in Maine for all this and more.
Tips for optimal stargazing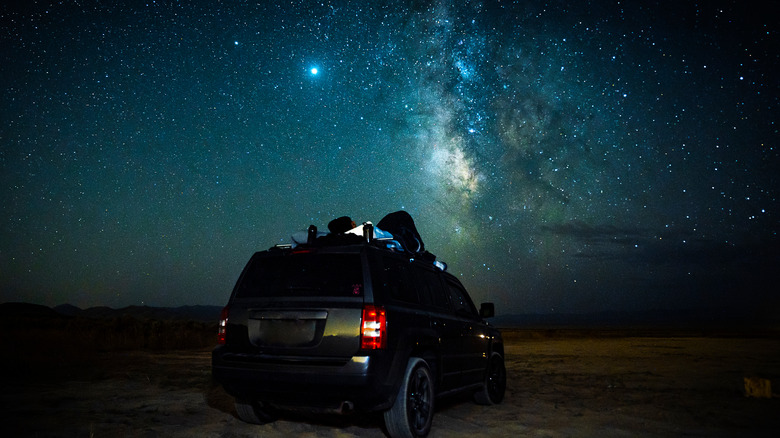 NickSpinder/Shutterstock
Before heading out to some of these incredible spots in Maine, if this is your first time stargazing or you are new to nighttime photography, then a few helpful tips will improve your overall experience. First and foremost, it pays to check the weather. Of course, a cloudy night does not automatically mean your constellation-filled outing is a no-go, but you should take into consideration what type of clouds you're looking at. Thick cumulus, nimbus or cumulus clouds might block your view, but light cirrus clouds could still offer a few good spots for an exceptional view.
Even if you are dealing with the standard overcast, more than likely, a change of perspective or approach is all you need. Even if the thick clouds are hiding the stars, why not get in some hauntingly good moongazing instead?
With optimal weather conditions in the forecast, you can start your stargazing adventure by simply looking up in a low-light pollution setting. To get a sense of what you are looking at, it helps to first notice either the moon's or the setting sun's position. From there, you can locate the Big Dipper and other iconic star patterns. While out gazing, star charts, stargazing apps, binoculars, a telescope, or a camera with a wide-angle lens can make a world of difference — so make sure you have the necessary equipment in tow.
Katahdin Woods and Waters National Monument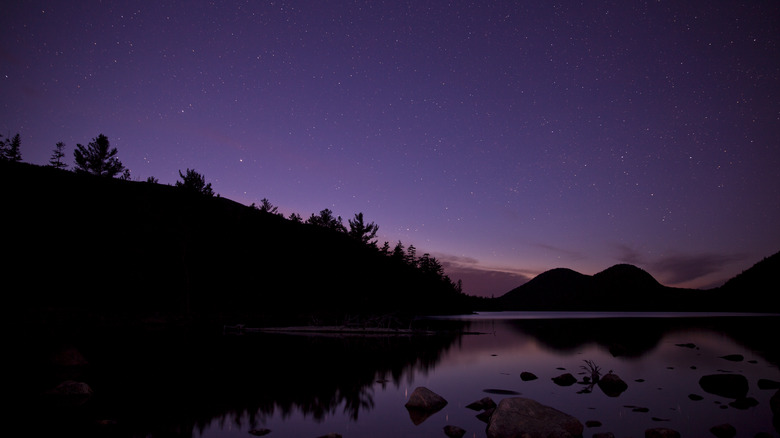 JaysonPhotography/Shutterstock
With over 87,500 acres of land free from almost any kind of light pollution, the views of the night sky at Katahdin Woods and Waters National Monument are outstanding. A recently designated International Dark Sky Sanctuary and certified International Dark Sky Place, Katahdin Woods and Waters is a cut above the rest and continues to be a great spot in Maine for stargazing. Here, visitors can marvel at the night sky from various points within this national park, like the Big Spring Brook Hunt, Sandbank Stream, Haskell Hunt, and the Katahdin Loop Road Overlook.
Of course, these starlit areas offer prime viewing of the sky in all its glory, but they are not the only locations in the park worth checking out. Curious stargazers can also find their own little spot in this expansive forested area and camp out beneath the stars. Plus, there are several celebratory and educational events that happen in late summer and early fall, such as the Stars Over Katahdin, which is free and open to the public.
Baxter State Park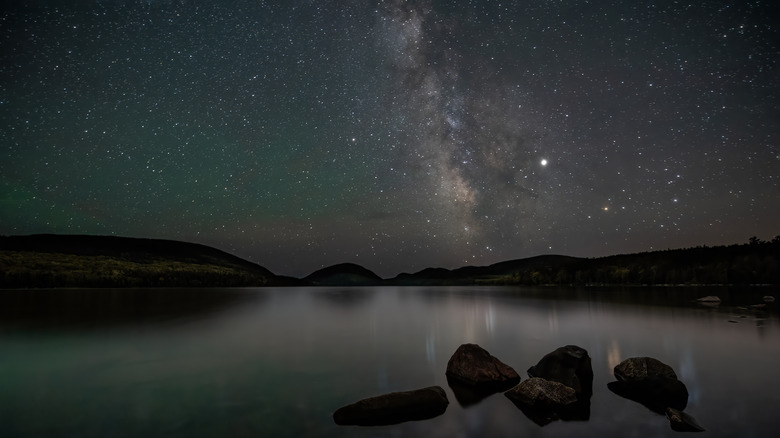 Harry Collins/Getty Images
Not far from Katahdin Woods and Waters National Monument, Baxter State Park is also an attractive option for stargazers. Known for its vast landscape and diverse terrain, Baxter State Park is just one more incredible spot for enjoying a star-filled sky along with a host of other outdoorsy activities. That said, with over 200,000 acres of pristine wilderness, stargazing against this backdrop is practically otherworldly.
Full of several roadside campgrounds, a handful of backcountry campsites, over 40 mountain peaks, over 200 miles of hiking trails, countless lakes, numerous shimmering ponds, an abundance of beautiful waterfalls, ample wildlife, and stunning panoramic vistas as far as the eye can see, Baxter State Park is absolutely a local gem. This majestic area in Maine is an excellent option for anyone looking to spend unparalleled quality time in the great outdoors. Park-goers can fall asleep under magical starlit skies almost every night and trek up Mount Katahdin, the highest peak in Maine, for unfettered access to the starry heavens above. Because of all of this, it is not hard to see why people come in droves to Baxter State Park.
Acadia National Park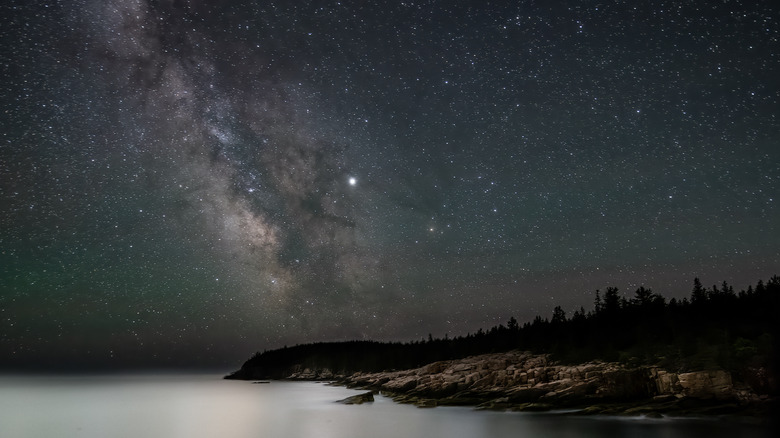 Harry Collins Photography/Shutterstock
One of the top spots in Maine for phenomenal stargazing is none other than Acadia National Park. With little to no light pollution and many constellations visible within an hour or two of the sun setting, Acadia National Park is a must for astronomy lovers. Within this stellar starlit location, there are more than a few must-see areas, like Jordan Pond and Sand Beach.
Jordan Pond offers stunning views of the sky over the park's clearest lake for a truly breathtaking perspective — making it a go-to for star photographers. There is also a lovely footpath at Jordan Pond that allows stargazers a chance to marvel at the Milky Way and nearby planets. Likewise, Sand Beach is a particularly popular spot for those who want to enjoy possible sightings of Jupiter and Saturn or see the Milky Way with the added touch of bioluminescent plankton visible along the beach's shores. Other top-rated places here include Cadillac Mountain, Seawall Picnic Area, and Cadillac Summit's vehicle access point.
Blueberry Pond Observatory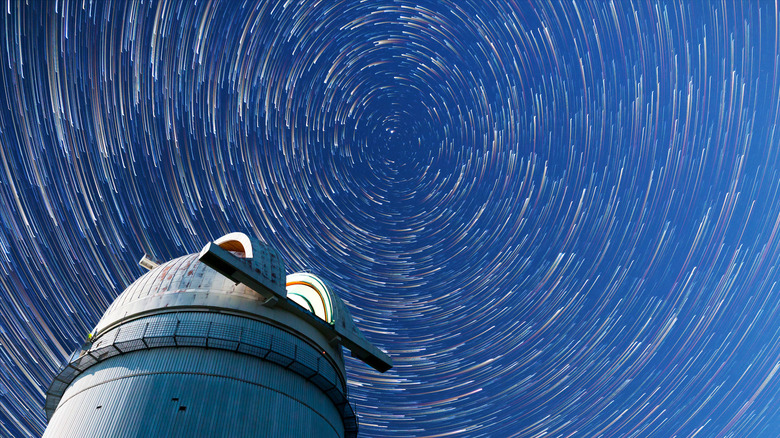 Belish/Shutterstock
A trip to the Blueberry Pond Observatory in Maine is definitely in order for easy access to powerful telescopes. Located only minutes away from Freeport, this observatory provides stargazers with a wonderful view of planets, the moon, faraway galaxies, star clusters, supernovas, circling stars, and so much more. With guided tours that one can customize to their experience level, this is the perfect way to delve deeper into all things astronomy-related.
In addition to tours and incredible stargazing, Blueberry Pond Observatory also has classes and workshops for digital photography, robotic telescopes, and advanced astronomy. Speaking of telescopes, interested visitors who are unable to make their way out to Pownal can still take advantage of the observatory telescope via remote access. And if you do happen to check out the Blueberry Pond Observatory and all that it offers, make sure you don't forget to grab your digitally printed souvenir photos of all the celestial wonders you viewed during your visit.
Cobscook Bay State Park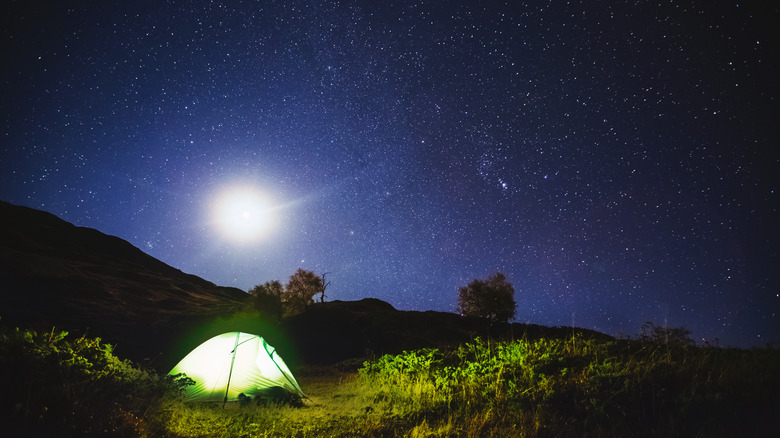 Creative Travel Projects/Shutterstock
For newbie astronomers, Cobscook Bay State Park is another ideal landscape for staring at the night sky. Situated along the banks of Whiting Bay in Downeast Maine, this state park provides stargazers with crystal-clear breathtaking sky views due to its overall low levels of light pollution. Known for its optimal stargazing, often in late summer, and the annual August Maine State Star Party (which is full of an array of astronomy-focused fun), Cobscook Bay State Park is undoubtedly a suitable spot for marveling at the stars.
Stargazers can also enjoy a full night under the stars thanks to the many accommodations and over 100 camping sites available here. Plus, with an abundance of recreational activities and more than a few nearby tourist attractions, including Campobello Island, Cutler Coast Lands, and the Moosehorn National Wildlife Refuge, Cobscook Bay State Park is pretty much a one-stop shop for an entire weekend full of adventure. So if that sounds like something you are into, then head over to this place — you definitely won't regret it.
Aroostook County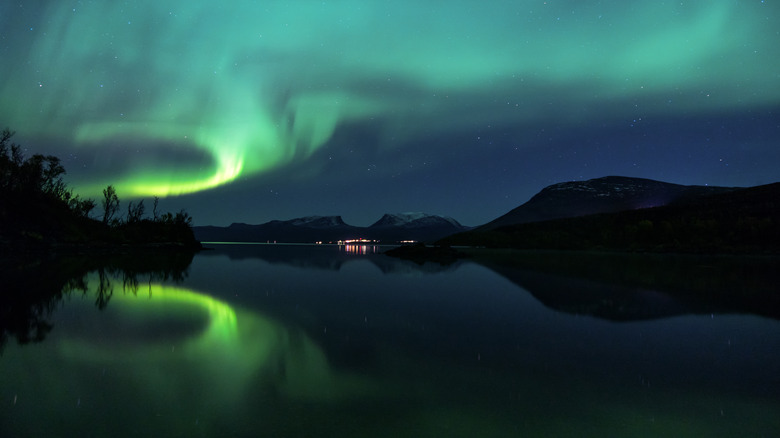 jasperdenboer_photography/Shutterstock
Not too far away from the Canadian border, Maine visitors will find Aroostook County. This northern part of the state is pristine and terrific for catching a glimpse of the Northern Lights. Typically in the colder months, when the nights are longer, stargazers can enjoy front-row Aurora Borealis views. On occasion, in the summer, these dazzling lights are visible, but not as often as they are in the wintertime.
In order to check seeing the Northern Lights off your bucket list, stargazers should stop by Aroostook State Park or Aroostook National Wildlife Refuge. Of course, it is possible to witness the lights in all their glory from many places in the county, but these particular low-light areas are the best for immaculate views of the Northern Lights. While there, outdoorsy types can also marvel at the ample wildlife, immerse themselves in the vast wilderness, and explore the various trails at this county's state and wildlife refuge. What's more, Aroostook County is brimming with outdoor recreation opportunities, no matter the season. So visitors will have plenty to do around these parts in the daytime before heading out to experience the dancing colors in the night sky.
Appalachian Mountain Club's Maine Woods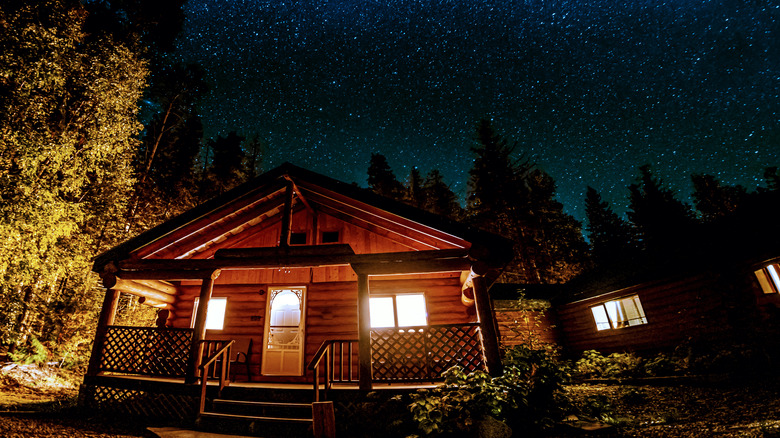 fokke baarssen/Shutterstock
For an official Dark Sky Park experience that is simply breathtaking, Maine visitors need to head over to New England's first International Dark Sky Park — Appalachian Mountain Club's (AMC) Maine Woods. Touted as one of the best spots in the region for stargazing, AMC Maine Woods is a lush space with approximately 100 miles of untouched wilderness. Situated between Baxter State Park and Moosehead Lake, this vast forested area is an astronomy tourist's paradise.
With one of the East Coast's darkest night skies, AMC Maine Woods attracts countless stargazers annually. Here, you can expect to see constellations, the Milky Way, and shimmering stars above one gorgeous landscape. AMC Maine Woods is also brimming with nocturnal wildlife and has three wilderness lodges, 30 or so recreational bodies of water, plus over 90 miles of biking, hiking, and skiing trails. So this AMC Maine Woods is not only a wonderful spot for stargazing, but it is also an adventure-filled destination that allows visitors to experience the Pine Tree State to the fullest.
Coastal Rivers Conservation Trust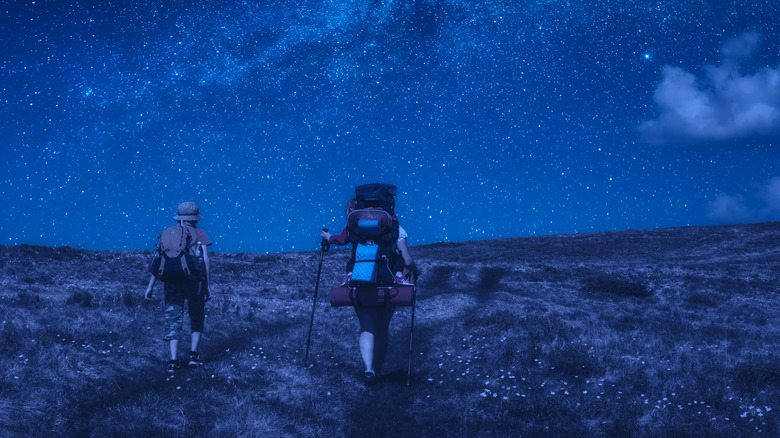 Vitalii Bashkatov/Shutterstock
Yet another great spot for viewing the stars is the Coastal Rivers Conservation Trust. This area is vast and has miles of walking and hiking trails — making a night excursion under the stars more than possible. With little to no light or artificial light pollution, Coastal Rivers Conservation Trust is prime territory when it comes to sublime views of the night sky and DIY stargazing in the Pine Tree State.
Located in the Damariscotta-Pemaquid Region of Maine, the Coastal Rivers Conservation Trust is home to over 30 trails spanning more than 50 miles in total. These footpaths vary in length, difficulty, and terrain but are fairly easy to navigate. So if you want to marvel at the stars and enjoy the surrounding wilderness on a leisure walkabout around these parts, you definitely have some options, no matter your stargazing or hiking experience level. That said, notable Coastal River Conservation Trust trails that are ideal for stargazing include Salt Bay Farm, Huston Landing, Doyle Preserve, Round Top Farm, Bass Rock Preserve, and Witch Island Preserve — just to name a few.
Versant Power Astronomy Center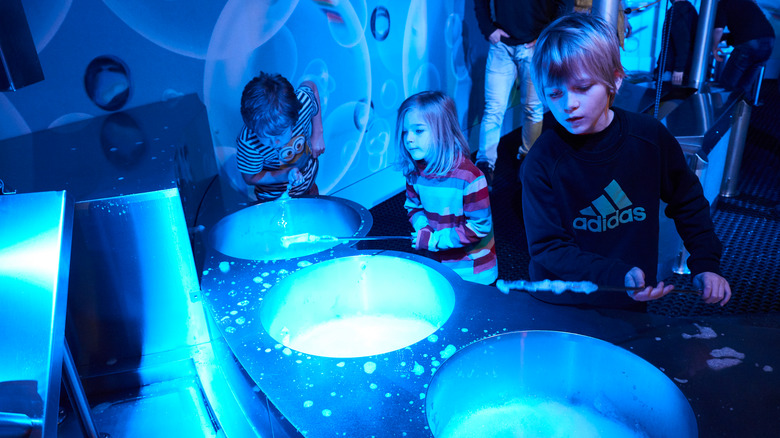 Petr Bonek/Shutterstock
Versant Power Astronomy Center is located on the University of Maine Orono's campus and houses this institution's astronomy and physics department. The former home of Emera Astronomy Center, the semi-new and improved Versant Power Astronomy Center and the Maynard Jordan Planetarium has quite a collection of high-tech and historic equipment for viewing the starlit night sky. Of course, this may not be everyone's first go-to when looking for stargazing opportunities in the area. Still, Versant Power Astronomy Center should not be overlooked, especially since it is open to the public, not just to students or staff.
This family-friendly astronomy center is actually known for its stargazing equipment. But that's not all that this fascinating place has to offer — while marveling at the stars through advanced telescopes and other astronomy gadgets, visitors can take advantage of the various group stargazing tours, educational opportunities for the astronomers of tomorrow, events for both amateur and professional astronomers, and the ongoing star shows. So if you are stargazing with the kids, want to check out the 100-year-old Alvan Clark refractor, or simply get an even clearer picture of the stars, then add Versant Power Astronomy Center to your Maine itinerary.
The Starfield Observatory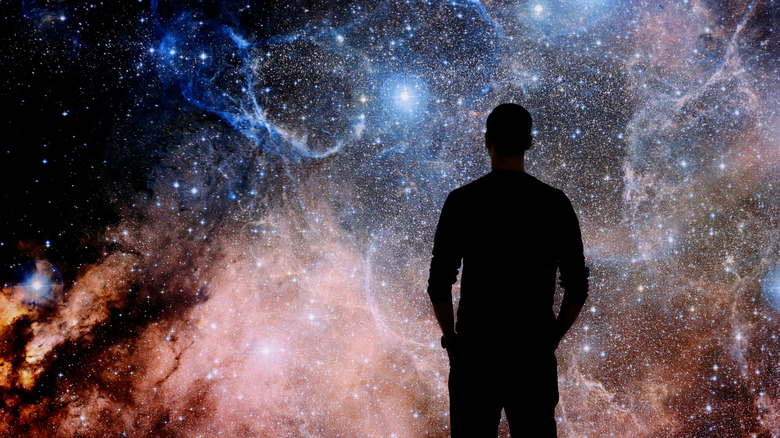 nataliajakubcova/Shutterstock
Yet another educational option for gazers in the Pine Tree State is Starfield Observatory. Run by the Astronomical Society of Northern New England (ASNNE), this non-profit organization and lovely site for stargazing is located in Kennebunk, Maine. This is an excellent choice for newbie astronomers or folks interested in stargazing who may not know where to necessarily begin. ASNNE's Starfield Observatory offers a wealth of activities that cover the basics — constellation recognition, the various telescopes, and how to use the right equipment for first-rate star, sky, and planet viewing, along with other important astronomy-related topics. 
Observatory-goers can also partake in a variety of organized experiences, astronomy outings, informational talks, ongoing star parties, and so much more — all classes and events are free (though donations are appreciated). Besides ample educational opportunities and ongoing group events here, this observatory also has two rather large high-power telescopes. When combined with this observatory's unique design that allows for optimum stargazing, moongazing, and marveling at distant galaxies, ASNNE's Starfield Observatory is definitely a worthwhile destination in Maine that is great for people of all ages.
Southworth Planetarium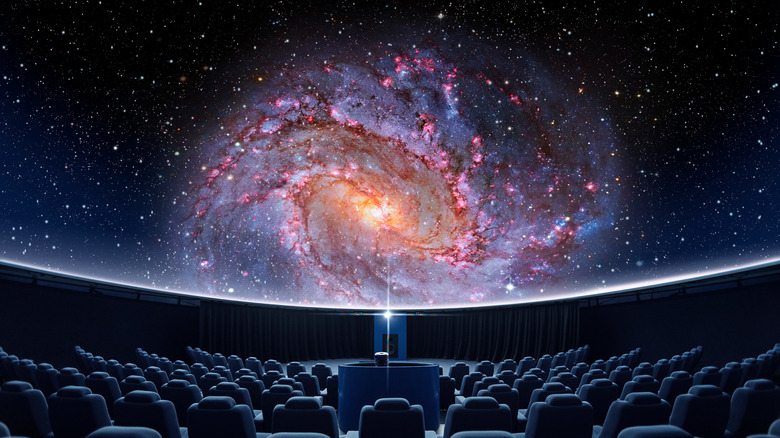 Pavel Gabzdyl/Shutterstock
At the University of Southern Maine, stargazers can immerse themselves in all things astronomy related at Southworth Planetarium. With ongoing shows like "Astronomy: 3000 Years of Stargazing," "Destination Solar System," "The Cowboy Astronomer, "and "IBEX: Search for the Edge of the Solar System," this place is as captivating as it is educational. So planetarium-goers should definitely expect to learn even more about astronomy while visiting. Though this does not technically involve any in-real-life or outdoor stargazing, the Southworth Planetarium in Portland is a great alternative when the weather does not permit clear views of the night sky.
A stop-off at the Southworth Planetarium is also fun for the whole family. So if you want to entertain the kids and learn about the skies, stars, planets, and heavens above, now you can. With public shows in the afternoons on Mondays and Wednesdays, evening productions on Fridays, and matinees on most Saturdays and Sundays, marveling at the stars indoors has never been easier. In addition to ongoing shows, Southworth Planetarium has classes, an underground star dome, diverse astronomy activities, public tours, and more.
Camden Hills State Park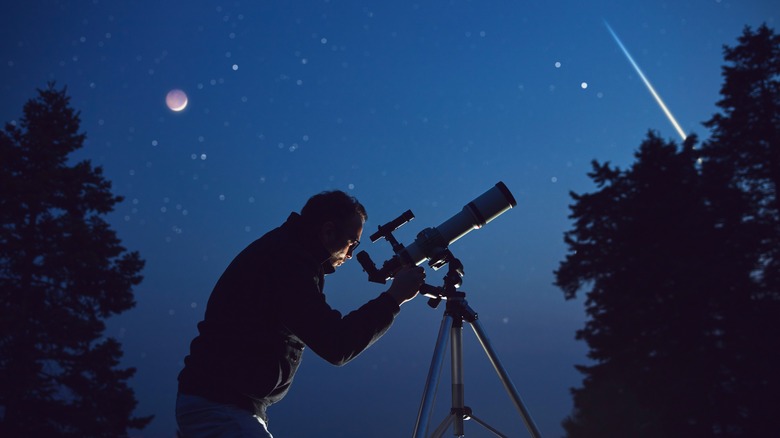 AstroStar/Shutterstock
Lastly, Camden Hills State Park is one more phenomenal stargazing destination in the Pine Tree State. Located only a few miles north of Camden, overlooking Penobscot Bay, this 5,710-acre public park offers stargazers unobstructed views of the night sky and the chance to witness the occasional meteor shower. With guided star hikes, multi-use trails open for nighttime gazing, standard astronomy tours, and countless single-family campsites perfect for sleeping under the stars, the night sky never looked better.
Here, self-guided trailblazers can make their way to the top of Mount Megunticook, the highest peak in the park, for light pollution-free vistas that are absolutely mind-blowing. Alternatively, park-goers can drive up to Mount Battie for equally impressive views sans the hiking. In fact, there are many recreational activities for non-hikers, including whale and wildlife watching, harbor cruises, horseback riding, and winter sports. So you can also choose your own adventure at Camden Hills State Park. All in all, with so many opportunities for stargazing available in the state, a trip to Maine for astronomy lovers, one might say, is practically written in the stars.