Best Budget-Friendly Beach Towns To Visit On The East Coast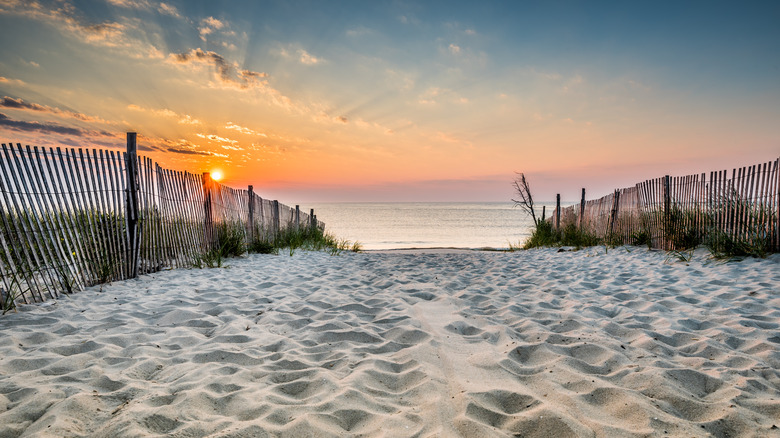 Harry Collins/Getty Images
When you picture sun, sea, sand, and beach vacations, it might be California, or perhaps even Hawaii, which first comes to mind, but the beach towns of the East Coast have just as much to offer visitors as these other destinations. History, natural beauty, sandy shores, family fun, relaxation — the Atlantic seaboard has it all. From Maine down to Florida, the states that make up the East Coast of the U.S. offer you a place where you can experience the variety of America's geography, landscape, and culture along its shores.
Whilst the best known and busiest of the East Coast beach resorts can be expensive spots for a vacation, there are still plenty of places that are perfect for the more cost-conscious traveler. From islands populated by wild ponies to bustling boardwalks, and from lighthouses perched on rocky promontories to wide stretches of white sand, these East Coast locations are all budget-friendly, and perfect for a beachside vacation that won't break the bank.
Tybee Island, Georgia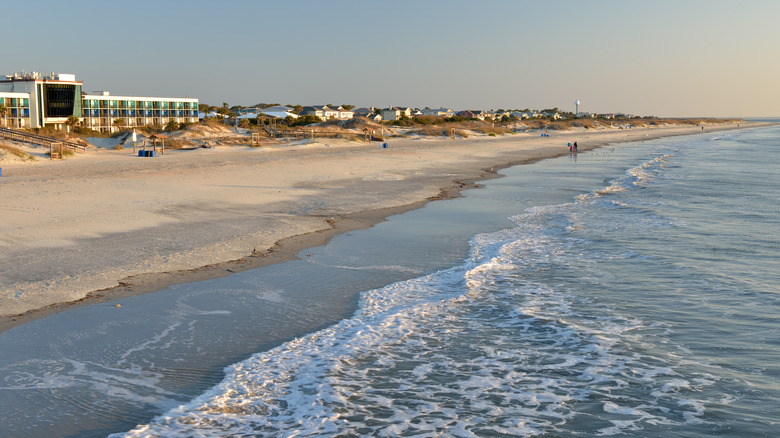 Aimintang/Getty Images
Just 18 miles to the east of downtown Savannah, idyllic Tybee Island is surrounded by five beautiful beaches with clear, warm waters. North Beach is the closest to Savannah and loved by locals looking to escape the city. Lying along the mouth of the Savannah River and opposite Tybee Lighthouse, it's surrounded by residential streets and marshy banks, making it the perfect place to get away from it all and relax on the sand.
The soft sands and gentle waves of South Beach, meanwhile, are popular with families and visitors looking for a more vibrant beach scene, thanks to its proximity to the pier and pavilion. Admission is free, and you can enjoy panoramic views across the coast here, or perhaps a sunset stroll. The pier plays host to a number of free events throughout the year, including fireworks and live music at the Labor Day Beach Bash every September. You can also catch a free family-friendly movie at Memorial Park during the summer months.
Tybee Island has miles of nature trails and wide paths to explore on foot or by bike — great for spotting some of the 211 local species of birds or dolphins and turtles. Bike rental starts at $12 a day. Or, if you'd like to learn more about its wild inhabitants, you can visit the Tybee Island Marine Center (admission is $12 per person and under 4s are free).
Cocoa Beach, Florida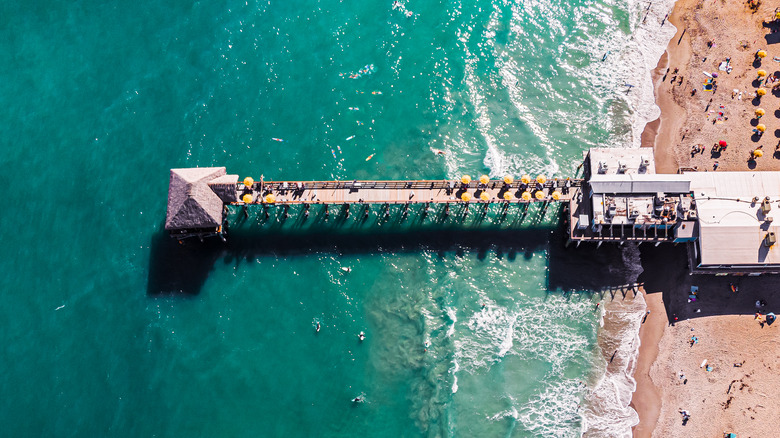 Kevin Capella/Shutterstock
Cocoa Beach is about an hour's drive from Orlando, which makes it a great base for visiting both Florida's beaches and the parks and attractions, including Walt Disney World, on a budget, farther away from the most expensive accommodation options. Located on Florida's Space Coast, and only a few miles from the Kennedy Space Center, it's an exciting destination in its own right. Watch rocket launches for free from the oceanfront Alan Shepard Parkin downtown Cocoa Beach or from the historic Westgate Cocoa Beach Pier — there's a $2 entry fee for the area above the water, although this is redeemable against food and drink purchased at one of the bars and restaurants there. You can also head north to Space View Park, which is even closer to the launch pads, free to visit, and includes information and exhibits about the history of the space journey.
Around Cocoa Beach, the beaches themselves are one of the main draws for a vacation: there are miles of wide stretches of white sand, wild dunes, boardwalks, and Atlantic surf to explore. The lush Lori Wilson Park beach has a public volleyball court, barbecue grills, and a playground — and parking here is free. Alternatively, if you'd prefer to leave your car at your hotel or rental, you can hop on the new trolley for $1.50 a ride for adults, while kids under 5 ride for free.
North Myrtle Beach, South Carolina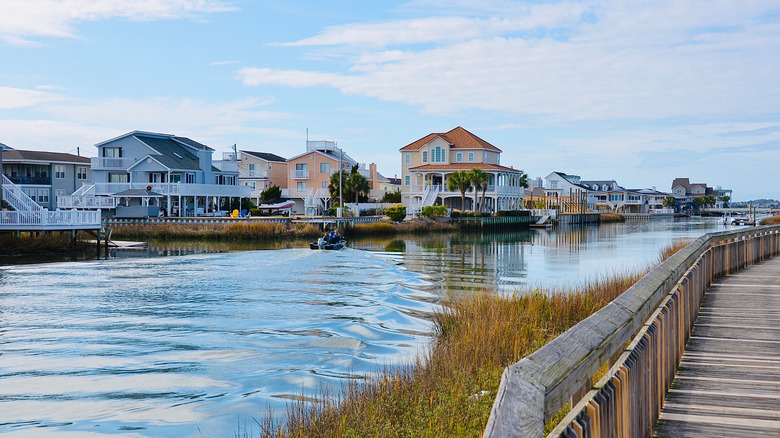 PQK/Shutterstock
Part of the beautiful stretch of South Carolina coastline nicknamed The Grand Strand, this town is only ten miles away from the more famous city of Myrtle Beach. Budget-friendly North Myrtle Beach gets less recognition — and therefore fewer visitors — even though it's still packed with things to do. This makes it a more laid-back choice, with uncrowded beaches and more affordable vacation rentals. It's also smaller and more compact so most of the sites and amenities are within walking distance of one another.
Children will love the games at Lulu's Beach Arcade, or heading over to McLean Park for the great free playground as well as spotting the turtles and big fish in the ponds, while grown-ups will love the tasting sessions at Duplin Winery — $15 per person, including a free glass of wine and snacks. You can also explore The Grand Strand further at Heritage Shores Natural Park, a large oceanfront nature reserve with boardwalks, observation decks, and miles of walking paths. Admission is free all year round and you can easily while away a whole day hiking through the marshes and forests or kayaking around the saltwater creeks.
Rehoboth Beach, Delaware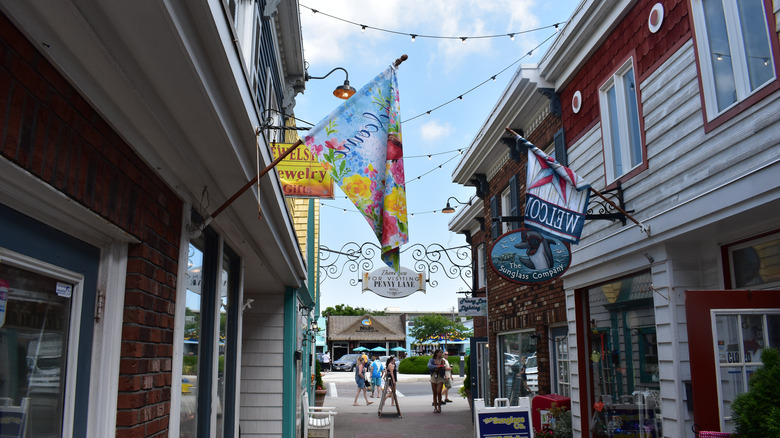 Foolish Productions/Shutterstock
Once the vacation spot of choice for residents of nearby Washington, D.C., Rehoboth Beach is a charming town with a classic feel, old-fashioned stores, and a mile-long boardwalk. Travelers on a budget will love the free events held regularly at the Bandstand, operating since 1963. These include concerts, movies, and live performances. From May to September, the town also boasts a Farmers' Market every Tuesday at Grove Park where you can sample the fresh local produce, without paying high restaurant prices. All the vendors are from the local area and parking is free around Grove Park during trading hours.
Away from the crowds of nearby Ocean City, and some of the other larger resorts in Delaware, the coast around Rehoboth Beach offers the chance to get back to nature. You can enjoy the beauty of maritime forests, dunes, and wetlands in nearby Cape Henlopen State Park; there's a $5 daily admission fee for in-state vehicles, or $10 for out of state visitors, but bike rental is free inside the park. You can also cycle, walk, swim, and picnic at Silver Lake, one of two natural freshwater lakes in the area, without spending a dime.
Amelia Island, Florida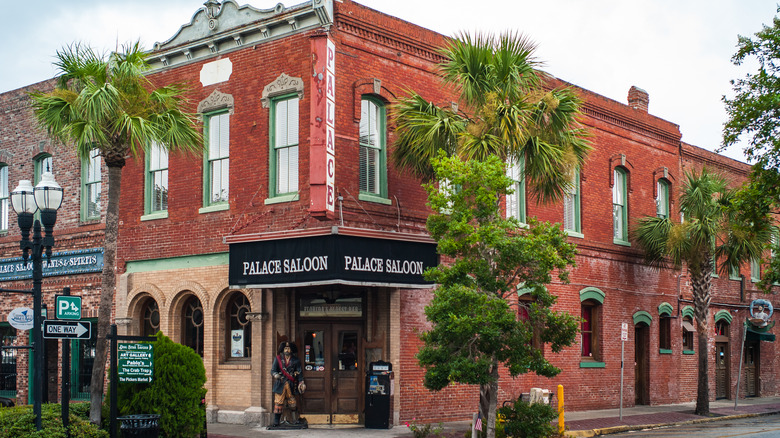 Dietmar Rauscher/Shutterstock
Amelia Island is the perfect budget-friendly escape for history lovers. In addition to its miles of pristine beaches, this small, quirky, barrier island in northeastern Florida has a rich and varied history that features explorers, pirates, wealthy Victorians, and eight different flags. Downtown, you can take a self-guided tour of the Fernandina Historic District in order to view the interesting homes, churches, and commercial properties that date back over 400 years. These include Florida's oldest existing lighthouse, hotel (the Florida House Inn), and drinking establishment — The Palace Saloon, where you can still quench your thirst today. Maps are available, free of charge, from the Visitor's Welcome Center in the Old Train Depot and there are information boards offering further insight that are dotted around the district, such as at the Fernandina Plaza Historic State Park.
At the north end of the island lies the Fort Clinch State Park: a vast area of hiking and nature trails, wide sandy beaches, and one of the best preserved 19th-century forts in the U.S. The entry fee is a wallet-friendly $6 for cars or $2 for bikes. But this is just one of the beaches you can explore here — there are over 13 miles in total, all with the beautiful sand and warm waters that Florida is so famous for.
Pompano Beach, Florida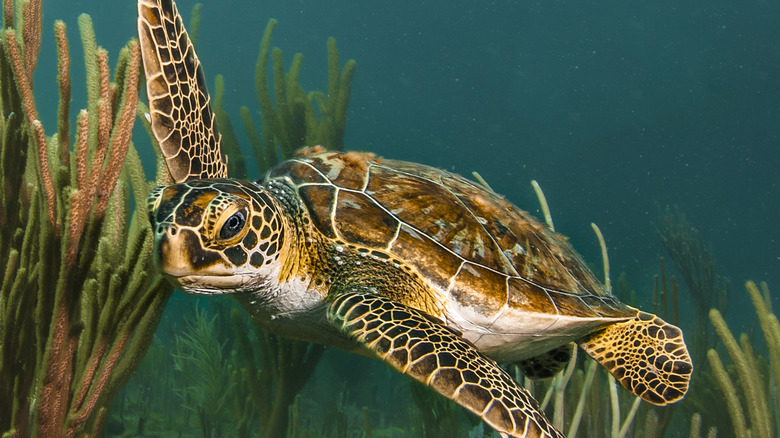 Jeff Stamer/Shutterstock
Pompano Beach is another budget-friendly gem in Florida. Located between Palm Beach and Miami, it has the same incredible beaches, vibrant community, and warm, clear Gulf Stream-adjacent waters as the two larger cities, but without the price tags to match. This bustling Gold Coast town boasts 52 parks and three miles of coastline — plenty for even the most active vacationer to explore without spending a dime. There are tree-shaded playgrounds, picnic shelters, and a children's fountain for family-friendly fun. If you prefer evening entertainment, make sure to visit on a Friday: you can enjoy free concerts — named Music Under the Stars — on the second Friday of every month at the Pompano Beach Great Lawn or Old Town Untapped, a free monthly craft brew and arts festival, with live music and food trucks.
One of the most unique draws for visitors to Pompano Beach, however, is the natural reef system that lies just south of the pier and offers some of the best diving in North America. As it is only 350 yards off the shore, confident swimmers will be able to swim there to enjoy snorkeling or diving among the corals and marine life without incurring the cost of a boat ride.
Wareham, Massachusetts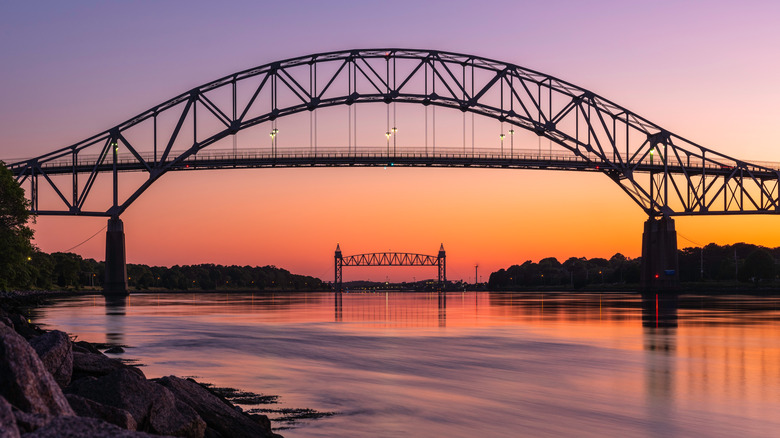 NayaDadara/Shutterstock
If you're imagining beach vacations in Massachusetts, the chances are that you're picturing Cape Cod! Located on the west side of Bourne Bridge, before you cross the Cape Cod Canal, Wareham is the perfect option for a budget vacation in the area — it has the same quaint houses, lovely beaches, and seafood shacks, but for a fraction of the price. This self-styled "Gateway to Cape Cod"  is a welcoming town that promises to be more than just a place to pass through, or a stop off during periods of heavy traffic. Pitch up at Maple Park RV Campsite from as little as $30.75 a night and enjoy the woodlands, swimming ponds, and cranberry bogs that Cape Cod is renowned for.
You can also visit historic Onset Village and the sandy beaches of Buzzards Bay. Families will love splashing in the warm, shallow waters of Onset Beach and hunting for shells, oysters or clams along the shorelines. It's also an ideal spot for kayaking: paddle along the bay or out to Wickets Island for an adventure. If you don't have your own, the Nemasket Kayak Center offers rentals right on the beach, with prices starting at a budget-friendly $60 per day. Inland, you can explore on two wheels along the paved canal bikeway and see the iconic Cape Cod Canal Railroad Bridge.
Assateague Island, Maryland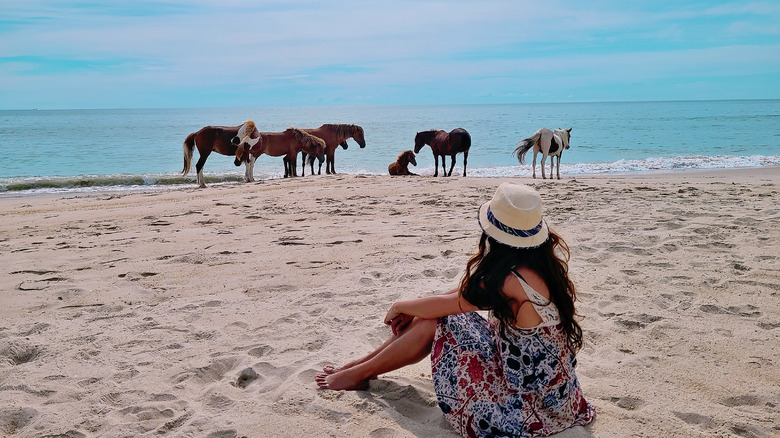 Vicky Faye Aquino/Shutterstock
What could be a more exciting addition to a beach vacation than wild horses? Assateague Island, a remote barrier island that lies along the coast of both Maryland and Virginia, is one of only a handful of places in the U.S. where you can see horses in a natural habitat. Now home to two large herds that roam the maritime forests and beaches, the origins of these ponies are actually unknown — some locals believe their ancestors arrived from a shipwreck off the coast of Virginia — but, whatever their provenance, they have since been thriving on the island.
Only 10 miles south of Ocean City, Assateague Island is nevertheless a world away from its theme parks, high rises, and crowds. There are very few facilities on the island itself — including grocery stores and restaurants– so you need to be well prepared before you travel, but the peace and quiet are unparalleled once you arrive. What's more, the camping is cheap (prices start at $30 a night) and there is no permit required for fires, so it's easy to stick within a tight budget on your vacation with cookouts and picnics. There is an entrance fee to the island, but it is also reasonable: the vehicle price is $25 for 7 days, although there's no charge for visitors on foot or bike.
Madison, Connecticut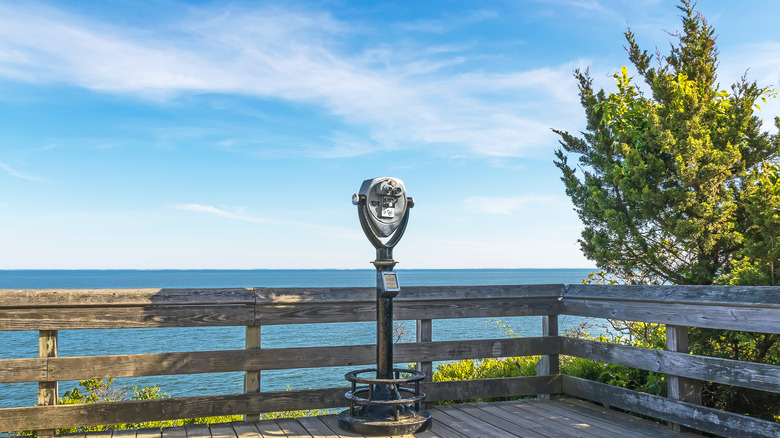 Edge Digital Imaging/Shutterstock
Packed with small-town charm, Madison has some of the best beaches along the Long Island Sound. Spread over two miles of sand and four beaches, it has the longest public shoreline park in Connecticut and is the perfect place to enjoy a host of classic beach activities without spending a dime: swimming, sunbathing, fishing, and strolling along the boardwalk at Hammonasset Beach State Park. During the summer months, you can camp right by the beach from as little as $20 a night and make the most of the views and unspoiled scenery for dawn to dusk on your vacation.
If you want to head into Madison, you can take the Shoreline Greenway Trail — a mile-long walking and biking trail that runs from Hammonasset Beach State Park into downtown and provides easy access to the stores, eateries, and the town's other beaches. Here, you'll find budget-friendly B&Bs offering affordable alternatives to camping, as well as quaint bookstores and independent shops in the pedestrian-friendly downtown. It is also home to the renowned Sculpture Mile, a free exhibition of contemporary sculptures placed in and around Main Street. Free guided tours are available on Saturdays between April and November. For those more interested in the wildlife and ecology of the area, Megis Point Nature Center also offers free admission.
Cape May, New Jersey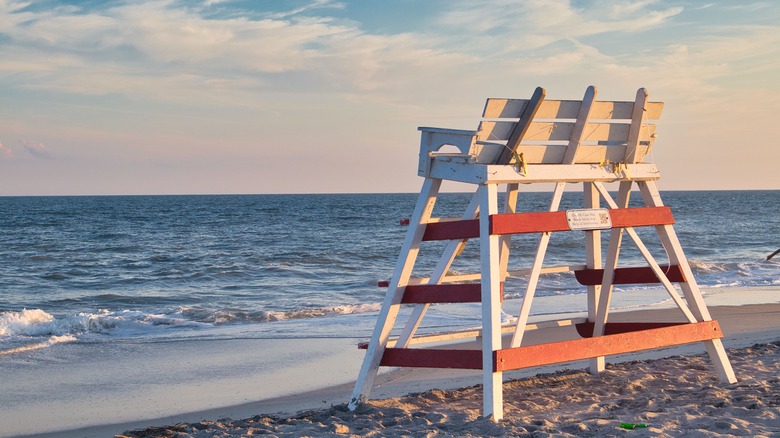 Wirestock/Getty Images
Located at the southernmost point of New Jersey, the small town of Cape May has been a popular destination for beach vacations since the mid-18th century. This quintessential seaside resort is packed with charming Victorian homes and combines history with modern amenities and a long, sandy beach. There are multiple access points down onto the sand from the town — which is small enough to get around on foot — so you can pick the one closest to your accommodation and avoid any additional parking charges. The quietest spot in Cape May is Poverty Beach, a barrier spit of white sand and crystal clear waters at the far end of town — a welcome break from the typical bustle of the Jersey Shore.
History lovers can also enjoy learning more about the town's interesting history during their stay without breaking the bank. You can take a free self-guided African-American Heritage Walking Tour of Cape May, organized by Center for Community Arts, using audio recordings on your cell phone. For a more in-depth study of the area, they also offer a guided Underground Railway Trolley Tour that tells the story of Cape May's importance in the slaves' escape and Harriet Tubman's work here. Tickets for this tour are $25 for adults and $15 for children.
Avon, North Carolina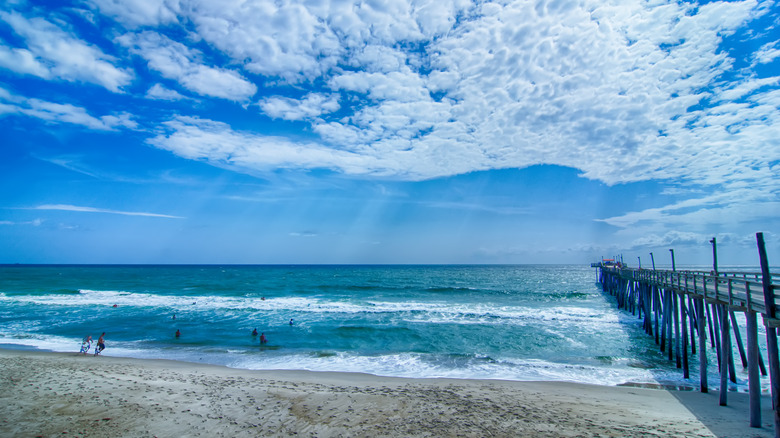 digidreamgrafix/Shutterstock
More than 20 miles off the coast of mainland North Carolina, Avon is a haven of peace and solitude that takes you away from the crowds that beset many of the other beach towns on the Outer Banks during the peak season. Travelers on a budget can make the most of the free parking available at the beaches here and enjoy the miles of uncrowded, undeveloped shoreline without spending a dime. There are very few chain stores and restaurants (or even stop lights!) on Hatteras Island, which means that the eateries around Avon are mostly independent and affordable, such as the Orange Blossom Bakery & Cafe, which has been serving up "Apple Uglies" to the local community for over 40 years. The bakery's signature pastry, this huge, doughy apple fritter is around $5.
Like most of the Outer Banks, the beaches around Avon can get very windy, so they are popular spots for watersports, including surfing, kiteboarding, and kayaking. Some of the best views of the beaches, island, and surf are from the water, and you can travel south by ferry to Ocracoke Island and back for free. Make sure you arrive in plenty of time before the crossings, however, as they operate on a first-come, first-served, basis.
Bar Harbor, Maine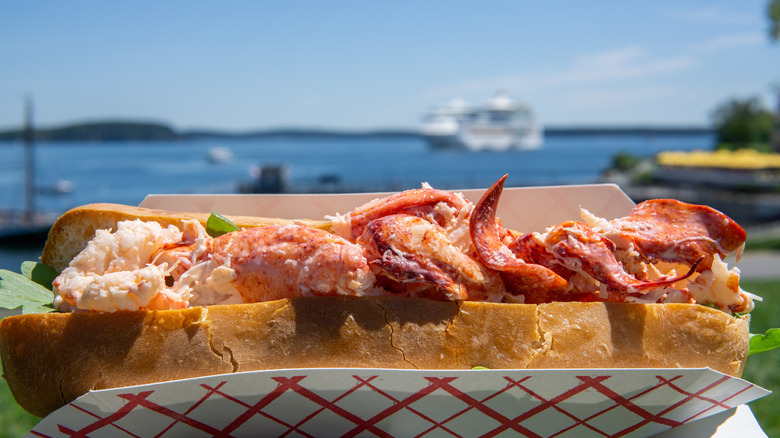 Rada Kabanova/Shutterstock
If you're looking for a dramatic destination for your beach vacation, this rocky stretch of coastline in Maine is just the spot. Rather than sunbathing and stretches of white sand, Bar Harbor is all about yachts, lobster boats, and panoramic views across the North Atlantic Ocean toward Mount Desert Island. This rustic East Coast beach town is situated at the foot of the mountains and lakes of Acadia National Park, making it the gateway to exploring the stunning vistas of the park as well the delights of the waterfront. You'll find inexpensive campsites both near to the shore and in the midst of the woodland, depending on your preference. Prices at the secluded KOA campsite, which is located at the gate of the Acadia National Park, start from $30 a day for a tent site.
Travelers visiting Bar Harbor on a budget can explore both the town and the national park for free via the Island Explorer shuttle bus, which includes a stop at the KOA campsite as part of its route. There are also a number of excellent eateries serving fresh seafood at an affordable price — including the famous delicacy, the Maine Lobster. Head down to the Happy Clam Shack for some of the best prices for local lobster rolls in the area, followed by homemade blueberry pie for dessert.
Folly Beach, South Carolina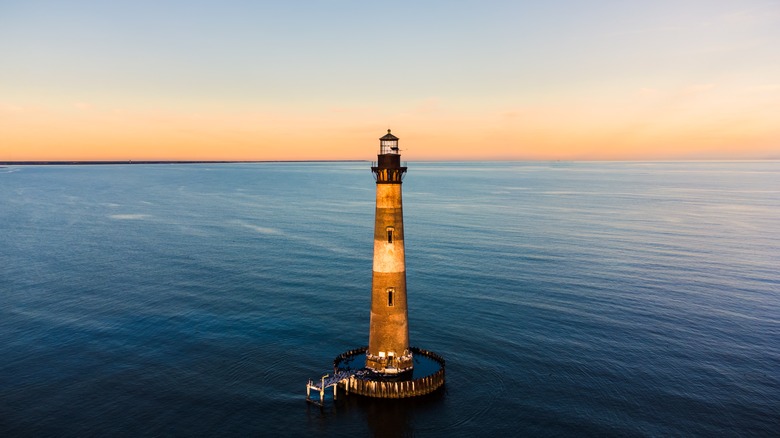 PNP Photo/Shutterstock
The laid-back town of Folly Beach is known for its warm, sunny climate — and the good news for cost-conscious travelers is that it is more affordable than both the more famous Hilton Head Island that lies just down the coast and nearby Charleston. It makes a convenient base, however, for exploring both of these popular destinations, as well as providing all the sun, sea, and sand that you could want for a successful beach vacation. You can find free street parking just a few blocks outside of town or back from the coast, and Folly Beach is small enough for you to be able to walk everywhere comfortably, including down onto the beaches.
One of the best free attractions here is Morris Island Lighthouse; you an walk about a mile along the sand to see the waves lapping at its base. The area is also renowned for its wildlife spotting and there are lots of eco boat tours that promise dolphin sightings. However, these do tend to be pricey, so bringing your own kayak or small boat to explore the river ways and islands yourself is the perfect budget-friendly alternative. Another affordable option is the Charleston Water Taxi that sails out from the city's harbor and offers great views from the water, as well as the chance to spot some dolphins, for just $14 per adult for a day pass. Young children can ride for free.