The 17 Best Destinations Around The World For Swimming With Dolphins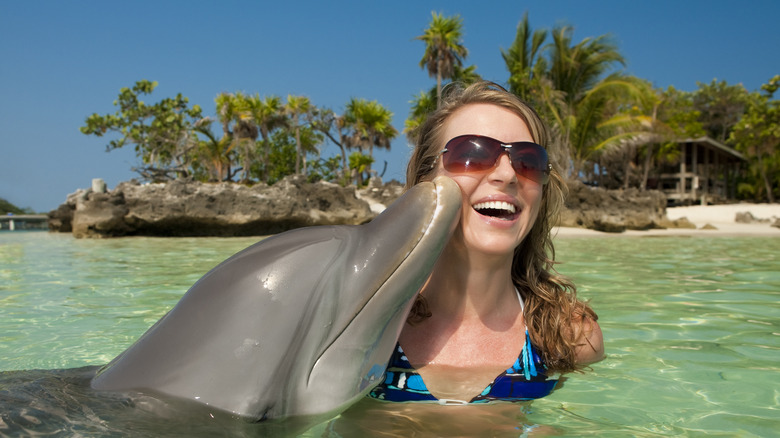 Avid_creative/Getty Images
Whales are undeniably magnificent creatures of the sea, and octopi are certainly interesting to look at, but perhaps no marine animal warms our hearts quite like the dolphin. For some, dolphins are like dogs of the water — playful, good-natured, seemingly always happy, and rarely aggressive — and seeing the way they glide through the water is a joy to behold. 
There are more than 40 species of this mammal, and while the vast majority of them are found in the world's oceans and seas, some live in rivers of Asia and South America. Watching them, from a boat or from the shore, is always a thrilling experience, a reminder that the seas and rivers contain an entirely foreign ecosystem from the land, but even more exciting than observing them from a dry distance is to swim close to them, in their natural habitat. There are places all over the world to encounter them in the wild, to commune with them on their home turf, and the list below details some of those not to miss. We have also added some manmade facilities where the encounters might not be as natural, but are certainly guaranteed, just in case anyone reading can't do without some definite one-on-one dolphin time.
Australia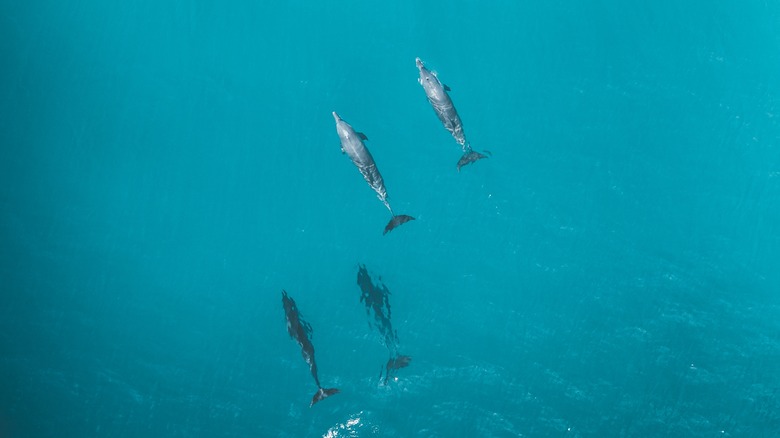 Justin Bumpstead/Shutterstock
Visitors come from all over the world to swim with whale sharks at Ningaloo Coast, a Unesco World Heritage site off the west coast of Australia. Seeing these huge fish gently propel themselves through the water with seemingly no effort is a humbling sight, but these aren't the only sizeable creatures here that wander around this expansive reef system. It's not uncommon to see manta rays and even humpback whales. And then there are the cute bottlenose dolphins, that, unlike the whale sharks which appear seasonally, ply these clear blue waters all year-round. 
On the other side of the country, in the state of New South Wales, Port Stephens is also a magnet for dolphins. Located less than a three-hour drive northeast of Sydney, the town has a wealth of beaches, but it's the riches offshore that are perhaps its greatest draw. Dolphin Swim Australia takes adventurers out on a boat to the Tasman Sea, where they are kitted up with googles, snorkels, and a wetsuit. Connected by harnesses between the hulls of the catamaran, participants effortlessly glide through the water (and we mean effortlessly, because the boat is doing all the work) behind the dolphins, allowing them to focus on watching the wildlife while being able to keep up without having to kick incessantly. This way, travelers can feel a little bit like they are members of the dolphin's pod. How sweet is that?
Bahamas
A couple of smaller islands in the Bahamas chain, and sitting only 50 miles off Florida's eastern shore, Bimini is a great destination for many reasons. The water is, simply put, stunning, crystal clear, and mesmerizingly aquamarine, silently calling onlookers into its silky shallows, and that same sea is also a fantastic realm for sport fishing. However, what truly sets this piece of the Bahamas apart from other islands are the amazing opportunities for swimming with wild dolphins, pods of them cavorting in the waters just off the coasts of Bimini's two islands. 
The local government clearly understands the implications of tourists swimming with these marine mammals and requests that visitors do not touch the dolphins. Visitors should take into consideration that these encounters are done in the dolphins' home environment, so the sea creatures should be left to come and go as they please. Outfitter Dolphin Whisperers prides itself on its small charters taking travelers out in the waters, tiny groups where participants will almost imagine that they are having a private attendance with marine royalty — in a sense, they are.
Bermuda
For travelers that yearn for up close and personal contact with dolphins, including touching and interacting with them, Dolphin Quest in the Atlantic island of Bermuda is a wise choice. This facility, part of a larger organization with branches in Hawaii and founded by veterinarians that specialize in marine animals, mixes educational research with conservation efforts, advocacy drives, and tourism. The National Museum of Bermuda, a former fort, is the base of an operation that features a lagoon connected to open water via a tunnel, and enclosures where visitors can get into the water with bottlenose dolphins. 
A number of options are open to visitors. The quick Discover Dolphins program, which lasts 15 minutes and lets visitors that are seated in the water touch and greet the dolphin, makes for great photo opportunities. The more comprehensive Encounter Deluxe gets travelers out for 45 minutes and allows them to swim and paddle alongside the creatures, promising more of a bonding experience. For children aged 7-12, the camps are not to be missed, a chance to learn more about dolphins, their habitats, and the ocean in general, with the scope for dolphin encounters as part of the experience, something that these young minds will never forget.
Bolivia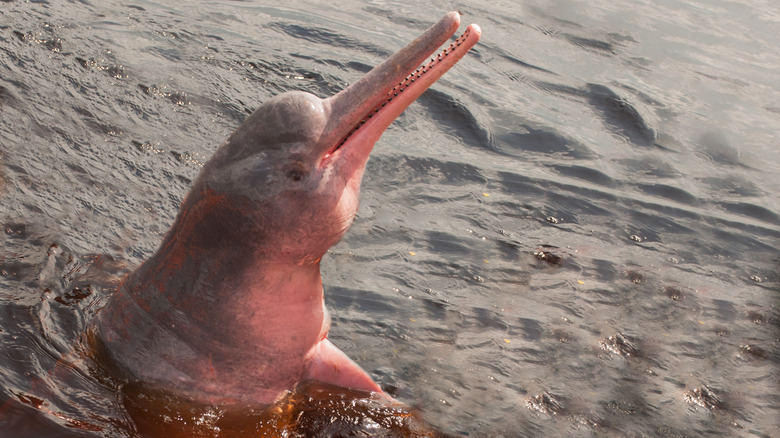 Anna ART/Shutterstock
One of the large waterways that feeds into the Amazon River, and forms, for part of its length, an official border between Brazil and Bolivia, the Madeira River is a mighty force, stretching more than 2,000 miles across the continent of South America. It's home to plenty of aquatic life, as well as trade vessels that ply its waters as they ferry goods around these nations. It's also where to find pink river dolphins, one of four species of river dolphin that live in the waters of the continent. These creatures, who, at first sight, might appear a little strange because of their distinctive pink and gray shading, are notable for being the biggest freshwater dolphins on the planet and can reach nine feet in length. 
On an excursion with Ruta Verde Tours, visitors can observe these playful animals from a boat and also have the opportunity to jump into the river. Trips originate in the town of Trinidad, a remote outpost in the center of the country, and venture out to the river where these dolphins live year-round, though they are easier to locate in the drier months of June-November, a time when the river levels drop.
Brazil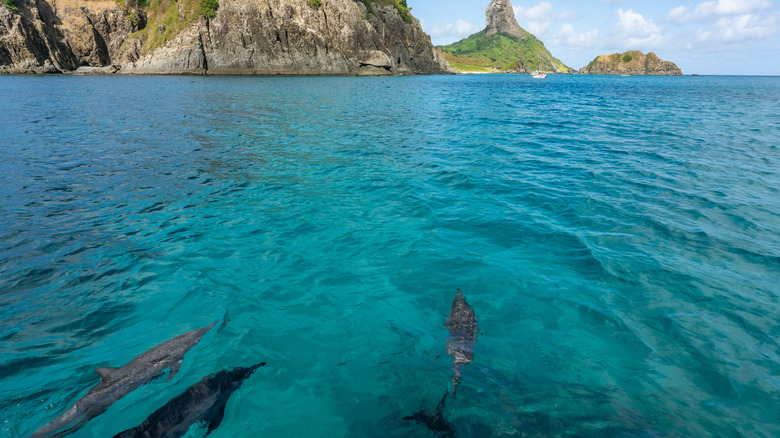 Paula Montenegro Stock/Shutterstock
At Pipa Beach, a relaxed waterfront destination in Rio Grande do Norte state, a piece of shoreline celebrates the local residents. Locally known as Baía dos Golfinhos, or Bay of Dolphins, even though its official name is Praia do Curral (or Curral Beach), this part of the coast is striking enough on its own accord, with sheer, striated cliffs rising vertiginously from the water's edge. But what makes it extra special is the wealth of dolphins in the waters here, sometimes visible from the shore, playing in the water, gliding right by swimmers, leaping and arcing out of the depths as they frolic in the surf. The layout of the beach is such that getting here requires access by boat, or by foot when the tide is low from one of the neighboring beaches, and once here, visitors can simply wade out a little, push off into the depths and swim, with a good chance of encountering a friendly dolphin. 
Baía dos Golfinhos, on Fernando de Noronha Marine National Park, is part of a Unesco World Heritage site, and here, you'll find an archipelago of islands with clear waters, stunning beaches, and healthy marine life, including spinner dolphins. Numerous boat operators take visitors out in the waters to see them, and some allow guests to get in the water and swim alongside.
Ecuador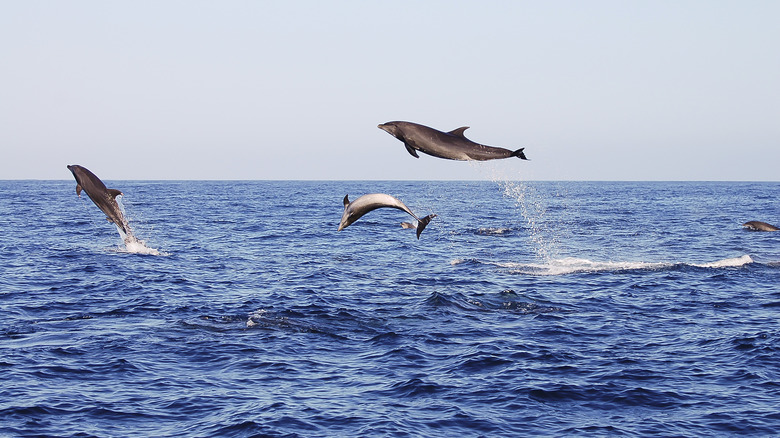 Adwo/Shutterstock
Any observer with a keen interest in wildlife will need no introduction to the Galápagos Islands. A scattering of land masses off the coast of Ecuador, and a Unesco World Heritage site for the ridiculously abundant trove of marine life that thrives here, these isles are a bucket-list destination for many. What's more, the Galápagos Islands served as the inspiration for theories put forward by the naturalist Charles Darwin, who spent a number of weeks here in the 1800s. 
There is so much of wonder here, both on land and in the water, and much of it will be on view during a trip with Swim Trek, an operator based in the United Kingdom. The seven-day excursion around the archipelago, a chain of volcanic islands, will take in plants and animals that don't exist elsewhere on the planet. Fans of the water will have plenty of opportunities to get wet, in calm bays, tracing the edges of former crater rims, and in expanses of open ocean. And during that time, guests will get to see sea lions, manta rays, and dolphins, with bottlenose and Risso's the most common varieties spotted.
Egypt
The Red Sea beach towns of Egypt present visitors with some of the most beautiful coastal areas in the world, where soft sands cede to impossibly clear, blue waters. It's here, near the town of Marsa Alam, adventurers can find a couple of wonderful sites for spotting and swimming with spinner dolphins. Samadai Reef teems with such an abundance of these marine mammals that locals refer to this part of the sea as Dolphin House. Located just a peaceful boat ride away from Marsa Alam, it tends to be very popular with visitors looking for a fun excursion and the chance to splash and swim alongside these graceful animals. 
Another reef that is a little further from Marsa Alam, and so is not quite as populated with humans (but still frequented by dolphins), is Sataya Reef, where pods of these marine mammals effortlessly glide through the clear waters, their distinctive outlines visible above the sandy sea floor below.
Florida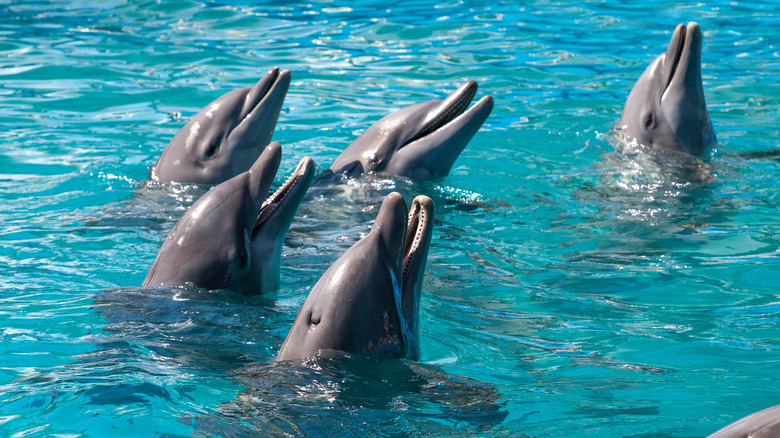 Lagunaticphoto/Getty Images
In the Florida Keys, the Dolphin Research Center has quite a famous lineage, with stars of the TV show "Flipper" having lived here. Today, the facility, which was officially formed in the 1980s as an educational and research outfit that cared for bottlenose dolphins, and now has California sea lions that serve as fellow "housemates," successfully rehabilitates rescued dolphins while also rearing newborn mammals here. There are a number of ways that visitors can interact with dolphins here that live in seawater lagoons. Located a couple of hours' drive south of Miami, the business charges admission fees that go toward the upkeep of the research center. 
General entry gets visitors into the facility, where they can learn about dolphins and sea lions, and watch them playing with each other or interacting with instructors during training slots throughout the day. The most popular option, perhaps for the chance to get a dorsal pull by a dolphin through the water (a truly cinematic moment if ever there was one), is the Dolphin Encounter. Suitable for anyone aged five and older, it gets adventurers into the water where they can feel, first-hand, the impressive power of a dolphin as it swishes its way through the water. For those that want a really in-depth experience, the Ultimate Trainer for the Day package entails shadowing a trainer throughout working hours, letting you get a handle on what it takes to care for these magnificent animals.
French Polynesia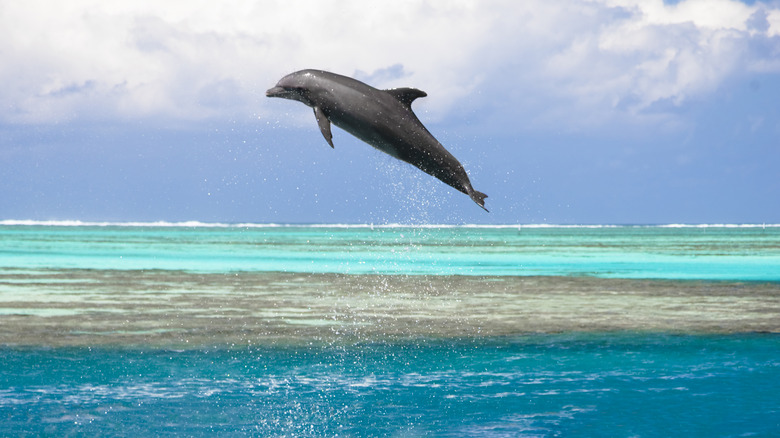 Mlenny/Getty Images
At Moorea, one of the French Polynesian islands in the South Pacific, there are a number of marine protected areas around the coastline, ensuring that the waters here remain a healthy environment. It's not a big island, just over 50 square miles in size, and with a population of fewer than 20,000 people, yet it is very popular with honeymooners on account of its stunning scenery, dreamy waters, and, perhaps, because the island is shaped a little like a heart. Some of those lovebirds are also likely drawn by the chance to swim with wild dolphins here, spinner pods that roam the waters here year-round. 
Moorea Ocean Adventures takes private groups out into the Pacific, giving participants the thrilling opportunity to get wet while putting a smile on their faces. Tours are led by marine biologists and naturalists, and beyond the physical encounters in the water, or from a boat, with these dolphins, visitors will learn about the local natural environment and a dolphin's way of life.
Hawaii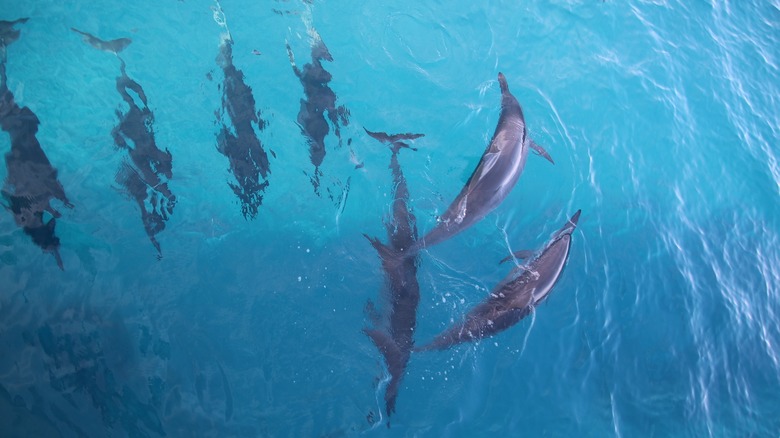 Joshua ten Brink/Shutterstock
These islands that make up one of the most remote states in the U.S. are full of great activities that will keep any adventurer happy. Hawaii is where to skydive, zipline, hike around volcanoes, and leap from cliffs. For some visitors though, nothing is quite as exciting as swimming with wild dolphins, and visitors that take tours with Indigo Ocean Hawaii can get in the water with a variety of them off the coast of Oahu (the island where Honolulu and its famous Waikiki Beach are located). A four-hour trip that includes hotel pick-ups from Waikiki lodging, the dolphin swim excursion sets out on a catamaran boat that has a passenger capacity of 40 people. 
While the main goal for many is to see dolphins, other sea creatures encountered typically include Hawaiian green turtles, another sure-fire crowd pleaser. Of the different species of dolphins, the spinner is the most protected here, and neither the boat, nor swimmers, are permitted to get within 50 yards of them. For all other dolphins, including the bottlenose and Hawaiian spotted, such restrictions don't apply, and swimmers can sidle up to these playful mammals for some unforgettable aquatic adventures.
Indonesia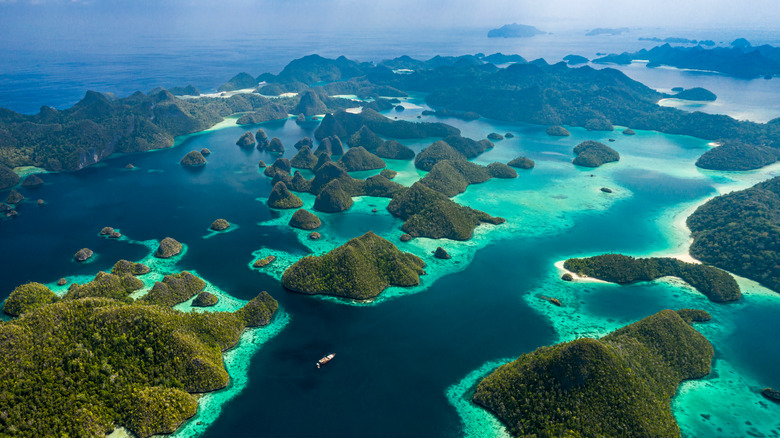 MintImage/Shutterstock
One of the most hallowed marine areas on the planet, Raja Ampat, which translates from the Bahasa into Four Kings, is a section of eastern Indonesia that looks like a mythical seascape — peaked forested mountainous isles, encircled by vibrant reefs, and rising from beautiful turquoise seas. The marine diversity here is spectacular, helped by its remoteness and relative lack of access — the only real way to explore here is on a live-aboard boat. This is a fine realm for any devotee of marine treasures, and for divers, it is usually in the top five places to visit. 
It's also a great place for anyone looking to supplement that sea exploration with a stint of swimming with dolphins. Not surprisingly, given the rich marine diversity here, there are multiple species of dolphins found here, from the well-known bottlenose to two types of spinners, and the Fraser's, the rough-toothed, and the Risso's as well. Trips with the Wild Diaries group will bring visitors close to these playful sea mammals, as well as the wealth of other marine gems awaiting in Raja Ampat.
Italy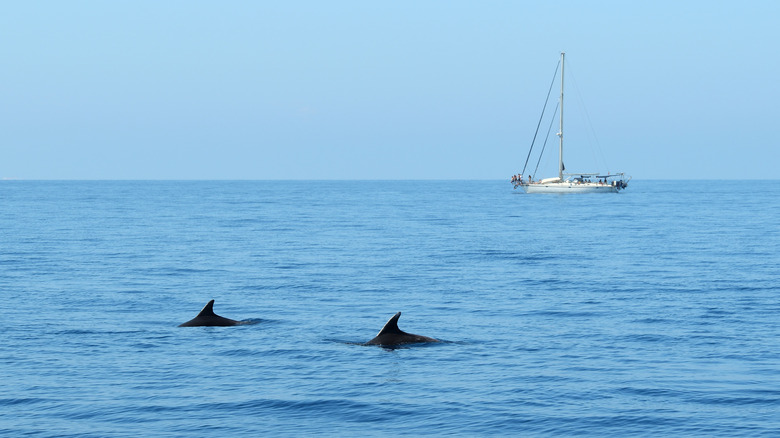 Fabiano Bagiolo/Shutterstock
A marine reserve in the Mediterranean, overseen by the governments of France, Monaco, and Italy, the Pelagos Sanctuary strives to foster the protection of the aquatic mammals that live within its boundaries, with a specific focus on safeguarding the threatened Fin's whale and Risso's dolphin. It's a large area, more than 85,000 square kilometers of sea, and monitoring by scientists and volunteers each July helps to take stock of the sanctuary's state of well-being, while spreading the message of conservation to those out on the water. In addition to the Risso's species, other dolphins here include the common dolphin and striped dolphin. 
Numerous tour operators take swimmers out in the Mediterranean each year to see dolphins, including within the confines of the sanctuary, and participants often have an unforgettable time on the excursion. Yet, travelers should also be aware of the effects of such tourism on these mammals, including how it affects their natural movements and behavior, and the possible transmission of viruses and bacteria.
Mauritius
A paradise in the Indian Ocean, situated off the east coast of Africa and close to Madagascar, Mauritius has astounding beaches, mountainous interiors, and an exciting melange of cultures that calls the nation home. The island is also where plenty of dolphins reside, and operators like Mauritius Attractions can take travelers out for encounters with them. Participants get more than two hours on the water, either on the boat or in the Indian Ocean, with a journey aboard a speedy vessel taking them into expanses of open blue. Boat captains inform guests about dolphins, their habits and habitats, and ways in which to encounter them in a responsible, safe way. 
Mauritius' west coast is where dolphins and whales tend to congregate, and once they are spotted, adventurers will get the chance to slide in the water alongside them. The dolphins seen here include bottlenose and spinner and generally coexist in pods of around 20 or more. They are often seen around the waters of Tamarin, a village on the west coast, early in the morning before they head out to deeper seas to hunt for food.
Mexico
Los Cabos sits at the tip of Baja California and is a great destination for active travelers, with everything from bungee jumping to surfing available. But some distance south of this popular resort area of Mexico, stranded out in the Pacific like an unmoored ship, the island of Socorro is a magnetic arena for marine activity. This is the home of legions of mantas and sharks, and for divers, there are few places in Mexico as appealing. The easiest way to get here is on a live-aboard boat, like "Nautilus Explorer," operated by Nautilus Dive Adventures. 
While the mantas are one of the main attractions of trips to the waters around the island — and they are a truly jaw-dropping sight, vastly bigger than most mantas that divers see, with spans of up to seven meters (more than 20 feet) across, gliding right by divers in the water — what visitors find more remarkable is the dolphin encounters here. These playful mammals feel as comfortable with the divers as the mantas do, and will come extremely close up to them, showboating but showing no fear or shyness, in effect offering divers two wildlife species encounters for the price of one!
New Zealand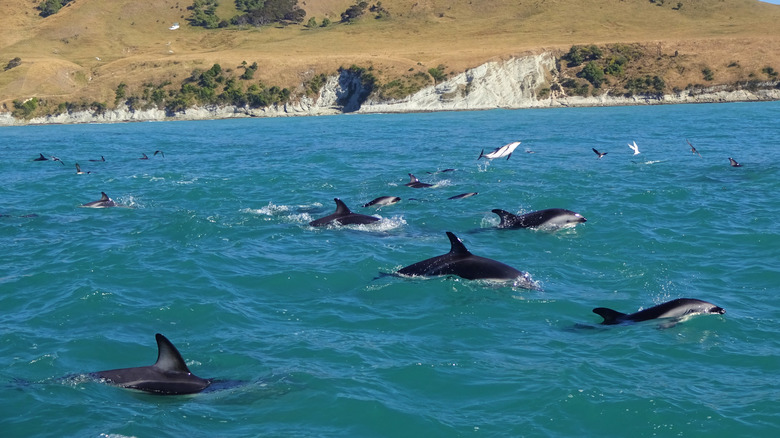 Axel photos/Shutterstock
A model for responsible, sustainable tourism products, New Zealand is a Pacific country with majestic scenery, used to great effect in numerous movies over the decades. A couple of spots on the South Island showcase that sense of care and duty to marine life during their dolphin swim excursions. At Akaroa, Hector's dolphins frequent the waters near the harbor, and tour outfitters like Black Cat Cruises get visitors close to this unique creature, though touching them is strictly forbidden. These marine mammals are only found in this part of the world, greatly endangered with less than 10,000 believed to be in existence, and fans of Disney will appreciate their dorsal fins that are shaped like Mickey Mouse's ear. 
A little north of here, Kaikōura has one operator — Dolphin Encounter — that takes travelers out on the water to swim near dusky and common dolphins, the species seen most frequently. The outfitter recommends that swimmers get near the mammals with their arms tucked along their sides, and definitely steer away from touching the creatures for fear of spooking them. While dolphins are here all year round, the months where the temperatures are more pleasant (October through May), bring them closer to the coast, making them a bit easier to spot.
Portugal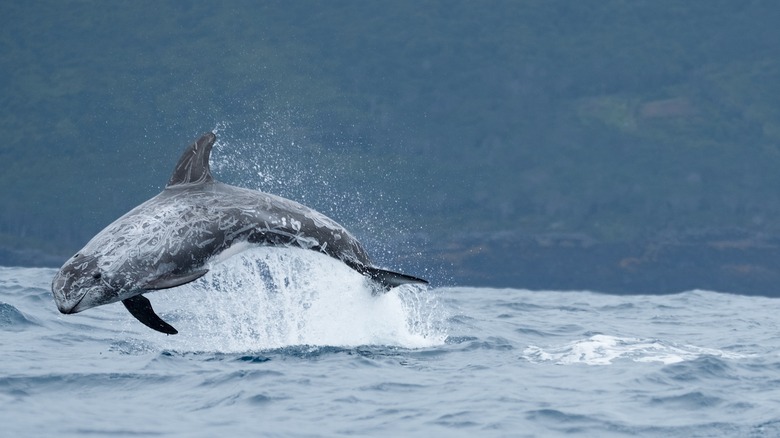 Wild_and_free_naturephoto/Shutterstock
Nine islands sprinkled across the Atlantic, west of Portugal, the Azores are blissfully natural, with mountains, forests, beaches, and great surfing. At these islands, visitors can get wet with a few different species of dolphin. Adventurers on trips with CW Azores head out onto a boat, zipping through the deep blue as they trail the pods of mammals, suited up so they can last longer in the brisk water (it's warmer in the summer, but a short wetsuit is still needed). Swimmers are restricted to two in the water at a time and are advised against touching or trying to tail the dolphins closely. 
Throughout the excursion, which can last up to four hours, participants might be able to get in the water multiple times, and possibly swim with different species on the same swim, adding a dose of variety to the encounter. What you might see here are the Atlantic spotted, bottlenose, common, Risso's, and striped dolphins, the last one perhaps the most elusive.
South Africa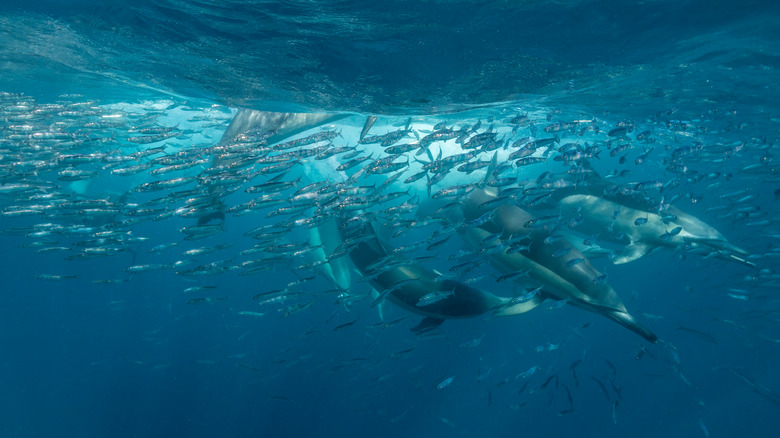 wildestanimal/Shutterstock
A eye-popping spectacle that happens annually off the coast of certain parts of South Africa, the sardine run is a bucket-list moment for divers the world over. It happens in the Southern Hemisphere's winter, from May-July, a migratory trek after spawning, with the fish in search of cooler waters. As the sardines swarm together and move up the coastal waters, their massive formations look like underwater tornadoes, swirling and swishing the waters, ever shifting in shape and form. Of course, their presence doesn't go unnoticed, and dolphins and sharks mass around them in search of some easy calories, pushing the fish up from the depths in staged advances, jostling them to the water's surface where they huddle together for protection, and become easier prey in the process. 
Dive operator African Watersports has experience arranging trips to see this phenomenon during the annual sardine run, with dolphins showing off their acrobatic maneuvers while attacking from below the surface, and following arcing leaps above the water, a bit like sea birds that make sharp, speedy dives from high in the sky. Trips leave from Port St. Johns, a town in the Eastern Cape province that is located southwest of Durban, and usually start in June. These are truly wild adventures that have to be seen to be believed.