The Best Outdoor Activities To Try On Your Next Trip To Los Cabos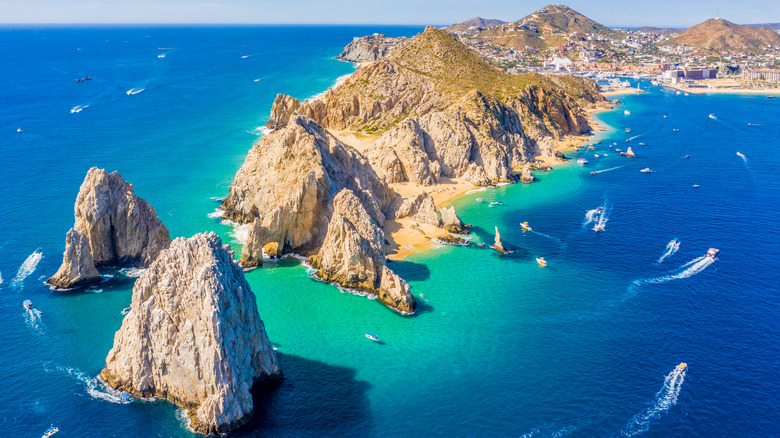 Frederick Millett/Shutterstock
The coastal paradise of Los Cabos lies at the bottom tip of the Mexican state of Baja California, the slender swath of land extending below Southern California. But Los Cabos is not a one-note destination; it also encompasses the tourist mecca of Cabo San Lucas and San Jose del Cabo. It's an area of beautifully spare, diverse terrain, with a dynamic ocean, generous expanses of desert, and peaks and canyons created by the ubiquitous, jagged mountains. 
The natural environment here has helped to make this a destination ripe for exploration, and one that is healthily served by hundreds of hotels, resorts, and all-inclusive resorts. With natural wonders and lodging in abundant supply, Los Cabos is primed for outdoor activities, a notion not lost on the scores of operators that offer a panoply of active choices, from the sedate to the seriously supercharged. Here, anything is possible, from A-Z, quite literally, as the list below illustrates.
ATV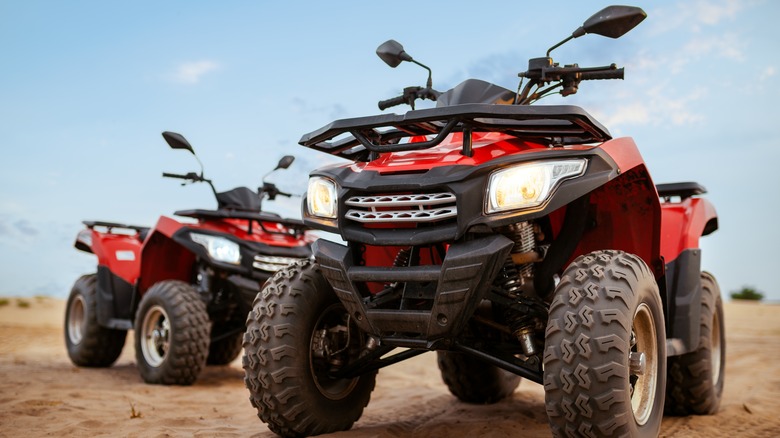 Nomad_Soul/Shutterstock
The rocky landscape of Los Cabos is an attribute that makes it so appealing for outdoor adventurers. The region's iconic natural landmark El Arco (The Arch) is a striking span made of granite eroded over millennia by the forces of wind and water, while it sits in the Sea of Cortez. It's an unforgettable sight and a reminder of the raw materials prevalent in this part of Mexico. 
That rocky terrain, however, means that parts of Los Cabos aren't easy to reach with a conventional vehicle, but rather are better suited for off-road exploration on an ATV. A number of operators take visitors out into Los Cabos' rugged wilds, including Cabo Adventures, where an ATV tour will get the throttle revving and heart pumping. Trips wind their way through mountains north of Cabo San Lucas and end with a Mexican buffet meal or a heart-stirring sunset around a campfire.
Bungee jumping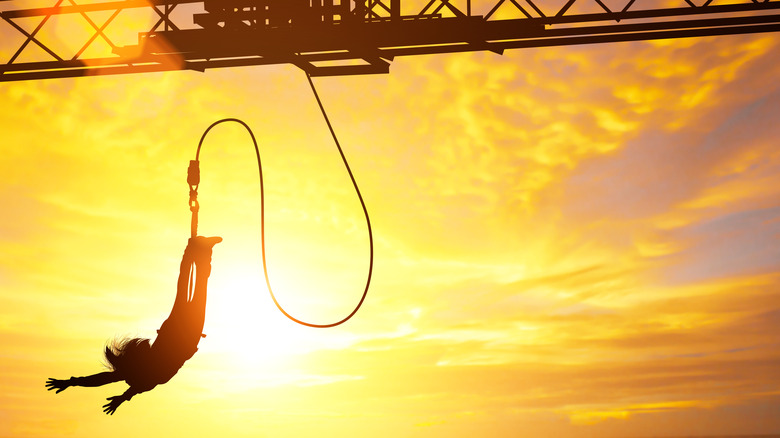 LittlePerfectStock/Shutterstock
There's a moment during a bungee jump when time seems to almost stop, just before the descent ends and the cord yanks back up. It's a strange sensation, equal parts thrilling, calming, and unnerving, but a feeling that you'll never forget. This might be why bungee jumping, an activity that was inspired by a harvest-time tradition in South Pacific's Vanuatu, has taken off and is so popular all over the world. 
It could also explain why the adventure park Wild Canyon, set inland halfway between Cabo San Lucas and San Jose del Cabo, retains bungee among its expansive catalog of adventures (this is, in fact, the only place to bungee jump in Los Cabos). Here, the leap takes off from a glass-bottomed gondola that hangs over a valley, and the drop allows participants — anyone above the age of 10 — to free-fall 300 feet before that blissful blip in time.
Camel rides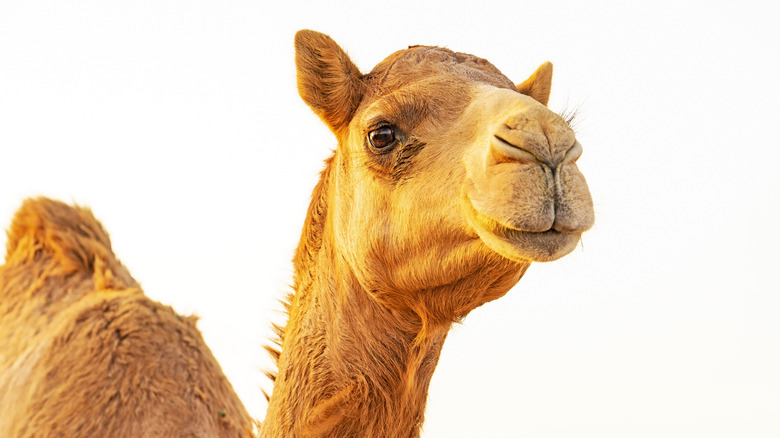 Sids/Shutterstock
Camels aren't animals you would normally encounter in Mexico, considering they are indigenous to North Africa and Asia. But book an excursion with Cactus Tours and you'll find yourself seated on one as you gently enjoy its rocking walk. The operator's camel ride, taken atop a dromedary, or a single-hump ship of the desert, isn't just a novel or unusual way to travel. It's also educational — you'll learn about camels, their history, their anatomy, and the work involved in caring for one — and a visual delight, with views of the Sea of Cortez as your steer camels along the sandy shore. 
A little up the west coast, the adventure park Carisuva offers horseback riding trips that showcase the minimalist beauty of Los Cabos' deserts, where some cacti can grow up to 20 feet in height. They also offer the chance to hike with burros, or donkeys, through the sparse terrain.
Camping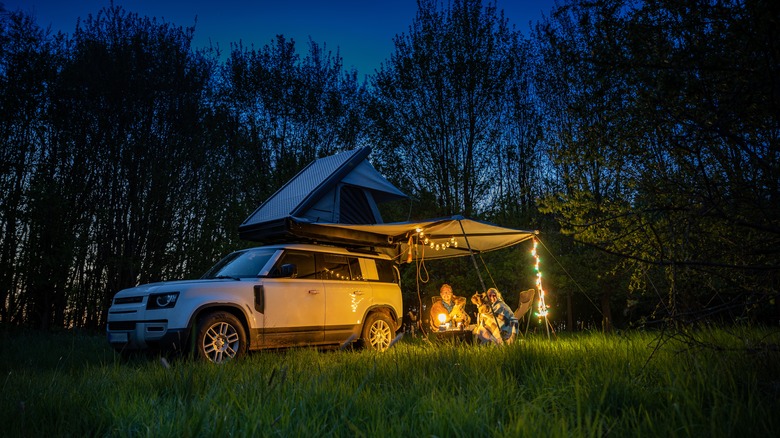 Daniel Beckemeier/Shutterstock
No style of lodging is in sync with the Great Outdoors quite like camping, where all that separates you from the elements is a thin layer of polyester or nylon. While it may not be the preferred method of experiencing nature for everyone, it certainly offers a connection to the landscape that a hotel room can never quite replicate. The operator Sampa Explore offers camping adventures in the area that can be either self-guided or come with a guide. 
The vehicles offered range from camper vans where adventurers sleep inside to pick-up trucks and all-wheel-drive Jeeps where a tent is set up on the roof each night. While camping isn't the main attraction, it's certainly one of the thrills, and there is nothing quite like waking up, unzipping your tent, and looking out to see the ocean, desert, or clear night sky unfurling in front of you.
Canyoneering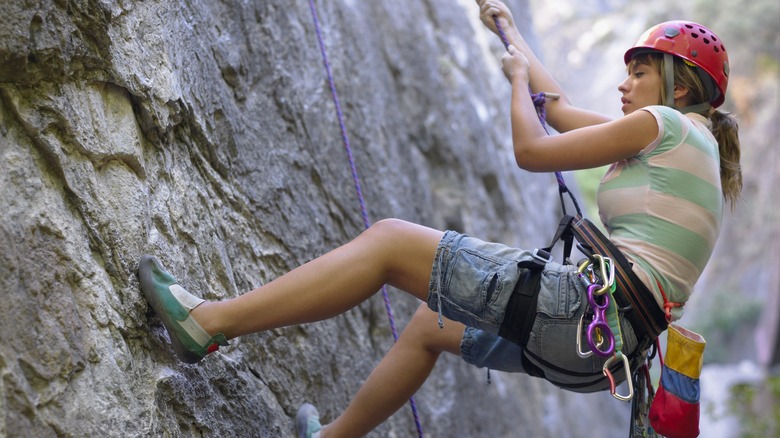 Image Source/Getty Images
With a genesis that can be traced to Utah in the 1970s, canyoneering (also known as canyoning in other parts of the world) is a melange of active disciplines, like a pentathlon of adventure sports. It can involve any combination of activities, such as climbing, swimming, wading, jumping, clambering, rappeling, abseiling, and general scrambling to overcome varied, seemingly insurmountable terrain. It's a wildly exciting, hair-raising, and heart-pumping adventure, with brief moments of tranquility sandwiched between bouts of dread, adrenaline, and gleeful abandon, all helping to create an exploit that is energizing and exhausting.
The canyoneering-style trip with Cabo Best Tours blends some of these elements, with features like zip lines (one of the lines will get participants descending at speeds of 60 mph) and a pendulum (you'll swing across a canyon while attached to a rope, go for it!). There's also ATV rides, abseiling, rappelling, and climbing to be expected in the adventure.
Fishing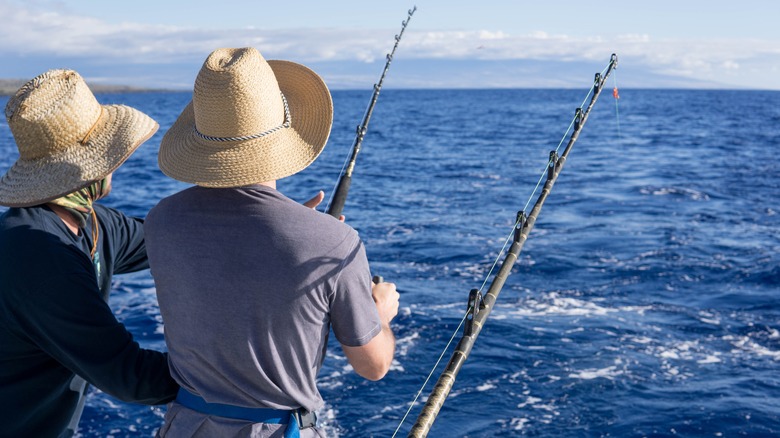 Raissa Martins Nogueira/Shutterstock
A couple of hours from Los Cabos, Cabo Pulmo is a protected marine park and a UNESCO World Heritage site, where the water is a teeming environment filled with colorful aquatic treasures. This part of the peninsula is famous for marlin fishing, often called the marlin capital of the world, according to those in the business. Thankfully blue marlin isn't being overfished, and these giant sea creatures that can grow to more than 12 feet and weigh in excess of 2,000 pounds, are a desired target for fishermen that visit these waters for some oceanic catch and release. 
There are many operators that arrange fishing charters on these cobalt Pacific waters, including Go Deep, whose boats can include a private cook. Vessels are rented as bare boats (basically do-it-yourself) or guided, where the chef, food and drink, licenses, equipment, bait, and a 37-foot, tournament-ready yacht are all provided.
Golf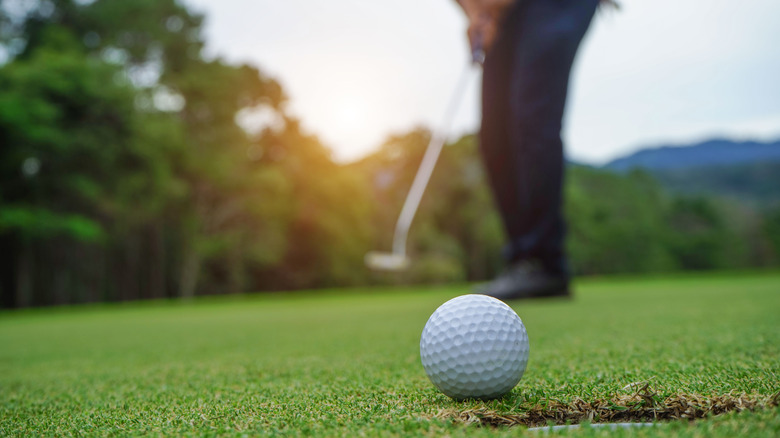 Mr.Somchai Sukkasem/Shutterstock
The weather in Los Cabos promises warmth year-round — this is a tropical desert after all. Winters are mild and clear, with plenty of sun and low humidity. While summers can be sweltering and stifling, they allow for outdoor activity, especially at hours near dawn and dusk. This climate, together with the decent stock of public golf courses around Los Cabos, makes the destination one that's ideal for golfing year-round. 
A fine introduction is the nine-hole course at Vidanta Los Cabos, where hazards include 32 bunkers. With courses designed by Jack Nicklaus and Greg Norman, and views of the Sea of Cortez available from most areas of play, Puerto Los Cabos opened in 2007 a 10-minute drive from San Jose del Cabo. For the ultimate round, try one of the three golf clubs — Diamante, Querencia, and Quivira — that appear on Golf Digest's ranking of the World's 100 Greatest Golf Courses for 2022-2023.
Hiking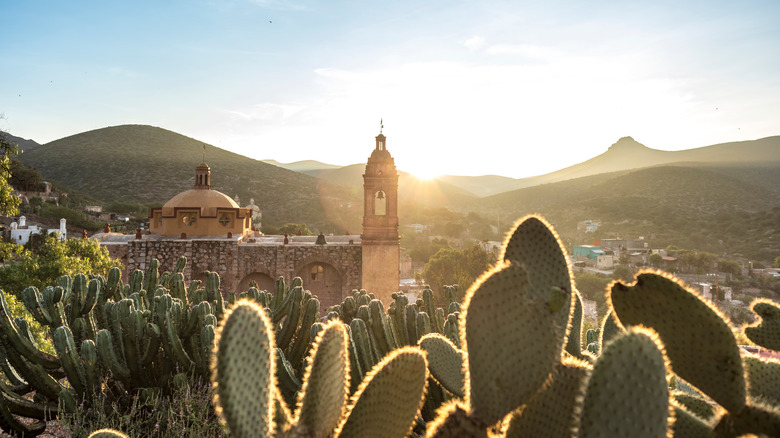 Claudio Briones/Shutterstock
For a deep exploration of a place's natural wonders, nothing matches up to a hike, where the interaction with the surroundings is much more intimate than it will be on a bicycle, car, or ATV. With Dharma Expeditions, the hikes are led by certified guides and promise walkers the chance to learn about local flora and heritage. One walk, with a focus on history, passes through a Jesuit village before wrapping up with outrageous sunset views that take in oceanfront cliffs. 
Another excursion traverses the Sierra de la Laguna Biosphere Reserve, which is the source of much of Los Cabos' drinking water. Here, you'll hear about the extinct, native nomadic tribe called Pericu, visit a ranch, work your way through a canyon, and lounge in a natural spring. In addition to its scheduled trips, Dharma Expeditions can arrange customized hikes, that way you can walk a route that nobody else has.
Jet skiing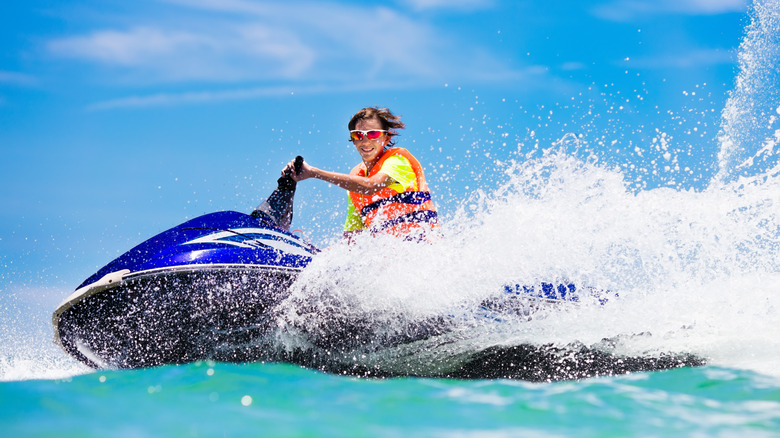 FamVeld/Shutterstock
If there's one thing that you'll remember on any trip to Los Cabos, is that there is a lot of water around. Just look at those rolls of blue, silently begging for someone to jump in, dive under, skim along ... or shred on a jet ski. Aries Water Sports is based in Playa El Medano, just east of Cabo San Lucas, a broad stretch of sand where the water is swimmable and the fabulous views take in Land's End and El Arco. 
In addition to snorkeling, whale-watching, and parasailing tours, the outfitter rents out jet skis, 1.8 liter beasts that can hold two people and attain speeds of 45 mph. The vessels can be rented for up to an hour and driven in the area around the beach (alas, trips on them to El Arco are off-limits). Still, beach-goers have a thrilling way to experience the water. 
Kayaking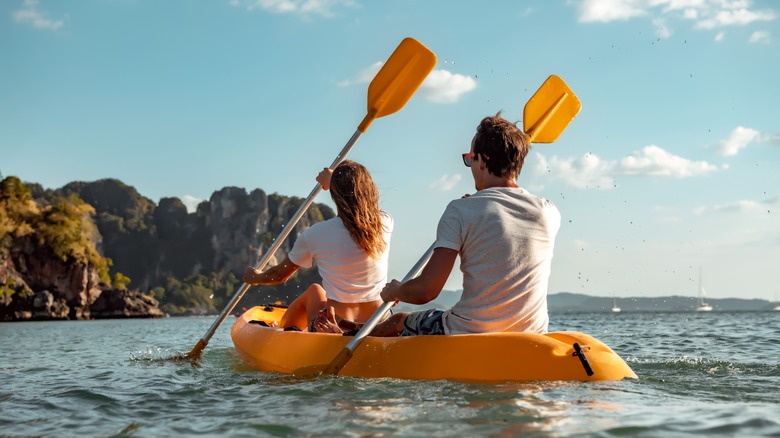 Dmitry Molchanov/Shutterstock
If you want to get close to Los Cabos' famous rock arch, you can take a boat tour. Or, for a profound experience, book a kayak trip with Cabo Outfitters. The operator offers a few kayaking excursions, some of which include time for snorkeling. National marine park Cabo Pulmo is the focus of a full-day trip, where you can kayak into the bay where seals lounge on rocks and snorkel at Playa La Serenita. 
Other voyages last half a day. Nature lovers that want to see a less publicized side of the marine ecosystem here can opt for the estuary kayak voyage that winds through bird-rich waters near San Jose del Cabo. Three bays are visited during another trip, explored both on kayak and within the water via snorkel. And you'll come into close contact with El Arco, Lover's Beach, and the upward-reaching Neptune's Finger during another half-day jaunt.
Mountain biking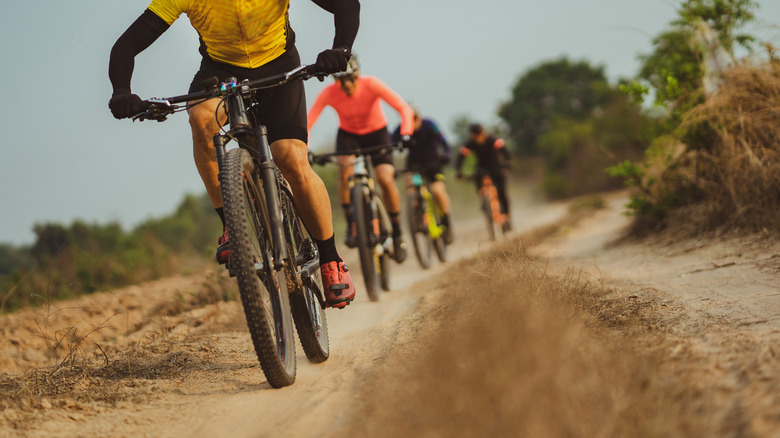 TORWAISTUDIO/Shutterstock
The undulating terrain of Los Cabos makes it a satisfying spot for cyclists keen on testing their calf and thigh muscles, whether that be on paved roads or rocky, craggy mountain trails. But you don't need to bring your own bike to enjoy the ride out here. Falcon Bike Tours concentrates on custom two-wheel rides with local guides and offers the option of trips where you can bring your own bicycle or rent one. 
Rides take in different aspects of the region, from city streets to bumpy, off-road tracks that meander through cacti-strewn interiors. One of the trips visits the trails near San Jose del Cabo, where torturous troughs and devilish descents ensure riders never experience any respite. Other trails rise and fall with the hills they crisscross along the Sea of Cortez, views that might help you to forget how punishing the trails can be on your legs!
Paintball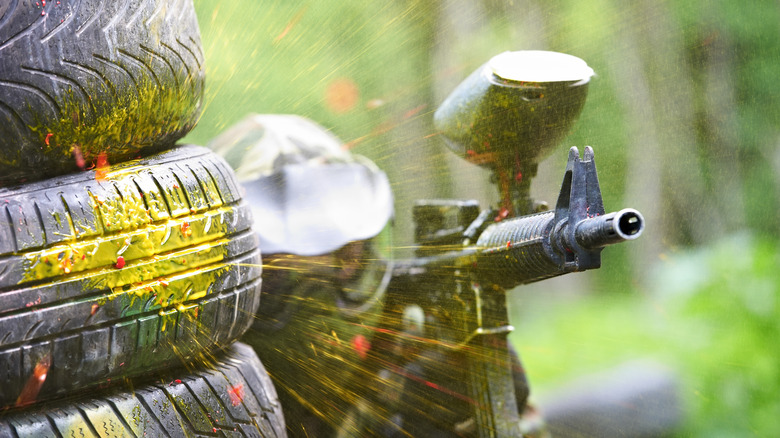 Kadmy/Getty Images
Walmart is a common site all over the United States, and it's a familiar store you'll spot it Los Cabos. Next to one of them, in fact, is where travelers will encounter Paintball CSL, an outdoor paintball arena that allows players to splat each other without restraint. The playing field comprises large expanses of arid land broken up by various obstacles, shielding areas, and hiding places — columns of tires, a disused boat, stacked metallic barrels, and slashes of bush and greenery. There are also Mexican flags dotted around and from some parts of the grounds, you'll get great views of Los Cabos' mountains and coastline. 
This is a fantastic option for families that want some high-octane, heart-racing, and mildly painful fun (the guns' power can be adjusted). It's also amazingly affordable, with 200 pesos (about $11) getting you 100 paintballs, a gun, a mask, and a safety vest.
Parasailing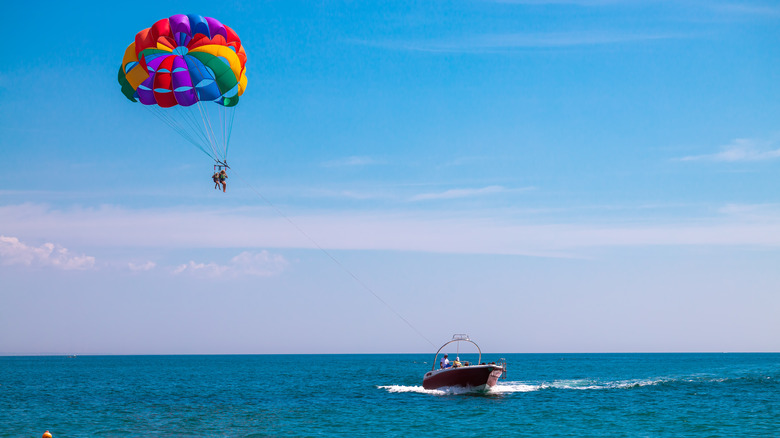 Valio84sl/Getty Images
Want to feel as free as a bird, floating high above the ocean? Sound like something that will make you smile? On a parasail flight with Happy Flights Cabo, you'll have that smile on your face and above your head, with the canopy keeping you airborne featuring a big smiley face on it! The parasails can handle up to three passengers and usually head out in the morning; since trips depart from near the cruise terminal, they fill up quickly when a liner is in port. Flights soar above the waters near Land's End, and some take in bucket-list aerial views of El Arco. 
For travelers that want a bit more oomph in their aeronautical escapades, Baja Paragliding Experience takes individuals up on motor-powered gliders that drift through the air, high above beaches, mountains, and seas where sharks, rays, dolphins, and whales sometimes come clearly into sight.
Sailing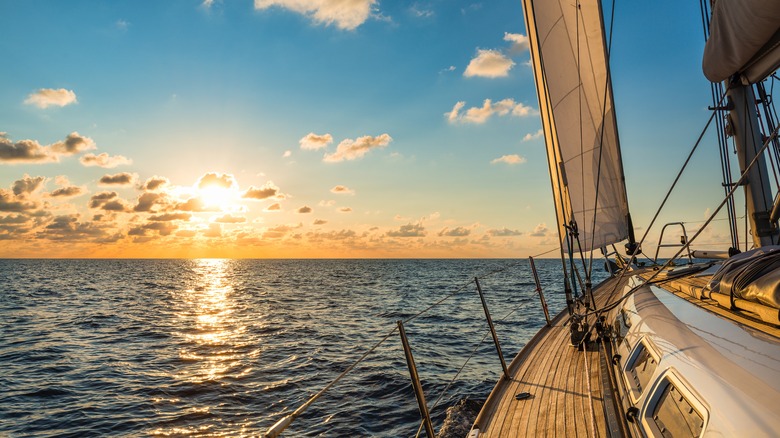 Giovanni Rinaldi/Shutterstock
There's a lot of water — the Pacific Ocean, in fact — to explore around Los Cabos, and the only thing stopping you is the lack of a boat. Cabo Sailing will take care of that. Located by the marina in Cabo San Lucas, the company offers a range of ways to get out and see what makes the sea around Los Cabos so special. Luxury yachts are a fine way to navigate along the coast — Cabo Sailing has yachts ranging from 42-46 feet — but nothing is as intimately linked to the idea of seafaring as a sailboat. 
Scheduled cruises include those that stop for snorkeling or shorter voyages that venture out to watch the sunset. Spring for a sailboat charter at sunset so you and your loved ones can circle around Land's End and by El Arco as the sun sinks into the sea, raising a toast to another paradisal day in Los Cabos.
Skydiving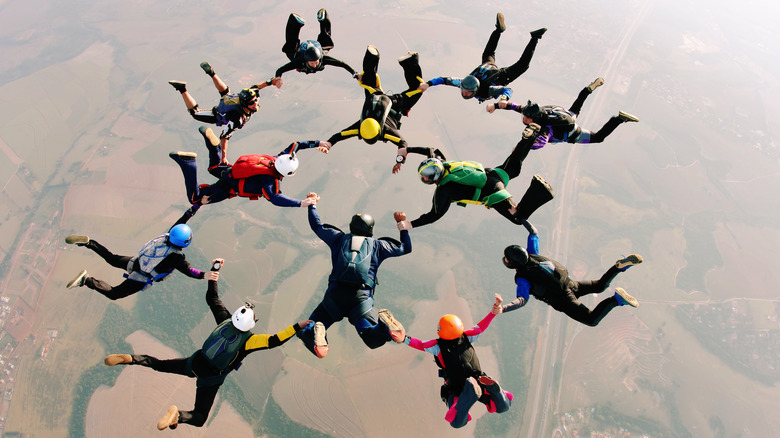 Mauricio Graiki/Shutterstock
It's one thing to study the lay of Los Cabos on a map — either paper or digital — where coastlines and contours, hills and highways, roads and rivers are simply lines and layers. It's another thing altogether to see that layout firsthand from thousands of feet in the air, where every bend in the shoreline, rise in the terrain, and shade of the sea comes sharply into focus. The views of Los Cabos' sea, sky, and sand from 10,000 feet above ground are spectacular, and that's exactly what you can anticipate with Sky Dive Los Cabos. 
First timers will do a tandem jump — attached by a harness to a trained instructor who will deploy the parachute — from 3,000 meters (about 10,000 feet), free-falling for almost a minute at speeds of up to 120 mph before the chute opens, followed by a few minutes of serene gliding over the sea before touchdown.
Snorkeling and scuba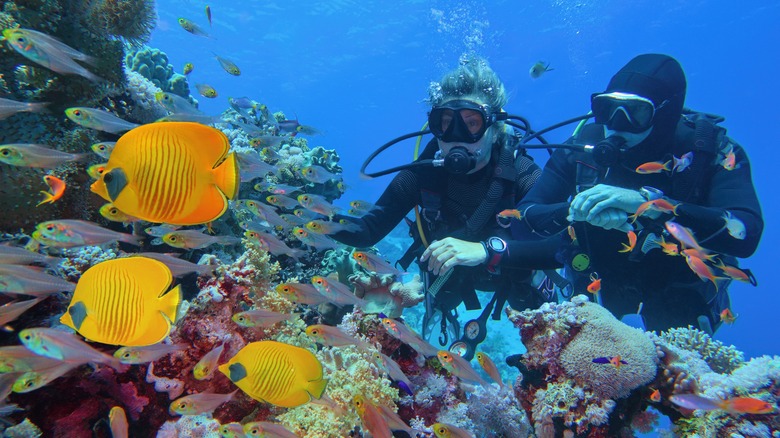 Tunatura/Shutterstock
With a national marine park just up the coast, the seas here include vibrant realms of a thriving ecosystem that might not be apparent from your hotel room or even the shore. But it is there, and the magical underwater world of Los Cabos is as lively and colorful as any of the attractions that the tourist corridor can offer, less the noise! Divers and snorkelers here can see a wide range of fish as well as rays, whale sharks, turtles, and more. 
Trips with Dive Cabo focus on two main areas — the Corridor with its bountiful numbers of moray eels and rays, and the marine park that is home to a sea lion colony. For an electrifying plunge, advanced divers will want to sign up for descents to deeper waters where schools of sharks rhythmically roam. Sharks are also the principal attraction during snorkel outings with Cabo Paradise Tours.
Surfing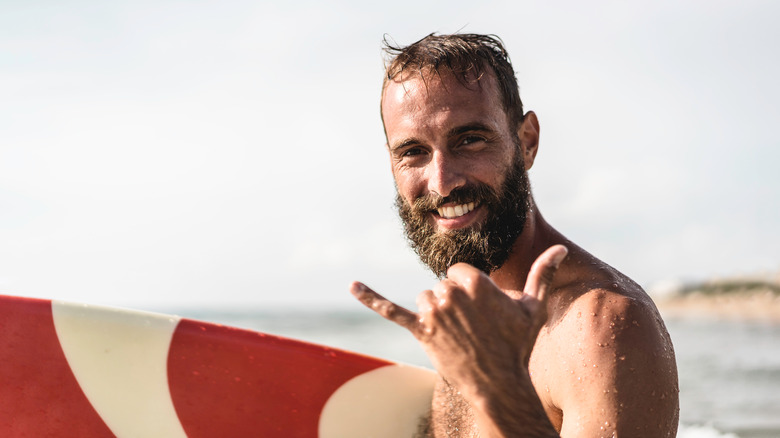 Davide Zanin Photography/Shutterstock
The Pacific isn't a timid body of water, with waves rolling across thousands of miles, slicing through time zones, and coursing around countries. That ceaseless motion is a boon for surfers, including here in Los Cabos, where beginners and more experienced riders can effortlessly catch some waves. Part of a complex with a surf shop and hotel, Mike Doyle Surf School sits right on Playa Acapulquito and is named for the Californian legend who surfed here regularly before passing away in San Jose del Cabo, a few miles away, in 2019. 
The school rents a wide range of boards to visitors — from stand-up paddle boards to long boards — and also offers lessons, either as private or group instruction, or multi-day surf clinics. The best time to surf here, according to the blog Surf Forecast, is during the summer, a perfect window for families whose kids are out on school break.
Whale watching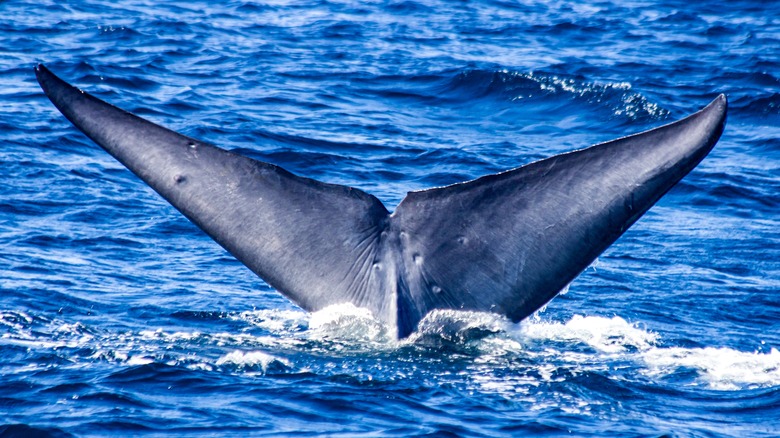 Enessa Varnaeva/Shutterstock
During the summer, humpback and gray whales ply the waters of the western United States and Canada, Washington state, British Columbia, and Alaska. When the temperatures start to drop, like human snowbirds, the whales migrate south, seeking sun and warmth. From December through April, they frequent the seas around Cabo San Lucas, and this seasonal phenomenon has generated whale-watching tours. 
Whale Watch Cabo has a high success rate spotting them — it claims favorable outcomes 95% of the time — and while nothing in this life is guaranteed (apart from death and taxes), the company lets guests that don't see a whale on their trip join another excursion for free. Seeing these mammals up close is breathtaking considering their sheer size and the effortless way that they slide through the water. In addition to humpback and gray whales, passengers might see blue and sperm whales, and various species of dolphins.
Zipline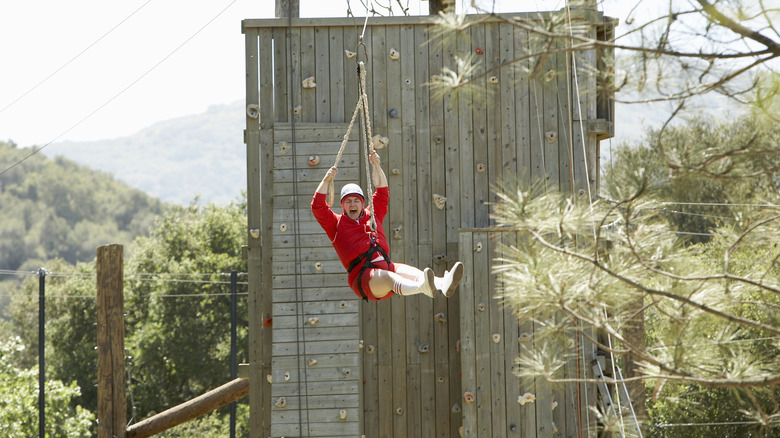 Sean Murphy/Getty Images
Zooming through the air on a zip line is liberating. It's not a sensation that you can easily recreate, that of danger mixed with calm, high adventure swaddled in extreme safety. You'll be able to enjoy that freedom seven times over on a zip line extravaganza with G-Force Adventures, where cables connect cliffs and hover above canyons. Picture the feeling of the wind in your face as your legs dangle in the open air, and the sight of the desert landscape all around as your hands grip the zip line trolley for dear life! 
The three-hour escapade has travelers shuffling from one platform to the next, with some rides as long as 300 feet, but the seven zip lines aren't the only things on offer. The course also features a section of rappeling, a Tarzan swing, and a wooden suspension bridge that wobbles uncontrollably from side to side when crossed.