The Best Time Of Year To Visit Egypt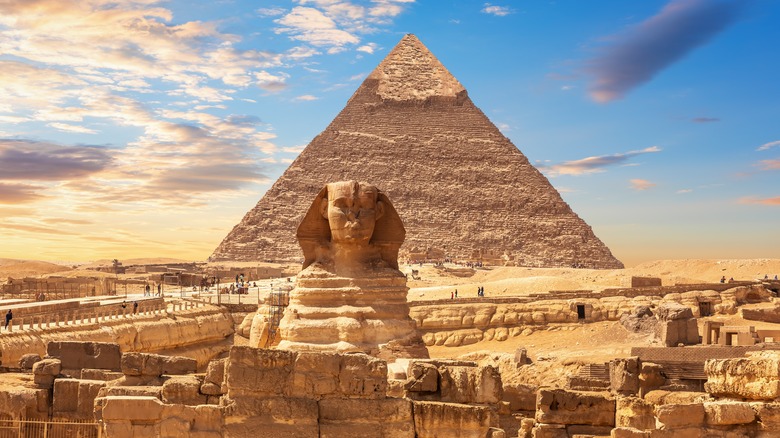 AlexAnton/Shutterstock
Unlike in certain places, it's not a winter freeze or a monsoon that you want to avoid in Egypt. In fact, according to National Geographic, about an inch of rain falls in Egypt each year, so getting drenched isn't going to be a concern at any time. Rather, it's the heat that could make your vacation in Egypt less than enjoyable. With Luxor reaching average highs of over 105 degrees Fahrenheit in July, visiting Egypt in the summer months might mean you end up seeing the Valley of the Kings through a veil of sweat and sunscreen.
Like for many places, choosing when to visit Egypt will depend somewhat on what you want to do there and which part of the country you'll be going to. If you're planning on a sightseeing vacation focused on the magnificent ancient sites in the country, you'll want to avoid the height of summer. However, if you're heading to the Red Sea on a diving trip, the heat might not bother you so much, as you'll spend most of the daylight hours underwater.
The best time to visit Egypt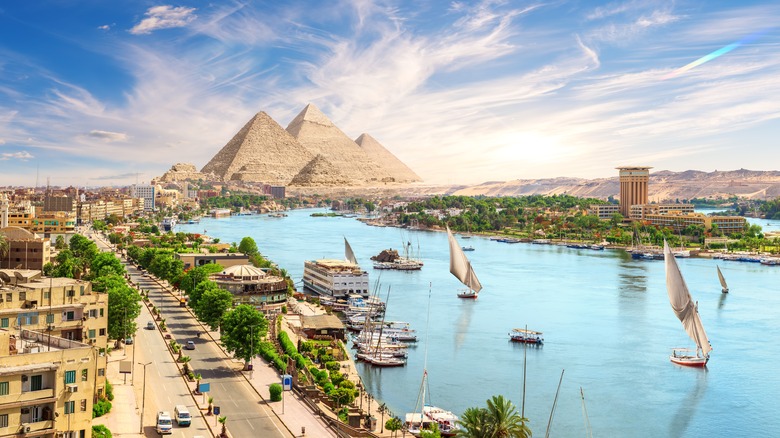 AlexAnton/Shutterstock
Most experts, including those at Intrepid, recommend visiting Egypt between October and April. These months all have abundant sunshine and pleasant temperatures, with highs of between 77 and 86 degrees Fahrenheit during the fall and spring. Intrepid's advice for the best weather window is to visit Egypt in the fall to avoid the hot winds that blow in the spring.
October might be the perfect balance between weather and crowds in Egypt, according to Trafalgar. The weather is cooler than in the summer, so you can traipse around pharaonic tombs in the desert to your heart's content, but the huge crowds won't have arrived yet. Trafalgar also highlights October as a good time to do a Nile cruise and experience some of Egypt's best festivals, including the Cairo Jazz Festival and the Sun Festival at Abu Simbel. Responsible Travel mentions that October through May is peak time for large cruise ships to visit Egypt, so if you're actually staying in the country, it's a good idea to visit sites either early or late in the day to avoid the masses. Sunrise and sunset are wonderful times for photographing the pyramids too.
Finally, if you choose to visit Egypt during December and January, you'll need to book early. These are the two busiest months according to Trafalgar, so hotels can get booked out quickly.
Visiting at other times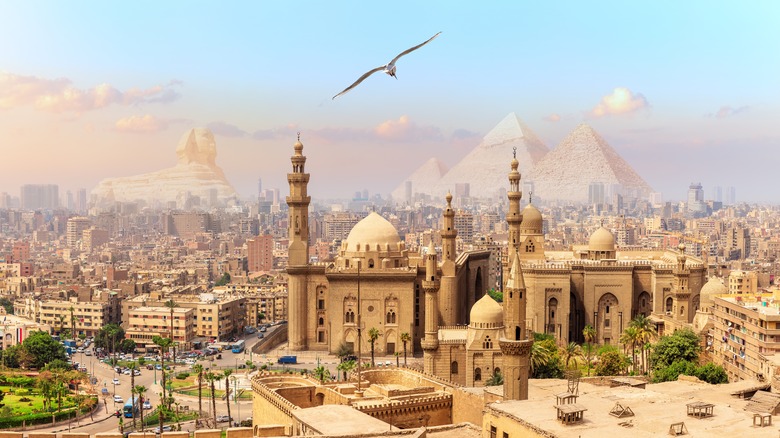 AlexAnton/Shutterstock
Want to snap the best photos of the Great Sphinx of Giza without jostling for space with thousands of other Ancient Egypt lovers? If it's elbow room you're looking for, head to Egypt in the summer months. Audley Travel writes that June and September see fewer crowds than other months as they are outside of school holiday periods and a little hotter than many people would like. They also state that prices for vacations tend to be lower in June. Responsible Travel suggests traveling from May to September is manageable, thanks in part to Egypt having low humidity. Just make sure your hotel has air-conditioning. And a pool. However, Rough Guides warns that pollution in Cairo peaks in the summer months, so those who are sensitive to that will want to stay away.
Finally, a word on traveling during Ramadan, when most Muslims fast from dawn until dusk. Visiting Egypt during the month of Ramadan can be both rewarding and challenging, Rough Guides explains. During daylight hours, non-Muslims are expected to observe the fast, and opening times and transport schedules will likely deviate from the norm. However, the evenings often see big celebrations in the cities when people break their fasts. As the timing of Ramadan varies year-to-year, you'll need to check your calendars to see when it falls.