The Best Outdoor Activities To Try On Your Next Trip To Hawaii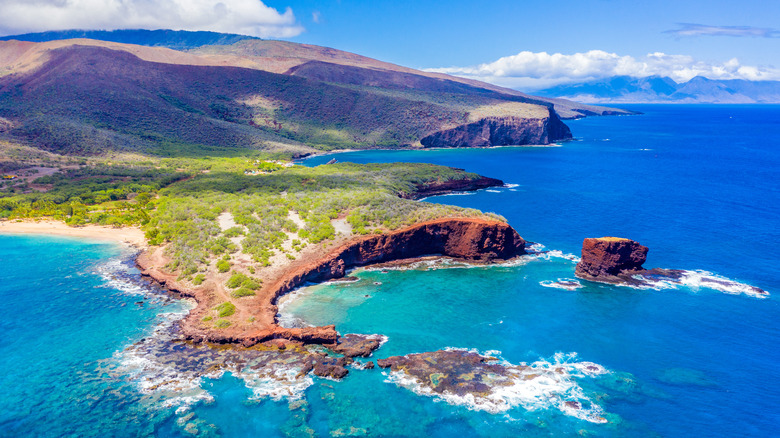 Frederick Millett/Shutterstock
A paradise in the Pacific, Hawaii is about as remote as it gets for a U.S. state, thousands of miles away from the Lower 48, and moored in a vast ocean, a scattering of verdant, volcanic isles amid expanses of deep blue. While all that sounds tantalizing in itself, what makes Hawaii so special is its sheer variety of topography and terrain, a smorgasbord of environments that ensures that exploration is never monotonous, nor monotone. One look at images of these isles shows how they handily fulfill any fantasy of a tropical idyll. 
This, after all, is where visitors will find forested, vertiginous, mountainous slopes that drop into clear turquoise seas, crisp beaches populated with skinny, swaying palm trees, giant peaked volcanoes that dominate horizons, like sentries silently watching guard on the surroundings, and rolling oceans filled with power and pulchritude, the casing that binds all the islands together. Hawaii is riddled with places to explore outdoors, and that variety also extends to the methods of such scrutiny — it offers a literal A-Z of alternatives, as the list below demonstrates.
ATV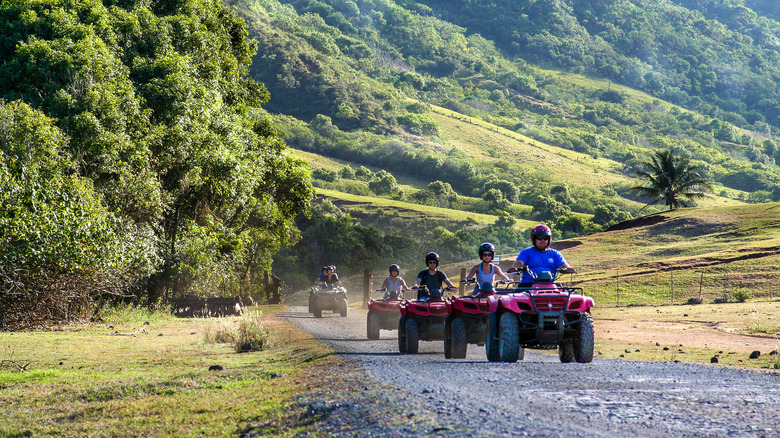 Stephanie A Sellers/Shutterstock
What many visitors — and even residents — recall most about their time in Hawaii is the natural beauty of the islands, parts of the planet where life is intimately connected to being outdoors for generous parts of the day. Some of that nature is easy to access, like beaches that have pleasingly soft sand underfoot or well-marked walking trails in state and national parks. But, for the more rugged aspects of the islands, nothing quite beats a trip aboard an ATV. Travelers can explore the wilds of Kauai by ripping around the island on an ATV with outfitters like Kauai ATV. 
One of its top tours last about three hours, and takes in striking vistas of the Pacific, as well as sites on the island where movies were filmed, with guides recounting the island's history throughout the excursion. Participants ride in Polaris RZR 1000 vehicles, slashing through volcanic red dirt tracks, and getting caked in red dust in the process — think of it as a badge of honor.
Biking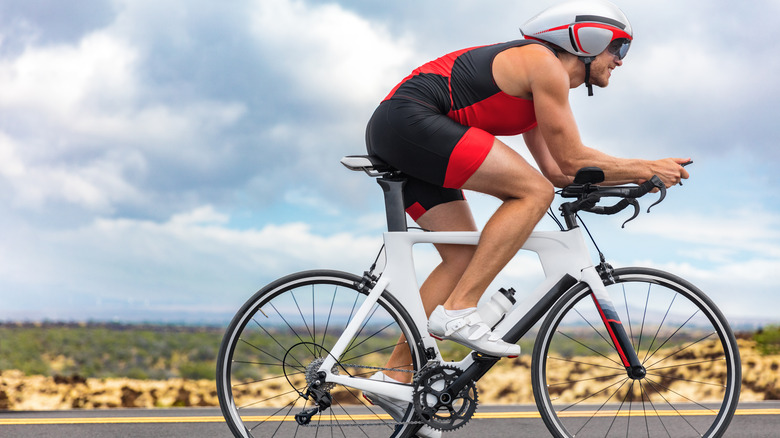 Maridav/Shutterstock
Between hills, flats, winding roads, and gentle downhills, Hawaii's islands have it all. These are the kinds of roads that are great for cycling, whether you are a novice or have thousands of miles under your belt (or should that be under your helmet?). There are many rides all over the islands, from easy loops like one that departs from Waikiki, in Honolulu, and circles around Diamond Head, to more intense trips that skirt volcanoes and require quad-quaking, calf-crushing vertical climbs up mountain passes. 
On the island of Oahu, the first stop for many tourists and home to the capital Honolulu, the Department of Transportation Highways has identified a number of bike routes that will keep cyclists pumping those pedals across scenery that's born to be admired. These range from sedate sojourns that families can easily complete, as well as routes that ply roads humming with traffic, and that require greater cycling competency, alertness, and spatial awareness.
Cliff jumping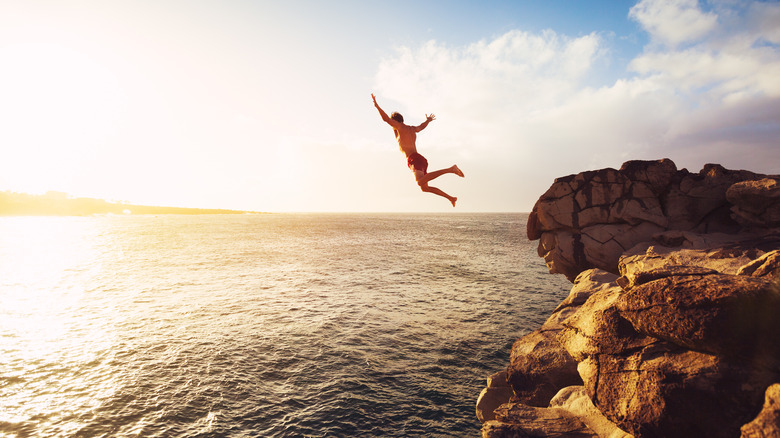 EpicStockMedia/Shutterstock
While it's not yet an Olympic sport — and who knows if it will ever become one — cliff jumping is a discipline that requires fearlessness, extreme athletic ability, and unerring focus. It's a thrilling thing to do, but wildly dangerous, especially when leaping into the sea, where conditions constantly change. For truly adventurous visitors to Hawaii, there are spots all across the archipelago where they can hurl themselves into the wild blue yonder and do so as a perfectly normal way to get a shot of adrenaline. 
For the more sane among us, watching is as much fun at springing off into the air. Jumping off cliffs has a deep tradition here, with some tracing its origins to a dare from a Maui king to his soldiers — a feat that is re-enacted each night at Kaanapali beach next to the Cliff Dive Bar. Perhaps the most famous jumping point on the islands is on Oahu, at Waimea Bay, where a big rock that juts into the ocean is usually mobbed with thrill seekers ready to plummet 30 feet into the turquoise depths.
Fishing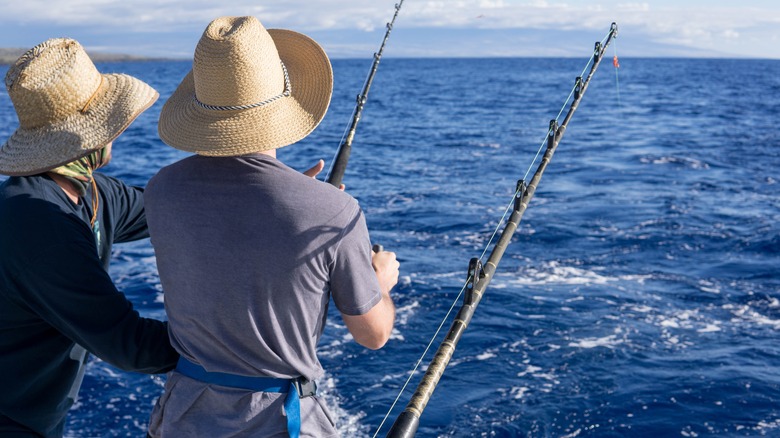 Raissa Martins Nogueira/Shutterstock
With all that water in every direction, stretching as far as the eye can see, visitors to Hawaii can safely assume there is plenty of sea life out there. While anglers can find a spot to set up and hang their pole over the water, this bare-bones approach pales in comparison to fishing in the deep sea. Operators like Sportfish Hawaii can take guests out from locations on four of Hawaii's islands — the Big Island, Kauai, Maui, and Oahu — and since the sea floor drops off quickly close to the shore, the boats don't have to travel far before reaching that deep, brooding indigo water. 
The big lures here are marlin and tuna, giant creatures of the sea that can weigh hundreds of pounds, and while catches are never guaranteed, the experience of being out on the water, away from the daily routine, is reason enough to head out to the giant basins of blue.
Helicopter tour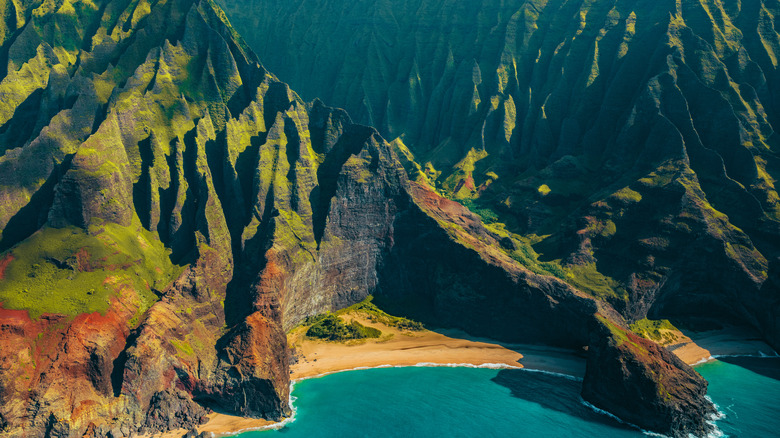 Maridav/Shutterstock
To appreciate the natural splendor of these islands isn't hard to do. Visitors can see it from their drives around the islands, while hikers get a closer, more personal look at it when they trample about. But, for an overview of the wild beauty of the islands, to truly get a handle on the extent of what Hawaii's outdoors offer to visitors and Hawaiians, nothing beats a helicopter tour. Blue Hawaiian Helicopters takes passengers out on a range of choppers, including the Airbus EC130 Eco-Star, with tours offered on the main four islands. 
Big Island trips depart from two different heliports and float over waterfalls, deep rainforests, sheer sea cliffs, and above the pulsing core of Kilauea, a volcano that is very much alive and spewing. In Maui, the verdant topography and sultry beaches that passengers can drink in include locations where the likes of "Jurassic Park" and "Lost" were filmed, and the company also offers private charters.
Hiking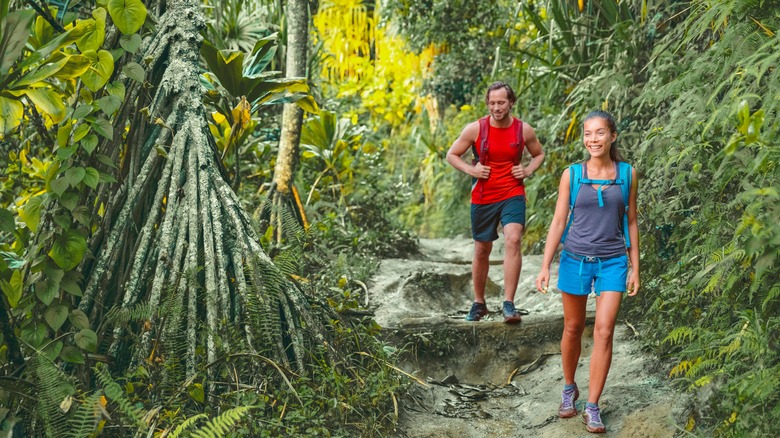 Maridav/Shutterstock
By now, one thing is patently obvious, Hawaii has a great variety of terrain. That makes hiking in the state just blissful, never uniform or boring, and ensures that there is always something new to explore and something different to see. Walkers can find hikes that shadow the coastline, or that slip among the dunes, others that weave their way through patches of low shrubs or delve deep into rainforests, and there are even trails that climb into the arid expanses of alpine desert. Some tracks even wind among historic and cultural parts of the islands, thoroughfares that are interspersed with stories and legends. 
There isn't enough space to list all of the hikes worth seeking out, but among the highlights are the trail to Ka'ena Point in Oahu, which curls along an old rail bed as it reaches out to the island's westernmost point (it's a pretty easy walk), and the Hanakapiai Trail in Kauai's Na Pali Coast, where travelers will pass bubbling streams, waterfalls, rivers, caves, rocks, and a valley where endemic plants like guava and wild ginger thrive.
Kayaking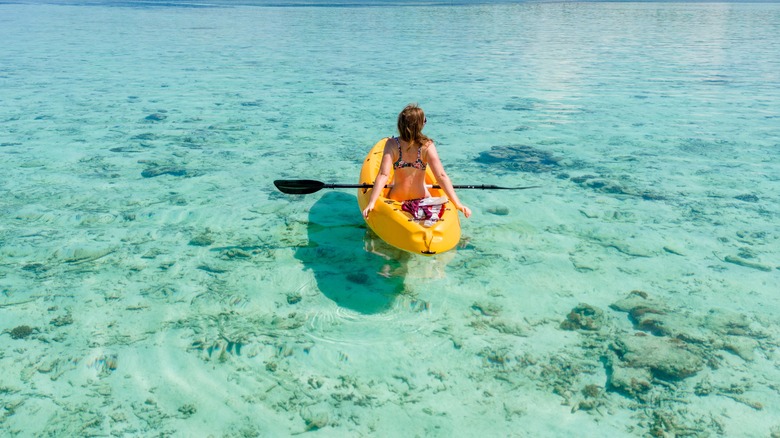 jaras72/Shutterstock
Visitors are spoiled for choice when it comes to Hawaii's kayaking spots, though given the stunning oceanic setting of this state, that shouldn't come as a surprise. One beloved location — and for good reason — is Kaneohe Bay in Oahu's southeast, and its popularity will be plainly evident to visitors when they arrive, as the waters here are rarely empty. The bay has waters filled with aquatic life that flits in and out of coral reefs, and the conditions are often tranquil, ideal for kayakers. One of the most sought-after spots in the bay is Mokoli'i (also known, rather archaically, as Chinaman's Hat), a small peak that seems to sprout out of the water offshore, creating a very dramatic image. 
Kayakers also head out to a sandbar, a long skinny stretch of sand that appears magically at low tide (it sits a little below the surface at other times), and this is a workout for the arms, as the ephemeral piece of nature sits quite a distance from land. The kayaking here, though, isn't just reserved for the ocean, and on Kauai, the Wailua River is pleasant to paddle along, a gently flowing waterway that is suitable for the entire family.
Paragliding
Kuzmenko Viktoria photografer/Shutterstock
While a helicopter trip can provide a broad, overarching panorama of Hawaii's gorgeous mantle, paragliding supplies of a more micro-appreciation of the landscape from above. Since Hawaii has a tropical climate, with warm temperatures year-round — the average daytime readings throughout the year hover between the 70s and the 80s — it's a great place to paraglide, any month. With Paraglide Maui, adventurers can soar above the island's stunning terrain on a tandem paraglide. 
Trips depart from a launch zone on Mount Haleakala, up 6,500 feet above sea level, and participants are strapped in front of their instructor. The views are breathtaking, looking over the island's bisecting valley, across the coasts, and, on a really clear day, will allow fliers to see some of the state's other islands. Flights last around 10 minutes, during which time you'll not only marvel at the island's greenery and rolling hills, but you'll also feel as free as a bird.
Parasailing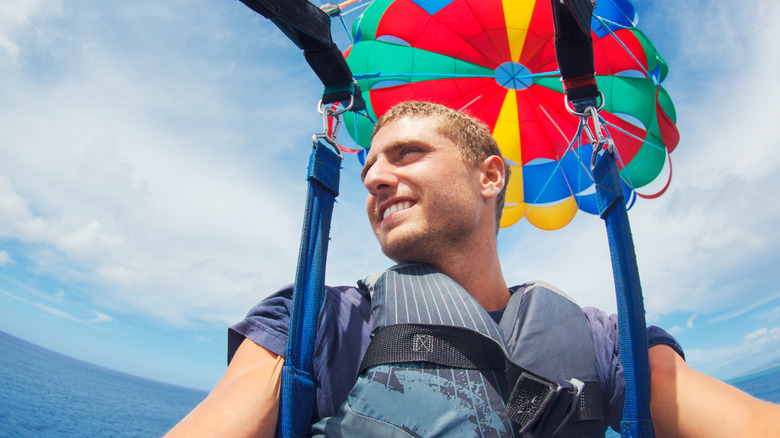 EpicStockMedia/Shutterstock
For fans of hanging out in the air, parasailing offers them another option, though this time they will be zipping around over the water. A wildly fun activity, modern-day parasailing, seen alongside beaches the world over, can trace its beginnings to the 1970s when inventor Mark McCulloh thought up the system of winching a parachute out from the back of a boat, a set-up that's still the industry standard today. Parasailing combines the thrill of being high up in the air with the sensibilities of being on a beach vacation since the views of the water are ubiquitous. 
Trips with Hawaiian Parasail indulge those sentiments, with excursions that depart from Honolulu, and where guests take in vistas of the ocean, the shore, and the skyline from under a multi-colored parachute sail. Lines between the boat and the parachute can be up to 1,000 feet, so you can get really high, and if you want to experience a little bump down into the water, the crew can arrange that, too.
Sailing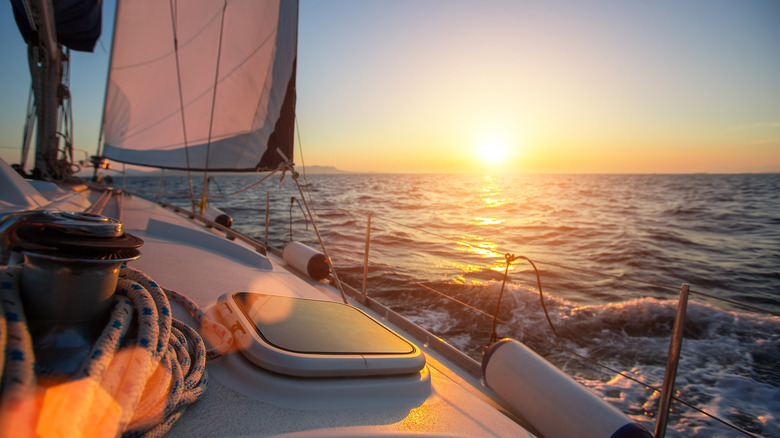 De Visu/Shutterstock
For a more comprehensive foray into the coastal environments around Hawaii, and sorties further out to sea, a trip by boat is the way to go. The marine realm here is astonishing, with turquoise and dark water, jagged vertical coastlines, lush mountains that slide down to sandy beaches, and vast fields of open ocean. Holo Holo Charters, based in Kauai, offers a full-day catamaran trip that checks out some of the island's littoral treasures. Highlights include sailing along the Na Pali Coast — the famous ridged, crenelated coastal arena that looks like it was time-traveled from a primeval era — with sightings of cliffs, sea arches, canyons, and valleys, miles of shockingly beautiful shoreline, and ocean wildlife like seals, dolphins, and turtles. 
The boat also heads to the Lehua Crater, many miles offshore, an island shaped like a crescent moon that is rife with bird life. The operator Sea Paradise serves visitors to the Big Island with tours that combine a sailing trip with chances to snorkel.
Scuba and snorkeling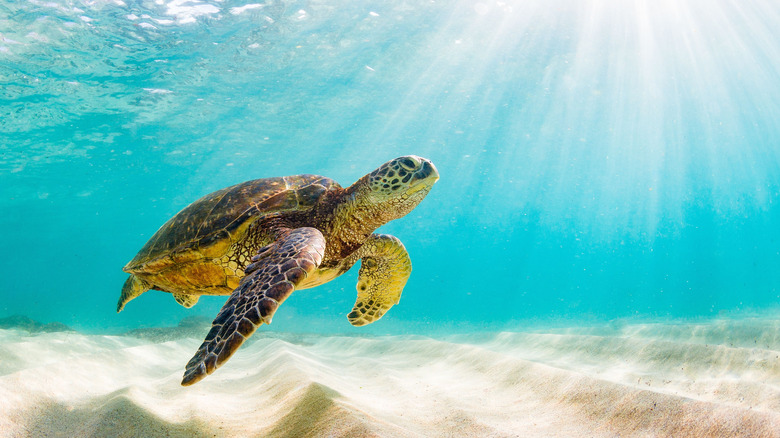 Laverne Nash/Shutterstock
While boat tours feature snorkels as part of the experience, other outfitters focus more on the discipline as a way to get a closer look at the marine life that calls Hawaii home. Sea Quest Rafting & Snorkeling Adventures lets water babies choose from a number of snorkeling options that venture into the waters of Kona, on the Big Island. Perhaps the most exciting is the night snorkel trip, where thrill-seekers can watch large, diamond-shaped mantas gliding through the depths as they feed on the phytoplankton in the water — a flotation contraption given to snorkelers with a light attached to it, beaming rays into the water and attracting phytoplankton to the area (and hence the rays). 
Hawaiian Diving Adventures, located in Oahu, takes visitors below the shallows, with trips along the island's reefs, to wrecks offshore, and even special excursions at night. The operator also provides training for certification (this is a great place for newbies to learn to dive), specialty diving courses, and a full shop that sells diving gear.
Skydiving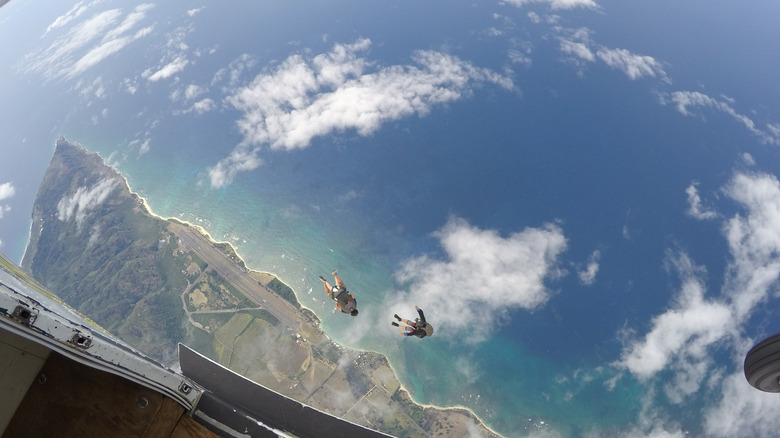 Severin Bachmann/Shutterstock
As you jump out of a plane 12,000 feet above the sea around Oahu, strapped to your tandem instructor, wondering what possessed you to do this, one thing you'll quickly accept, and never forget — apart from how cold it can get up there — is the view. From way up here, more than two miles in the sky, the entire island unfurls below you, the curves and curls of the coastline clear to see, appearing exactly as they do in maps, but this time, you see the actual place, not a two-dimensional representation of it. Book a trip with Skydive Hawaii, and you'll soon be high above the clouds, preparing to leap into thin air and hit speeds of 120 mph as you fall toward terra firma — fear not, your tandem instructor has everything under control. 
The high-speed part will rush by just like the air zipping past your face, but once the chute is opened, you can enjoy views of some of Oahu's iconic places — Diamond Head, Pearl Harbor — and maybe even some of the other islands. While 12,000 feet is the standard height for a drop, adrenaline junkies also have the option of a 14,000-foot and a 20,000-foot leap.
Stand-up paddle boarding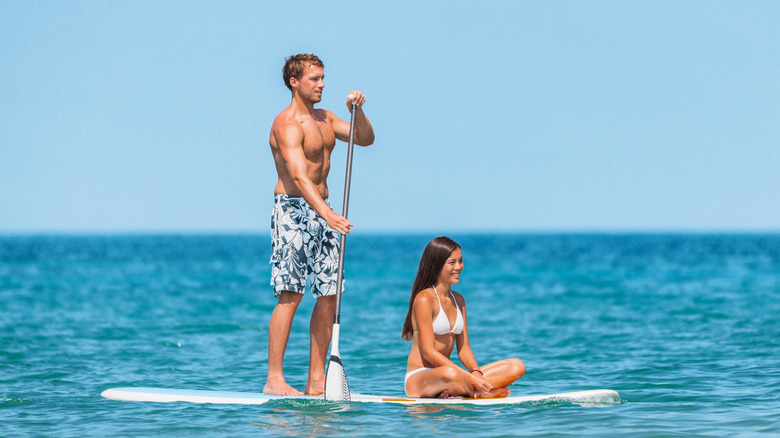 Maridav/Shutterstock
While some analysts point to Peru, thousands of years ago, as the place with the first known incidence of people standing on rafts in the sea, and paddling while in that position, the discipline really became more formalized in Hawaii in the 1990s, cannily propelled into the public psyche by surfers Laird Hamilton and Dave Kalama. Given its connection to this Pacific state, stand-up paddle boarding is something that visitors will see all around the islands as a way to explore the marine environment while also staying in shape. Honor the sport's sense of place by getting out on a paddle board when visiting. 
LightSUP Hawaii leads interesting, low-key, minimal-impact tours on the reefs around the Big Island, with a number of choices available to visitors. One exciting option is the paddle board trip at night, where lights shone down into the depths draw plankton, and that brings marine creatures into view, animals in search of a night-time feed. Watch all the drama unfold through a clear section in the top part of each board, it really is an otherworldly experience.
Submarine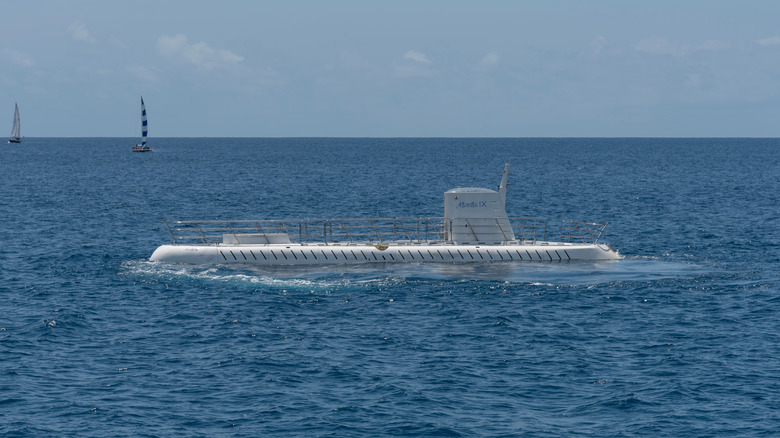 Jeff Whyte/Shutterstock
For visitors that want to get eye-to-eye with fish and other underwater life, but don't have the certifications, nor the energy, to go for a dive, going underwater in a submarine is a rewarding way to get a handle on the world below the surface. Atlantis Adventures — which operates from Maui, the Big Island, and Oahu — takes travelers 100 feet below sea level in crafts that offer a window into an altogether different realm. 
Visitors catch a boat shuttle out to the sea where they board the vessel, and 64 seats arranged in a central row all face outward, so every passenger can look into the deep blue. What might people see during a voyage? Of course, plenty of fish will glide by the portholes, sometimes in small groups, sometimes huge schools swarming around coral growing on a sunken wreck, while other sightings might include languid turtles, graceful rays, and even nonchalant sharks.
Surfing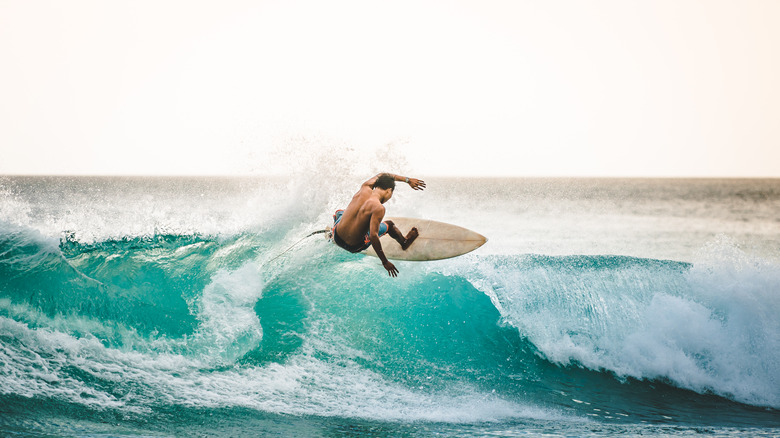 William.Photo/Shutterstock
This global phenomenon has grown from a niche interest to a multi-billion dollar industry, and some trace the popularity of the sport/lifestyle to Duke Kahanamoku, known more famously as "The Duke." Born in Hawaii in the late 1800s, he won Olympic gold for swimming, but it was his fervor for surfing that really sealed his legacy, a sport that missionaries in Hawaii frowned upon and that began to disappear from the islands until he revived interest in it. Faced with such a storied past, visitors can't come to Hawaii without riding some waves, and there are spots all over the islands to shred some surf. 
On Kauai, Hanalei Bay is notable for its consistent conditions and breaks over a reef that makes it suitable for surfers of all levels and ages. The raging barrels of Banzai Pipeline, on Oahu, are known the world over, curling tubes of water that draw surfers from around the globe. Visitors keen on taking lessons can enroll with Hawaii Life Guard Surf Instructors on the Kona coast of the Big Island, a business that is locally owned and run.
Tubing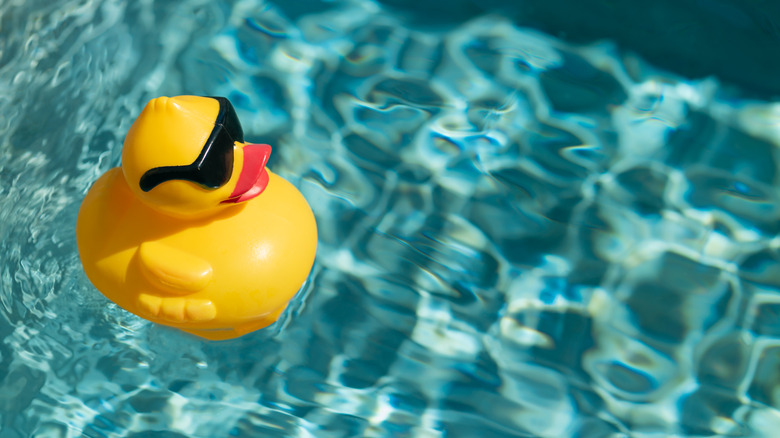 Pickaxe Media/Shutterstock
Sitting on an inflated tube and gently floating along a waterway is a vastly underrated adventure. It's a meditative enterprise, and environmentally friendly, with no blasting exhausts or whining engines around to disrupt the serenity of the experience. Riding a tube is also an intimate way to see a riverine landscape, lazily gliding along the water while taking it all in. In Kauai's interior, travelers can tube with Kauai Backcountry Adventures through a former sugar plantation located in the depths of the island, and enjoy an outdoor adventure that is both relaxing and energizing. 
The trip starts with a drive through the grounds of the old plantation, reaching into the kind of verdant terrain that is a hallmark of the island, with views of Mount Wai'ale'ale an early delight of the journey. Customers get a headlamp and a tube before venturing into the water, lazily passing along canals, tunnels, and passages that were constructed in the 1800s as a means to irrigate the fields. The trip winds up with a chance to take a dip in a swimming hole a refreshing end to a relaxing sojourn.
Volcano visits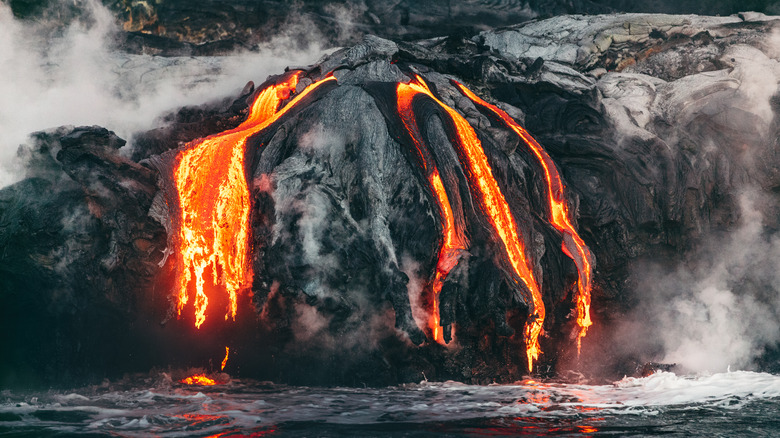 Maridav/Shutterstock
A defining characteristic of Hawaii, volcanoes are not only striking natural structures dotted around the island, they are also linked to legend and folklore. Fifteen volcanoes form the plots of land that have become Hawaii, part of a greater series that stretches across vast expanses of the Pacific. There are many choices for travelers that want to get a more intimate look at the state's volcanoes, and Volcano Tours leads expeditions in Maui and on the Big Island. 
Visitors have options when it comes to the preferred mode of transport, with road vehicles, explorations on foot, and, the creme de la creme, an excursion via helicopter that fully takes in the vast majesty of these geological giants. A full-day trip, aimed at anyone aged eight and above, involves hiking in and around a volcano at Volcanoes National Park with a knowledgeable guide, and staying on after the sun has set to watch the volatile Kilauea glow in the night sky.
Whale Watching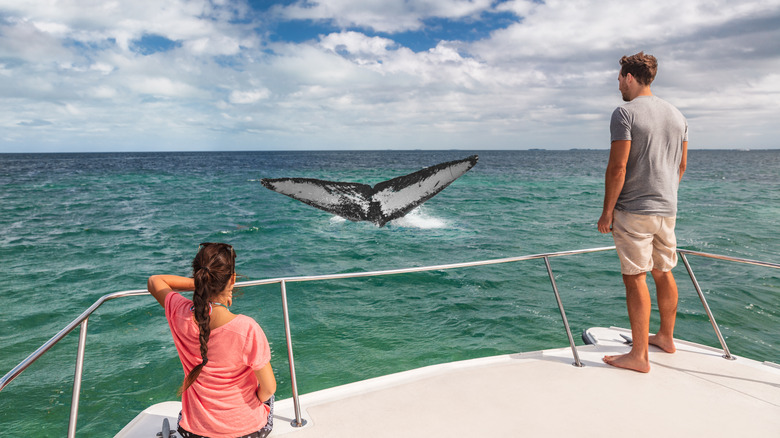 Maridav/Shutterstock
Sharks, rays, and dolphins aren't the only sizeable creatures to trawl the waters around Hawaii. During certain times of the year, most consistently from January through March, humpback whales ply the Pacific waters of Hawaii, migrating from Alaska's waters during the colder months to breed and spawn offspring. Sail with Pacwhale Eco-Adventures, a sister enterprise of the non-profit Pacific Whale Foundation, and you can get close to these giant mammals. Leaving from Lahaina, on Maui, the trips feature expert marine naturalists, and special audio equipment so passengers can hear the sounds of whales as they cavort and communicate under the sea. 
If a specific trip returns without seeing a whale, participants can get on another one for free. Operating in Oahu, Dolphin Excursions Snorkel Adventures offers voyages to spot whales, dolphins, and even the chance to snorkel with turtles, with some of the excursions available for afternoon departures (cue a big smile from all the late risers out there).
Zipline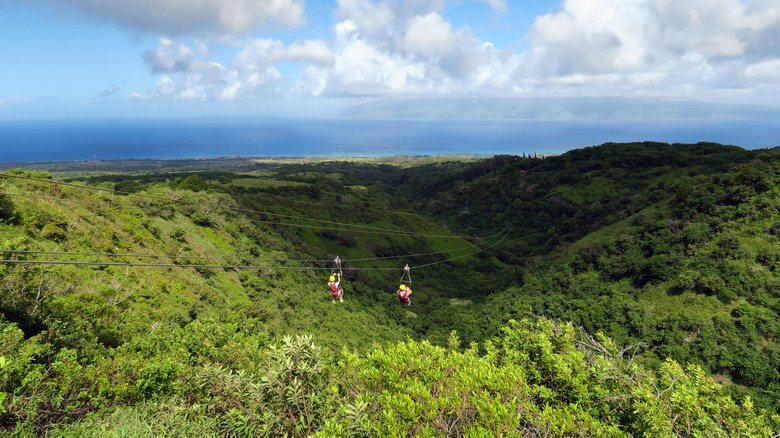 Big Joe/Shutterstock
Strapped in to a sturdy harness, and clipped in to sturdier cables, zip liners are never really in danger, but there's still something unnerving about soaring through the air, dangling from a section of steel rope, a frisson of danger attached to a system sizzling with security. Ziplining really is great fun, often done as a course, a series of lines that starts high up and gradually winds its way to lower altitudes, each one varying in length and speed, but typically offering great views along with the guaranteed thrills. 
With Outfitters Kauai, adventurers can expect to experience all of this excitement, especially on a FlyLine Zipline that was added to the outfitter's stable in 2017, a section that extends three-quarters of a mile in length and gets travelers whooshing at speeds of 50 M.P.H. The operator offers four different zipline tours across its 10 separate lines, some with the participants flying down the cable side-by-side, others where they rush along the line horizontally, slicing through the air like a superhero. Whatever the choice, views are always magnificent, pieces of terrain that persuaded the producers of "Jurassic Park," and "Pirates of the Caribbean" to film here.