Why You Should Visit The Azores On Your Next Trip To Portugal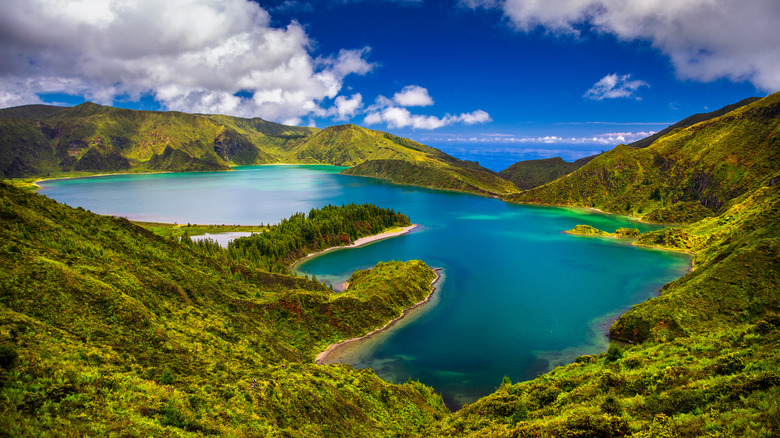 DaLiu/Shutterstock
Portugal is a country that inspires travelers to conjure up picturesque visions of their next great adventure. Historic landmarks, breathtaking national parks, hilly terrain, and towering cliffsides make Portugal a place with something for just about everyone to enjoy. The Herald News gave the country a top ranking among European destinations in 2022, highlighting Portugal's vast and unwavering appeal.
Popular destinations like Lisbon host iconic stops such as the Belem Tower, the Carmo Convent Ruins and Museum, and the Ajuda National Palace which all draw in travelers. According to Statista, Lisbon saw more than 1.9 million visitors in 2021 while places like the Algarve, known for its captivating and rugged stretch of coastline to explore, welcomed over 1.3 million visitors. Travelers flock to these beloved locales yearly for good reason, but those looking to experience a rich tropical retreat when visiting Portugal won't want to miss out on the Azores.
Adding the Azores to a Portugal-bound itinerary is a sure way for travelers to savor a little slice of a rather unexpected paradise. Azores.com lists this Portuguese archipelago as being situated 930 miles from Lisbon out in the North Atlantic Ocean. In total, there are nine islands and eight formigas for visitors to enjoy. Whether adventurers explore one, or all of these scenic land masses, it's a trip that promises to be as beautiful as it is exciting for many reasons.
Experience stunning island terrain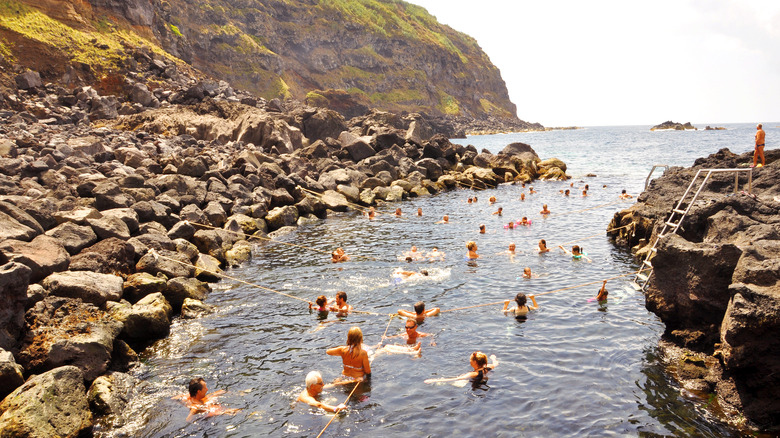 Eszter Szadeczky-Kardoss/Shutterstock
Those who find Hawaii's landscape appealing will love how dynamic landmarks like volcanoes, canyons, coastlines, waterfalls, and caves are abundant in the Azores too. According to a Jax Fax article, the two island chains even share similar formation origin stories, comparable tropical weather patterns, equally gorgeous views, and inspiring wildlife populations.
Getaways Azores points out the Azores' plethora of volcanic hot springs and lagoons as alluring natural landmarks for visitors to enjoy. Destinations like Parque Terra Nostra in Furnas on Sao Miguel have transformed the island's volcanic hot springs into luxurious thermal water retreat experiences. Travelers looking to get a closer look at stunning volcanic topography will want to make their way to Corvo. According to Portugal.com, this island hosts a volcanic crater that can be visited that runs nearly 1,000 feet deep.
If waterfalls are what travelers find inspiring, Azores Choice highlights Flores Island as a prime pick for visitors hoping to admire cascades, lush tropical hills, sea cliffs, and crater lakes too. According to Portugal.com, Flores gets its name from the array of summer blooms the landscape sprouts featuring yellow goldenrods, and pink and blue hydrangeas.
When time on the shoreline is what travelers crave, Santa Maria Island is the place to be. According to Azores Getaways, this island hosts the only Azorean white sand beaches around and holds the title as the oldest of the nine islands. Formosa Beach is a particularly scenic stop and hosts Macela Viewpoint overlooking sparkling waters below.
Enjoy incredible outdoor activities across the Azores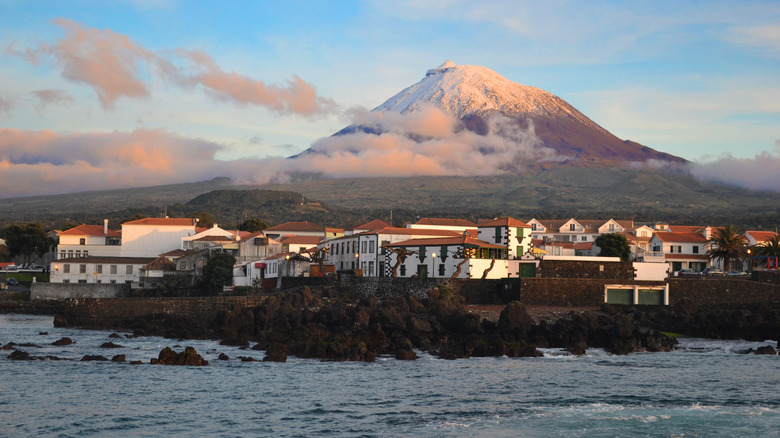 Klara Bakalarova/Shutterstock
The beauty of the Azores invites travelers to savor the view. The same dynamic landscape offers up a playground for outdoor adventure. Those with a passion for hiking will find diverse trails seamlessly winding their way across the islands.
Azores Choices highlights Pico Mountain as a top hiking destination. At nearly 8,000 feet above sea level, it's challenging and has great views too. It also provides visitors with the thrill of knowing they're taking on the highest peak in Portugal.
Portugal is loved by extreme surfers but the Azores slow things down for paddle boarders. SUP Boarder credits the volcano craters and wide shorelines for the tranquil waves. Outdoor Visit points to Sao Miguel Island as a prime spot for paddle boarding adventures paired with wildlife watching.
According to the Azores government pages, each island within the archipelago hosts its own vast nature park to explore. The Gracioso Nature Park is a great place for guests who are interested in admiring the Ponta da Barca Lighthouse or traversing the scenic Caldeira Trail. The Sao Jorge Nature Park comes with just as many opportunities to discover incredible landscapes. It also plays host to the Ponta Dos Rosais Natural Monument within its protected parameters.
No matter when travelers arrive in the Azores, they'll find adventure waiting. Brimming over with beautiful views, it's a place filled with inspiring moments. The Azores are well worth visiting the next time a Portugal getaway is on the calendar.