The 75 Most Popular American Tourist Destinations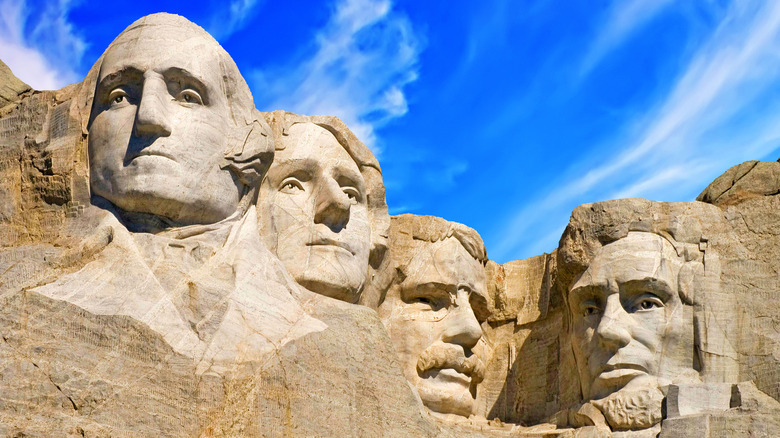 Klaus Steinkamp/Shutterstock
There's a whole big beautiful planet out there — but some of its most alluring attractions exist practically in your back yard. America is blessed with bustling cities, gorgeous deserts and breathtaking parks from sea to shining sea, but which ones do people love the most? 
In order to compile our list, we started by consulting government agencies including the National Park Service as well as existing rankings both in print and online. From there we narrowed it down to the absolute must-visit destinations based on historical relevance, cultural significance, beauty and overall appeal. From statues and buildings to canyons and harbor towns, these are the 75 most popular American tourist destinations.
9/11 Memorial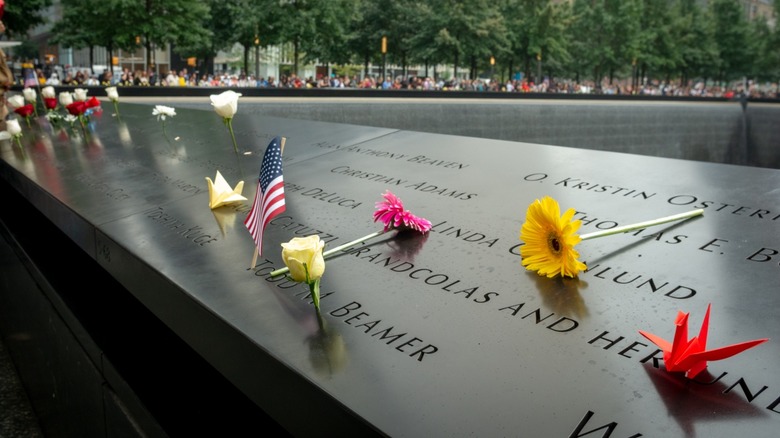 Byelikova/Dreamstime.com
The National September 11 Memorial in New York City exists to remember the 2,977 people who died in the terror attacks on September 11, 2001 at the World Trade Center, the Pentagon and near Shanksville, Pennsylvania. It also honors the six people who were killed in the World Trade Center bombing on February 26, 1993. All of their names are inscribed in bronze panels. The memorial has identical pools where the Twin Towers once stood. Each spans nearly one acre each, and they feature the largest man-made waterfalls in North America. 
Acadia National Park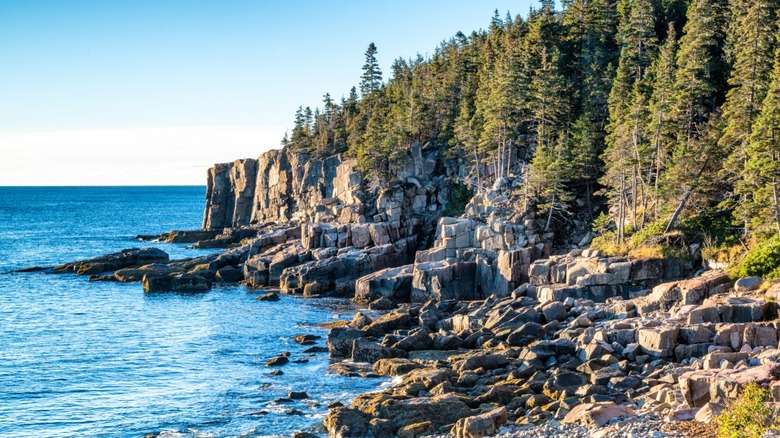 David M. Sacerdote/Dreamstime.com
Acadia National Park is 47,000 acres of recreational land located primarily on Maine's Mount Desert Island. It's mostly mountainous wooded area with rocky beaches, and it's home to the highest rocky headlands on the Atlantic coastline. Every year, more than 3.3 million people visit to go birdwatching, boating, camping, hiking and mountain climbing.
Alcatraz Island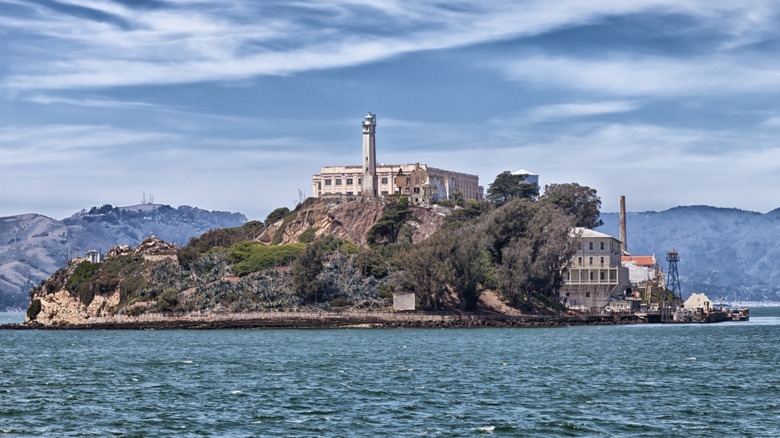 Ian Whitworth/Dreamstime.com
A 15-minute ferry ride takes visitors to Alcatraz, just over a mile offshore from San Francisco, California. The 22-acre island is home to an abandoned federal prison and the oldest operating lighthouse on the West Coast. It's also the site of a historic 18-month occupation by a group of Native American activists called Indians of All Tribes. You may recognize Alcatraz from popular culture, as it's appeared in several movies, including "The Book of Eli," "X-Men: The Last Stand" and "Catch Me If You Can," and video games like "Tony Hawk's Pro Skater 4" and "Call of Duty: Black Ops II."
Antelope Canyon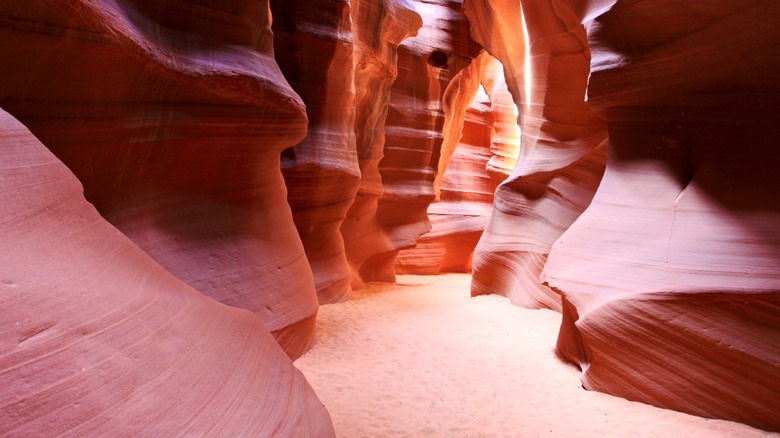 Minyun Zhou/Dreamstime.com
If you say you've never seen Antelope Canyon on your Instagram feed before, you're lying. This sandstone canyon — located on Navajo land near Page, Arizona — is extremely popular with photographers because of tranquil shapes in the rock formed by flash flooding. Though the corridors are very tall, the width is very narrow. Catch beautiful beams of direct sunlight in the upper canyon (the entrance is at ground level and requires no climbing) or opt for a challenging hike in the lower canyon. Visitors can enter only by guided tour.
Arches National Park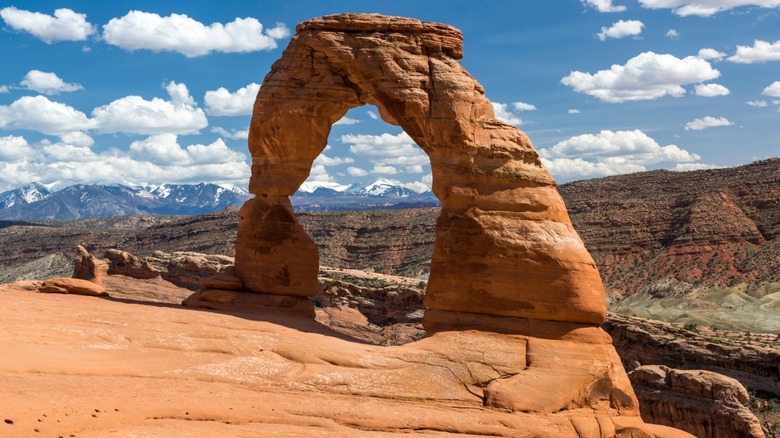 Askme9/Dreamstime.com
Arches National Park is in Eastern Utah, just north of Moab. It features more than 2,000 sandstone structures (it has the highest density of natural arches in the world) including the renowned Delicate Arch, which can be seen on Utah license plates. There are over 76,000 acres in total for adventurers to enjoy backpacking, biking, camping, hiking, horseback riding, rock climbing, stargazing and more.
Balboa Park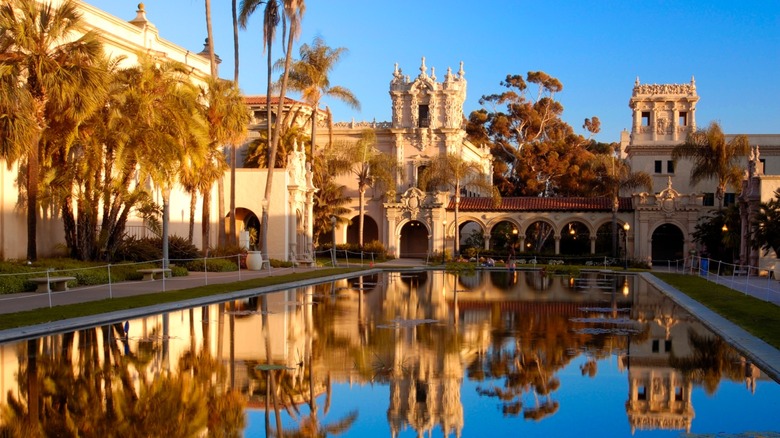 Photo168/Dreamstime.com
Balboa Park in California was named after Spanish explorer Vasco Núñez de Balboa in honor of the Panama-California Exposition, a fair that celebrated the opening of the Panama Canal and San Diego for being the first American port of call for ships sailing north after passing westward through the canal. Today, guests can enjoy gardens, walking paths, museums, theaters, restaurants, shops and the famous San Diego Zoo.
Bellagio Hotel and Casino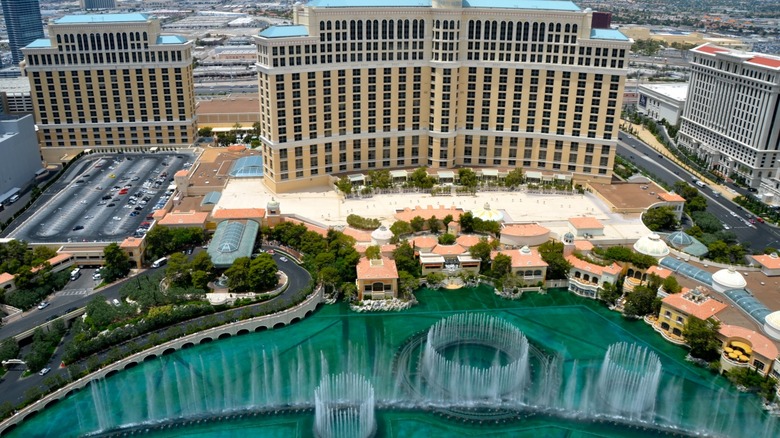 Victorianl/Dreamstime.com
The Bellagio is an insanely gorgeous luxury resort, hotel and casino on the Las Vegas Strip in Nevada. Vacationers can gamble, shop, eat, hang out at the pool, party the night away or ogle the incredible acrobats and entertainers in Cirque du Soleil. Whether you're watching from inside or out, you must see the Fountains of the Bellagio, a mesmerizing water show with synchronized music and lights. It runs for 15 minutes, and every show is free.
Big Sur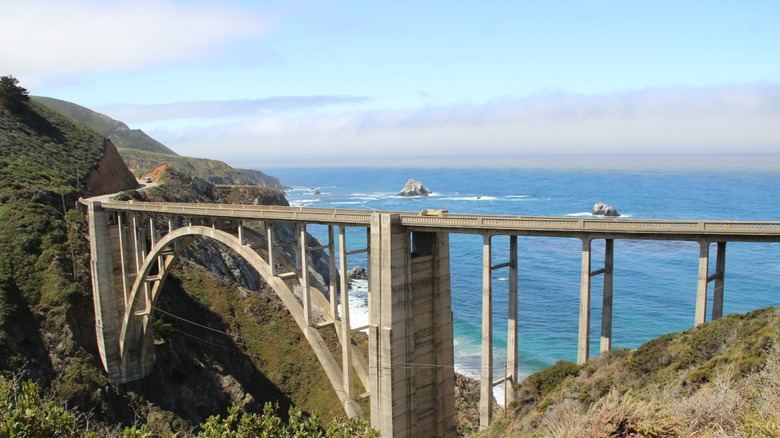 Dreamstime.com
Big Sur is an undeveloped mountainous coastline in Central California stretching 71 miles between Carmel Highlands and San Simeon. People from all across the world come here to gawk at redwood forests and the big, blue Pacific Ocean. It's estimated that the region gets just as many visitors per year as Yosemite National Park. Go bird watching to spot condors (the largest flying land birds in the Western Hemisphere) or hike to waterfalls and beautiful beaches. In the summer, you can even tube down the Big Sur River and have a barbecue in any of the area's state parks.
Brooklyn Bridge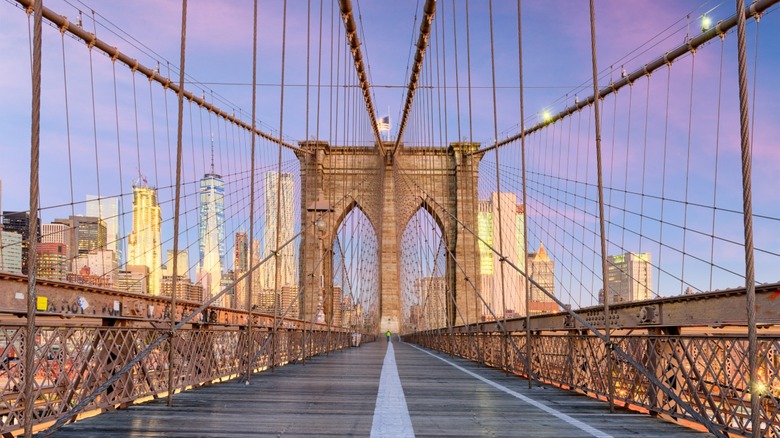 Sean Pavone/Dreamstime.com
The Brooklyn Bridge connects Brooklyn with Lower Manhattan. It's one of the oldest roadway bridges in America and the first steel-wire suspension bridge in the entire world. Today, it's one of the most iconic parts of the New York City skyline. Travel by car or take a stroll on the elevated pedestrian walkway. Just watch out for bicyclists!
Bryce Canyon National Park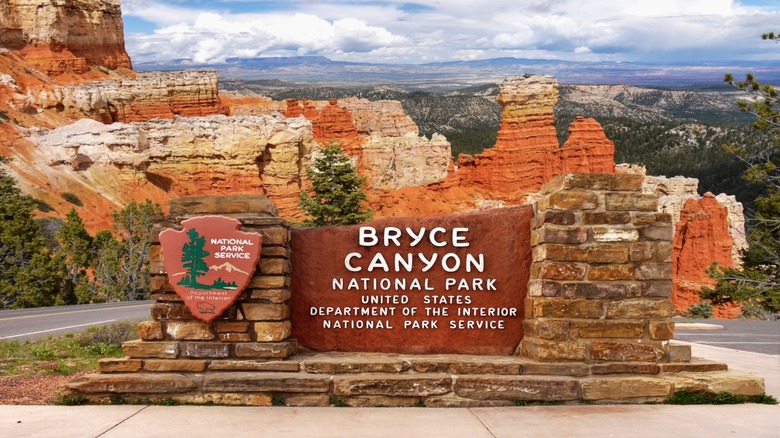 Hellen8/Dreamstime.com
Bryce Canyon National Park exists in Utah's Garfield and Kane counties, but believe it or not, it's actually not a canyon. Rather, it's a bunch of natural amphitheaters and towering hoodoos (tall, thin spires) formed from red, orange and pink rocks by frost and stream erosion. The best times to come here are in summer and fall. Winter temperatures fall below freezing, and there are snowstorms well into spring.
Canyonlands National Park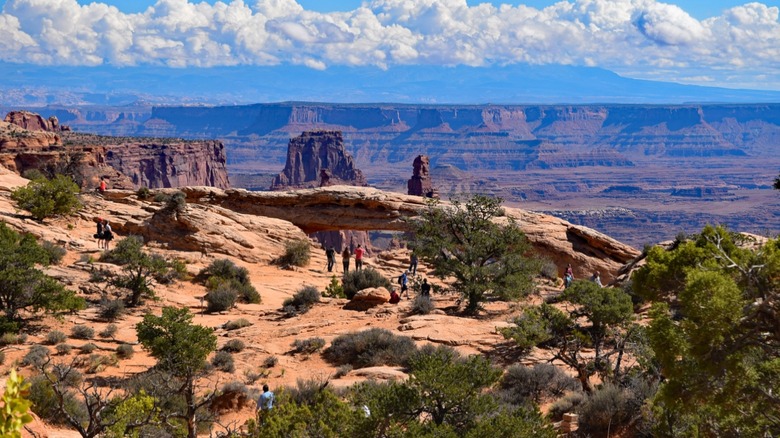 Ostrolga/Dreamstime.com
Canyonlands National Park features canyons, mesas, buttes, fins, arches and spires. It's located in Utah's high desert and is split into four parts including the Island in the Sky, the Needles, the Maze and the Green and Colorado rivers. While they look close together on a map, no roads connect them directly. It takes anywhere from two to six hours by car to get from one to another, and because of this, visitors usually visit just one area in a single trip.
Cape Cod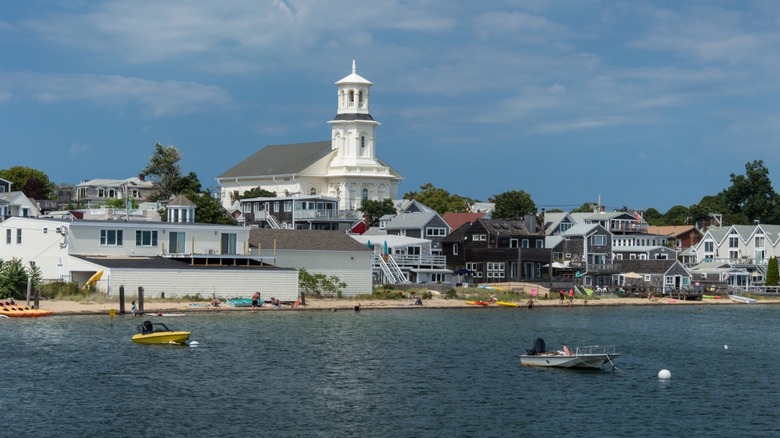 Andrea La Corte/Dreamstime.com
Cape Cod in southern Massachusetts is an extremely popular vacation spot for tourists in the summer, mostly for beaches and boating. Go whale watching, swimming, kayaking, biking, bird watching, fishing, golfing, hiking, shopping or sightseeing. The possibilities are endless. There are also some pretty great breweries and wineries in these parts.
Carnegie Hall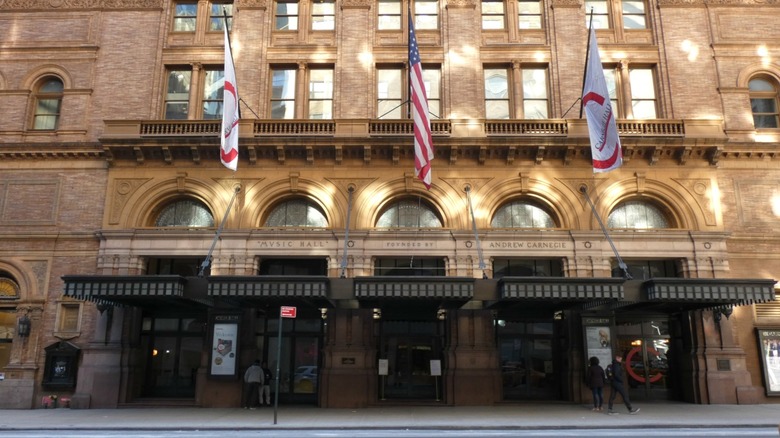 Bigapplestock/Dreamstime.com
Carnegie Hall is a concert hall in Manhattan just south of Central Park. It's one of the world's most highly regarded venues for both classical and pop music. Billie Holiday, Judy Garland, George Gershwin and the Beatles have all played here. In all, the property houses three auditoriums: Stern Auditorium/Perelman Stage, Zankel Hall and Weill Recital Hall. It's one of New York City's last large buildings originally built completely of masonry without a steel frame.
Central Park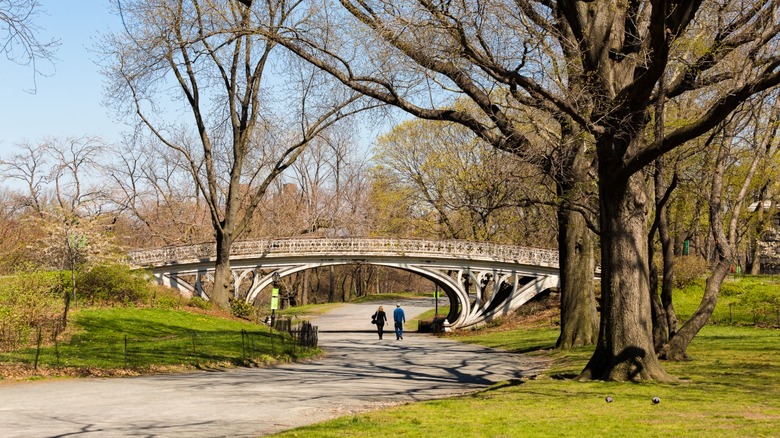 William  Rodrigues Dos Santos/Dreamstime.com
Central Park is the most visited urban park in America with approximately 38 million visitors per year. It's also one of the most filmed locations in the world, so if you're lucky you might make a cameo in the latest TV show or movie. There's truly so much to do within the confines of this 843-acre recreational space in New York City. Visitors can enjoy ice skating on various rinks, catch a ride on the carousel, visit the zoo or enjoy Shakespeare in the Park. There are also tons of ponds, walkways lush with foliage and sports facilities.
Chicago Bean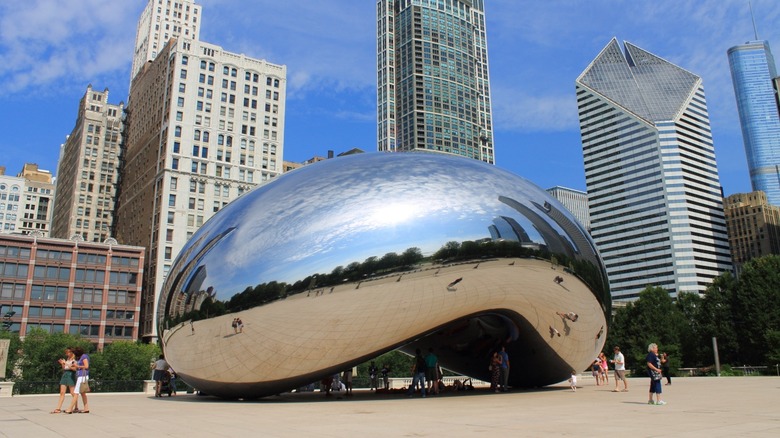 Ffooter/Dreamstime.com
This sculpture is formally called "Cloud Gate," but everyone calls it the "The Bean" because... well, it looks like a giant shiny silver bean. Artist Anish Kapoor created this in 2006 by welding 168 stainless steel plates together, but it's so well polished you can't see the seams. You've probably seen it on your Instagram feed, as it's a popular spot for tourists to snap photos in Chicago, Illinois.
Coney Island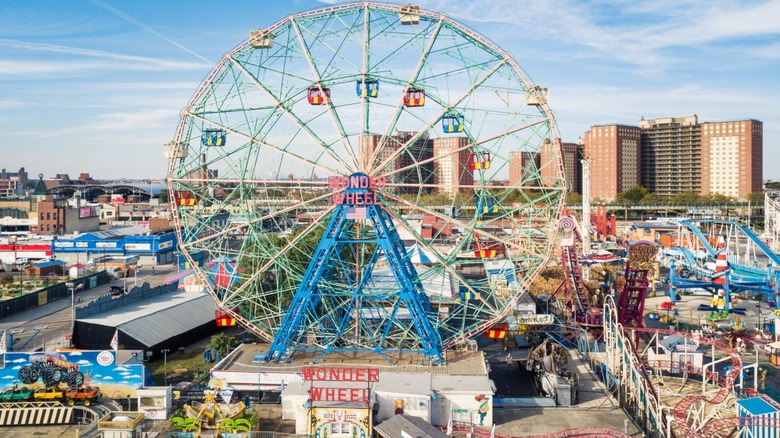 Saletomic/Dreamstime.com
Coney Island is a neighborhood in southern Brooklyn. It's famous for its sandy beach and boardwalk featuring food stands, bars, playgrounds and amusement rides. It's also home to the Nathan's Hot Dog Eating Contest, which kicks off every year on the Fourth of July. In the off-season, check out the aquarium, skating rink or baseball stadium, which is home to the Mets' minor league team, the Brooklyn Cyclones. It's the perfect place to get away from New York City life for the day.
Death Valley National Park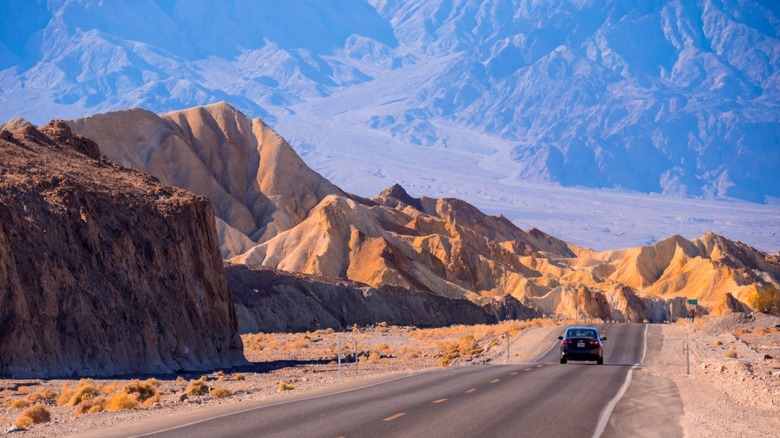 Erik Lattwein/Dreamstime.com
Death Valley lies in the Great Basin on the border of California and Nevada. Its name sounds a tad extreme, but it's really not that gruesome. It's true that Death Valley is the hottest place in North America, though. Temperatures average over 100 degrees Fahrenheit in the summer, but can reach well over 120. It's also the driest and lowest national region on the continent, but many nearby peaks have snow on them, and once in a blue moon there's rain and wildflowers take bloom. Just make sure to travel with plenty of water and salty foods or sports drinks to maintain proper electrolytes.
Denali National Park and Preserve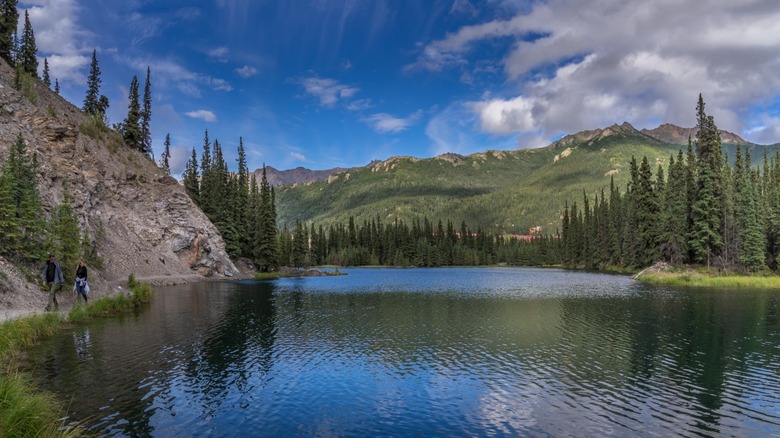 Eileen Tan/Dreamstime.com
This national park features 6 million acres of forest, tundra and snowy mountains in central Alaska. Denali (formerly known as Mount McKinley) is North America's tallest peak at 20,310 feet. There's only one road here. Stay on course or trek somewhere far on a hike. As far as wildlife goes, you could see moose, sheep, bears, caribou, wolves, birds and small mammals like foxes, red squirrels and snowshoe hares.
Disneyland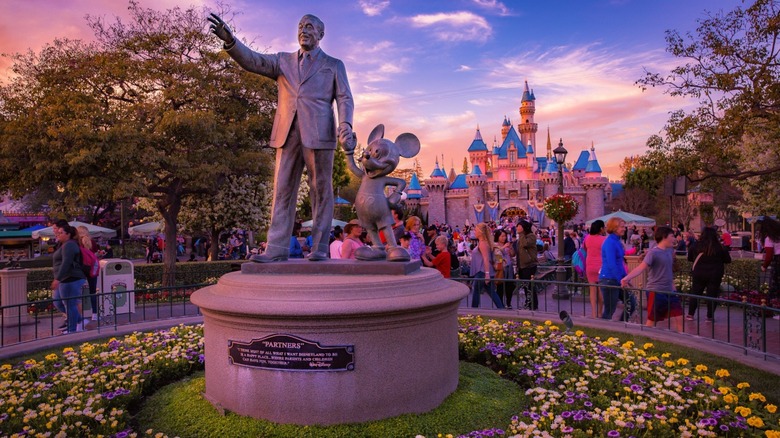 Matthew Clausen/Dreamstime.com
Anaheim, California's beloved Disneyland is the only park built to completion under the direct supervision of Walt Disney. With 18.3 million visitors each year, it's the second most visited amusement park in the world after Magic Kingdom at Disney World in Florida. Disneyland's nine districts include Main Street, U.S.A. (home to Sleeping Beauty Castle), Adventureland, New Orleans Square, Critter Country, Fantastyland, Frontierland, Mickey's Toontown, Tomorrowland and the newest addition, Star Wars: Galaxy's Edge.
Disney World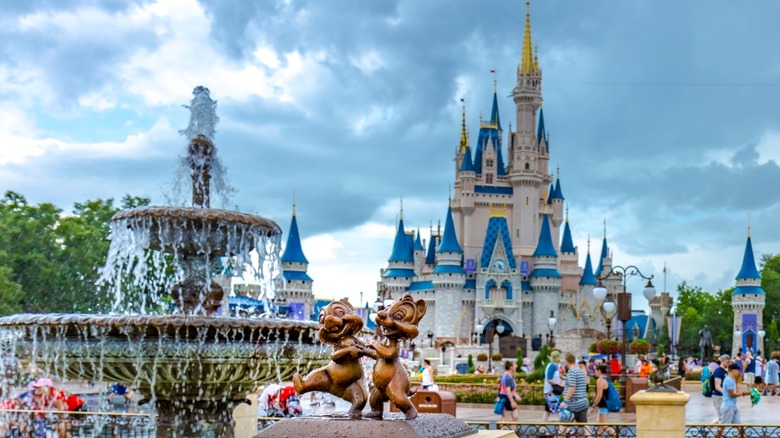 Paul Brewster/Dreamstime.com
Walt Disney World in Orlando, Florida, contains water parks, resorts, hotels, golf courses, camping grounds, four theme parks (Magic Kingdom, Epcot, Animal Kingdom and Hollywood Studios) and an outdoor shopping center called Disney Springs. It's estimated that 52 million visit every year.
Ellis Island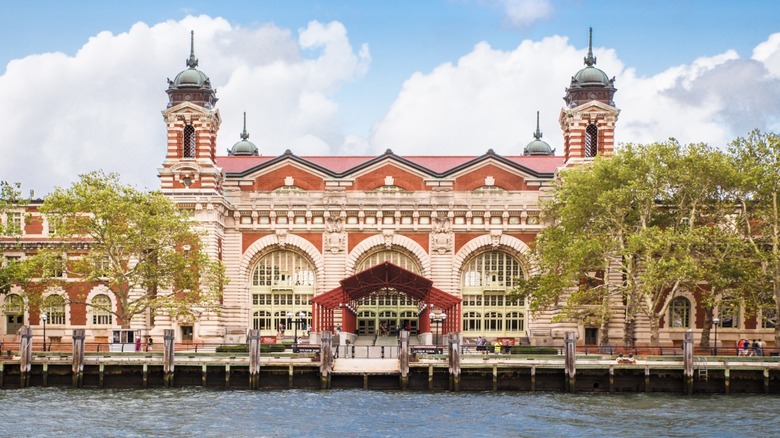 Littleny/Dreamstime.com
Between 1892 and 1954, more than 12 million immigrants were processed at Ellis Island in New York Harbor. In 1965, the island was made part of the Statue of Liberty National Monnument, and the main building reopened as a museum in 1990. Annually, 2 million visitors ferry in from New York and New Jersey to tour the immigration museum and surrounding property. There's an abandoned contagious disease hospital here, too, but that's closed to the general public.
Empire State Building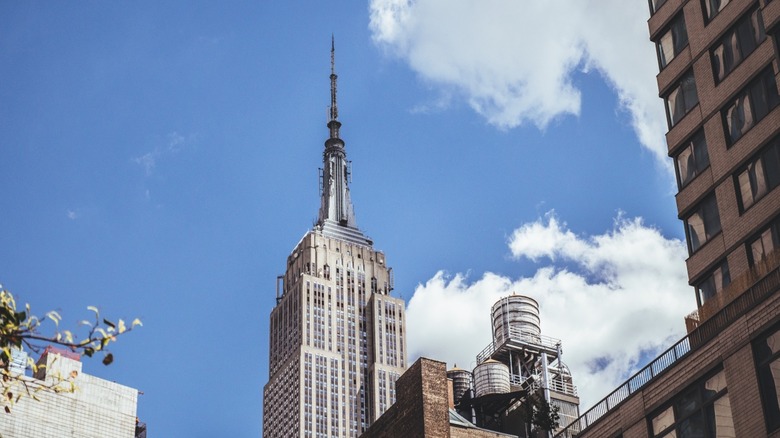 Igorsv2/Dreamstime.com
The Empire State Building is on par with the Eiffel Tower as one of the most recognizable and iconic buildings in the world. The 102-story building is the sixth tallest skyscraper in the U.S., and each year approximately 4 million tourists head up to the 86th- and 102nd-floor observation decks for stunning aerial views of New York City. Passersby can also watch the festive lights on the tower from below or from a distance. They change colors (from a palette of 16 million shades) for seasonal events, holidays and cultural happenings.
Everglades National Park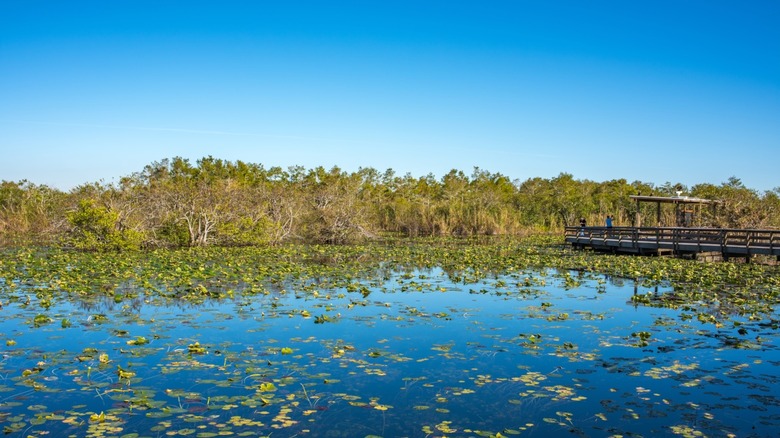 Michael Gordon/Dreamstime.com
Everglades National Park protects 20 percent of the original Everglades in Miami-Dade, Monroe and Collier counties. It's the largest tropical wilderness in America and the third largest park after Death Valley and Yellowstone. Every year, a million visitors come here to camp, hike, canoe, kayak, geocache, bike, fish and catch a glimpse of rare and endangered species including manatees, crocodiles and Florida panthers.
Faneuil Hall Marketplace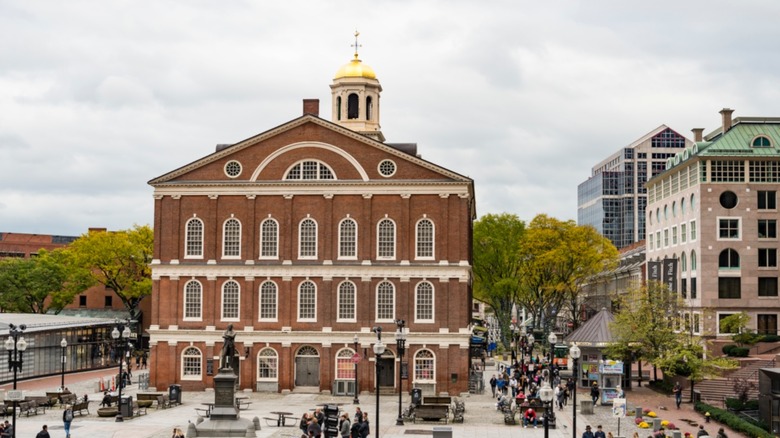 Enrico Della Pietra/Dreamstime.com
Faneuil Hall is a vibrant mixed-use marketplace is located near the waterfront of the Charles River in downtown Boston, Massachusetts. This fan-favorite tourist destination hosts more than 70 retailers from restaurants and pubs to shops and the renowned Quincy Market Colonnade. Outside on the cobblestone, you'll find street performers, musicians and people in full body paint standing as still as statues. Wait, is that a statue? 
Fisherman's Wharf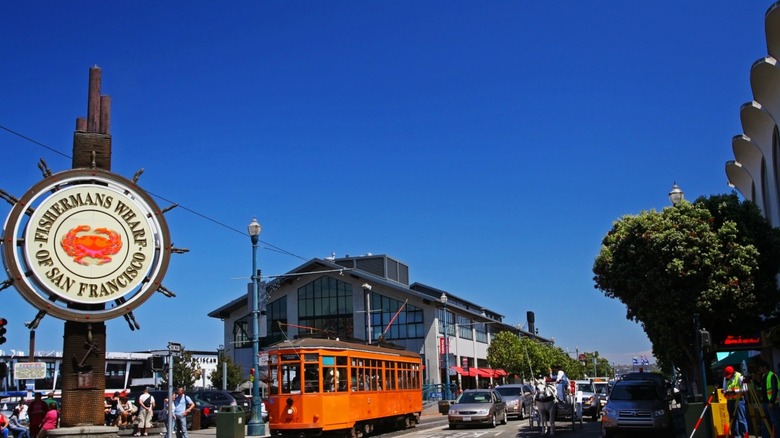 Blanscape/Dreamstime.com
In the 1800s, Chinese and Italian fishermen swarmed to San Francisco by the bay to sell Dungeness crab to a rapidly growing population caused by the gold rush. Though it's more of a tourist attraction now, people still actively fish here. There are a ton of fresh seafood restaurants at Fisherman's Wharf, some of which are accessible by way of the extremely popular Pier 39. This is a great place to take children who might enjoy visiting the aquarium, riding the carousel or watching the California sea lions sunbathing on wooden docks.
Florida Keys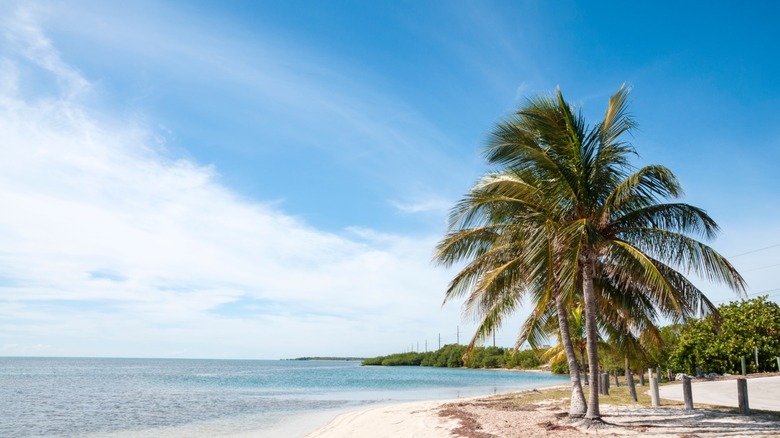 Typhoonski/Dreamstime.com
The Florida Keys is a 110-mile string of coral islands off the southern tip of the Sunshine State. Tons of people flock here to sit on a beautiful beach and relax with a drink in hand, while others venture out into the big blue on Jet Skis and speed boats. Other popular activities include paddle boarding, kayaking, deep-sea fishing and snorkeling.
Fremont Street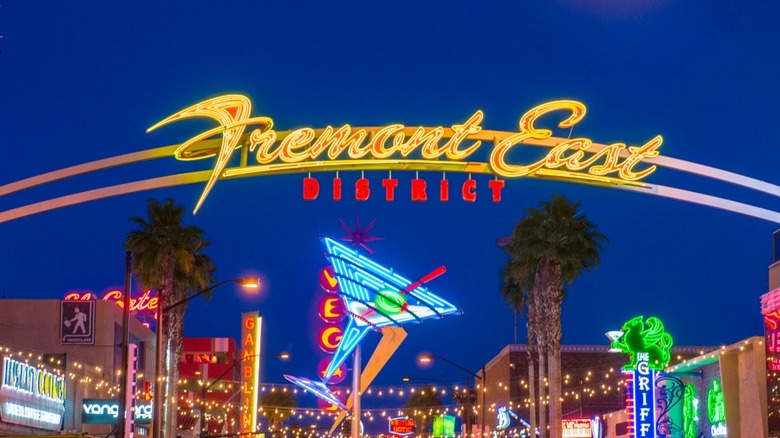 Kobby Dagan/Dreamstime.com
Fremont Street is one of the most famous destinations in downtown Las Vegas, Nevada. There's so much glitter and glam. Everywhere you look there are flashing lights. Check out the Neon Museum (dedicated to preserving vintage neon signs) or take a free photo with a million dollars in cash at the iconic Binion's casino. Oh, and if you want to see a piece of the Berlin Wall (yes, the actual Berlin Wall), head into the men's bathroom at Main Street Station.
Gateway Arch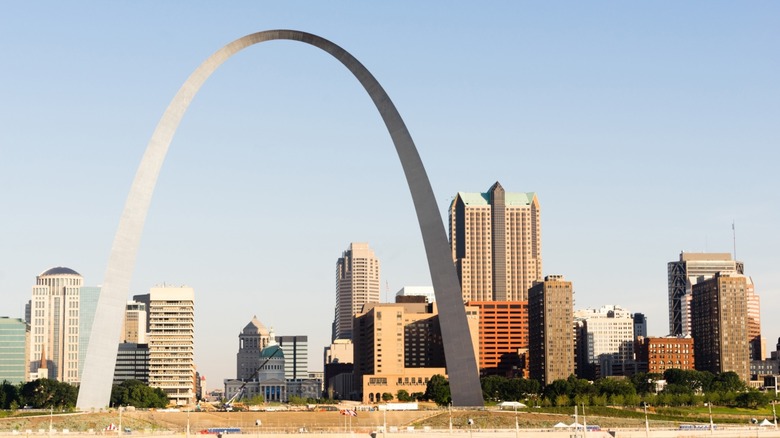 Chris Boswell/Dreamstime.com
The Gateway Arch is symbolic to St. Louis, Missouri. The 43,000-ton concrete and stainless steel structure is the tallest arch in the world and the tallest man-made monument in the Western Hemisphere. Ogle it from below or take a tram ride 630 feet up to the top to see as far as 30 miles away to the east and west.
Glacier National Park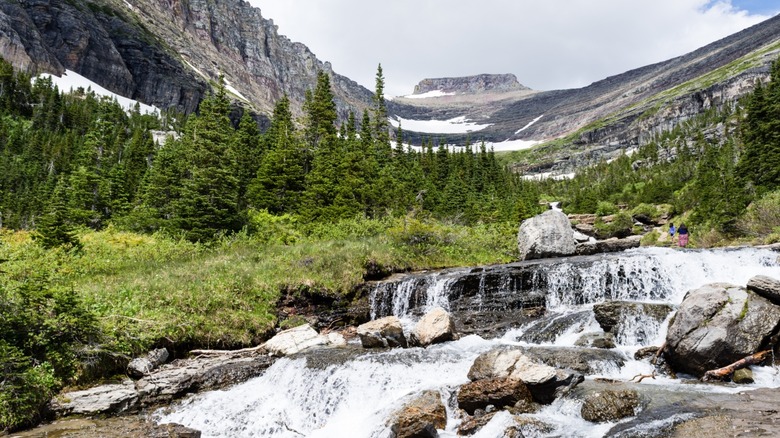 Katinka2014/Dreamstime.com
Glacier National Park is in northwestern Montana on the border of the U.S. and Canada near Alberta and British Columbia. The park stretches over more than 1 million acres, including two mountain ranges, 130 lakes, 1,000 plant species and hundreds of animals including grizzly bears, moose, mountain goats, wolverines and Canadian lynxes.
Golden Gate Bridge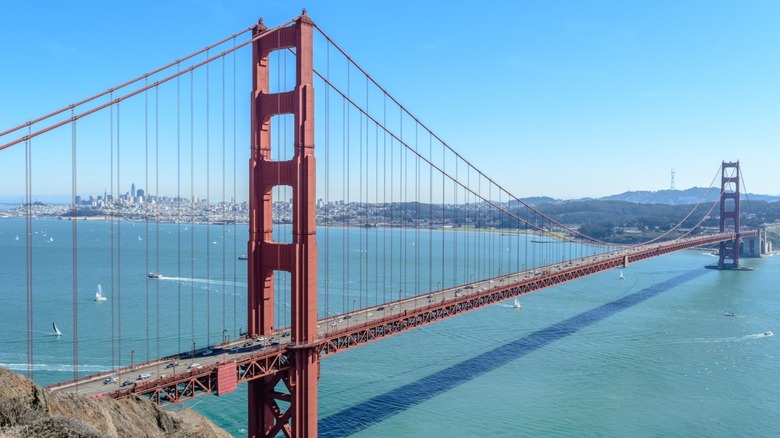 Debbie Ann Powell/Dreamstime.com
This picturesque red suspension bridge is an internationally recognized symbol of San Francisco. It connects the city with Marin County, California, over the Golden Gate strait. Travelers can drive, bike or walk across. The best time to visit the Golden Gate Bridge is in September and October because the weather is comfortably warm. It's not suggested that people go in July and August because it's cold and windy.
Golden Gate Park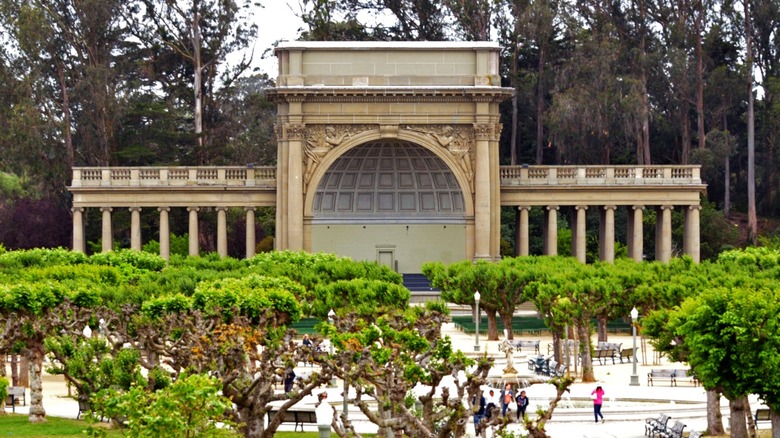 Rafael Ben Ari/Dreamstime.com
This urban park in San Francisco, California comprises more than 1,000 acres in the shape of a rectangle — not unlike New York City's Central Park, but 20 percent larger. Approximately 13 million people visit Golden Gate Park each year, making it the fifth most visited park in America. Take it all in on foot, bike or Segway. Some attractions include the Japanese tea garden, bison observatory, flower conservatory, windmills, carousel and aquarium.
Graceland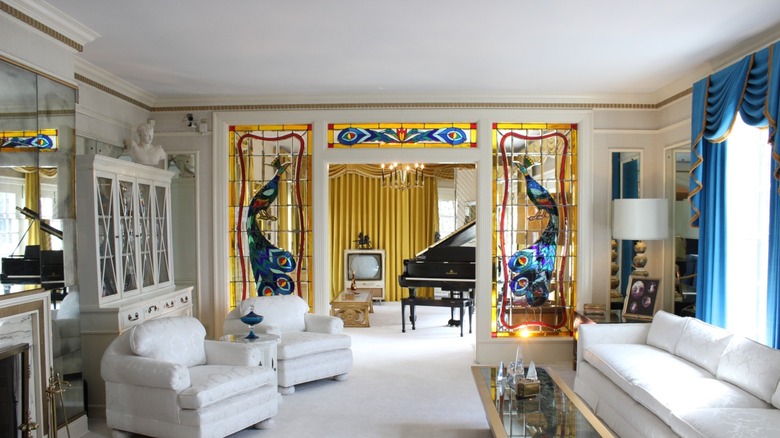 Nofixedaddress/Dreamstime.com
The late King of Rock and Roll once owned this 13.8-acre estate in Memphis, Tennessee. Now, Elvis Presley's daughter Lisa Marie Presley owns Graceland, but she doesn't live there. In 1982 (five years after his passing), the mansion was opened as a public museum, and in 2006 it became a National Historic Landmark. With more than 650,000 visitors per year, it's the second most visited house in America after the White House.
Grand Canyon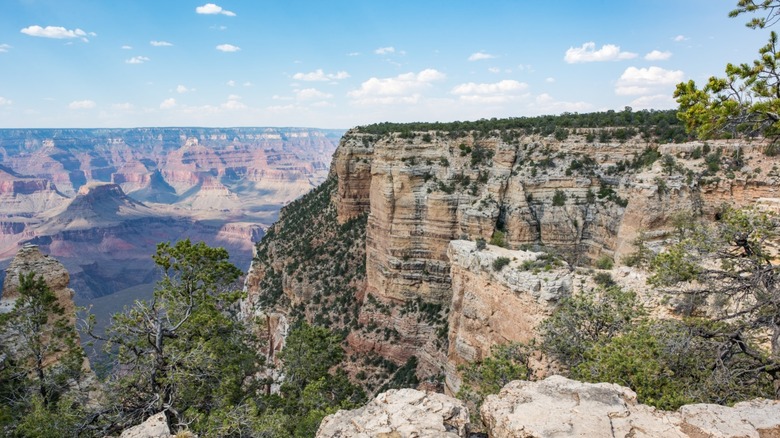 Michael Gordon/Dreamstime.com
The Grand Canyon is located in northwestern Arizona. It's 277 miles long, up to 18 miles wide and more than a mile deep in some places. The North Rim is closed during winter months (December 1 through May 15), but when it's open you can go for a day hike, ride a mule or take a scenic drive. The South Rim is open all year. Here, you can learn about the canyon's history and culture from park rangers, see a museum, watch a film, walk, hike, bike, ride a mule, drive, whitewater raft and more.
Grand Central Terminal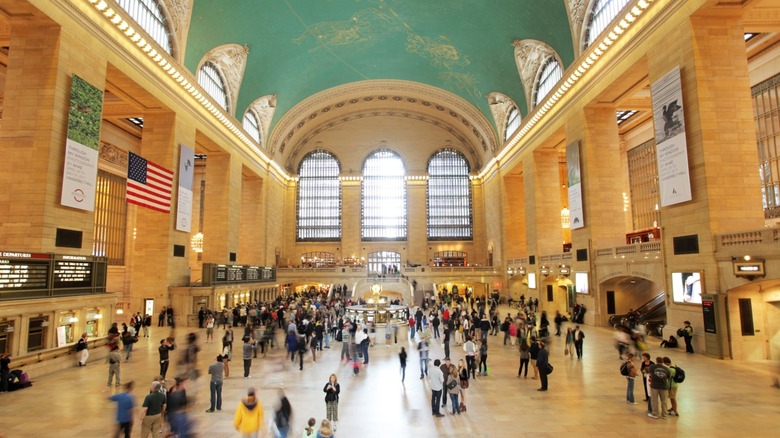 ID Dan Talson/Dreamstime.com
Grand Central Terminal is the third busiest train station in North America after Penn Station and Toronto Union Station. Here, people can travel in and out of New York City by bus, train or subway. Apart from everyday commuters, tourists venture here to see the romantic architecture and interior design. The main concourse is often seen in movies or on TV. If you've never been, you may recognize it from "Gossip Girl," "Armageddon," "Men in Black II," "I Am Legend" and "The Avengers." An animated version also appeared in the 2005 DreamWorks film "Madagascar."
Grand Teton National Park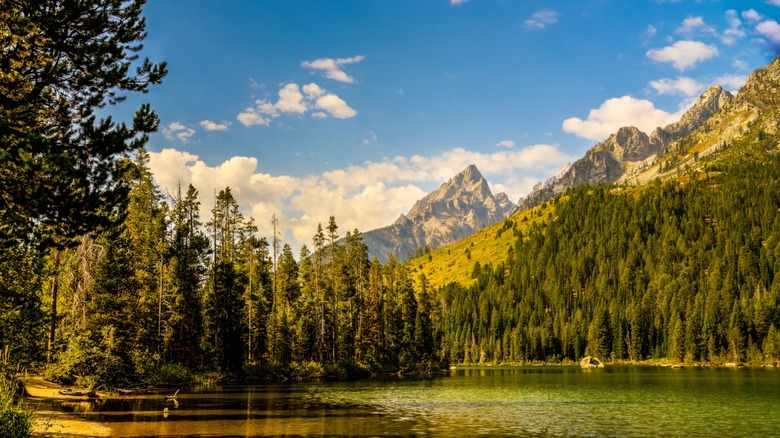 Arlene Hochman Waller/Dreamstime.com
Grand Teton National Park in northwestern Wyoming is home to northern parts of Jackson Hole and major peaks of the Teton Range in the Rockies. Explore the alpine terrain, lakes or the Snake River. There are 310,000 acres in total perfect for backcountry camping, biking, bird watching, boating, fishing, hiking and horseback riding. In the winter, the park is a popular place to go cross-country skiing and snowshoeing.
Hawaii Volcanoes National Park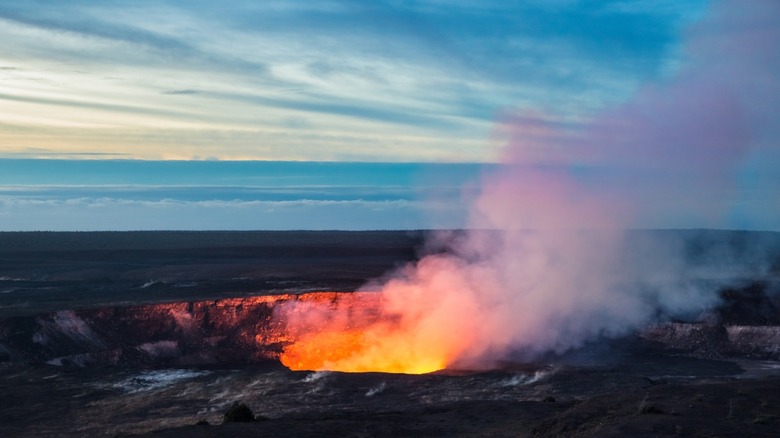 Alexander Demyanenko/Dreamstime.com
There are two active volcanoes in this Hawaii Volcanoes National Park. Just 45 minutes south of Hilo are Kīlauea, the world's most active volcano, and Mauna Loa, the largest active volcano on Earth, and the second largest overall after the extinct undersea Tamu Massif. Tourists can take in the breathtaking volcanic landscapes, craters, petroglyphs, deserts and rainforests.
Hollywood Walk of Fame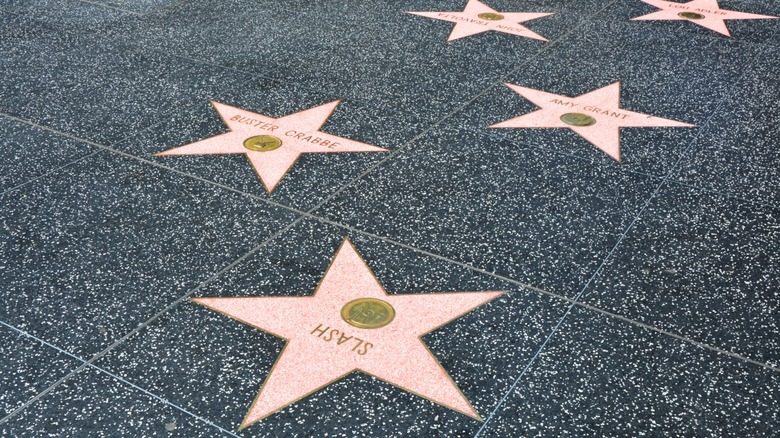 Studiobarcelona/Dreamstime.com
There are more than 2,600 stars embedded in the sidewalk of California's world-famous Hollywood Walk of Fame. They span 15 blocks of Hollywood Boulevard and three blocks of Vine Street. The historic landmark pays homage to people in the entertainment industry. Some fictional characters have also been honored, including Mickey Mouse, Winnie the Pooh, Kermit the Frog, Shrek, Godzilla and Lassie.
Hoover Dam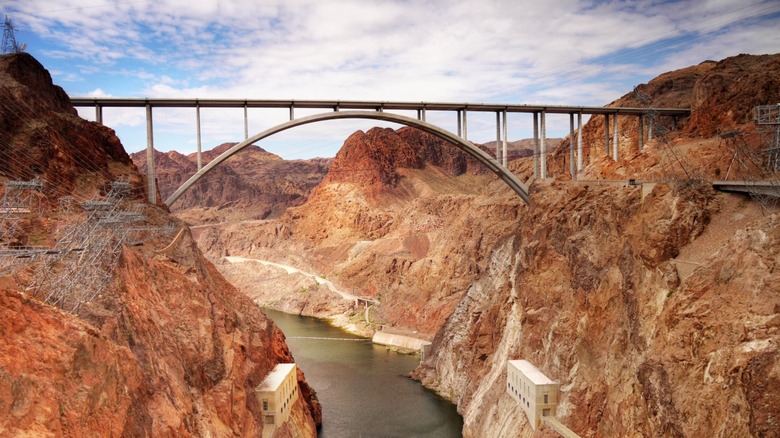 Hellen8/Dreamstime.com
The Hoover Dam stretches across the Black Canyon of the Colorado River on the border of Nevada and Arizona. The 726-foot dam holds back the waters of Lake Mead, the largest reservoir in the U.S. by capacity. Construction on the wall began in 1931 during the Great Depression, and it officially opened in 1936. While it was originally called the Boulder Dam, it was renamed after President Herbert Hoover in 1947. Today, visitors can take a tour of the dam's powerplant any time between 5 a.m. and 9 p.m.
Joshua Tree National Park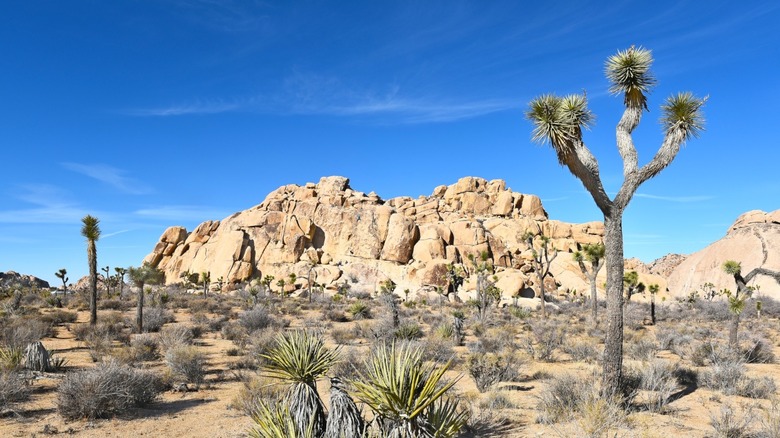 Steven Cukrov/Dreamstime.com
Joshua Tree National Park is just east of Los Angeles, California. It's named after the twisted and spiky Joshua trees that grow in the Mojave Desert. The Colorado Desert also exists within park limits, as well as a portion of the San Bernardino Mountains. The landscape is great for driving down backcountry roads, backpacking, birdwatching, camping, hiking, horseback riding, mountain biking, photography and stargazing.
Lake Tahoe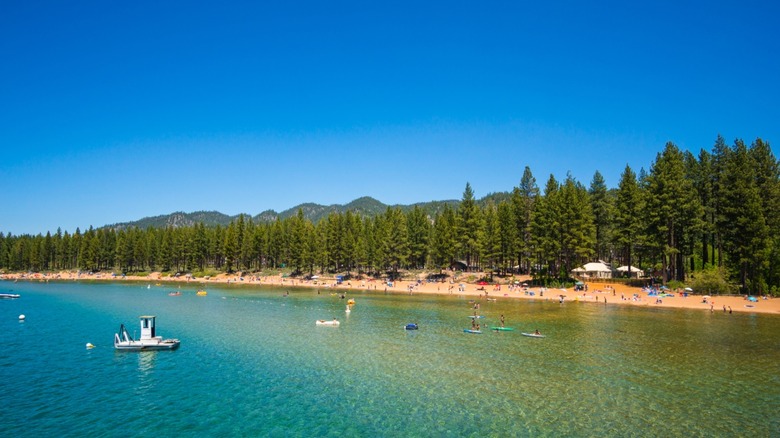 Maislam/Dreamstime.com
The massive freshwater Lake Tahoe straddles the border of California and Nevada. It's about 2 million years old, making it one of the 20 oldest lakes in the world. It's also the second deepest in the country after Crater Lake in Oregon. An estimated 2.7 million people visit each year for stunning panoramic views, summer recreation and winter sports like downhill skiing, snowboarding, snowshoeing and snowmobile riding.
Las Vegas Strip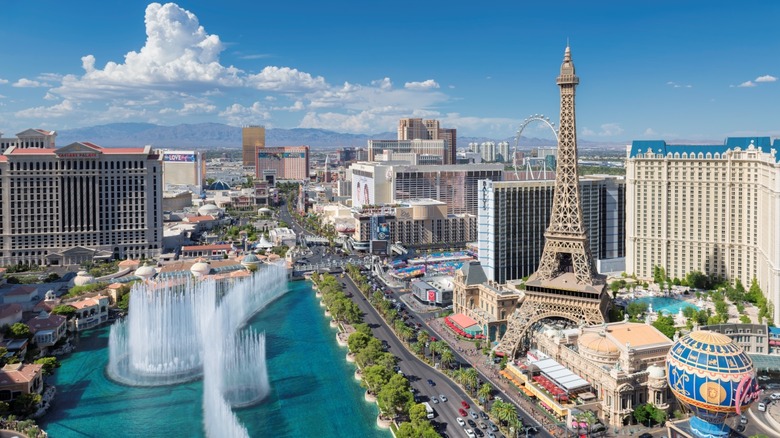 Luckyphotographer/Dreamstime.com
The Las Vegas Strip is about 4.2 miles of restaurants, resorts, hotels and casinos. It's not actually in Las Vegas, though. It's just outside the city limits in Clark County, Nevada. People from all over the world come here to relax, party, shop, gamble and golf. The strip is home to several Cirque du Soleil shows and musical residencies.
Lincoln Memorial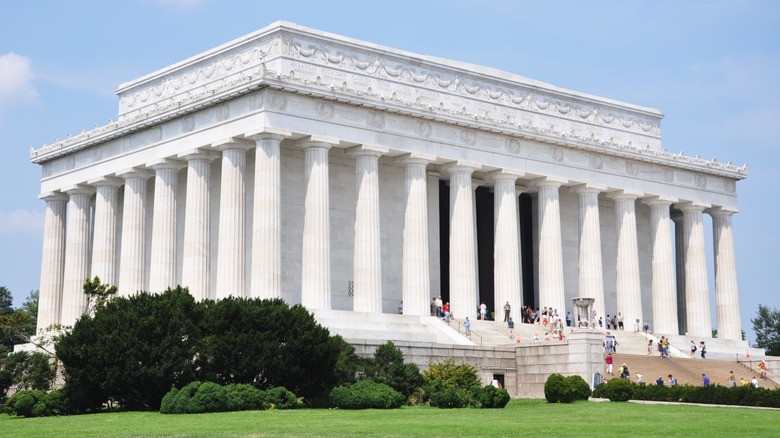 Wangkun Jia/Dreamstime.com
The Lincoln Memorial is open 24/7. It was built to remember America's 16th president, Abraham Lincoln. It's right across from the Washington Monument on the west end of the National Mall in Washington, D.C. The Greek-inspired building has large white columns on the outside with murals and a giant statue of Lincoln on the inside. On August 28, 1963, Martin Luther King Jr. delivered his "I Have a Dream" speech here.
Mackinac Bridge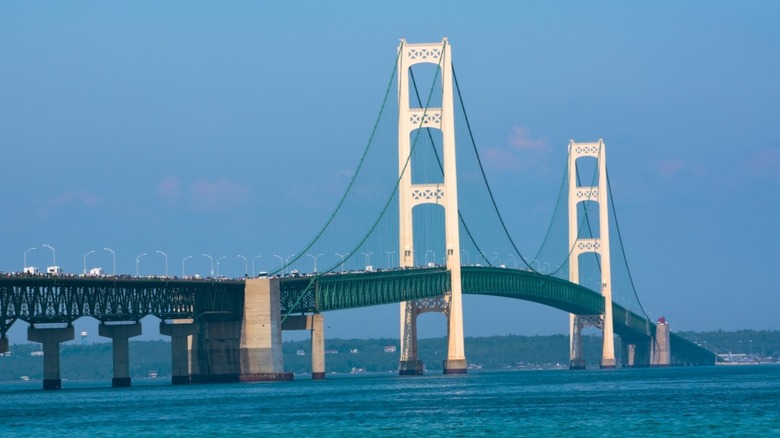 Benkrut/Dreamstime.com
Mackinac Bridge connects Michigan's upper and lower peninsulas, stretching from St. Ignace to Mackinaw City. The 26,000-foot roadway crosses the Straits of Mackinac between Lake Michigan and Lake Huron. A surplus of tourists use the bridge to get to the upper peninsula in the summer, but others seek out the bridge itself to appreciate it in all its glory (and snap a few pictures while they're at it).
Mall of America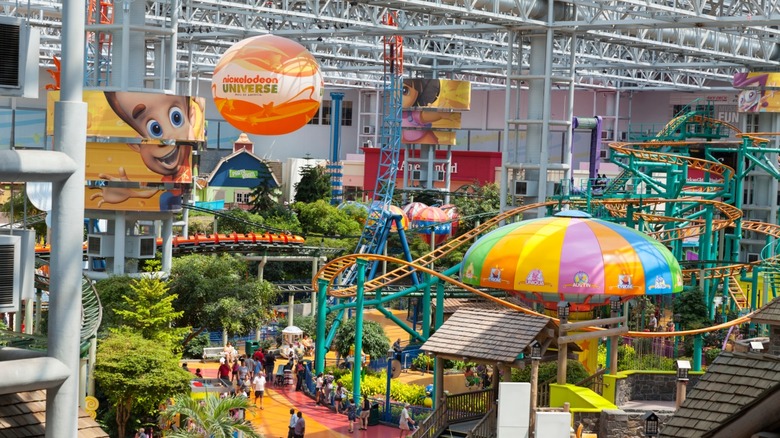 Jeff Coleman/Dreamstime.com
The Mall of America is a giant shopping center in Bloomington, Minnesota, just outside the Twin Cities. It is the largest mall in the country and 12th largest in the world. Every year, about 40 million people visit its 520 shops, 50 restaurants and aquarium. There are more than 28 amusement rides, and the entire first floor is dedicated to Nickelodeon Universe, the nation's largest indoor theme park.
Monument Valley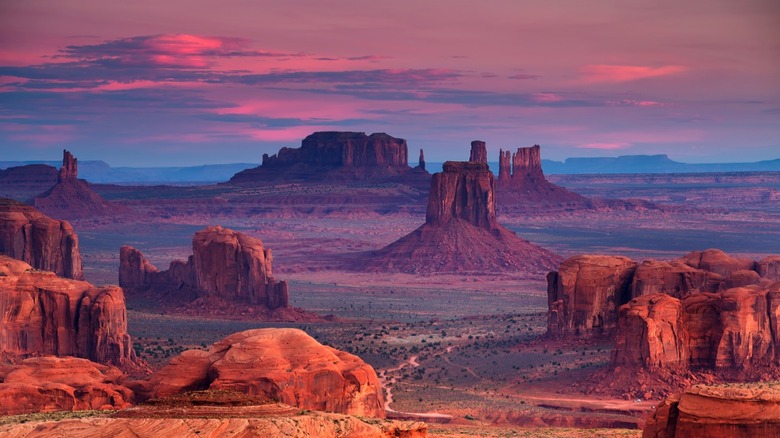 Vorasate Ariyarattnahirun/Dreamstime.com
Monument Valley is part of the Colorado Plateau. It's on the border of Arizona and Utah. Although this is a popular tourist destination, there are basically just canyons, red sand, tall buttes and the biggest blue sky you've ever laid eyes on. It looks pretty much exactly how you'd imagine the Wild West. Tourists can take a drive down a 14-mile dirt road to see the Mittens, Three Sisters, John Ford's Point, Totem Pole, Yei Bi Chai and Ear of the Wind. Other guided tours are available to reach Mystery Valley, Hunts Mesa and more. If you want, you can even see it all on horseback.
Mount Rushmore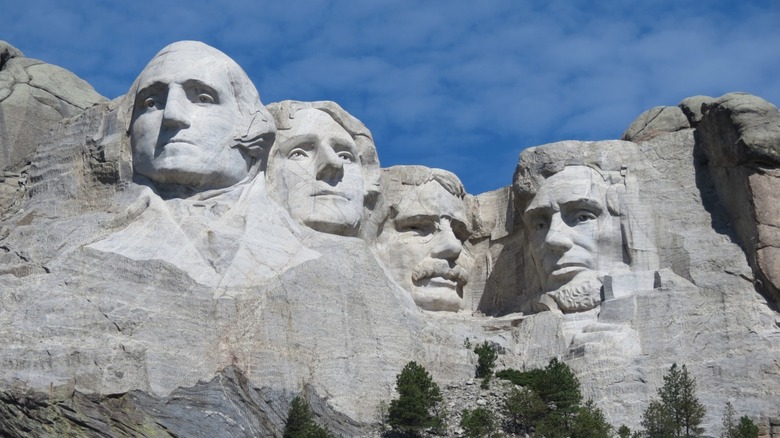 Stephen Janko/Dreamstime.com
Mount Rushmore features sculptures of four former presidents carved into the Black Hills near Keystone, South Dakota. Every year, more than two million visitors come to view George Washington, Thomas Jefferson, Theodore Roosevelt and Abraham Lincoln, whose stone heads measure 60 feet each.
National Mall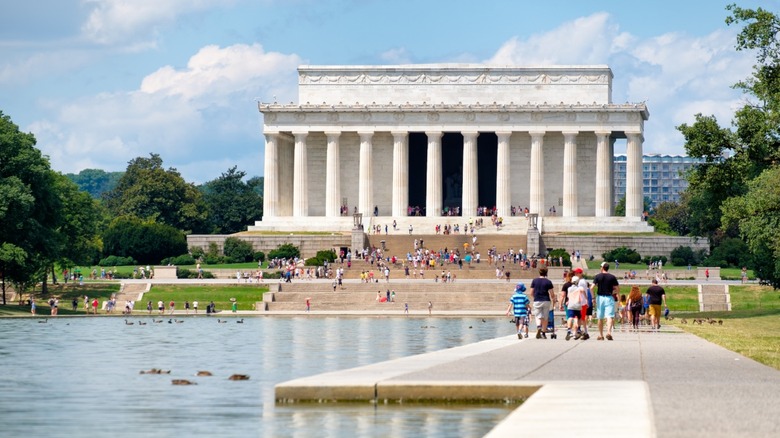 Kmiragaya/Dreamstime.com
The National Mall is the 2-mile stretch of green between the United States Capitol Building and the Lincoln Memorial in Washington, D.C. Every year, the park sees about 24 million tourists visiting bordering Smithsonian museums, art galleries, memorials, statues and other institutions.
Navy Pier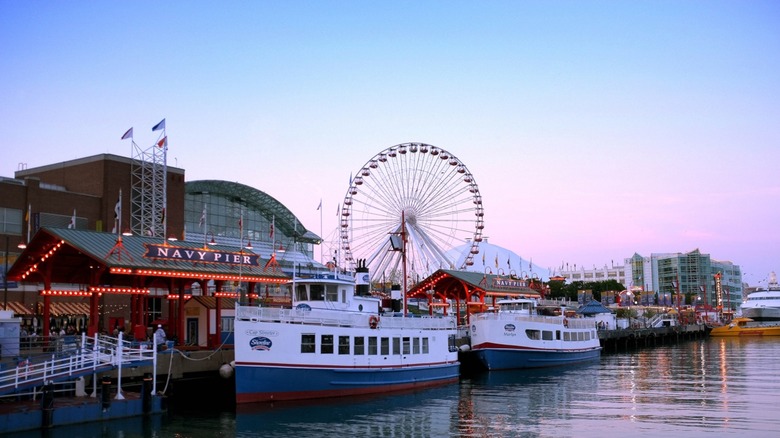 Christian De Grandmaison/Dreamstime.com
The 3,300-foot-long Navy Pier juts from the lakeshore in downtown Chicago, Illinois. An estimated 2 million people visit yearly to sightsee and experience the shops, amusement rides, parks, gardens and restaurants. Every Wednesday and Saturday of the summer there's a fireworks show over Lake Michigan, which guests can enjoy from the dock or aboard an evening cruise.
Niagara Falls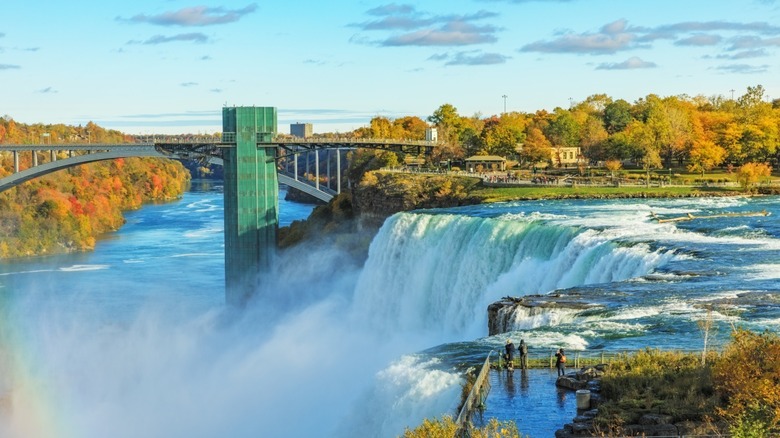 Olena Suvorova/Dreamstime.com
Niagara Falls is made of three waterfalls — Horseshoe Falls, American Falls and Bridal Veil Falls — on the border between Ontario and New York. It's part of the Niagara River, which flows from Lake Erie into Lake Ontario. Most people visit in the summertime during the day or night. Floodlights allow a clear view of the falls when it's dark out. The most popular attraction is the Maid of the Mist boat cruise, which takes passengers into the basin of Horseshoe Falls, the most powerful waterfall in North America.
Pike Place Market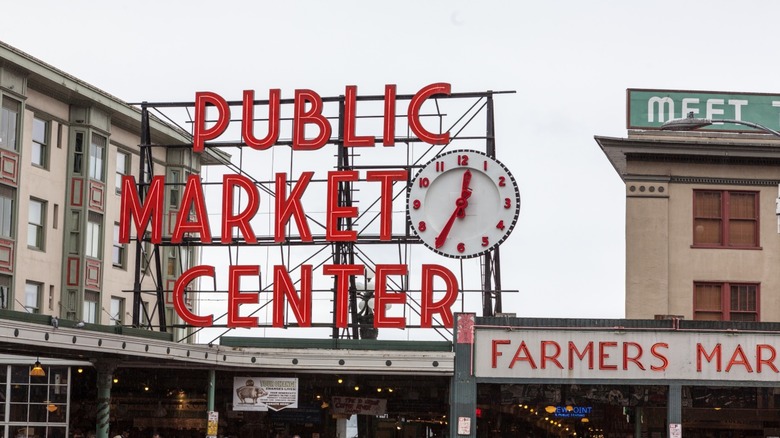 Dave Newman/Dreamstime.com
Seattle, Washington's Pike Place Market is one of the oldest continuously running public farmers markets in America (and a tourist trap worth visiting). It features a rainbow of retailers selling antiques, comics, collectibles, fresh produce, crafts, coffee and cannabis paraphernalia. Tourists adore the fish market, where employees toss giant fish to one another at great lengths. The first-ever Starbucks store is here, too.
Redwood National and State Parks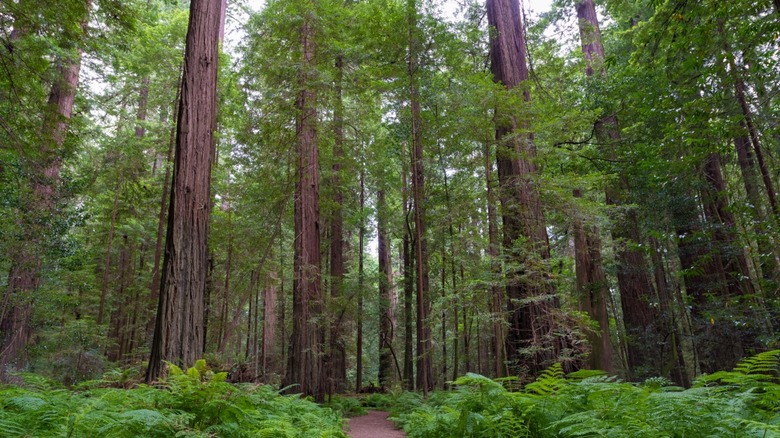 Tristan Brynildsen/Dreamstime.com
California's Del Norte Coast, Jedediah Smith and Prairie Creek state parks combine with Redwood National Park to cover 139,000 acres along the coast of Northern California, an area that is home to the tallest trees on Earth. There are no hotels or motels in the parks, so take a hike and pitch a tent in the redwood forest. Other recreational activities include horseback riding, mountain biking, kayaking and fishing.
Rockefeller Center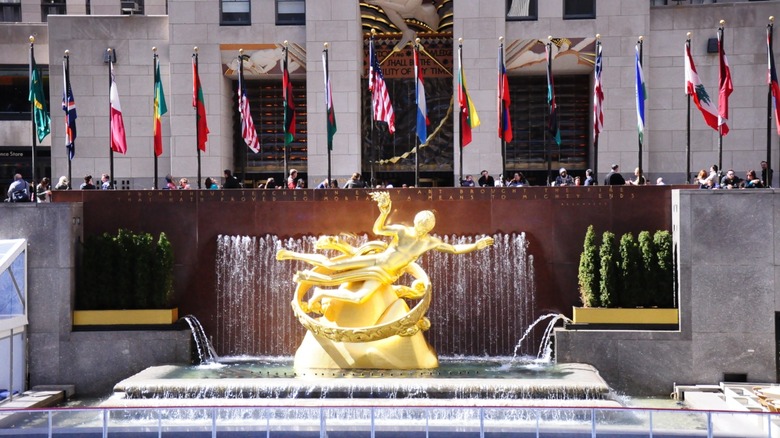 Pok Man Chan/Dreamstime.com
Rockefeller Center is a complex of buildings in New York City. Here, you'll find gardens, shops and restaurants, as well as Radio City Music Hall and NBC Studios, where "Saturday Night Live" and "The Tonight Show Starring Jimmy Fallon" are filmed. Head to the top of the Rock for stunning views on the observatory deck or brave the crowds during the holiday season when the gargantuan Christmas tree lights up by the skating rink.
Rocky Mountain National Park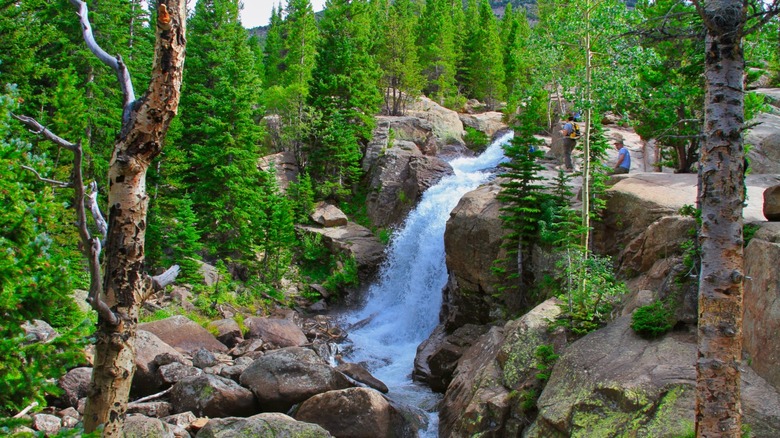 Mudwalker/Dreamstime.com
Rocky Mountain National Park is in north-central Colorado, about 75 miles from the Denver International Airport. The region offers spectacular mountain and lake views, wildflowers and 300 miles of hiking trails. This environment offers close-up views of wildlife such as bighorn sheep, birds, elk and mule deer.
San Diego Zoo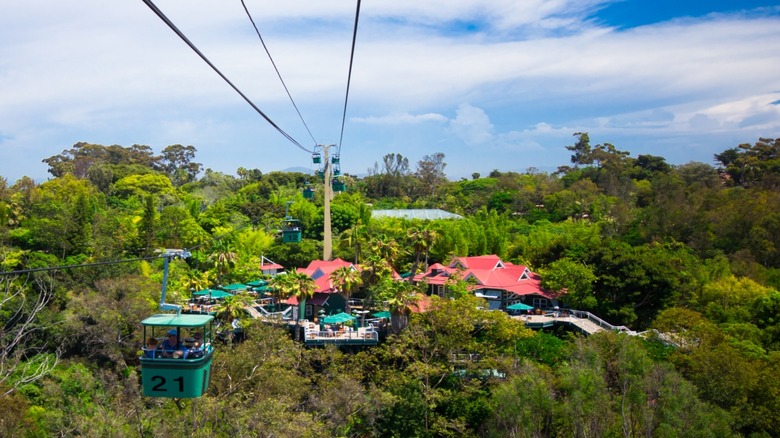 Littleny/Dreamstime.com
The San Diego Zoo in California's Balboa Park houses 700,000 plants and more than 3,500 animals representing more than 650 species and subspecies including leopards, anacondas, camels, cheetahs, alligators, elephant, giraffes and more. It's the most visited zoo in the country, clocking in at 4 million ticketholders per year.
Sequoia National Park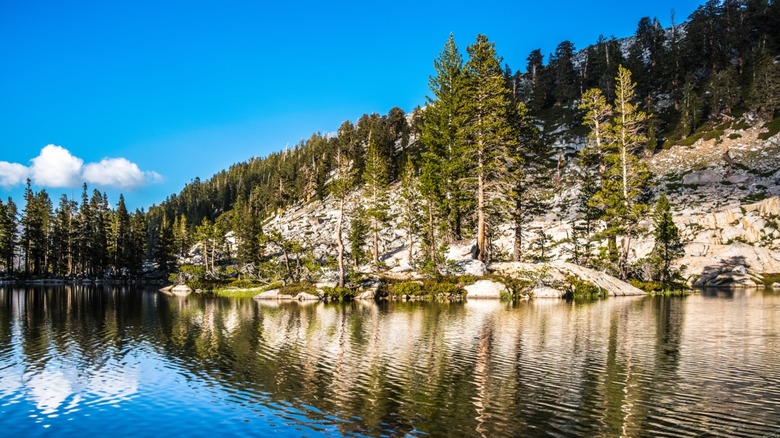 Sburel/Dreamstime.com
Some of the world's largest trees can be found in Sequoia National Park in Tulare County, California. In fact, the biggest one in the world is here, and it goes by the name General Sherman. The massive sequoia is 275 feet tall, 25 feet wide and 52,500 cubic feet by volume. In addition to these monster trees, the park features canyons, caverns, foothills and mountains. Limited Wi-Fi and cellphone coverage will have you feeling at one with nature.
Smithsonian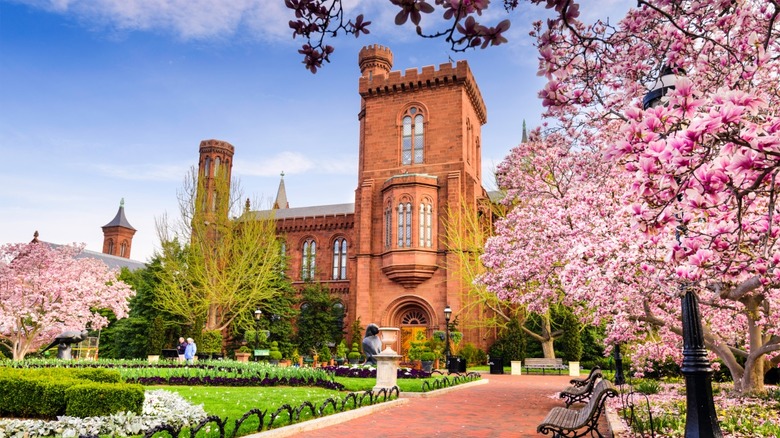 Sean Pavone/Dreamstime.com
Cultural and research centers, a national zoo and 19 museums make up the Smithsonian Institution. Eleven of the museums are on the National Mall, two are elsewhere in Washington, D.C., two are in New York City and one is in Chantilly, Virginia. Admission for all is free, excluding the Cooper Hewitt, Smithsonian Design Museum in New York.
South Street Seaport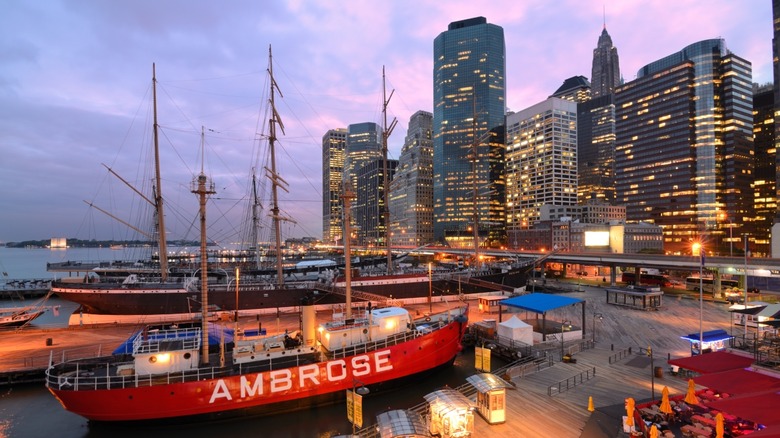 Sean Pavone/Dreamstime.com
South Street Seaport is in lower Manhattan along the East River. This historic New York City district features some of the city's oldest architecture as well as modern shops, restaurants and bars. The seaport has been a popular place for filming. You may recognize it from "I Am Legend," "Godzilla" or "Home Alone 2: Lost in New York."
Space Needle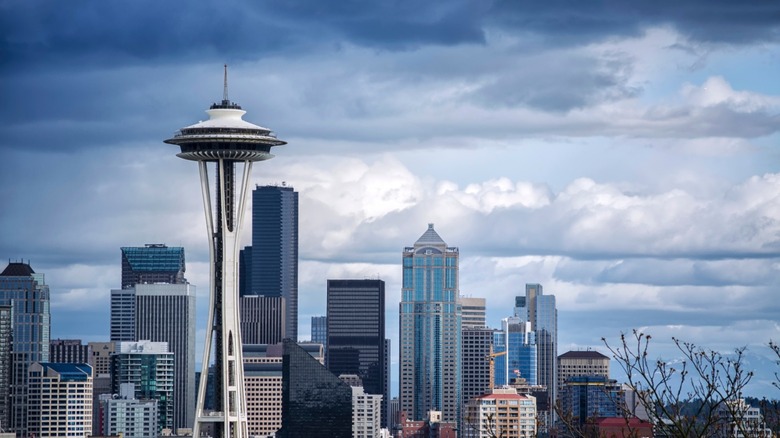 Lee Walker/Dreamstime.com
The Space Needle is a symbol of Seattle, Washington. At a soaring 605 feet tall, the tower is built to withstand winds up to 200 miles per hour and earthquakes up to a 9.0 magnitude. Visitors can travel up to the upper observation deck for unforgettable views of the surrounding mountains and bay. There's also a lower-level observation deck called "The Loupe," which has the world's first and only rotating glass floor.
Statue of Liberty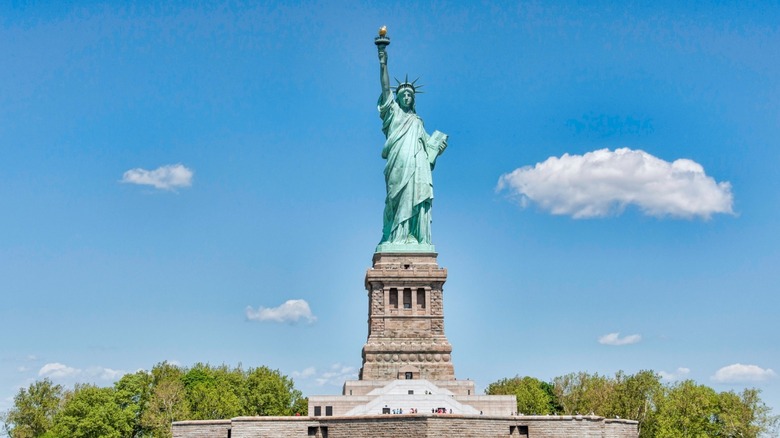 Repazz/Dreamstime.com
The Statue of Liberty is one of America's most iconic landmarks and is recognized as a symbol of freedom to people around the world. The massive green copper statue was gifted by France in 1886 and today tourists ferry over from both New York and New Jersey to marvel at her beauty.
The Alamo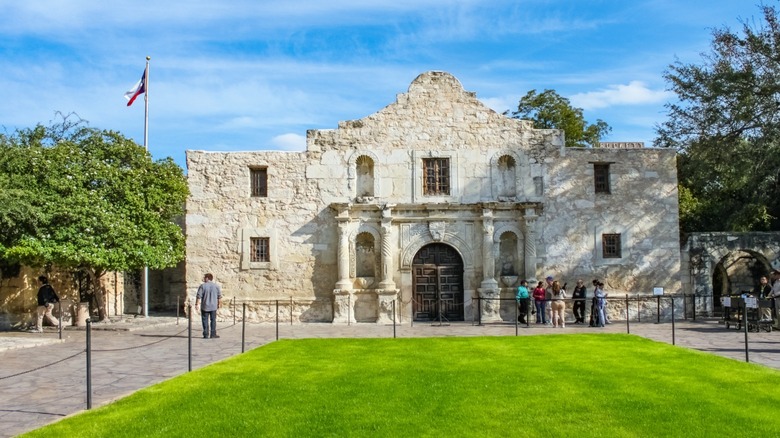 Susan Vineyard/Dreamstime.com
The Alamo is the site of a famous battle in during Texas' war for independence from Mexico. In February 1836, thousands of Mexican troops beseiged the fort, but the Alamo's 200 defenders (including the famous frontiersman Davy Crockett) were able to fend them off for 13 days before ultimately losing the fight. Today, visitors can take guided or self-guided tours of the mission to learn more about its history.
The High Line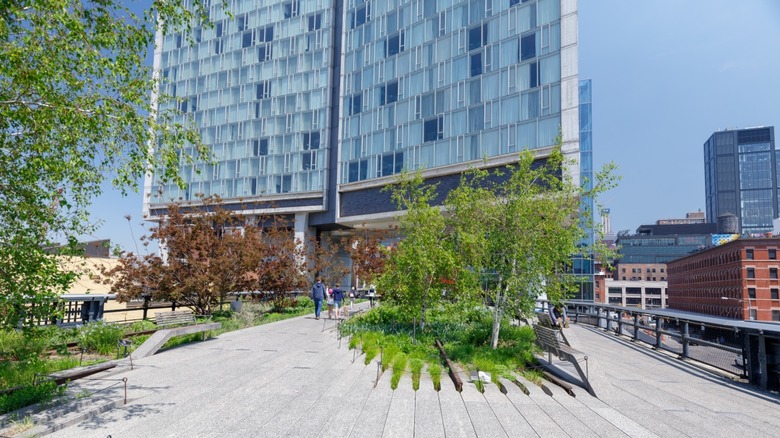 Yooran Park/Dreamstime.com
The High Line is a 1.45-mile-long elevated public park on the west side of Manhattan. It's built on the abandoned New York Central railroad. The walkway features lots of trees and other plants, art installations, decks, overlooks and other various passageways. The High Line typically welcomes food vendors during summer months, but Italian restaurant Santina is open all year round at the park's southern end.
The Hollywood Sign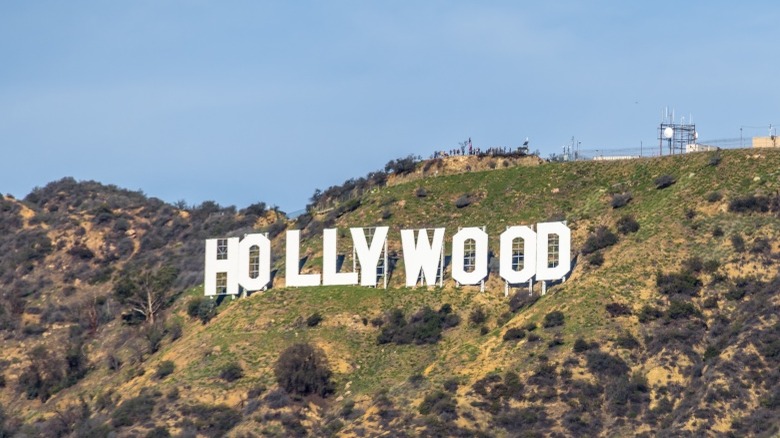 Diego Grandi/Dreamstime.com
The iconic Hollywood Sign sits on Mount Lee in the Hollywood Hills in Los Angeles, California. Each letter is 45 feet long, spanning a total 352 feet altogether. It's illegal to walk right up to the sign (a police officer is stationed there 24/7), but tourists can hike the trails above and below it, or simply view it from practically anywhere in the city.
The Metropolitan Museum of Art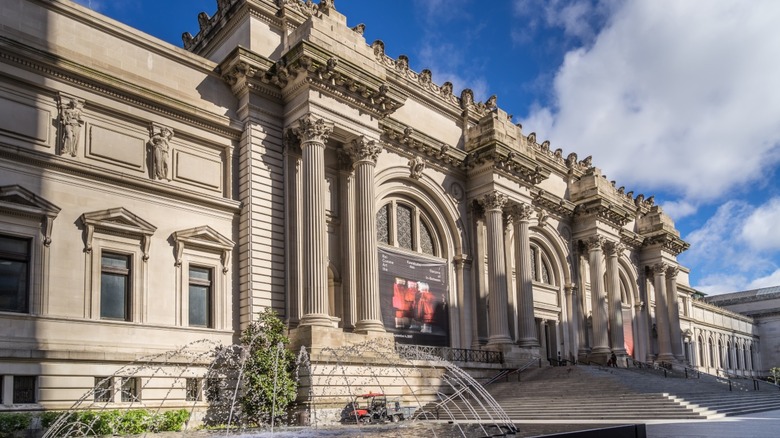 Eileen Tan/Dreamstime.com
New York City's Metropolitan Museum of Art, also known as "the Met," is the largest art museum in America, and with nearly 7 million annual visitors, it is the third most visited in the world. There are more than 2 million permanent pieces separated into 17 different cultural departments.
Thomas Jefferson Memorial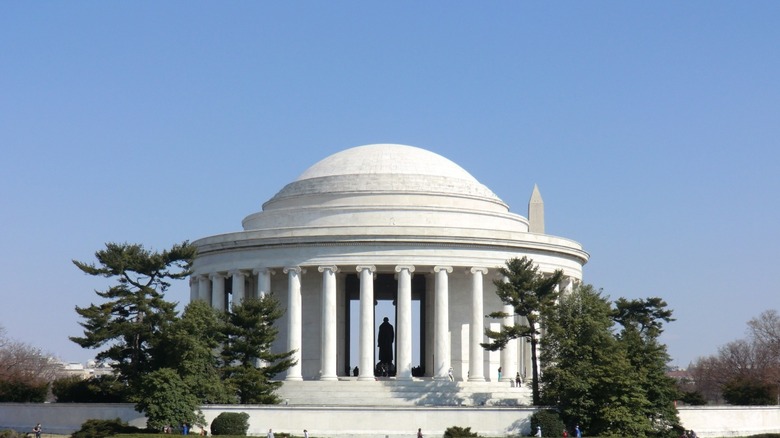 Itsadream/Dreamstime.com
The Jefferson Memorial in Washington, D.C., is dedicated to Founding Father and third president of the United States Thomas Jefferson. The monument has a marble staircase and large columns. A 19-foot-tall, 10,000-pound statue of Jefferson is at the center of the building's interior. An excerpt from the Declaration of Independence and other writings are inscribed on the walls.
Times Square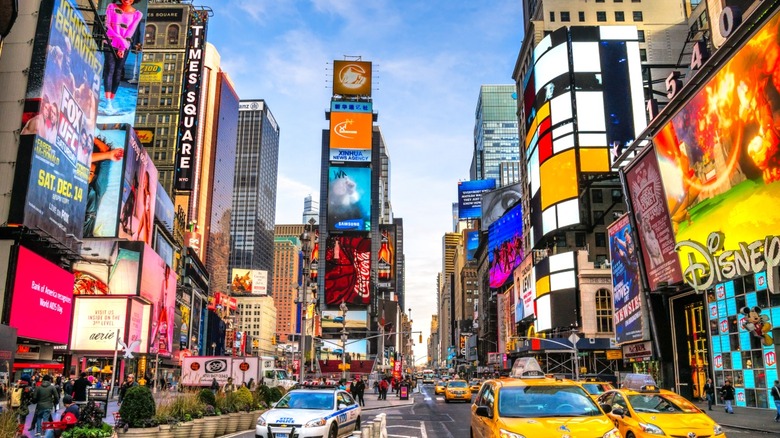 Luciano Mortula/Dreamstime.com
Times Square is the heart of New York City and "The Center of the Universe." It's a major tourist destination because of all the flashy billboards, bright lights, Broadway musicals, art, shops and restaurants. The world's most famous New Year's Eve countdown happens here with about 1 million people packed into the square. It's estimated that 330,000 people cross through the area every day, accounting for 50 million visitors annually.
Union Station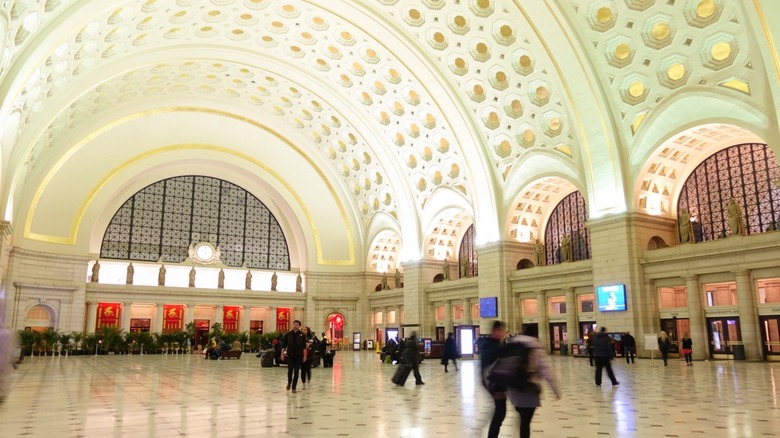 Erik Lattwein/Dreamstime.com
This station is a major transportation hub in Washington, D.C., with several railways connecting metros such as Baltimore, Philadelphia, New York City and Boston. It's the headquarters for Amtrak, but it also services other commuter railways and buses. Union Station is also home to a huge number of restaurants and other retailers.
United States Capitol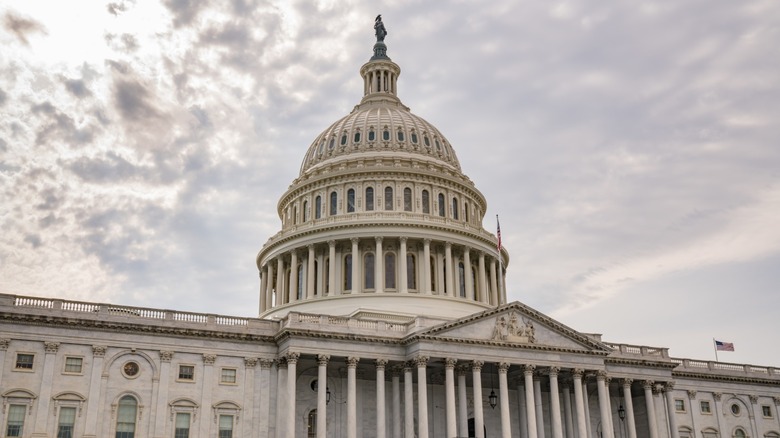 Paul Brady/Dreamstime.com
The Capitol Building in Washington D.C. is the focal point of the legislative branch and a symbol of the American government. The building has been a meeting place for the House of Representatives and the Senate for the last two centuries. Today, it's also an art and history museum. Visitors can explore the building or even watch Congress in session.
Universal Studios Hollywood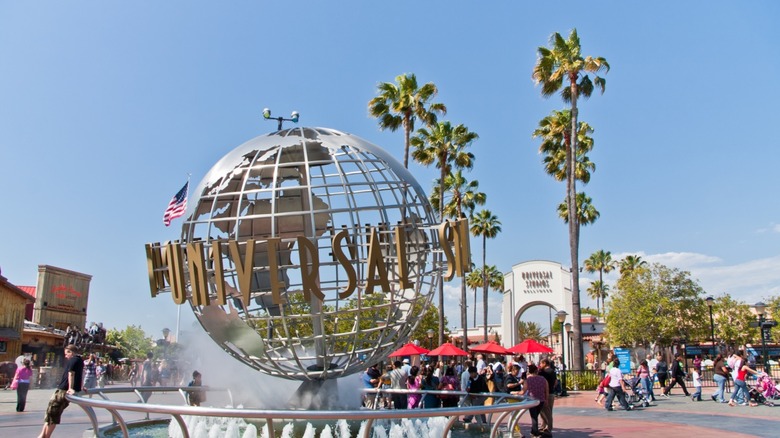 Antonio Jodice/Dreamstime.com
Universal Studios Hollywood is a film studio and theme park in California's San Fernando Valley. The Wizarding World of Harry Potter is here as well as other themed rides and the world famous studio tour, which gives parkgoers a dramatic behind-the-scenes look at how movies are made.
Venice Beach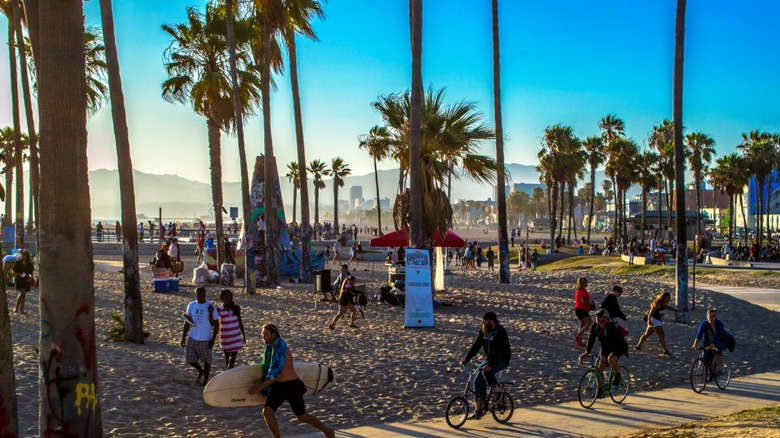 Jared Fairley/Dreamstime.com
This isn't your average beach. People from near and far come to Venice Beach in California to watch street performers, shoot hoops, surf, shop, eat, skate, break a sweat at the outdoor gym and drink with their toes in the sand. It features a promenade, a fishing pier, Muscle Beach (the birthplace of the physical fitness boom), a bike trail and a recreation center for beach volleyball, paddle tennis, skating and handball.
Washington Monument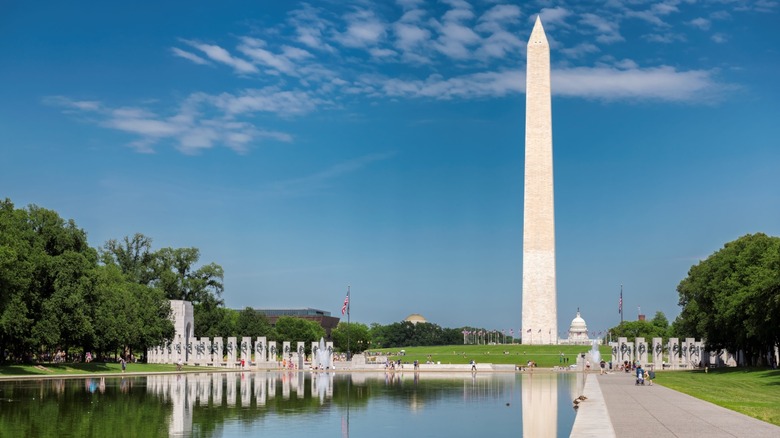 Luckyphotographer/Dreamstime.com
At 555 feet tall, the Washington Monument is the world's tallest obelisk. It can found east of the Reflecting Pool on the National Mall in Washington, D.C. The marble structure was dedicated to the nation's first president, George Washington. Fifty American flags fly at the base 24 hours a day.
White House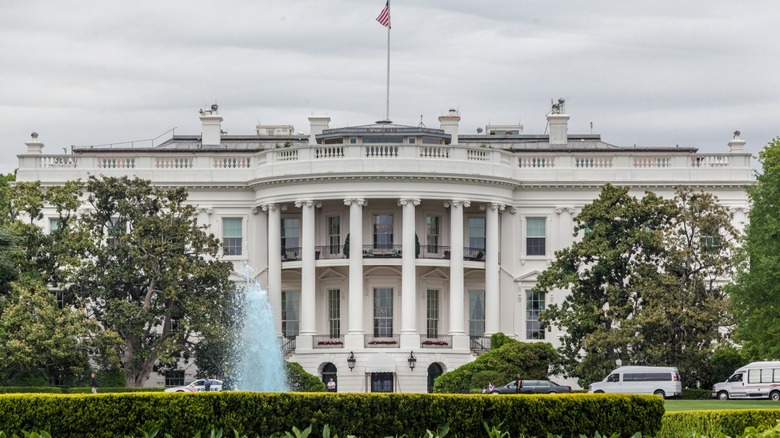 Alexandre Fagundes De Fagundes/Dreamstime.com
The White House is a mansion in Washington, D.C., where the president and first family live. Anyone visiting the nation's capital can go on a self-guided tour of the historic building, but a reservation must be made ahead of time by submitting a request through your Member of Congress.
World War II Memorial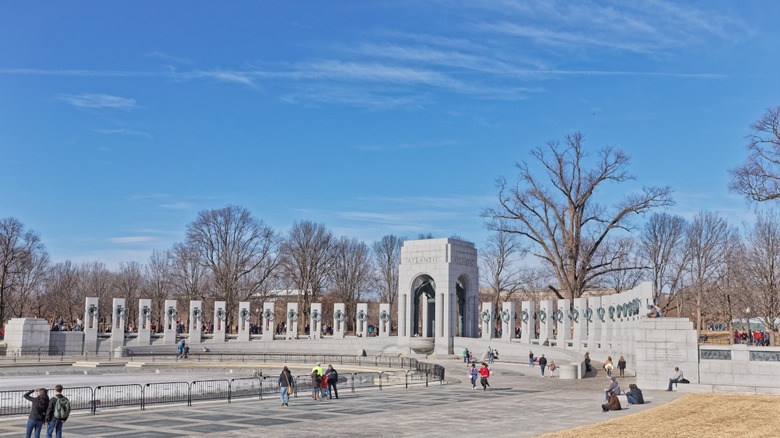 Jasmina/Dreamstime.com
The World War II is on the National Mall between the Lincoln Memorial and Washington Monument in Washington, D.C. It consists of 56 pillars, two arches and a large fountain created to honor American civilians and those who served in the military during World War II. The site is open to the public 24/7, and approximately 4.6 million tourists visit annually.
Yellowstone National Park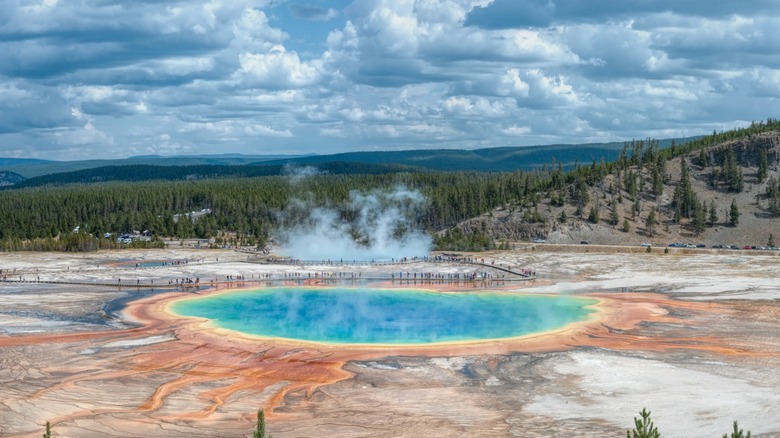 Randy Miramontez/Dreamstime.com
Yellowstone was the first national park in the world. The park's 2.2 million acres of land cover parts of Wyoming, Montana and Idaho. Its most famous feature is the Old Faithful geyser, which erupts every 45 to 125 minutes. An estimated 4 million visitors arrive here annually to camp, hike, bike, boat, fish, ride horses and llamas, ski, snowshoe, snowmobile and take in the wildlife. Grizzly and black bears, bison, elk, wolves, bighorn sheep and moose are just a select bunch of the area's residents.
Yosemite National Park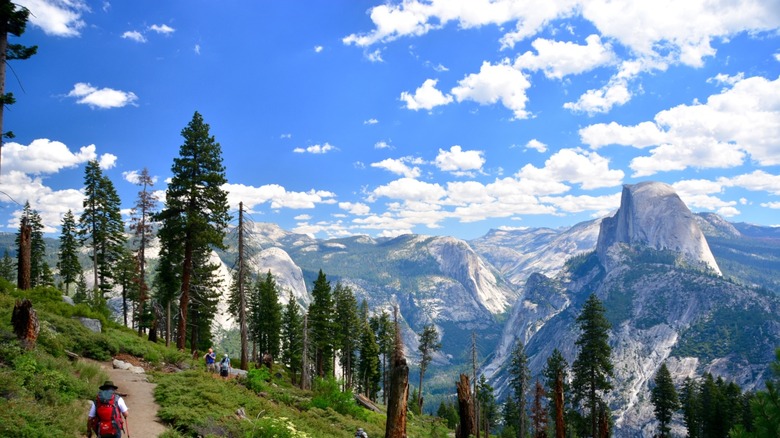 Johannes Onnes/Dreamstime.com
Yosemite National Park is in California's Sierra Nevada mountain range. It covers about 748,000 acres of land featuring cliffs, valleys, meadows, waterfalls, streams, lakes, mountains, glaciers and ancient sequoia groves. Most visitors stay within Yosemite Valley, which has great hiking trails and mountaintop views.
Zion National Park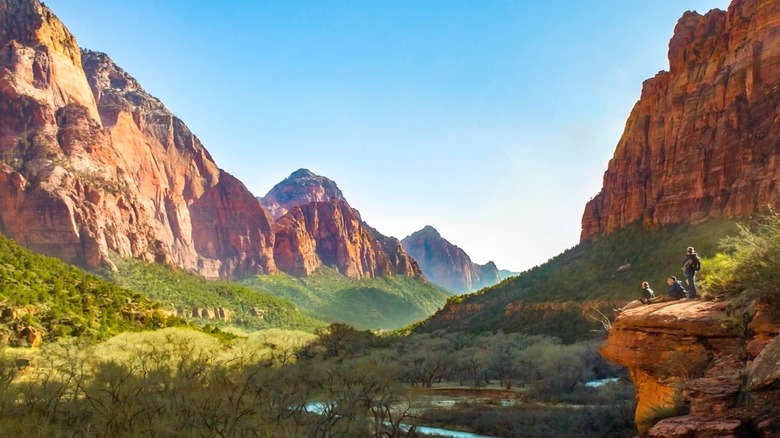 Matt Machin/Dreamstime.com
Zion National Park is in southwestern Utah near the town of Springdale. Take short or long walks through trails in the uber-popular Zion Canyon or Kolob Canyons. Guests can also go rock climbing, horseback riding, camping, biking, birding, canyoneering, stargazing and boating down the Virgin River.