Avoid This Times Square Mistake When Visiting NYC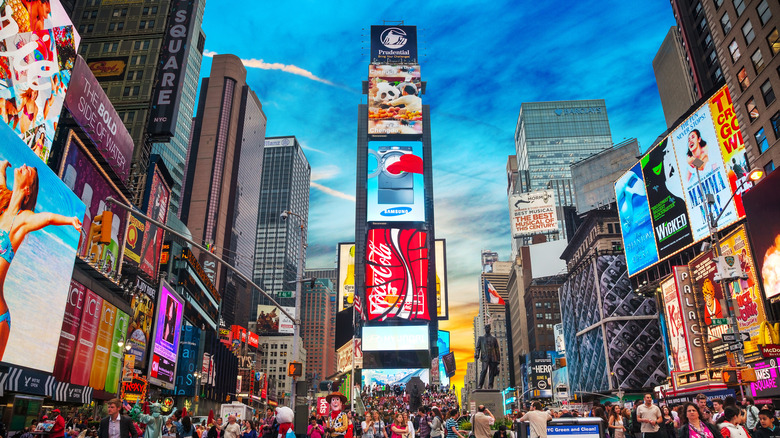 KarlosWest/Shutterstock
When people (not New Yorkers) think of New York City, they typically think of Midtown. They envision bumper-to-bumper traffic, crowded sidewalks, towering skyscrapers, as well as the neon lights, sounds, and chaos of Times Square. On one hand, let's admit it, they're not wrong. Midtown is in NYC, and Times Square is in Midtown. On the other hand, while it's part of NYC, Midtown and Times Square are not NYC.
According to the Times Square Alliance, March of 2022 welcomed approximately 260,000 daily visitors. As COVID-19 retreats in our collective memories, that daily number is projected to grow. It's no secret that the majority of visitors to Times Square are tourists, as most New Yorkers avoid the area like the plague. It can be loud, super-crowded, overpriced, and overall annoying.
While it's totally understandable that first-time visitors would want to experience Times Square, there's one mistake to avoid at all costs — equating Times Square with New York City. Let's say it again, Times Square is not NYC. However, in a bit of a paradox, you may need to visit Times Square to fully understand why.
Times Square could be Anywhere, USA (sorta)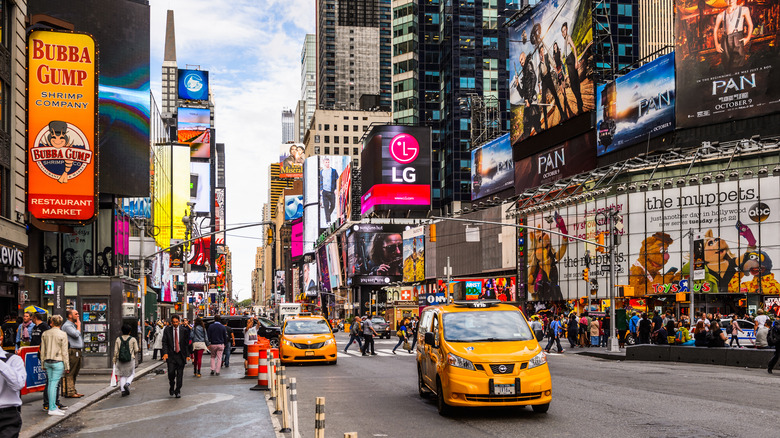 Anton_Ivanov/Shutterstock
It's absolutely impossible to speak about New York City without mentioning food. According the most recent data from the state comptroller's office, NYC had approximately 23,650 restaurants in 2019. The city is truly a culinary wonderland of flavors, international cuisine, classic dishes, and gastronomical innovations. From Michelin-starred, fine dining restaurants to the neighborhood, family-owned café, the culinary scene in NYC is acclaimed worldwide.
With that said, in the name of all that's delicious, why would you choose to dine at a chain restaurant in Times Square? While it may be deemed a bit touristy to get a $.99 slice in Midtown, that cheap slice is at least a taste of NYC's (albeit touristy) culinary heritage. It's kind of like going to Katz Deli. Sure, maybe it's popular with tourists, but the famed deli is still quintessential New York.
Do you know what's not quintessential NYC? Bubba Gump Shrimp, The Olive Garden, and Red Lobster, which have been mainstays of Times Square. This isn't to knock chain restaurants. Do you. But, when visiting NYC, Times Square's food typically represents Anyplace, USA more so than New York City.
If you positively, absolutely want to grab a bite or drink in Times Square, consider going to a rooftop bar like St. Cloud at The Knickerbocker Hotel or something similar. Dining off the street, you can experience the spectacle of Times Square without being "in" the spectacle of Times Square.
Hop-on and hop-off Midtown chaos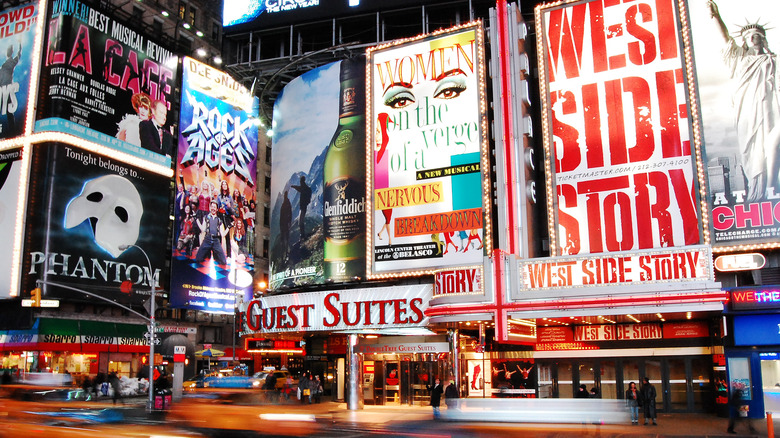 Sociopath987/Shutterstock
At no fault of their own, first-time NYC visitors usually equate Midtown with NYC because of its iconic attractions. And it's true. Along with Times Square, you'll find the Museum of Modern Art, the Empire State Building, Rockefeller Center, St. Patrick's Cathedral, and other landmark sites in Midtown Manhattan.
Due to this, visitors assume that staying at a site-triangulated hotel allows easier access to see these highlights. Maybe, but this can be a costly assumption, as hotels are typically more expensive in the area.
In reality, NYC is a public transit city, and you don't need to stay near attractions to see the attractions. By choosing a home base away from Times Square, you'll get to experience a more authentic NYC while probably saving some money. For sightseeing, consider taking a hop-on hop-off bus tour. According to NYC by Natives, these types of bus tours are ideal for first-time visitors who wish to see NYC's most famous landmarks.
While razzing Times Square can be easy, there's one exception worth mentioning. Even the most disgruntled New Yorker will brave the intersection of Seventh Avenue, 42nd Street, and Broadway to see a show. Broadway is definitely worth experiencing when visiting NYC.
However, according to NYTix, you'll need to buy tickets in-person at the box office to score the cheapest tickets. So yeah, sometimes Times Square can't be avoided. But remember, it's not NYC (not all of it, at least).