11 Things To Know Before Visiting The Statue Of Liberty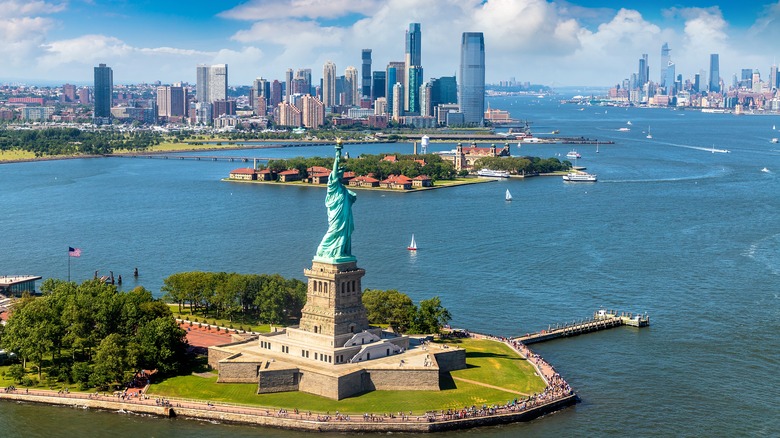 Sergii Figurnyi/Shutterstock
The Statue of Liberty is truly a national treasure and destination that anyone who loves Americana culture will enjoy. Gifted to the United States in 1885 by France and placed on its completed pedestal the following year, "Liberty Enlightening the World" has sat magnificently in New York Harbor and captured the imagination of countless generations of onlookers. In 1903, Emma Lazarus's poem, "The New Colossus," added a poignant rallying call to the statue's rising form. "Mother of Exiles," Lazarus calls Lady Liberty, as her most famous words echo through the ages: "Give me your tired, your poor, your huddled masses yearning to breathe free."
Today, millions of visitors flow through the twined islands in New York Harbor: One supporting Lady Liberty and her crown, torch, and hope for the future, and the other, Ellis Island, a glimpse of America's immigrant past that she represents. If you're a first-time visitor to this popular U.S. tourist destination, you can make the most of your trip by bearing in mind a few essential tips. From planning when to book your tickets and how to pack for the day to structuring your visit's timeline, these factors will ensure a fulfilling and inspiring visit to this symbol of America's most enduring qualities.
1. Head to Ellis Island before seeing Lady Liberty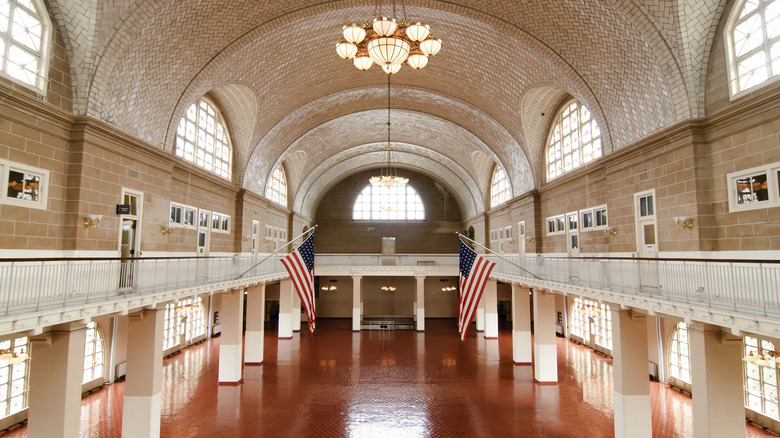 Ogphoto/Getty Images
A ferry ticket to see the Statue of Liberty also includes a stop at Ellis Island. However, it's a good idea to plan for a reversal of these two destinations. Getting off the boat at Ellis Island first will keep you fresh for longer across a day full of walking and time spent outdoors.
Most of the Ellis Island experience is found indoors, so you'll be in the air conditioning and comfortable halls of the museum portion of the trip. Starting here will give you an excellent order of events so that you are ready to take in the sights of the day for the duration of your voyage out to these historic islands. If you begin with the Statue of Liberty, you may find yourself pounding the pavement in the roasting sunlight for hours with little shade to help cool you down or give you a breather.
The tour of Ellis Island is well worth the visit, but doing it after a walk around Liberty Island will have you drenched in sweat at worst and flagging in energy at best. Reorganize your day to get the most out of both stops, especially if you have ancestors who traveled through Ellis Island and are hoping to spend some time steeped in your own history.
2. Choose your footwear with comfort in mind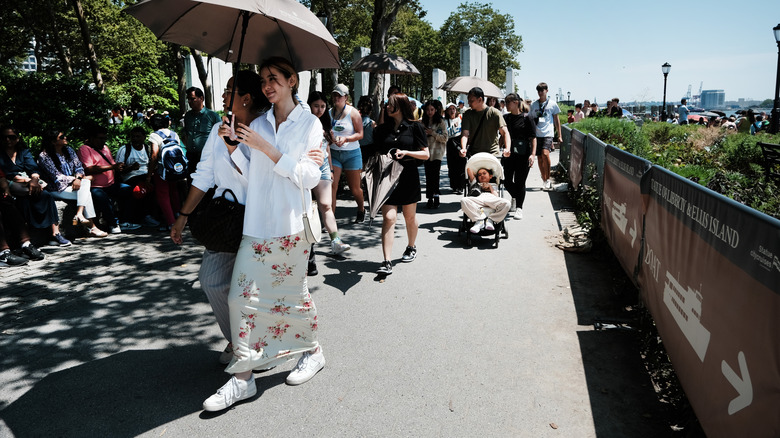 Spencer Platt/Getty Images
In addition to Ellis Island's walkthrough, Liberty Island spans about 15 acres in total land area. The statue serves as the highlight, of course, but the whole island is worth exploring since the views of New York and New Jersey surrounding it offer awe-inspiring photo opportunities and vantage points. The Statue of Liberty can also be seen from numerous angles, considering the sheer size of the island.
Taking in the breathtaking form of Lady Liberty from different spots around the island will likely take up a good portion of your time on the trip. As a result, you should place wearing comfortable walking shoes right up at the top of your preparation list for the day. Skip the heels or flip-flops for this one and ensure you have plenty of arch support. With the appropriate footwear in place, only your sense of pace will dictate your adventure around Liberty Island and Ellis Island as you experience history in living color.
3. Don't forget your sunscreen and hat or umbrella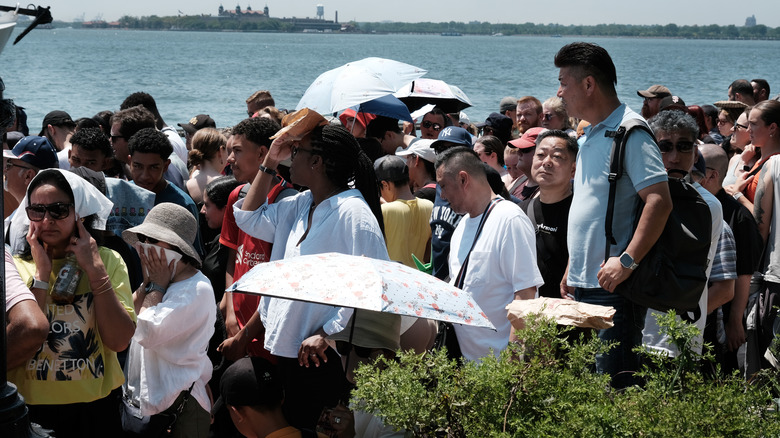 Spencer Platt/Getty Images
In the same way that quality walking shoes are a must for any visit to these two islands (especially if you're considering climbing through the statue's interior), sunscreen, sunglasses, and a hat or umbrella should be on your packing list, too. Droves of visitors flock to New York Harbor during the summer months to see the Statue of Liberty, when the average highs reach up to 85 degrees Fahrenheit in July.
If you're traveling to the Big Apple to visit these sites during the warmest months of the year, you may be in for a bit of a shock upon landing on Liberty Island if you forget either of these items. There's little in the way of tree cover throughout Liberty Island, meaning the hours you're sure to spend gazing up at the statue's iconic tablet and torch will also be hours spent in the blazing sunshine. This time spent outdoors can drain your energy and potentially result in a wicked sunburn if you don't take the proper precautions.
4. You can visit from either New York or New Jersey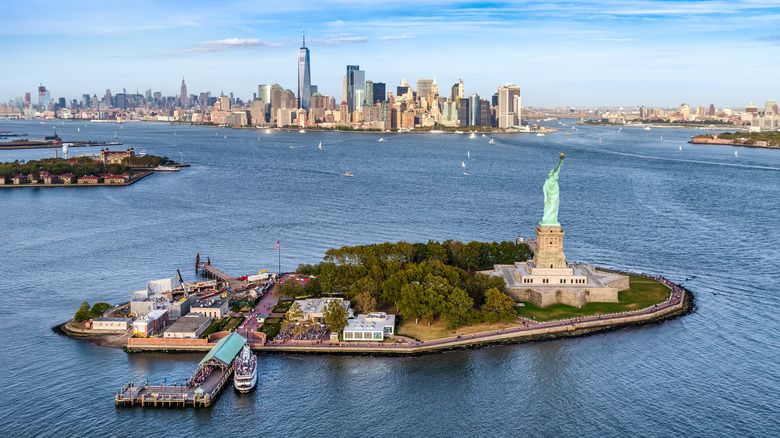 Eloi_omella/Getty Images
Many people don't realize that they can gain access to Liberty Island during a trip to the Statue of Liberty from either New York or New Jersey. The island rests within New Jersey's state boundary but is administered by the National Park Service and falls under New York State jurisdiction due to an 1834 agreement between the two states that Congress ratified.
At any rate, a journey to Ellis and Liberty Islands can be launched from either state, making it easily accessible for more hopeful visitors. It's important to note that you must return to the same place you departed, though. Paying a visit to the Statue of Liberty is an excellent option for lovers of American symbolism and history on a stopover at Newark International Airport. With a day to kill in Newark, getting to Liberty State Park can take as little as 15 to 20 minutes, with an Uber costing roughly $30.
5. There are food options on the island, but you can also bring your own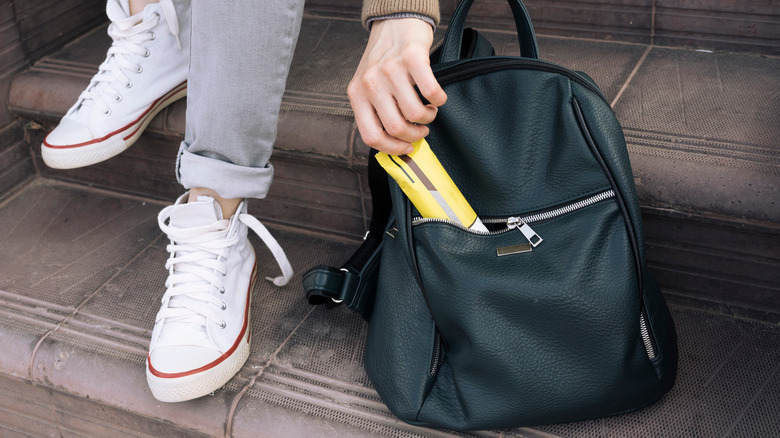 Evgeniia Trushkova/Shutterstock
Anyone planning a lengthy visit to the islands will be happy to learn that plenty of food options are available. This is an excellent addition for anyone wanting to sit down and have a small snack or meal midway through the day. However, those taking in the sights and sounds of Ellis Island and the Statue of Liberty should be wary of pricing from these food vendors. As is typical for museums, historical sites, and other attractions that draw huge crowds, food here can be expensive.
Fortunately, visitors can bring their own food and drink on the ferry. This means packing a sandwich or even something prepared that you purchased in a restaurant or grocery store before departing for the islands can make eating a less expensive task. With your snacks in your backpack, you can sit down anywhere you'd like around the island and have a meal with a spectacular visual backdrop to complement your experience. However, bear in mind that you will need to be ready to remove your food items from your bag when passing through security.
6. Book your ticket as far in advance as possible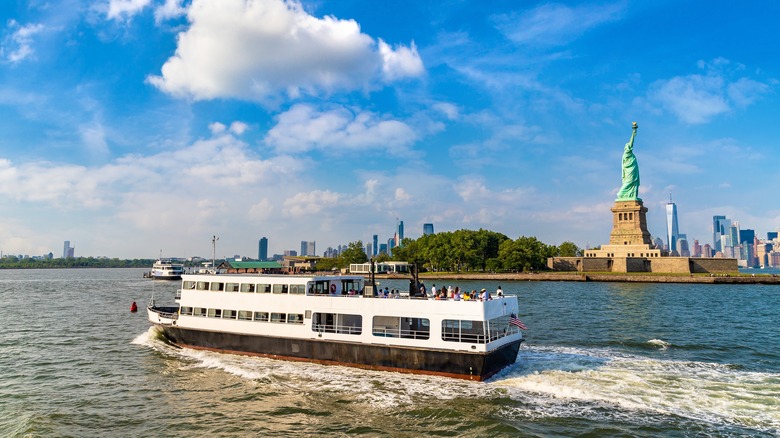 Sergii Figurnyi/Shutterstock
Buying your tickets in advance is often a good idea, no matter where you plan to visit. However, at the Statue of Liberty, it's even more critical. There's no way onto the islands without purchasing a ferry ticket—private boats aren't allowed to dock—and only roughly 10,000 tickets are available daily. With 4 million visitors per year flowing through these islands, booking your ticket as far in advance as possible is crucial. This will give you the best pick of options and multiple days to select from, in all likelihood.
It is possible to get a last-minute ticket, but they may be more expensive or cover only limited times and dates, making scheduling the remainder of your visit to the area a bit challenging. Tickets typically get released to the public about half a year in advance. As soon as you solidify your travel plans to New York or New Jersey and know that you want to make the trip out to the harbor, book your tickets so you don't miss out on the best experience possible.
7. Consider the type of ticket you want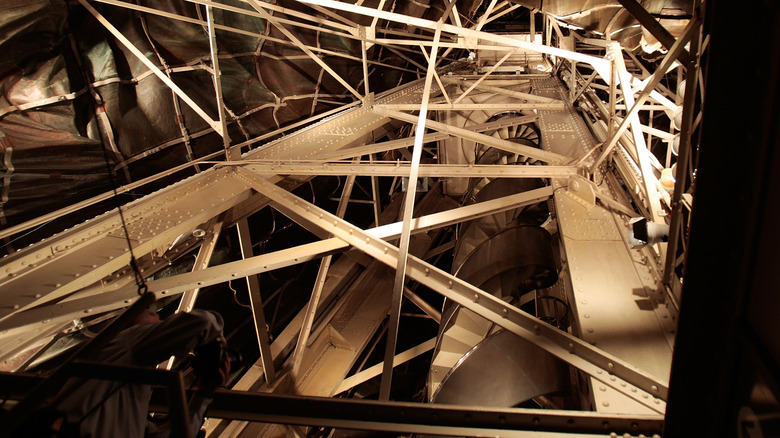 Chris Hondros/Getty Images
Four ticket types will grant visitors access to different Ellis and Liberty Islands sections. The Reserve Ticket is the base entry ticket and will provide for your ferry to and from the island. This is an excellent choice for those looking to explore the history and views of the islands. Alternatively, you could opt for a Pedestal Reserve or Crown Reserve Ticket. These add access to the statue's pedestal or crown respectively. While there are about 2,400 to 2,900 Pedestal Reserve Tickets available each day, only about 500 Crown Reserve Tickets can be booked daily, making them increasing rarities for visitors planning a trip to see Lady Liberty.
The Pedestal Reserve Ticket offers access to the Fort Wood segment of the statue's pedestal and gives you a closer look behind the scenes. Heading up to the crown introduces an even more exclusive view of the statue and its surroundings. The final ticket type is the Hard Hat Reserve Ticket. Only about 84 of these tickets are available each day, and ticketholders who are lucky enough to snag Hard Hat Reserve access will enjoy a 90-minute guided tour of the unrestored section on the southern side of Ellis Island as well as access to the Ellis Island Hospital and the "Unframed—Ellis Island" art exhibit.
8. Be realistic about your expectations on the island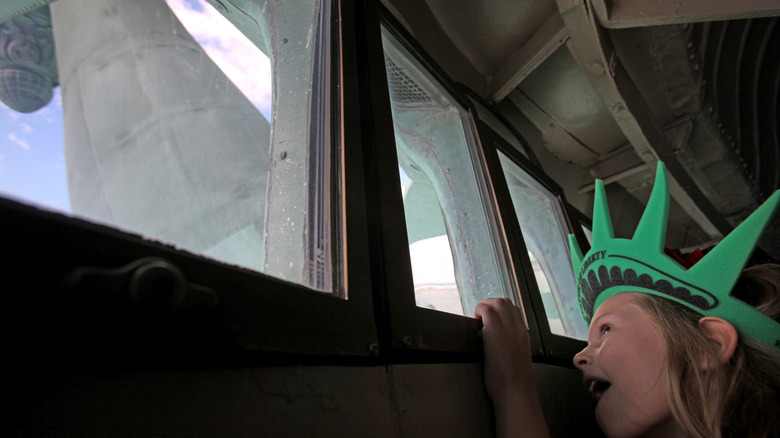 Pool/Getty Images
The stairs to the top of the statue can unveil a dramatic culmination of your trip to the island to see Lady Liberty. Not only will you be one of the few who have climbed the 377 steps from the ground to the crown, but you'll be treated to some spectacular views of the surrounding landscape. The statue is 305 feet off the ground (including the pedestal), making it a sizeable landmark that provides a truly breathtaking perspective of two iconic American communities.
But, the climb is not for the faint of heart. A Crown Reserve Ticket will allow you to make the climb as one of around just 500 per day. However, thinking long and hard about your physical ability to scale the spiral staircase is essential. Taller visitors will need to hunch over throughout the climb, and there are no cutaways to take breaks while you're hoofing it to the top. Likewise, the entire interior experience can be a bit claustrophobic. Getting to the top is a fantastic achievement, but it's not an endeavor for everyone and certainly not a task you should take lightly.
9. Visitors can look for their ancestors in Ellis Island's computerized records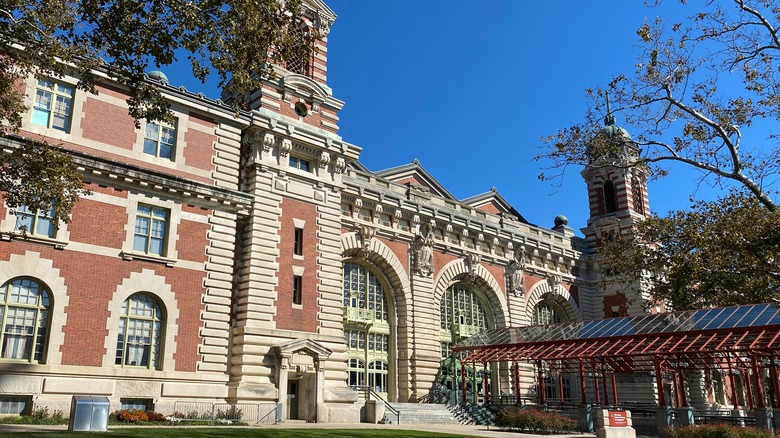 PM Simmons/Shutterstock
Ellis Island was the waystation for many immigrants coming to America from 1892 until 1954. As a result, it's one of the most influential historical sites you can visit in America today. More than 12 million people arrived at New York Harbor's entry terminal at this time, including over 1 million just in 1907. During the early years, passports and visa papers weren't required, and workers inspected immigrants in the arrival hall instead. This led to plenty of paperwork being generated as inspections took place, and today, you can peruse computerized records of these arrivals.
Records are available for the period spanning 1892 through 1924, with ship data and documentation for individuals who came through the processing lines of Ellis Island. This wonderful addition hits home for those whose relatives passed through the doors of Ellis Island before making their way into the United States to begin their new lives. For tens of millions of Americans today (as many as 40% of U.S. citizens), the halls of Ellis Island represent their ancestors' first steps toward the lives that would eventually bring forth their existence. It's a powerful look into the personal histories of so many Americans, and the National Park Service has done a fantastic job of honoring the place and the personalities who once walked its grounds.
10. Visit in the spring or fall for the best experience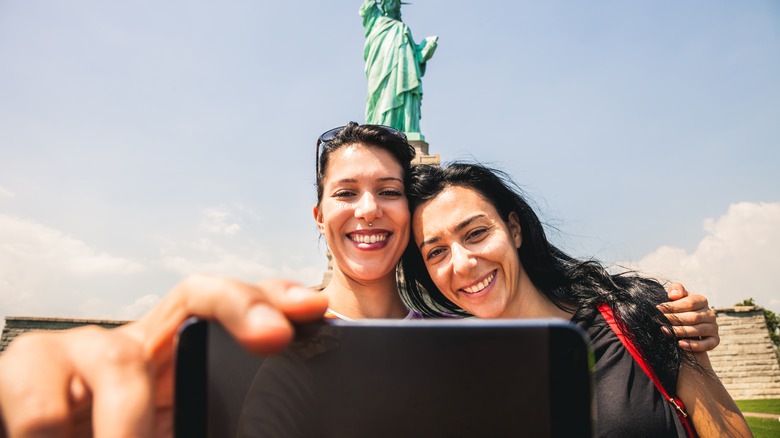 Leopatrizi/Getty Images
The summer months are the Statue of Liberty's peak visiting period. Vast flocks of people coalesce around the ferry terminals in New York and New Jersey, as well as on both historic islands. If you go during the summer, you should expect longer lines and more crowded grounds. This will require you to arrive earlier and add more waiting time to catch the ferry back.
If you plan your visit for the spring or fall, you'll have better weather, shorter lines, and a more enjoyable experience overall. You might also consider visiting in the winter when lines dwindle to their shortest throughout the year. But the brisk winter air in New York is potent, so making sure you bundle up well is essential for anyone visiting then.
Choosing a weekday, particularly Tuesday, Wednesday, or Thursday, is also a good idea. Midweek, the lines will be their shortest and the islands their emptiest, resulting in a more personal experience with the statue and the hallowed halls of Ellis Island. Of course, everyone's itinerary will be unique, so these may not be doable for each visitor. But any leeway you can find in your schedule to book a ticket when crowds might be a little lighter will result in a better trip.
11. Dress for the occasion, as access comes with airport-like security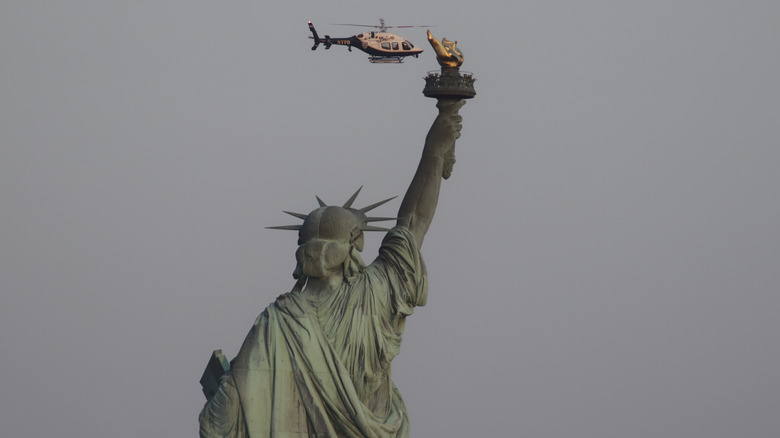 Gary Hershorn/Getty Images
Finally, it's important to remember that the National Park Service administers the Statue of Liberty. It's a federally protected space, so you'll face restrictions on what you can bring onto the ferry and island. No weapons are allowed, including firearms, knives, or explosives. You also can't bring mace or other defensive spray-type tools during your visit. Large bags, including suitcases, aren't permitted either. If you purchased a ticket to enter the pedestal or crown, you'll also need to ditch your backpack or purse. There are lockers available at the screening locations before entry to these parts of the statue. They'll cost 25 cents, and change machines are available to break $1 and $5 bills.
Visitors are also prohibited from bringing UAVs or any other aerial drone onto the island. Unfortunately, film and photography will have to remain grounded while you're exploring the statue and Ellis Island. Reserve ticket holders and those with additional access can enter the priority line for faster movement through the security screening process when heading up to the security line.