How To Plan The Perfect Trip To Cleveland's Rock & Roll Hall Of Fame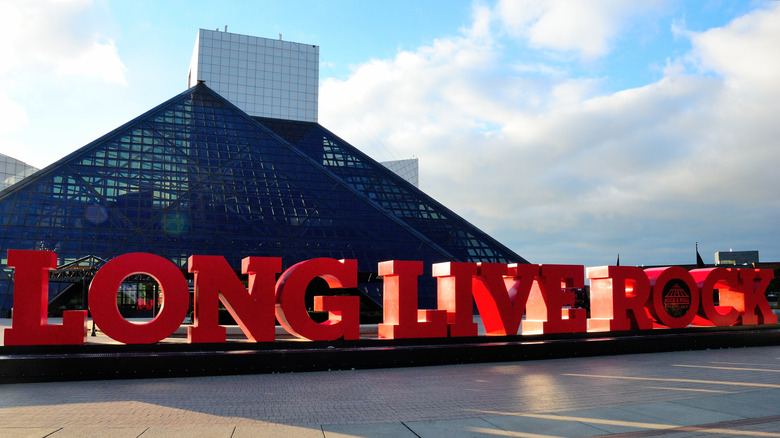 Nina Alizada/Shutterstock
Cleveland welcomed the Rock & Roll Hall of Fame to the city's main stage in 1995. Located downtown by the banks of Lake Erie, the Rock Hall has attracted millions of rock 'n' roll fans since its opening. Whether you're a die-hard rock fan, history buff, or casual music enthusiast, a visit to the Rock & Roll Hall of Fame offers a front-row ticket to experience the genre's undeniable impact on popular culture.
From heavy metal and Delta blues to the evolution of hip-hop and the British Invasion, the various musical styles and movements under the expansive umbrella of the rock 'n' roll genre are well-represented at the museum.
Boasting six stories and 55,000 square feet of exhibition space, the Rock Hall features permanent and rotating exhibits, showcasing one of the largest collections of music memorabilia and rock 'n' roll artifacts in the world. To help you plan the perfect trip to the Rock Hall, we'll preview what to expect floor by rockin' floor.
Rock 'n' roll roots to hip-hop honors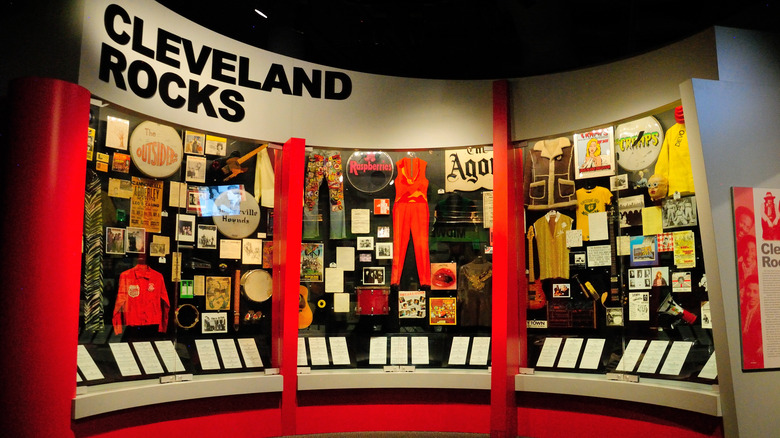 false/Shutterstock
Upon entering the Rock Hall, you're met by a comprehensive timeline of the evolution of rock 'n' roll on level 0, which is home to the Ahmet Ertegun Main Exhibit. Here, you can learn about the Faustian lore of Robert Johnson, as well as rock's earliest roots in bluegrass, gospel, folk, and Americana.
On level 0, you'll also find the permanent Legends of Rock exhibit, where you can see outfits worn by Jimi Hendrix, handwritten lyrics of chart-topping songs, instruments of iconic musicians, and more. Level 0 also features the largest collection of Elvis memorabilia outside of Graceland.
While exhibits often rotate or change to reflect the ever-evolving nature of rock 'n' roll, the Rock Hall has announced extending their popular Beatles exhibit, and to celebrate the 50th anniversary of hip-hop, the "Rapper's Delight" exhibit, which chronicles the impact and evolution of hip-hop, will be revamped in 2023.
Three floors of rock 'n' roll legends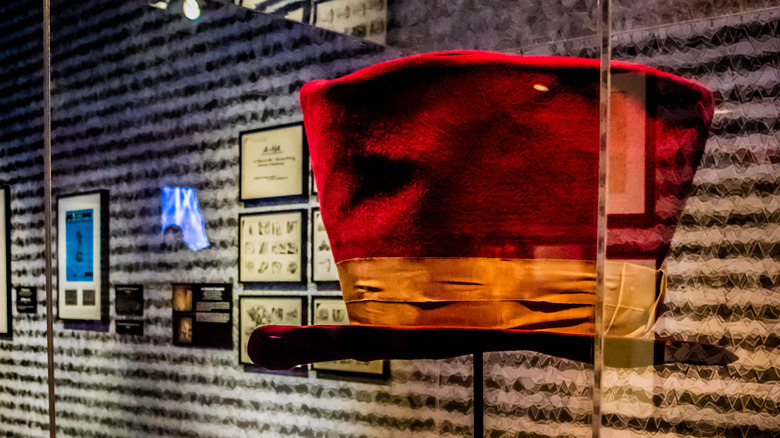 Cheri Alguire/Shutterstock
If you'd like a quick bite to eat or shop for souvenirs, check out level 1. But if you're now inspired to rock, then visit The Garage on Level 2. Here, you can pick up an instrument, turn it up to 11, and live out your rock 'n' roll fantasy. After a hall-of-fame-worthy jam session, you can then explore level 3, where the actual Hall of Fame is located. In the Hall, you'll see a signature gallery of inductees, an in-memoriam exhibit, and an exhibit dedicated to the year's new nominees.
On level 4, you'll find a replica of Pink Floyd's "The Wall" stage set used for a 1990 concert in Berlin that commemorated the fall of the Berlin Wall. It's been a fan-favorite exhibit since the museum's opening in 1995.
A testament to the Rock Hall's expansive collection, levels 5 and 6 continue the Legends of Rock exhibit, where you'll see more stage outfits, instruments, and rare memorabilia from artists such as David Bowie, Tom Petty, Michael Jackson, and The Supremes.
To keep on rockin', the Rock Hall is breaking ground on a $100 million expansion in 2023, which will provide 50,000 square feet of additional space, offering rock 'n' roll fans even more to cheer about.