Best Christmas Festivals Around The World, According To Traveler Reviews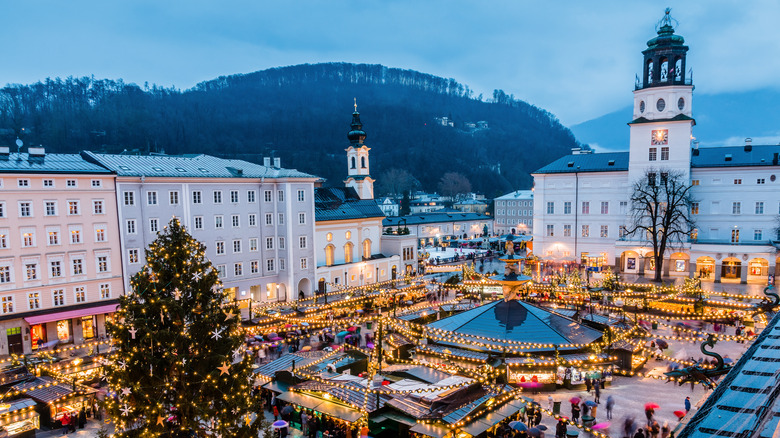 Izabela23/Shutterstock
The spirit of the season comes alive in spectacular and diverse ways at the most enchanting Christmas festivals around the world, but due to their popularity and the holiday crowds, planning to attend takes a little thoughtfulness and savvy. In this curated guide, we've selected the crème de la crème of Christmas celebrations, according to traveler reviews, to help you plan your Christmas travels.
These festivals go beyond just the traditional and have earned their spots as must-visit Christmas wonderlands, promising a delightful blend of cultural richness, festive ambiance, and unique experiences. While some of these festivals take place in the world's most magical Christmas towns, such as Lapland's Rovaniemi and Salzburg, Austria, we've also included some not-so-traditional festivals that continue to win holiday hearts each year.
Throughout this guide, we'll delve into the pros and cons of each celebration, providing insights into the unique festival activities that contribute to the charm of these globally renowned Christmas festivals. Whether you're seeking the enchantment of Lapland's Arctic Circle, the historic charm of European squares, or maybe somewhere a little warmer to celebrate, we've got it covered. 
Strasbourg, France - Christkindelsmärik Christmas Festival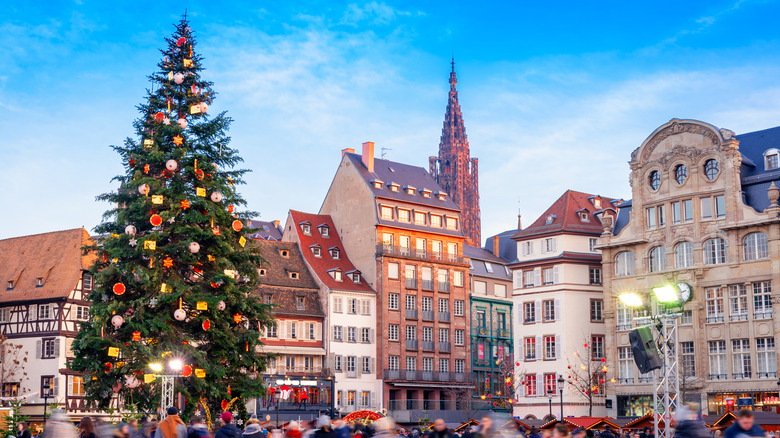 Dmitry Pistrov/Shutterstock
The Christkindelsmärik Christmas market in Strasbourg is located in the heart of the city, spreading across Cathedral Square, Broglie Square, and Place Kléber. The entire city of Strasbourg transforms into a festive wonderland during the Christmas season. Not only is the market one of the oldest, but the picturesque medieval backdrop enhances the enchanting experience. You can meander through quaint wooden stalls that showcase exquisite handmade crafts, festive ornaments, and local specialties to shop for unique and memorable gifts. The grandeur of the Strasbourg Cathedral, with its stunning Gothic architecture, amplifies the festive atmosphere, creating an awe-inspiring scene for visitors.
According to reviews, highlights of Strasbourg's Christmas Festival include the elaborate decorations of the city center, especially its Christmas tree, and the Alsatian cuisine. Delectable bredele paired with a cup of warm, mulled wine adds a delightful flavor to the atmosphere. Throughout the festival, you can immerse yourself in a cultural extravaganza by attending events, concerts, and performances that bring the Alsatian traditions to life. 
However, anticipate chilly weather and larger crowds, especially during peak hours, along with slightly higher prices due to the festival's popularity. For those willing to navigate crowds and embrace the winter chill, the unique charm and festive offerings of Strasbourg's Christmas market make the trip undeniably worthwhile.
Nuremberg, Germany - Christkindlesmarkt Christmas Festival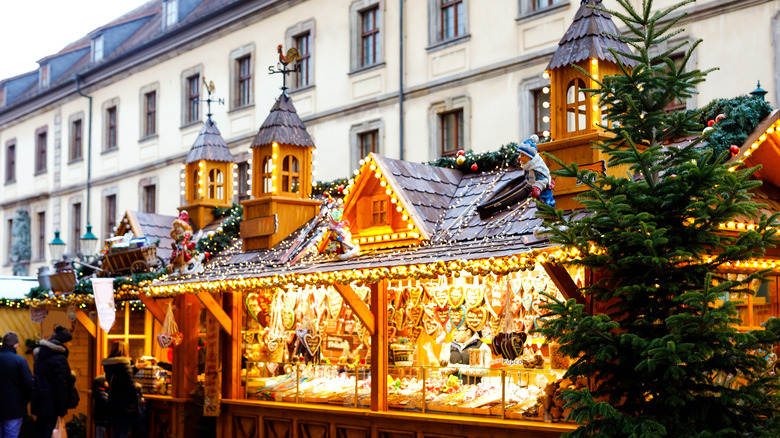 Irina Wilhauk/Shutterstock
Nestled in the heart of Nuremberg's Old Town, the Christkindlesmarkt creates a captivating Christmas experience against the backdrop of medieval architecture. Centered around the Hauptmarkt square, the market boasts over 180 stalls adorned with twinkling decorations, offering handcrafted ornaments, toys, and seasonal gifts. The Christkindlesmarkt festivals are a great option if you want to immerse yourself in the festive spirit while exploring historic landmarks like the Church of Our Lady and the iconic Beautiful Fountain. 
Visitors can indulge in traditional German treats, including Nuremberg sausages and Lebkuchen (gingerbread cookies), then experience the magic of the enchanting opening ceremony, which is led by Christkind. Be prepared to witness daily performances of holiday music and choir concerts, and if you're traveling with your family, set aside some time to visit the Children's Christmas Market with its carousel, Ferris wheel, and steam train. 
For those considering a visit to the alluring and historically charming Christkindlesmarkt festivities, plan your trip for December; however, if you want to be there for the opening ceremonies with the Christkind, you'll need to be there the first of December. As big and beautiful as the market is during December, be prepared for sizable crowds, potentially long lines, especially during peak times, chilly winter temperatures, and limited parking. 
Rovaniemi, Finland - Santa Claus Village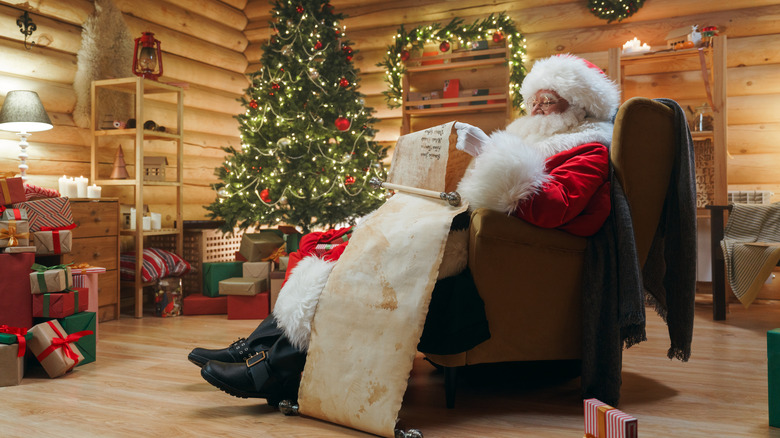 Ignatiev/Getty Images
Imagine meeting Santa in his hometown at Santa Claus Village. You can, right on the Arctic Circle in Rovaniemi. While the winter wonderland of Rovaniemi is absolutely stunning, the main attraction is the opportunity to meet Santa Claus himself. In his office, you can share your Christmas wishes and capture the moment with a photo. Since Rovaniemi is one of the official hometowns of Santa Claus, you can cross the Arctic Circle to visit Santa's post office and visit Santa's reindeer. You can also explore the charming Santa Claus Village shops that offer visitors traditional Finnish and Lapland handicrafts, Christmas decorations, and souvenirs. Adjacent to the village is SantaPark, an underground amusement park featuring elf shows, ice sculptures, and Santa's workshop. 
For a deeper immersion into the Arctic way of life, embark on reindeer or husky safaris to experience the beautiful snowy landscapes, or visit the Arctic Circle Snowmobile Park for a thrilling snowmobile trip through the snow-covered forests that surround the village. Since you're not too far away, you may also consider a Northern Lights excursion to witness the captivating Aurora Borealis.
You'll need to be prepared for potentially long wait times and busier peak times during December, and unlike other festivals packed with various shows, activities, and concerts in a city center, you won't find as much of this type of celebration here. That said, if you appreciate outdoor adventures, this may be a wonderful and unique festival experience.
Vienna, Austria - Vienna Christmas Market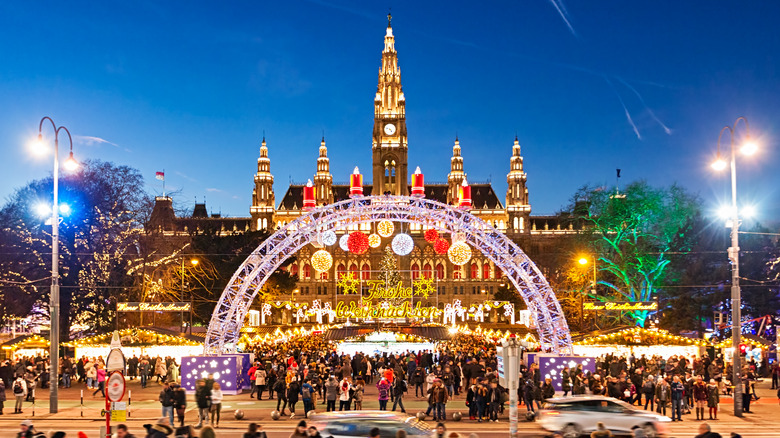 Rusm/Getty Images
The Vienna Christmas Market is held in various squares across the city, including the iconic Rathausplatz, and is a captivating celebration known as the "Vienna Magic of Advent." As you explore the market stalls, you'll be immersed in the enchanting atmosphere of this Austrian winter wonderland. As you savor seasonal delights like roasted chestnuts, gingerbread cookies (Lebkuchen), maroni (roasted chestnuts), mulled wine (Gluhwein), and punch, you'll be treated to the musical heritage of Vienna. Classical music performances, choirs, and festive concerts elevate the Christmas market experience. 
The grand City Hall, beautifully illuminated with twinkling lights and enchanting decorations, towers over the festivities, and skating at Rathausplatz, in front of Vienna's City Hall, is a popular festival activity. Vienna's Christmas Market is renowned for its cultural elegance, beautiful festive decorations, traditional holiday food, and variety of stalls, where you're assured of finding a beautiful gift. 
However, when planning your trip, budget for higher-than-normal prices, especially in popular tourist areas, and the market's popularity can result in large crowds, impacting the ease of exploration. Despite these considerations, the Vienna Christmas Market promises a symphony of festive delights, combining culinary pleasures, cultural richness, and a magical winter ambiance.
Tokyo, Japan - Hibiya Park Christmas Market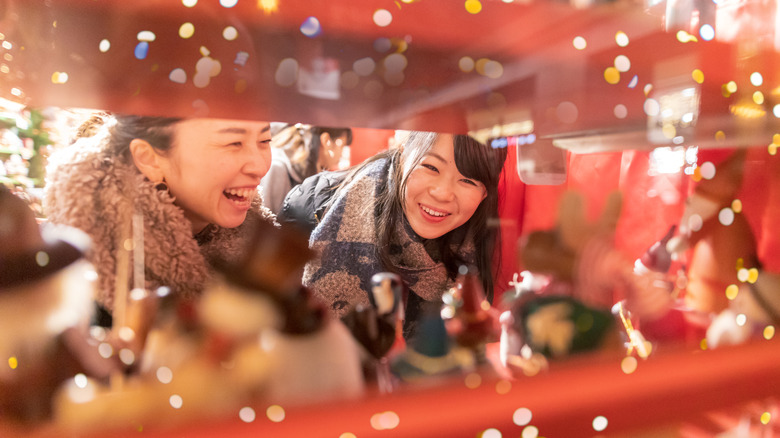 Satoshi-k/Getty Images
The Tokyo Christmas Market in Hibiya Park is a festive extravaganza that seamlessly blends Japanese and European Christmas traditions. As you explore the market, you'll encounter an array of charming stalls showcasing festive goods, handmade crafts, and seasonal decorations. This market, nestled in the heart of Tokyo, is a unique shopping experience with a mix of local and international vendors offering a diverse array of seasonal treats and holiday specialties. 
Traditional Japanese sweets might include wagashi (Japanese confections), dorayaki (sweet pancakes filled with red bean paste), and other seasonal dishes inspired by European holiday traditions. Warm up amid the winter chill with a cup of mulled wine, hot chocolate, and other hot beverages available throughout the market. Engage in Christmas-themed workshops and activities for both children and adults, and explore the market stalls to find festive goods, homemade crafts, seasonal decorations, and gift items.
As night falls, witness the Tokyo Christmas Market transform into a spectacular light show with beautiful lights and decorations, live performances, and entertainment featuring local artists. However, given Tokyo's densely populated nature, visitors should be prepared for large crowds. Additionally, some visitors may find the experience different from traditional European markets due to the cultural fusion, offering a fresh perspective on the holiday celebration.
New York City, USA - Rockefeller Center Tree Lighting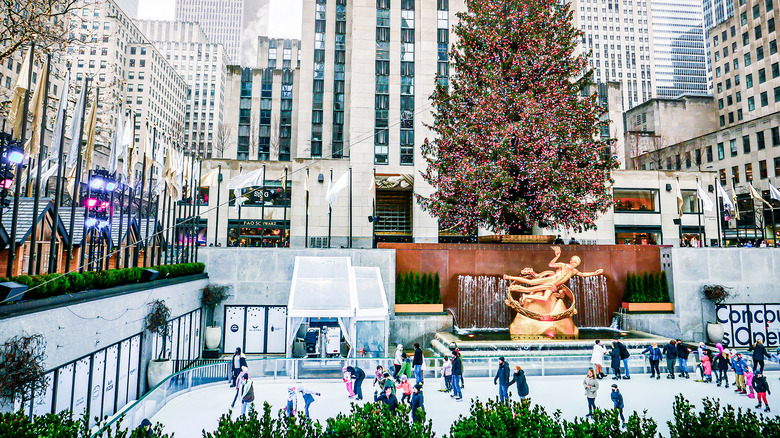 Olga Kaya/Getty Images
The Rockefeller Center Tree Lighting ceremony is a quintessential New York City holiday tradition that unfolds in the glittering heart of Midtown Manhattan. One of the most iconic events of the season, the ceremony takes place at the renowned Rockefeller Center, drawing locals and visitors alike into the festive spirit of New York City during the holidays. 
The main attraction is, of course, the awe-inspiring moment when the towering Christmas tree is illuminated, marking the official start of the holiday season. Attendees have the opportunity to witness the iconic tree lighting ceremony, a spectacle that features dazzling lights, festive decorations, and live performances by renowned artists. The Rockefeller Center Ice Rink provides the perfect setting to skate beneath Christmas lights and is open to the public. Explore festive decorations and holiday displays in Midtown, along with the holiday shops in the area. 
Attending the Rockefeller Center Tree Lighting includes the enchanting setting and iconic food from various street food vendors offering classic New York City fare, such as hot dogs, pretzels, and other street food favorites, or you could grab a hot cocoa and seasonal pastries. However, be prepared for large crowds and cold temperatures while you peruse the holiday gift shops and participate in Manhattan's holiday activities. 
Cologne, Germany - Cologne Cathedral Christmas Market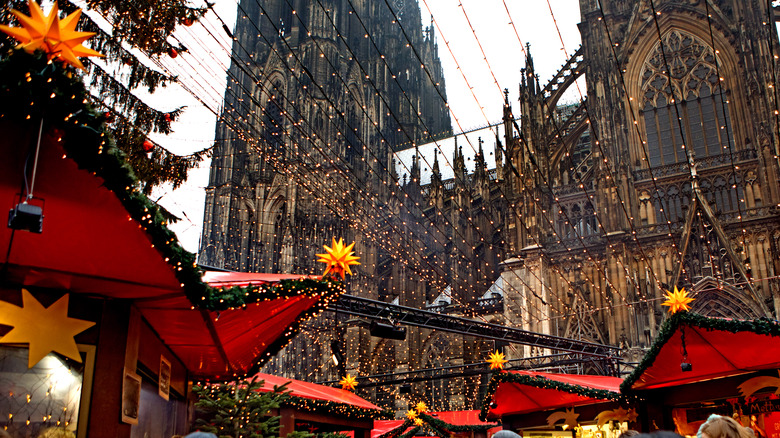 Lorado/Getty Images
Nestled against the stunning backdrop of the Cologne Cathedral in Cologne, Germany, the Cologne Cathedral Christmas Market, or "Weihnachtsmarkt am Kölner Dom," stands as one of Germany's most enchanting and historic Christmas markets. This festive market takes place in the shadow of the iconic cathedral, adding a magical ambiance to the vibrant Christmas lights and holiday decor against its gothic backdrop.
The market typically opens in late November and continues through December and features a myriad of traditional wooden stalls, often adorned with intricate carvings. In the stalls, you'll find an array of handcrafted goods, holiday trinkets, and seasonal decorations. Nearby shops also join in the holiday spirit, from quaint boutiques to artisanal shops. Food and drink play a central role in the Cologne Cathedral Christmas Market experience. Traditional German food, such as Bratwurst (sausages), pretzels, roasted chestnuts, Lebkuchen (gingerbread cookies), and Stollen (fruitcake), can be washed down with the market's selection of drinks, including Glühwein (mulled wine) and hot chocolate. 
While the Cologne Cathedral Christmas Market offers a magical experience, be mindful of the crowds, especially during peak hours. The popularity of the market can make navigating through the stalls a bit challenging, and the winter weather in Cologne can be cold, so dress accordingly to be able to fully enjoy the festivities. Despite these considerations, the Cologne Cathedral Christmas Market remains a must-visit destination for those seeking an immersive and unforgettable holiday experience in the heart of Germany.
Copenhagen, Denmark - Tivoli Gardens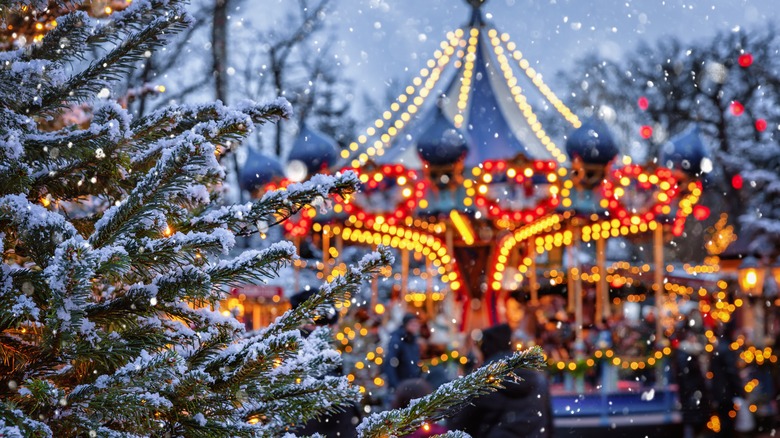 Sven Hansche/Shutterstock
When winter descends on Copenhagen, Tivoli Gardens comes alive with a mesmerizing display of twinkling lights, festive decorations, and scenic displays that create an enchanting atmosphere. The iconic amusement park, dating back to 1843, adds a touch of nostalgia to the holiday experience. Tivoli Gardens hosts one of the most magical Christmas markets in the world.
As one of the world's oldest amusement parks, Tivoli Gardens, full of diversion, offers a delightful mix of classic rides and festive attractions. The park's enchanting decorations, twinkling lights, and scenic displays create a magical atmosphere against the already alluring and eye-catching park elements and architecture. Visitors to Tivoli Gardens' Christmas market can explore charming stalls adorned with seasonal decorations, handicrafts, and Danish specialties. 
Beyond the stalls, the park offers a diverse range of attractions, including more than two dozen amusement rides for all ages, live performances, and a scenic ice rink on Tivoli Lake. Culinary delights abound, with Tivoli Gardens' restaurants serving up traditional Danish cuisine and international flavors, allowing visitors to savor delicious meals in a festive setting. While the park's holiday magic is a major draw, it's essential to be mindful of potential crowds during the holiday season and the admission fee required for entry. Despite these considerations, Tivoli Gardens stands as a unique destination, offering families and visitors a blend of amusement park thrill and enchanting Christmas market charm in the heart of Copenhagen.
Barcelona, Spain - Fira de Santa Llúcia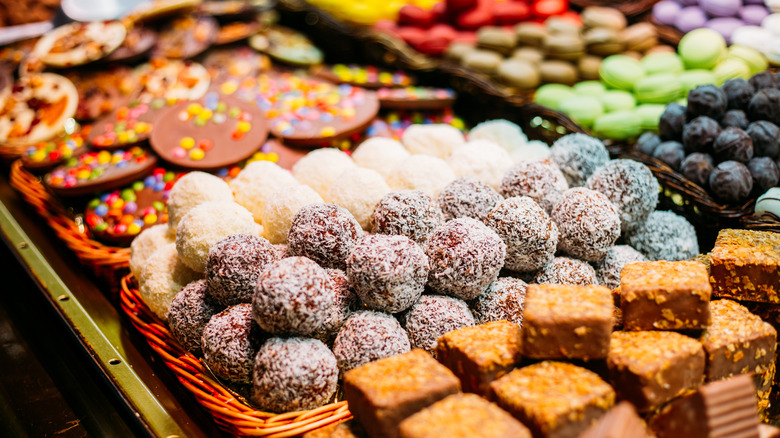 Ksenija Toyechkina/Shutterstock
In the heart of Barcelona, Spain, the Fira de Santa Llúcia unfolds in front of the majestic Barcelona Cathedral, creating a festive spectacle against the historic Gothic Quarter. As one of Barcelona's oldest and most traditional Christmas markets, Fira de Santa Llúcia invites visitors to explore its vibrant stalls teeming with festive decorations, Catalan handicrafts, and seasonal gifts. Amid the market's lively atmosphere, visitors can immerse themselves in the rich Catalan Christmas traditions, appreciating the intricate nativity scenes that blend local culture and history. 
Beyond the market stalls, Fira de Santa Llúcia offers a range of engaging activities, from hands-on workshops, where you can craft traditional decorations to live performances of Catalan Christmas music. The market's unique setting, with the iconic Barcelona Cathedral as a backdrop, adds a historic charm to the festive experience. For those seeking a culinary journey, the market tempts the taste buds with Catalan holiday treats, showcasing the region's flavors and specialties, such as chocolate, turron (a type of nougat made with almonds), neules (thin, crispy wafers), churros, marzipan, and rich, velvety hot chocolate. 
While Fira de Santa Llúcia provides a cultural and festive escape, visitors should be mindful of potential crowds, as popular attractions in Barcelona often draw large numbers. Additionally, the winter atmosphere in Barcelona, while undoubtedly festive, carries a milder climate compared to some other European destinations, shaping the experience with a unique blend of festive Christmas traditions and milder winter weather.
Gdansk, Poland - Old Town Christmas Market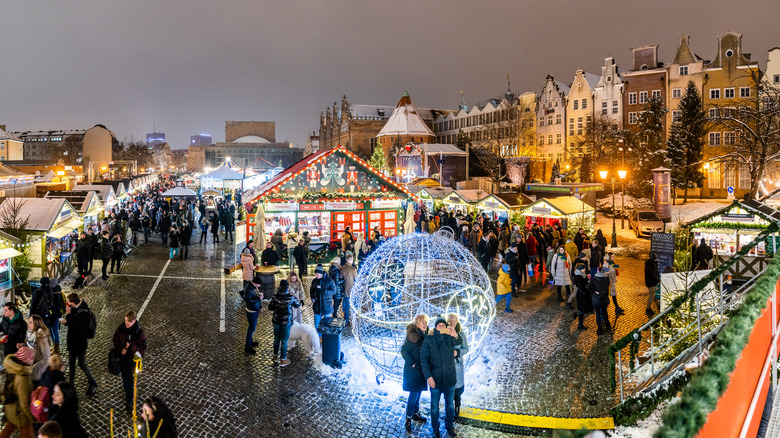 Andrey Danilovich/Getty Images
Set against the historic architecture of Gdansk's Old Town, the Christmas Market offers a delightful array of festive activities. Wander through the market's enchanting stalls, where local artisans showcase their craftsmanship with unique gifts, Christmas decorations, and traditional Polish items, suitable for individuals and families. While exploring, you can sample iconic dishes such as pierogi (dumplings), kielbasa (sausages), oscypek (smoked cheese), and gingerbread cookies. Warm up with a cup of mulled wine or hot chocolate, since you'll probably need them to try to combat the winter chill.
Local musicians, choirs, and performers contribute to the lively and joyful atmosphere, enhancing the overall experience for visitors. This charming European city will leave you enchanted and enriched in Polish culture. One thoughtfully crafted Polish Christmas tradition is the beautiful nativity scenes known as szopki. These displays intricately depict the biblical Nativity story while incorporating unique Polish elements and folklore, providing a cultural and artistic dimension to the festivities. 
Additionally, the market offers Christmas-themed workshops for all ages, allowing visitors to actively engage in crafting ornaments and participating in traditional Polish celebrations. While navigating the market's popularity, it's advisable to be prepared for crowds and the winter weather, ensuring a cozy and enjoyable visit to this festive destination. Amid Gdansk's historical setting, characterized by medieval architecture, the market provides a charming backdrop.
Sydney, Australia - Lights of Christmas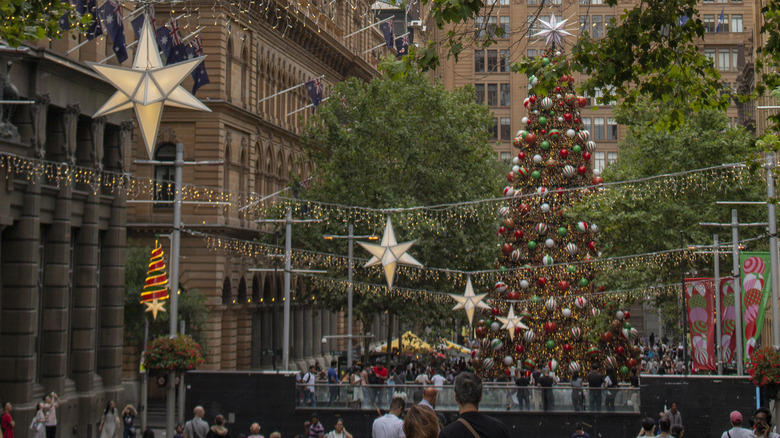 Jaime-lee Collinson/Getty Images
Situated against the iconic backdrop of Sydney's St. Mary's Cathedral, the Lights of Christmas festival in Sydney, Australia, illuminates the city with an array of enchanting activities and vibrant holiday decorations. Iconic landmarks, including St. Mary's Cathedral, are adorned with intricate light displays, creating a mesmerizing and festive atmosphere. Enjoy breathtaking projection-mapped light shows, bringing the cathedral's facade to life with vibrant colors, intricate patterns, and animated displays that narrate a visually stunning Christmas story. 
The festival kicks off with a grand opening ceremony at St. Mary's Cathedral Square, featuring performances, live music, and a traditional choir that sets the stage for the magical light projections to follow. Dive into the spirit of Christmas with live performances of traditional carols and festive music, featuring talented choirs, musicians, and vocalists. The enchanting Candlelight Choir Procession, where a choir carrying candles moves through the cathedral grounds, adds a touch of tradition to the contemporary light festival.
The Lights of Christmas also creates a lively communal space for visitors to revel in the holiday spirit by incorporating their intricate Christmas Village around St. Mary's Cathedral, food stalls, festive markets, and activities for children. Experiencing the Lights of Christmas in Sydney is a unique celebration of Christmas and is ideal for those looking for warmer Christmas festivals. However, it provides a different Christmas experience due to the summer season, and visitors should be prepared for potentially warm temperatures in Sydney during December. 
London, England - Hyde Park Winter Wonderland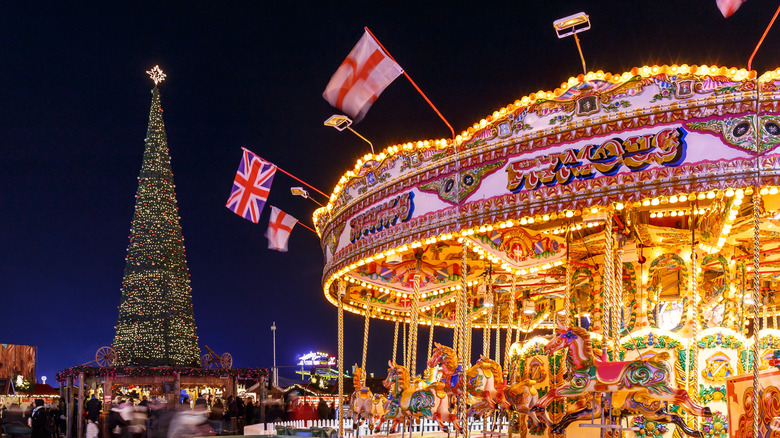 Alexey Fedorenko/Shutterstock
There are plenty of festive things to do in London at Christmas, but the Winter Wonderland in Hyde Park is top-tier Christmas fun. Hyde Park hosts Christmas markets and live performances, while the outdoor ice rink, roller coasters, carousels, and other traditional fairground attractions offer plenty of activities for kids and adults alike. For panoramic views of the festive spectacle and the London skyline, a ride on the Giant Observation Wheel is a must. The Bavarian Village provides a taste of German traditions through its food, drinks, and music, creating a unique and immersive experience. Visitors can also visit Santa's Grotto for a festive meet-and-greet with Santa Claus, adding to the magical atmosphere.
Situated in the iconic Hyde Park, Winter Wonderland boasts a central and picturesque location, creating a beautiful setting for the festivities, photos, and strolling. However, it's essential to note that Winter Wonderland's popularity can lead to significant crowds, especially during peak times. Some attractions, rides, and activities may also have additional costs, and weather conditions, common to London winters, can impact the outdoor experience. That said, the buzz of holiday cheer mingled with the bright displays throughout Hyde Park make this one of the top Christmas festivals in the world.
Salzburg, Austria - Christkindlmarkt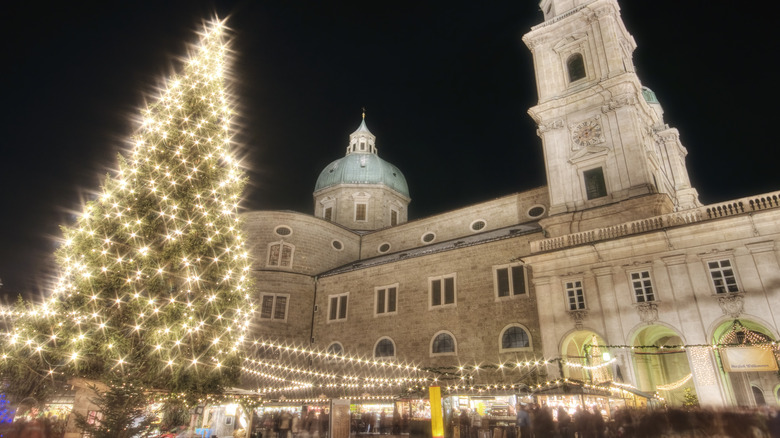 Davelongmedia/Getty Images
Salzburg Christkindlmarkt, the renowned Christmas market in Salzburg, Austria, lights up the historic squares of the city with beautiful Christmas lights and decorations. Immerse yourself in the festive atmosphere by exploring stalls adorned with traditional Austrian crafts, handmade gifts, and enchanting Christmas decorations. Indulge in the rich flavors of Austrian culinary delights, from roasted chestnuts and sausages to the irresistible sweetness of gingerbread cookies (Lebkuchen) and the warmth of mulled wine (Glühwein). As part of the Salzburg Christmas market experience, visitors can enjoy live music, choirs, and musical performances. While the market's performances and decorations contribute to the festive spirit, visitors are drawn to the elaborate nativity scenes that steal the show during this winter festival. 
The Christmas festival in Salzburg draws large crowds, especially during peak times, so plan accordingly. Additionally, visitors should be prepared for the winter weather typical of the area. Some stalls and attractions may also have limited operating hours, particularly in the evenings. However, like every Christmas festival listed in this article, you can experience Christmas immersed in beautiful holiday decor, delicious food, and yuletide cheer in Salzburg with a little planning and insight.