The World's Most Magical Christmas Towns And Villages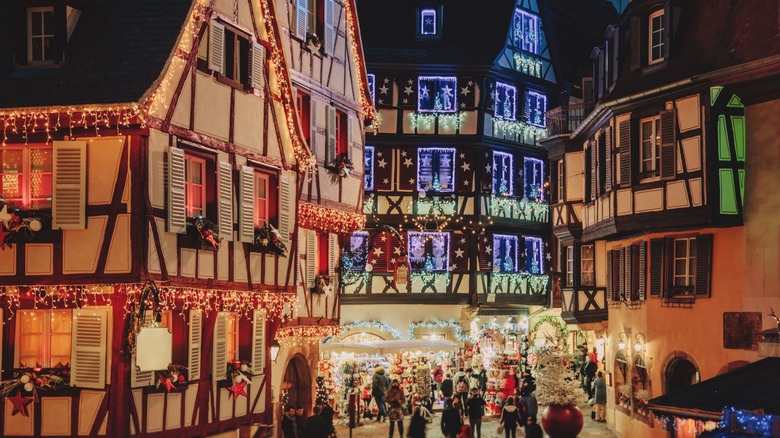 iStock.com/serts
There's no shortage of American towns known for their holiday spirit, but the United States certainly doesn't have a monopoly on Christmastime magic. Throughout the world, travelers will find unique local holiday traditions and festive towns lit up with displays, parades, markets, and more. These spots, in particular, are some of the most magical places on Earth to celebrate Christmas.
Rothenburg ob der Tauber, Germany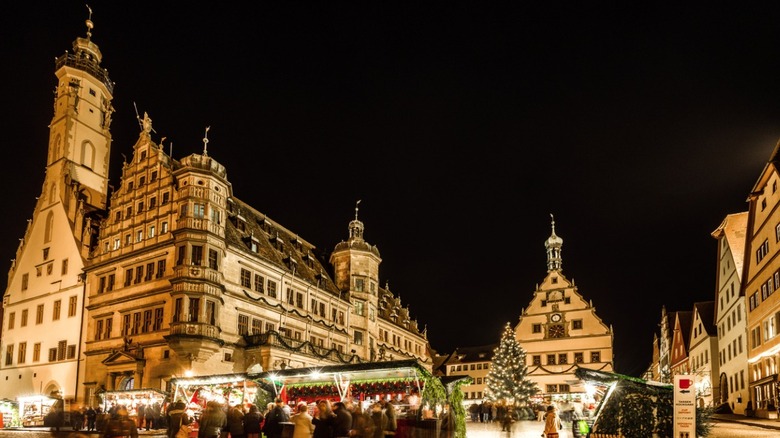 iStock.com/Juergen Sack
The medieval town of Rothenburg ob der Tauber's Christmas markets date back to the 15th century and are what many people imagine when they picture a cozy, traditional small-town Christmas. The Bavarian city's gabled roofs and cobblestone streets, dusted with snow and strung with fairy lights, provide a magical backdrop for enjoying mulled wine and roasted chestnuts.
Bressanone-Brixen, Italy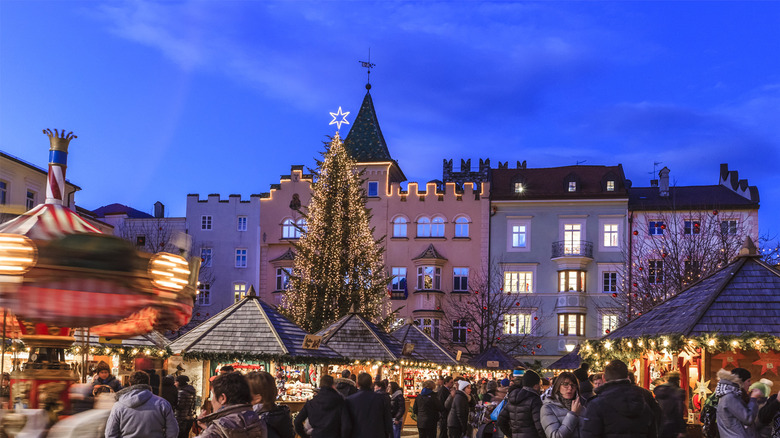 iStock.com/Flavio Vallenari
The northern Italy town of Brixen, also known as Bressanone, has a gorgeous medieval city center that is more than 1,000 years old. Shop for handmade Italian Christmas items at the market in Cathedral Square, which also hosts cultural events, such as a Nativity exhibition and musical light shows. After shopping, take a carriage or carousel ride immersed in the historic surroundings.
Rovaniemi, Finland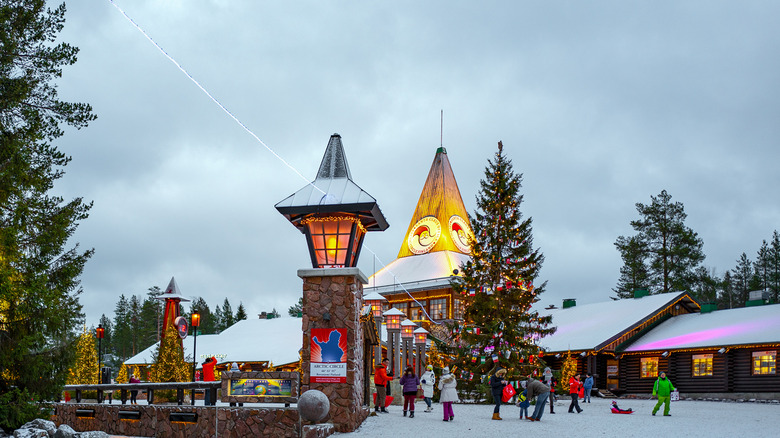 iStock.com/Gim42
Lapland, the northernmost region of Finland, has become synonymous with Christmas and Santa Claus. The town of Rovaniemi is known as the "Official Hometown of Santa Claus," and visitors to the charming Santa Claus Village can meet St. Nick himself, visit the post office, go to elf school at SantaPark, and more. This winter wonderland also offers plenty of outdoor adventure and awe-inspiring sights, such as taking a reindeer-drawn sleigh ride or sleeping beneath the Northern Lights in an igloo.
Bath, England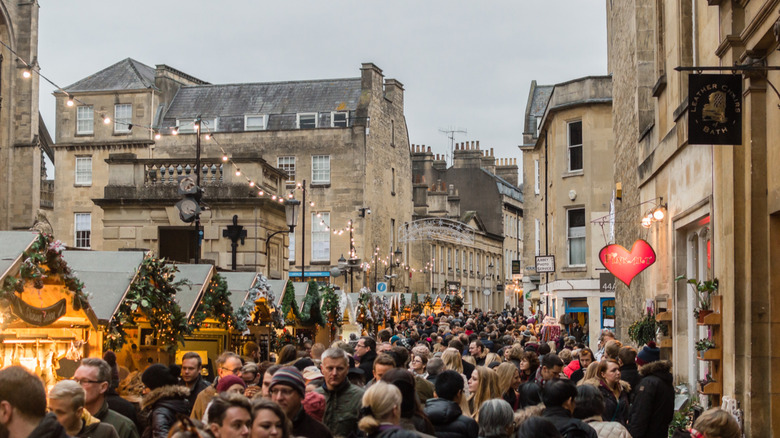 Jacek Wojnarowski/Shutterstock
Bath is a UNESCO World Heritage site, and its historic buildings make a charming setting for holiday celebrations. The Christmas market has more than 250 stalls, and most of the goods on sale are handmade. A short walk from the market is Royal Victoria Park, where guests can enjoy Bath on Ice, a winter attraction that includes a 3,200-square-foot ice skating rink, as well as a glow-in-the-dark mini-golf course. The No. 1 Royal Crescent museum, which gets festooned with period decor for the season, hosts lectures and presentations about the history of the city's Christmas celebrations.
Malmö, Sweden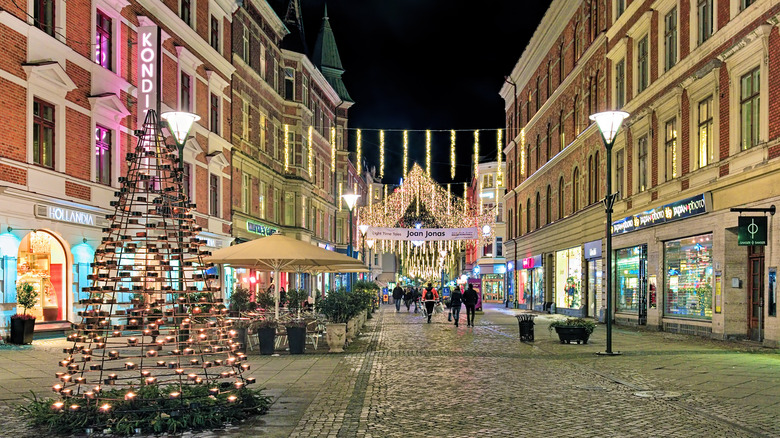 iStock.com/klug-photo
Enjoy a perfectly Scandinavian Christmas in Malmö, where Santa Claus is greeted with aquavit (a traditional spirit) and herring by the fireplace instead of milk and cookies. Malmö celebrates the season with several Christmas markets, as well as holiday concerts and Christmas window displays in more than 800 stores. The city's main square is decorated with all sorts of festive holiday lights, and traditional Swedish holiday treats are served throughout.
Colmar, France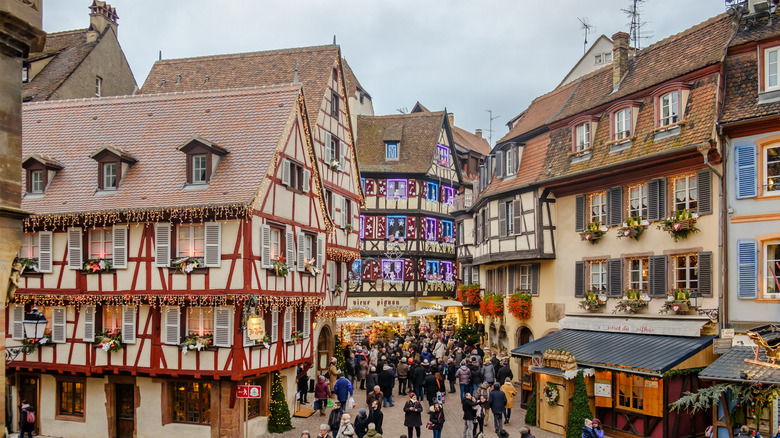 iStock.com/oriredmouse
Located in the Alsace region of France near the German border, Colmar hosts six Christmas markets that wind through the town's historic, cobblestoned, and colorful streets, each with a different selection of local artisans and decorations. Other seasonal activities include ice skating, wine tastings, concerts, and workshops.
Bethlehem, West Bank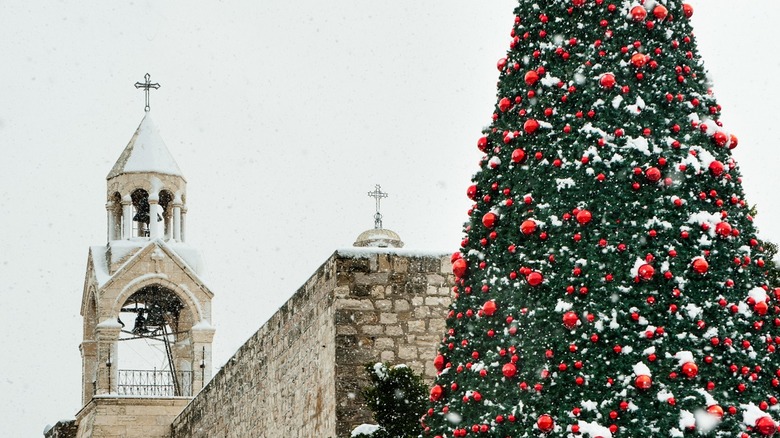 © Rrodrickbeiler/Dreamstime.com
While massive Christmas trees and shopping are enough for some, others want to reconnect with the religious meaning of the Christmas season. A pilgrimage to Jesus' biblical birthplace can be magical. Bethlehem is filled with lights and decorations, and pilgrims gather in Manger Square to sing and celebrate on Christmas Eve. Processions, parades, and more are hosted by different denominations in multiple languages. The Church of the Nativity, built on the site where Jesus is believed to have been born, hosts a midnight mass on Christmas Eve. Visitors can also attend services at Shepherd's Fields, where the Star of Bethlehem is said to have been seen.
Woodstock, Vermont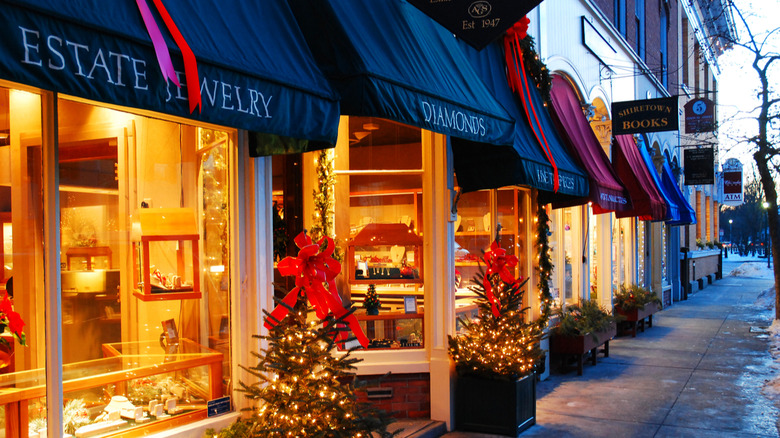 James Kirkikis/Shutterstock
Perfect for a romantic adventure, the charming town of Woodstock goes all-out during the holiday season. Woodstock's vintage style and decorations make it look like a quaint, snowy postcard scene come to life. The city is famous for its annual Wassail Weekend. Events include a parade, concerts, craft fairs, a holiday house tour, horse-drawn sleigh rides, a community yule log, and a family-style wassail feast.
Kilkenny, Ireland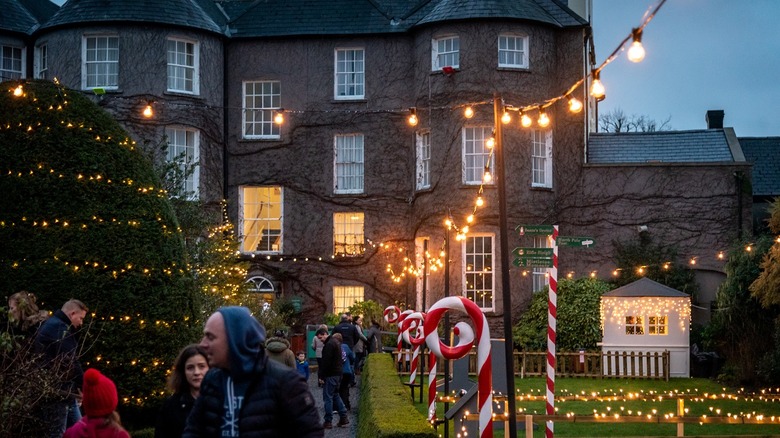 © Andres Conema/Dreamstime.com
Home to Kilkenny Castle, one of the most magical spots in Ireland, Kilkenny is the former medieval capital of Ireland. Along with the castle, the town's historic courtyards and churches make for a picturesque backdrop for the town's month-long Yulefest celebration, which creatively combines historic and modern traditions. The James Stephens Military Barracks & Museum hosts a special reenactment of the WWI Christmas truce. Yulefest entertainment includes fire performers, jesters, pantomimes, and concerts of every genre. Kilkenny also has a Christmas market, Victorian carousel, ice skating rink, Christmas village, and more.
Deventer, Netherlands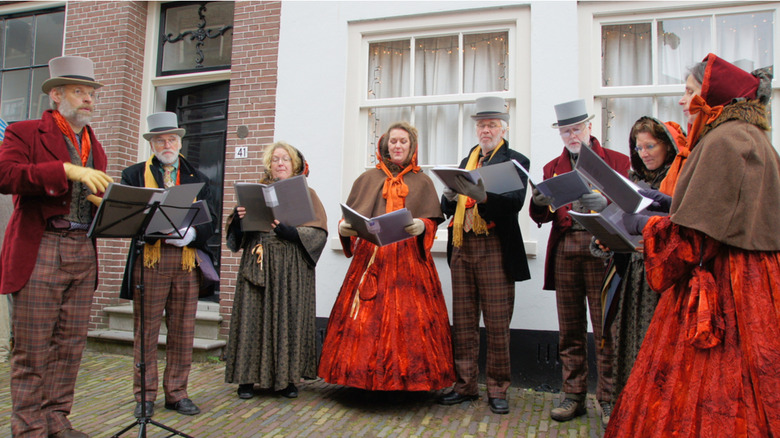 Chantal de Bruijne/Shutterstock
Every December, the historic city center of Deventer is transformed into the 19th-century world of Charles Dickens for a weekend during the Dickens Festival. More than 950 costumed performers dress as carolers, shopkeepers, dapper gentlemen, thieves, orphans, and more (including the famous characters from Dickens' works, such as "A Christmas Carol," "Oliver Twist," and "Great Expectations"). The streets also bustle with a Christmas market selling both traditional and more modern wares and holiday treats.
Alexandria, Virginia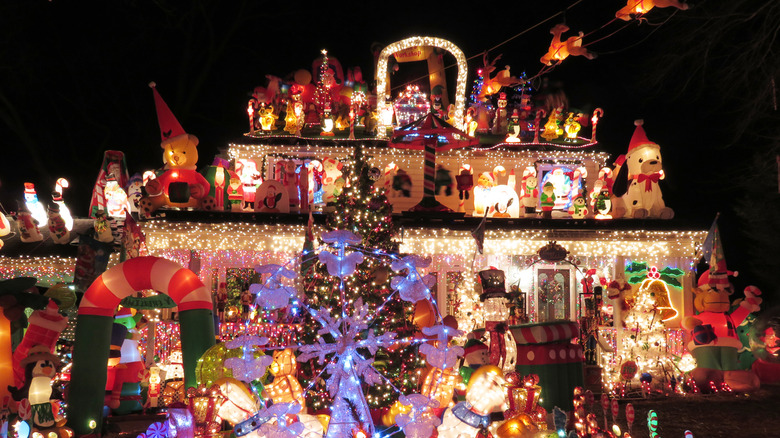 iStock.com/Coast-to-Coast
Alexandria is famous for its quirky, unexpected holiday traditions. The city hosts Waterskiing Santa, a parade of water-skiing Christmas characters that's been a Washington, D.C., tradition for more than 30 years. The Scottish Christmas Walk Parade celebrates the town's heritage, while Holly's Tacky Christmas Lights at 1601 Collingwood Road draws visitors from miles around to see the elaborate home display. Visit Mount Vernon to watch fireworks choreographed to holiday music and to meet Aladdin the Christmas Camel.
San Miguel de Allende, Mexico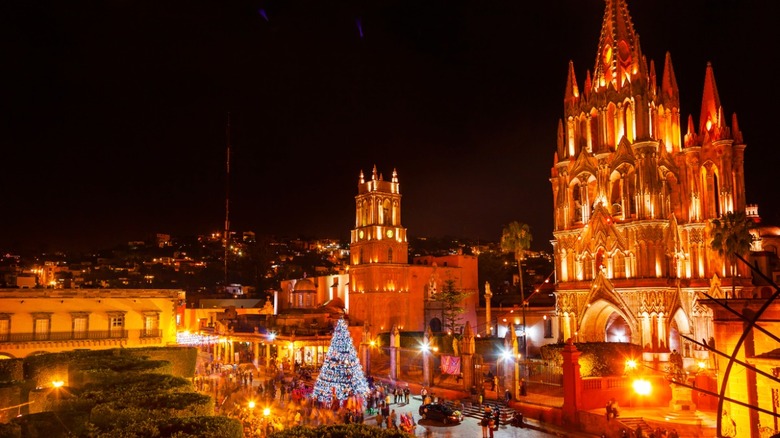 iStock.com/bpperry
Spend the holidays enjoying warm weather and Mexican food in San Miguel de Allende, where parades, festivals, parties, and pilgrimages occur throughout December. From December 16 to 24, locals re-enact the story of Mary and Joseph's journey to Bethlehem during Las Posadas, in which they go singing door-to-door to ask for posada ("shelter" or "inn" in Spanish). On December 12, visitors can observe the Festival of Guadalupe, in which altars, fireworks, and live music light up the city to celebrate the country's patron saint. Locals also celebrate with piñatas and by enjoying some rosca de reyes, a traditional sweet bread, and ponche navideño, a mulled Christmastime fruit drink.
Bern, Switzerland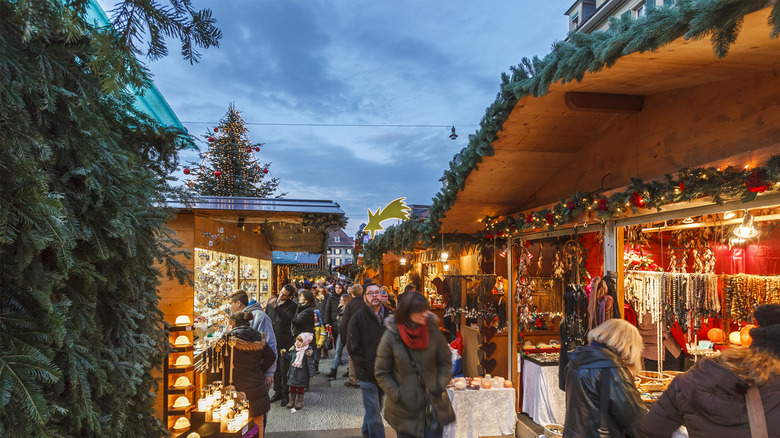 iStock.com/Flavio Vallenari
The medieval Alpine town and Swiss capital of Bern is home to three different Christmas markets. In Orphanage Square, shop for Christmas items before stopping to make fondue at the market's chalet. In Minster Square, shop for regional foods, crafts, and handmade items. At Bern Starsmarket, the newest of the town's Christmas markets, around 70 stands sell drinks, food, and designer products, with something for all ages. In between shopping, take a serene sleigh ride to Gurten mountain or go ice skating.
Taos, New Mexico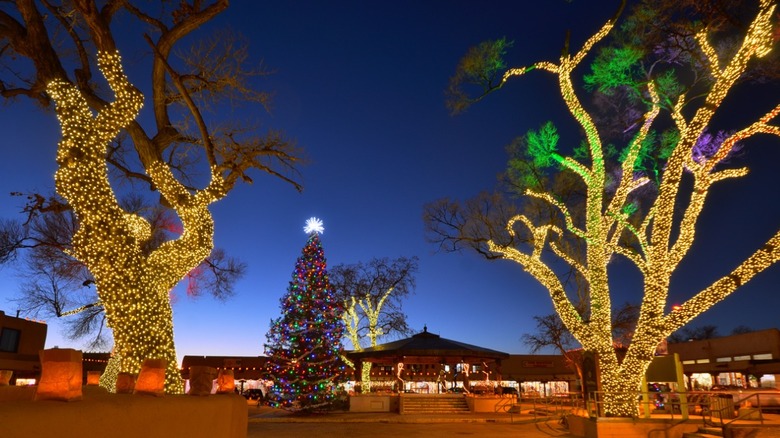 iStock.com/Jeff Black
An underappreciated American gem, Taos is truly magical around the holidays. Its southwestern architecture glows with the light of hundreds of farolitos (small paper lanterns) that are a New Mexico holiday tradition. Carolers and a southwestern Santa help celebrate the illuminations during the Lighting of Ledoux event. Another Taos neighborhood joins in on the fun with the Bonfires on Bent Street, which features Aztec fire dancers and iconic New Mexican regional foods, like posole and green chile. Visitors can also take part in Las Posadas, a nine-day celebration that reenacts Mary and Joseph's biblical journey and culminates at San Geronimo Church at Taos Pueblo on Christmas Eve.
Hallstatt, Austria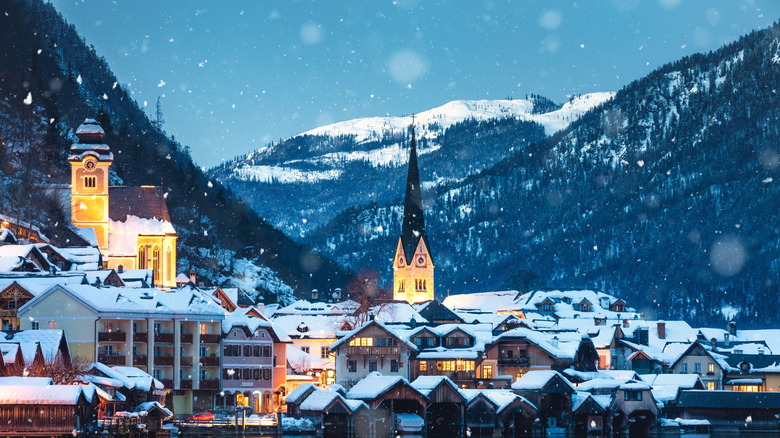 iStock.com/borchee
The village of Hallstatt is located in the heart of the Hallstatt-Dachstein/Salzkammergut Cultural Landscape, a region that's an officially designated UNESCO World Heritage site. Dotted with 16th-century Alpine buildings, Hallstatt has a population of only about 800, and around the holidays, it turns into a peaceful, snowy town straight from a storybook. Surrounded by evergreens and topped with festive decorations, the town's idyllic Christmas market is a peaceful change of pace from the hustle and bustle of the holiday season.
Valkenburg aan de Geul, Netherlands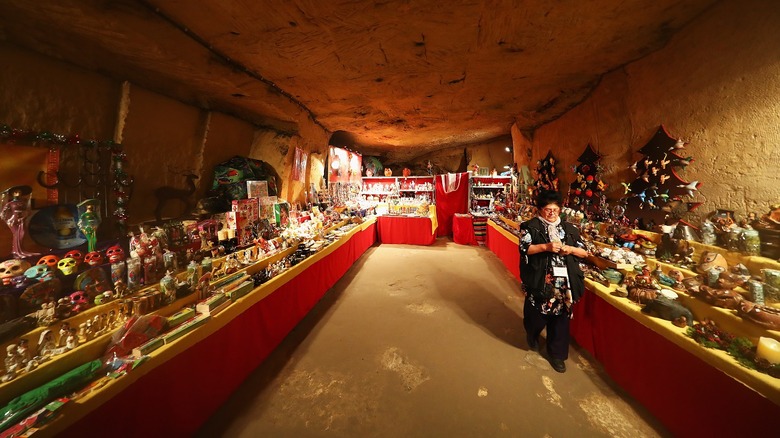 Dean Mouhtaropoulos/Getty Images
The Valkenburg Christmas market in Municipal Cave has a unique location that makes it stand out from all the other Christmas markets. It's the oldest and largest underground holiday market in Europe. Shoppers head underground into a series of passages and caves, one of which was the site of an 18th-century chapel. Another cave in the area is home to a display of hundreds of holiday miniatures. Above ground, the city hosts a Christmas parade with floats and dancers as well as a culinary walking tour.
Stuttgart, Germany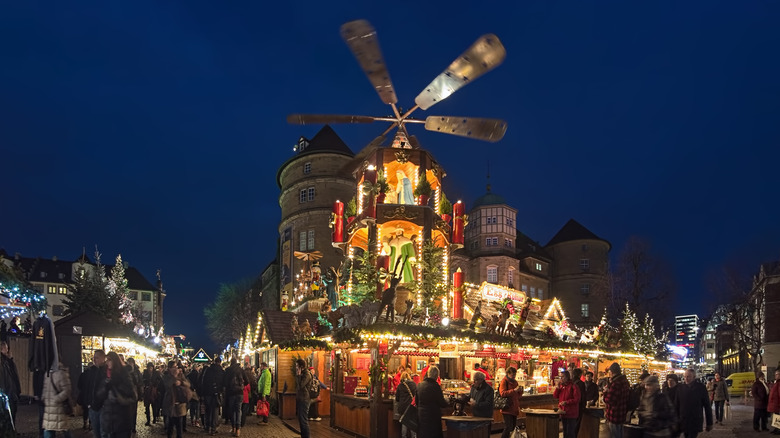 iStock.com/klug-photo
Known as a hub of the German auto industry, Stuttgart also turns on the charm when Christmastime rolls around. The town hosts a traditional, glowing Christmas market with hundreds of vendors that wind through the square beneath a 10th-century castle. You can even bring items into the antique market for a free appraisal. The city also hosts daily Christmas music programs, a live nativity, children's rides, and more.
Leavenworth, Washington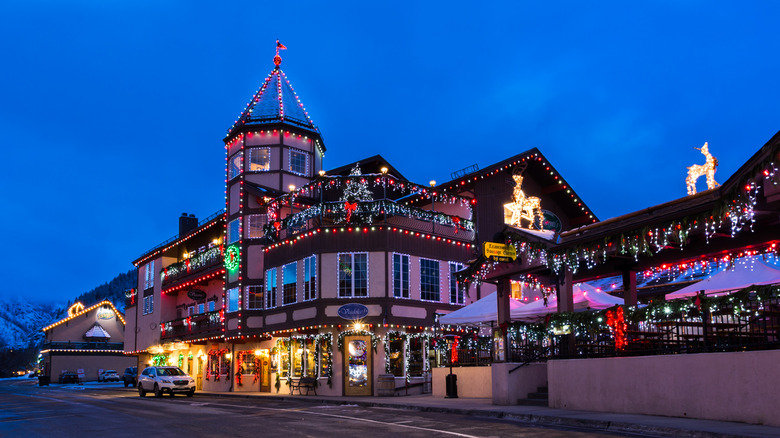 iStock.com/Strekoza2
One of the most beautiful towns in America, Leavenworth is modeled after a Bavarian village, and it definitely gives visitors a taste of the Old World with its German holiday celebrations. The city hosts two big holiday festivals each year: a Christkindlmarkt with crafts, entertainment, and food, and the Christmas Lighting Festival, during which the village is bedecked with 500,000 Christmas lights. Leavenworth also offers concerts, tubing, sleigh and dogsled rides, as well as other ways to enjoy this winter wonderland.
Bruges, Belgium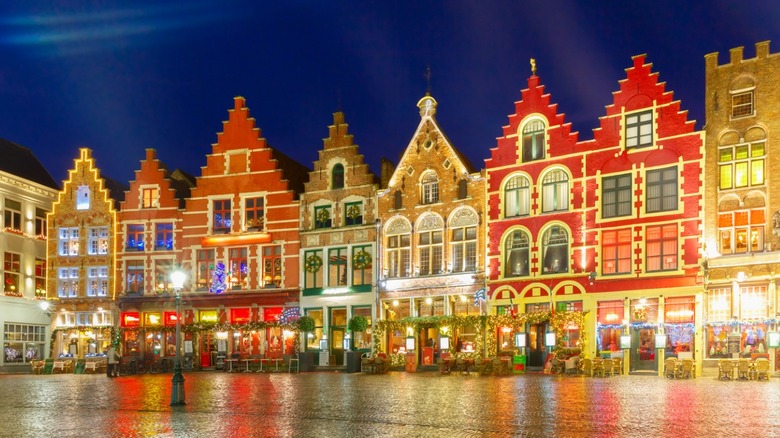 iStock.com/KavalenkavaVolha
Christmastime in Bruges provides the perfect picture of a European holiday season. Medieval architecture is illuminated by holiday lights and surrounded by stunning Christmas markets filled with crafts and local food and drink specialties. Enjoy a Belgian hot chocolate or some glühwein, the traditional holiday mulled wine.
North Pole, Alaska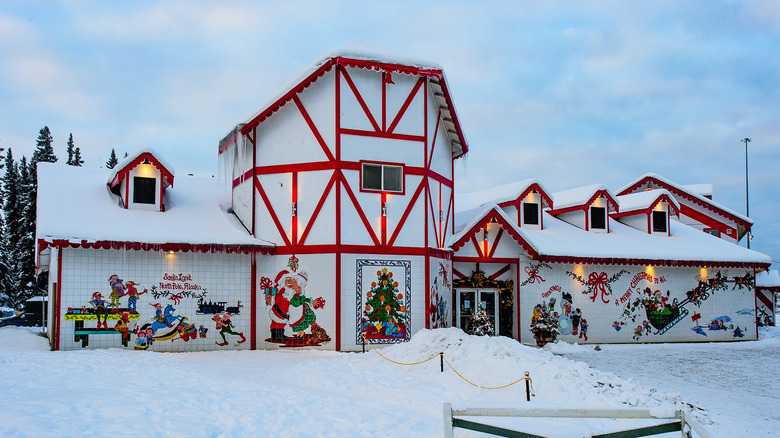 iStock.com/lippyjr
While larger cities like Fairbanks have festive holiday celebrations, nothing can top the Christmas cheer of North Pole, Alaska, home to its own version of Santa's workshop. It's Christmas here all the time, so kids can meet Kris Kringle and his reindeer year-round.
Vilnius, Lithuania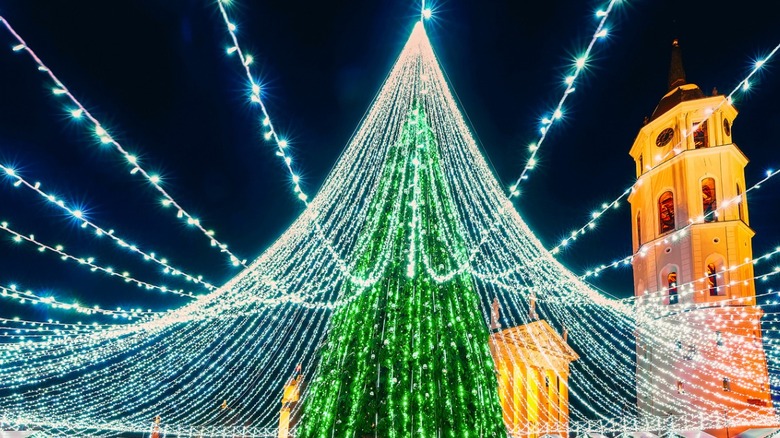 iStock.com/RomanBabakin
Vilnius, Lithuania, is a great destination to explore during the holiday season because it has something for everyone. Stroll through the cozy Christmas market around the dazzling tree in Cathedral Square, shop for creative presents at the International Christmas Charity Bazaar, or peruse handicrafts at the picturesque market at Town Hall Square. You can also catch a projected light show displayed on Vilnius Cathedral, take a Christmas train tour through town, and more.
Frankfurt, Germany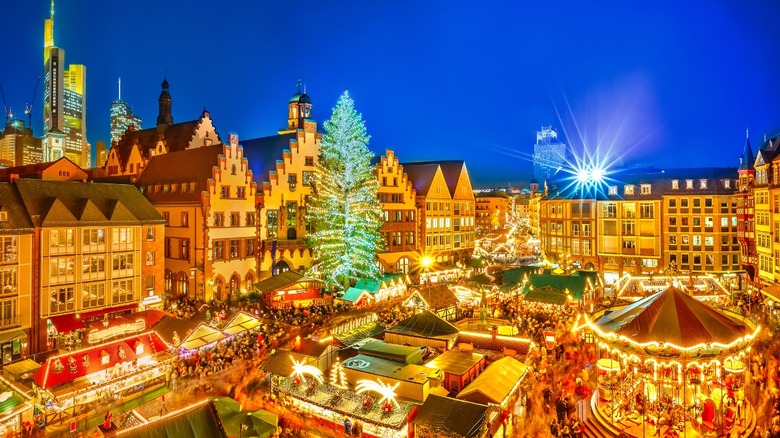 iStock.com/sborisov
Home to one of the oldest and largest Christmas markets in Germany, Frankfurt emanates Old World charm. Take a guided tour of the market around Romerberg and St. Paul's Square before enjoying shopping surrounded by the sights, smells, and sounds of the season, including a large Christmas tree and a traditional carousel.
Tallinn, Estonia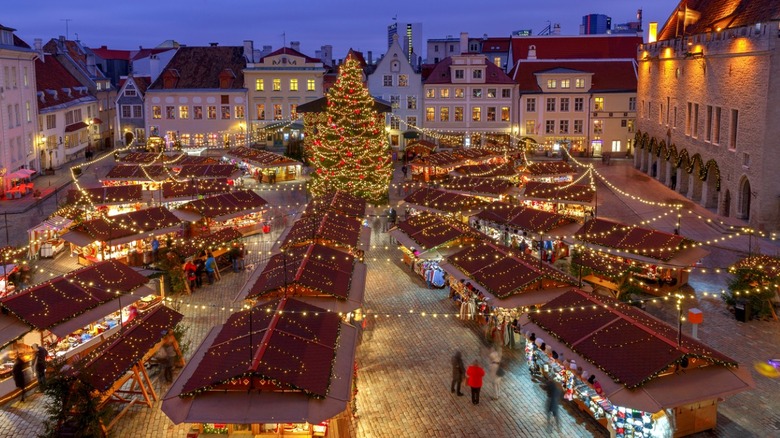 iStock.com/Pel_1971
Estonia has similar Christmas traditions to its Scandinavian and German neighbors but draws smaller crowds. The country's capital of Tallinn has a lovely Christmas market, ice rink, and decorated tree in Town Hall Square. The Gingerbread Mania exhibition has intricate all-gingerbread creations from over 100 Estonian artists. The Estonian Open Air Museum also depicts how Christmas was celebrated in centuries past in rural farm communities across the country, making for a truly Old World Christmas feel.
Montbeliard, France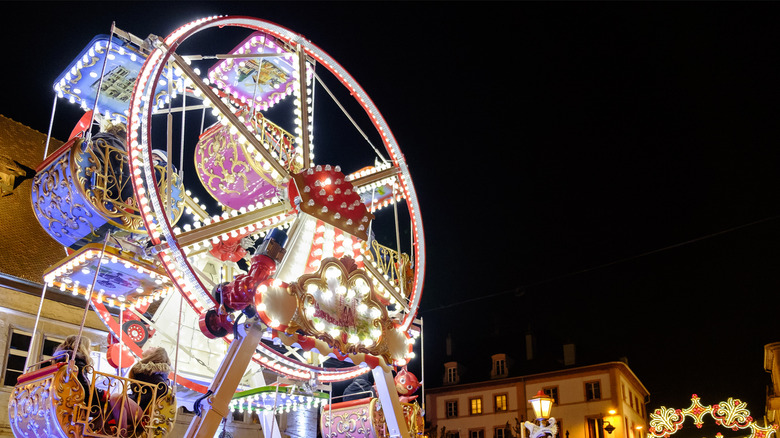 iStock.com/oriredmouse
While Strasbourg has one of the more famous Christmas markets in France, the eastern town of Montbeliard, not far from the German and Swiss borders, hosts a magical Christmas market worth visiting. The market features traditional Christmas figures from the region, including St. Nicholas, St. Lucia, and Aunt Airie, the good fairy of the Montbeliard area. The streets and town center are draped in light displays arranged in arches, pyramids, and canopies.
Cluj-Napoca, Romania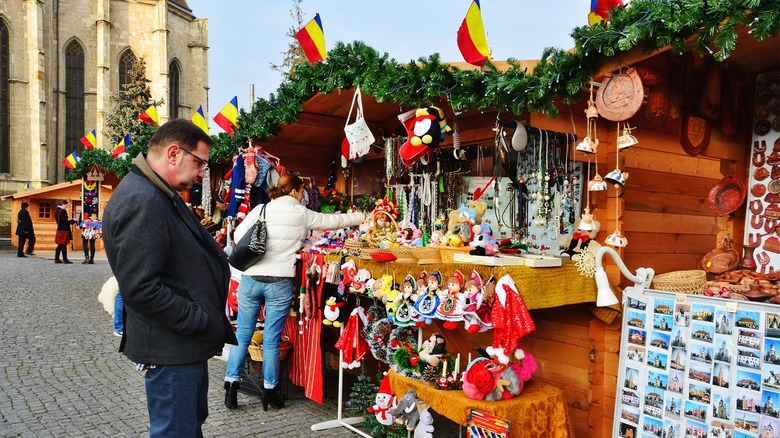 © Bat09mar/Dreamstime.com
Located in the historic region of Transylvania, Cluj-Napoca hosts an annual Christmas Fair in Union Square. Festivities take place in the city's heart beneath the highest church tower in Romania and fir trees draped with lights. You can enjoy rides, live Romanian music, and open-air vendors during the six-week event. 
Park City, Utah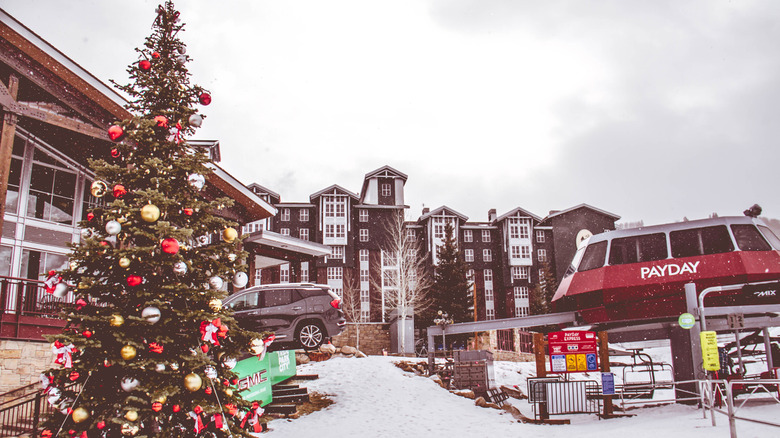 Spinel/Shutterstock
The ski town of Park City makes for so much more than a great ski vacation around the holidays thanks to its festive decor and events. Santa Claus comes to town via a ski-lift chair decorated as a sleigh and covered with Christmas lights. He later hits the slopes at the annual Torchlight Parade, where more than 100 ski and snowboard instructors schuss down the mountain holding lights, which is a sight to behold. Park City's 17-day winter festival, Snowfest, brings in many types of fun holiday entertainment.
Tromsø, Norway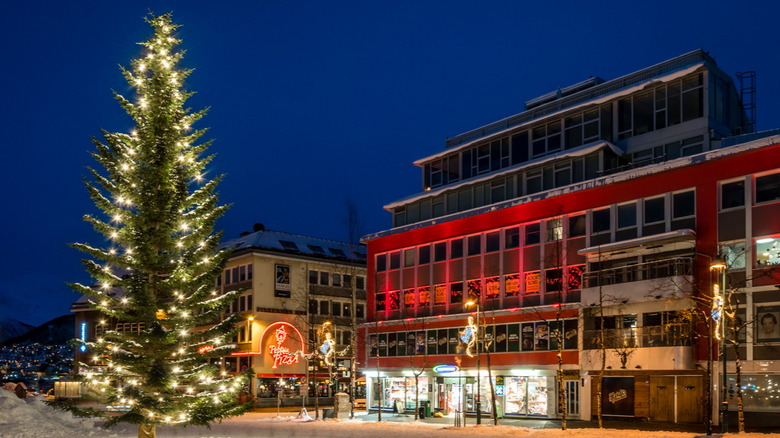 aaabbbccc/Shutterstock
Tromsø is a winter wonderland located north of the Arctic Circle, so it's no wonder guests feel like they're at the North Pole when they visit. Though the town only gets a few hours of light each day, locals make the most of it with seasonal celebrations and plenty of lights draped around town. Christmas fairs are great places to shop and enjoy treats, including lefse flatbread and coffee brewed outdoors over an open fire. The town's giant Christmas tree is delivered by helicopter, then illuminated in a cheerful lighting ceremony. Visitors can also attend caroling concerts on Christmas Eve or Christmas Day at the landmark Arctic Cathedral.
Inverness, Scotland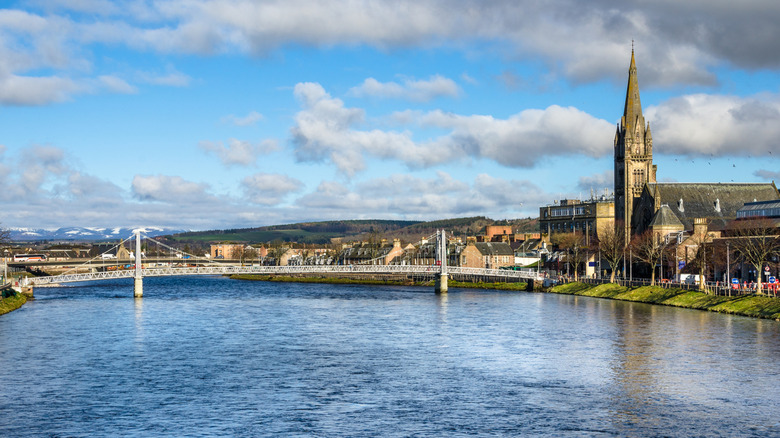 Albert Pego/Shutterstock
While big celebrations take place in Edinburgh and Glasgow, the idyllic Highlands capital of Inverness is the place to be for a small-town Scottish Christmas. The town kicks off the holiday season with a torchlight parade and lighting ceremony at the annual Christmas Lights Switch-On. Whin Park hosts a winter festival where visitors can meet Santa and his reindeer, while the Victorian Market offers shopping. Head to Eden Court to catch a traditional British panto (short for pantomime) performance. Inverness also hosts a family-friendly Highland Hogmanay Fling with dancing, fireworks, and more.
Odense, Denmark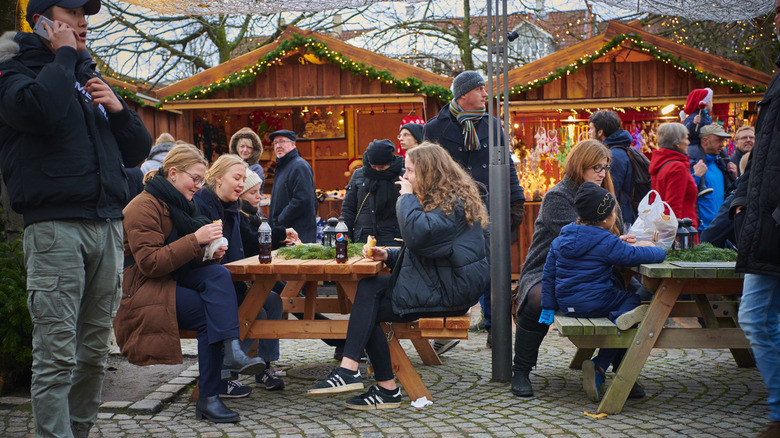 iStock.com/Westersoe
The sound of jingle bells is carried by the winter breeze as horse-drawn carriages make their way down the cobblestone streets of Odense, Denmark. Odense is the birthplace of famous fairytale writer Hans Christian Andersen, and its annual Christmas market takes place in the square outside his home (which is now a museum). Enjoy costumed performers and entertainment both historical and modern.
Poznan, Poland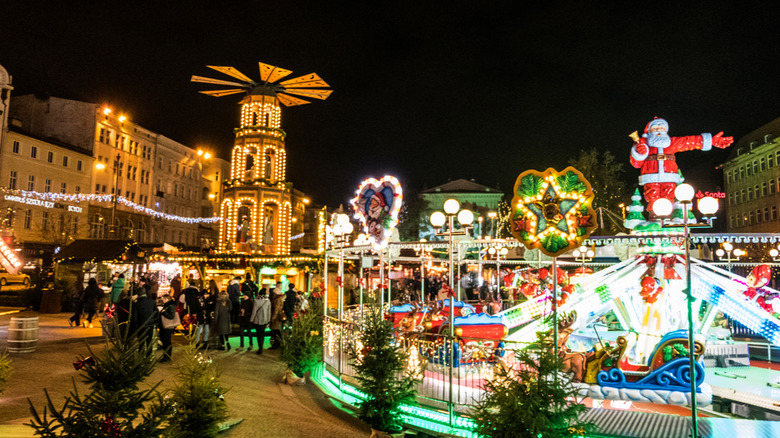 kateafter/Shutterstock
Freedom Square and the Renaissance-style Old Market Square in Poznan both have off-the-beaten-path Christmas markets as well as an arts and crafts fair, making it near impossible to leave without acquiring a beautiful handmade memento. Old Market Square also hosts the International Ice Sculpture Festival in early December, during which competitors from around the world create jaw-dropping frozen creations.
Prague, Czech Republic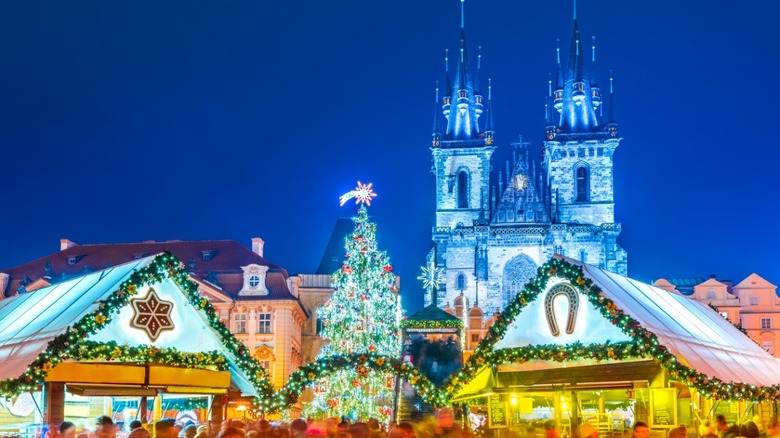 iStock.com/emicristea
One of the most romantic cities in the world, Prague has a rich history and beautiful baroque and Gothic architecture that makes a perfect backdrop for Christmastime festivities. The city has multiple Christmas markets, including one in the shadow of Prague Castle and the cozy Manifesto Winter Market, which has heated igloos and outdoor fireplaces for roasting marshmallows. Catch a concert of Czech and European carolers or meet a uniformed gas lamp-lighter on the Charles Bridge — the only gas-lit bridge in the world.
New York, New York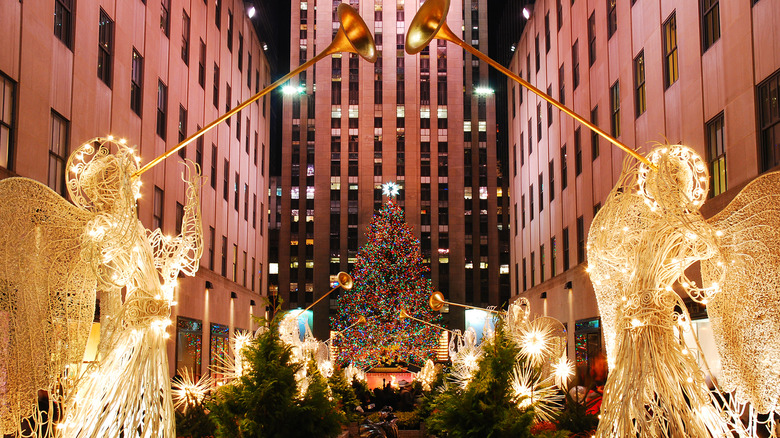 iStock.com/Kirkikis
New York City is famous around the world for its holiday celebrations, such as the Radio City Christmas Spectacular, the iconic department store window displays, and the massive tree and skating rink at Rockefeller Center. The Brooklyn neighborhood of Dyker Heights is renowned for its Christmas light displays, the New York Botanical Garden hosts a jaw-dropping Holiday Train Show, and Christmas mega-fans can camp out for a spot along the parade route to see Santa Claus come to town in the Macy's Thanksgiving Day Parade. Christmas markets (and celebrity sightings) abound in places like Grand Central Terminal, Bryant Park, Columbus Circle, and Union Square. The Big Apple is also one of the biggest and brightest spots to ring in the new year, the perfect way to end your holiday trip to New York City.