13 Festive Things To Do In London At Christmas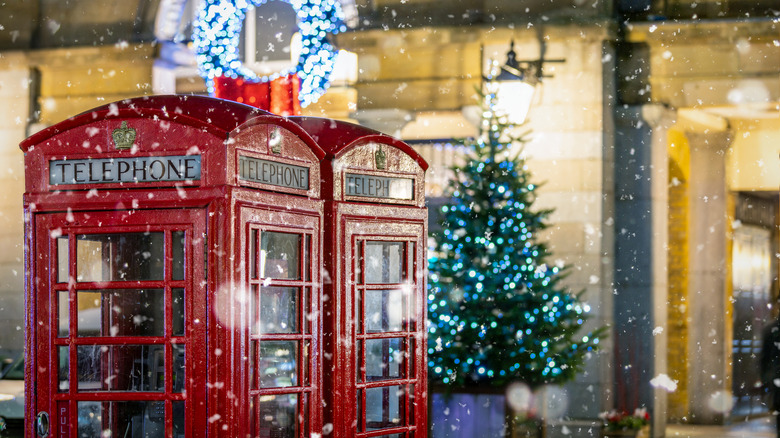 Shansche/Getty Images
'Tis the season to immerse yourself in the festive spirit, and London is an ideal place to visit for Christmas cheer. When creating holiday joy, the U.K.'s capital takes its job seriously. It's been deemed one of the top cities you absolutely have to see at Christmastime. From stunning light displays to bustling Christmas markets to a museum that dresses its life-sized T-Rex in a Christmas sweater, London's holiday spirit is as ripe as it is catchy. Plus, there are so many exciting holiday attractions that even the kids won't notice the lack of real snow. 
Want to sip cider while watching a Christmas movie in a North-Pole-themed cinema? Easily done. Hoping to enjoy a few belly laughs at a traditional English Panto? There are plenty to choose from. Wishing you could meet Santa (aka Father Christmas)? That jolly old elf is simple to find if you know where to look. No matter how you prefer to celebrate the holidays, there's bound to be something to spark holiday magic on this list of the best festive things to do in London at Christmas. Whether it's zipping around the ice on skates at Somerset House, taking picture-perfect Christmas selfies by the tree in Trafalgar Square, or singing along to carols at Royal Albert Hall.
Explore a Christmas Market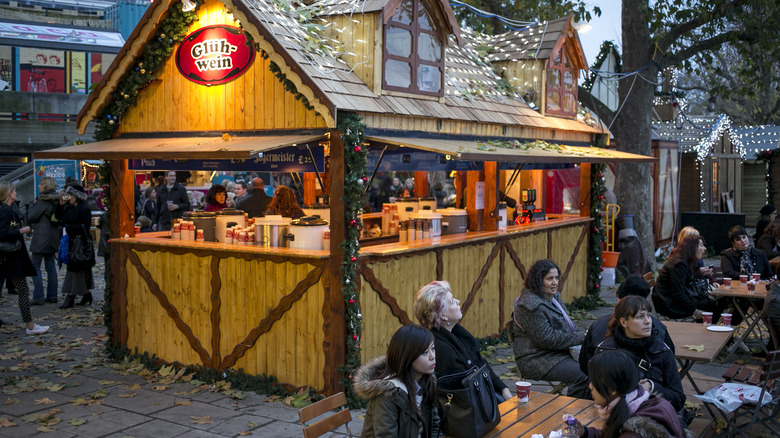 Dan Dennison/Getty Images
London is known for its markets. Borough Market, Old Spitalfields, Camden Market, and Portobello Road Market are weekly hangouts for those who love to browse, eat, and shop. When it comes time for the holidays, you'll find these staples well jazzed for Christmas fun, not to mention an abundance of pop-up markets to visit. Whether you're searching for tasty nibbles, unique clothing, or hand-made crafts to put under the tree, you'll find it all, and so much more, at the city's best Christmas Markets. Here are a few of the cheeriest spots to explore this holiday.
The Southbank Centre Winter Festival runs from late October through early January. In addition to boasting an outdoor Winter Light exhibit, holiday-themed shows, and Christmas concerts, this fun festival hosts a popular Winter Market. Here, tourists are invited to sample the food and drink and shop for stocking stuffers in the adorable, alpine-themed chalets. The Market is open from early November through Christmas. 
The Winter Wonderland Christmas Market is another must-visit. Shops selling beautiful holiday items are housed in decorated wooden chalets near the ice rink. Covent Garden's regular stalls get Christmasified this time of year, creating a joyous market highlighted by a life-sized sleigh. Save room for the tasty mulled wine and minced pies. Other fabulously festive London Christmas markets are Leicester Square, Trafalgar Square, Bankside, Greenwich, and Kingston. 
See London's beautiful Christmas lights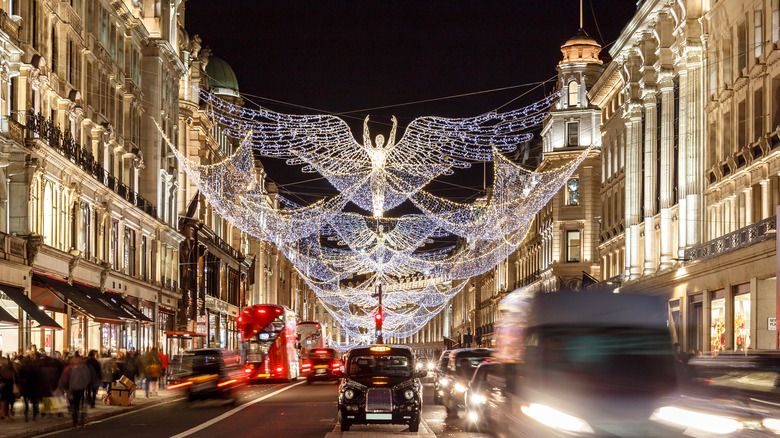 Alexey_fedoren/Getty Images
If you haven't seen London aglow with Christmas festiveness, you're in for a treat. From early November through December, many of London's most famous streets are transformed into a kaleidoscope of holiday wonder. Twinkling stars, luminous angels, and dramatic LED archways are just a few of the captivating light exhibits on display. Shop windows are particularly impressive this time of year, so carve out extra time to peruse the displays outside big department stores. You'll want to see Liberty's, John Lewis, Harrod's, Selfridges, Hamley's, and Peter Jones along your route. 
Speaking of planning a route, the light displays on Carnaby Street, Oxford Street, Regent Street, and Bond Street are truly iconic and easy to see in one quick trip. If you only have two days to spend in London with kids, this area should definitely top your list. Mayfair plays host to an annual "switch-on party" in mid-November. At this time, over 63,000 lights will be illuminated on the famous Mount Street, just an eight-minute walk away from Bond Street tube station, making it easy to tack on to a pedestrian tour. 
Chelsea, Trafalgar Square, Belgravia, Covent Garden, and Kings' Cross are other must-see displays. Tip: The best time to appreciate the glory of the lights is at night when they're highlighted against a dark, likely rainy, sky. The lights in Mayfair are on a timer, and they don't switch on until 3 p.m.
Go skating on an outdoor (or indoor) rink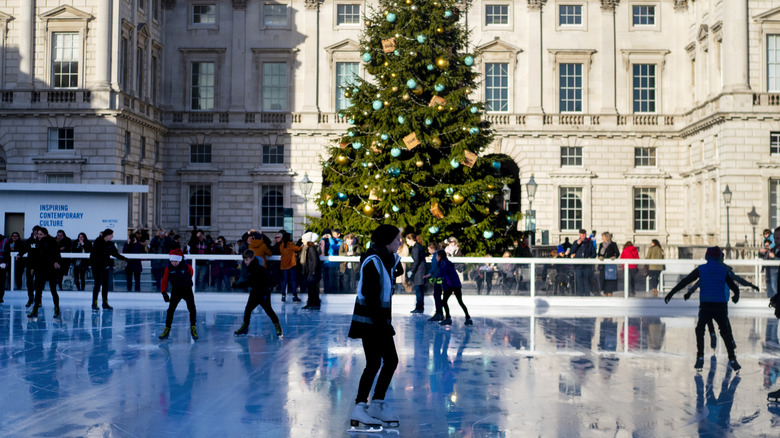 Whitemay/Getty Images
Skating is a family-friendly thing to do in London at Christmas. Bundle up, strap on some skates, and glide across the ice at some of London's most beautiful and festive destinations. From the grounds of a castle to a Royal Park, there's no shortage of pretty rinks to enjoy. All you have to do is decide which to visit first. Don't worry about lugging skates around; most rinks provide rentals. They may not be super comfy, but they'll do the trick. Here are a few rinks to consider. 
Dubbed London's coolest ice rink, Glide Battersea Power Station consists of three rinks and boasts phenomenal views of the landmark attraction it's named after, as well as a 30-foot-tall Christmas tree. Warm up with hot chocolate at The Glass House and set the kids free in the adjoining fairground. Ice Rink Canary Wharf is the longest-running seasonal ice rink in London, and it opens from late October through February. It also has a rink-side bar boasting great views and drinks. The ice rink at Hyde Park's Winter Wonderland is the largest open-air rink in the U.K., while the Hampton Court Palace rink allows tourists to swirl outside a stunning Tudor Palace once home to King Henry VIII. Somerset House ice rink is another captivating spot open from mid-November through mid-January.
Spend the day at Hyde Park Winter Wonderland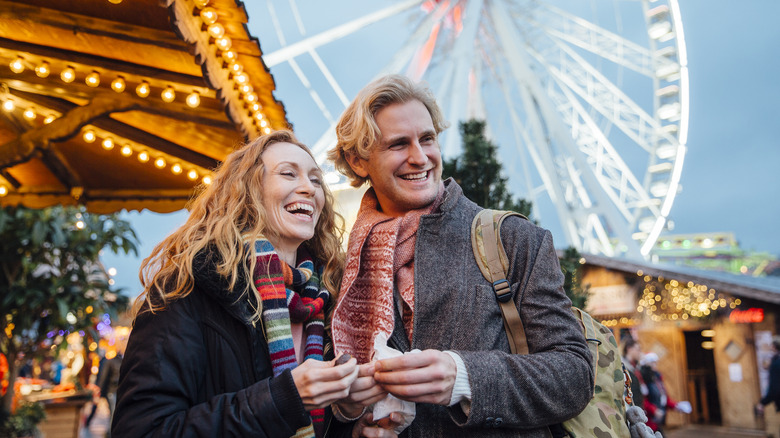 Solstock/Getty Images
London is beautiful at all times of the year, but the city is transformed when Hyde Park Winter Wonderland comes to town from mid-November through December. Featuring an ice rink, concerts, holiday shows, and delicious food, this family-friendly attraction is one of the most festive places to visit in London at Christmas. Plus, it boasts fun rides for kids and adults of all ages. Think you can't enjoy a stomach-in-your-throat kind of ride at a traveling amusement park? You might change your mind when flying through the air on Munich Looping, the world's largest transportable roller coaster. When you've regained equilibrium, head to the Street Food Village to sample everything from craft beer to sweet treats. 
Next, hit the Giant Wheel for a bird's eye view of the London skyline, explore a magical ice kingdom, and ride an inflatable tube on the ice slide. Sign up for an ice sculpting workshop if you're hoping to unleash your inner Picasso (or, should we say, Elsa). Have little ones in tow? Don't miss a visit to Santa's Grotto, aka Santaland. Kids and their grownups will travel to the North Pole, where they'll find plenty of fun things to do, like play on rides, eat treats, and meet Santa himself. 
Embark on a Christmas tree scavenger hunt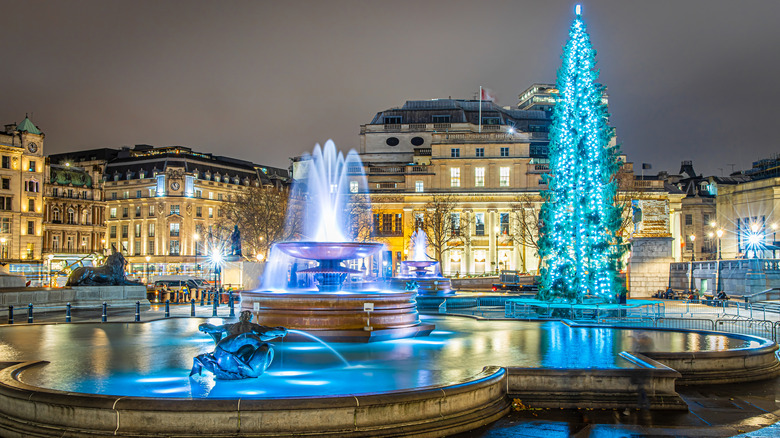 Alexey Fedorenko/Shutterstock
It doesn't really feel like Christmas until you've spied a massive tree bedazzled with festive lights, ornaments, and, yes, even tinsel. Whether these trees stand in the center of a high-end shopping mall or outside in the snow, professionally decorated Christmas trees are a bucket-list point of interest for many holiday travelers. Create your own scavenger hunt and try to spy some of London's best Christmas trees this holiday season.
Our tour for Christmas trees begins in Trafalgar Square with its yearly donated tree from Norway since 1947 in gratitude for England's help during World War II, Covent Garden, Kew Gardens, Coal Drops Yard in King's Cross, Leadenhall Market, and Battersea Power Station. For even more stunning trees, head to Hye Park Winter Wonderland, St. Pancras International Station, Granary Square, Westminster Abbey, and The Tower of London. Last of these is Windsor Castle, which is easily accessible by train in about an hour, although not located in London.
Hotels do not disappoint either. The Christmas trees at Shangri-La The Shard, The Connaught, Kimpton Fitzroy, Mondrian Shoreditch, Mandarin Oriental, The Ned, and NoMad London are fabulous, to say the least. Not to be outdone, The Carlton Tower Jumeirah, Four Seasons Hotel London at Park Lane, and Claridge's all stun with massive trees and enchanting décor. See how many perfectly decorated Christmas trees you can spy on at John Lewis, Peter Jones Selfridges, Liberty's, and the Winter Village at Westfield London shopping center.
Visit a museum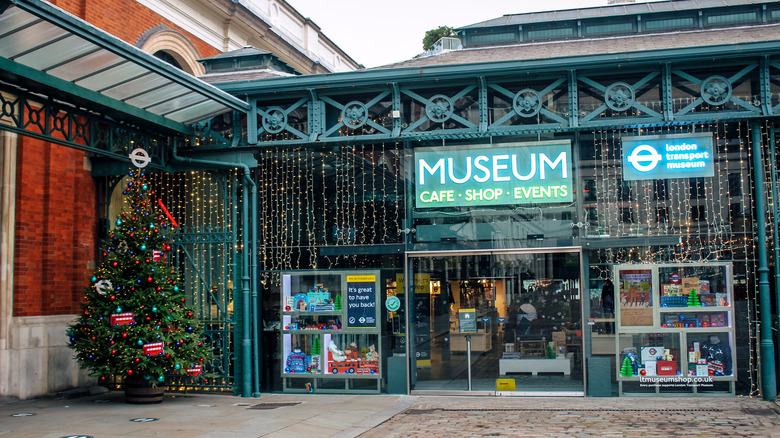 cktravels.com/Shutterstock
While visiting one of London's best museums is a fun thing to do all year, the experience is particularly enchanting at Christmas. Geared towards kids, the London Transport Museum is a must-visit attraction for families. Santa arrives to greet excited guests from late November through late December. While there, kids are invited to ring the bell on the sleigh, flash the lights, and set the "Christmas cheer-o-meter." The best part, kids go free. The Natural History Museum is another fun place for families at Christmas. It boasts seasonal science stations and winter workshops, not to mention a life-sized T-Rex that has been known to sport a knit Christmas sweater.
The Victoria & Albert Museum, more commonly referred to as the V&A, has a family-friendly Christmas Trail that kids and their grownups can follow throughout the museum. Essentially a festive scavenger hunt, tourists will discover multiple "Christmassy highlights" from the museum's extensive collection. Ask at the information desk for more information or print the online trail to use as a guide during your visit.
Sing carols at a concert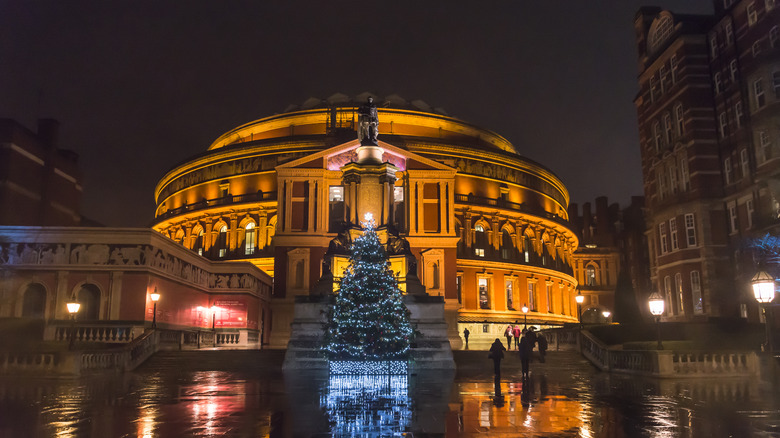 Purpleimages/Getty Images
Experience the glory of the season by attending a Christmas carol service, winter concert, or service in one of London's most spectacular landmarks -– St. Paul's Cathedral or Westminster Abbey. Booking is often required as these are popular events. Trafalgar Square's St Martin-in-the-Fields-Church also hosts events at Christmas time, including candlelight concerts. Carols for Christmas is an hour-long concert presented many times throughout December. Handel Messiah by Candlelight is particularly lovely. It's usually performed in mid-December by St Martin's Chamber Orchestra and St Martin's Voices.
Another unforgettable holiday experience can be had at the historic, not to mention stunning, Royal Albert Hall. Carols at the Royal Albert Hall run three times daily from mid-to-late December, and this is a concert you won't forget. Audience members come in their most festive, tacky, and illuminated Christmas costumes to sing along with the Royal Choral Society, Royal Philharmonic Orchestra, and National Youth Choirs of Great Britain. The opposite of a stuffy concert, this event is a must. 
Catch a Christmas flick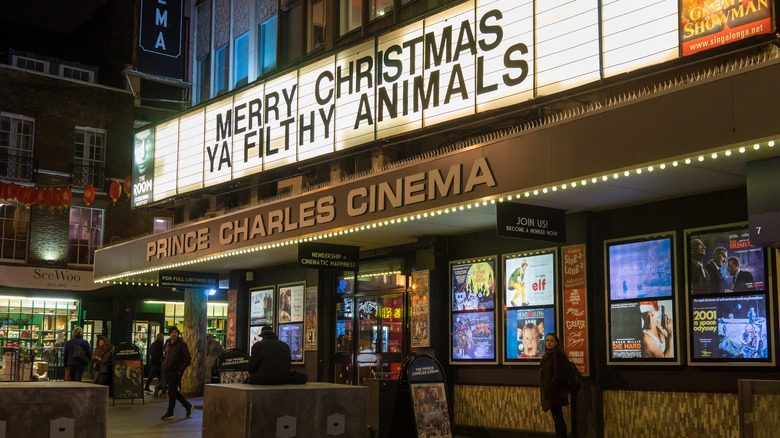 Travers Lewis/Shutterstock
While many of us argue over which film should be ranked the best Christmas movie of all time, there's one thing we can probably all agree on –- watching holiday films is an important and beloved Christmas tradition. Up your movie game by choosing an unforgettable venue during your trip to London at Christmas. Bust out your fancy clothes to enjoy a three-course meal before watching "It's a Wonderful Life" and other holiday faves in the 30-seat cinema at One Aldwych. The films begin showing in mid-November and include popcorn and a glass of Henners Sparkling wine.
Kensington Palace also hosts festive film fun. The Luna Winter Cinema is set up in the palace pavilion, making for a memorable night. Tasty, festive treats are on offer, and you can expect to see various films ranging from "Miracle on 34th Street" to "The Nightmare Before Christmas." When else can you say you cozied up to a Christmas flick in a royal palace? This pop-up cinema only runs for about four days, so buy tickets well in advance. 
If you're hardcore about your love of Christmas cinematic genius, book a ticket for the all-night Christmas Pajama Party at Prince Charles Cinema. At least five movies are shown here, which can include classics like "The Muppet Christmas Carol," "Elf," "Home Alone," "Gremlins," and "Die Hard." Festivities begin after 11 p.m.; guests must be 16 or older, and no one is admitted after midnight. 
Soak up the beauty at Kew Gardens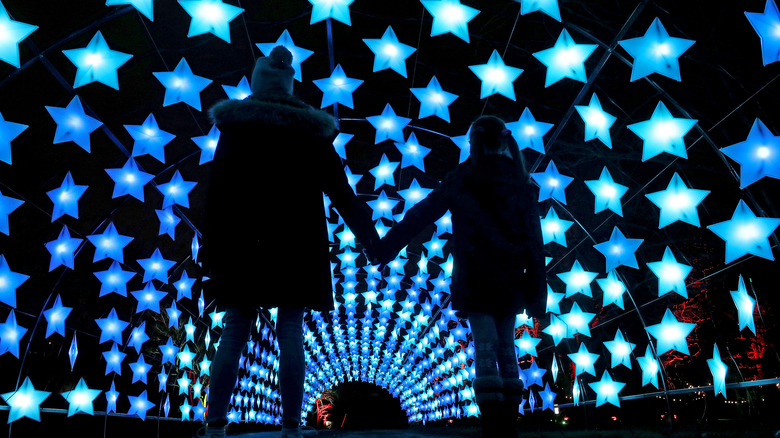 Chris Jackson/Getty Images
It's easy to fall in love with Kew Gardens. A vast and special place, this is one of London's most prized natural attractions. Filled to the brim with bright blooms, lush greenery, and enough plant wonders to inspire even those who lack a green thumb, these Royal Botanic Gardens are especially wondrous at Christmas. Between mid-November and early January, Kew is set aglow with twinkling lights, glittering tunnels, and giant hanging decorations. The flickering flame garden is an ideal spot for a thoughtful respite.  
Book tickets in advance as this is one of the most popular festive things to do in London at Christmas, so spots fill up. While Christmas at Kew opens at 4:20 p.m., the Gardens close at 10 p.m., and the last entry is at 8 p.m. (or 7 p.m. on Christmas Eve). Tickets are sold with a timed entry. Come hungry — street food vendors line the route and serve delicious spiced drinks, hot chocolate, and tasty meals guaranteed to warm and fill you. There's also food available at the Botanical Brasserie. Four seatings are held throughout the night. 
Warm up with afternoon tea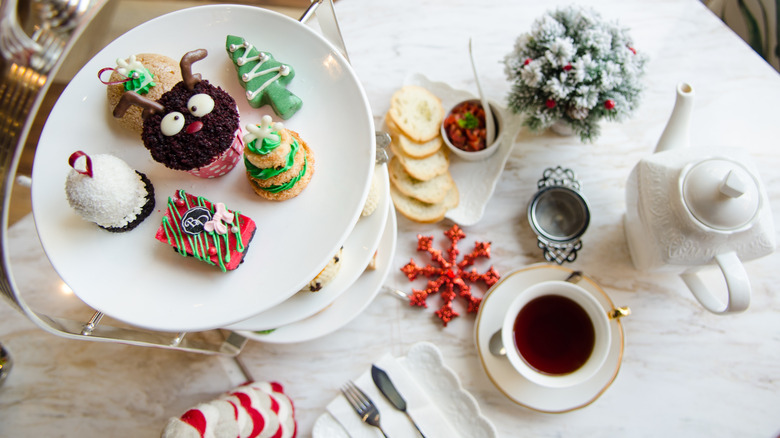 Noppa Man/Shutterstock
An English tradition that is enjoyed year-round, themed afternoon teas are offered throughout London at Christmas. The fanciest options will put a serious dent in your wallet (ahem, Claridge's and The Dorchester), but some affordable afternoon tea experiences are just as festive and fun. Kids will love you forever for taking them to the Christmas Wizard Afternoon Tea at the Wizard Exploratorium. It includes a glass of Prosecco (or a non-alcoholic version for kids), tea you brew with a festive twist, a magic wand and equipment rental, and yummy "sand-witches," pastries, and desserts. Costs begin at $57 per adult and $51 for children. 
Not bothered about a heftier bill? Christmas Afternoon Tea at the Ritz is a luxurious experience you'll talk about for years. Held in the hotel's glamorous Palm Court, this festive meal includes a selection of 18 loose-leaf teas in addition to delicious Christmas cakes, mince pies, pastries, finger sandwiches, and scones with Cornish clotted cream. The price starts at $91 per adult and $64 for children. The Orchid Lounge at Pan Pacific is another unforgettable festive tea. From early November through early January, the handcrafted pastries are divine. The cost begins at $94 per adult on weekdays and $100 on weekends.
Laugh at a Pantomime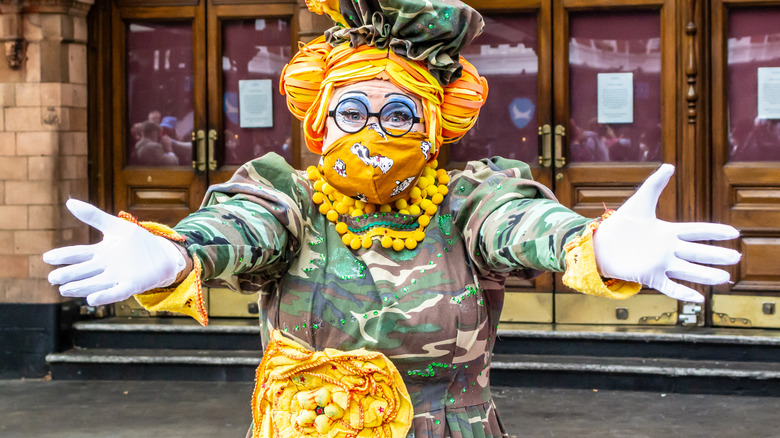 JessicaGirvan/Shutterstock
It's no secret that Brits have a good sense of humor. They've produced some of the funniest films and comedians of all time. Remember the "Monty Python" movies and "Four Weddings and a Funeral?" How about the works of side-splitting funny guy Ricky Gervais or the Scottish ham Billy Connolly? Britain is also known for its hilarious pantomimes, which are ridiculous takes on children's tales like "Sleeping Beauty." These typically involve eccentric costumes, funny songs, and slapstick comedy. Attending a panto has been a British Christmas tradition since the late 19th Century.
"Potted Panto" is an enjoyable one to see. This Oliver Award-winning production meshes seven pantos into one fabulously brilliant, belly-laugh-worthy show. The "West End's longest-running pantomime" is being performed at the East End's Wilton's Music Hall between late November through the end of December.
Hammersmith's Lyric Theatre has been around for over 125 years. A West End staple, this pretty spot has played host to pantos for many, many years. Running from late November through early January, theatergoers will laugh themselves silly at productions like "Cinderella." The London Palladium in Soho boasts the "U.K.'s biggest panto." Running from early December through mid-January shows like Peter Pan will wow audiences with spectacular sets, over-the-top costumes, and a super funny script.
Meet Santa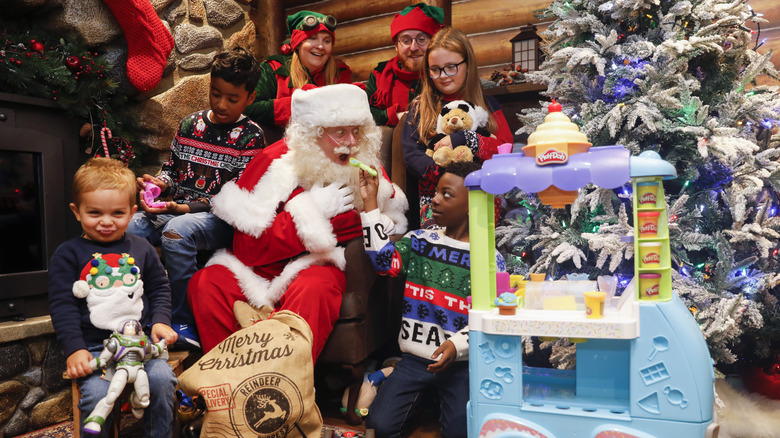 Tristan Fewings/Getty Images
There's something special about coming face-to-face with bushy beard Santa during the holidays. Better known as Father Christmas in this part of the world, the jolly old elf makes multiple appearances throughout London. Hamleys is one of the most fun and fabulous stores to visit on your quest for St. Nick. The oldest and largest toy shop in London, this historic "joy emporium" hosts Hamleys Santa's Grotto. 
In addition to spending time with Santa, children will receive a treat to take home. John Lewis is another excellent place to meet Father Christmas. A popular London department store, you'll find an interactive Santa's Grotto in select locations, where kids can translate a code to unlock the door and visit Santa. They can also book a tea party with him in the Canary Wharf location.
Hyde Park Winter Wonderland is a bucket-list destination for Santa lovers. Santaland is found here, boasting a "North Pole," rides, and a Santa meet and greet. A favorite place to visit for ogre fans, Dreamworks Shrek's Adventure offers the most eclectic St. Nick in the city — Shrek Santa. Shrek the Halls takes place during December, allowing fun-seeking guests to "swap the North Pole for the Swamp" in London's South Bank neighborhood. While there, tourists can take a photo with Shrek Santa, who will give them a Christmas card.
Visit Hogwarts in the snow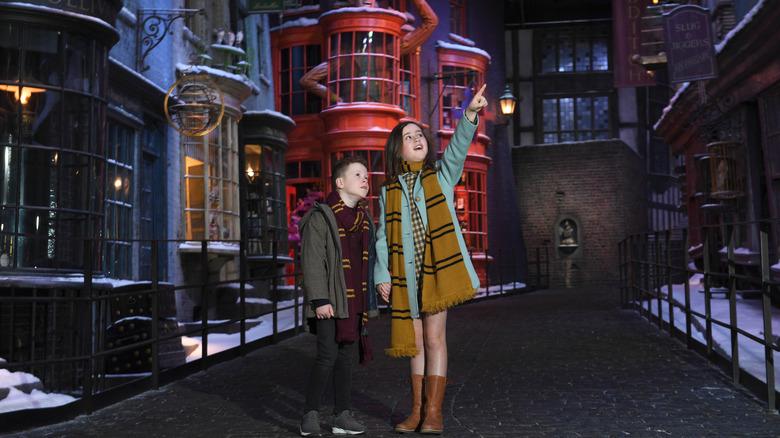 Stuart C. Wilson/Getty Images
Wizarding aficionados, young and old, can cast all sorts of festive spells at the Warner Bros. Studio Tour London — The Making of Harry Potter. Beginning in early November and running through mid-January, this fantastical tour is transformed into "Hogwarts in the Snow," a Christmas-themed event destined to impress. To create a very "Harry Christmas," the tour designers cover many sets in a magical dusting of "snow." If you weren't in a festive mood before arriving, you'd want to jingle through the exhibits in no time. 
Giant Christmas trees pepper the Great Hall, making visitors feel like house elves as they wander through large sets decorated with lights and wreaths used to film Christmas scenes in the films. The Forbidden Forest and Diagon Alley are here, too. Learn behind-the-scenes tricks used to make snow for the films, see original costumes, and explore iconic props. You'll even be able to ride a broomstick over London (in front of a green screen, that is). Before leaving, stop by the exclusive Christmas Shop to buy wizard-themed stocking stuffers and souvenirs.