Take A Trip To This European City For An Incredible Month-Long Christmas Celebration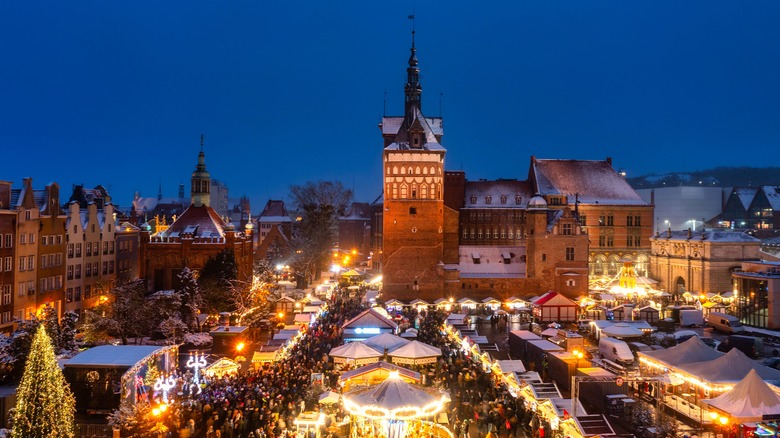 Patryk Kosmider/Shutterstock
What if we told you there was a place in Europe where Christmas could be celebrated for a whole month? This hidden gem is nestled in the Baltic coast of Poland and turns into a winter wonderland come December. Gdańsk, a city steeped in history and cultural traditions, offers an unforgettable month-long Christmas celebration that will warm your heart even on the coldest of days.
Gdańsk, the capital city of the Pomeranian province, has long been renowned for its unique blend of architecture, especially in the Old Town. These historical facades, however, take on a new level of enchantment during the Christmas period. From the start of December, the city transforms into a fairytale with twinkling lights, vibrant Christmas markets, and a festive atmosphere all around.
The centerpiece of Gdańsk's Christmas festivities is undoubtedly the Christmas Fair, a tradition that dates back to the 17th century. It is held in the historical Targ Węglowy (a large and beautiful cobblestone town square) and the Armory (a covered indoor space), with fair streets spanning Przedbramie, Bogusławskiego and Tkacka. It lasts from the 24th of November until the 23rd of December, and entrance is free to all. It also happens to be the most-voted Polish Christmas market in the "Best Christmas Markets in Europe" competition since 2009 — and for good reason. 
Christmas festivities, food, and fun at Gdańsk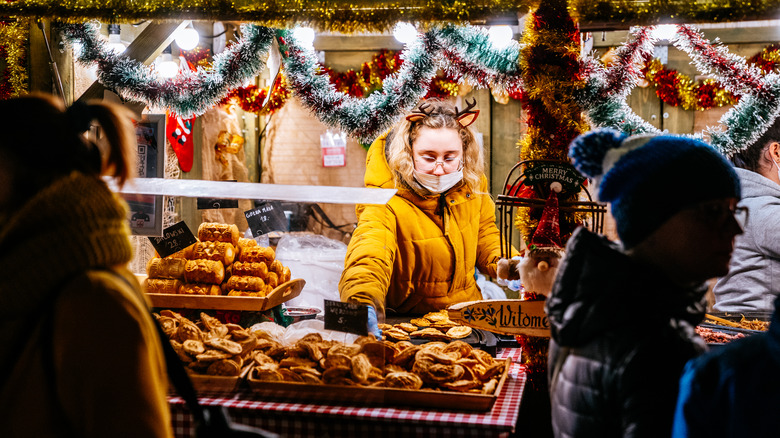 Andrey Danilovich/Getty Images
Strolling through the market feels like stepping into a fantasy, as the pastel-colored buildings provide a storybook backdrop for over 120 wooden stalls overflowing with handicrafts, ornaments, and holiday treats. Local artisans take pride in their work, offering handmade Christmas decorations, carved wooden toys, intricate ceramics, and much more — perfect for gifts or keepsakes. Enjoy the attractions, such as the two-level Gdańsk Carousel, and marvel at the stunning city-wide illuminations.
No celebration is complete without festive delights. Traditional Polish dishes are in abundance at Gdańsk's Christmas Fair, with pierogi (stuffed dumplings), borscht (beet soup), and kielbasa (meat sausage) providing hearty sustenance. Sweet tooths can enjoy pierniki (gingerbread) in various shapes and sizes, topped with intricate icing designs. International foods are also on the table, from Spanish churros to German wursts. To keep the winter cold at bay, vendors sell steaming cups of grzaniec, the Polish version of mulled wine (spiced to perfection!) and grzane piwo, mulled beer with honey and ginger.
Live events are integral to Gdańsk's Christmas festivities, with scheduled themed programs for nearly every day of the week. Enjoy evening DJ dance parties, Christmas karaoke, and multiple theatre shows. Local musicians donning festive attire will perform on stages throughout the city while impromptu carolers burst into song. You may also encounter St. Nicholas wandering the streets, an interactive advent calendar, and even a speaking elk. Families, couples, and everyone alike are sure to enjoy these enchanting experiences.
Museums, Polish Pasterka, and travel tips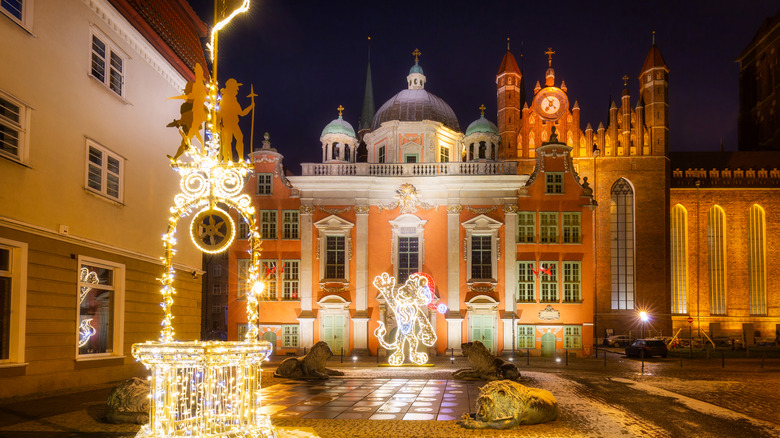 Patryk Kosmider/Shutterstock
Perhaps what is most compelling about Gdańsk's Christmas celebrations is how tradition is interwoven with all aspects. As the days inch towards Christmas Eve, the city seems to hold its breath in anticipation. Midnight Mass, or Pasterka, is a profound spiritual experience that you can witness at the stunning Oliwa Cathedral or in St. Mary's Basilica, one of the largest brick churches in the world. 
Many hotels in Gdańsk offer special Christmas packages, so book your accommodations in advance, as this season is a popular time for tourists. Staying in or near the Old Town can provide easy and convenient access to the holiday festivities. You could also consider purchasing a Gdańsk Tourist Card, which offers free or discounted access to many attractions in the city and free public transport. 
Also, this goes without saying, but prepare for cold weather in Gdańsk. Another tip: Although most places accept credit cards, having some local currency (Polish złoty) for vendors at the Christmas market is a good idea. And take advantage of the cultural offerings beyond the Christmas Fair, such as the European Solidarity Centre or the Museum of the Second World War, for a deeper understanding of Gdańsk's history. For anyone looking to make unforgettable memories, bask in the month-long glow of Yuletide cheer, and visit one of the world's most magical Christmas towns – Gdańsk, Poland, awaits.