Places In Los Angeles Where You're Most Likely To Spot Celebrities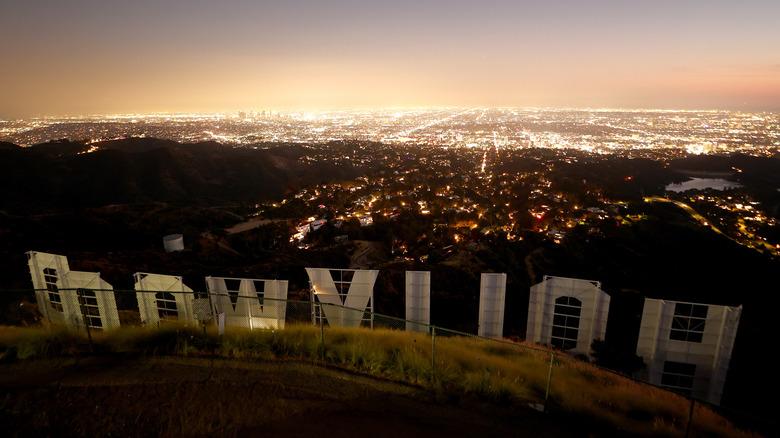 Mario Tama/Getty Images
Catching a glimpse of famous people is predominantly a game of chance, but you drastically increase your odds when you stick around Los Angeles, the City of Angels. As the most populous metropolis in California, it's known as the Entertainment Capital of the World for good reason. Especially in neighborhoods like Hollywood, the passion for superstardom borderlines a religion, where the sidewalk is engraved with iconic names, and celebrity impersonators will demand a few dollars for a selfie.
However, there is an art to the chase. You are unlikely to bump into a movie star casually walking down Hollywood Boulevard, ready to strike a pose. Instead, to find a celebrity, one must become a celebrity. You need to learn where they eat, where they shop, and where they stay when they are in town. But more importantly, remember that the essence of L.A. is playing it cool. Hence, if you do come across your hero, please don't rudely shove your camera into their face, interrupting their day with your screams of worship. Because, believe it or not, they are humans too, so treat them with respect. Keeping that in mind, here are the hottest places where the rich and famous flock together.
Craig's Restaurant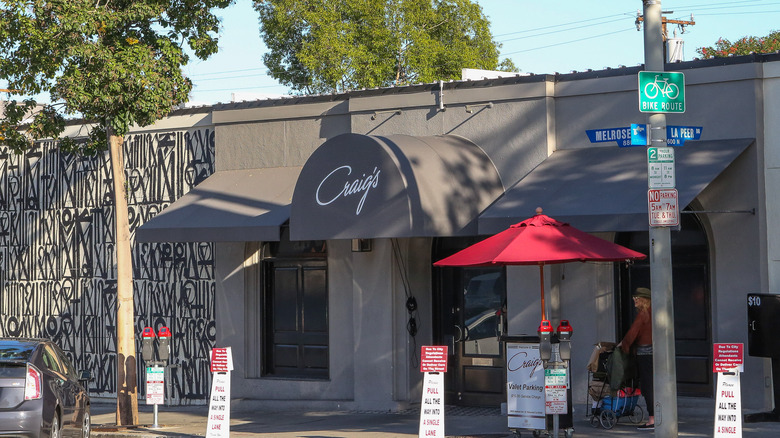 Fg/bauer-griffin/Getty Images
If there's one L.A. eatery that is famous for the famous, it would be Craig's. Located in Melrose, West Hollywood, it holds the reputation as the go-to restaurant where you are most likely to spot a celebrity. Frequenters include Kim Kardashian, Kanye West, and Justin Bieber.
You will have to make a reservation for Craig's far in advance and possibly fight through swarms of paparazzi to get through the doors. But, once inside, you can enjoy your trendy meal sitting amongst the stars, even if The Los Angeles Times reviewed the menu as "mostly mediocre," complete with a one-star rating. Irrespective of this negativity, L.A.'s celebrities favor Craig's over other options due to its emphasis on privacy. Thanks to its tinted windows feature, these well-known faces can relax without those snooping lenses documenting their every move. For this reason, you best keep your excitement to yourself if you happen upon George Clooney or Angelina Jolie. Otherwise, you may be asked to leave. 
Beverly Hills Hotel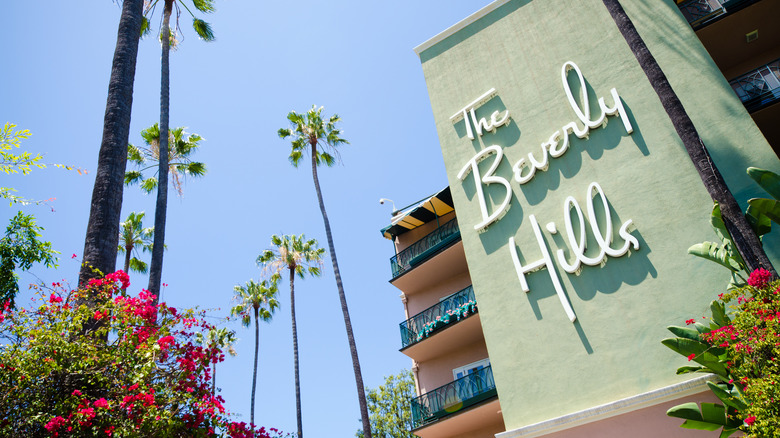 Gregobagel/Getty Images
The Beverly Hills Hotel is up there with the most recognizable names in the world. Established in 1912 on Sunset Boulevard, they've seen every generation of A-grade celebrity come and go, from Marilyn Monroe to John Lennon, Mark Wahlberg to Heidi Klum, and everyone in between. The mythology behind this location is so potent that "Hotel California" by The Eagles (one of the highest-regarded rock songs of all time) is loosely based on the accommodation. For further proof, you can even find the "pink palace" on the "Hotel California" album cover.
If you have the money, book a room and spend your days tanning around the Cabana Café, their notorious poolside restaurant. Wait here for long enough, and you're bound to see some Hollywood royalty getting up to mischief. However, like any respectable celebrity safe haven, the discretion of its guests is paramount. Hence, if they catch you taking photographs, you'll find yourself bouncing to the curb in a flash.
Chris McMillan Salon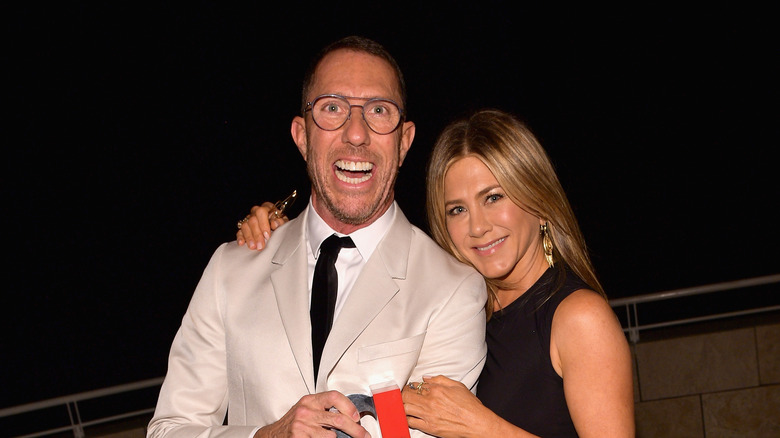 Matt Winkelmeyer/Getty Images
Chris is such a revered celebrity hairstylist that he has become a celebrity himself, going on to write a column for Allure Magazine for over a decade. And while his client list may be impressive, these big names are surprisingly overshadowed by the man's work itself. In 2012, Chris was the master scissors behind Miley Cyrus' new punk look. In 2014, he looked after Kim Kardashian's locks for her wedding with Kanye West. And in 2017, the world was shocked by McMillan's controversial buzzcut on top of Katy Perry.
Still not impressed? Then how about Chris McMillan's crowning achievement as the inventor of The Rachel style that Jennifer Aniston wore on the TV show "Friends?" That's why, if you need a trim, live like a superstar and consider visiting Chris McMillan Salon in Beverly Hills. The chop will cost you anywhere between $200 to nearly $1,000, but you could find yourself seated next to Bruno Mars or Mark Ronson, so ... worth it?
Musso & Frank Grill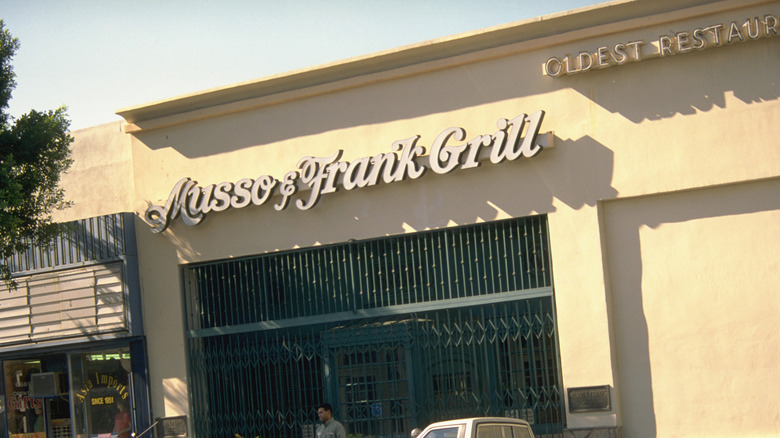 Sunset Boulevard/Getty Images
Founded in 1919, Musso & Frank Grill is Hollywood's oldest restaurant, meaning its career has persevered for longer than most of its famous clientele. Back in the Golden Age of Hollywood, people like Alfred Hitchcock and Frank Sinatra spent hours dining on this premises, while Charlie Chaplin had his own booth, which remains to this day. These personalities of yesteryear may be long gone, but L.A.'s "who's hot" still frequents the grill, with Jack Nicholson, Paul Dano, and Mila Kunis spotted in recent times. Part of the appeal comes with the venue's private room, used exclusively for film industry professionals to discuss projects.
Because of its historical significance, the eatery is featured in too many films to count, including "Ed Wood," "La La Land," "Once Upon a Time... in Hollywood," and "Ocean's Eleven." Musso & Frank Grill is such a star, in fact, that the Hollywood Walk of Fame gifted the restaurant with its own star on the street, the first of its kind to achieve the honor.
Runyon Canyon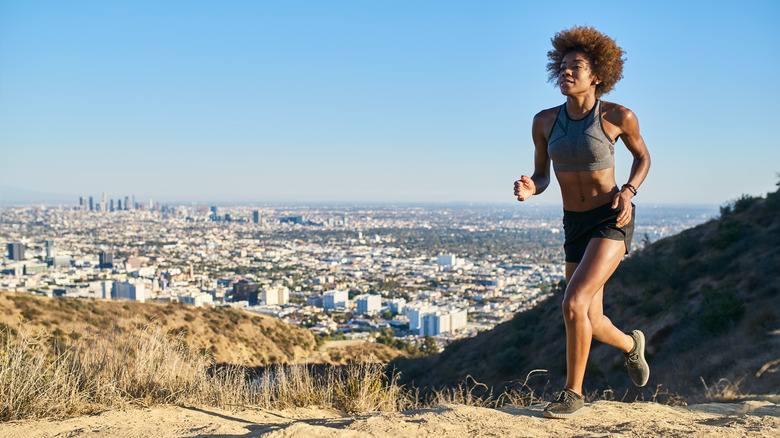 Rez-art/Getty Images
Chasing celebrities across L.A. can be such a tiresome business; hence, you might as well get some exercise while you do it. That's why the trails around Runyon Canyon Park are a goldmine for star activity. Its gorgeous greenery and liberal off-leash dog policies make it a favorite hiking spot for Los Angeles locals to accumulate their daily steps.
So strap on your running shoes and enjoy the many treks available over this 160-acre land. Best-case scenario, you may bump into one of the numerous superstars who frequent this path, including Charlize Theron, Natalie Portman, Justin Bieber, Channing Tatum, and Matthew McConaughey. Worst case scenario, you burn calories and breathe in a healthy dose of fresh oxygen away from the city smog. If you're feeling particularly fit, aim for the park's highest point, Indian Rock. At 1,320 feet, the expansive views might impress you far more than any famous person could.
Jimmy Kimmel Live!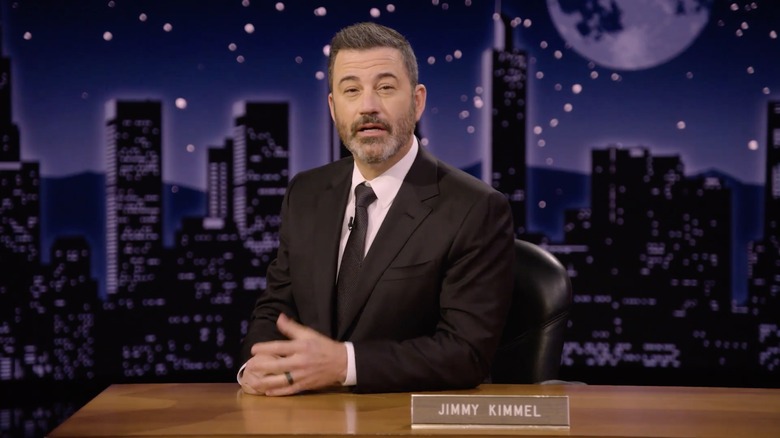 2022 Media Access Awards Presented By Easterseals/Getty Images
If you prefer to keep your celebrity spottings simple and guaranteed, there's no better strategy than to attend a talk show. When in L.A., "Jimmy Kimmel Live!" is your best bet, as it films every Monday to Thursday at the Hollywood Masonic Temple. The list of guests Kimmel has welcomed into his studio would fill an article of its own, but you can get a fair idea by watching his hilarious segments of Mean Tweets, where celebrities read the awful posts people write about them on Twitter/X.
Tickets to "Jimmy Kimmel Live!" are free if you're lucky enough to grab them, so keep refreshing the schedule to see who's on, and then click the request button as fast as your finger can manage. Just ensure you pack a valid I.D. that proves you are older than 18, and arrive 30 to 45 minutes before the filming time. And don't forget to wear something nice in case the TV cameras suddenly turn to face you.
Nobu Malibu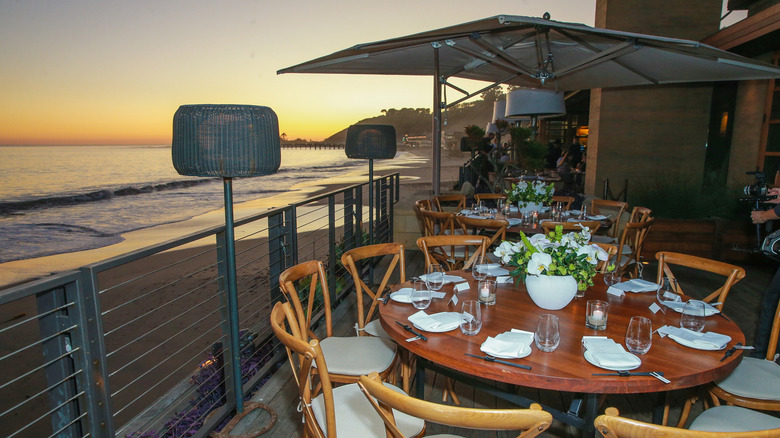 Rich Fury/Getty Images
Made for the stars by the stars, Nobu Hospitality is co-owned by Robert De Niro and operates hotels and restaurants worldwide. Chef mastermind Nobu Matsuhisa is behind the name, and his signature dishes are considered a "fusion cuisine" that mixes traditional Japanese cooking with Peruvian ingredients. The result is a highly regarded but dizzyingly expensive experience, with a single piece of sushi costing up to $17. But you know what they say, "You can't make an omelet without breaking some eggs," and you can't hang around celebrities without breaking the bank.
Thankfully, the chances of seeing familiar faces in Nobu Malibu are promising. The patron list is eye-watering but features the likes of Leonardo DiCaprio, Angelina Jolie, Machine Gun Kelly, Demi Lovato, and Chris Rock (to mention so very few!). For an additional jewel in Nodu's clout crown, Future and Drake name-dropped the establishment six times in the song "Jumpman."
Chateau Marmont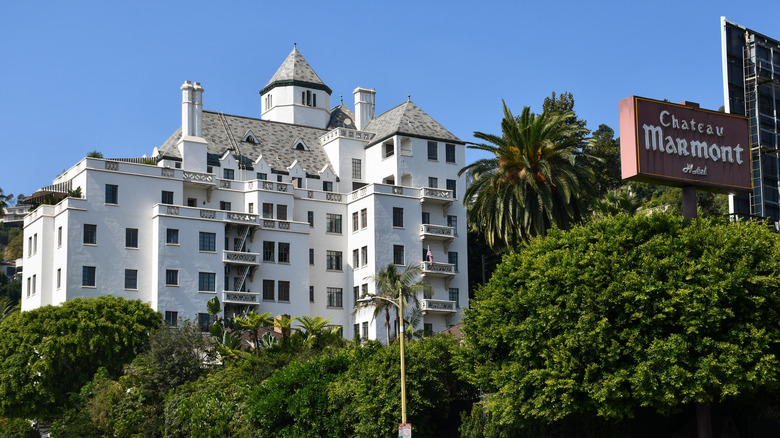 Anne Czichos/Getty Images
Celebrity residents treasure Chateau Marmont so profoundly that its name has spread across every entertainment medium imaginable. You can find this West Hollywood Hotel featured in several Oscar-winning films, including 2016's "La La Land" and 2018's "A Star Is Born". This reputation extends to the music industry too, with Lily Allen, Lana Del Rey, and Panic! At The Disco mentioning the venue in their lyrics. Anthony Kiedis from the Red Hot Chili Peppers went as far as to state that "The Chateau Marmont is probably the most beautiful soulful building in all of Hollywood, in an interview with Louder. "
Such an extensive resume speaks at deafening volumes, so much so that the Chateau Marmont has become more famous than its tenants themselves. So, if you're not worried about saving money in L.A., simply hang around this lobby for a few hours, and you will likely spot multiple celebrities in a single sitting. Otherwise, you may even get lucky by the doors, but be careful with the photography, as security won't hesitate to chase you away if they deem you a nuisance.
The Grove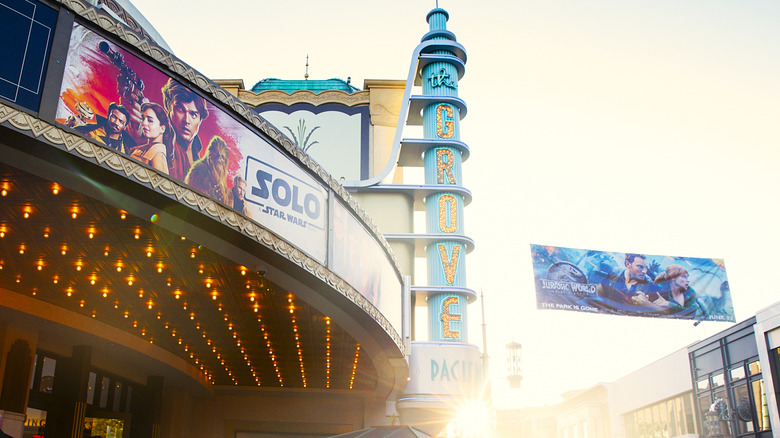 Stellalevi/Getty Images
Everyone needs some retail therapy sometimes, and celebrities are no different. That is where The Grove comes in. It's a high-end shopping mall perfectly equipped to serve the rich and famous. This complex is also part of the iconic Original Farmers Market, where more than 100 vendors cater to every taste. Brian Wilson from the Beach Boys even owned a health food store here in the late 1960s called Radiant Radish. He sometimes managed the counter himself while wearing his pajamas!
With restaurants, cinemas, and an hourly music fountain, there is always something to catch your attention at The Grove. However, the Barnes & Noble bookstore may be your greatest celeb gamble, with many big names launching their books here, including Jenny McCarthy, Nicole Richie, Jimmy Fallon, and Neil Patrick Harris. Keep an eye on The Groves' Barnes & Noble featured events page and meet the stars who will happily give you their signature (as long as you purchase their latest product, of course).
TCL Chinese Theatre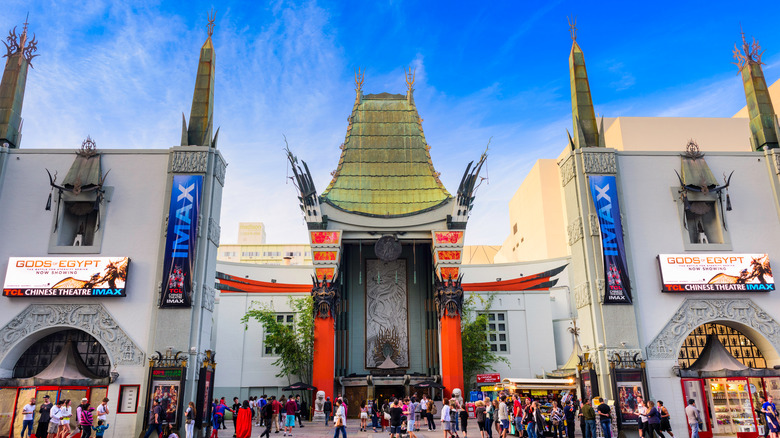 Seanpavonephoto/Getty Images
TCL Chinese Theatre (otherwise known as Grauman's Chinese Theatre) opened in 1927 and is now a world-famous movie palace that has stitched its name into the fabric of L.A. folklore. With its unmistakable East Asian architecture, it manages to stand out even among the craziness of Hollywood Boulevard, drawing attention from tourists and entertainment royalty alike. That is why it's the go-to choice for legendary film premiers, such as "The Wizard of Oz" in 1939, "Star Wars: Episode IV, A New Hope" in 1977, and "Inception" in 2010. From 1944 to 1946, the establishment hosted the Academy Awards ceremony, but that honor has since permanently relocated to the Dolby Theatre, a five-minute walk away.
Of course, one can never predict a celebrity spotting, but if the TCL Chinese Theatre proves unfruitful, you can always compare your palm size to the handprints of history's most prominent names. With close to 200 imprints in the concrete, some of the more interesting examples to scout out include Daniel Radcliffe's Harry Potter wand, Marilyn Monroe's earring, and Mel Brooks' sixth prosthetic finger.
Dan Tana's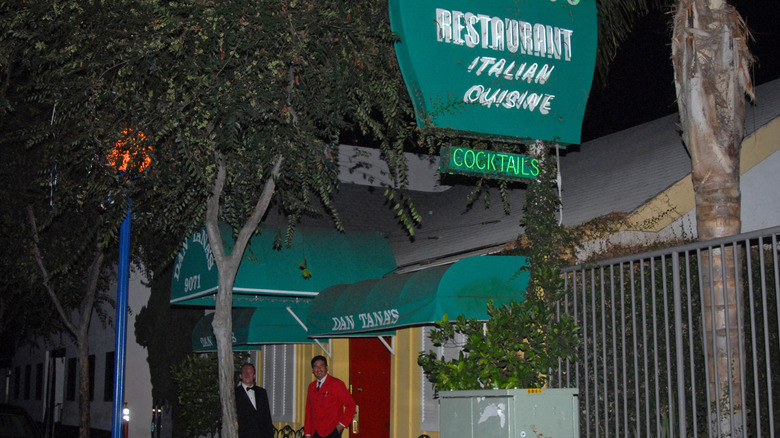 Bg043/bauer-griffin/Getty Images
Born in Serbia, Dan Tana climbed his way up the American dream, playing professional football, taking minor roles in films like "The Untouchables" and "Peter Gunn," and launching an eatery on Santa Monica Boulevard. In 1966, the Los Angeles Times dubbed the eatery the best new Italian restaurant in L.A., and since then, it has been a whirlwind of superstar activity. Jack Nicholson has sipped drinks here for around five decades. Cameron Diaz credits Dan Tana's as her first restaurant meal ever, remaining a loyal patron to this day. And baby Drew Barrymore famously had her nappy changed on the bar.
A major key to Dan Tana's success is its location, a cool 30-minute walk from the Academy of Motion Picture Arts and Sciences (AMPAS) headquarters. This means that if you happen to be at the right place at the right time, you could catch one of their legendary post-Oscar parties. Here, the likes of Mick Jagger, Madonna, and George Clooney were known to drink until 5:30 a.m.
TMZ Celebrity Tour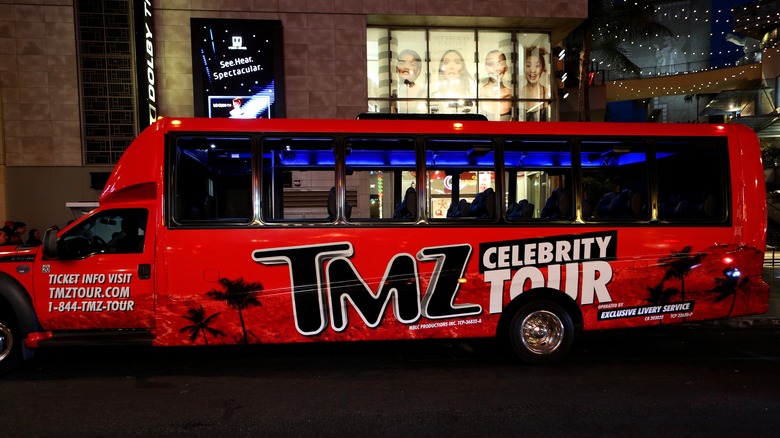 Raymond Boyd/Getty Images
If anyone knows anything about hunting celebrities in the wild, it would be the tabloid news organization TMZ. After building their career at the gossip forefront, their reputation isn't exactly the kindest you'll hear in the city. Understandable criticism has followed many of their decisions, for example, when they reported on Kobe Bryant's passing before his next of kin was notified or when they purchased stolen items from the fourth Indiana Jones installment. However, if you can temporarily set your morals aside, TMZ offers a celebrity bus tour, which drives you around the most important landmarks in Beverly Hills, the Sunset Strip, and Hollywood.
Of course, there are never any guarantees that you'll come across your favorite actor, but if TMZ couldn't find them, rest assured that nobody could. However, even without any payoff, you'll still enjoy your trip as you learn insider information about this crazy neighborhood while seated on a comfortable leather chair with your phone charging by your side. Interested? Then book the TMZ Celebrity Tour! Not interested? Never fear, for there are various other Hollywood tour options to check out.
Warner Bros. Studio Tour Hollywood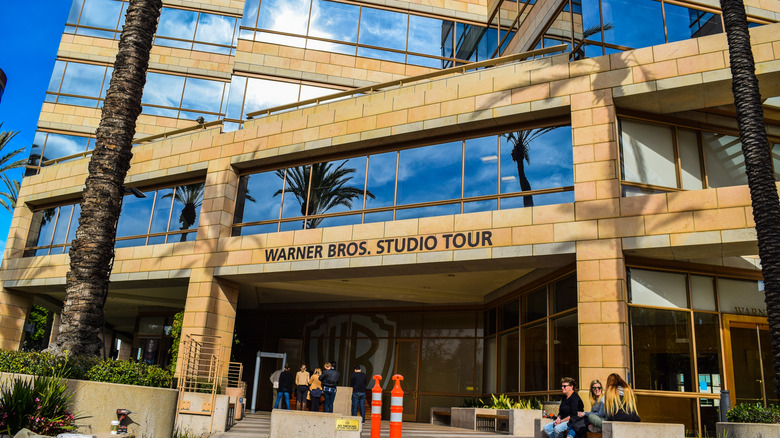 Ivandancom/Getty Images
If you're getting desperate, one surefire way to encounter celebrities is to corner them at their place of work. And when you're talking about studios bustling with talent, there are not many examples that can top the mighty Warner Bros. Unsurprisingly, you won't be permitted to simply stroll into the lot and shake hands with the first actor you come across, but you can book a Warner Bros. Studio Tour for only $70.  That price gets you an expert guide who will point out the sets you've seen a million times on your TV, including the genuine couch and fountain from the Friends opening credits.
Much like anything in life, there is no promise about who you may or may not bump into here. However, to increase your probability, you should eat your lunch at the Commissary Fine Dining Room, where stars and directors frequently sit to discuss projects. And while you're in the area, you might as well grab a cup of coffee at the recreated cafe where Emma Stone worked in "La La Land."
Los Angeles International Airport (LAX)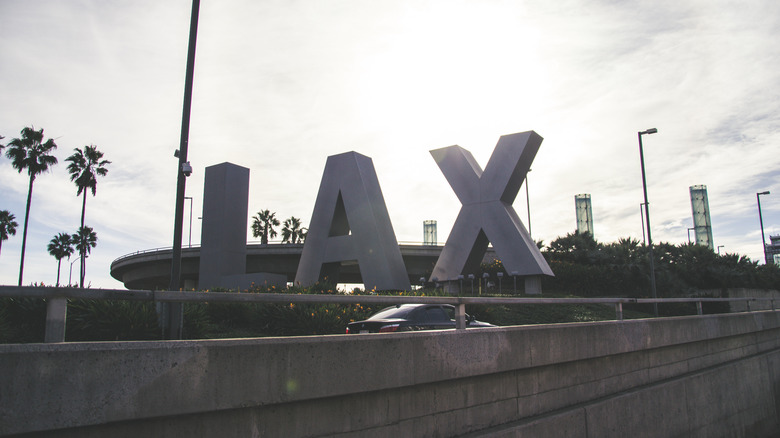 m1ke24/Shutterstock
While statistics are in your favor, when it comes to meeting famous names in Los Angeles, bad luck can always strike, and many a sad soul has returned home without any juicy stories to tell. But do not give up just yet! Because even celebrities love to explore the world, and private jets are a luxury only the wealthiest of the wealthy can afford. This means that LAX airport is frequently swarming with recognizable faces, and your flight out could be the last-minute save you need.
Unfortunately, you are not alone in your quest, and the pestering of the rich and famous has become such an annoyance to those involved that LAX has set up a celebrity-exclusive terminal. These suites shut out the public's prying eyes while offering complimentary meals, personal showers, and an assistant to handle the luggage. It costs $4,350 one-way, so if you're willing to drop that kind of money, there's still hope for your celeb-mingling dreams!
Otherwise, you could always resume your chase in other popular cities. Check out these guides to celeb-sighting in New York, finding the stars in London, and spotting famous faces in Paris.