12 Places Where You're Most Likely Able To Spot Celebrities In London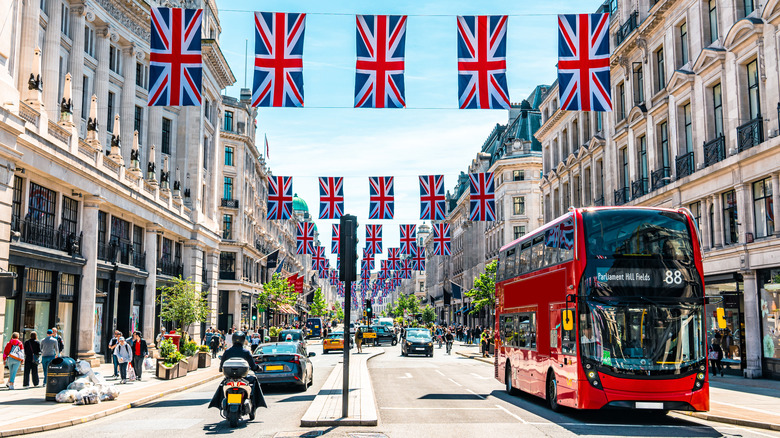 Chunyip Wong/Getty Images
London is a town full of excitement and action. The British capital city is home to almost 9 million people and is divided into 32 administrative boroughs that stretch this metropolis into a sprawling Greater London area. It's a fantastic destination for solo travelers and groups of all sizes. From a statue commemorating hometown phenom Amy Winehouse in Camden's Stables Market to the small green plaques that populate the city and showcase sites that once housed other famous and historic individuals, London has always been blessed with celebrity status.
The people who live in the city are as diverse as they are interesting, and the historic cultural meeting space that London offers draws celebrities from all over the world. Spotting them offers visitors and Londoners alike a fabulous pastime. As a years-long Londoner myself for a time, identifying famous personalities (typically from afar) simply falls into the daily ritual while out on the town. From an ad hoc appearance by Gordon Ramsey in one of his restaurants to the odd footballer walking around on the streets, there's no end to the opportunities that London presents an eagle eyed visitor on the hunt to knock elbows with a celebrity. While the city is certainly massive, these are twelve of the best places to head off toward if you're looking to encounter some star power while in London town.
The Grapes (Limehouse)
First up is a truly historic pub just a stone's throw from central London. Narrow Street is a picturesque location in London's iconic Limehouse neighborhood, which took its name from the lime kilns that supported the London building industry in the 14th century. Later, the community was home to large Chinese immigrant populations and was a favorite literary backdrop for writers like Arthur Conan Doyle, Oscar Wilde, and Charles Dickens.
Found prominently on the east side of Limehouse Basin, Ian McKellan's pub, The Grapes, acts as a hive of activity among celebrity locals and Sir Ian McKellan himself. The Grapes is a snug and 'narrow' pub, sporting a traditional Victorian bar setup. Behind the taps, visitors will also find the prop wooden staff that McKellan wielded while portraying the role of Gandalf in the "Lord of the Rings" theatrical trilogy. The Grapes hosts a quiz night on Mondays, and locals who frequent the establishment note that McKellan, who reportedly lives in one of the luxury Narrow Street homes, is a common sight at the pub for these gatherings. Other celebrity residents of the area include John Suchet, a newsreader, and the playwright and actor, Steven Berkoff. So, even if you don't spot the silver screen Wizard in his element, don't fret. Wandering around the green space and residential areas adjacent to the pub can offer the opportunity for other celebrity encounters.
The Swan (Near London Bridge)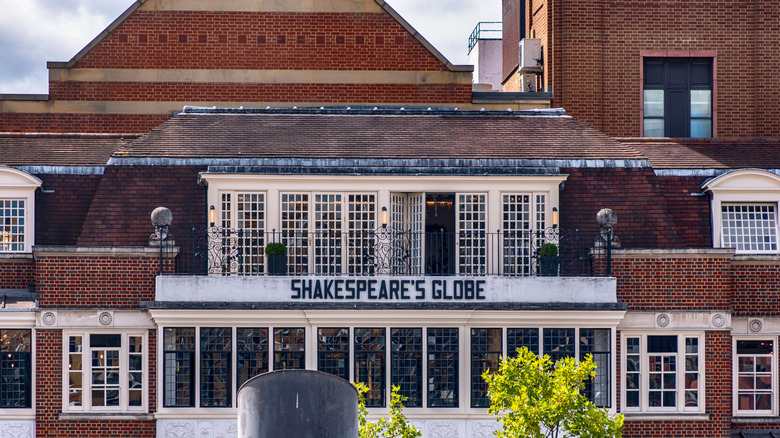 Altosvic/Shutterstock
The Swan is another unique pub with some historical undertones. This one's attached to the iconic Globe Theater compound, making it a simple hop from the viewing decks to a table for after-show drinks (or vice versa). This is exactly what has been known to happen among famous patrons and actors, too! Icons like Dame Judi Dench, Jude Law, and Stephen Fry have all been spotted in the establishment. Moreover, stage players have been known to make their way into the pub after a performance for a well-deserved drink or two, so hanging around after the show can bring you closer to your favorite Shakespearean actors as well.
In addition to famous faces, The Swan sits directly against the Thames, and it even sports an outdoor terrace across the cobbled walkway for a seat directly against the river's edge. Right in the heart of central London, stopping here for a drink is a great way to take in the sights and sounds of the city itself.
The Ivy (Central London)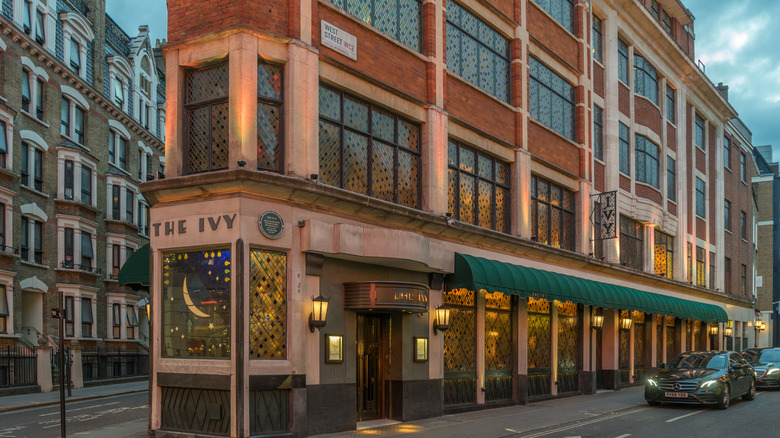 RichartPhotos/Shutterstock
The Ivy is a mainstay in the London dining scene. Additional locations can be found around the city, but the quintessential incarnation has to be the central London spot right on the northwest edge of Covent Garden. Sandwiched between three of the busiest tube stations in the city, this part of town is always on the go, and it's home to much of London's theater marketplace, too. Upscale restaurant and bar locations around theaters are a surefire way to spot a familiar face in the crowd, and The Ivy is certainly no exception. This restaurant has been around for nearly a century and has been hosting famous names for much of its life.
Visit London says titans of the screen and stage like Laurence Olivier and Noel Coward once frequented the joint. In modern times, Angelina Jolie, Kate Hudson, and the Beckhams have all been spotted here. The Ivy is a classic pre-theater dinner spot, and while you're there, don't be surprised to see a famous face or two!
Joe Allen (Covent Garden)
Joe Allen is an American restaurant that's been successfully transplanted into the London dining scene. It's located in the buzzing Covent Garden neighborhood, making it a favorite among many who throng through the streets of London. It's also a trusted place to get a hearty bite to eat for those traveling. What's more, Joe Allen has been known to host a revolving door of stage actors, celebrities, and their companions. Stephen Fry has been spotted here, and with its close proximity to the theater district and tasty plates on offer, many performers flock to Joe Allen's after singing and dancing their hearts out for a captive audience.
Reviews of the establishment tend to tout the food and atmosphere. As well, Joe Allen provides a dining space that's devoid of private nooks and rooms, instead placing all guests in the singular dining hall. This makes the Covent Garden staple a great option for anyone seeking to rub elbows with their favorite actors after watching them perform.
Downing Street and Parliament (for politician sightings)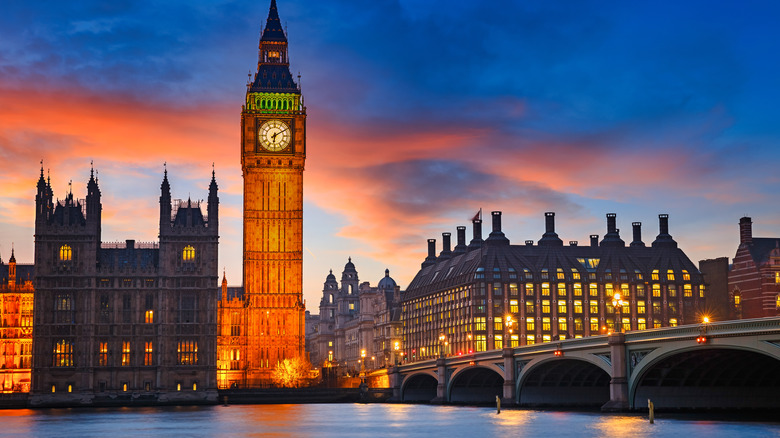 S.Borisov/Shutterstock
Visitors won't be able to walk right up to the familiar front door of 10 Downing Street, but getting a view of the courtyard is entirely possible from beyond the gates. Government figures, including the Prime Minister, often give interviews from this space outside their home and workspace, so watching one of the Secretaries deliver remarks from the main street is a great way to take in a piece of the action.
Alternatively, visitors are able to sit in the gallery above the Parliament floor and watch live debates. You won't need to register or make any sort of prior reservation to take advantage of this feature of the U.K. Government, just show up! However, you'll want to look up the times for particular action items on the day you're planning to listen in so that you can select something of interest. This offers you an excellent way to catch a glimpse of government in action and take in sights of some of Britain's most important political players.
The Groucho Club (Soho)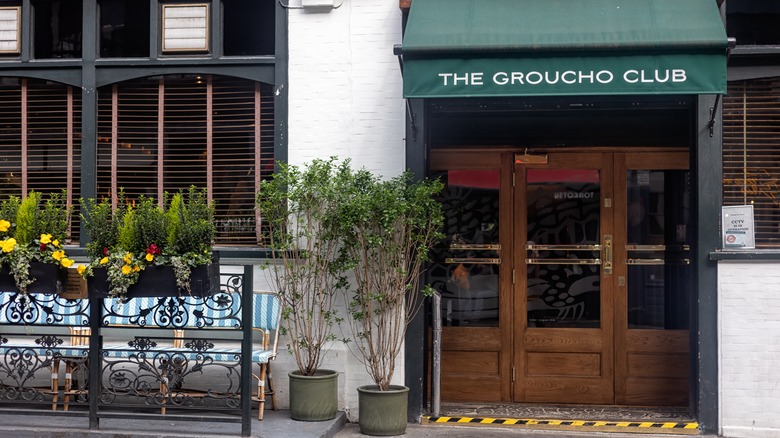 Chris Lawrence Travel/Shutterstock
The Groucho Club is the only destination on this list that isn't a straightforward celebrity-spotting location. This private member's club in Soho can be found nestled behind Leicester Square and Piccadilly Circus on Dean Street. Soho itself is a ritzy affair, both architecturally and in the personalities that frequent the area. It's not uncommon to see famous people wandering around this edge of the West End theater district. The Groucho Club is also almost directly across the main traffic artery (Shaftsbury Avenue) from Chinatown, giving this stop on your to-do list even more versatility.
The club was founded primarily by women working in publishing and the arts and entertainment industry more broadly in the 1980s. It was formed to provide a chic alternative to the stuffy society haunts that had dominated London for generations. It certainly achieves this mark, with all manner of celebrity guests flowing through the doors of the establishment. Lily Allen and Kate Moss are members, and Bono, Bill Clinton, and Nigella Lawson have all prominently flashed their renowned mugs around this unique London spot.
The Notting Hill neighborhood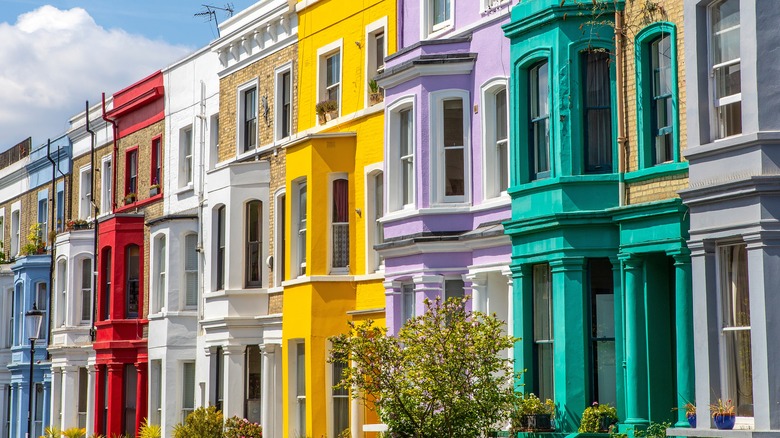 chrisdorney/Shutterstock
Notting Hill isn't just the setting of the cult classic film. It's a somewhat eclectic and always fashionable destination that any celebrity spotter will want to visit while in London. It's not a sprawling community, but the streets and alleyways that make up Notting Hill are full of vibrant people and a marketplace that draws in celebrity visitors with a somewhat surprising degree of consistency. Found on the famous Portobello Road, the market shops and street vendors' tents are fantastic places to scope out a few famous people.
In addition to the market, the colorful facades of Notting Hill have housed many famous people over the years. Robbie Williams and Simon Cowell once called this area home, and Blur's frontman Damon Albarn is said to still live here. Even if you aren't able to get a gawk at someone famous around Notting Hill, the architecture, and the community calendar of events are enough to make this a must-see part of town. The Notting Hill Carnival, for instance, takes place over the bank holiday weekend in August. It's a phenomenal street festival that shouldn't be missed if you'll be in London while it's taking place.
Clapham Common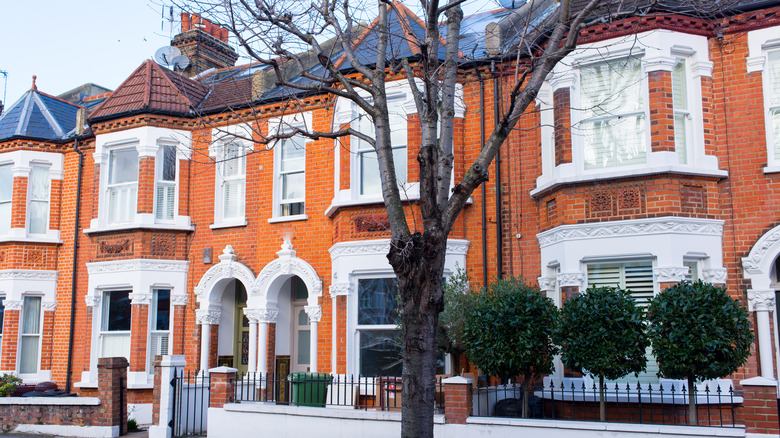 DrimaFilm/Shutterstock
Clapham is somewhat of an up-and-coming attraction in the London scene. It's one of the only locations found south of the Thames River (where transportation infrastructure has historically been the weakest in the city), but this doesn't take away from the allure. Places down south like Clapham, Blackheath, and Elephant & Castle all offer significant green space. Clapham Common, which can be found a short burst from the riverside Battersea Park is a fabulous example. In the park area you can find food and drink options, and while you're taking in the sunlight on a London afternoon, be sure to keep on the lookout for a few famous residents. Among Clapham's vintage mansion homes, Piers Morgan, J.K. Rowling, and Sarah Ferguson are said to live here.
This area is known for a recent influx of entrepreneurs, playwrights, and those high up in the world of finance. It's in a part of town that hasn't been known for the same kind of extravagance as other central London areas, but offers access to these parts, as well as features like the nearby O2 Academy Brixton—a concert venue that's always got something exciting on tap. Combined with its penchant for hosting celebrity parties, this is a great place to go celebrity sightseeing.
St John's Wood and The Regent's Park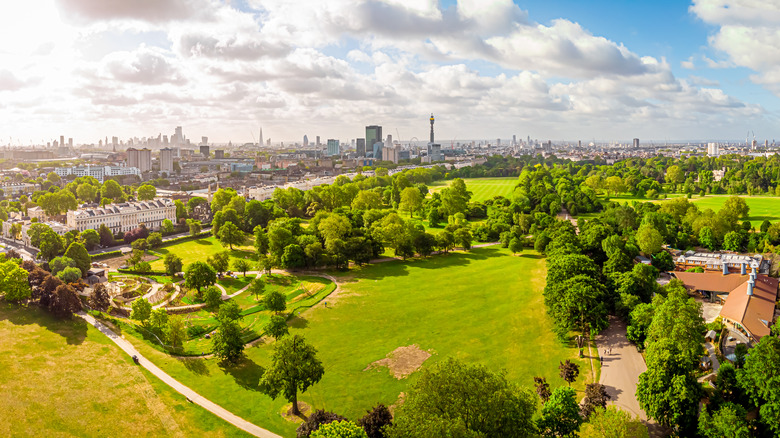 Alexey Fedorenko/Shutterstock
St John's Wood is home to a wealth of famous personalities. This is yet another compact neighborhood located in west-central London, and wraps around The Regent's Park, a beautiful green space that's also home to the London Zoo. Lord's Cricket Ground is also sandwiched into the center of the community, and visitors will find the legendary Abbey Road Studio here, too.
Beyond the sights of affluence and beautifully laid out restaurants and pubs on both the high street and in the surrounding lanes, St John's Wood is home to many celebrities. Damian Lewis, Kate Moss, Bill Nighy, Keith Richards, Ewan McGregor, and Paul McCartney are all said to live in this part of London. The sheer volume of fame that litters these streets makes it a fantastic place to wander around if you're after a celebrity sighting. The architecture and haunts of the community aren't bad either, making for a great day out on the town even if you aren't able to spot anyone famous.
Chiltern Firehouse (Marylebone)
The Chiltern Firehouse is located in Marylebone, sandwiched beneath The Regent's Park and above Mayfair, Hyde Park, and Soho. This makes it a haven for the rich and famous, and the architecture, history, and aesthetic are all aptly regal and elegant. A space that's consistently seen as a magnet for famous personalities is the vintage firehouse-turned restaurant and hotel. Rooms here will cost you a pretty penny (£600 or more for the night and upwards of £2,000 on select evenings!). Both the guest rooms and dining area offer all the classic trimmings of luxury, however. The restaurant has been reviewed favorably by the Michelin Guide and celebrities have certainly taken notice.
Local guides suggest that while reservations are next to impossible to come by at this luxurious dining experience, loitering around the area is really all that's necessary. Famous names like David Beckham, Jennifer Lawrence, and Bradley Cooper have all frequented the establishment in the past. It certainly helps that the decor appears as if it could stand in perfectly for a movie set!
Bluebird Chelsea (Chelsea)
Bluebird creates a big draw for the well to do in London's westside Chelsea neighborhood. This part of town is the host for one of the U.K.'s favorite reality TV shows, "Made in Chelsea," and the cast can often be found sitting in Bluebird ordering drinks or having lunch while basking in the English sunlight. The outdoor terrace is a fantastic spot to enjoy the London summertime, and its location in this luxurious part of the city combine to create the perfect atmosphere for celebrity visits.
In addition to the "Made in Chelsea" cast, food and lifestyle bloggers are often buzzing around the restaurant, providing another layer of celebrity status to keep an eye out for. Indeed, there's something special about meeting one of the people who you read or watch all the time for their insights rather than their acting chops on the Hollywood scene. However, actor Eddie Redmayne and model Lottie Moss have also been spotted here.
Knightsbridge (near Hyde Park)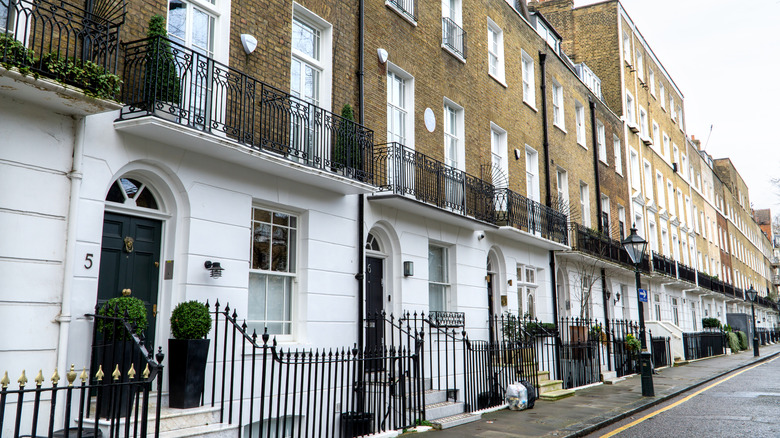 cktravels.com/Shutterstock
Finally, Knightsbridge is a Central London neighborhood that's home to a wealth of celebrities. In this slice of London, you'll find Harrods, Hyde Park, the swanky Mandarin Oriental Hotel, and the Victoria and Albert Museum. But the thing that really sets this neighborhood apart is One Hyde Park. This residential complex offers the most expensive private real estate in all of the United Kingdom. Kylie Minogue lives here, and other owners include the Prime Minister of Qatar, and the Kazakh copper baron, Vladimir Kim.
Moving away from the ultra-wealthy in the area, there are quite a few famous names that have also called this part of the city home. Richard Branson, Eric Clapton, and Rowan Atkinson all have been or are prominent residents here. In addition to those who call Knightsbridge home, this centrally located part of town acts like a hub for those moving around the city or taking time out to relax during the day. Hyde Park is a great example of this, and it even serves as the backdrop for many events put on by the city's social organizers. Hyde Park is home to London's Christmas Markets from November through the holiday season, and in the summer it hosts a packed slate of concerts. This year, Bruce Springsteen, Billy Joel, and Pink all played shows. If all else fails, catching sight of your favorite singer can clearly be done in Knightsbridge!