The Best Hollywood Tours To Take On Your Next Trip To LA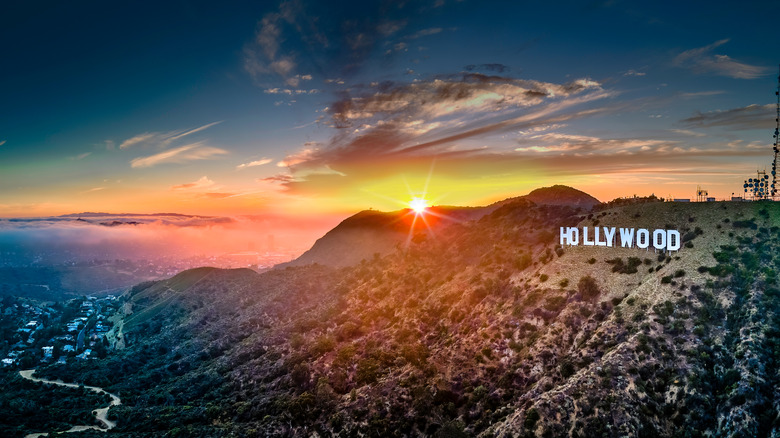 Larry Gibson/Shutterstock
Los Angeles is a popular destination for anyone hoping to hit it big in Hollywood and countless people relocate there every year to follow their dreams. But the home of the rich and famous is also targeted by travelers looking to visit and soak in all Hollywood has to offer temporarily. Millions of people visit here each month and, as such, there are plenty of tours available for those who want to experience as much of the area as they can while learning about film studios, the lives of celebrities, and the long history of Hollywood. 
Because there are so many tours happening in Hollywood, it can be hard for visitors to narrow down their search or choose which experience best suits them and their needs. We've compiled a list of some of the very best tours available in the city and by comparing them with your particular interests and what you expect out of a trip to Hollywood, you should be able to find the perfect match to elevate your Hollywood stay.
Warner Brothers Studio Tour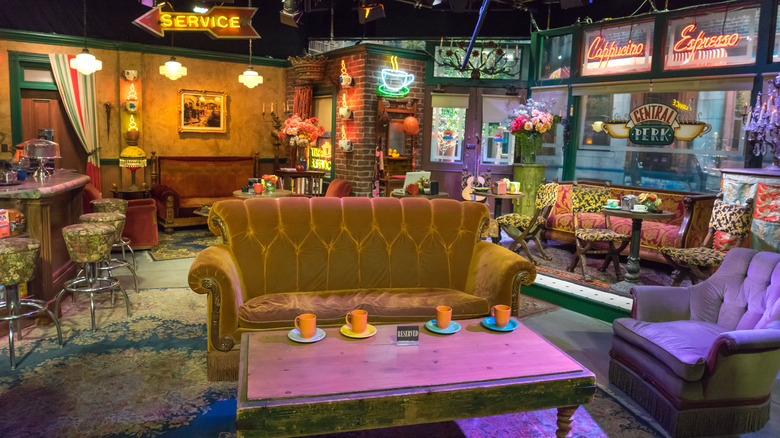 RichartPhotos/Shutterstock
There are four major Hollywood studios that give popular studio tours, and though they have their similarities, they all have their individual strengths too. Depending on what kind of films and TV shows you are into, you may want to opt for another studio, but the Warner Brothers Studio Tour has a particularly impressive range of productions and franchises that have been released under its studio. Fans of the "Harry Potter" and DC Superheroes franchises as well as the cult classic series "Friends" will enjoy the tour in particular, as those shows and films are the focus of the tour. Warner Brothers Studio not only has props and memorabilia from these popular productions but there are also entire sets for some of these shows.
The Warner Brothers Studio is huge and you could spend all day there, but the tour only last about three hours with one hour guided by a knowledgeable employee and the other two unguided, leaving you free to roam and explore what areas you are most interested in. If you just don't think that's enough time and are particularly interested in how films get made, you can opt for a six-hour tour that includes lunch and a special behind-the-scenes look at how the film magic works. You'll also get to visit the property house, where a massive collection of film props live.
The Perfect Los Angeles Bus Tour by Surf City Tours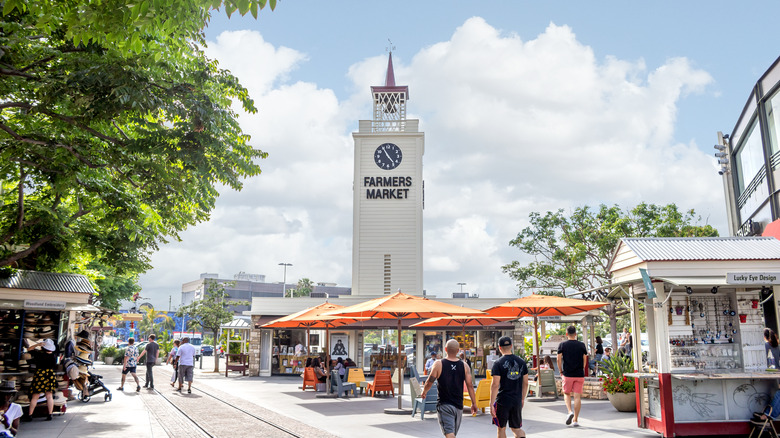 The Image Party/Shutterstock
If you are looking for a long and in-depth tour of both Hollywood and the surrounding Los Angeles area, then the Perfect Los Angeles Bus Tour should be on your radar. The tour is almost an all-day event, taking about five and a half hours and covering both Hollywood and parts of Los Angeles, starting at Santa Monica Pier. On this tour, you'll take in some of the highlights of other tours and combine them into one extensive overview of the area. For travelers who don't want to commit such a big chunk of time out of their vacation, a shorter version of the tour is offered and focuses just on Hollywood.
While the tour does not do a deep dive into any one area, it does leave tour-goers with an hour at both the Hollywood Walk of Fame and the Original Farmer's Market, both locations being a historic part of the area and ripe with shopping opportunities. Participants will also get views of the Hollywood sign and some celebrity homes, giving visitors a well-rounded tourist experience that includes all the iconic LA stops.
Terrors of Tinseltown Tour by US Ghost Adventures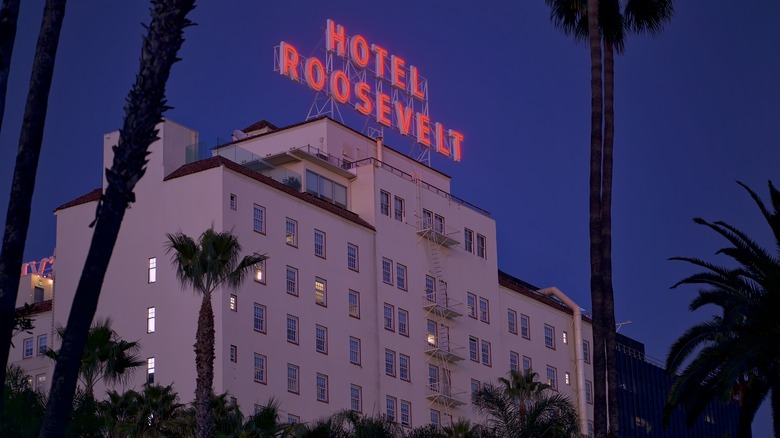 Elliott Cowand Jr/Shutterstock
Cities like Salem, Savannah, and New Orleans are famous for ghost tours and are known as some of the most haunted cities in the country, but Los Angeles has its own fair share of ghosts, too. Hollywood in particular is one pretty haunted district of Los Angeles, and there are even movie sets and films themselves that are said to have been haunted.
If you don't mind being on your feet for over an hour, the Terrors of Tinseltown tour by U.S. Ghost Adventures is a great way to see all of Hollywood's creepiest and most haunted locations. The tour stops at several sites that have been known to have paranormal happenings all in under a mile's worth of street, and some of the spooky sites even have tales of eye-witnesses to really hit home on how Hollywood's past is littered with chilling experiences.
The tour, of course, travels Hollywood Boulevard after the sun has already set, and takes visitors through the stories of some of the most iconically spooky buildings in the area, like TCL Chinese Theater and the Hollywood Roosevelt Hotel. The haunted destinations seem even more foreboding at night, so this tour is not for the faint of heart.
Mt. Hollywood Trail Tour by Sunset Ranch Hollywood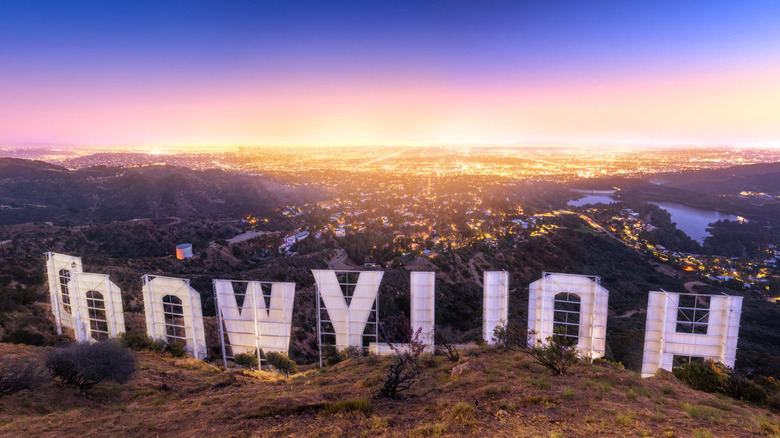 Chones/Shutterstock
There are numerous ways to see the famous Hollywood sign that has been documented in countless Hollywood-set films and can be seen from a good portion of the Los Angeles area. While you can certainly take off on foot by yourself and hike one of the many trails that lead to the sign, the Mt. Hollywood Trail Tour by Sunset Ranch offers the opportunity to see the sign via horseback. Not only is this a more relaxing and less exhausting way to see the Hollywood sign than hiking in Los Angeles, but it combines two pretty spectacular experiences into one and allows animal lovers to bond with their chosen steed.
There are actually two ways to see the sign on horseback, one during the day and one at sunset. While both of these tour options offer value to those who love the idea of touring via horse, the time you choose to visit the sign will result in a completely different view. Taking a day tour will give you a clear picture of not only the Hollywood sign but the cityscape below. If you instead opt for a sunset ride up Mt. Hollywood, you'll likely be heading up around golden hour and reaching the sign around sunset. This offers a great window of time to see Hollywood in a beautifully unique way, and you may even be able to catch the cityscape as everyone turns on their lights for nightfall.
True Crime, Creepy Tales by ExperienceFirst California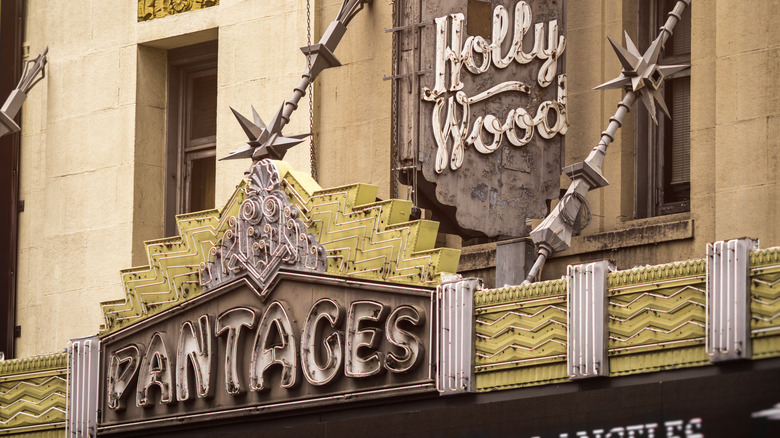 Atomazul/Shutterstock
People love hearing about true crime, as is evident by all the podcasts and docuseries that are consumed regularly by the masses. It only makes sense that Hollywood, with its grisly and somewhat hidden past, would have a tour focused on some of the horrors that have happened there, both infamous and lesser known. The True Crime, Creepy Tales tour from ExperienceFrist California takes participants along Hollywood Boulevard to some well known ghost haunts, but they also focus on the stories of murder and death that have plagued the history of the place.
Tour-goers will learn about the Hollywood Ripper, an aspiring actor who killed two young women in their homes, as well as Charles Manson and his murderous cult. Other highlights of the tour include the Pantages Theater, where a number of ghosts (including Howard Hughes) reportedly hang out, and the Hollywood Sign, which has its fair share of dark tales in its own past.
This two-hour tour begins in the evening and goes past dark, so be prepared to have the cloak of night to aid in creating a spooky environment while learning about some of the most gruesome elements of Hollywood's past. You'll be traversing Hollywood Boulevard by foot for this tour, so be on the lookout for a famous ghost or two as you make your way between destinations.
Old Hollywood Walking Tour by April's Old Hollywood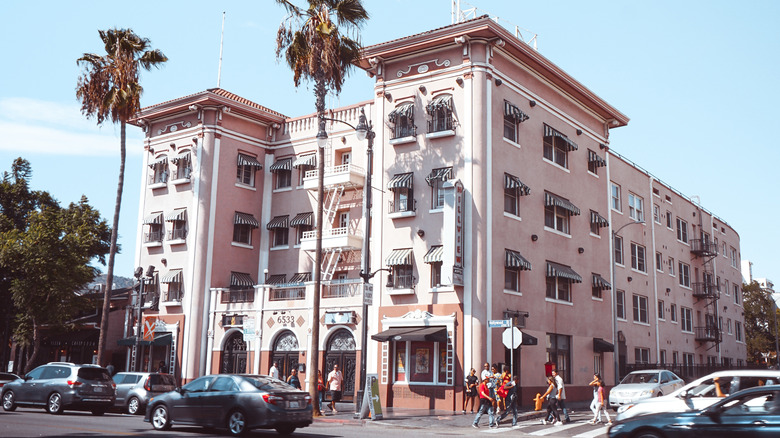 Alex G Tor/Shutterstock
History buffs and fans of the classic, old-school Hollywood should buckle up, because this one is definitely for you! Hollywood has seen quite a few transformations over the years, but the ghost of the '10s and '20s is one that sticks around because plenty of people still consider it to be the golden age of Hollywood. April's Old Hollywood tour is guided by April herself, who is a Hollywood historian and has been celebrated for her knowledge about the popular destination's times gone by. She also offers virtual tours and a cocktail hour, so you don't even need to physically travel to Hollywood to be transported back to the time of old movie stars.
April takes her tour group on a journey that may only cover five blocks of Hollywood but also transports participants back in time to the very beginning of Tinseltown. A vision of the past, April teaches groups about many of Hollywood's firsts while dressed in vintage fashion. For ultimate fun and to embrace the tour in full, you are more than welcome to dress the part too!
Hollywood Homes Self Drive Tour by Action Tour Guide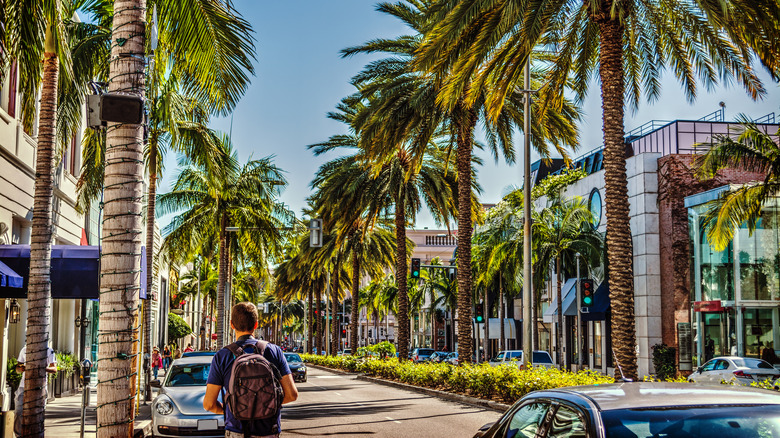 Gabriele Maltinti/Shutterstock
If you're the type of film and TV fan who wants to get up close and personal to some of the biggest celebrities who reside in Hollywood, then a celebrity homes tour is something to consider. It's important to remember that celebrities are real people, though, and a constant stream of tour buses gawking at your home may not be the most fun way to live. For that reason, we have included a self-guided Hollywood home tour that is a little more discreet in nature and is hopefully more ethical and respectful to the residents of the area you'll be exploring.
While you won't have the voice of a tour guide blasting over a megaphone to inform you of which house is home to your favorite A-lister or the history of each celebrity home on Rodeo Drive, you will have a more peaceful and low-key tour where you can go at your own pace. The self-guided tour does have information available about each celebrity house, though, so you will not be foregoing a knowledgeable guide by taking your own car.
Keanu Reeves, Leonardo DiCaprio, and Elton John are just a few of the many celebrities whose homes are available to find and see for yourself. If you have your own or a rented vehicle while visiting Los Angeles, this self-driven celebrity tour should be on your radar if you are all interested in seeing where the rich and famous like to rest their heads.
Neon Night Walks by Museum of Neon Art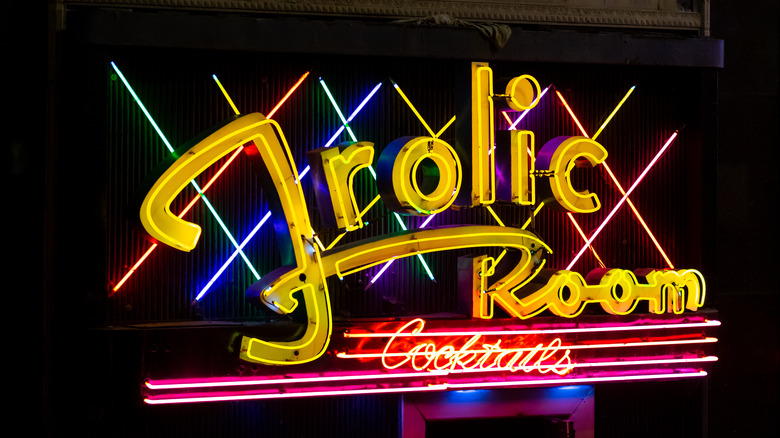 Logan Bush/Shutterstock
Los Angeles' Museum of Neon Art in Glendale puts on a night walking tour that takes participants to a number of districts, including Hollywood, in order to admire the architecture and the many neon lights that color the night of Los Angeles. The Neon Night Walks are a more accessible version of the museum's Neon Cruise, which takes place at least twice a month during the summer months. There is also a digital version of the tour for those who want to enjoy the art of neon and its history from the comfort of their own home.
The Neon Night Walks are unlike any other tour in the area, and although it doesn't focus entirely on Hollywood, it is certainly a tour you should take if you are visiting the area. Participants are guided throughout LA to spots where neon is both heavily used and used on historic signs and buildings. A highlight of the tour is Chinatown, where red neon lights are plentiful.
Classic Convertible Tours by Classic Experiences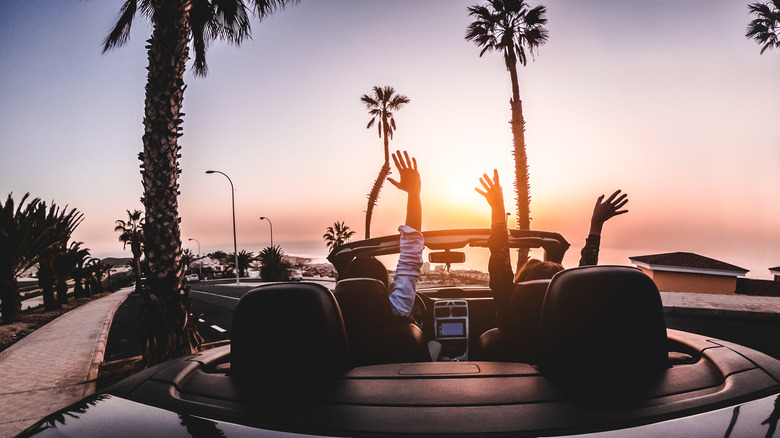 DisobeyArt/Shutterstock
If you are looking for a private tour that takes in everything Hollywood has to offer with a whole lot of class, seeing the city from the inside of a '70s convertible sure fits the bill. While it's one of the most expensive tours on the list, it might be the most comfortable. Not only will the guide pick you up anywhere in the area to begin your tour, but the drive consists of over three hours of exploring all over the city and seeing popular sights that could not be fit into a walking tour or if you are relying on public transportation during your trip.
Where other tours usually take 15 to 20 people in one booking, a convertible tour is much more intimate with just the guide in the driver's seat and your small party along for the ride. You'll have the freedom to ask as many questions as you want without it hindering the schedule or the other tour-goers' experience and you'll be traveling in style with an air of luxury for at least three hours. The classic convertible tour also sets aside time to have a meal by the ocean or at one of Los Angeles' esteemed cafes. If you're looking for a stress-free tour that allows you to enjoy the day with a few friends or your family, this is a great option to consider.
Free Tours By Foot Hollywood Tour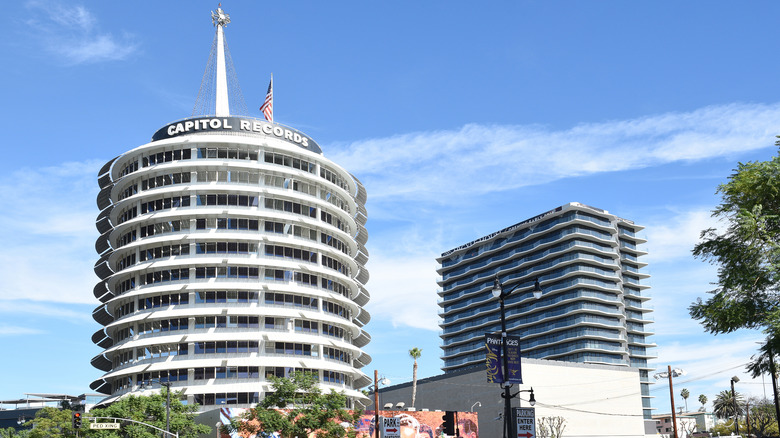 Steve Cukrov/Shutterstock
For travelers who would like to see Hollywood via tour and don't have a huge vacation budget, Free Tours By Foot's Hollywood Tour is a fantastic option, as they have a collection of trusted and affordable tours in many cities throughout the world. While you do still need to book a spot on the tour and it is headed by a knowledgeable guide, the tour is pay-what-you-can or name-your-own-price. If you can afford it, the company suggests that you price the tour on what you think it is worth and based on its value, but it is a great option for travelers who don't have much extra to give.
You'll see and learn about a number of famous Hollywood landmarks on this tour, and the history and beginning of Hollywood is a focus as well, with the Chinese Theater and Capitol Records Building both being prominent landmarks that the tour will cover. Over the course of a couple hours, guests will walk around two miles learning the ins and outs of the district, so participants should have their walking shoes ready.
Hollywood Tour by Bikes and Hikes LA Tours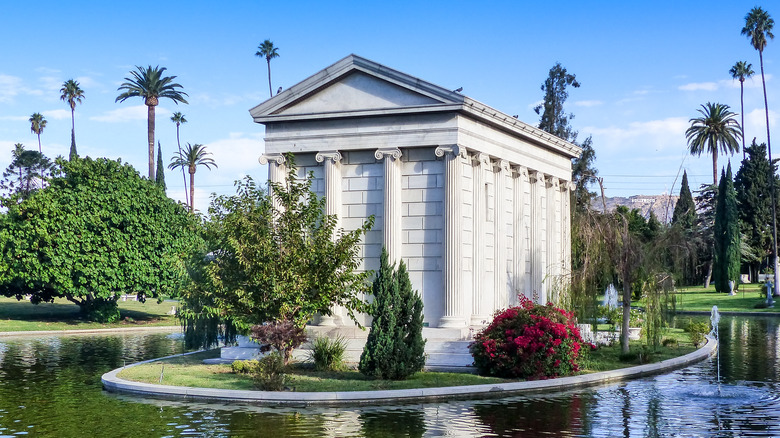 kc_click/Shutterstock
There is no lack of walking and bus tours in Los Angeles, but even if you are just keeping it to the district of Hollywood, walking can be tedious. Bus tours may not offer the same level of intimacy and detail you may be looking for while exploring Hollywood. If both of these ideas are true for you or if you just like biking, taking an electric bike throughout Hollywood might just allow the perfect tour vibe for you.
While the bike tour only lasts about three hours, participants will travel around 12 miles before the day is done. Seeing this much of the area in so little time makes the Hollywood by Bikes tour ideal for travelers only staying in Los Angeles for a long weekend, or those explorers who want to become familiar with the area quickly.
The tour hits all the typical spots that tourists love to go to in Hollywood like the Walk of Fame, but your guide will also show you filming locations and will take you to the Hollywood Forever cemetery. Once inside the cemetery, you can find some of your favorite dearly departed celebrities, like Judy Garland or Mickey Rooney.
Self-guided tours at the Hollywood Walk of Fame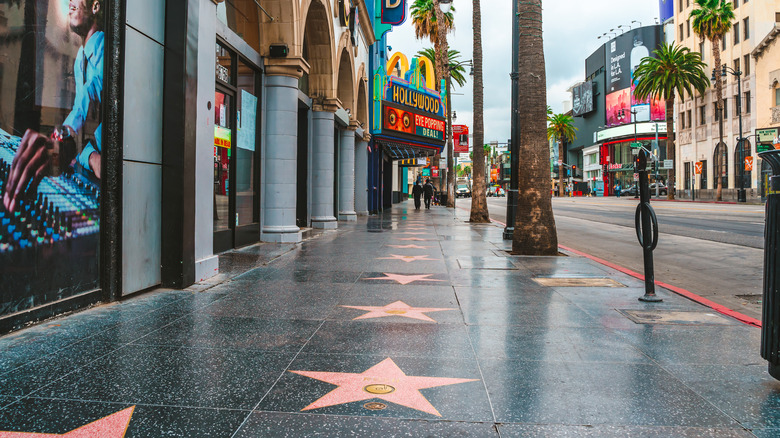 Ivanova Ksenia/Shutterstock
A lot of Hollywood-centric tours and even tours that include a larger area of Los Angeles will take you to the Hollywood Walk of Fame — it's a vital part of Hollywood and is a huge attraction for good reason. If you are really interested in spending some time here, though, it's worth going on a self-guided tour. The Hollywood Walk of Fame's official website has a directory of where all the stars are, so if you have a list of stars you'd like to visit, you can find them relatively easily. The site also has the history of each specific star, and there are stars on the Walk of Fame that date as far back as 1960.
A lot of people seem to think that to get through all of the stars and enjoy the area naturally, you would need around at least two hours, but could easily spend up to four or five. There are not many Hollywood tours, if any, that would allow for this kind of time. The stars are stretched over 18 city blocks near other points of interest, like iconic theaters, museums, and places to shop. You could spend a good part of a day leisurely exploring the Hollywood Walk of Fame, and it's a great way to explore that part of the district.